It's my goal to start giving you all a mid year update of what's actually working and what's not. I get so ambitious at the start of the year, especially when it comes time to ordering curriculum. But I find myself taking out things we don't enjoy or things just seem like busywork.
Feel free to see our 1st & 2nd grade curriculum plan here. Or keep reading to see how that plan actually looks now.
This year, homeschooling after having baby number 4 has been tough. It's my 3rd year homeschooling but 1st year doing it with a new baby.
I end up waiting for him to fall asleep to do anything that needs my full attention, like math or language arts. Otherwise I am frazzled and distracted.
We took 2 months off after the baby, which was the BEST advice ever. I had a new curriculum line up for almost all our subjects, and I'll share how that's going in a bit.
Subjects we are covering for 1st and 2nd grade homeschool
Math (Singapore for 1, Math With Confidence for the other)
Language Arts (Brave Writer)
Handwriting (Handwriting Without Tears)
Science (unschooling approach + nature study)
History (Masterbooks + Beautiful Feet Books)
One of the biggest changes this year is that the only worksheets we have are for math and handwriting!
We do copywork as well, but it certainly feels lighter having less paper to drudge through! Especially at these ages where writing takes a while and can quickly suck the joy out of a subject for us.
Take a break or change things up
One big takeaway I hope you'll get here is that it's ok to change your plan at any point that your curriculum is not working for your family. This is my go-to when I get bored or feel homeschool burnout.
Because well, I'm finding homeschooling multiple kids mentally taxing at times!
I'm finding I REALLY enjoy doing something totally different for a month! Like a unit study, or gameschooling, or whatever breaks things up.
I did that last year! We took a month in the winter and just did a Gather Round homeschool unit study on space. Plus some math. It was so refreshing! And it let me try something new…because I get bored and I'm sure my kids do too.
Ok, ready to see what we are still using half way through the year for 1st and 2nd grade?!
Brave Writer
A big switch for us this year is the switch from Masterbooks Language Lessons For A Living Education to Brave Writer! You can read my review of LLFALE level 1 here.
I made 2 purchases.
Darts: literature based language arts
Jot it Down: creative writing program.
Brave Writer's Darts (8-10 year olds)
I've already written in detail how we use the Dart Literature Guides for language arts, which I love! It includes copywork, dictation, 1 book a month to read out loud, grammar, literary devices to discuss, and 1 quick hands on activity each week.
Below is a book we read, the guide we printed off and bound at home, and a sample of one week's copywork from another Dart.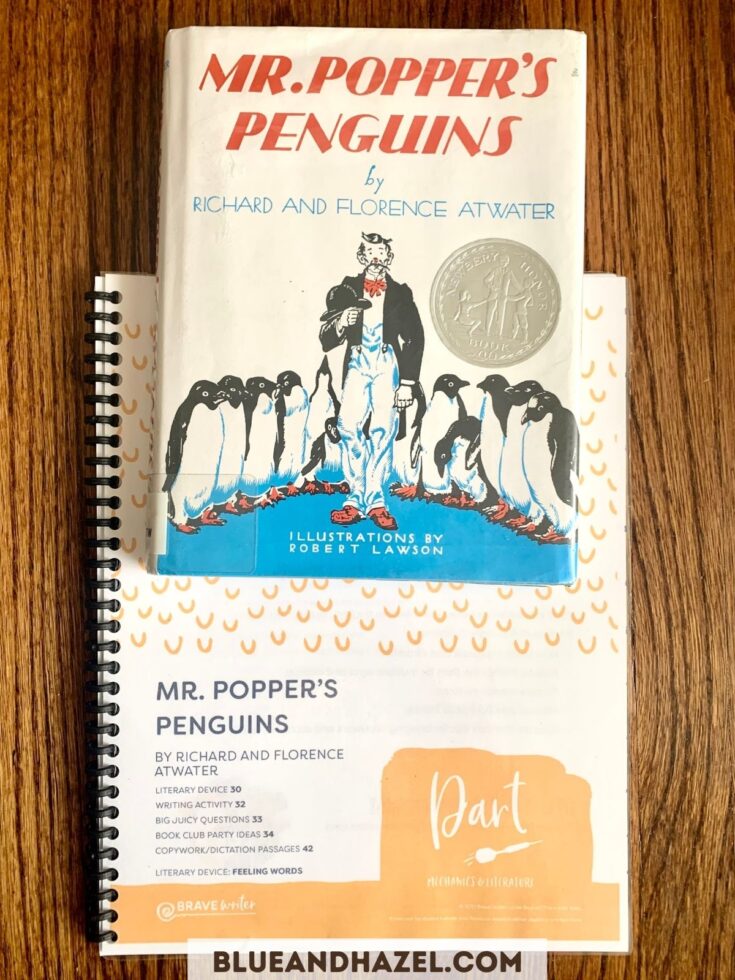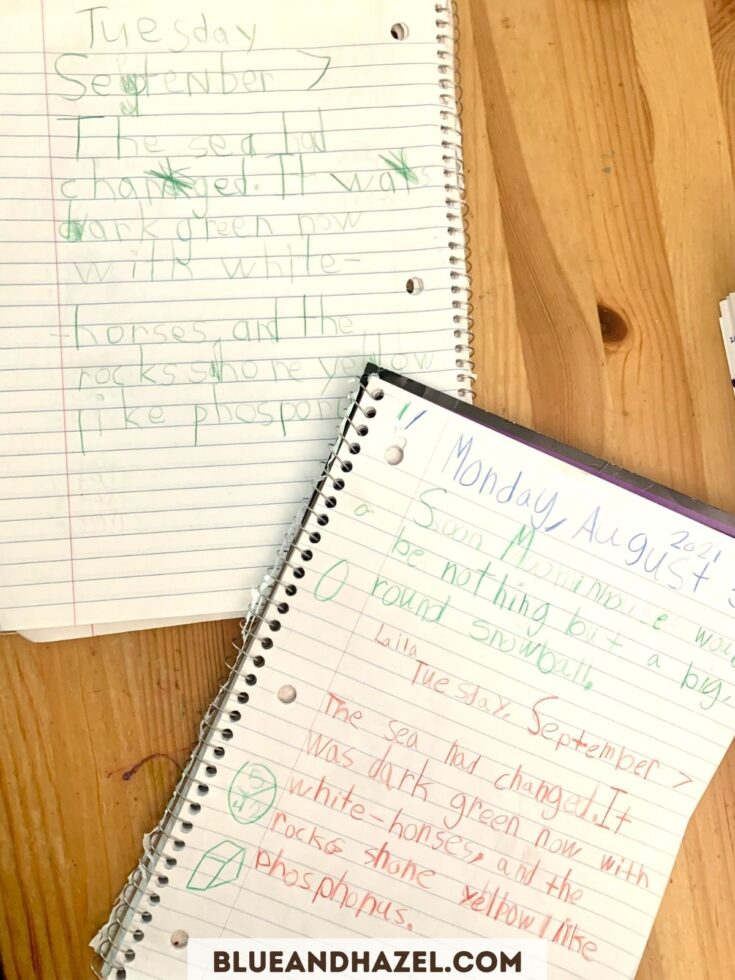 It's not a handwriting or spelling curriculum though. We don't use a spelling curriculum yet, as I think copywork and reading is enough at this age for what I want.
Mid year we've read:
Next up for February, Skunk & Badger.
Brave Writer's Jot It Down (Creative Writing for pre-writers/new writers ages 5-8 or so)
We've loosely used Jot It Down about once a week on days we don't do the Dart. It's the creative writing program for kids not writing much, if anything yet.
Here's my entire Jot It Down review!
It comes with 10 month long projects you can choose from, and is SO flexible. The thing I like is that it's getting my kids to create and begin writing on their own. I also have some cute keepsakes to tuck away now too.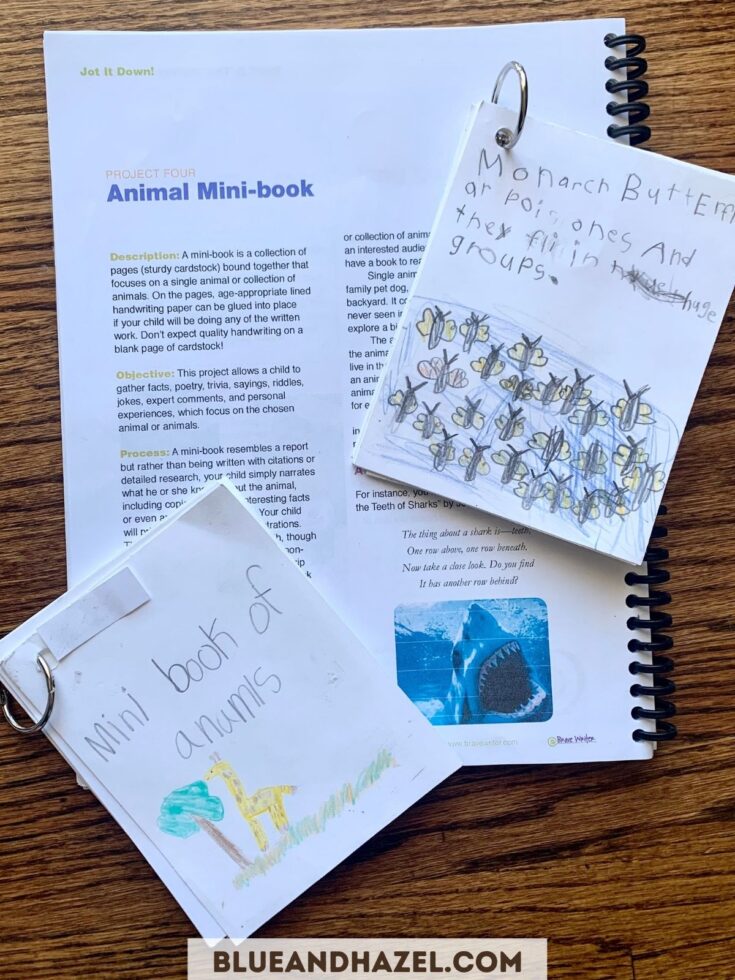 Brave Writer programs are a lifestyle of language, reading, and writing…it's not a grab n go program telling you what to do each day for 36 weeks like Masterbooks.
So that's been an adjustment to go away from a workbook…but I kind of love it.
It's changed the way I see writing progress…and I've even seen MORE writing happen naturally without a curriculum this year which is GREAT! Click here to see all the creative writing ideas the kids have done with their own pencil this year!
Handwriting Without Tears
I started each kid one grade level below since I wasn't sure where they'd fit and I wanted to make sure we went back and learned how to write each letter neatly.
They zoomed through those till they got to the next book that challenged them more. But I'm glad we started easy and relearned some basics.
I really liked using their chalkboards to go over the basics formally. But we only used them for 1 month. I think being older, they just filled in the gaps quickly.
Here's an in depth review of how we used HWT this year.
Here's my YouTube video showing differences in the levels.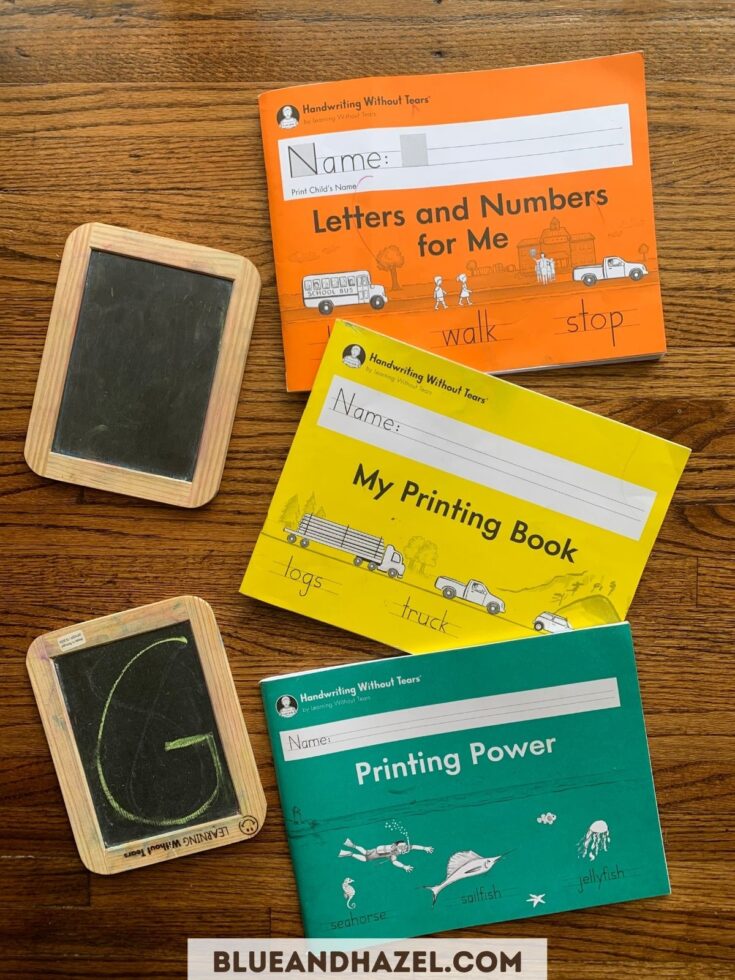 HWT with my 1st grader:
My strong writer 1st grader CRUISED through the kindergarten book in about 2 months. I could have easily skipped it but o well.
She then finished the yellow 1st grade book in about 2, so by Christmas. She's slowed down in the 2nd grade book, which has more copywork, smaller lines, and involves some light grammar.
HWT with my 2nd grader:
This has helped him to slow down and focus on letter formation and neatness. He's doing great! He finished the yellow 1st grade book by Christmas, and will probably finish the teal 2nd grade book by the end of the year.
We do 1-2 pages at a time, 2-3 times a week. Basically if we don't do another type of writing or copywork, then I'll ask them to pull out these handwriting books.
Which grade level is each Handwriting book?
orange is kindergarten
yellow is 1st grade
teal is 2nd grade
Singapore Math Primary 2022
Math takes us about 20 minutes a day per kid.
We switched over to Singapore Primary Math middle of last year for my oldest who was in 1st grade, going back to workbook 1A. It was a 180 different approach from our Masterbooks math the year before.
This was the right switch for my math minded boy. He just picks stuff up easily. Not fair!
When he got to 1B starting second grade, the new Singapore Primary 2022 came out. It uses just 2 books daily instead of 3. I REALLY like that change!
We use the student book every day and home instructor's guide when I need help explaining and for hands on ideas.
Unlike Singapore Primary US version, the 2022 version is clear on what's included in 1 lesson which is so nice! This is a video of how we tear out 1 week of work at a time.
We didn't buy Singapore's manipulative pack, here's what we used instead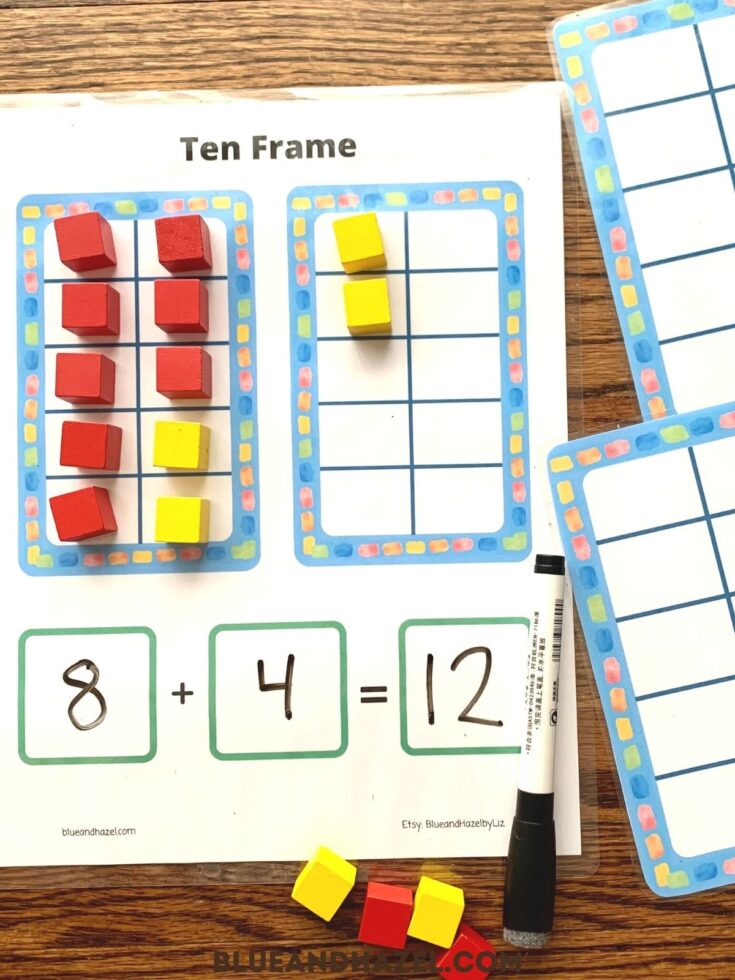 Additional Singapore Math Workbooks…too much or just right?
There's 2 other optional books I ordered at the 1B level but didn't use much. As in, I still have over half of each workbook untouched.
One is called Mastery and Beyond which is spiral review. This would have to be built in like once a week or something, and not on the same day as our regular lessons.
I struggle to know how to fit that in without getting through way less material? I'm not willing to spend 45 minutes a day on math at this age one on one…it's too much for my kids.
The other is called Additional Practice, which is literally just more problems within each chapter. We used that in leu of lessons for a while after the baby was born. My son did these sheets on days I couldn't teach him and it was like review.
I didn't get those last 2 books for 1A to finish 2nd grade. Just trying to simplify right now. When things get harder for him and we need more practice, I may buy those at whatever level we are on.
My 2 kids are using 2 different math curriculums
We also started my 1st grader on 1A of the new Primary 2022 but just switched. I found my kids do not respond to math (or my instruction!) the same way, and it's harder for me to teach her.
I decided to try 1st grade Math With Confidence with her after how much we all loved Addition Facts That Stick! This is Kate Snow's math program that will eventually go up to 6th grade and is similar in teaching style to Singapore!
My 2nd grader is too old for this. It's a new program so 2nd grade comes out late spring/summer of 2022, and one a year after that through 6th grade.
See my comparison of SIngapore and Math With Confidence here.
1st Grade Math With Confidence
We've just switched my 1st grader mid year so I can't really review this yet. However here's what I've noticed.
It seems…easier than Singapore Primary 2022? I know Singapore is considered advanced so maybe this is more "on level" with 1st grade public school?
The teacher's guide is HUGE. Don't get the digital version…it's over 500 pages you'd have to print! The set's not expensive…just get the printed version on Amazon.
The teacher's guide is the MEAT of this program. It's scripted so what you say is in bold. I like this so much! And then there's games using mostly a deck of cards and her games in the back.
You won't get enough out of it if you just do the worksheets without the teacher's guide activities (in my opinion).
There's only 1 worksheet page (front and back) each day of work.
Update at the end of the year: Love Math With Confidence. It's really fun, easy to teach, and my daughter is grasping the concepts. It is less in depth and easier than Singapore math though.
Here's details on Math With Confidence vs Singapore Primary 2022.
Here's my review on Singapore Math Primary US version vs Primary 2022 (what we switched my oldest to).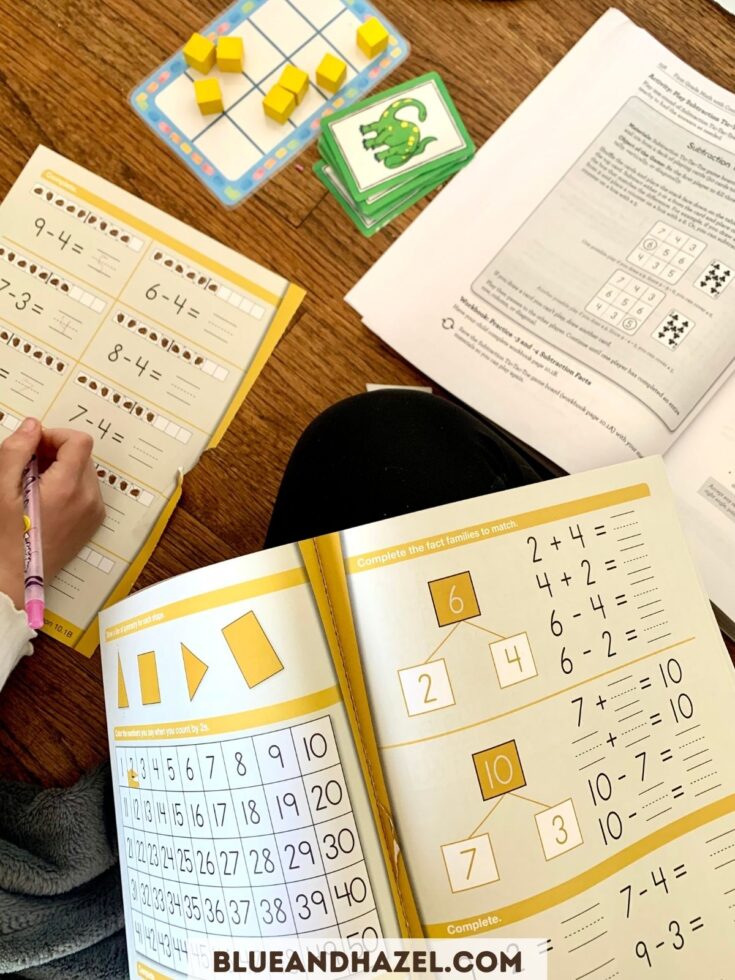 Addition Facts That Stick And Subtraction Facts That Stick are built into 1st grade Math With Confidence
If you've already done Addition Facts That Stick (we have)…you've really done about 1/3 of first grade it seems. We are skipping ahead to subtraction since it's just too easy for my daughter right now.
So note to self…you don't need to buy Addition Facts That Stick or Subtraction Facts That Stick if you do Kate's math series…because all the same games and strategies are included.
Another thing to note: There's no word problems really. Singapore is big on those, and I miss that so I'll probably order Singapore's supplemental workbook called "Word Problems" for my daughter next year.
America's Story 1 by Masterbooks
i wasn't sure if this would be boring or too advanced since it's written for 3rd graders or older. However, it's been the meat of our history this year and the kids are grasping it!
I didn't order the teacher's guide with worksheets. That would drag this out for us too much.
Instead, I read 1-2 pages a couple times a week. It doesn't read like a history book, and isn't so full of facts that it's overwhelming.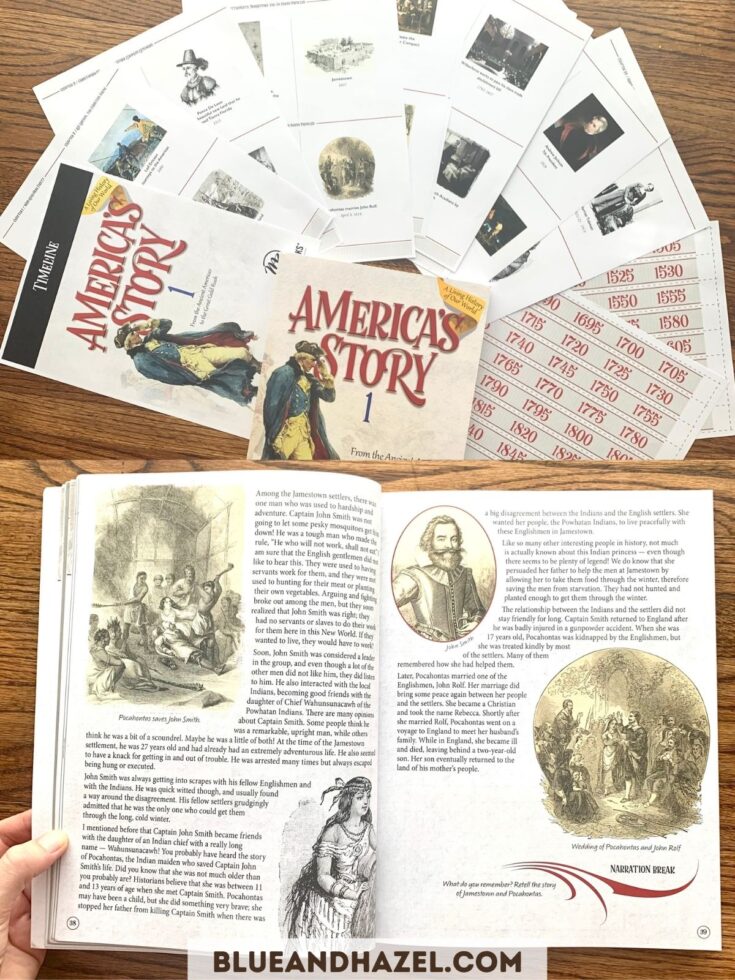 I have the kids narrate back to me what they remember, and we quick review what we read the last time before moving on.
We'll definitely finish it this year (I thought it might take us 2 years), and then there's America's Story 2 and American's story 3 left for other years.
One thing I love is the Christian worldview the author writes this book from. You could skip these parts and explanations if you aren't Christian…but I find it very helpful and complimentary to what we teach in our home.
What we haven't done: The Timeline.
I bought the color pictures and timeline to put on our wall as we read…but haven't gotten to it. Next year maybe!
Beautiful Feet Books Early American History
I'm not reading as many living books for history this year…and I miss that!
We already read most the books for Early American History last year and everyone loved it! Almost all books were free at the library.
I didn't buy their teacher's guide, which would have helped me read the books in chronological order as well as given me discussion questions to ask.
This year I'm reading a few we missed last year, and has definitely been back burner.
Next year I'll move on to the k-3rd group of living books called Around The World With Picture Books. I think I'll buy the teacher's guide next year as well, but you can totally just read these books as a stand alone for free.
Will we use 2 history curriculums?
One thing that may be weird next year is doing Around The World With Picture Books at the same time as continuing on with America's Story 2 by Masterbooks…but o well. I like that series so much we will just do it.
History has turned into my favorite subject to read and discuss so that's a win for these curriculums!
Gameschooling…sort of on purpose…but mostly just for fun
Last year we started dipping into learning games. O my goodness that's way more fun than worksheets! This year I haven't played as many with the kids, but they are now old enough to play some games for fun on their own!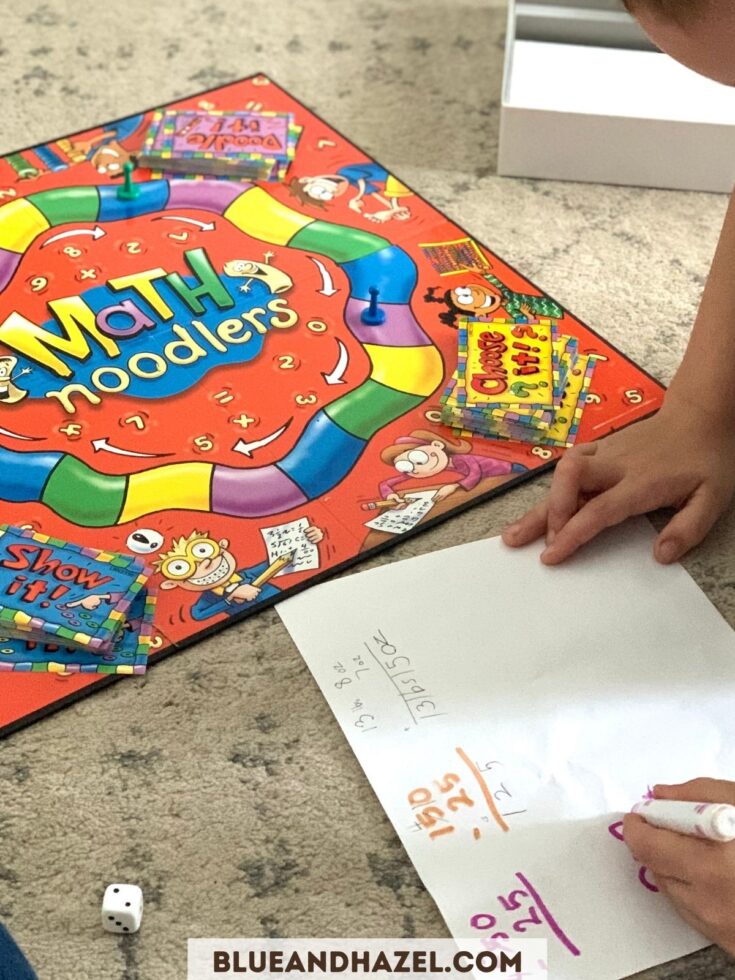 A few we've used this year:
Watercolor Art Online
This isn't really a subject for us, but this year I've been aiming to have days where we just do all the fun extras and none of the "have to's". It's seemingly the only way I can fit it in with a baby.
We've been working our way through some free watercolor birds videos by Lily And Thistle, which has been a joy! Seriously slow…maybe one a month when we feel like it?!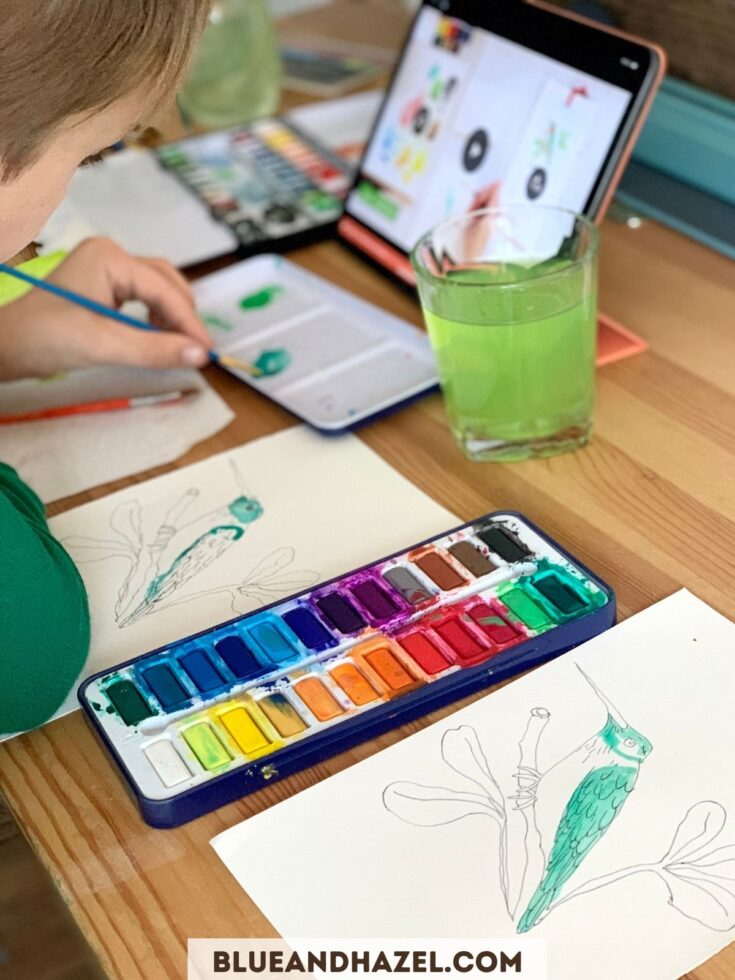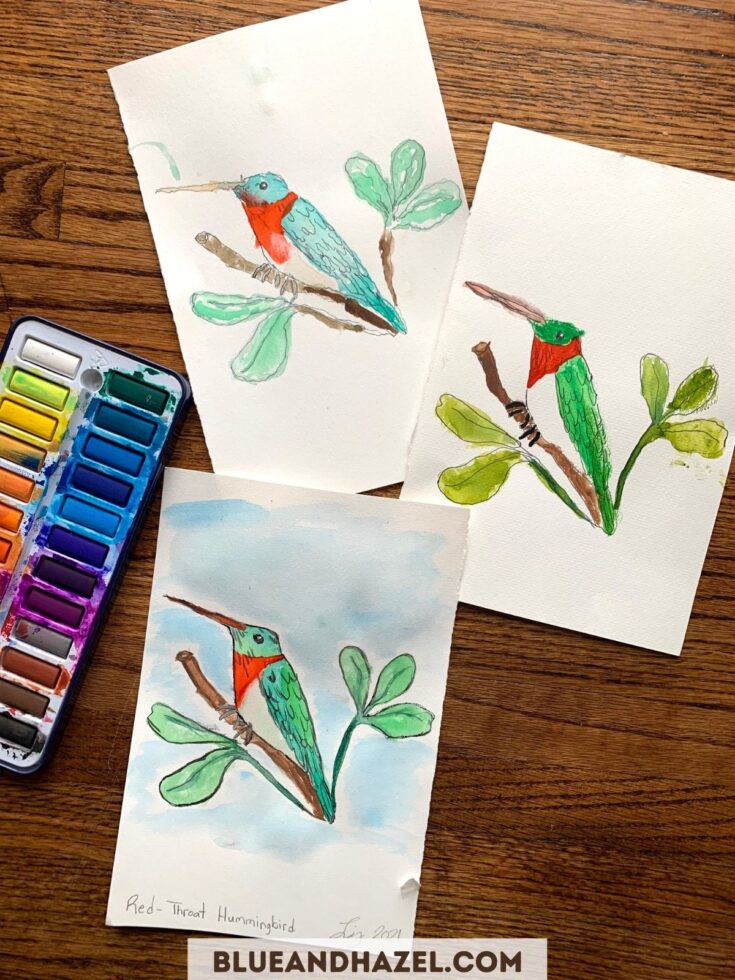 My daughter loves it, and my son doesn't but I'm making him because he's proud of the finished product and I want him to try some art. Check out my full post on the watercolor bird tutorials and how we've used the free online course.
These are super quality watercolors I own (and not very expensive at all) with a lot of colors, which means less mixing to get the right shade.
Curriculum we're not using as much
Science curriculum I bought: I'll explain more below why and what science looks like instead.
Dash into Learning Books: My 1st grade daughter loved these and practiced through half of pack 3 after we finished Teach Your Child in 100 Easy Lessons last year. However, just started fighting our reading time together so I switched books for now.
Playing Preschool by Busy Toddler: I LOVE this curriculum and we have been doing activities out of it with my 4.5 year old preschooler about 1-2 times a week. Mostly from book 2. However, we're not "doing" the full program.
I get the books at the library and do sporadic activities…that's all I can do right now. He feels so special and loves it so I do want to do more.
Unschooling for science and sporadic nature study
Science over here is all over the place this year and not what I thought it would be. We've barely touched the Masterbooks Science I bought called "God's Design Life For Beginners".
Honestly it was too basic for my 2nd grader, but would have been great for my 1st grader and preschooler. There's another more detailed version for 3-8 graders that would have been better.
We are relying on homeschool science days every other Monday at the library! Some has been in person, other days on Zoom.
My second grader gets most his science from the unschooling method actually…he reads what interests him from books!
No tests or worksheets…I ask him to tell me cool stuff he's read and he does.
He LOVES the science comics series…can't recommend these enough and want to own them all someday! Here's ones he's read, and there's a TON more.
My rule: He only has to read what he's interested in right now. If I get a book at the library and he's not into it…it goes back. More often than not if it's in comic form he'll read it.
Nature Study
I really thought we'd use Exploring Nature With Children more this year, but it's been a tough year for me adding a new baby and this has just gone to the side. I'll pick it up when we can though because it's rich and grows with your kids all of elementary!
You can read my full review of how we used this last year here.
Walks, hikes, bugs, and the Seek app
One thing I've used a TON this year with the kids is the Seek app when we're outside! It's free and identifies things for you! Check out this cool stuff we found on a log…which the app identified as "Dog Vomit Slime Mold"!!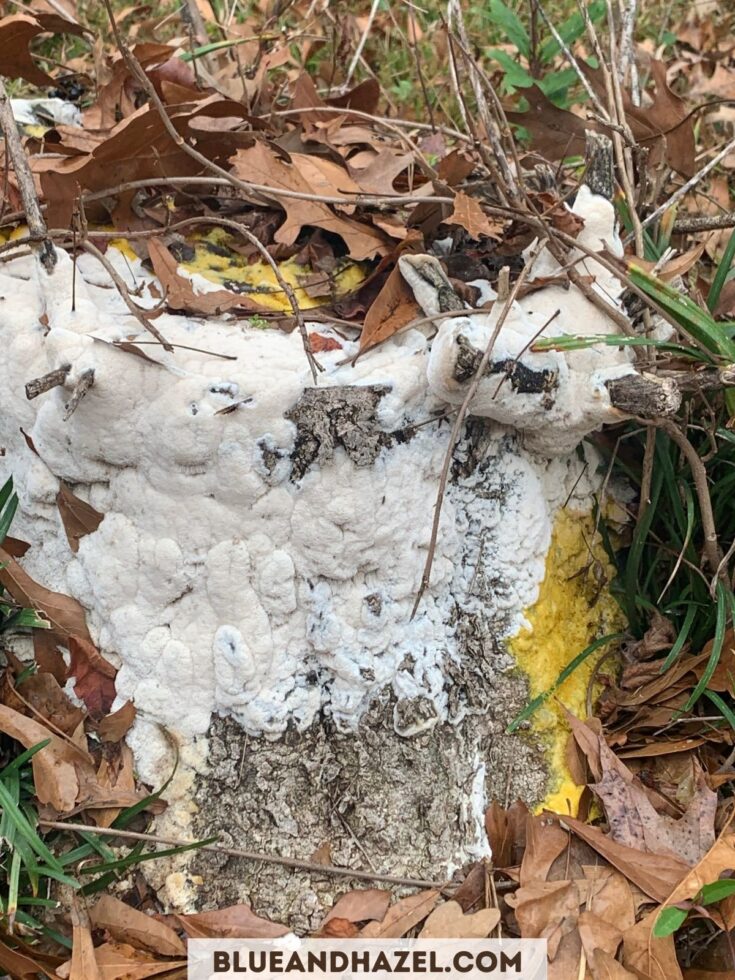 On the plus side…we have been out in nature a lot more! Aiming to spend time hiking on the weekends as a family. Which makes me so happy and we can come home and google questions as they come up.
We started a bug collection this year! Such a fun way to get the kids into identification and learning about each one. FYI, I learned you can put a bug in the freezer to quickly kill it if its still alive.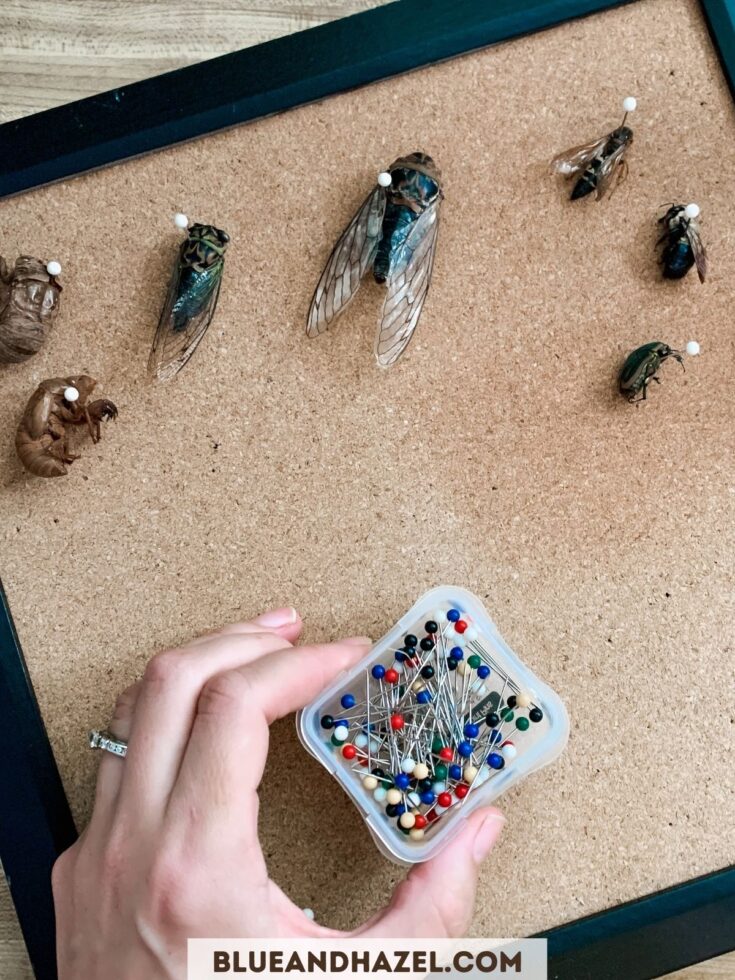 My kids have gotten really into rock sorting and collecting this year.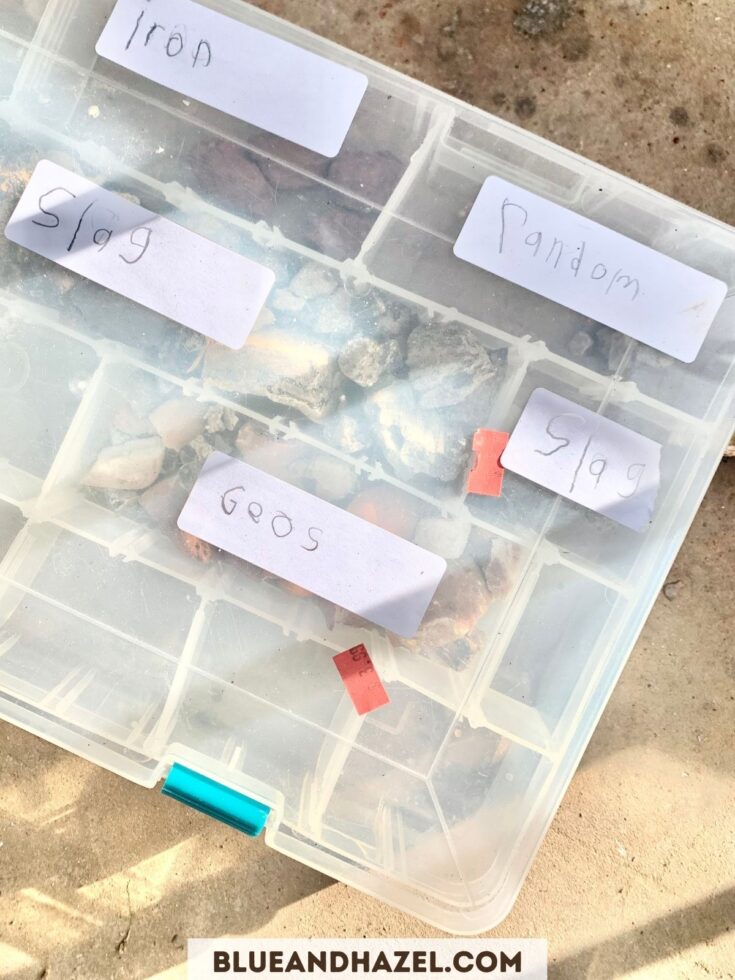 Non school activities my kids have enjoyed this year
One of the main reasons I homeschool is so that my kids can have a little bit of an extended childhood.
I want them to play, to have time to read for fun, to play for hours at a creek instead of being at school. I want them to experience learning that goes beyond pencil and paper.
Homeschooling gives us time to dig into random fun stuff, like making moon sand below. This was messy but a good memory!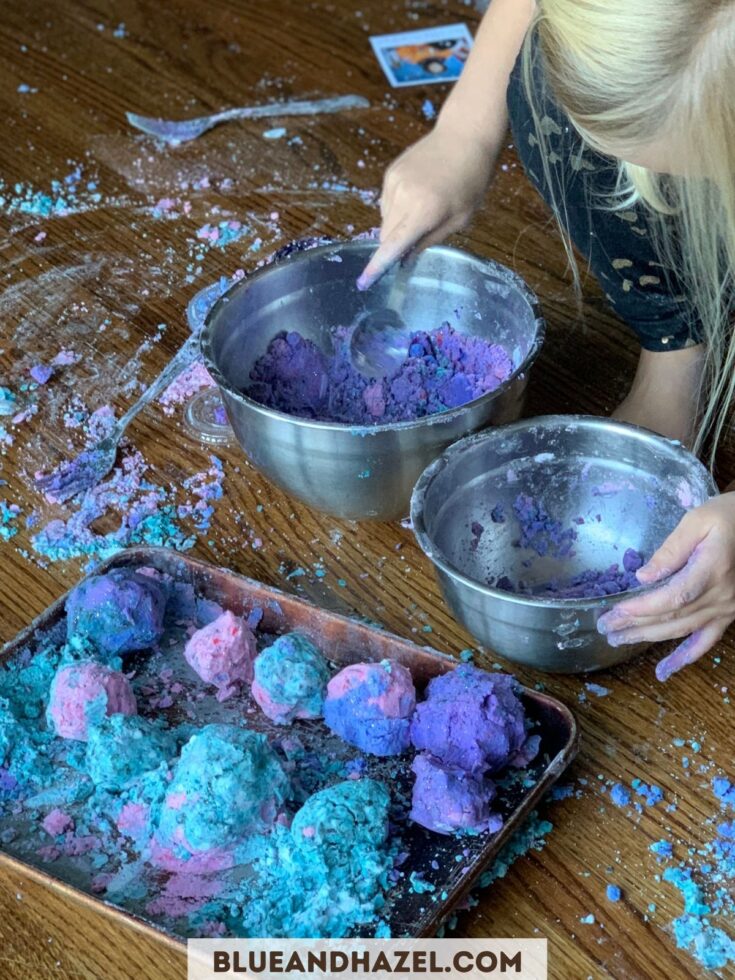 Here's a few things they do at home that I don't count as part of "school".
Drawing
Magnetic tiles
Hiking with our nature group
Legos…So.Many.Legos.
Reading
Listening to audiobooks
Sleeping in
Playing games like Sleeping Queens, Checkers, Exploding Kittens, and many more!
Swinging on our indoor swing or rings (someone's almost always on it).
How is your homeschool journey going mid year? Does January and Februrary start to feel hum drum to you too? Any tips and ideas for getting through the winter lull? Drop a comment if so!
More homeschool posts to enjoy
FREE nature study curriculum for all 50 states
Why I tell everyone the Epson Color Printer is best for homeschooling
Review of Playing Preschool by Busy Toddler
Homeschooling during pregnancy
How much does it cost to homeschool?