When my son was two, we lived in a tiny little apartment in a city where snow was constant all winter. We also had a new baby, so we stayed home a lot. My husband installed a pair of gymnastics rings in the hallway of our apartment, and my 2 year old would hold on and lift up his feet. Then, he figured out how to spin. Now he's 6 and still uses them every day!
Those rings have been used with with 3 kids, and have saved my sanity as a stay at home mom! It's been the best indoor toddler activity I have ever had, and I tell everyone to install them. It's my secret weapon to get the kids moving indoors.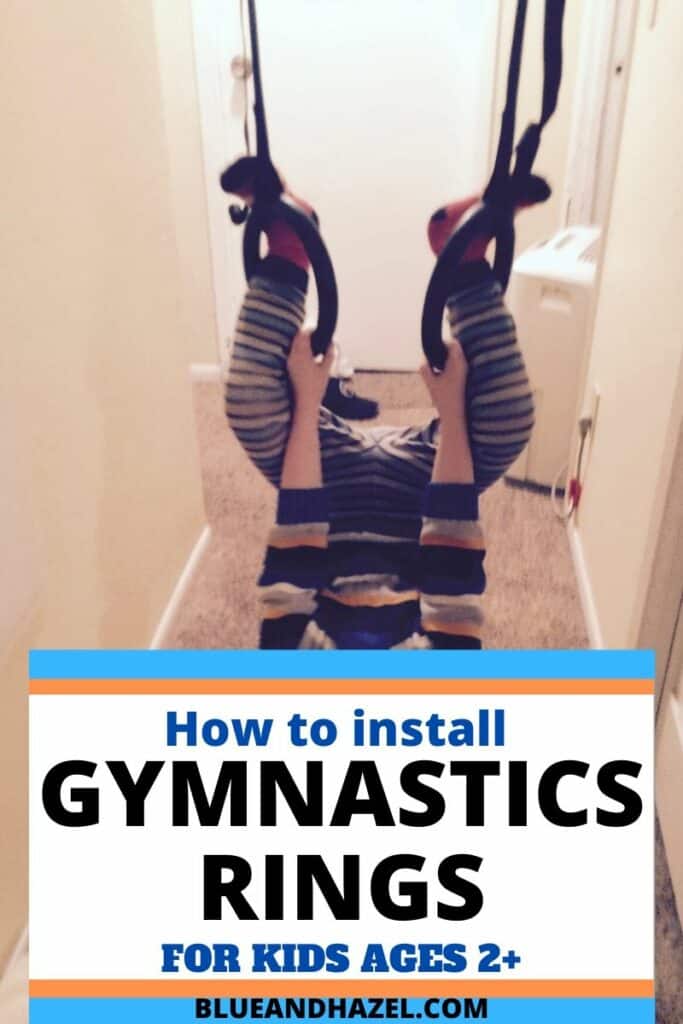 Supplies needed to install gymnastics rings
Gymnastics rings can be set up in a home or apartment, are inexpensive, and your kids will wander over to them whenever they get bored! You will need:
Some heavy duty eye screws that will hold the straps and rings.
Carabiners (possibly optional depending on what rings and size of your screw) to connect the rings to the screw.
A drill to pre drill 2 holes for the large screws
Here's how to install this in your home and what kids will be able to do at different ages on them!
Buy a set of gymnastics rings
The original rings we bought on Amazon are no longer sold. Bummer! I'm not going to link the second set I bought because they have thicker 1.5 inch straps that don't spin as well. That's fine for just hanging on, but kids eventually want to spin and thin straps just wrap around each other better.
Since we already own two sets of rings, I'll probably have my hubby just swap out the straps with some rope. A few things to keep in mind when you are buying rings:
Adult gymnastics rings work for kids. My littlest (almost 3) can hang onto adult gymnastic rings. Adult rings do have bigger rings, but often come with longer straps that can be easily lowered. The main thing to note if you buy "kid rings" is to measure the length of the straps and make sure it will hang low enough where you want to hang it from.
Thin straps are better. Also because kids are not using these to work out, but rather to spin and do tricks on, you don't want thick straps like most come with. We just bought a second pair with thick (1.5 inch) straps and they don't wind up as well or spin as well. These gynnastics rings seem to have just 1 inch straps, so I might try those.
You'll need a way to hang your rings from a beam in the ceiling or a wide enough doorway or hallway. We got ours at a hardware store but they are heavy duty!
You can click either pic below to get that set on Amazon. Both would work, and can hold a lot of weight (supposedly 600 lbs, although I would never hang that much from them!)
How to install your gymnastics rings
Step 1.
You'll need to find a sturdy beam in your home. My husband used a stud finder to figure out where he could put the screws into the ceiling in the apartment hallway.
Step 2.
Pre drill two holes with a smaller drill bit than the actual screw size. This makes it easier to get the thick screws into the wood.
Just estimate how far apart you think they should be, it doesn't really matter. Shoulder width is fine. Our new set hangs from a pull up bar, so their distance from each other changes all the time.
Step 3.
Screw in your hardware into the ceiling or door frame.
Step 4.
Connect the carabiner, and then thread the ring straps through the carabiner!
Step 5.
Adjust the height of your rings as needed! Now get ready for hours of free entertainment!
What age can my kid use gymnastics rings?
We installed our first set when my oldest was 2. We now have 3 kids and all use them, starting around age 2! What you can expect with a 2 year old or even an older kid new to rings:
They will just hang on them at first. No tricks. They'll have to get used to the feeling.
Pretty soon they'll start to sway back and forth and see what happens. Then they'll figure out how to spin on one foot. Then you'll think your kid was an olympic ice skater doing 360's and wonder how they don't puke.
It's incredible for strengthening their upper arms, shoulders, and abs by simply holding their own body weight!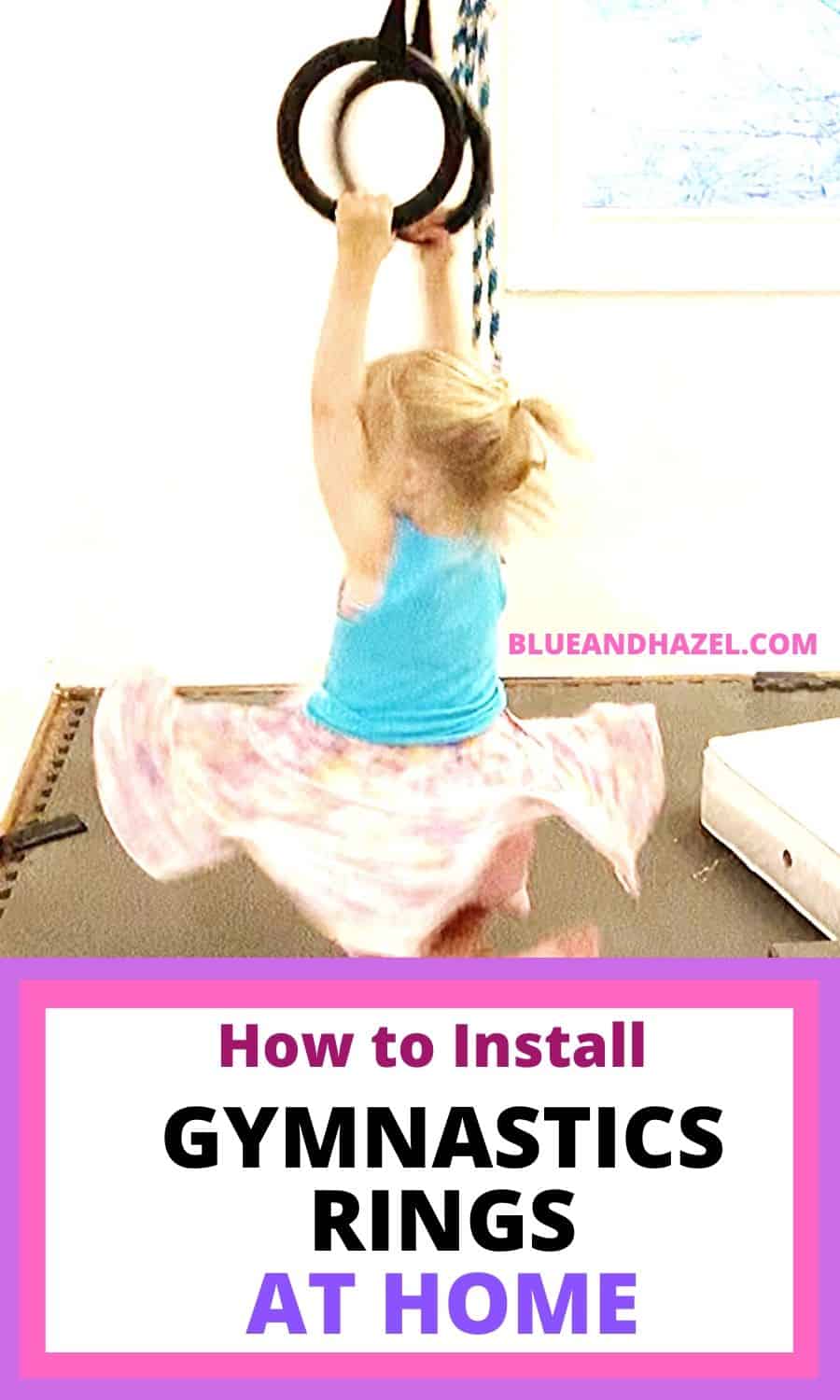 Other indoor climbing ideas for kids
Install an indoor swing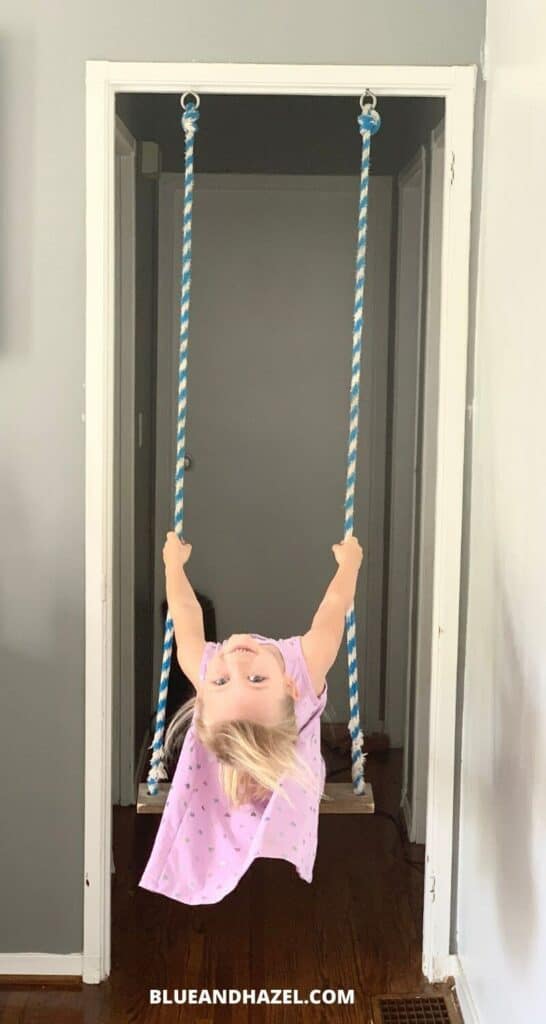 Using the exact same setup to hang a swing from, simply purchase a swing and attach it to the same hardware that your rings would hang on. Or, you could do what my hubs did and he drilled holes through a piece of wood, bought rope, thread the rope through the board, thread the rope through the ceiling hardware, and tie an epic knot.
Just FYI, one of my kids is almost always on the swing. They just love it and go to their little happy la-la land or something. The downside of a swing in the door frame is that it restricts movement in the house. As of now, it's worth it to me. But this may drive you nuts if it's hard to pass, or if you have kids that could get easily bonked at home (like a crawler).
A pull up bar
We converted the "3rd" bedroom into a workout room/climbing room.
My husband put up this pull up bar once we moved out of an apartment and into a house. It's heavy duty, and you would need to have it in some solid beams. But we all use it!
And now instead of hanging our rings in a hallway or from a door frame, we hang them from the pull up bar, along with a climbing rope. It allows the 5 and 6 year old to do crazier tricks, spins, and even flips now.
This would be an awesome addition to hang from a tree outside, or inside if you have a spot!
How do your kids get exercise inside?
I'd love to know how your kids get out their wiggles. Do you have anything they use every day? I have had my eye on a Nugget, but at the high price point it's hard for me to commit. And if you haven't already, I'd love for you to follow me on Pinterest!