When it comes to planning birthday parties, I'd rather have a family party at home over planning a big party any day. We have been invited to some amazing (and expensive) birthday parties, and they have been a blessing to my kids to feel included and have those memories!
And I also have enjoyed seeing the joy that my kids get knowing their friends are coming over for THEIR birthday party. Like when my 9 year old had boys over for a Nerf Party in our backyard. But I want to say that no one should feel that they HAVE to have a big expensive birthday party. And it's ok (even if it's not socially normal around you) to have a home party. You can make your kids feel special if it's just at home, and even if it's just with family.
We've done both. I like things about both.
There are so many cool things you can sprinkle into the day to make them feel special…which is the whole point! Here are some fun ways to make the most of what you have at home!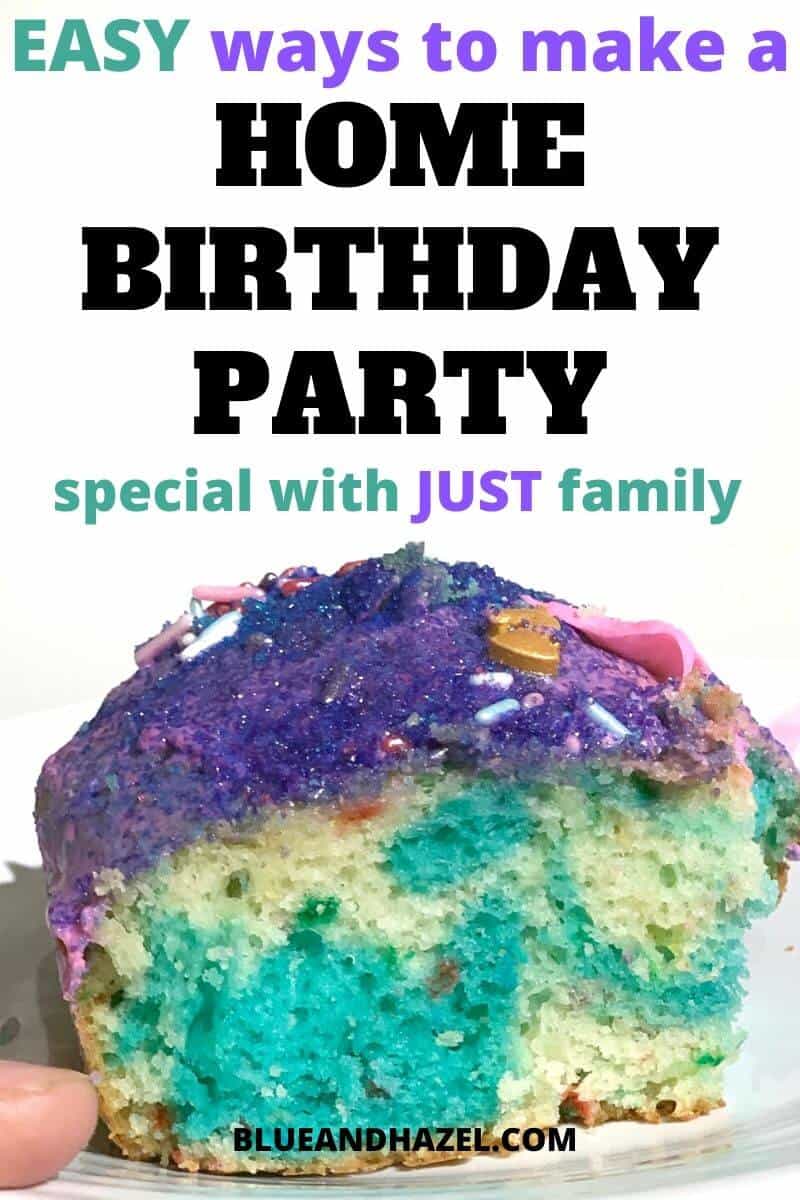 How to make a birthday extra special at home (with just family)
My youngest just turned 3, and having anyone over wasn't even a reality with world events and everyone having to stay home with their families. I will also add that at age 3, kids do not even feel the need to have a party. They are unaware that other friends have parties, and very content with keeping it simple. So here's what we did for my son to make him feel special.
Take a birthday video and ask them birthday questions
One of our favorite traditions is to take a short video of the birthday kiddos. We ask them how old they are and a what a few of their favorite things are.
Mostly, it's just really precious to watch this down the road because their voice changes and face changes so much in one year.
I created a fun and FREE birthday questions printable that you can use! Simply add your email to the form below and it will show up in your inbox. (If you don't see it right away, check your spam).
Crack out the birthday party decor
You can make your house feel like a party so fast with a few great decorations! Set it up in the morning or the night before and leave it up all day! My favorites:
balloons
streamers
happy birthday banner
party hat
candles
We keep party balloons on hand, and a bright reusable happy birthday sign that I made years ago.
How to find inexpensive birthday decor
One trip to the dollar store is plenty to get all of these things, for around $5. If my kids don't have a "theme" that they are asking me about, I'll choose colors they like. Last year my daughter got pink and red balloons for her 4th birthday. We did green and blue for my son.
However, if your going for a particular theme, Amazon is your best bet to get some decorations. We use a site called Vipon for finding party supplies and other house hold items around 50% off.
I think you have to be an Amazon Prime member to use it. Basically businesses are discounting products to get them out there, and probably hoping you'll leave a review or tell a friend.
More posts you may love:
How to talk to young kids about why they have to stay at home so much
5 Things stay at home moms should do to avoid feeling depressed
How to get started with preschool at home
Daily cleaning schedule with free customizable printable
How to make your own happy birthday banner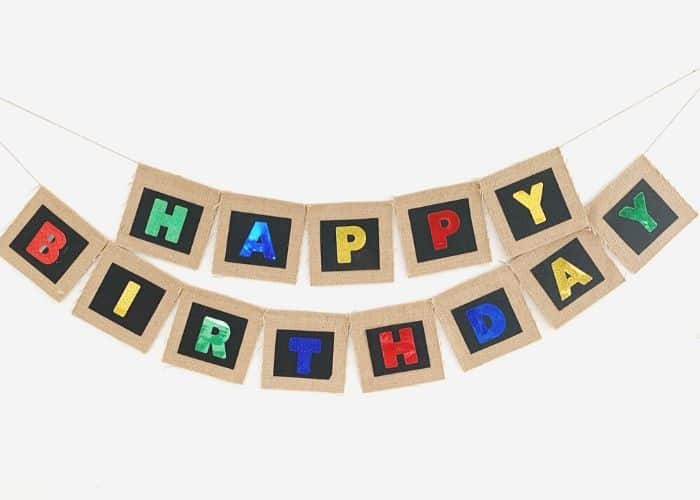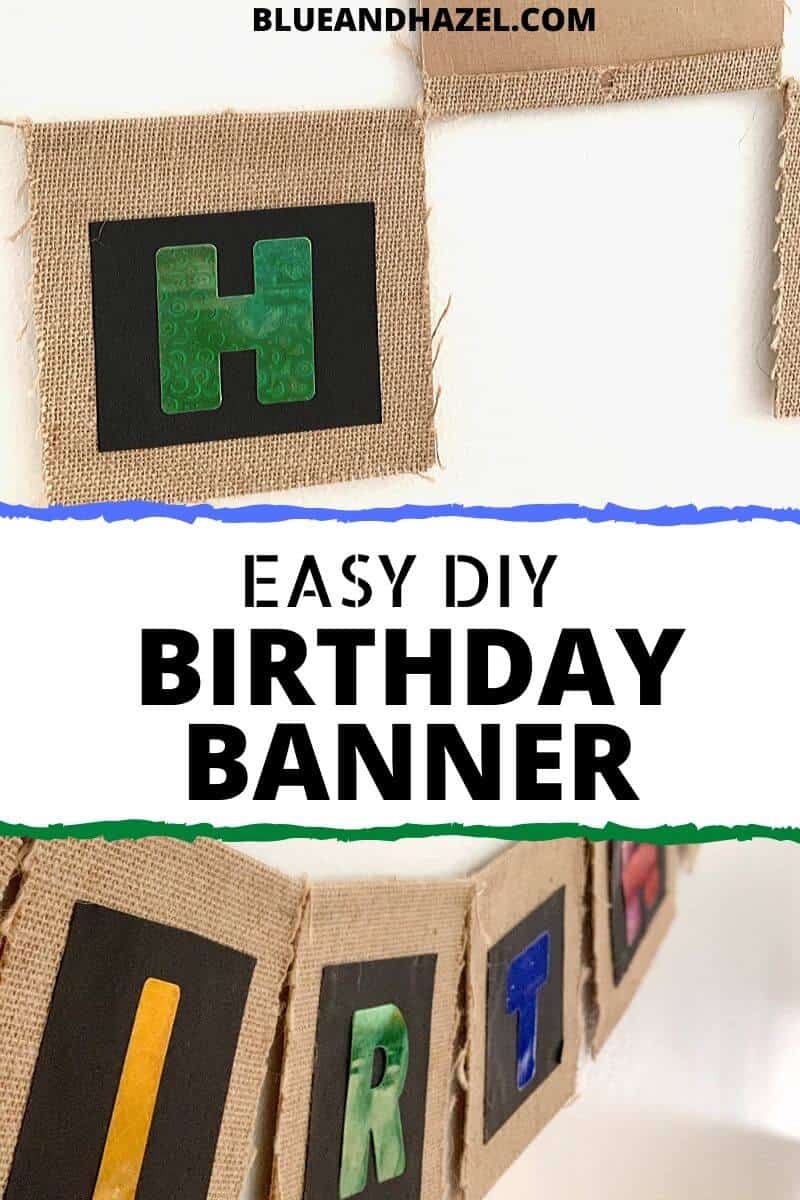 I quickly made this burlap happy birthday banner when our oldest was little, and it's come in handy at least 5 times a year for a few years now. It's so easy. You'll need:
burlap
black thick paper
Large sticker letters.
string to hang
a stapler
Basically I just folded the burlap over the string and stapled it. (So it never comes off the string, but the string is free floating in there and could *technically* be pulled out so handle with care).
Next I hot glued the black paper squares on to the burlap after cutting them to a size I liked. Last I placed the colorful stickers on!
Sooo, unfortunately I haven't found anything close to the exact burlap paper I used here to link for you (it was a scrapbook pack), but I did find these ones on Amazon…and they come with 40, 5inch by 7inch burlap flags AND the string for cheap. So…that would make it easy! See below.
It also takes away the need to use a stapler because they are pre-stapled.
How to make a DIY birthday party hat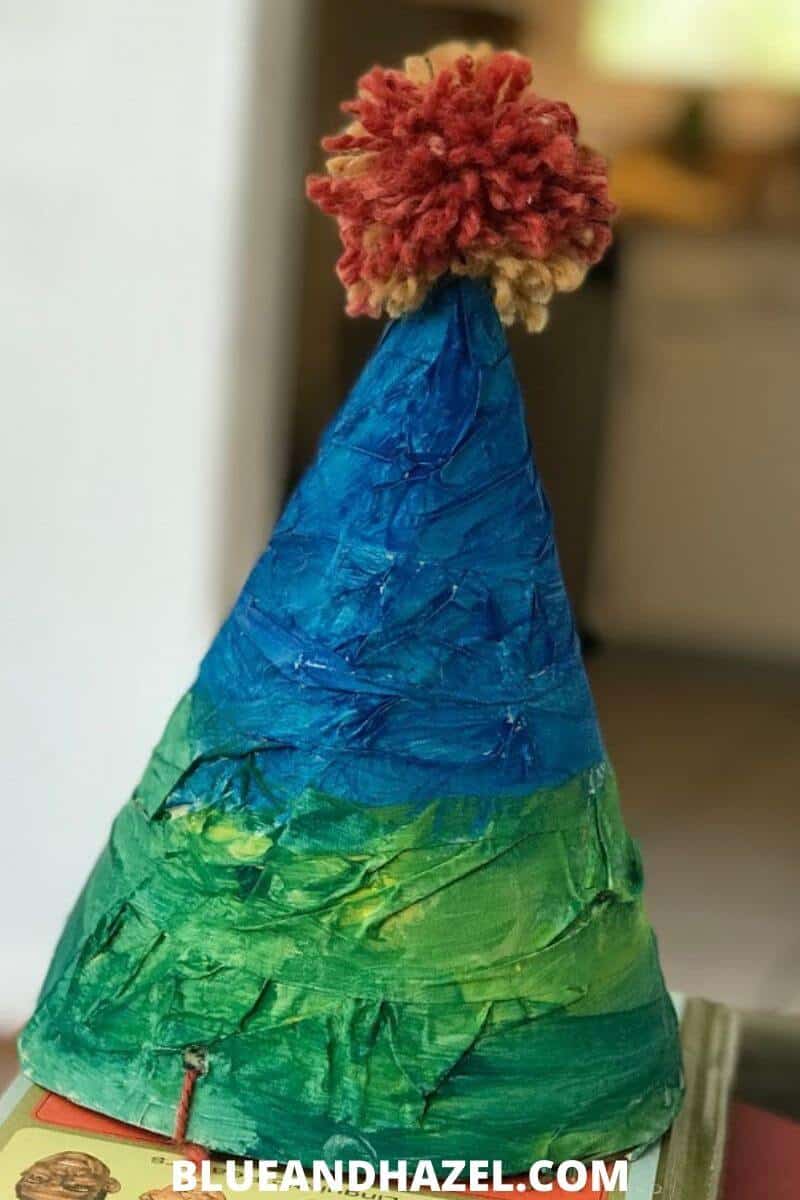 Making a "last minute" party hat is totally doable. I say last minute because that's how we started making them. And now, they are just so easy and epic looking we do this for fun or out of tradition.
To make one, you'll simply start cutting a rectangle from a cereal box (use the whole side to start). You can kind of fold it like a cone to get a rough idea of the size of hat you'll get. Small is fine. Big is fine!
Roll it into a cone shape as best you can so the top has a point with a small hole in it. This is where you can either thread streamers, ribbon, or a yarn ball later on.
Then tape it really well. In the photo above, the texture under the paint actually comes from masking tape going around the whole thing!
Trim any edges, paint over the top with whatever kid paint you have around. Or use markers. Or cover with wrapping paper. Then you'll poke two holes in the sides and tie some string on.
Here's how to make a pom pom with just yarn and your hand if you want the ball on top.
Make a cake at home
You DO NOT have to have a splendid Pinterest worthy cake to make your child feel special. Here's how we add some pizazz to our homemade fancy box cakes.
I'm definitely going to purchase some beautiful cakes in the future at some point, because they are so special and I am no cake decorator! However, don't put pressure on yourself to spend money you don't have on a gorgeous cake.
How to make an average cake look awesome for a birthday party
If making a homemade cake stresses you out, your child will not be disappointed with a box cake! I personally like homemade chocolate cake SO much more, but have often just used fun-fetti box cake when I'm needing a shortcut. I just ordered a set of these 6 inch mini pans for being able to layer a cake. With 3 kids, I'll be using these every year for a long time.
Up till now, I've asked my kids if they would prefer a cake or cupcakes. That choice is one special thing they may not always have power over except on their birthday! I also let them choose if they would like to help decorate the cupcakes or have me do it. (Uh, duh, they always want to help! So I've got to lower the standards a bit, not that I could do a whole lot better…)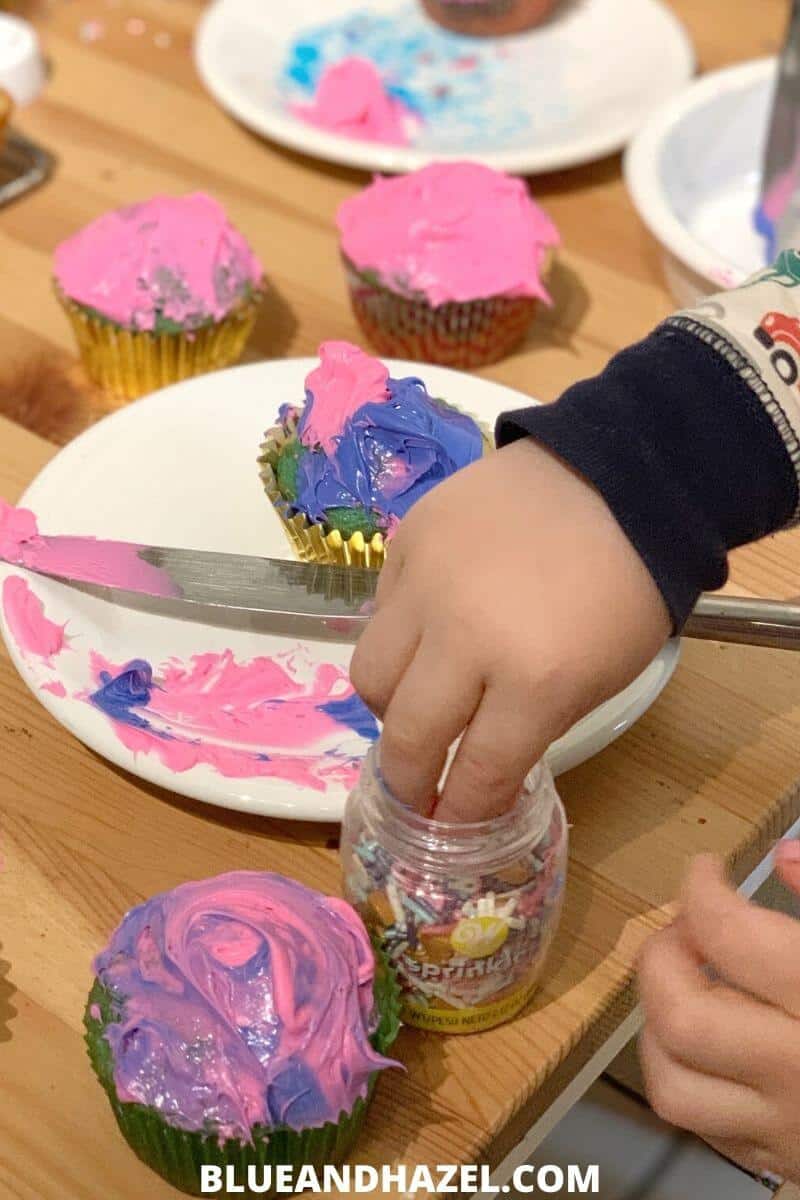 For fun swirl colors inside the cake, I'll separate part of the white cake batter into 2 or 3 bowls and add food coloring. Then, just spoon this (don't overthink it!) into the greased cake pan or muffin tins. The swirl colors gives it a super fancy feel when it's time to cut and eat the cake. One box cake bakes up 12 cupcakes + 1 bread loaf pan sized cake.
For the top of a cake, keep it special and simple! Look for toys around the house that could become cake toppers. For my son's dino cake, we put a few plastic dinosaurs into the frosting and M&M's around as dino eggs. Then, 6 candles and wrote his name with frosting. I found my colored frosting at Aldis, but it's probably just like these icing tubes.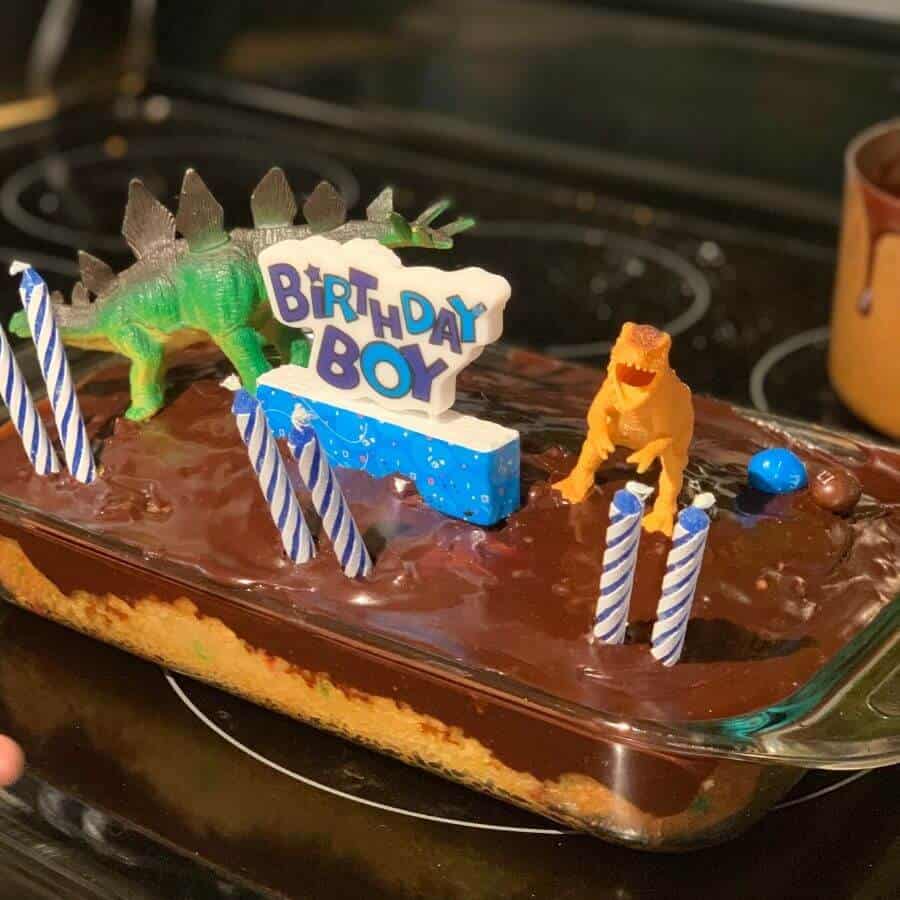 A few other traditions
Sing happy birthday & blow out candles (big shocker I know)!
Tell the family about the first time you got to hold your birthday kiddo.
Have everyone go around and say one thing they love about the birthday kid.
Let the choose a dinner.
Let them choose the shows that day.
Tea and maple bars for breakfast! (my husband's family did something like this)
How we do gifts for home birthdays
Our kids are not accustomed to getting a lot of gifts for birthdays. We love them, we love giving them gifts, but personally I feel having just 2-3 small gifts is perfect for our family. Usually, one is from the grandparents. And then my hubby and I will buy 1-2 more and wrap them.
For example, my 3 year old got to open dinosaur undies and a Melissa and Doug water wow for his birthday and his siblings drew him a board game on a cardboard box for their present. He was totally happy. When my daughter turned 4 she opened a coloring set and a unicorn dress. You don't NEED a ton. And sadly, as soon as kids get used to a ton, 2-3 presents may get a reaction like "is that all".
Important lessons learned by giving gifts
The birthday kid must learn to open one at a time, and thank the gift giver.
The other siblings learn to be happy for the birthday kid. And they get to pick out something or make a picture for their sibling, which fosters thinking about ways to make someone else feel special.
Keep a bin of last minute gifts when things go on sale
My mother in law told me how she keeps a bin for gifts as she finds them on sale, and that way she always has something if they need a last minute gift. I took her advice and try and keep a few girl and boy gifts around, so that I'm not scrambling if we get invited to a party.
We also reuse tissue paper and gift bags and store it in that bin. I can't tell you how often that's come in handy already!
What are some things you've heard of to make a birthday special? I'd love to know. Be sure to pin this post so you can find it for later, and don't forget to grab your free birthday questions.