Deciding what to clean in your house each day can feel so daunting that you just avoid it altogether, am I right? I've made a house cleaning schedule to give you a plan you can stick to! To be completely honest, I'm working on changing my daily cleaning habits so I can stop feeling like I'm drowning in the mess. Once I get behind it's as if I don't have the energy to catch up with three little kids around.
And lets face it, if you are a mom and you don't clean something every day, you feel behind! I'm going to show you what to clean in your house each day so that you can say goodbye to overwhelm too. And be sure to download and print my free daily cleaning checklist at the bottom!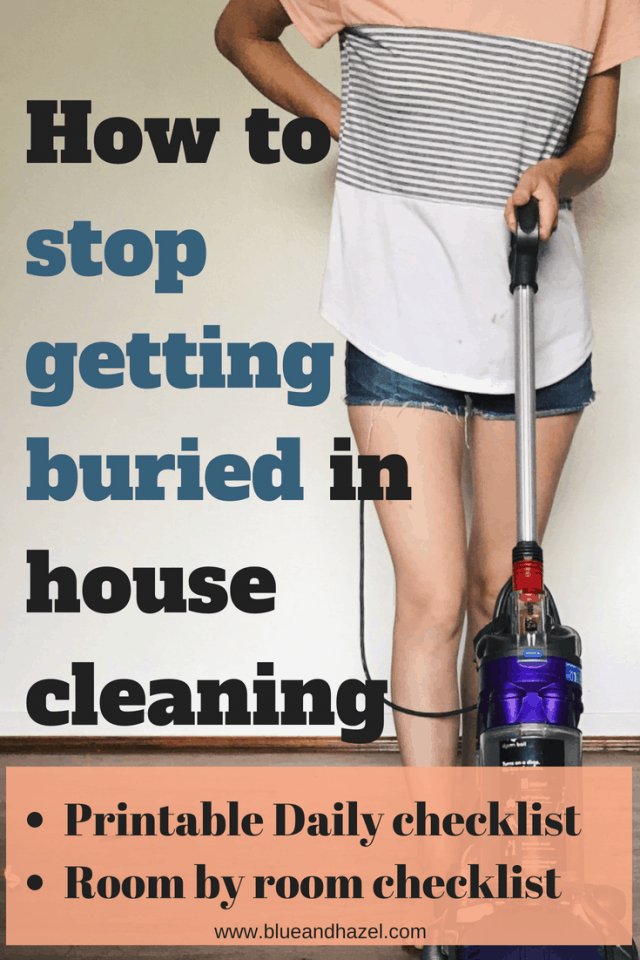 How a dirty home can interfere with being social
This post contains affiliate links to products I use and love.
I knew something needed to change when I had been planning to invite new mom friends over the next day but couldn't bring myself to invite them because I didn't have the energy to spend ALL day cleaning to get my house to a place that didn't embarrass me.
And I'm not talking about forgetting to dust that day, haha. Dusting, what's that?!
My floors had cereal stuck to them from days ago, my bathrooms were weeks past due for a good deep clean, my husband needed clean clothes for work, and there were piles of kids crap strewn everywhere in every room. Don't even talk to me about the kitchen!
It was a major low for me. I was exhausted thinking about it and wished I could figure out how to maintain a clean house with 3 kids under 5. My habits needed a reboot, and I needed a house cleaning schedule I could stick to. I desperately wanted the peace that comes from walking into a clean space.
Consider getting a one time house cleaner
While my hubby and I usually have people over so that we will clean up (a deadline does wonders!), it got to the point where I didn't want anything hosted at my home because of how behind I was on cleaning.
When my mom came to visit me for 9 magical days and helped me catch up on some deep cleaning, my hubby and I just kept saying, "Our house is so clean!". It inspired me to want to KEEP my home the way she left it. I mean, wow, it was sparkling. She even pulled all the stuff out of one of my corner cupboards, vacuumed it and wiped everything down with soap. (That would have been a day project for me).
If you feel too overwhelmed and busy to catch up, I highly recommend hiring a one time deep cleaner to come if you just really need to get back to ground zero from the pit of despair. (Around $150-$200 for a deep kitchen clean, bathrooms, and floors)
I don't think I could have gotten the jump start I needed without my mom's help.
You may also love: How to start journaling in 2 minutes/day for busy moms
How to keep a clean house
Step 1
To me, the hardest part about starting cleaning my house is getting off the couch. I feel the overwhelm of having to do it all, and sometimes spend days dreading what would only take an hour to clean.
Step 2
The best thing you can do is to pick one small thing in a room and then one more. Clear the clutter off so you can clean underneath. Clear the counter so you can wipe it off, you get the idea. Everything helps!
Step 3
Print off a house cleaning schedule that works for you (get the one that I use below)! I clean one room every day, do dishes, vacuum, and put random stuff away. My house still gets dirty and cluttered (people living here), but when I follow this it's SO much better!
Related Post: 8 things I stopped doing to be less busy as a mom
How I clear clutter fast before I clean
I like to start by picking up the living room floor and tossing things into the right rooms, which can later be put away in those rooms. My kids can now help me be "runners".
If I want to go even faster, I'll put everything in a big basket on the couch, and later put those things in their "homes". Just the absence of clutter everywhere (even if I know it's all in that bin over there) feels so peaceful.
Related Post: Declutter piles of paperwork: Our system for filing and tossing
Cleaning habits of people who have clean homes
When my mom came, I noticed a few things she did differently than me each day that kept my house clean and clutter free. These are the things I'm going to share with you in a cheat sheet so that you can do a little each day. They include:
She did dishes after each meal.
Wiped down counters, table, and sink each meal.
Food got put away after meal times.
She swept the kitchen floor each day.
Vacuumed main areas every day. My Dyson DC24 is the only vacuum I ever care to own, and it works really well on wood floors, carpet, and the kitchen so I don't have to sweep and vacuum!
Kid clothes went to their "home" any time they changed outfits, either closet or dirty hamper. (I'd gotten used to letting them leave it on the floor wherever).
She taught the kids to pick up after themselves, like putting their shoes in the bin each time.
Kids eat in the kitchen only, (something I'd been terrible about and made my house really crumbly).

Looking for a house cleaning schedule that you can stick to? Be sure to print off my room by room checklist and daily cleaning schedule below so you can be less overwhelmed.
You may also love: Potty Training Tips For Boys Over Age 3
Keeping it clean vs getting way behind
I asked my friend (who has a clean house with a baby and toddler) how she does it and she told me she found a cleaning schedule that tells you what to clean in your house each day. She loved it. It sounded doable, and so I made my own and am trying it.
If you are way behind, then you can either:
dedicate a whole day to making massive progress
hire a one time cleaner
do one small area/day to get caught up.
Then, follow my daily cleaning guide to protect yourself from getting slammed again.
Use a printable house cleaning schedule
I've made this customizable cleaning schedule for you below. Save it and print it! To summarize, each day we clean:
One main room each day
Vacuum/sweep main areas
Dishes/counters/clear table each meal
Laundry if needed

Print this and fill in each day with one large task or room to tackle.

Here's a basic idea of what to clean in each room. You can add to this things that are important to you not listed here.
My house cleaning schedule does not include every little nitty gritty thing to clean. If your microwave hasn't been cleaned in months and has butter popped all over the inside, then that can be part of your "kitchen" day, or maybe that's the only extra thing you do that day.
My problem was that I had no plan, so I wouldn't clean until something got suuuper gross. I'd look at a white wall for weeks thinking, "I should clean all those muddy handprints off of it" but never get around to it.
Two things that keep my house cleaner with almost no additional effort
Food stays in the kitchen
Do dishes right away instead of piling them in the sink. 
We recently stopped letting the kids carry food throughout the house. Now we are training them that all food stays in the kitchen. I don't always care if they are seated at the table, that's too structured for me.
Since doing this, I have WAY less crumbs everywhere to clean up, and the couch gets less stuck under the cushions to clean. It took about one week to train the kids and now they are really good about it. They used to love snacking while watching a show and now they have to decide if they are "so hungry" enough to turn off the show and eat it in the kitchen.
As for dishes, I'm focusing on not just putting them in the sink (or counter if sink is full). Instead, I'm putting them straight into the dishwasher or washing them by hand. It's barely any extra effort because I had to do it at some point anyway.
Essentially their "home" all day is now the dishwasher instead of the sink. Then, the sink is always empty and the kitchen looks way better!It took me a week or so of doing dishes after each meal, rather than racing to the next thing to make a habit.
You may also love: How to remove stinky smells from wooden cutting boards
My favorite kitchen cleaner:
Mrs. Meyers Every Day Cleaner. I was curious why people rave over it, and now I also am a convert. It smells amazing, my favorite it Basil but there are tons of other scents. I also found it cleans off my counters well and gets all the fingerprints off my stainless steel appliances like a champ.
I also keep Mrs. Meyers Hand Soap in Apple in my bathroom sinks now. It smells like a jolly rancher and I love it!
Why cleaning makes you want less clutter
If you are like me, a lot of your "cleaning" is just putting stuff away… ALL. DAY. I've gone through a lot of purges (10 clear boxes was the biggest so far!) and I can honestly say there are times I get so frustrated picking the same crap up day after day that I either:
Put it in a giveaway bin.
Try and figure out a "home" for it, as often when I don't know where something goes I just stuff it somewhere only to stuff it somewhere else the next day. Everything needs a spot. Or it has to go.
This easy read called The Life Changing Magic Of Tidying Up changed how I viewed my stuff.
If your kitchen cupboards never seem to close (mine were like this for a while), it's because you have too much in them. What could you let go of? What two things have a similar purpose? Do you need all 7 wooden spoons or could you do with just 2? Do you need 3 to go mugs, or could you just wash 1 each time? (Ahem, guilty of 3 here!).
If your closet or dresser doesn't have enough space in it so you find yourself stuffing things in, what do you NEVER wear but swear you will someday? I try to get rid of those things.
Knowing what to clean in your house is half the battle, and having less to clean and put away is the other half.
Choosing the right organizational bins
If you can't get rid of something, but don't have a home for it, you will thank yourself for buying some pretty organizational bins. I'm going to do this soon for my bathroom closet. I have no bins separating things so everything is just sprawled which makes putting things away confusing.
By getting just a few bins, a lot of things will then have spots making cleaning much, much easier!
What do you need to clean?
What keeps you from feeling like you enjoy being in your house? Do you have too much clutter or just kids that spill and wipe dirty hands on your walls or both? How do you decide what to clean, or is it random? Let me know, I can use all the tips you have. I'm right there with you!
Follow Blue and Hazel on Instagram