Lately, my beloved curly maple cutting boards have been smelling terrible. I sliced an apple on my cutting board and it tasted like garlic…ya gross! So I read a ton of suggestions on how to clean and remove strong smells from a wooden cutting board. I also found an awesome way to oil it with coconut oil which made my cutting boards look almost new again.
Even if your cutting boards are old, stinky, or dry, you can revive them in a just a few minutes. Here's what I used, how I got rid of the smell, and how coconut oil brought back it's natural wooden beauty.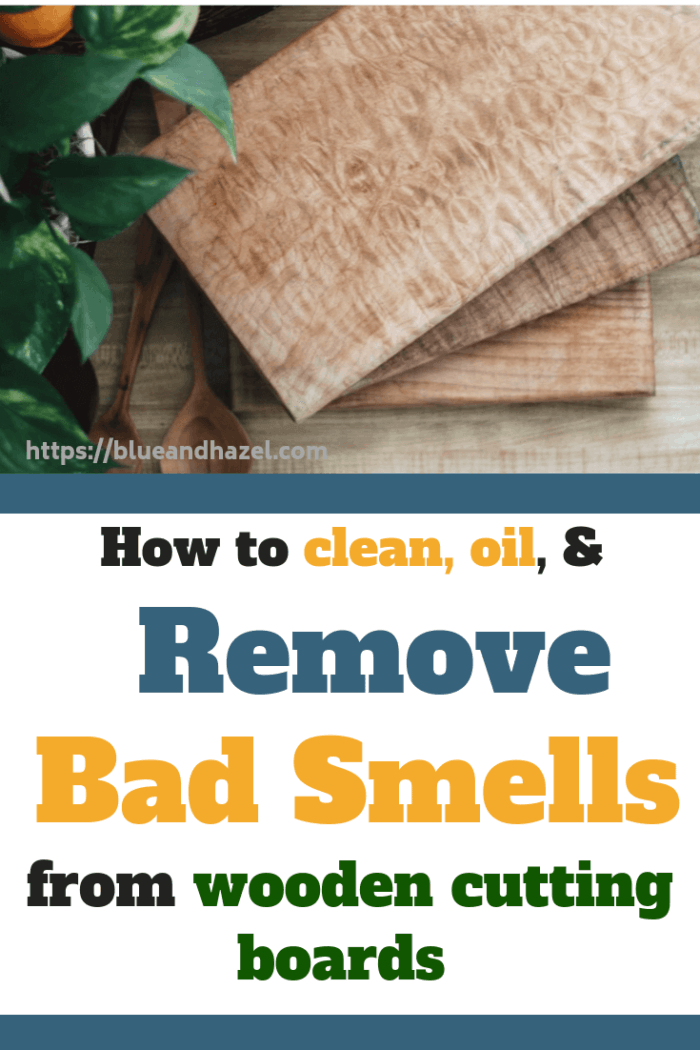 Why I wanted to take care of our cutting boards so badly
My cutting boards are sentimental, and I want them to last.
A few years ago, my husband and I got to spend a few weeks with my parents while my husband studied for his medical school boards.
We also spent a lot of time in my dad's wood shop learning how to cut, sand, and stain a ton of cutting boards. (These were our DIY Christmas gifts for the year). My dad collects curly maple wood so we made cutting boards out of that wood.
Since these cutting boards are pretty special (and curly maple is gorgeous), I wanted them to last a long time with daily use. However, I nearly got rid of them because I didn't know how to remove the stinky garlic and onion smell.
My usual cleaning routine consisted of hot water and Dawn dish soap. Well, I'm so glad I didn't just buy new ones because taking care of them is actually way easier than I thought.
How to remove smells from a wooden cutting board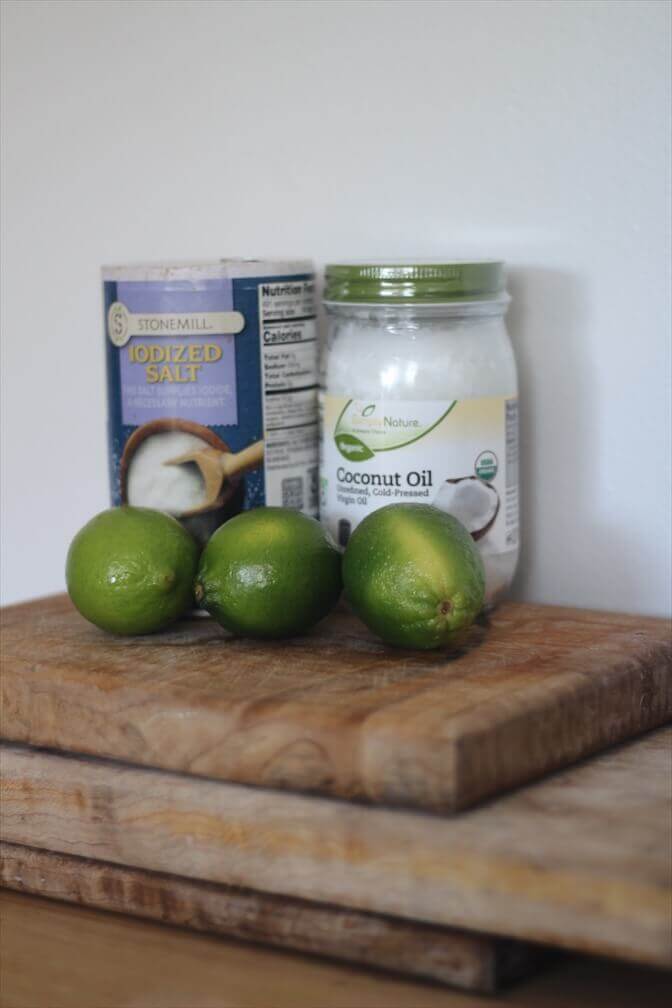 Step 1. Wash with hot soapy water
Wash after each use with hot soapy water and rinse. (I had been doing this, but it wasn't enough to remove the garlic smell).
Step 2. Rub with salt and lime (or lemon)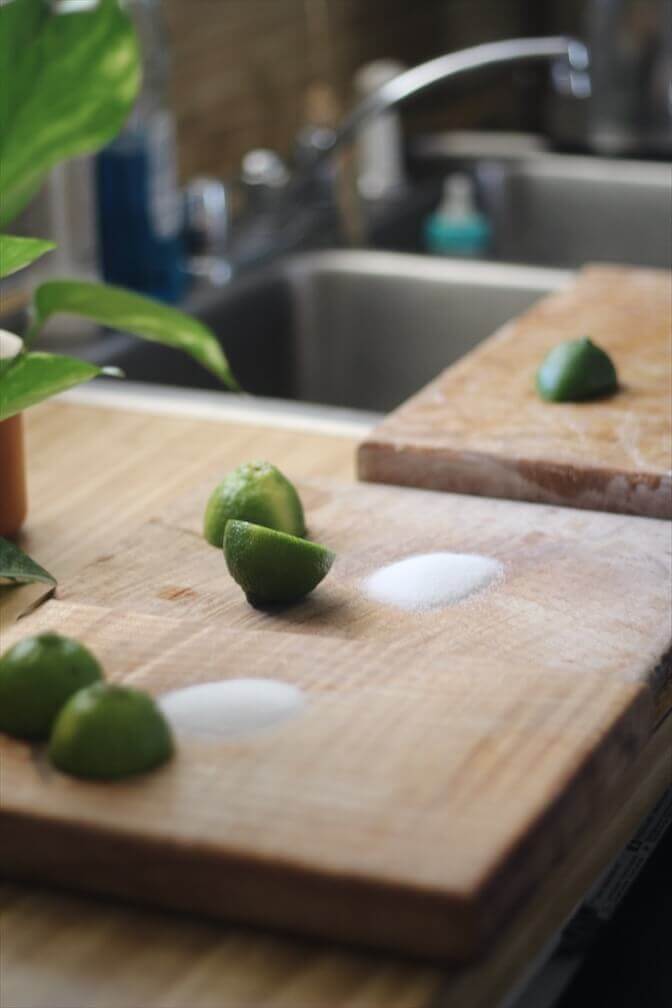 Pour a small pile of salt on the cutting board ( 1-2 Tablespoons per side). Cut a lemon or lime in half, and squeeze out a bit of the juice till the salt dissolves a bit and is spreadable. Scrub with the lime for a few minutes and rinse. Then repeat on the other side.
What does citrus juice and salt do?
The lime is helpful for removing odor, and has anti microbial properties to keep some bacteria from growing in the board. The salt is an abrasive scrub, and it draws moisture out of the wood preventing some bacteria build up and stinky smells.
Myth buster: Lemon/lime juice and salt is not enough to sanitize your cutting board. Here's what to do instead:
If using raw meats, you can sanitize using a ratio of 1 Tablespoon bleach to 1 gallon water. Or, to avoid bleach and use a much safer disinfectent, check out Force Of Nature. It's what I now use on our cutting boards after cutting raw meat on them.
I'd do this right after step 1.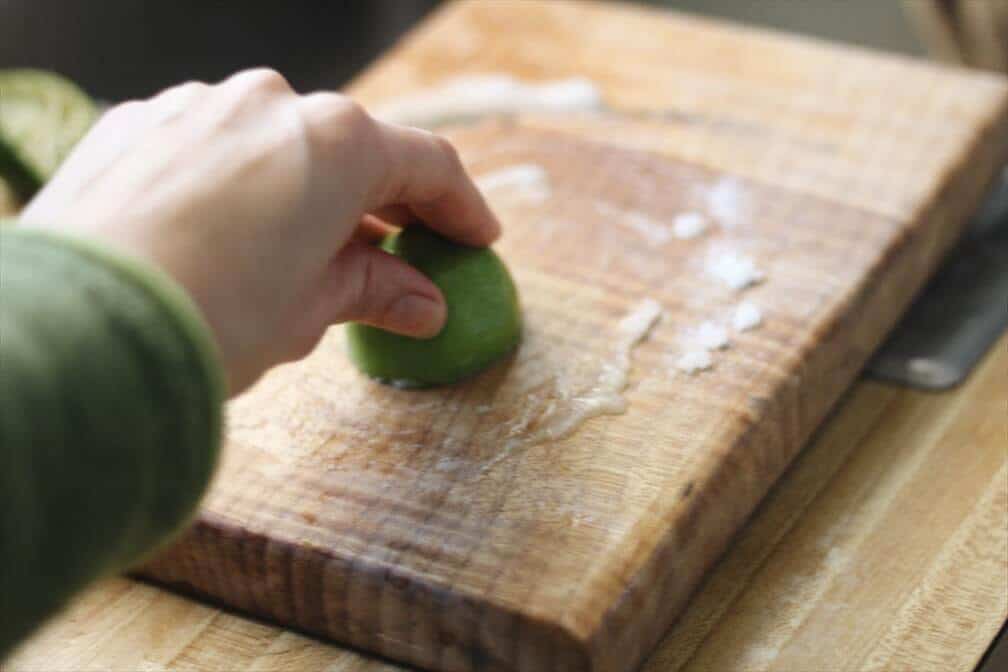 Step 3. Rub with baking soda to remove any lingering smell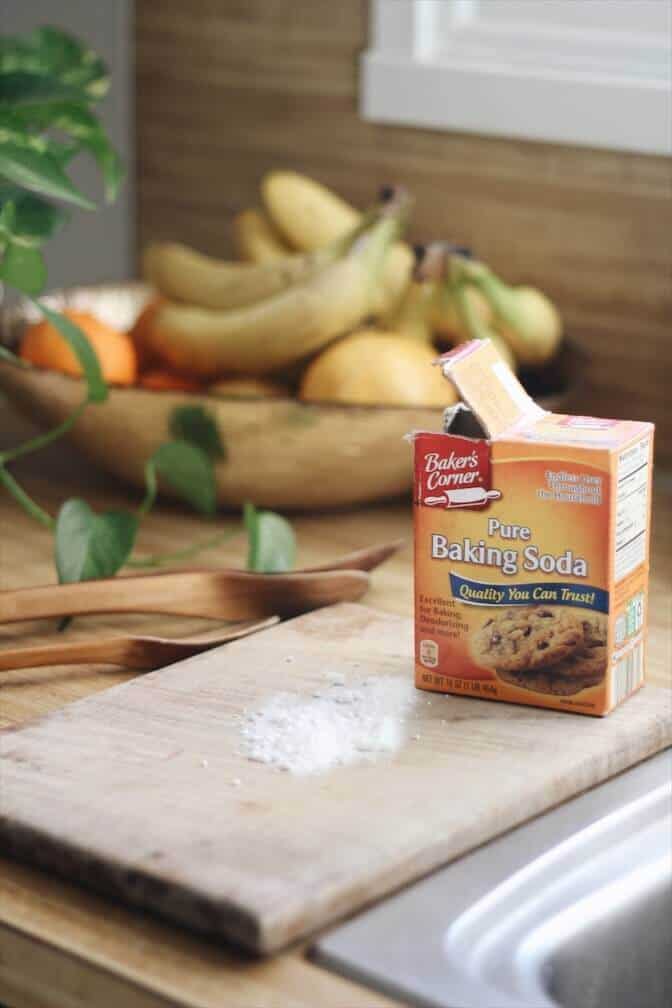 If your board smells fresh after the salt and lime, then you're done! If it still smells at all, then add 1-2 Tablespoons of baking soda with some water and make a paste.
I used my leftover lime half to rub the paste all over, let sit for a minute, and then rinsed.
Two of my boards smelled great after the salt and lime, but one still stunk of garlic just a tad. So I did the extra baking soda rub and the smell was gone.
No more apples that taste like garlic. 🙂
Step 4. Dry your board completely
I lean mine upright to make sure both sides dry well. You don't want to try and oil a board that's wet.
Step 5. Season your cutting board with coconut oil
My wooden cutting boards hadn't been oiled in about 2 years. They were so dry and ugly. I'm going to try to oil them about once a month to keep them beautiful and to help keep water and smells from clinging to the wood.
I only used about 1 tsp of coconut oil for each board, maybe a little more. One thing I did notice though was that at first, it was hard to rub in, as if I had used too much. However, I let it sit for a few hours to "soak in" and it was all soaked up!
What type of oil is safe to use on a cutting board?
Food-Grade Mineral Oil
Coconut Oil
Carnauba (a wax) or Beeswax mixed with one of the above oils
DIY Cutting Board Oil Recipe Using Coconut Oil and Beeswax:
Beeswax dries harder and really seals the cutting board making it more waterproof, while the oil can sink into the board and make it beautiful. To get the best of both worlds, melt together:
1 part beeswax
4 parts coconut oil (or mineral oil).
For an easy ready-to-go version of coconut oil and beeswax, try this blend. Or, try a mixture of beeswax and mineral oil.
Why use coconut oil on your cutting board?
Prevents boards from becoming dry and brittle.
Keeps liquid from penetrating the board, which can house germs and bacteria.
Smells amazing!
While it could go rancid (potentially), coconut oil is known for not going rancid like other plant oils due to it's high saturated fat. This article explains it well and covers other pros and cons of many board oils.
Oils that you should avoid (because they go rancid and can make your cutting board stink) are canola oil, vegetable oil, sunflower oil, or olive oil.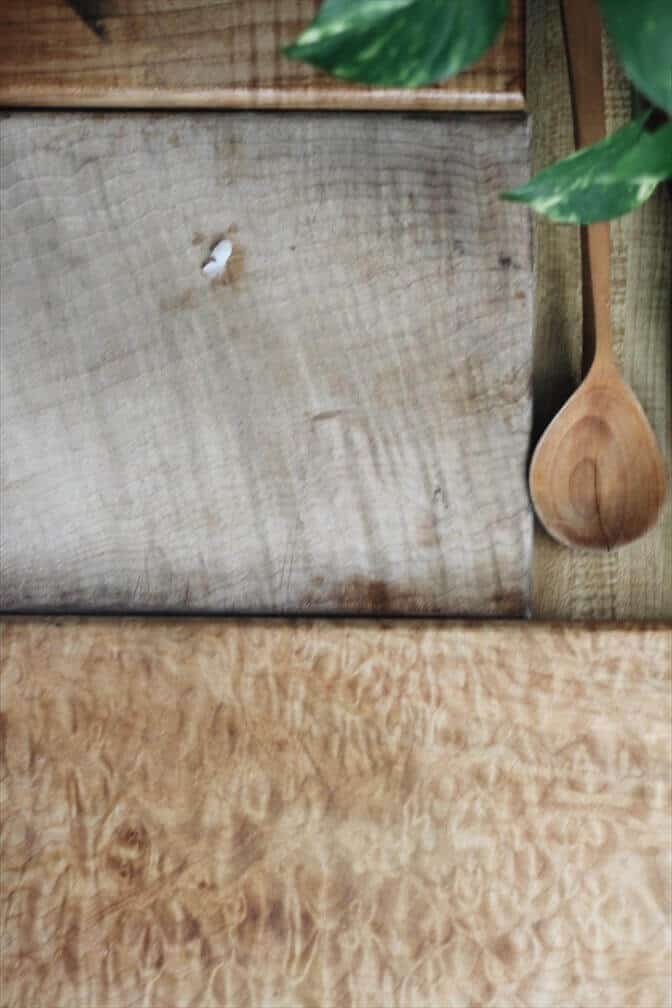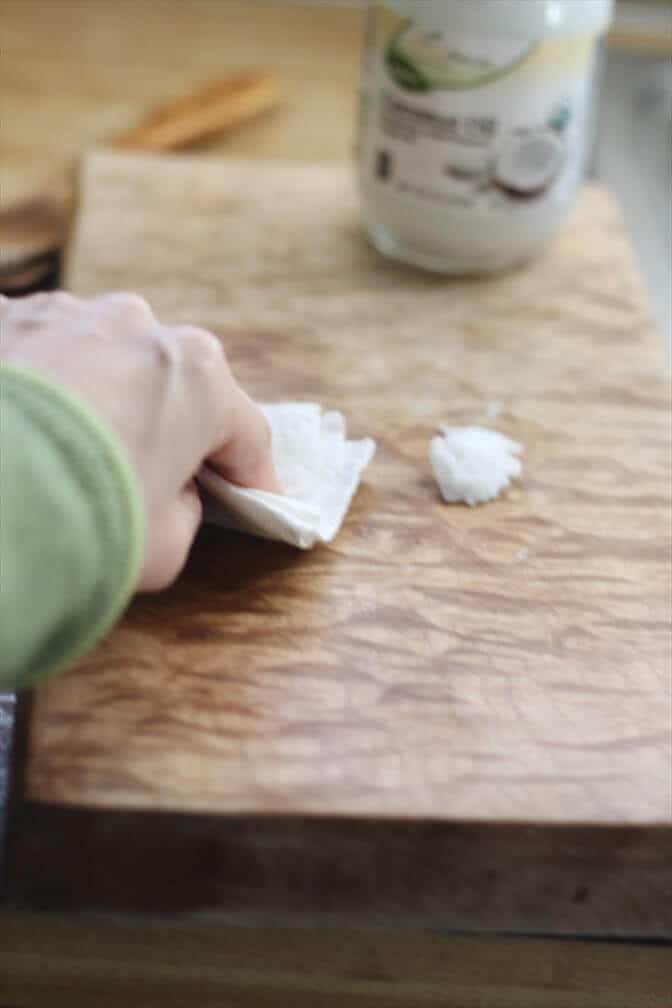 How to clean a bamboo cutting board?
Cleaning a bamboo cutting board is no different than cleaning this curly maple one or any other wooden cutting board. Use the same steps as above and use coconut oil or a combo of coconut oil and beeswax to seal and condition.
Tip: Use a different cutting board for meat and vegetables
While you can safely clean and sanitize one cutting board to use on both things, I find it's easier to just have two. I try to grab the same wooden cutting board for meat/garlic/onion. And my other one I try to grab for fruit/vegetables/bread.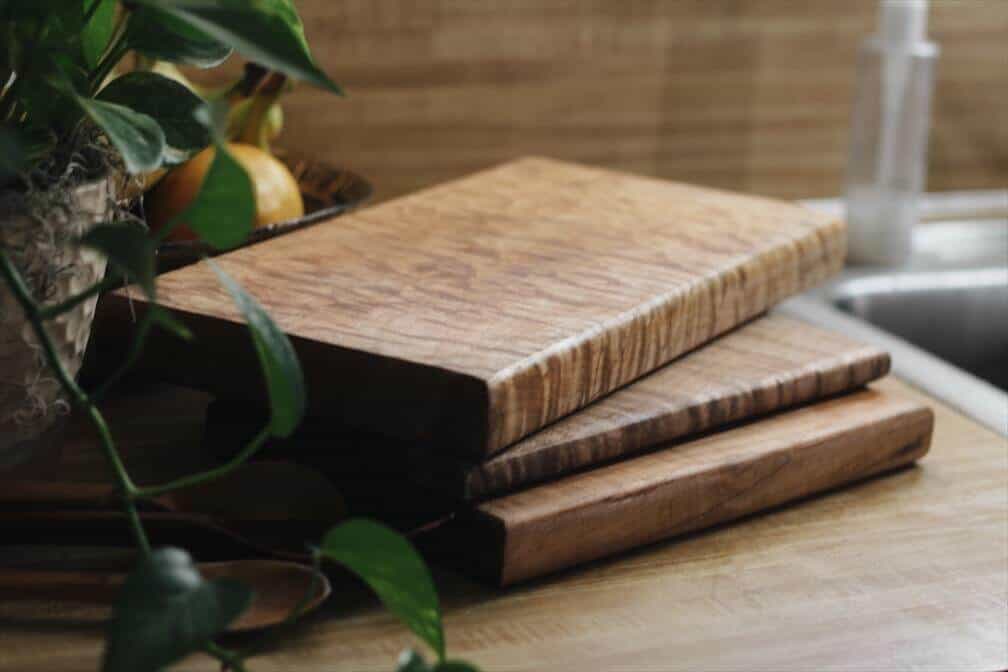 What to cut first and second if you only have one cutting board
When I just had one cutting board, I always chopped fruit or veggies first, then garlic/onions, and last I'd cut the meat. That kept me from having to wash my cutting board while cooking, and kept my salad tasting like salad and not like onions!
How to sanitize wooden cutting boards used for raw meat
While I usually just scrub them with hot soapy water, you can sanitize your boards that touched raw meat by rinsing with a mixture of 1 Tablespoon bleach to 1 Gallon of water as recommended by the USDA.
An alternative is to rinse with straight white vinegar, or spray with Force Of Nature disinfectant.
What works better: Vinegar or Bleach?
While both kill bacteria and viruses, a bleach and water solution wins at being the most effective. This post explains it well.
How do you go about cleaning your wooden cutting boards? It's one of my goals this year to really sort through different cleaners, what they do, and to find a way to use fewer household cleaners. Hope this post helps you get the stink out of your cutting board while making it pretty again!
Posts you may also love: