I've been trying to put together a reference list of old classic family movies. Some of my favorite movie nights with our kids have been watching these. They seem to enjoy them too, despite the slower pace old fashioned movies tend to have! (Slow can be a good thing, right?!)
As far as language goes, I'd do a quick online search if you want to be positive what language your kids will hear. I don't think there's many swear words in these, but I can't be positive with such a long list and you know your families threshold best.
In my experience, the older the movie, the less language it has and the less politically correct jargon it uses.
You can also use your judgement on the age your kids should watch these. Almost all the movies from OLD classic family movie list below (1950's ish) are great at any age (think Mary Poppins). I think they just had very strict standards then for what was considered "family friendly" or appropriate.
If you are a book worm, then you'll love my list of over 100 kids' books made into movies! I specifically marked which ones are books from our Brave Writer Darts as well as Ambleside Online books. If that's gibberish to you, just skip over that part!
Save this list somewhere you can find it! And leave me a comment if there's one you think should be added 🙂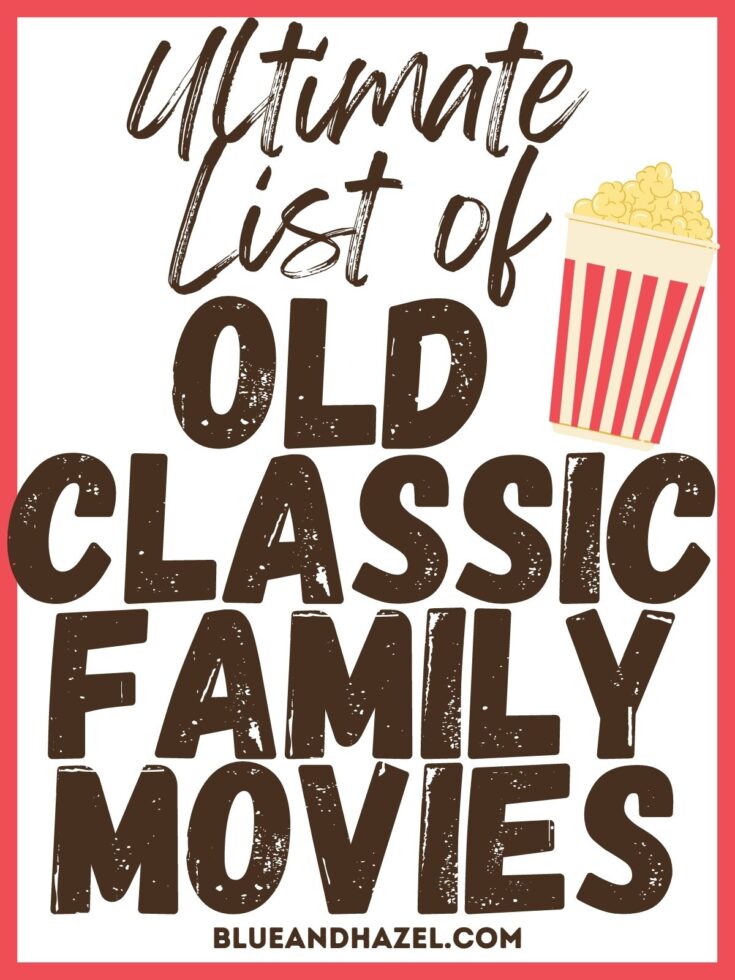 Old classic movies give kids a view into the past, a cultural perspective, and a glimpse of changes in the film industry
Old movies move slower!
To me it's such a refreshing contrast to all the fast flashing animation my kids are drawn to. I'm just kind of tired of all the animated stuff! I also enjoy that:
The acting style is different. Even the typical voices used sounded different…light and airy voices.
You catch pieces of culture as it was back then.
There's old music in the background of the era in which it was made
Many old movies have singing or are musicals!
Not to mention new movies seem to all have clear messages they are sending to kids, and a hidden (or not so hidden) agenda I'm not always a fan of.
My kids almost never want to watch an old movie over an animated movie, but once we put it on they love it.
Where to find and watch old classics
You can find many of these online, via Amazon video or Netflix or Disney Plus.
Also search your local library for TONS of free ones. A tip to save you time in the library: Use your online login and search for it there. If you are part of a library system, they'll even deliver it to your library from another library.
Ok, ready for some fun movie nights ahead?
Old Classic Family Movies (Organized Oldest To Newest)
Robin Hood (1938 version)
Oklahoma (a Rodgers and Hammerstein's 1943 musical)
Black Beauty (1946, and a newer 1971 version)
Treasure Island (1950)
20,000 Leagues Under The Sea (1954)
White Christmas (1954)
7 Brides For 7 Brothers (1954)
Third Man On The Mountain (1959)
My Fair Lady (1964)
Swiss Family Robinson (1960)
Pollyanna (1960)
The Guns of Navarone (1961)
Parent Trap (1961)
Sammy The Way Out Seal (1962)
In Search Of The Castaways (1962)
Mary Poppins (1964)
Gilligans Island (show series stating in 1964)
Sound of Music (1965)
Chitty Chitty Bang Bang (1968)
The Horse In The Gray Flannel Suit (1968)
Snow Treasure (1968)
Oliver (1968)
Herbie (1969)
Willy Wonka And The Chocolate Factory (1971)
Fiddler On The Roof (1971)
Apple Dumpling Gang (1975)
The Many Adventures Of Winnie The Pooh (1977)
Star Wars Trilogy (1977, 1980, 1983)
Newish Old Family Friendly Movies
That Thing You Do (1996 filmed like it's in 1964)
Indiana Jones Raiders Of The Lost Arc (1981)
The Man From Snowy River (1982)
Annie (1982)
The Karate Kid (1984)
The Gods Must Be Crazy (1984)
The Princess Bride (1987)
Honey I Shrunk The Kids (1989)
Milo and Otis (1989)
Hook (1991)
Buttercream Gang (1992)
Cool Runnings (1993)
The Sandlot (1993)
Babe (1995)
Family friendly posts you might enjoy
Save this post for later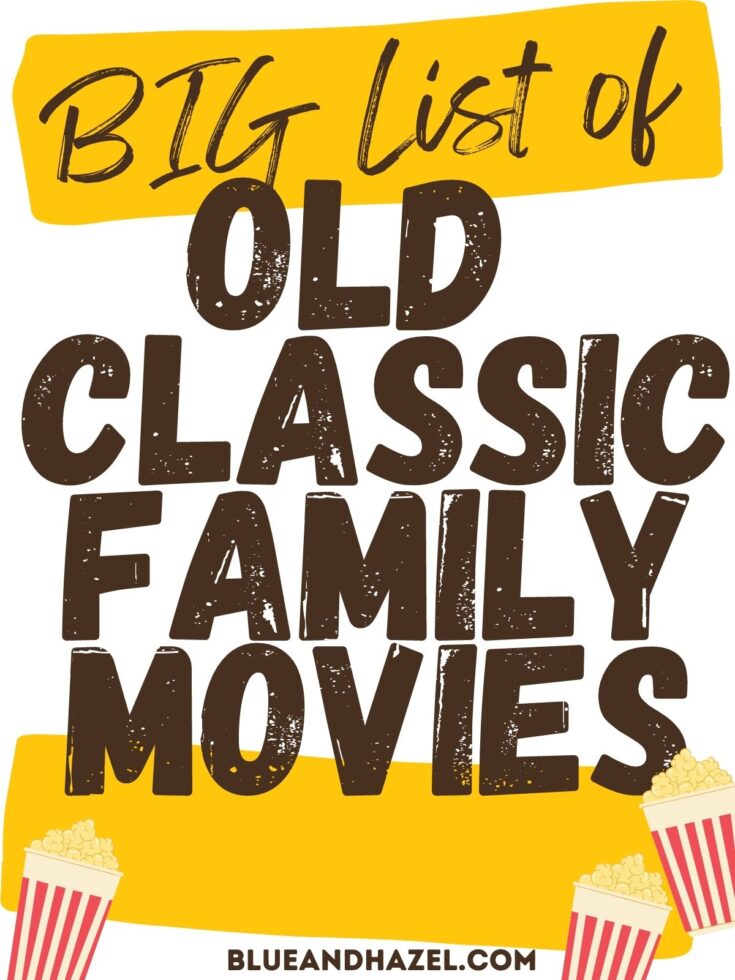 If you enjoyed this list, be sure to save it to Pinterest or share to Facebook so you can find it again! If you forget, you can just google "Old Classic Family Movies Blue and Hazel" and I'm sure it'll pop up! Hope you have some awesome family movie nights!
Let me know below what makes family movies special for you, and if you know of any I could add to the list!