It's no secret that the book is always better than the movie! And for some families, the movie falls short of the book so badly that they regret watching. However, I enjoy seeing the differences! It a unique skill to see which parts get left out or changed. I also realize how much my kids recall of the story when they point out things in the movie that weren't in the book! They are developing an appreciation of good writing, and see how film can't include all the details.
Here's a big list of kids' books made into movies! If you don't necessarily want books that are made from movies, check out my post on old classic movies for family movie nights!
Save this post so you can easily reference it when you need a new read aloud that has a movie to go with it.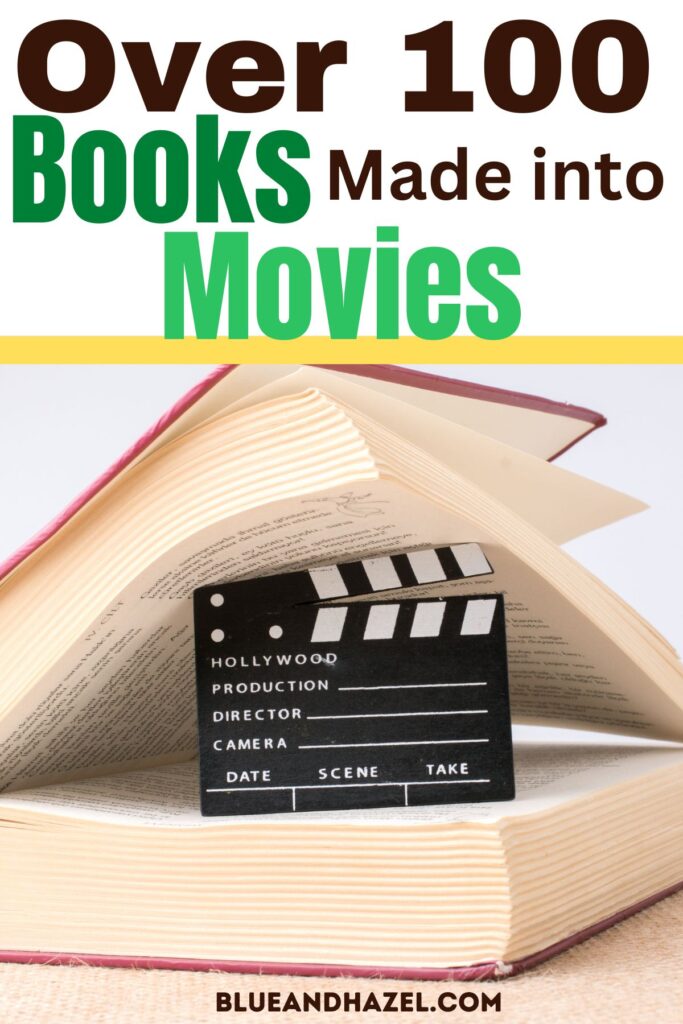 Books That Pair With Brave Writer Darts, Arrows, & Boomerangs
If you don't know what Brave Writer books are, no worries because you can still read the books and watch the movies. But there's a few of you who use Brave Writer for your language arts like we have, and might be happy to have a tidy list of book guides with movies to watch when you finish!
Here's how we use the Brave Writer Darts, and here's a complete layout of all the grammar covered in each of Darts and Arrows I've purchased.
Nim's Island (dart)
The House At Pooh Corner (dart, also an Ambleside Online book)
Mr. Popper's Penguins (dart, also an Ambleside Online book)
Charlotte's Web (dart, also an Ambleside Online book)
Because Of Winn Dixie (arrow, also an Ambleside Online book)
The One And Only Ivan (arrow)
Pippi Longstocking (arrow)
Mrs. Frisby & The Rats Of Nimph (arrow, also an Ambleside Online book)
Stuart Little (arrow)
A Series Of Unfortunate Events: The Bad Beginning (arrow)
The Secret Garden (arrow, also an Ambleside Online book)
The Lion, The Witch, And The Wardrobe (arrow, also an Ambleside Online book) (movie is Narnia)
Sarah, Plain And Tall (arrow, also an Ambleside Online book)
The Wind In The Willows (arrow, also an Ambleside Online book)
Where The Red Fern Grows (arrow, also an Ambleside Online book)
Wonder (arrow)
Anne Of Green Gables (boomerang, also an Ambleside Online book)
Eragon (boomerang)
Holes (boomerang)
Call Of The Wild (boomerang, also an Ambleside Online book)
The Hobbit (boomerang)(1977 cartoon follows the book)
Hound Of Baskerville (boomerang)
A Wrinkle In Time (boomerang, also an Ambleside Online book)
Ambleside Online books that have movies
Paddle To The Sea
Anne Of Green Gables
Willy Wonka And The Chocolate Factory
Lassie
Incredible Journey
Narnia
Wishbone episodes of some classics
Charlie and the Chocolate Factory
My Side Of The Mountain
Swiss Family Robinson
Dr. Dolittle
A Little Princess
The Incredible Journey (movie: Homeward Bound The Incredible Journey)
Peter Pan
The Wizard Of Oz
Heidi
Little House On The Prairie episodes
The Borrowers
Alice In Wonderland
Snow Treasure
The Call Of The Wild
Treasure Island
Little Women
The Giver by Lois Lowry
Oliver Twist
Robinson Crusoe
To Kill A Mockingbird
More books made into movies
The Secret Of Moonacre
The Tale Of Despereaux
The Invention of Hugo Cabret (movie Hugo)
Flora And Ulysses
Romano and Beezus
Legend Of The Guardians
Tuck Everlasting
My Friend Flicka
How To Eat Fried Worms
The Iron Giant
Jungle Book
Shiloh
The Black Stallion
The Book Thief
Catherine Called Birdy
Phantom Tollbooth
Tale Of Despereaux
Matilda (Roald Dahl)
Fantastic Mr. Fox (Roald Dahl)
Big Friendly Giant (Roald Dahl)
Witches(Roald Dahl)
James And The Giant Peach (Roald Dahl)
Fabulous Mr. Fox
The Mysterious Benedict Society
Swallows
Bridge To Terabithia
Journey To The Center Of The Earth
Ella Enchanted
Bruno And Boots Books
Ender's Game
Harry Potter
The Golden Compass by Phillip Pullman
The Indian In The Cupboard
Mowgli
Harriet The Spy
Hotel For Dogs
How To Train Your Dragon
The Princess Diaries
The Sisterhood Of The Traveling Pants
The Spiderwick Chronicles
Movies made from picture books
The Gruffalo
Where The Wild Things Are
The Many Adventures Of Winnie The Pooh
Horton Hears A Who
The Lorax
The Cat In The Hat
The Grinch Who Stole Christmas
Clifford The Big Red Dog
Cloudy With A Chance Of Meatballs
Curious George
The Night At The Museum
Jumanji
Lyle, Lyle Crocodile
Grown up movies made from books:
The endurance
The Blind Side
Secretariat
The Princess Bride