When I was switching our language arts program from Masterbooks to Brave Writer, I was so confused how grammar concepts would be covered. It appeared that each Dart literature guide covered a few random grammar concepts, and that I could pick my own Darts based on the books we wanted to read.
But would we cover what we were "supposed to"? What if I skipped a bunch of the books guides…would we have big gaps? Was everything covered only once? These are questions I'll answer for you in this post now that we are about to enter year 3 with Brave Writer. Plus, you'll get to see EXACTLY what grammar concepts are inside of each Dart and Arrow that I own.
I have not been able to find this information anywhere online so be sure to save this post to find again! I will also try to update this post with future Arrows that I buy.
Scroll about half way down this post to see what's listed in each Dart or Arrow.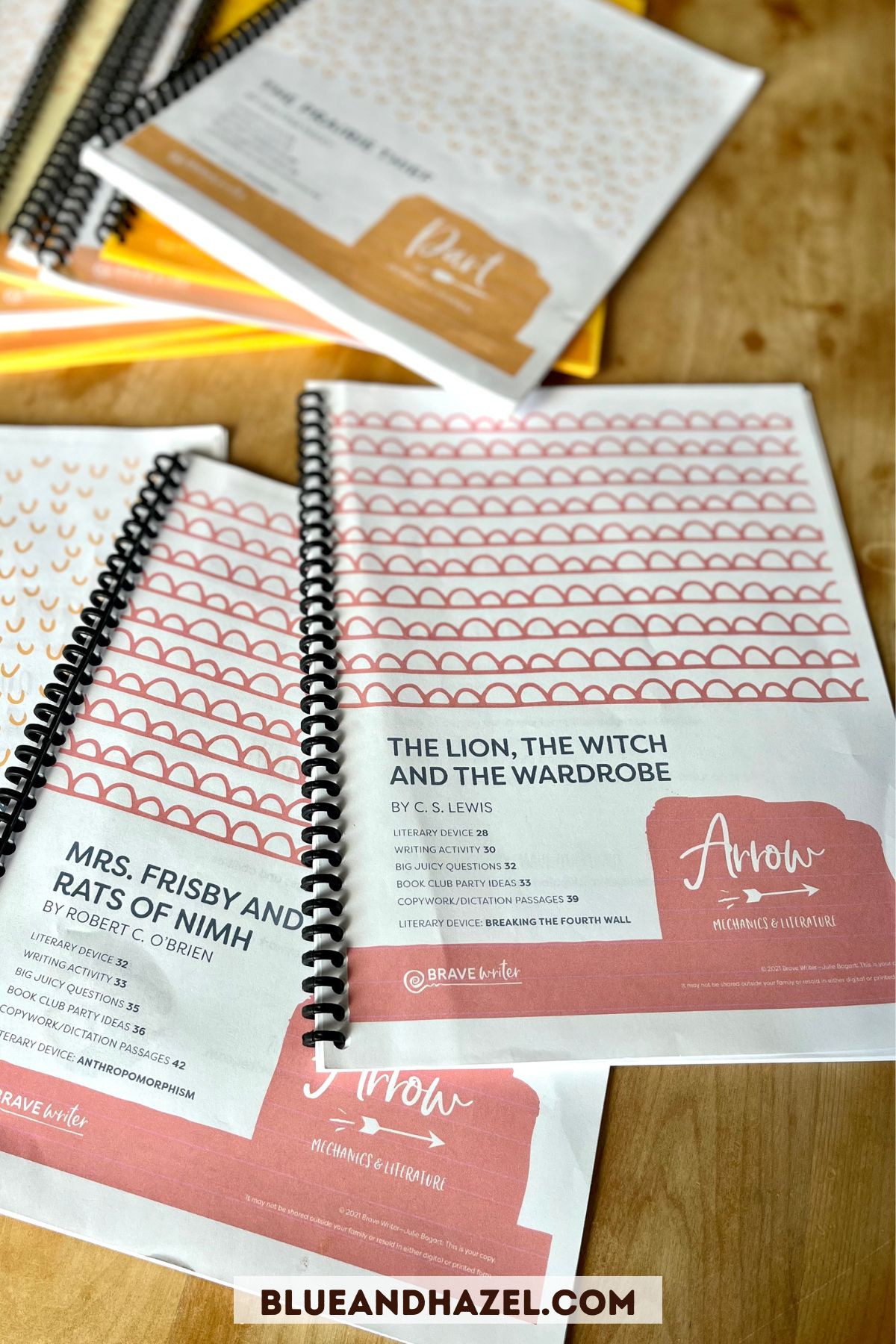 How many Darts or Arrows should you use for 1 year?
There are too many literature guides to use them all. Plus, they are continuously coming out with more!
At present there are close to 100 Arrow guides alone, and nearly 30 Darts. So how do you prepare for a well rounded grammar homeschool if you get to choose your book guides and each has it's own 'unknown-to-you-at-the-time-of-purchase' set of grammar topics?
What I've found is that the more book guides you make it through, the more solid of a program this is. I think that's because the basics get repeated while new concepts get sprinkled in.
If you only want to do a few Darts or Arrows…then I'd supplement grammar.
But I haven't found the need to yet.
Last year we made it through 5 Darts, and this year we'll end with 7. I've felt that's been enough for my comfort level to NOT supplement with my 2nd and 3rd graders. They are finishing their 2nd year with Brave Writer.
Let me just say this is the first time in my life I feel like I'm learning grammar (with my kids) in a way that's applicable and sticks.
If you are interested, you can also see how we used Jot It Down last year for creative writing when they were barely writing at all. I've also listed easy writing projects we completed for ages 7-8.
How can you cover enough grammar if you don't do ALL the Darts or Arrows?
Each Dart teaches around 10 different grammar concepts surrounding the copywork passage. This is listed in the front of each as "Spin and Spiral" (also known as Scope and Sequence). Some of these are commonly repeated, (like nouns, adjectives, verbs, punctuation, etc).
Other trickier things get pointed out less often in select Darts and yes, you might not cover some of them if you don't do a wide variety of Darts.
I feel like the most repetitive things in the book guides are the ones that they should be learning at this age! And the trickier ones…less of a big deal and more of just exposure.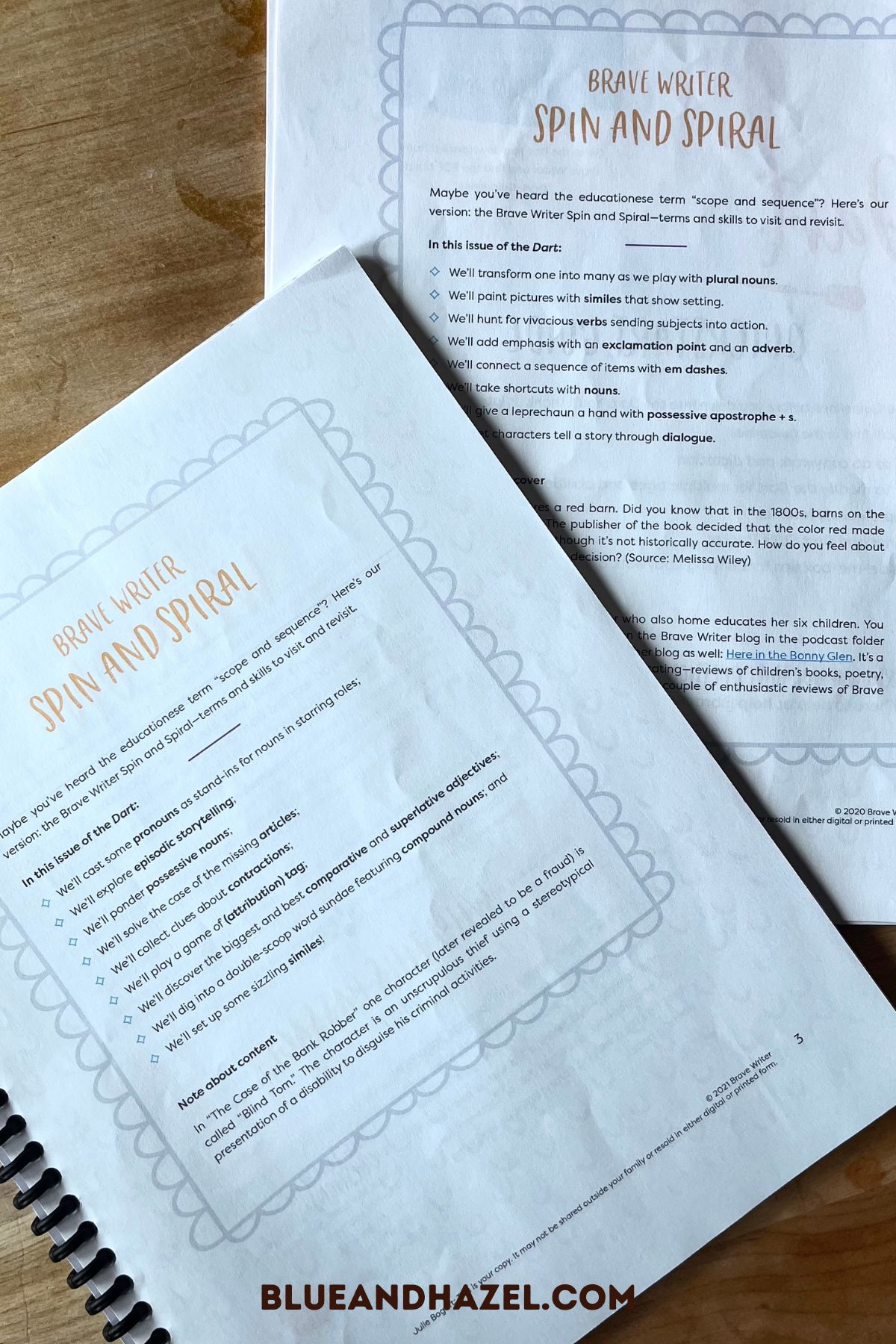 Here's an example of copywork from one week of the Dart Encyclopdia Brown Boy Detective: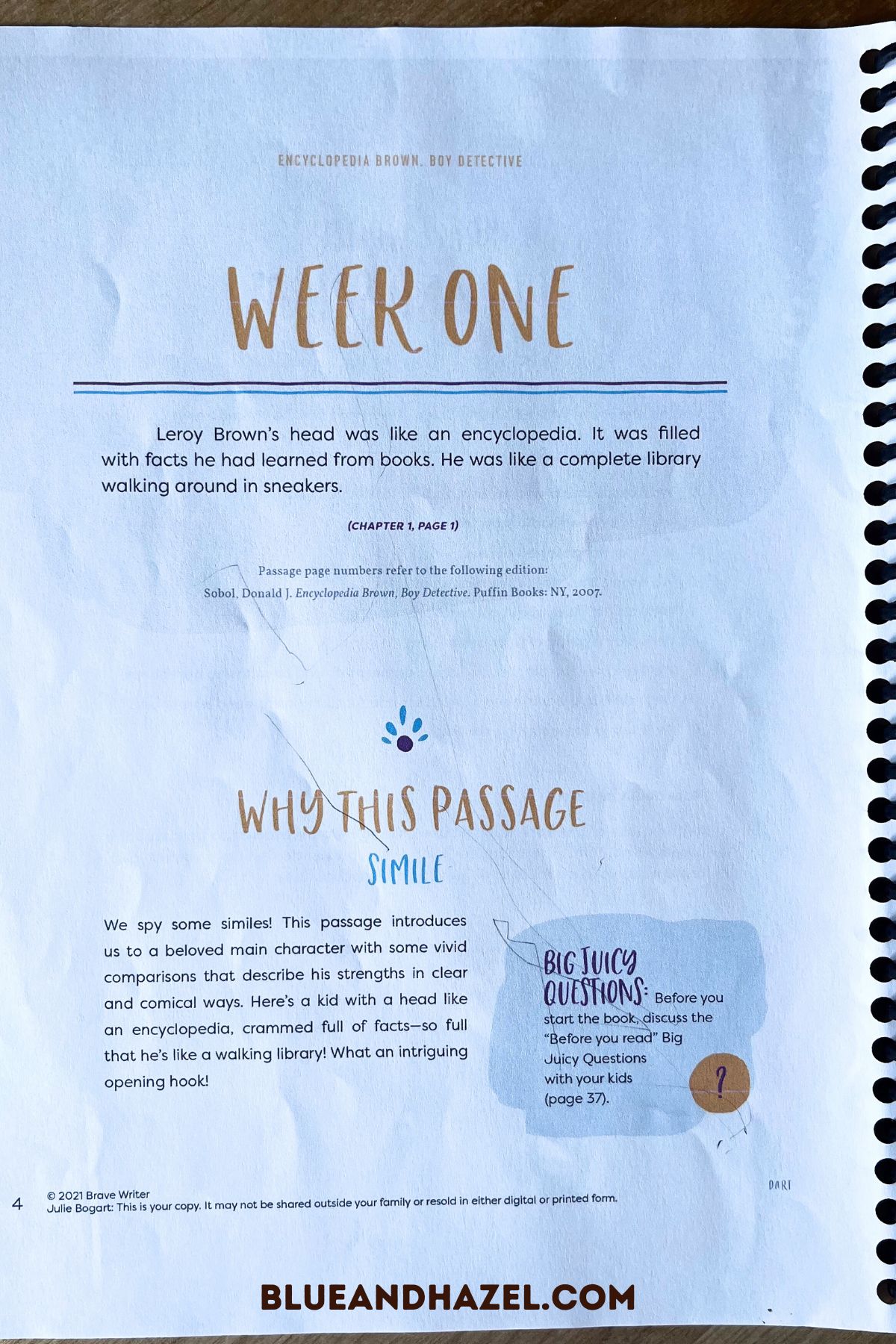 Here are some things that highlight in this passage. Most of these concepts get explored in more depth over the week, and not all grammar or writing techniques for the week are listed on this page.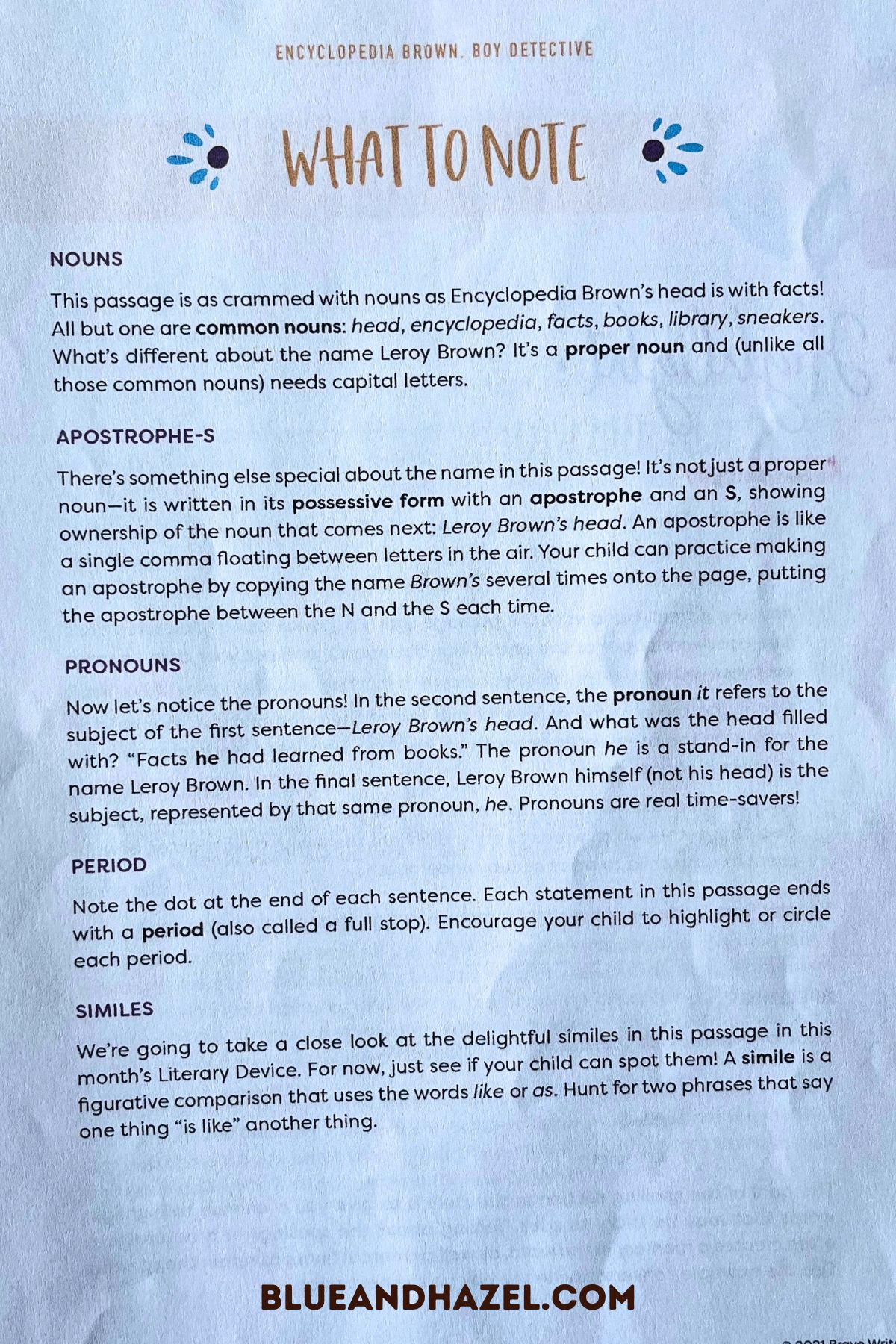 I feel like I'm trusting the process and satisfied that I'm seeing progress.
While I wish Brave Writer had the exact grammar list for each Dart on their website to make it easy for us…they don't. They DO have a newly created Google Doc that shows you a master list of all their book guides, the literary device taught (1 in each), setting, and the time period of the book if you want to tie it in to other studies.
Hopefully my list of grammar concepts covered in each guide will help you to see the big picture, how they recycle grammar concepts, and why I'm no longer worried if we are covering "enough".
How long have we used Brave Writer?
This is officially my 2nd year going on 3rd year using Brave Writer. We started using Darts last year with my 1st and 2nd grader (mainly focusing on my 2nd grader) and this year it's been awesome with a 2nd and 3rd grader.
We'll continue next year because it's one of the highlights in our homeschool! We get to read great books, the kids are clearly learning grammar (and writing concepts), and I love having no worksheets! While I almost quit at first because it seemed so weird to teach, I'm glad we didn't!
I purchased some of the Arrows thinking we'd try some out, but that will have to wait for next year when they are in 3rd and 4th. We just ran out of time, as I have a few Darts left I want to do.
Here's my YouTube update on using the Dart for 2nd and 3rd grade.
Or you can watch my very first video on the Dart after we'd used it for a few months.
How grammar is presented in the book guides
Each week of the month, there's copywork from the book. Grammar concepts and writing styles are highlighted from that passage.
Often times we are asked to open the read aloud book and look for something we are learning about inside. This is such a natural way to "find" what we have just learned about inside of a great piece of literature. (Just today we had to search a few pages to find any sentences with conjunctions beginning with "And", "But", "Or", or "Because").
And last, there's usually an activity to go along with one grammar concept each week in the "spotlight grammar" section. These vary a ton and don't take a lot of time.
Dart Literature Guides by Brave Writer (ages 8-10 ish)
See if you can notice which ones seem to repeat the most! This is GOLD because the repetitive stuff tends to be what they "should" know at this age (age 8-10 ish).
The rest? Great exposure and I'm 100% ok if they don't have it down pat. Heck, I'm 34 with a bachelor's degree and feel like I'm learning some of this for the 1st time.
The Prairie Thief
plural nouns
similes
verbs
exclamation points and adverbs
em dashes
nouns
possessive apostrophe + s
dialogue
Wishtree
question marks
adjectives
perspective
implied subjects
turning point
pronouns
verbs
exclamation points
dialogue verbs
tension in writing
contractions
personification
onomatopoeia
possessive pronouns
character names
Julietta And The Diamond Enigma
punctuation marks
ellipses
ways to write time
present tense
adverbs
proper nouns and common nouns
metaphor
consonance
onomatopoeia
context clues
elements of a mystery story
Heartwood Hotel: A True Home
plural nouns
superlatives and incomparable comparatives
exclamation points
lists
hyphens
articles
verbs and tenses
dialogue punctuation
punctuating sound effects
anthropomorphic animals
The Year Of The Dog
words you find in a family
place names
commas
pronouns, proper nouns, and compound nouns
dialogue punctuation
acronyms
similes
excited whisper
contractions
plurals and possessives
anecdotes
Skunk And Badger
anthropomorphic animals in writing
conjunctions
hyphens
parentheses
possessives
action verbs
interjections
capitals
dialogue
compound nouns
colons
questions and assumptions
onomatopoeia
Encyclopedia Brown, Boy Detective
pronouns
episodic storytelling
possessive nouns
articles
contractions
attribution tags
comparative and superlative adjectives
compound nouns
similies
The One And Only Bob
format
verbs
pronouns
synonyms
puns
dialogue punctuation
metaphor, repetition, and alliteration
nouns
periods
matching nouns and verbs
similies
The House At Pooh Corner
time
number words
dialogue
exclamation points
beginning a sentence with "And"
conjunctions
italics
capitals
synonyms
attribution tags to replace the word "said"
Finn Family Moomintroll
compound nouns
nature imagery
color in words
pronouns
simile
alliteration
attribution tags
mood
cast of characters
Mr. Popper's Penguins
its vs it's
commas
ellipses
articles
e before an s to make it plural
y turning into an i to make it plural
"Yes?" used as a question in writing
conclusions
feeling words
The Trumpet Of The Swan
full stop (periods)
nature nouns
dialogue
quotation marks
parallelism
irregular verbs
preposition
onomatopoeia
Amari And The Night Brothers
1st person narratives
varying sentence lengths
proper nouns
commas
G-dropping
sentence fragments
idioms
ing endings
parallel structure
pronouns
wordplay
The Mouse And The Motorcycle
capitalizing proper nouns
adjectives
numbers in digits and words
homophones
punctuation marks in dialogue
assertions
superlatives
reverse dictation
point of view
Arrow Literature Guides by Brave Writer (ages 11-12 ish)
Mrs. Frisby And The Rats Of Nimh
adjectives
nouns
point of view
articles
attribution tags
anthropomorphism
Children Of The Longhouse
verbs of being
adjectives
ellipses
onomatopoeia
repetition
adverbs
personification
present particles
apostrophe – s
afterward
The Lion, The Witch, And The Wardrobe
the role of parenthetical sentences
hyphens
prepositions
descriptive language
intensifiers
literary mood
alliteration
verb tenses
dialogue
em dash
fourth wall
Because Of Winn Dixie
opening hooks
commas
prose and dialogue
conjunctions
explore a metaphor
sort common nouns and proper nouns
practice using contractions
make a list of lists
Pin this for later!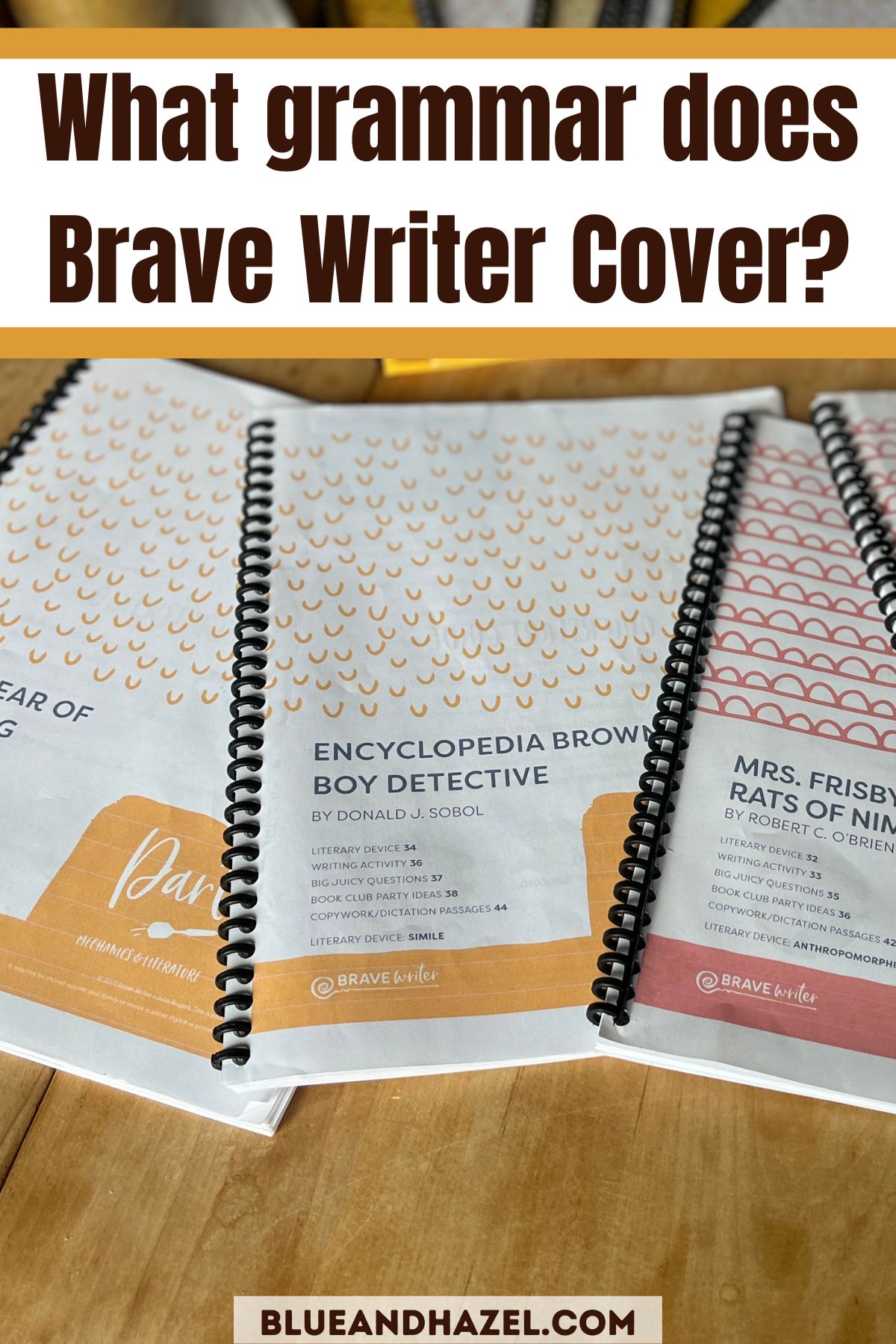 For the type A control mamas out there….
It's ok if Brave Writer is lovely but just doesn't work for your style. Give yourself permission to use something more structured that brings you peace and a sense of checking the boxes.
Even if another grammar curriculum works but doesn't do the BEST at helping them remember these long term, they can relearn it ANYTIME it's needed. We have Google. We have grammar books. I'm proof that you can relearn things as an adult because now, for some reason…I seem to be interested (mainly to teach my kids, lol!)
I'm sometimes edgy about this curriculum because I'd like a better way to gauge if it's "enough". Or I'm thinking sure it's enough now, but what about later?
BUT…to deal with these feelings I think it's really helpful to have a list somewhere of things you'll teach them somewhere somehow.
A few examples of things I want to make sure my 3rd grader is exposed to and hopefully grasping by the end of the year:
nouns
adjectives
verbs
punctuation
dialogue
contractions
synonyms
homophones
conjunctions
Here is a great grammar list 3rd graders should know from Night Zookeeper's website with definitions and examples of each item listed.
My kids have both enjoyed using their program this year. I don't feel like we "need it"…but I love that the kids are playing something fun that reinforces grammar without me having to do anything 😉
They don't play often, maybe once a week or less. I lean towards a soft grammar program in elementary and am ok if my kids don't know it all.
If you enjoy video reviews and homeschooling tips, come on over and subscribe to my YouTube channel! Also check out my homeschool printables on Etsy. Thanks for supporting my blog by reading and sharing this post!
Curriculum we've bought over the years
Homeschool math curriculum posts to read over