This year I decided to go all in with Masterbooks homeschool curriculum, including Language Lessons For A Living Education Level 1. I picked this language arts because it's open and go, lessons are short, and it covers spelling and grammar.
I can't wait to show you what the inside looks like, why it's been a great fit for my first grader, and the approximate daily time commitment.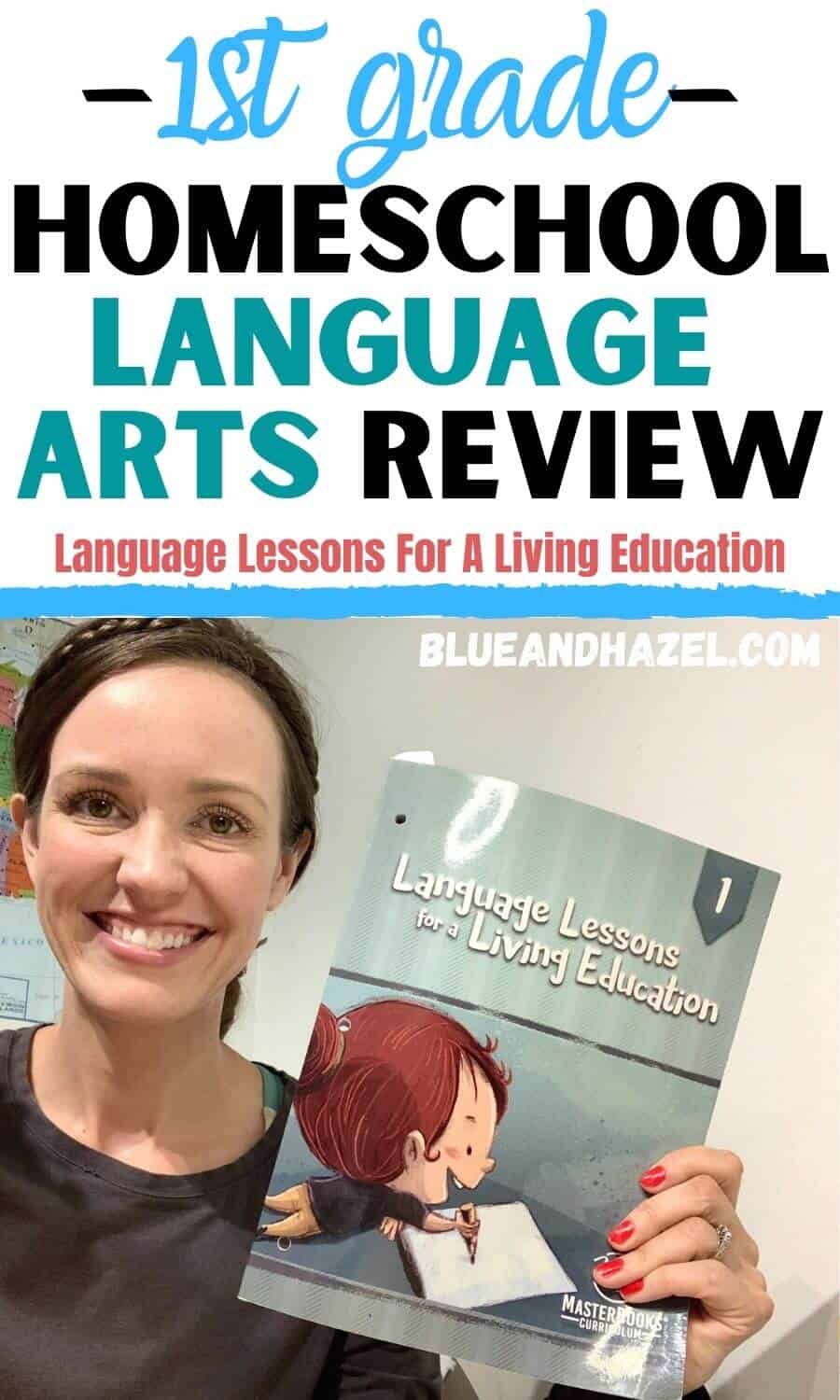 More homeschool posts
What makes Language Lessons For A Living Education Level 1 unique?
This is an eclectic type language arts curriculum with a Charlotte Mason flair. Here are some of the highlights.
Comes with an 18 week schedule already laid out for you so you know how to pace yourself. It's made to last half a year of 1st grade.
Includes copywork and oral narration (your child will tell you what they are learning).
Readings are from 3 of Masterbook's books, but you can also use your own like we did.
Includes spelling lists each week.
Practices how to spell sound blends, such st, ch, str, and many more!
Short lessons (this usually takes us around 10-20 minutes in level 1, depending on the day).
Kids get to make a "dictionary", which has turned out to be the cutest keepsake of 1st grade.
Gentle on handwriting requirements (for level 1), 1 sentence at a time and often just writing words. This is not a formal handwriting curriculum, but there will be plenty of time and energy left to add that on your own.
There are 6 levels that are made for approximately 1st – 6th grade.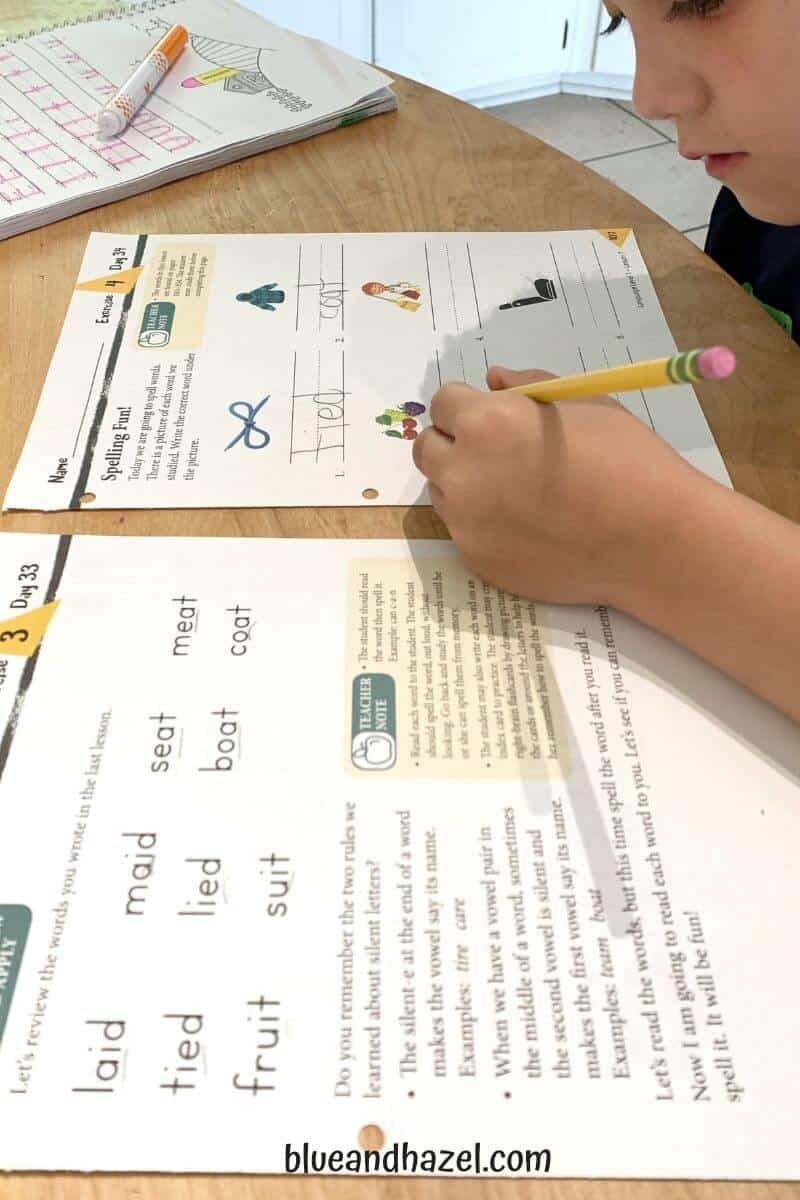 What we wanted from a language arts curriculum for 1st grade
For starters, in depth grammar is NOT a priority for me at this age. There's plenty of time for this info to stick.
So we were looking for something light that introduced some of the basics like what a noun and a verb is. Intro spelling. And what types of words get capitalized. Things like that.
In first grade I prefer my kids focus on learning to read, enjoying books, and learning how to spell some of the common sounds and sight words that will allow them to put a sentence on paper.
Masterbooks fits perfectly with my goals here. If you are not sure what you want style wise, then you may just have to try something and see how your child responds to it.
We are not Charlotte Mason purists at all, but she doesn't even recommend officially starting grammar until 4th grade. So I appreciate Masterbooks' light approach to Language Arts that doesn't overwhelm and still introduces my 1st grader to some grammar and writing.
Here's a look at pretty much all the grammar that gets covered in level 1.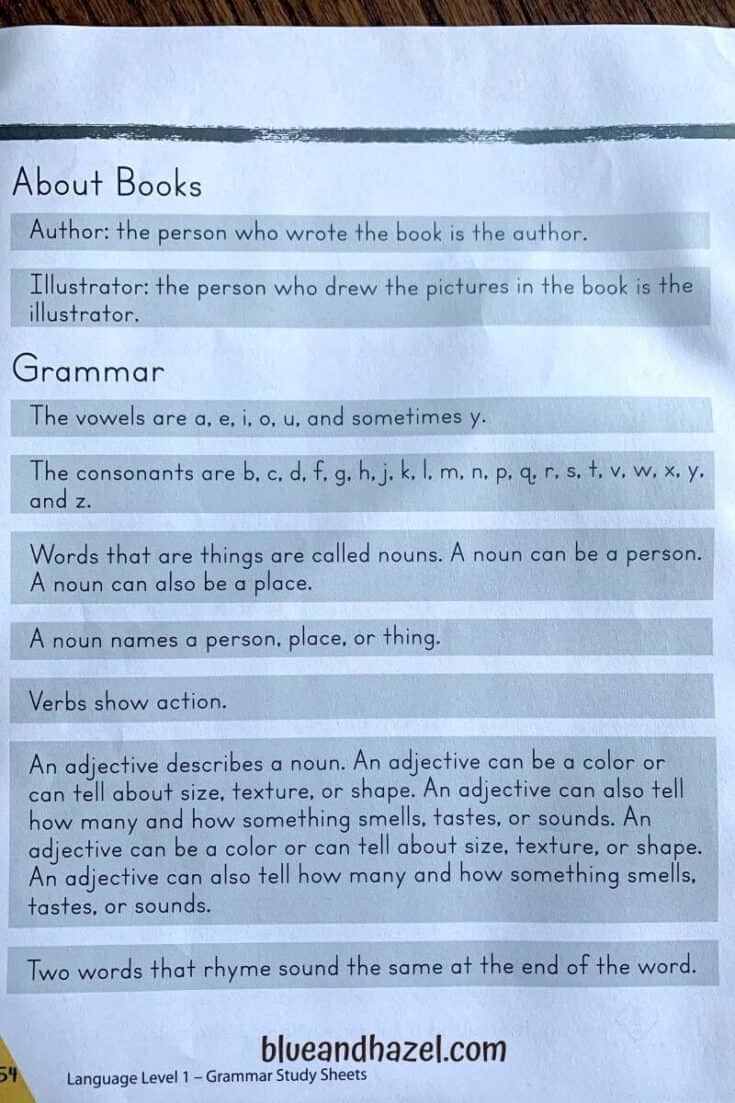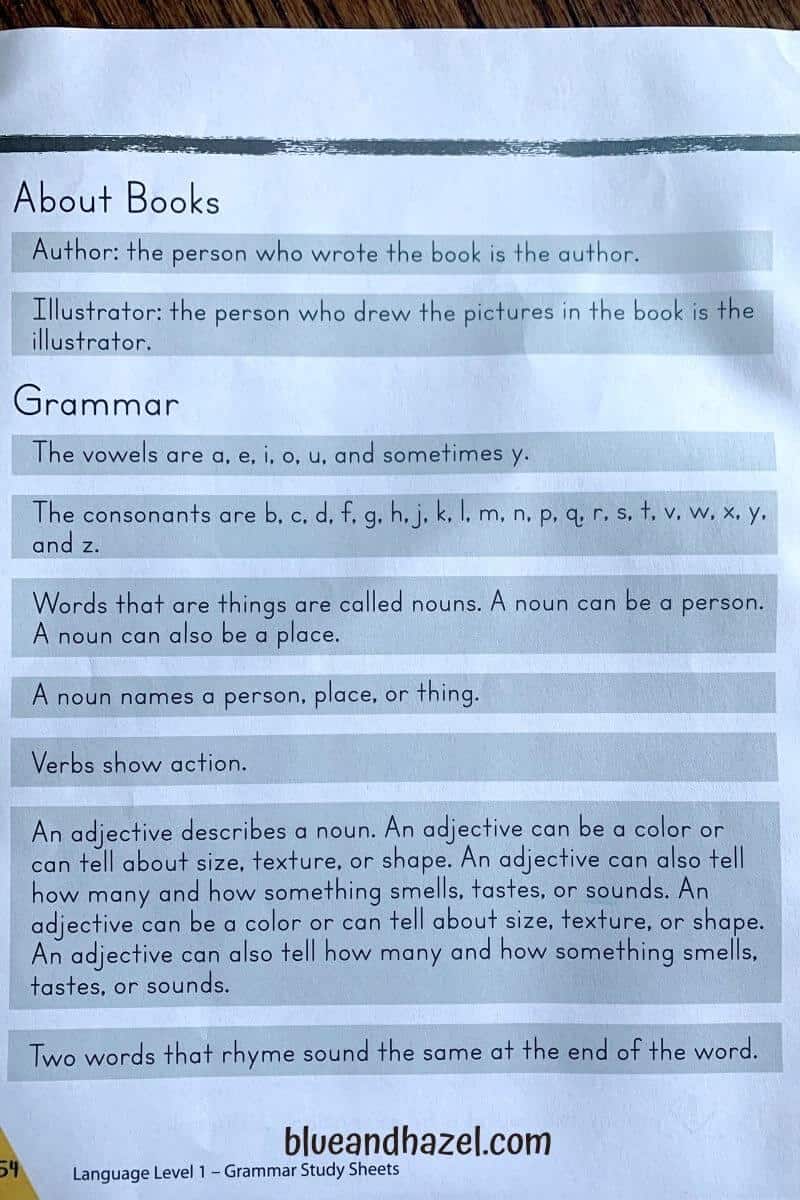 Masterbooks Level 1 Language Arts Review
Masterbooks language lessons for a living education covers:
A reader book to go with lessons
Personal reading
Spelling
Writing sound blends
Sight word practice
Worksheets that take around 5-10 minutes
Plus kids create a cute mini dictionary (which some moms skip completely). If you skipped, you could add other type of creative writing.
What this is not:
This is not a handwriting curriculum. While there is some handwriting in level 1, it doesn't cover any "how to" for handwriting or include enough handwriting practice.
You'll need to have some kind of additional copywork practice or handwriting practice, especially if your child is still newly writing and forming letters. I'll share what we used below.
Why Masterbooks language arts level 1 has been such a good fit
We have LOVED it and my son has progressed so much in spelling, writing out sound blends, and learning intro grammar.
Language Lessons For A Living Education was such a good pick for us and I'll be continuing with Masterbooks for Language Arts for both kids! We will start level 2 for the second half of his 1st grade year.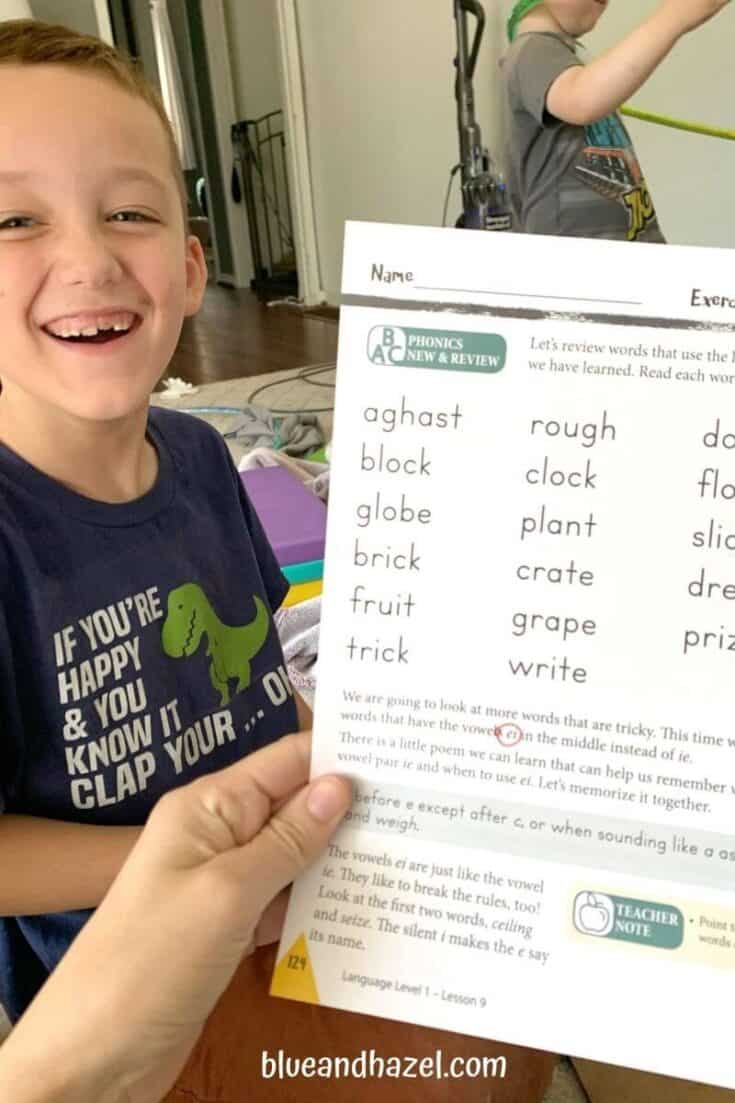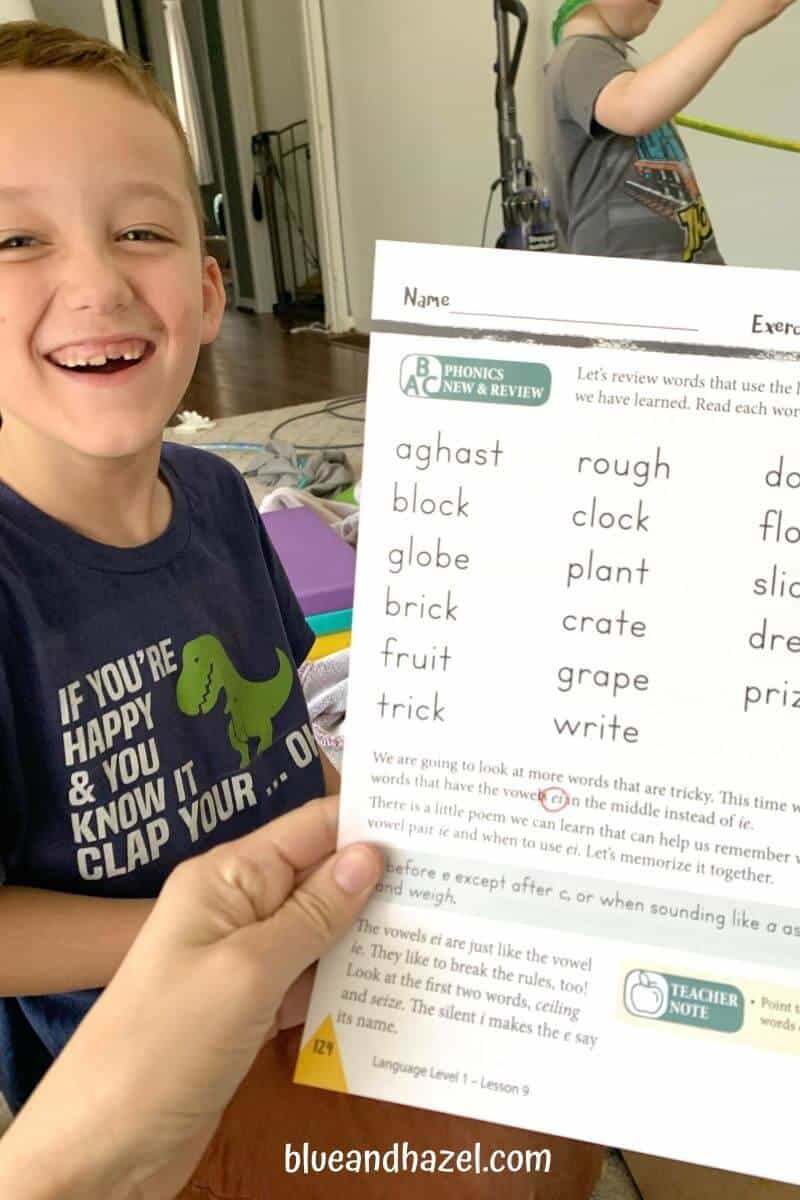 I've seen my son improve so much in his ability to:
Spell sound blends he hears!
Spell sight words for the first time (which is much harder than just reading them)!
Read and follow directions independently
Learn spelling rules that don't follow phonetic spelling.
Know when to capitalize a word.
Overall we came into level 1 afraid to write and clueless to spell. I gained confidence in teaching spelling, and he can now put thoughts on paper independently! Win win!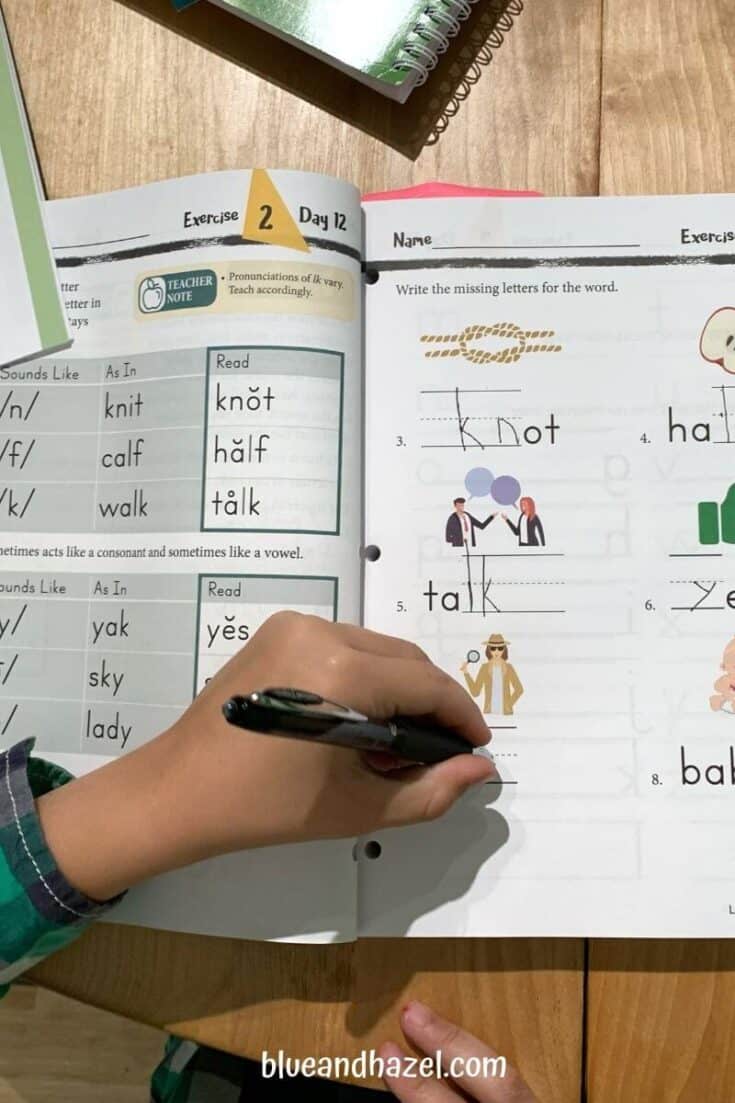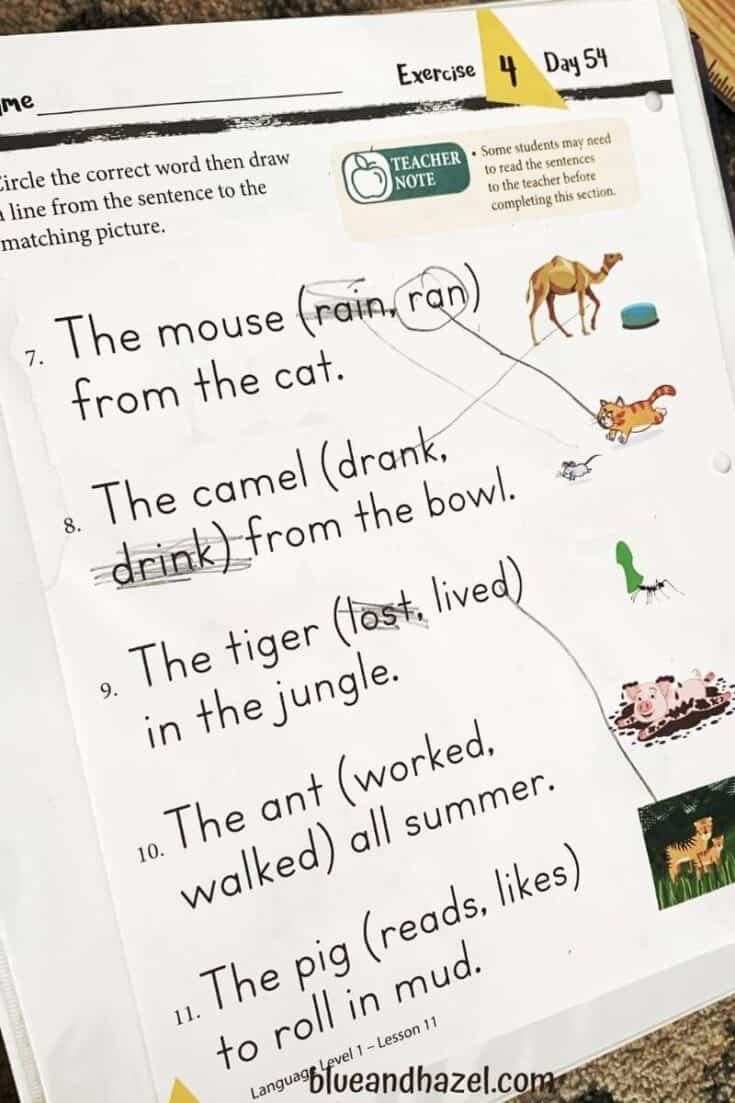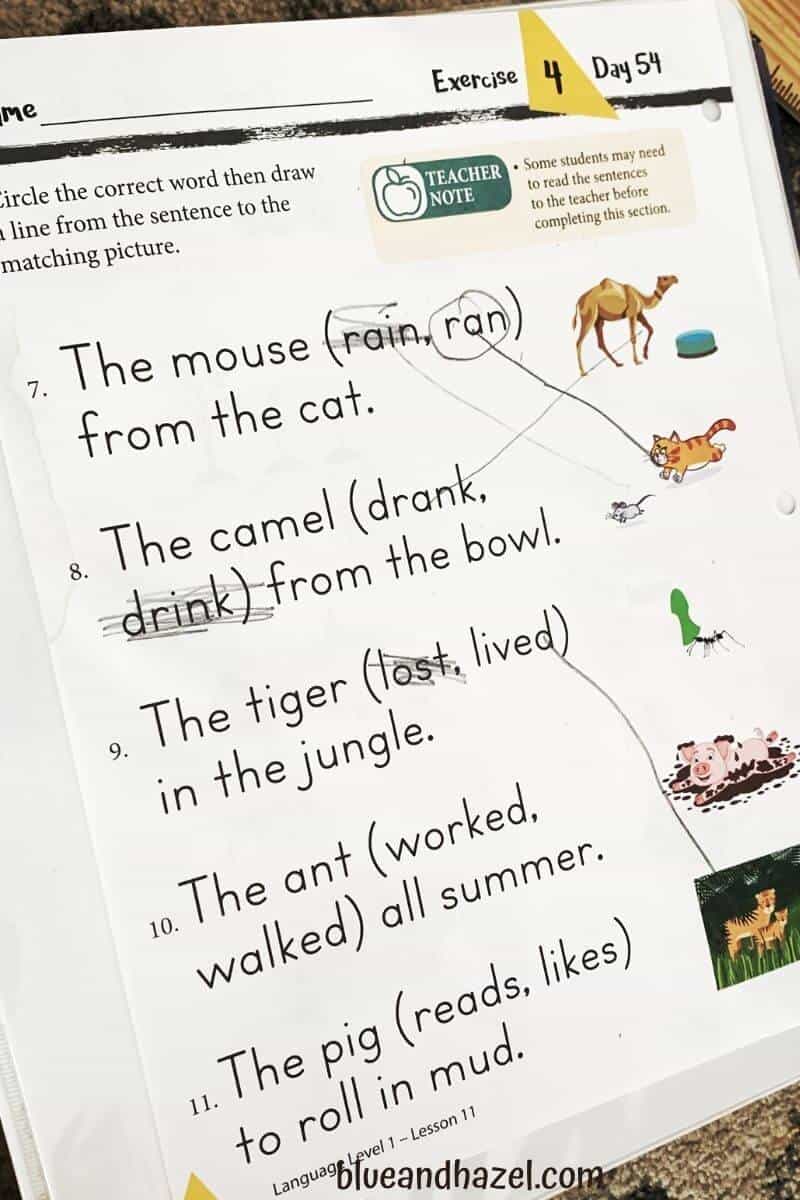 How long does it take to finish Level 1 of LLFALE?
We did a lesson a day and finished in 18 weeks. This is right on par with the included schedule that comes in the book.
However level 1 took us less time each day because my son was just way ahead in reading and comprehension. But I didn't want to go up a level because he needed the grammar and writing and spelling from level 1.
So we skipped all sight word practice because he knew the whole list.
I also started skipping the part of the lessons using the reader "Not Too Small At All" and "Charlie and the Grand Canyon" where they read a paragraph and tell it back to you.
He already reads (sometimes hours a day) and tells me what he's reading all the time. So I know he's comprehending. It would have just been busy work for him.
How much does Masterbooks cost?
This company has incredibly low prices. Language Lessons for a living education is just $35, and $65 if you include the 3 reader books that come in the level 1 pack.
They also have pdf versions for a few dollars less, but that would be more expensive after printing.
Should Level 1 of Language Lessons be used after a phonics book?
Yes.
Level 1 is made to be used after going through some sort of phonics program. Masterbooks' phonics program is called "Foundation Phonics", and many parents use it to teach their children to read. Level 1 would follow right after that.
We didn't use Foundations Phonics because I'm pretty married to Teach Your Child To Read in 100 Easy Lessons. It's a rock solid program that just worked so well with my my first child. We are finishing it up with my second and she's sounding out words so well.
Here's how we taught my 1st to read using this book over the course of a year.
We typically start this phonics book when they ask to read, around age 5 and both my kids will be done with this book around age 6.
My son started Masterbooks 1st grade language arts at age 7, so he had a full year of reading before starting Language Lessons For A Living Education.
Does Masterbooks include a spelling curriculum?
Language Lessons For A Living Education Level 1 includes a complete spelling curriculum so you shouldn't need to add anything else!
This is the spelling word list for each week: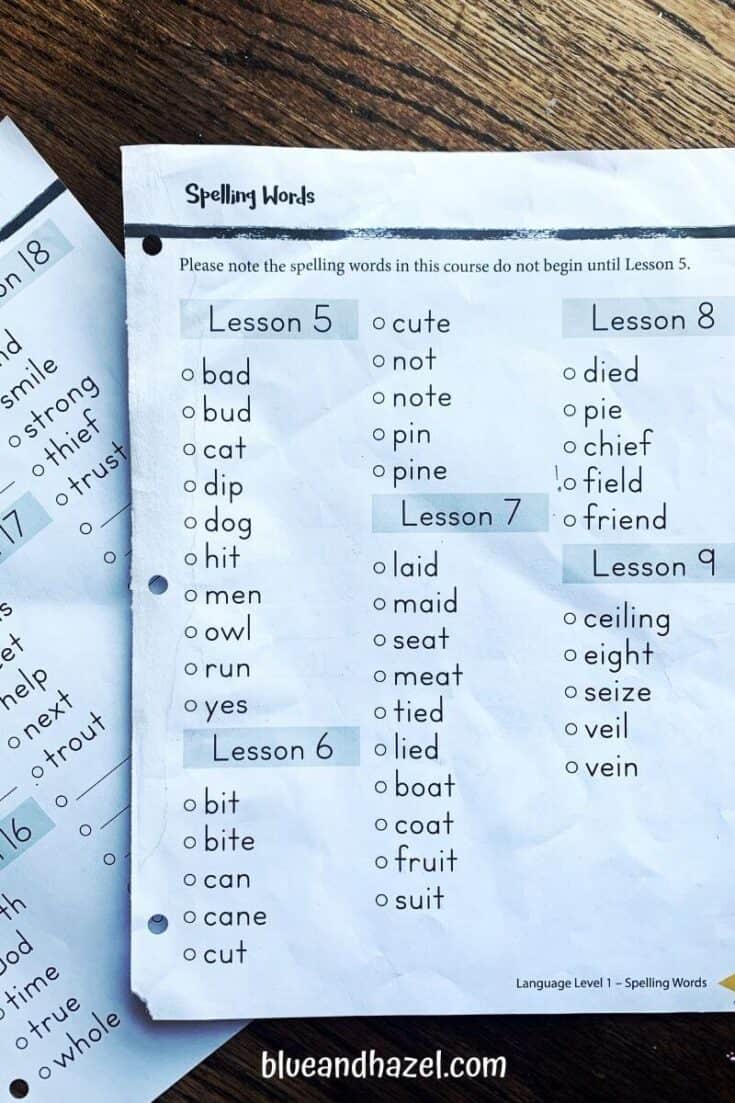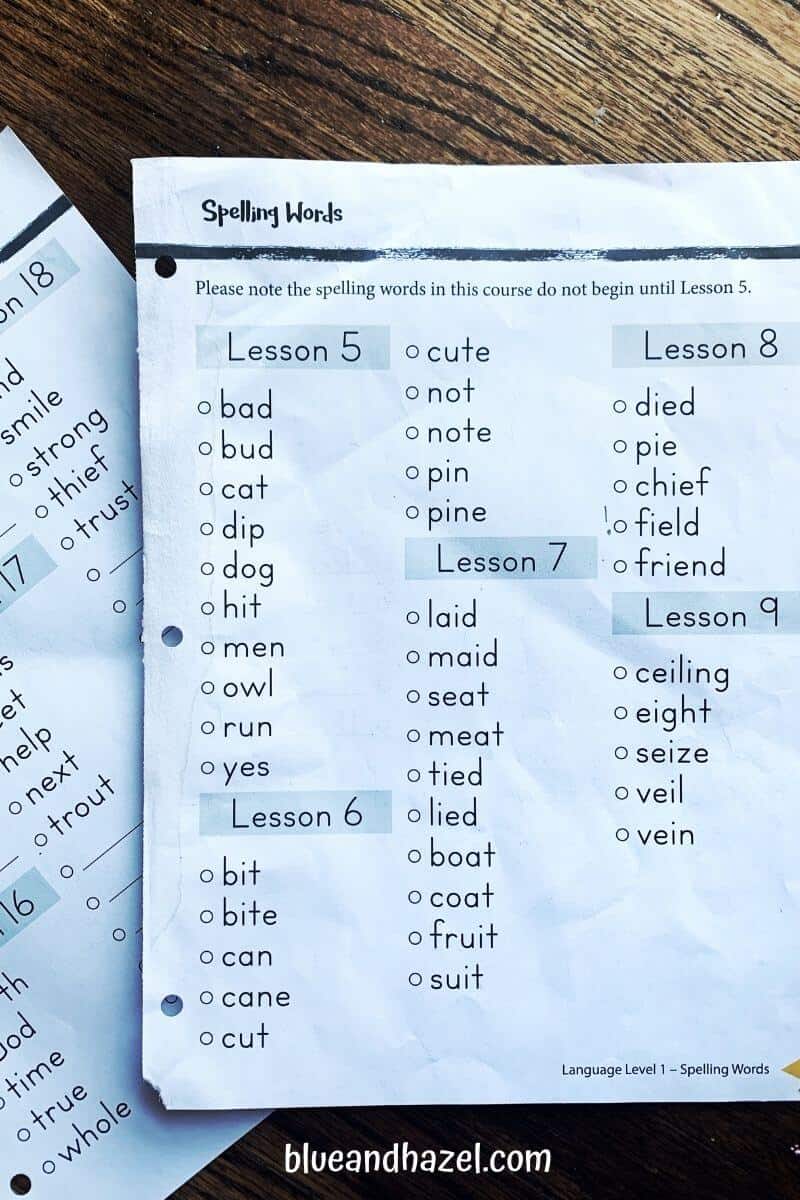 I did find that my son needed a little more review for the spelling words because they focused on tricky words that require more memorization.
I ended up having him write each spelling word 3 times in his notebook (which is how I remember practicing spelling as a kid).
However, since they did an incredible job at teaching how to spell sound blends, my son was able to recognize and write a lot of those blends on his own for the first time! Some not so much, like "au" from the word "haul" or "auto". Those will just take more time and experience for him.
Below are the pages from the back of the book that review all sound blends covered in Level 1.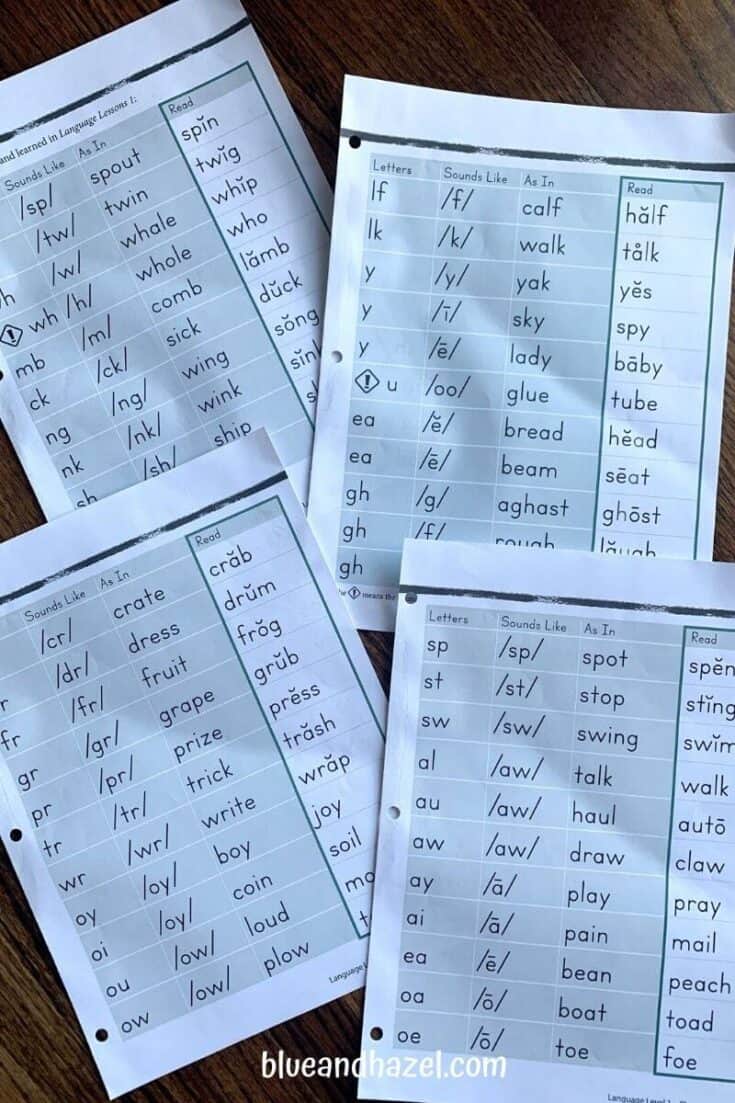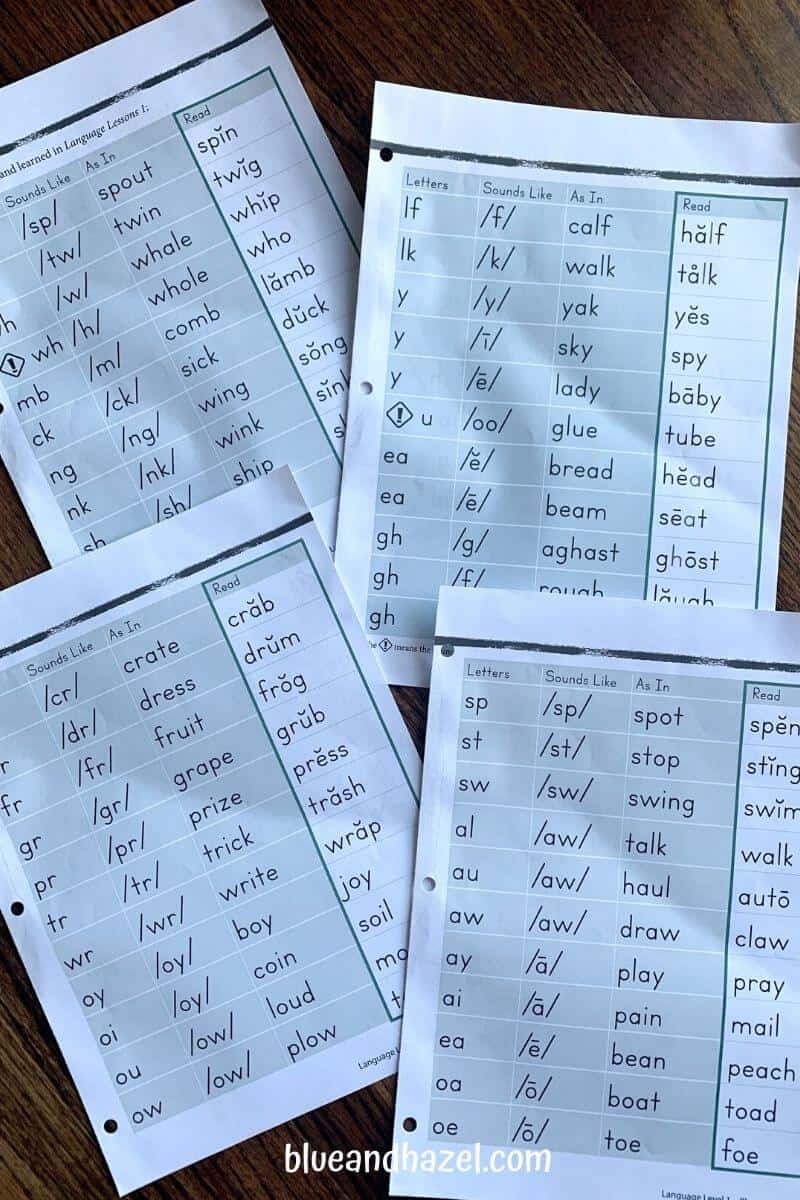 Masterbooks follows a 5 day pattern for language arts
One thing that is nice for variety and also for planning is the 5 day pattern you will see over and over. Some kids may thrive with this while others may find it too repetitive.
Day 1 focuses on a children's book, poem, picture study, and Bible verses.
Day 2 & 3 focuses on phonics review, new words, letter combinations for sounds, small amount of writing, and simple grammar concepts.
Day 4 focuses on reviewing grammar concepts, more phonics, spelling and word worksheets.
Day 5 includes writing words and drawing pictures for the dictionary they create. You can print this for free even if you don't buy Masterbooks curriculum!
We personally found that we couldn't squeeze all 6 dictionary words into day 5 without it being long and tedious. My son got bored, and doesn't love drawing anyway. So we did about 2 words per day 2 days a week.
Yep, that means we didn't do all 6 words for the dictionary each week and that's fine with me. I may have him just keep going with it and pick his own words. Some families skip the dictionary all together! You could easily do your own creative writing activity on day 5 instead.
Here's an example of one of the words my son put in his dictionary. He gets to choose a short definition. There are 6 words per week, but I don't make my son do them all. If we have blank pages at the end of the year he can add his own words in to finish it.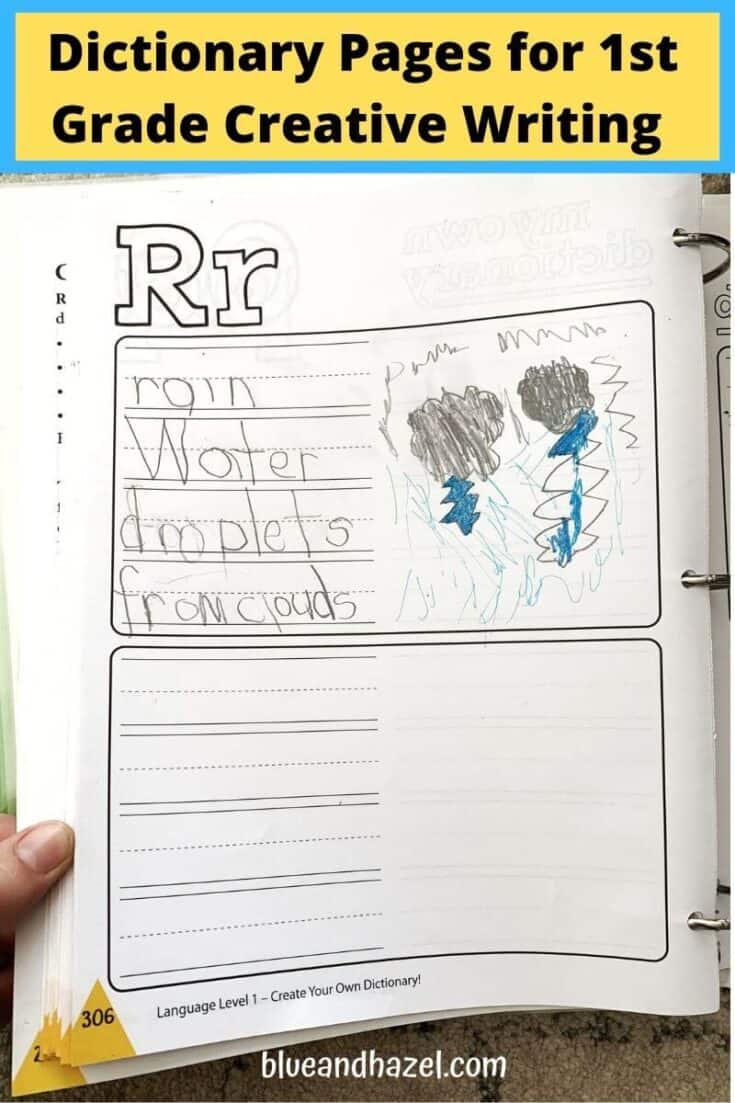 Masterbooks vs The Good And The Beautiful Language Arts
The Good And The Beautiful is a pretty common curriculum I see used for Language Arts, so I thought I'd touch on how it differs from Masterbooks.
I originally bought it for 1st grade because it's overly thorough, considered advanced, and it made me feel confident I would be doing enough. We actually decided to use Masterbooks instead for other reasons, so I sold my unused curriculum from TGATB.
So what's different?
I think both language arts programs would give your child a good base! Both are open and go. However it's clear that there is a LOT more to do with TGATB daily. You're looking at almost double the time per kid, or just going a little bit slower.
Masterbooks philosophy sticks to short lessons for a reason. More work doesn't necessarily equal more learning. Since my 1st grader's attention is not long, I especially appreciate shorter lessons. If it's too short, we just add something else like more copywork or spelling practice.
Here's a great video review of Masterbooks vs The Good And The Beautiful (at level 2) by Rebecca Spooner. It shows you a look inside both books, and looks inside the beginning of the year pages and end of the year pages for both books.
What to expect with The Good And The Beautiful Level 1 Language Arts
Everyday you'll be asked to:
Do the reader book
Sight word ladders
Phonics flashcards
Practice spelling words
30+ minutes of the lesson with worksheets
Plus, there will be days with picture study, some coloring, and poetry. It's scripted so you'll read to your child what they have on the paper to teach. Some find that awkward and long winded, while others find it helpful.
But my child would need me for the whole thing. Plus, I now had a kindergarten child doing math and learning how to read. And a 3 year old at home.
I needed something less time consuming that would still feel thorough.
Are they both religious?
Masterbooks incorporates the bible and bible stories in most lessons. The Good And The Beautiful includes more "good morals" in their pages with a few mentions of God.
If you don't want material from the bible in your homeschool, it would be hard to avoid that with Masterbooks (an evangelical Christian company). Some days readings come directly from a story in the bible!
Not so with TGATB. You could easily skip over any occasional mention of God because there's no specific doctrine it follows and it's brought up less. It's one of those "ok to every religion so it offends no one" type approaches.
Supplemental materials we used in addition to Language Lessons For A Living Education
I felt that because there's not a huge amount of writing in level 1, we would add in some copywork once in a while if a day seemed short. (Usually 1-2 times a week). I like to use bible passages for this but you could use anything.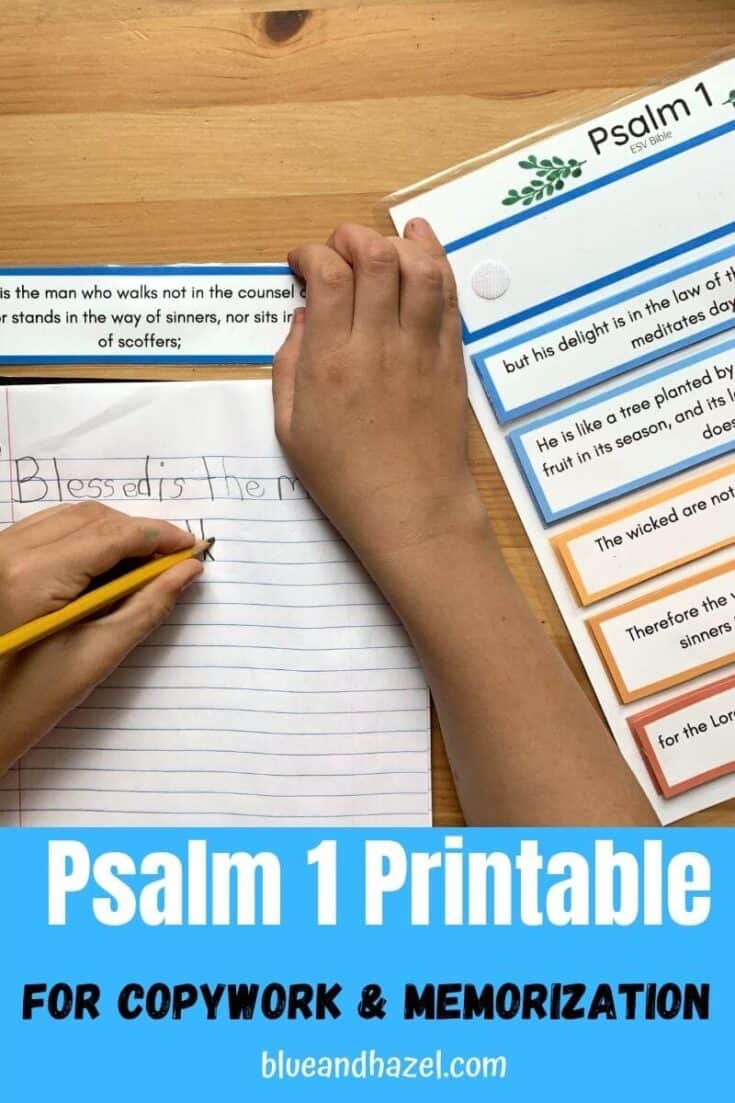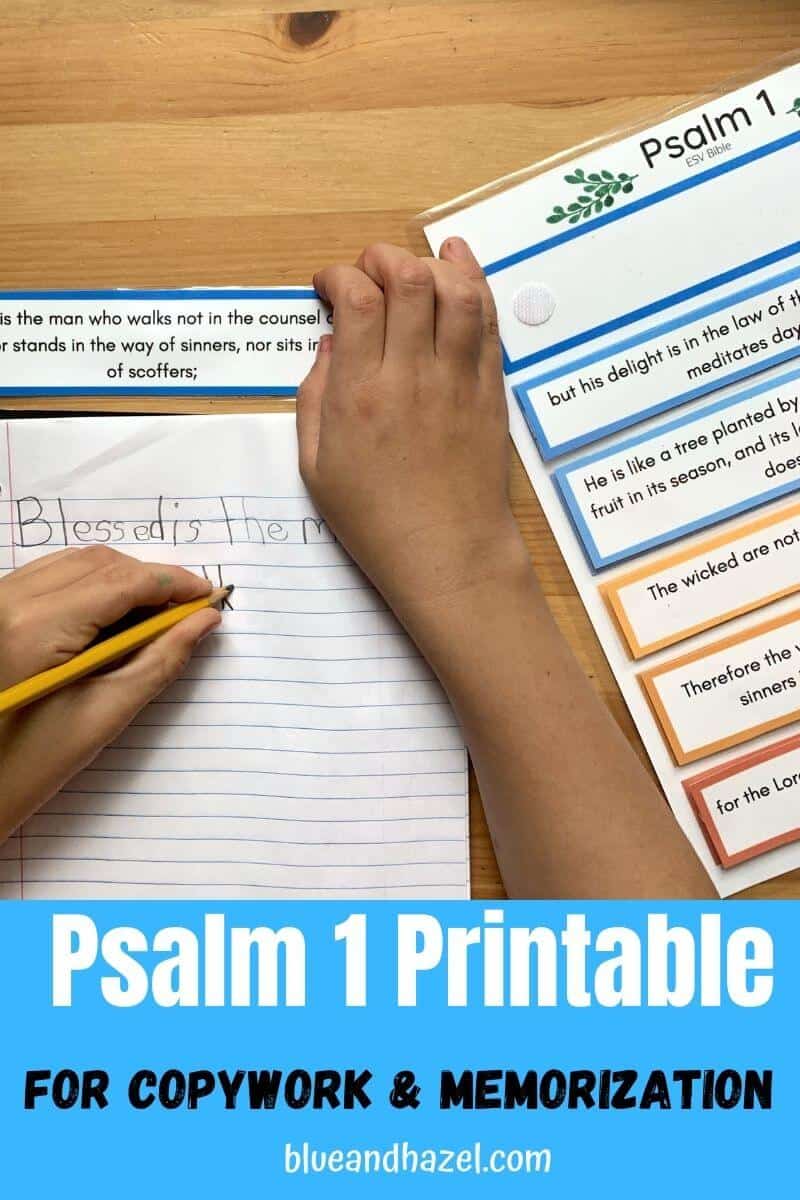 There's really no complete sentences being written in level 1. I think copywork improves handwriting stamina, letter spacing, spelling, grammar, punctuation, and more all at once!
We usually copy a sentence at a time into a wide ruled notebook that I keep, which we also use for spelling practice too. I keep that inside of our weekly binder, along with 1 week's worth of worksheets from our math and language arts curriculum.
More handwriting practice we do on occasion
Hope you have a better idea of what to expect with Language Lessons For A Living Education! It was a really good fit for my son and I this year for 1st grade. But if it's not for you, that's ok!
If you enjoyed this, I'd love it if you would share this post! Thanks so much and be sure to check out my other homeschool posts.