This is our second year homeschooling and my first year teaching two kids. I have a first grader, kindergartener, and 3.5 year old. We have been using this weekly binder system for organizing our curriculum for a couple months and it's just simplified the mornings so much for me! I feel organized instead of scattered.
Instead of grabbing 2-3 work books each, the kids just grab their binders with that week's work in it. So I'll show you what goes into each child's binder, how we fill it once a week, and how you can easily set one up.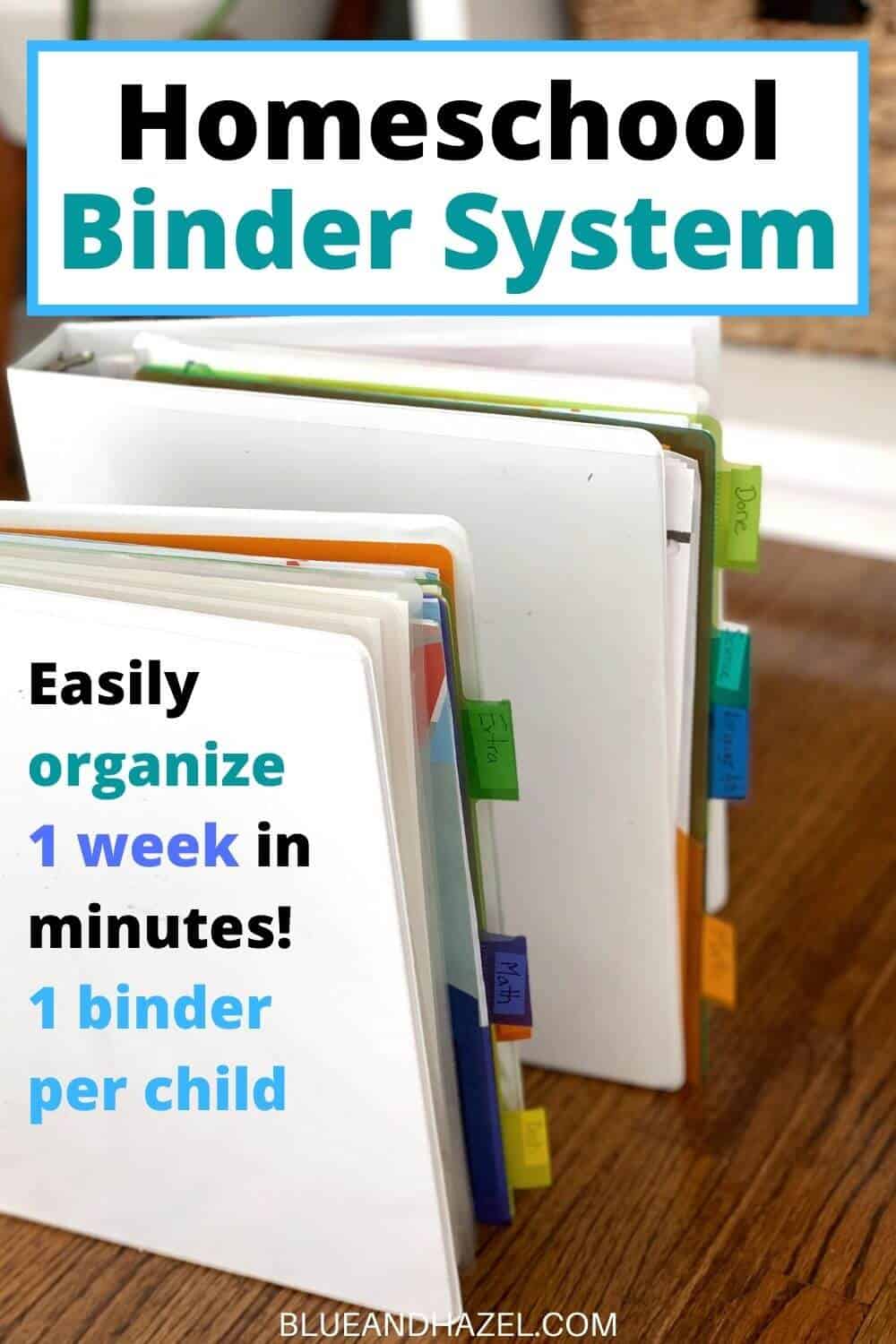 More homeschool posts for you to find
How we organized homeschool curriculum for the week before switching to binders
Originally, I just had a metal cart on wheels that held all our our homeschool books.
Each day I'd take the kids' stack of books (2 each for math and language arts), flip to that day's page of a subject, and do that day's lesson. It wasn't a bad way to do it actually, but I could never really say, "Go grab your schoolwork" to the kids because there were so many different books and things I pulled from.
The binder solves this for me. They can get their binder with everything we need for that day (and week).
The second issue for me with the old way was that it was tricky to visually see how much work was left for the week. I thought maybe sticky notes in each book placed at the beginning and end of the work for the week might be helpful, but opted to try this binder system instead.
What is a weekly binder system?
This is the system that we have implemented in our home to organize and hold one week's worth of homeschool work. With this system, each child has their own binder. It holds all the worksheets divided into subjects, and has a place for finished work to go in the back.
At the end of the week, all finished work gets filed away somewhere else, and you would fill up the binder again. (You could start a file for each child with the year on it and put the finished work in there.)
Most curriculum I've seen is ordered by days, so you could tear out the next 5 days worth of work.
Why a binder system has simplified homeschool for us
It's helped me to be organized for the week. By tearing out 5 days worth of math and language arts, I can see how many pages we have to do at a glance.
I can print off a few extra activities and keep them in the binder in case we feel like it. No more searching for where I set that printable we were going to get out this week. It's in the binder.
It motivates the kids. I notice the kids seem to love seeing their binder getting empty during the week. They see bite sized chunks instead of thick books. "Only 3 more pages!"
They can do all their week's worth of math in a day, or spread it out lesson by lesson or day by day. Sort of step 1 towards being independently motivated I guess.
Switching subjects takes a lot less time. It is SO fast for me to just open the next tab in our binder to switch subjects…because the work is all there. I just feel more organized and less all over the place.
It's a perfect place to store some of those homeschool printables. I love finding printables that look fun, can be cut out, or go along with our nature theme that week. Since these are loose papers, a binder is a great spot to put those. Usually things like this are just for fun if we get to them.
Supplies you'll need to set up a weekly homeschool binder (for each kid)
You'll need:
How I organize our binders by subject
You'll want to label your tabs according to the subjects you have curriculum for.
Not all subjects will be paper based. For example, our 1st grade history and geography is not in our binder because we are reading living books on Early American History, and playing geography games to learn where states are with their matching capitals.
For my kindergartener:
math
reading (I wrote it as "Dash", which is her Dash Into Learning activity sheets plus corresponding beginner reader book) Get yours 20% off with code BLUEANDHAZEL20
Extra (tracing pages and any fluff worksheets I find she can do just for fun…she loves that stuff!)
done (a folder for all finished work that week)
For my 1st grader:
math
language arts
science (mostly nature study)
done (to put all completed work for the week)
What goes into our homeschool binders for kindergarten and first grade
For kindergarten, we really only focus on reading, writing, and math.
Since Teach Your Child To Read in 100 Easy Lessons is a book and doesn't go in the binder, math is the only "must do" tab each day for her. We are using Level 1 from Masterbooks this year. Side note, all Masterbook pages tear out very easily with their perforated edges!
We also aim to do some kind of handwriting, either one tracing page or a sentence of copy work from the bible. This goes into a wide ruled notebook, which I'll store in her binder.
My 1st grader does math and language arts daily (this year we are using Masterbooks language lessons for a living education and math lessons for a living education). We also often use some kind of copy work from the bible or other form of writing if there's not enough in that day's language arts.
He does science once a week. We mainly focus on nature study as a family (all kids included, even my 3 year old) with Exploring Nature With Children I highly recommend this, and SO simple even for us non nature-y raised folk).
I did buy Adventures in Creation level 1 from Masterbooks to try with my 1st grader once a week along with Exploring Nature with Children. It's also all nature study, and compliments our other nature curriculum so well! That's where any of the worksheets come from for "science".
How we decide what goes into each subject
I'm not sure how each company's homeschool curriculum is organized, but the two I've used (The Good And The Beautiful and Masterbooks) have a set number of lessons for the year/ or level.
I never feel the need to plan out what lesson goes on which day, we simply do the lessons in order. So if you're just starting a binder system and you've already finished through lesson 30 in math, then you would place lesson 31-35 in next week's binder tab "math".
Where it gets tricky is if a subject in your curriculum is made to do just 1, 2, or 3 times a week. Then you will just pull out that many lessons each week, not the full 5. Or add more if it seems too easy!
I generally pull about 5 lessons out for math and language arts. And even though we have a 4 day work week (5th day is our nature co-op), it's not hard to do 5 lessons in 4 days.
And honestly, Masterbooks lessons are purposefully so short that we sometimes double up if the kids still have focus left in them.
Other items I keep in our binders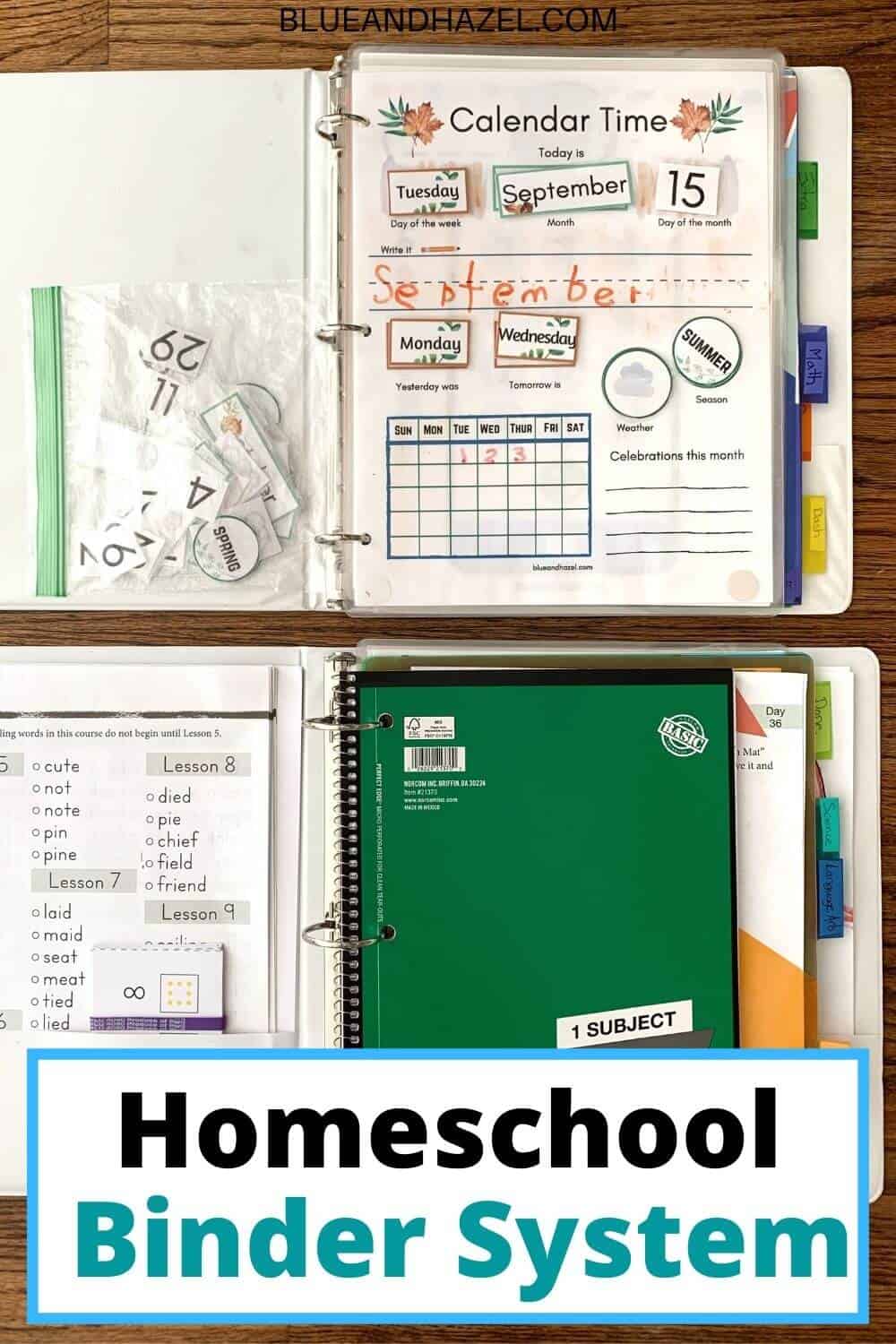 A wide ruled notebook. This keeps a nice record of copy work to see handwriting improvement, and is where we write and practice copying spelling words.
Flash cards. I use Masterbook's right brain math flashcards (they tell you the answer) for simple addition problems. We take them out when the curriculum tells us to and practice about 10 at a time.
Spelling words week by week for easy reference. Our list came with our language arts book, so I just tore it out and put it in the front.
A printable clock. I made ours, and it's in both kids' binders since they are both learning time. You can get this in my Etsy shop, and the clock comes in yellow, blue, and black and white.
Number tracing printable. Also in my Etsy shop and in both kid's binders. These are an easy add on to any day to practice number formation.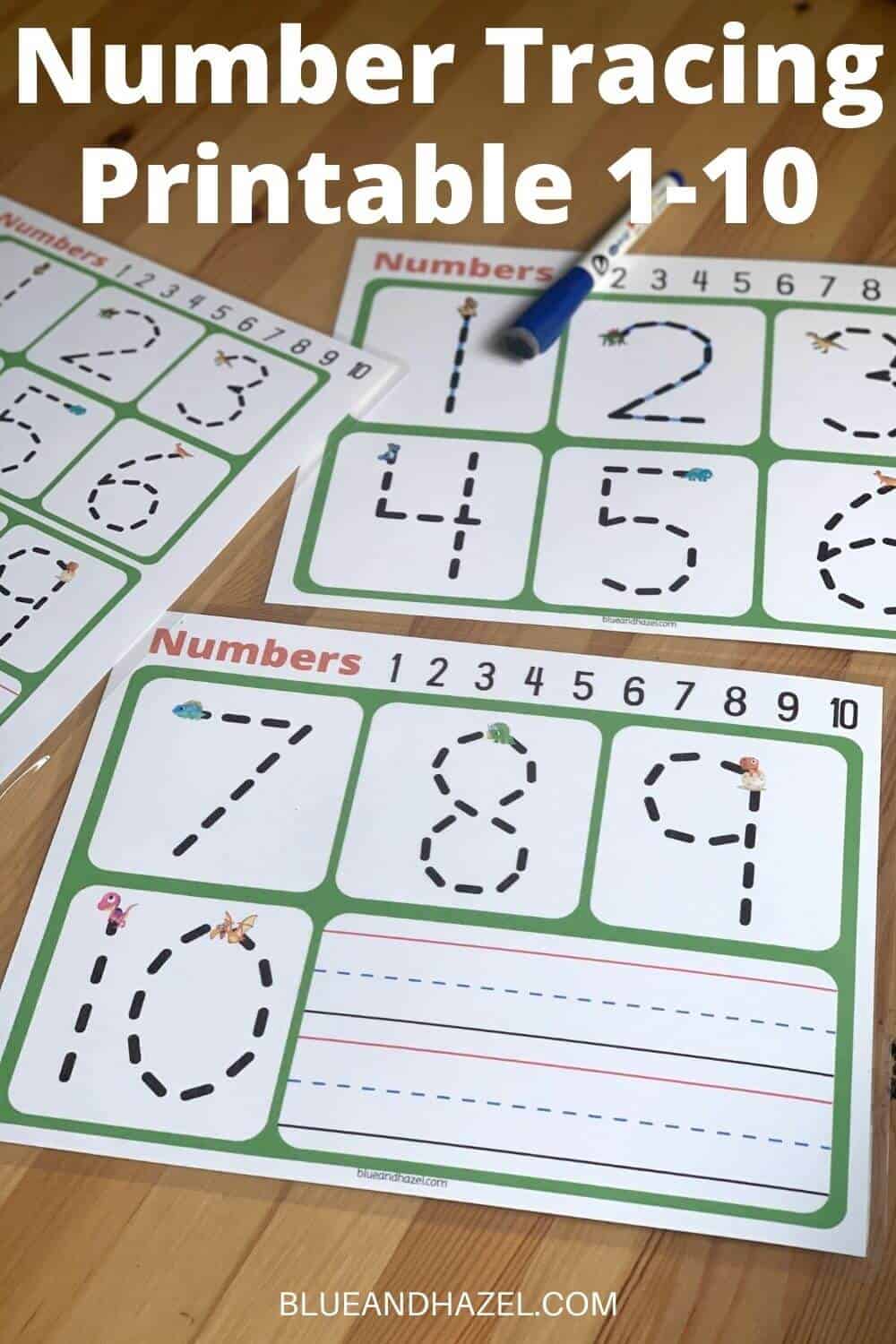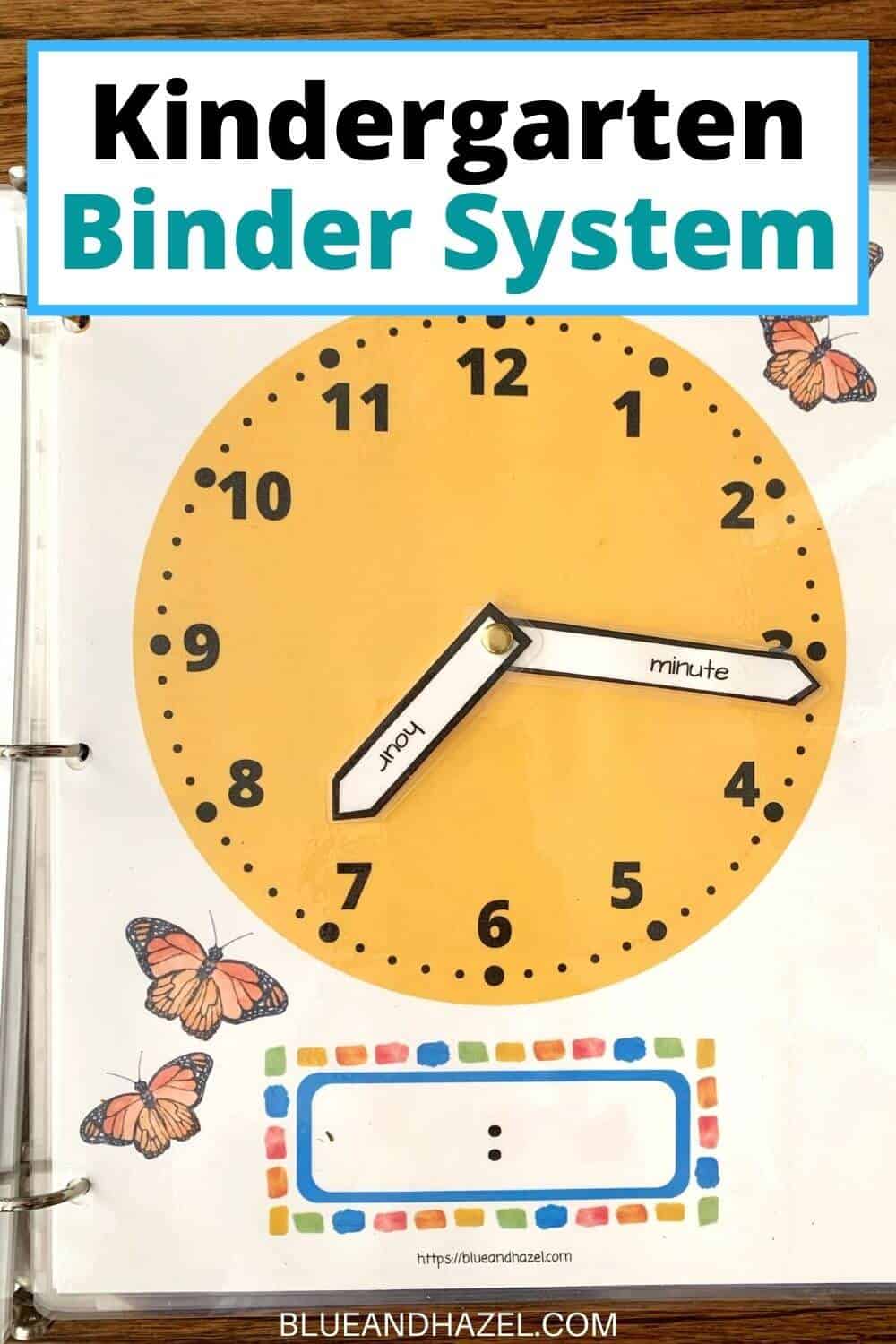 What to do if your homeschool books don't have perforated edges
A lot of curriculum does not come with handy little perforated edges you can tear out.
For instance, I'm supplementing my kindergartener's math with some fun worksheets from The Good And The Beautiful Level K. I rip those pages out I want each week, but the edges are torn from a spiral binding so very choppy.
I learned that you can take your books to an Office Depot or similar place and they will cut off the binding for you! I'd just call ahead to ask if they do it.
Downsides to tearing out your curriculum
One thing I've run into with tearing out curriculum is that it's tricky to ever go back and find something again. Once it's out of order and filed away somewhere…your not likely to be able to look on your child's work neatly organized in order. I'm not too worried about that since I don't plan to keep it all, just a few samples throughout the year. But just a thought!
You can organize all 36 weeks using a crate system
We actually opted to try a crate system for organizing a full year's worth of homeschool curriculum by week. I spent a day doing that, and now just go to that week in the crate and get all the worksheets in there to file in the binder.
However, I'm not sure I love it, because it's not super flexible if you work ahead or get far behind. I think next year, we will simply keep all the work in the original books, and tear out one week at a time for the binder.
Other ways to organize your homeschool curriculum
The binder system is just one way to store curriculum.
I've seen people:
Keep a shelf for each child's books.
Buy each kid their own metal rolling cart.
Simply keep curriculum on a shelf like I used to do and swap what books you need as you go for each kid.
Give each child a clear plastic bin (labeled with their name) with all their workbooks in it. It's easy to store, doesn't require tearing out pages, and you can keep pencils and personal reading books in there too.
Find a system that works for you
The most important thing is to pick a system that makes sense for you. It needs to make your life easier!
If the thought of tearing out pages for each subject for each kid stresses you out, then maybe just try getting each child a bin for all their books.
I hope you'll share what works or what hasn't below! And I'd love it if you would head over to Instagram to follow our daily homeschool activities there. You got this!