I know I know, it's a little late since many of you have already picked out your homeschool curriculum. But I'm planning to make this a regular yearly thing so that you can see what we picked and why. I'll also update this post if we decide to add or remove anything mid year.
So read on to see our kindergarten and first grade homeschool curriculum choices! If you're brand new to homeschooling, be sure to read my post on how to start homeschooling for the total beginner where I talk about homeschool styles, curriculum, schedules, and keeping it legal.
This post contains affiliate links. We are a participant in the Amazon Services LLC Associates Program, an affiliate advertising program designed to provide a means for us to earn fees by linking to Amazon.com and affiliated sites.
We won't do every school subject every day
One of the quickest ways to burn out when homeschooling is to try to replicate school at home…especially when dealing with different ages. There's only so much of me to go around and their attention spans are short at this age! So we won't be doing every subject every day.
I'll explain more on that, but basically we will be doing a few core subjects daily (reading, writing, and math), and rotating through the rest.
How long is a school day with a first grader and kindergartener?
Last year when my oldest was in kindergarten, we spent about 45 minutes total per day on reading, writing, and math. With a first grader and kindergartener that both still need my help, I'm expecting to spend about that much time on each kid. But we will see!
I'll also read books to them on the couch, and we will loop through learning other topics as a family. But I hope for those things to feel more like a lifestyle of learning and not like "sit down" time for school.
You can check out our relaxed kindergarten schedule from last year here.
My goal is to make school a part of life, remove unnecessary busy work, combine the kids learning in any way I can, and help them to enjoy school and be proud of what they've done!
I ordered curriculum, and then changed my mind
Ok, confession to make. I bought all of my curriculum for this year…TWICE.
I switched from using The Good And The Beautiful to Masterbooks for most things. I'd probably be happy with either to be honest.
Last year I really liked our kindergarten math and writing curriculum from The Good And The Beautiful, so I just went ahead and bought their stuff for 1st grade math, writing, and language arts this year like months ago. But then I started to become intrigued by another curriculum I kept seeing…
My worry with The Good And The Beautiful was that the math and language arts is VERY parent involved with younger kids, and has lots of busy work. What seemed perfect with one kid sounded overwhelming with two.
It's really great for hands on learning, and thorough for sure! But I kept chopping out anything that seemed a tiny bit redundant to us to shorten it. And now I have two kids who need my help and time.
Yes the amount it covers makes ME feel good (ie: picture study, poem study, grammar drills, multiple ways to explain the same thing in math).
But I don't think it's the best fit for us (especially the language arts 1st grade) because there's just too much in there for me.
If you are comfortable scrapping sections or not finishing it all daily, this might not be an issue for you.
Our homeschool curriculum list for 1st grade
This year, we will cover:
Language Arts (Language Lessons For A Living Education Level 1 by Masterbooks)
Math (Math Lessons For A Living Education by Masterbooks…we are using level 2 which is 1st grade material)
Nature Study (Exploring Nature With Children)
Science (Adventures in Creation Level 1 by Masterbooks)
History & Geography (no official curriculum) We will focus on reading "living" books on early America so the kids better understand how our country came to be. I will also be searching for history and geography games.
Spanish (currently still searching for a program, and will update this soon. Thinking Song School Spanish may be a good fit.)
It looks like a lot, but we will only do a few each day. Language arts (including writing) and math will be daily, as well as one to two of the other subjects. We will rotate through nature study, science topics, history, and geography.
90% of my kids' day will be play still, which is a HUGE reason we homeschool.
Why I chose Masterbooks for language arts, math, and science
I have been eyeballing a Christian focused homeschool company called Masterbooks for months now. It's a pretty popular company within Charlotte Mason homeschool circles.
They have pretty much every subject for every grade, although you can just use one if you like.
I follow Rebecca from Homeschool On on YouTube, which is where I first heard about Masterbooks. Her reviews and "Top 10" videos are especially helpful!
Masterbooks is bible based
This company includes bible passages in a lot of their lessons.
If you don't agree that the bible is true, then it would be hard for you to use this curriculum.
Masterbooks lessons are short
Math and language arts lessons take like 15 minutes per subject, so it's possible to do 2 in a day if you choose. I think this is especially helpful if you have multiple children that are not yet independent.
But this is the #1 worry people have is that it's may be too short to learn enough.
I'll have to make my assessment on this after we actually use it. I feel like my kids absorb about 15 minutes of new information really well, but not after that at age 5.5 and newly 7.
Is level 1 the same as 1st grade?
Levels are not grades with these.
So be sure to look at a YouTube flip through of the inside pages, and take their placement test.
Our 1st Grade Homeschool Math Curriculum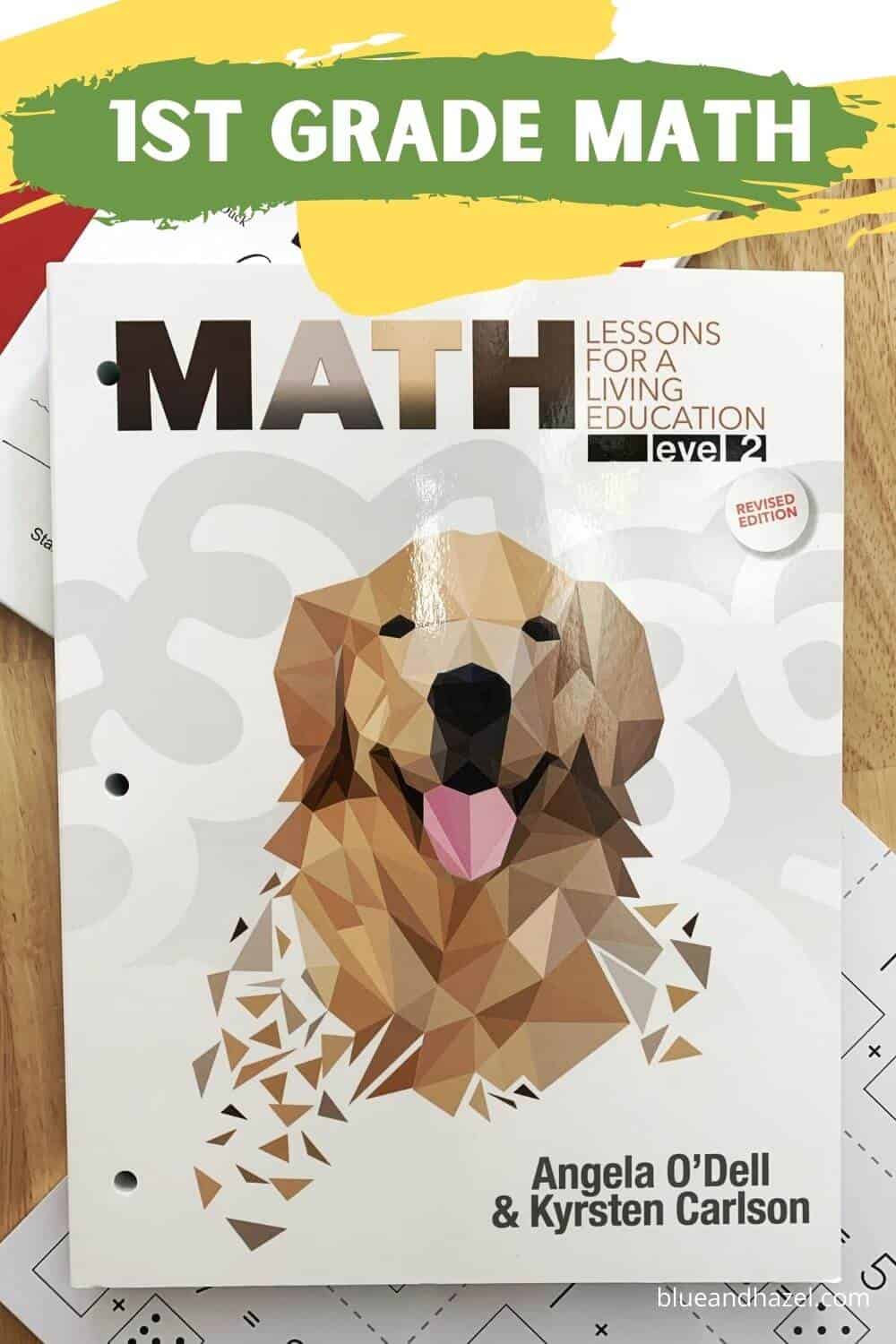 I actually purchased level 1 & 2 of Math Lessons For A Living Education just in case (they are cheap, no teacher's manual needed, and like $35 I think?).
Level 1 was actually spot on what we learned last year for kindergarten with The Good And The Beautiful. The scope and sequence is practically the same and my son knew all of it.
Math level 2 is what I consider to be 1st grade, and it's what's inside of level 1 of The Good And The Beautiful (that I also bought to look at, but won't be using unless Masterbooks isn't a great fit.
No math manipulatives or teacher's book
You don't buy math manipulatives with Masterbooks. You can use what you have around the house, popsicle sticks for place value, etc. I'll update how that goes.
We did opt to buy their "right brain flashcards" for like $15 because I don't want to make those and it saves me time to buy them.
Is Math Lessons For A Living Education enough?
My fear with the math is that it's considered "gentle" amongst other curriculums. I think that's because kids finish a lesson in about half the time as some other curriculums, and there are fewer practice problems on each concept.
On the flip side, some families find there are TOO many problems in other curriculums to cover without tears, or added busywork.
So I honestly don't know if I'll love this one or not. We'll see.
If for some reason I feel like it's just not "enough" math practice or if my son isn't engaged, I'll either get Masterbooks' extra practice math packs or just go back to what I know worked last year.
What's different about Math Lessons For A Living Education
This is almost opposite of what you might see at school, like Abeka, which has a worksheets full of practice problems!
You'll instead find a colorful one page math story in every lesson following two kids named Charley and Charlotte, hence the name "Living math". This story involves some sort of real life math concept kids can relate to. Then, there's SHORT worksheet for kids to practice what they learn that day.
So your kids may love this or be bored with this…not sure!
There's also a lot of number writing in our Level 2 math (1st grade), which is nice! While we learned to write numbers last year, there's noticeably less number writing in The Good And The Beautiful Level 1.
Math can be learned through games
Also, last year we discovered that learning math through games is like a magic trick for parents. No pulling teeth and it's so fun! So I'm on a mission this year no matter what curriculum we choose, to find math games! Stay tuned…
What is Life of Fred math?
Ok, if you haven't heard about this one, it's "living" story based math.
I bought a supplemental FUN math book called "Life of Fred". I'm planning to read the 1st grade version labeled "Apples" out loud as part of our read aloud time.
People rave about it and I just had to see it.
I'm not interested or confident in using it as a math curriculum as some do, but rather want it as a fun way to bring math alive through Fred's adventures. I feel zero pressure here to schedule this, as we will read a little here a little there.
Our 1st grade language arts curriculum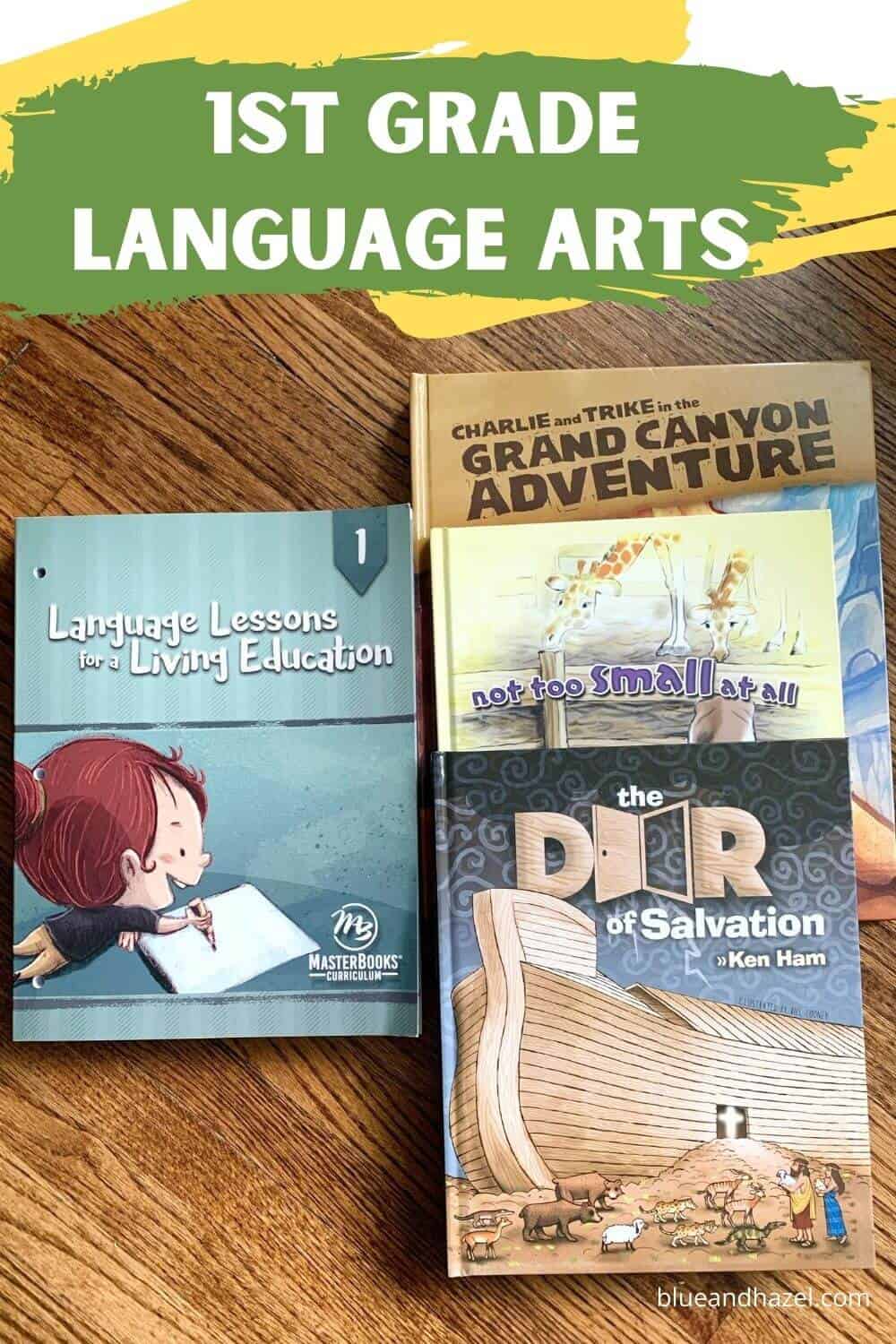 We chose level 1 of Language Lessons For A Living Education! It is spot on where my 1st grader is (who will be 7 starting school).
He's not a strong writer yet so it's just right for us, but is already reading chapter books so those parts are way too easy. Spelling lists are in the back of the book, and the kids work on creating a dictionary of their own by adding a few words each week.
So far, I'm super relieved we chose this and love it!
Our 1st grade science curriculum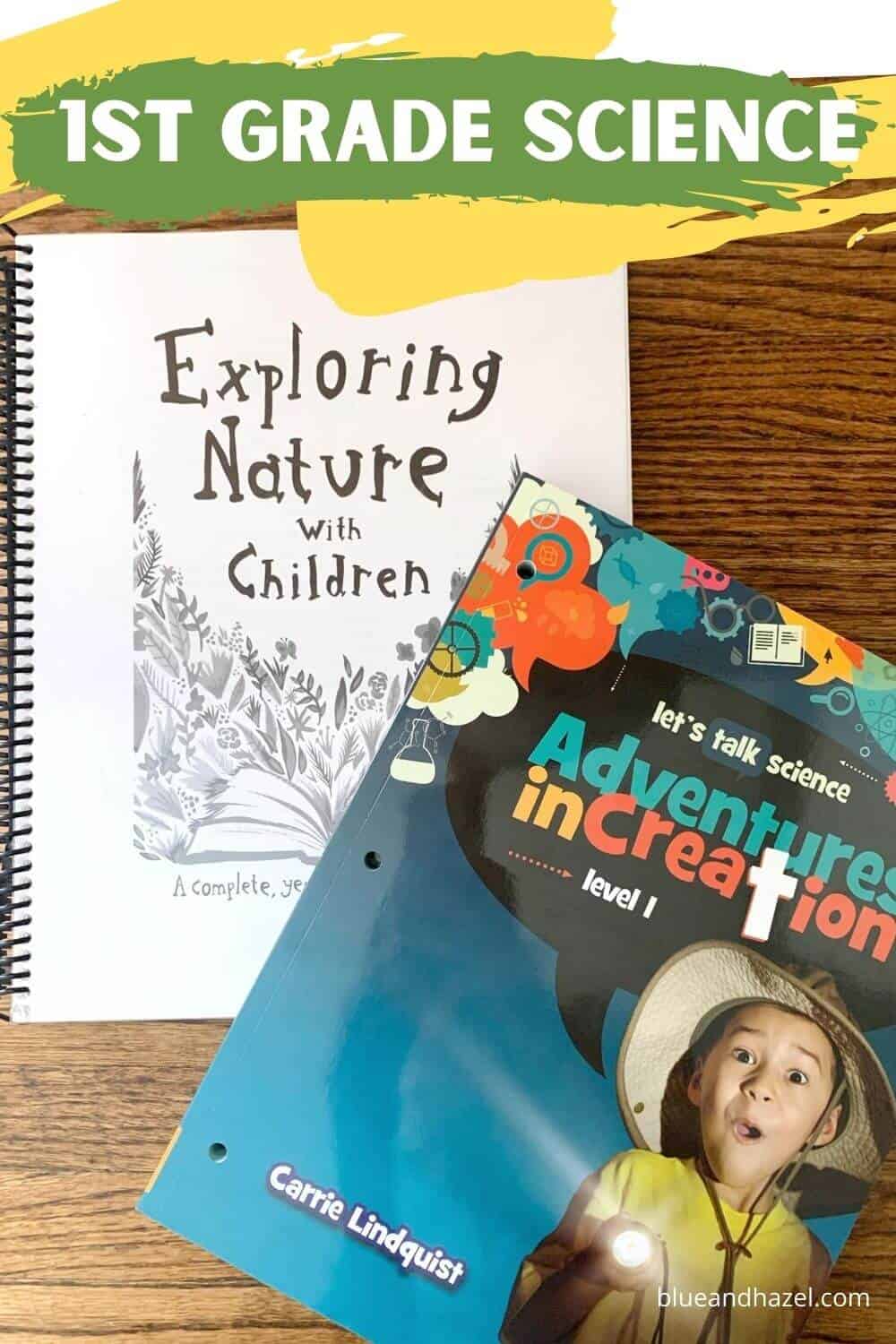 If you are brand new to homeschooling, or need to simplify your day, I recommend choosing JUST Exploring Nature With Children. I printed and bound ours through the Homeschool Printing Company for about half price of Office Depot.
I am using both books because I feel more comfortable this year, and see how little time they take. Plus, both are focused on nature so they compliment really well!
Adventures in Creation example topics:
Light is made of colors
Rainbows
Clouds
Plants
Leaves & Photosynthesis
Seeds
Condensation and Evaporation
Water Cycle
Thunderstorms
Flowers and Pollination
Sun & Moon
Birds
Five Senses
Extra workbooks we'll be dabbling in to practice handwriting
Language lessons For A Living Education does practice handwriting, and it is enough for my 7 year old.
I have a few other workbooks I want to loop through, 10-15 minutes on one of these each time, or till interest runs dry. They are: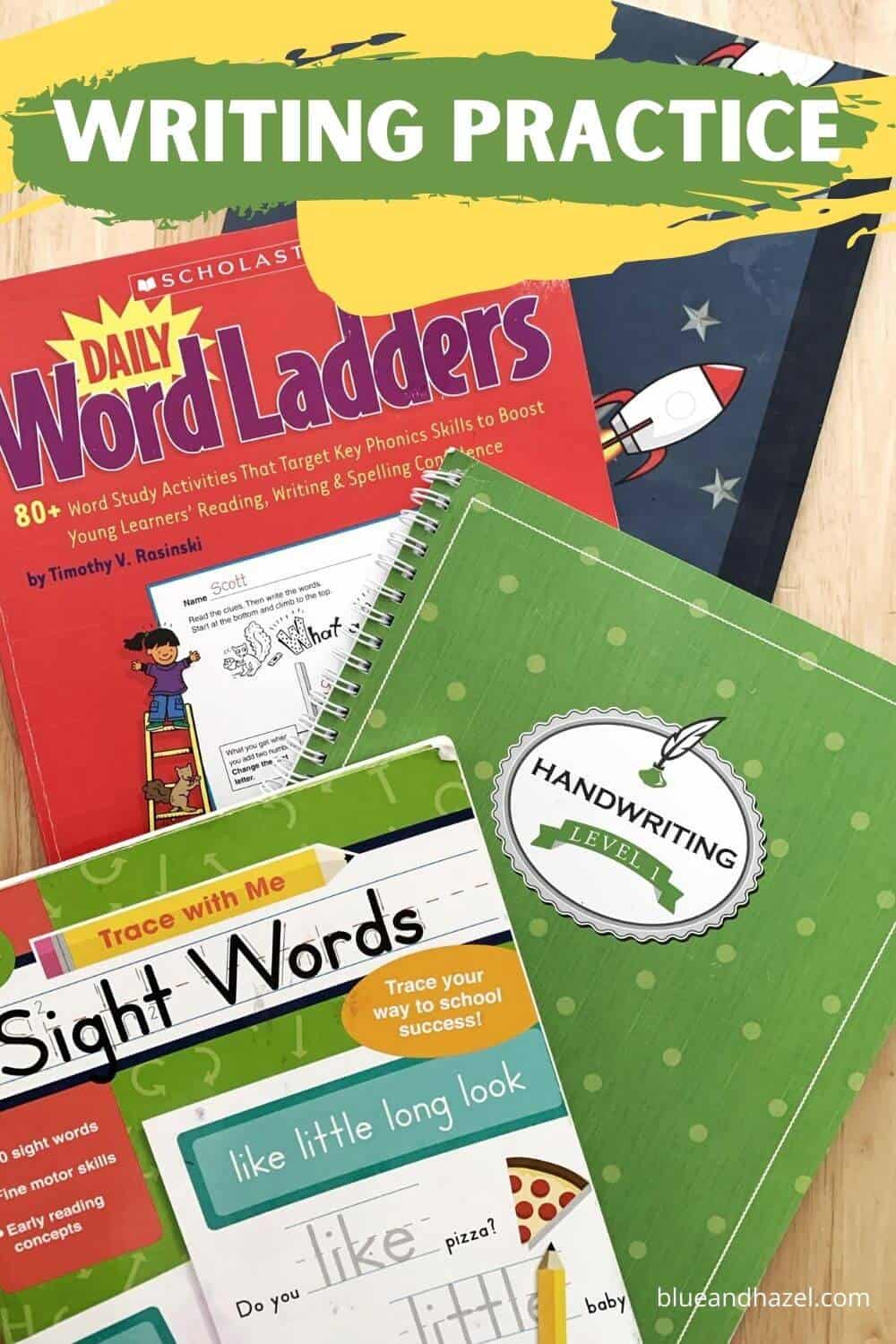 Word ladders by Scholastic These were recommended to me by a teacher friend, and it's a perfect little game to do with kids learning to write out a sound they hear.
Trace with me sight words We loved this tracing book for kindergarten too but didn't finish it all.
We don't study sight words since my son just reads them all. But he does need to learn to write words in general and these are common ones.
Writing journal with space for drawing This is where a kid draws a picture and writes a sentence about the picture.
I got this for kindergarten but realized he couldn't write a sentence on his own yet. So I ended up writing down what he wanted to say on a separate piece of paper, and he would copy it into his notebook.
I love having ALL his stories with pictures in one notebook…it's a keepsake if you ask me.
Handwriting by The Good And The Beautiful.
My son LOVED their doodle tracing book and level k tracing book last year! They were fun, had games and mazes and coloring and tracing…
I'm not impressed with level 1 as much because it's mainly letter tracing again. We will use it, but there's not much sentence writing/copy work and the sentences they do choose are odd to me.
A few copywork examples I find cheesy:
"Seek good things."
"Serve with a smile."
"God bless our home."
"God gave us dogs."
"I can pray to God."
This is totally a preference thing for me, but they're just odd phrases to make my kids write out. I'd rather they just copy something non religious or a straight up bible verse. I'll probably revisit this once we begin cursive and see if the higher levels are any different, because my kids do really like these books.
Our homeschool curriculum for kindergarten
I'm keeping things pretty similar to our kindergarten year last year. The main difference is my middle is a little younger starting out (5.5) and can't read yet. So she'll do reading, writing, and math this year.
We do a casual nature study as a family
We do a low key nature study called Exploring Nature With Children (on sale for like $14 right now), and this year I'm going to continue with that. It includes weekly info to tell your kids, encourages a nature walk, has a poem, and an awesome book list.
We just repeat it yearly and learn more as we go. And we totally skip weeks too.
I've gathered a lot of printable nature study resources, and I needed a way to keep them organized. Below is an easy hanging file system we use! Each tab is a theme we cover and this way I don't have to find and reprint anything year after year!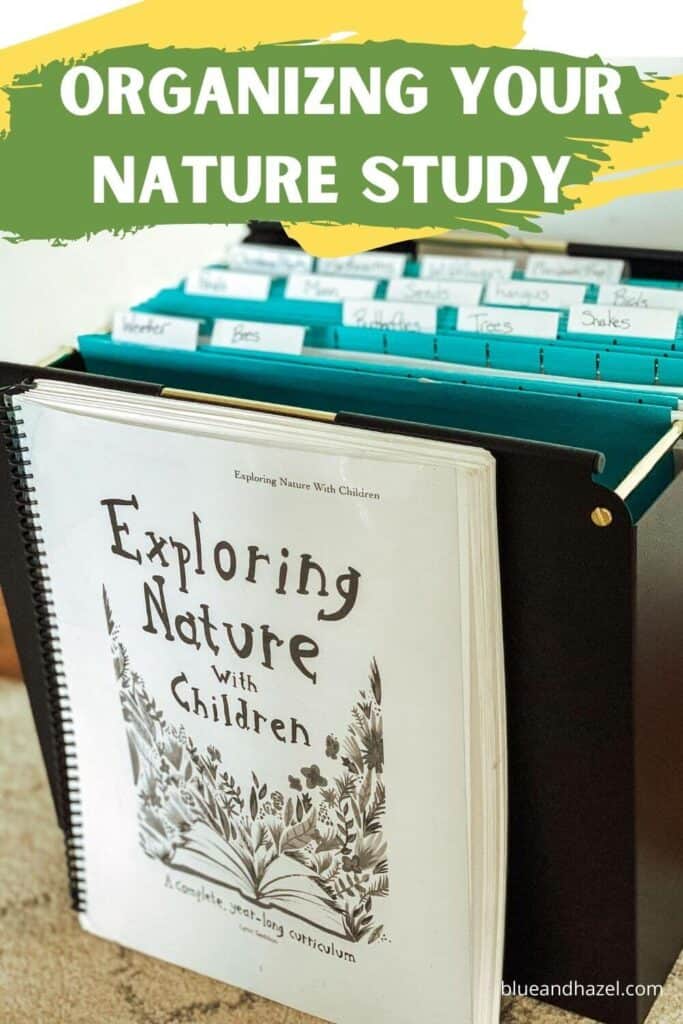 Younger kids have the advantage of soaking up what older kids learn
One thing I'm realizing is that although I don't "plan" some things as part of her kindergarten year, she's soaking in whatever she sees her brother doing.
For example, I purchased a science curriculum called Adventures In Creation by Masterbooks to use once a week. It's more for my 1st grade science boy, but of course my kindergartener will soak it up too.
Here's our homeschool supplies list we use for kindergarten and nature study.
Kindergarten reading: Teach Your Child To Read in 100 Easy Lessons.
Kindergarten writing: a mix
Basically I want her to do a little bit of writing each day, but the key word is LITTLE. 10 minutes of practice of something and done. This can be at the same time as her brother and without my help.
She can already write all the letters (pretty much self taught there/she did The Good And The Beautiful level k handwriting last year).
So this year we will be copying some sentences into her own writing journal like her brother, and tracing in her sight word workbook like her brother (she has her own).
Last year we worked on copying 1-2 lines of whatever bible verse we are learning, so I'll probably continue that with her this year too.
Kindergarten Math: Math Lessons For A Living Education Level 1
You guys, I'm torn here. Like I said, I already bought Level k from the Good And The Beautiful, which is just pretty and colorful and familiar. I know all the activities in it, and I'm attached to it because my oldest learned math with that.
But I really want to give Masterbooks a try.
I'm going to see how my daughter responds to the stories. I'll see if she's grasping addition and subtraction enough, and if I prefer the huge amount of visuals and games from TGATB. You know I'll be flipping through both books to see if I miss our old book.
I'll update you here how it's going.
And we have a 3 year old…
Thought I'd mention that so you know we have lots of interruptions and rarely ever follow "the routine".
He's not starting preschool yet, and pretty sure my kids don't even think of preschool as "school" because their job is to play.
BUT! I do plan on using our Playing Preschool curriculum by Busy Toddler probably starting at age 4. We've used it with my middle child (not strictly and not every day) but she adores it. I'll continue some of the fun books and activities in Year 2 even into kindergarten.
Other learning tools for homeschooling kindergarten and first grade
One of my favorite parts of a homeschool lifestyle is that we have time for things we enjoy. I'm really looking for learning tools that don't feel forced to have around the house. Things like puzzles and games and art and building toys. Here are a few we like.
Games
Card game War
Card game Golf (awesome for practicing adding and subtracting small numbers!)
Trouble
Bird Bingo (Also want the bug bingo too!)
Happy Hats Reading Game by Bob Books
Art supplies
Thick paper or watercolor paper
Tape and glue
Coloring books
Glitter pens (below is my favorite!)
Also, for some serious homeschool support, try joining 1-2 Facebook groups in my Big List of Homeschool Facebook Groups. Surprise, I'm in most. But my favorite one right now is called Homeschooling First Graders.
Also feel free to check out my Homeschool Resource Page for more help.
Keep your homeschool simple
My best advice is to start with just a little and add on. We like to start with one subject the first week, and add another on the second week. Add a little bit until it feels like you have a rhythm of some kind.
Scrap what's not working, add more of what you enjoy.
Also, at this age I find it really helpful to have some kind of visual to remind me and the kids what we are *attempting* to do that day. I made a chore chart below you can purchase to print and write on, laminate, or whatever.
You got this!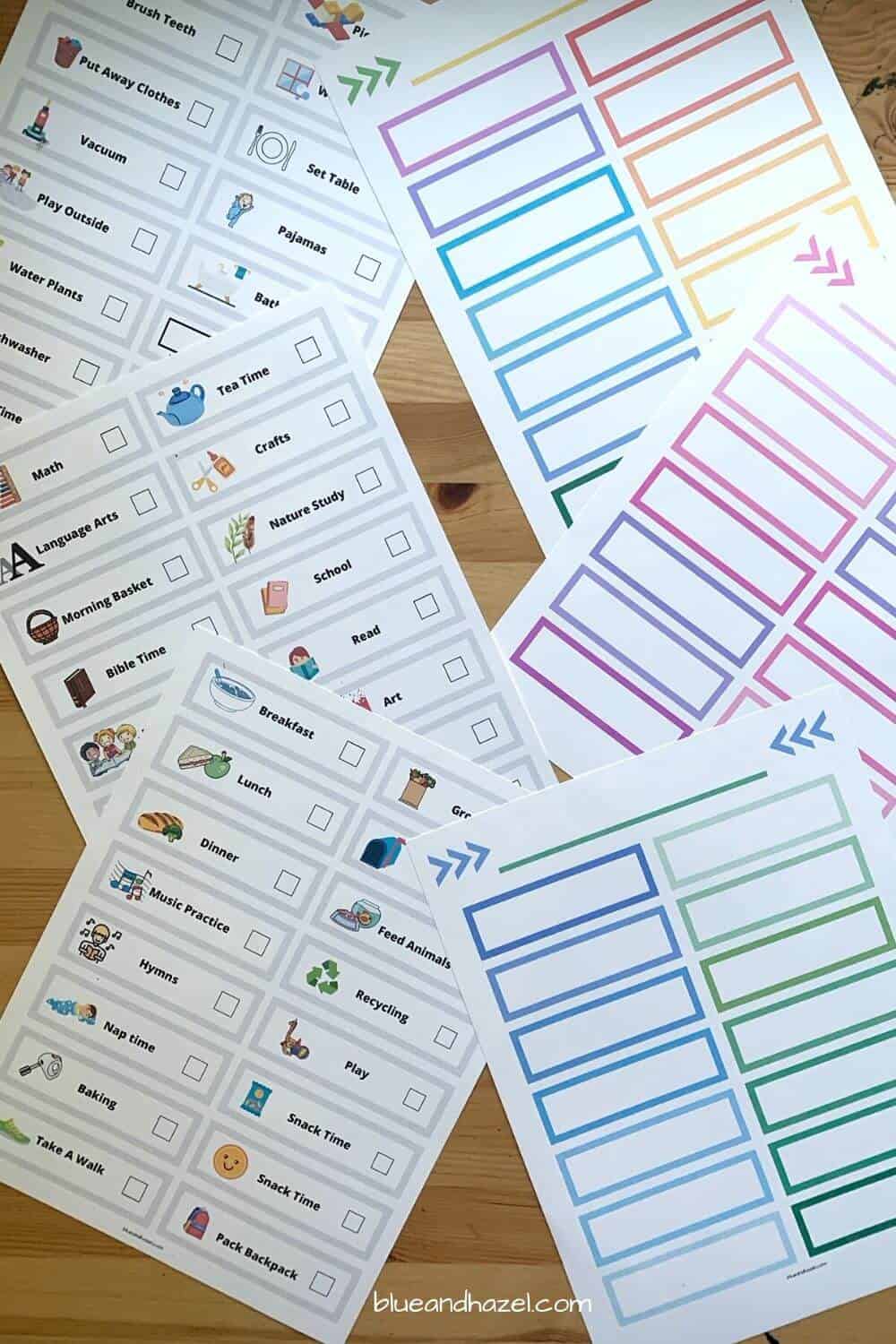 Follow Blue and Hazel on Instagram