If you are searching for a homeschool math curriculum that is known for strong math skills, then you've probably heard of Singapore math. We ended up switching to Singapore math half way through 1st grade because I just felt like I needed to see if it was doable for me as a mom.
My son is bright, but I'm not confident in math and didn't learn it like this! Borrowing and carrying on paper…got it down. Mental math and visualization? What's that?!
I wondered if I could teach it being a "non mathy mom". So read on to see my brutally honest non sugar coated review of Singapore Primary US Edition homeschool math for 1st grade.
I'll try to answer all the questions I had before starting, why we switched, what it's like on the day to day, and what we'd been using before.
We now use Primary 2022 for 2nd grade which is more user friendly. Here's my side by side comparison of Primary 2022 and Primary US edition. Or, check out our 2021-2022 homeschool curriculum picks for 1st and 2nd grade!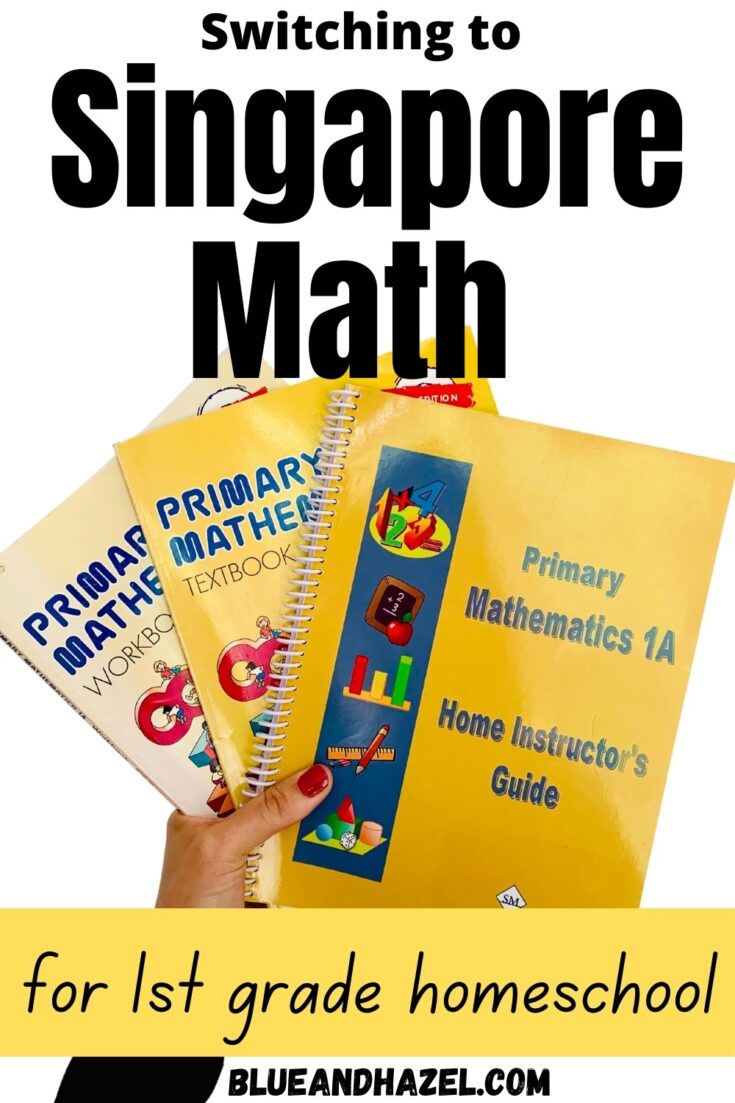 What is unique about Singapore Math?
Singapore math is not the ONLY way to teach your child math skills. But it is unique in it's approach, considered advanced, and will give your child a strong number sense.
Every new concept is presented using their 3 step system:
Hands on math
Pictures on paper
Written numbers and worksheets
For example:
So for level 1A when we were learning to add numbers up to 20, we first used 10 frames and counters.
Then, the textbook showed a picture of 12 carrots in one box and 6 carrots in anther, and had to put a circle around 10 carrots and another circle around the 6 & 2 extra carrots to see it's like 10+6+2.
And last, he had an independent worksheet to fill out.
What we used for kindergarten and 1st grade before switching to Singapore math
Singapore is my 3rd math curriculum I've tried in 2 years. I've been looking something that is teachable for the "non engineer minded mom" yet gives a solid elementary math foundation.
The Good And The Beautiful Math
For kindergarten with my oldest, I wrote a review on The Good And The Beautiful Level K Math that we used. It was honestly great, and SO easy to follow as a 1st time homeschool mom.
Very visual
Only 1 book to open (no separate teacher's guide)
Daily checkboxes to complete
Filled with games
Scripted so I knew EXACTLY what to say.
As of summer 2021 they have revamped it so the lessons are shorter and there are less loose pieces to deal with which was a major complaint by many including myself.
Math Lessons For A Living Education
Then for 1st grade, I was drawn to a "living" math curriculum by Masterbooks called Math Lessons For A Living Education (MLFALE).
It's:
Loved by many Charlotte Mason homeschool families
Includes SHORT lessons
Lots of review
Stories to make math real
Big focus on place value in levels 1 & 2.
1 book for the whole year (no teacher's guide)
My son learned a lot in 1st grade from money to measurement to borrowing and carrying to word problem solving!
We'd often do 2 lessons a day or 1 lesson and play other math games I bought because 10 minutes of math a day was just a bit short to me.
But I worried if it would form him into a strong math minded kid (if math was his "thing").
Most parents love switching to it when their kids are finding other math programs way too overwhelming, which made me question if it was perhaps too easy for a son that didn't struggle with math.
See my full MLFALE review here.
Which version of Singapore is best for homeschoolers?
After lots of reading and combing Singapore Facebook groups, I found most homeschoolers in the USA opt in for the Singapore Primary US Edition.
This was what 4 homeschool families I know told me they use. So that's what I chose too.
Here's Singapore's post for new homeschool families on their programs.
There are now 5 versions of Singapore math available which makes this curriculum SO confusing before you buy. That's my first large complaint.
Here are the versions available:
Primary Math US Edition. (What this review is on) Almost identical to the original program used in Singapore, but adapted for the US and includes US currency and measurement. Made for grades 1-6. Includes cumulative review. Created for homeschool use, not classroom style teaching.
Primary Math Standards Edition: Made in 2007 to meet California's standards.
Primary Math Common Core Edition: Often used by schools that are required to teach common core.
Dimensions: Many homeschoolers also use this version, though it's teacher's guide is made to be used in a classroom setting so you'd have to adapt it to use with just 1 student at home. A lot of parents just do even or odd problems (what I remember doing in public school too) because otherwise it's SO many problems.
Newly released Primary Math 2022. Update: We switched to this version as SOON as it came out, after I wrote this review for the US version…love it. It's easier to follow and teach! It's scripted so what I say is in bold. It comes with the student book (consumable) and a home instructors guide (reusable), plus optional mastery and beyond for chapter review (consumable). Here's my side by side review of Primary 2022 vs Primary US edition.
How much does Singapore Primary cost per year for each kid?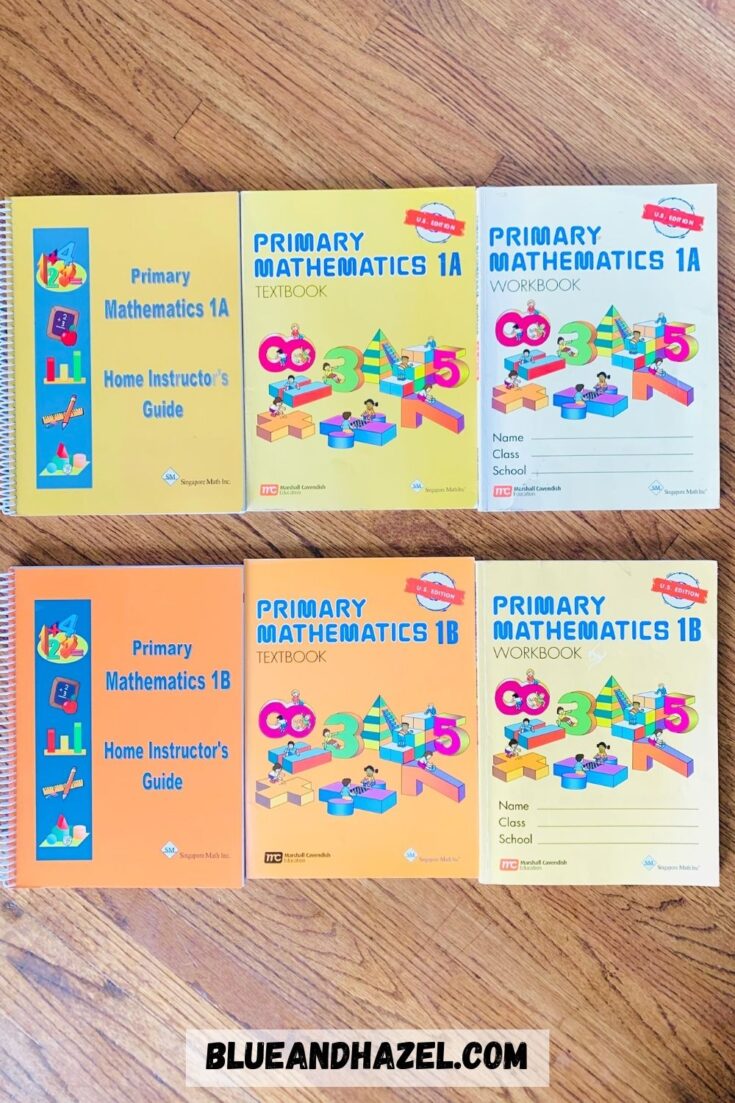 Each version will vary, but the good news is the US edition many homeschoolers use is the most affordable!
You'll end up buying a total of 6 books per kid each level or "year", (3 for each semester).
To buy direct from Singapore Math's website:
Home instructors guide 1A & 1B: $19 each
Textbook 1A & 1B: $15 each
Workbook 1A & 1B: $15 each
Total that's $98 to start. But I will only be reordering the 2 workbooks (it's the only book you write in) for my next kiddo should we keep on keeping on with Singapore.
Only one of them (the workbook) is to be written in by the child. So if you use this program for more than one kid it gets significantly cheaper…just $30/year for math.
What manipulatives do you need to buy Singapore math?
Singapore lists recommended things to buy for each level in their Home Instructor's Guide.
Through level 1A, I've used (over and over again):
Colorful linking cubes for teaching number bonds.
A deck of cards.
10 frames (you'll need two) plus counting pieces like the linking cubes or beans.
Dot cards and number cards (in the back of the Home Instructor's Guide to cut out).
YouTube Singapore math textbook and workbook flip throughs
If you want to get a feel for how to use Singapore math, I'd first YouTube "Singapore math reviews" or "Singapore math US Primary reviews" or "Singapore flip though".
Or, they give sample pages for the textbook, workbook, and home instructor's guide for each level.
The samples that say 1A would be the first half the year, and 1B would be the books for the second half.
Also, the Home Instructor's Guide sample pages are what you'd want to see if you are going with the Primary US edition. It's written for homeschoolers.
NOT the "teacher's guide"…which is different and written for a teacher in a classroom setting. It doesn't correspond to Primary US Edition, but other editions. I know…so confusing.
Is Singapore math hard to teach?
I'll just admit I'm not a math minded mom. The first month was downright confusing to me and I wanted to give up! I dreaded figuring out what I was supposed to teach for math each day.
But then, a month or so in, something clicked! I learned to follow the home instructor's guide (HIG) which told me what to do and when to go to the textbook and workbook (which is independent work for the child).
I learned we don't have to do every game and visual in the HIG if he understands it.
And yes, I know…it's just 1st grade, level 1. But just so you have an idea what to expect, here I go.
What it's like to switch to Singapore math for homeschool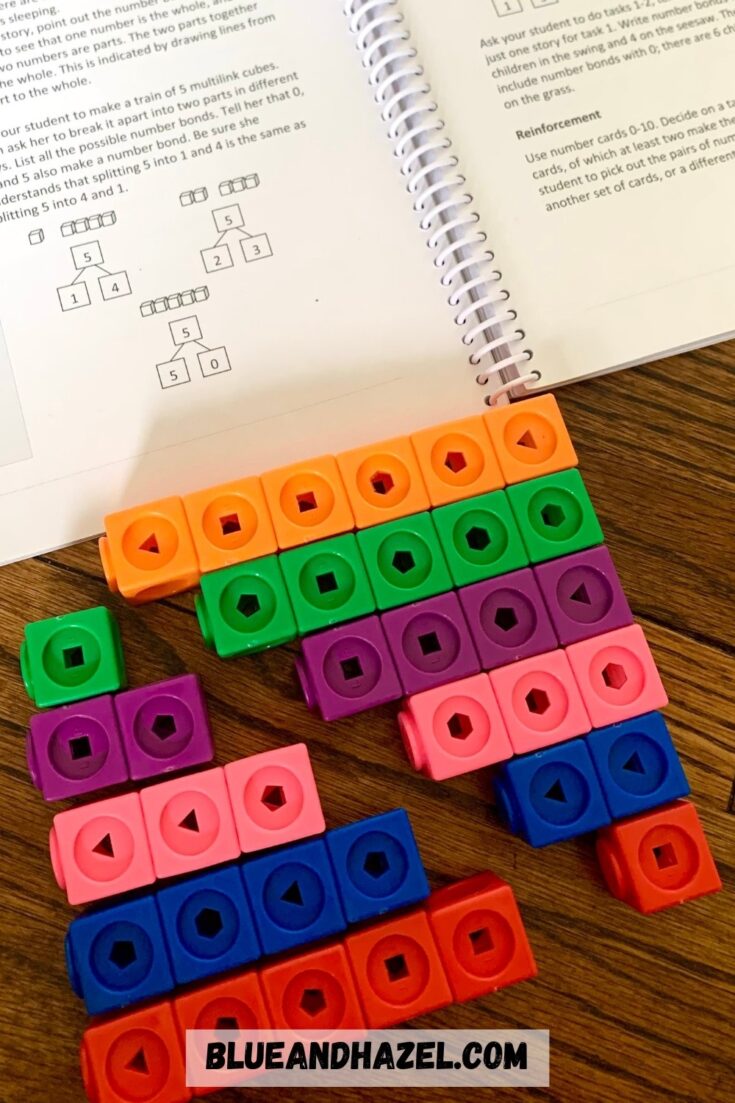 1. I've got to relearn math the Singapore way.
I've heard the best time to start Singapore math is in level 1 because you learn it their way from the beginning.
That's one reason I decided to "repeat" 1st grade math and start in 1A instead of 1B although my son was already finishing his other 1st grade math.
I'm so glad because we whizzed through easy stuff like shapes and patterns, and took our time on addition and subtraction and mental math.
2. Singapore math requires the parent to actively teach with visuals and games.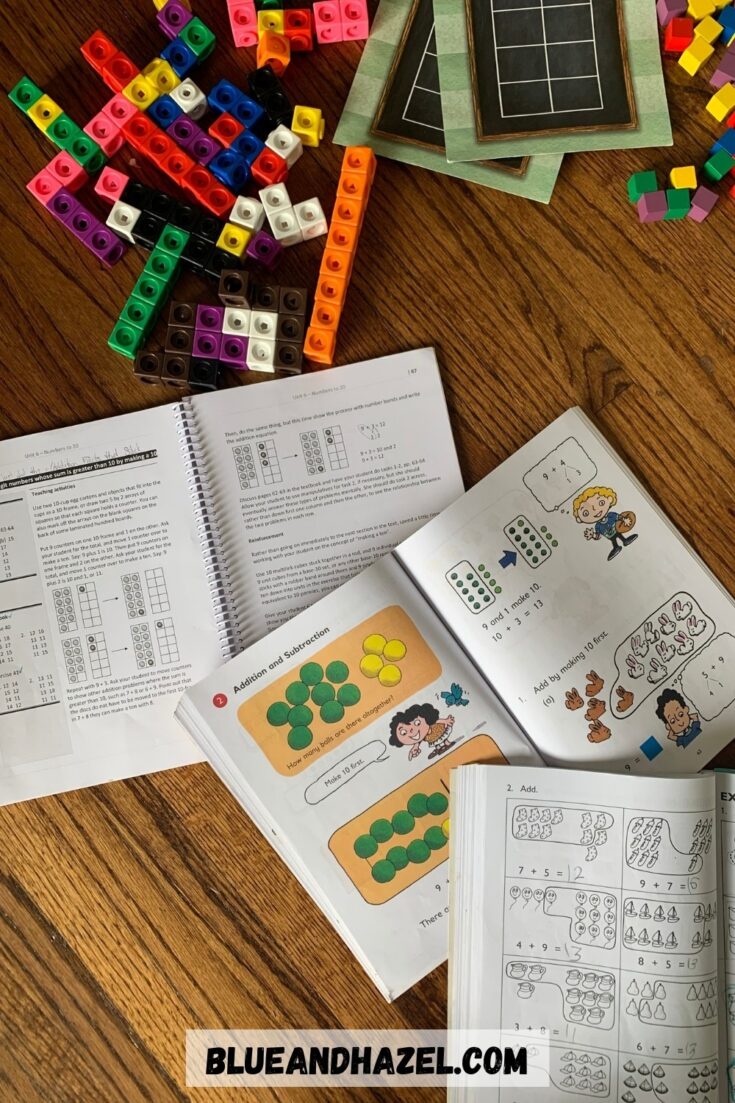 You have to be willing to teach a bit to use this.
I bookmark where we are in the Home Instructor's guide, and spend about 15 minutes reading through the explanations and games so that I can explain it to my son.
My hunch is that this is going to 10,000 times easier to teach to my next kiddo having done it once.
There are also paid video subscriptions that teach you and your child the lessons from Singapore Math Live that go along with lessons from Primary US version. It was recommended to me by another homeschool mom who uses Singapore.
3. There's 3 books to shuffle through daily with Primary US edition
I miss using Masterbooks and The Good And The Beautiful, which both have 1 easy to follow book for elementary grades. Truly so easy for parents!
Singapore has 3. Yikes.
I'll explain each more in detail in a bit…but it took me a solid month to figure out how to use them together smoothly. It's not an issue now, but it was frustrating as heck at first!
(Update: The newest version of Singapore Primary 2022 has just TWO books…this has been such a refreshing change for me after we switched).
4. It's not clear how much to do each day with Primary US edition.
Our other math curriculums had super clear daily schedules, and the lessons were labeled Day 1, Day 2, etc.
With Singapore, the Home Instructor's Guide tells you approximately how many weeks a unit should take, but it's up to you to figure out the daily work.
For each Unit in Singapore Math (usually lasting 1-2 weeks):
You'll teach a new concept, play games to reinforce it…and then do independent work and mental math practice within each concept.
There are 2 books per grade level, so you could kind of aim to pace yourself to finish level A half way through the year and B by the end of the year.
But truly parents tell you to go the pace of your child. Don't move on to the subtraction unit if your addition facts are still very mushy, etc.
I pace how much we do off my son's ability to concentrate…usually about 30 minutes of math (which includes MANY distractions for him).
If he's doing well, we just keep going. If he's looking tired or frustrated, we wrap it up. A little progress each day is what I'm after. Not tears. Or overwhelm.
(UPDATE: The revamped Primary 2022 we switched to after this makes it easy to know which pages to cover in a day and is easy to see what you need to cover in a week, etc.)
5. The Home Instructor's Guide (HIG) is necessary for teaching Singapore math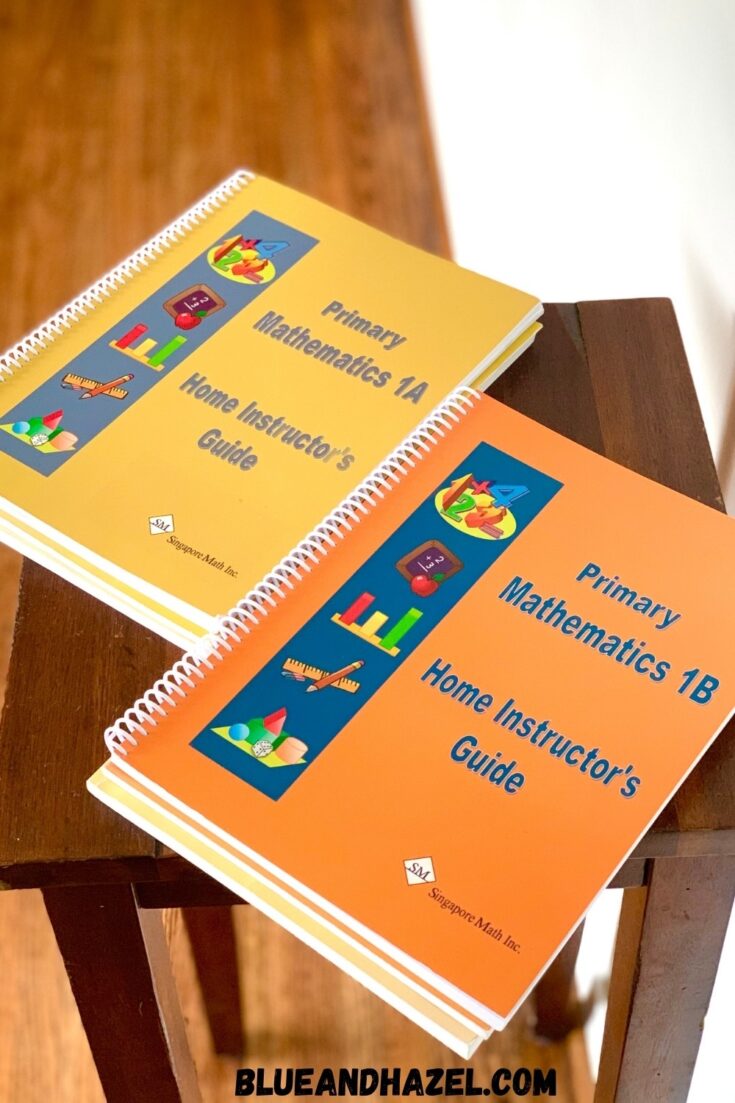 One of the things I initially skipped buying was the HIG. Bad idea, it's like the bread and butter to me of this program!
Without it, the textbook had no context, there was no help teaching, no games, no mental math drills, and it was unclear when to do the independent worksheets.
So I ordered it ASAP and waited to begin.
The HIG tells you how to teach a new concept with manipulatives before moving onto any worksheets.
It tells you the exact textbook exercise to do TOGETHER with your child, and then lists the workbook page to hand to your child for independent work.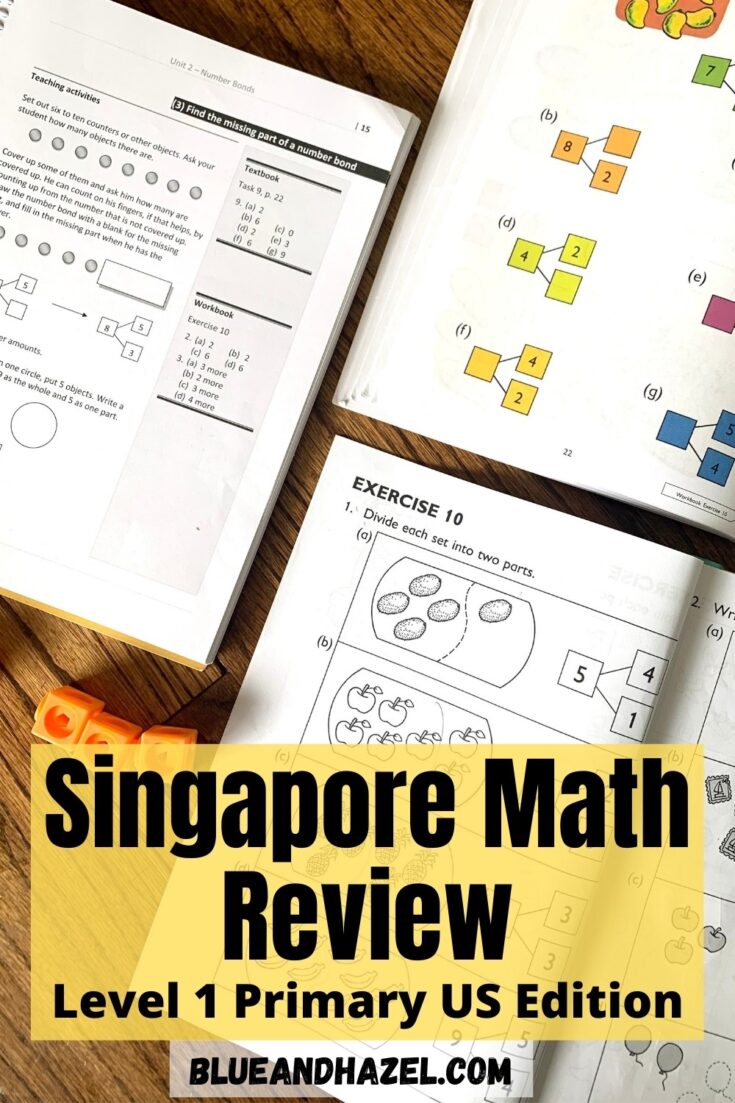 6. The pages do not tear out
This is a very small complaint! And you can always have the binding cut off of the independent workbook pages if you prefer at some place like Office Depot.
And since the workbook is the only one that gets written in, I'd still have a hard time organizing the other 2 books into neat little weeks in our homeschool crate filing system or storing it in the math section of our weekly homeschool binders.
Update on the new Primary 2022 books: If you decide to go with this version instead, the pages do tear out.
There's mental math exercises included only in the Primary US Edition
This is something that is not in all the versions. But you can see a quick sample of 20 or so mental math exercises that are recommended.
Not daily! But a few each unit.
These are in the back of the Home Instructor's Guide (this is Level 1A). In general, I say them out loud and let me son answer.
Otherwise, it just looks like a very overwhelming amount of problems! I make a checkmark at the top in pencil when we finish. Or a checkmark half way down if we stop short.
Update on mental math for the new Primary 2022: Sadly, there's no mental math lists in the back.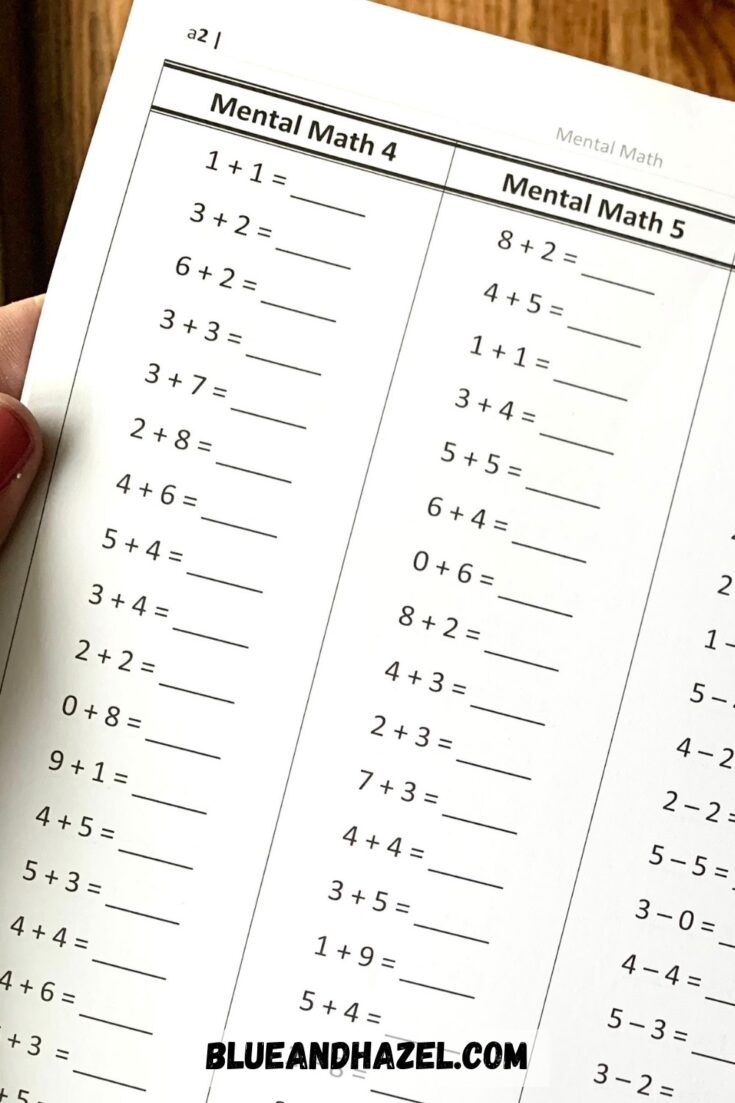 How much time does math take each day?
What I've found through reading through countless comments in the Facebook groups is that it takes between 30-40 minutes a day per kid on this curriculum.
Usually half that time is the parent teaching or playing games, and half is the independent work from the workbook.
So you'll need to give your kid 15-20 minutes a day of time with you for math, and then set them loose so to speak.
How much can kids do independently with Singapore Math?
The workbook is independent work.
It's sort of like my litmus test for how well he understands something. He SHOULD be able to do it alone, and if he can't…then we have more hands on practice to do. At least in level 1.
I think it's a process to learn what your kid can handle, and to also give yourself the freedom to not do ALL the problems if it's taking too long.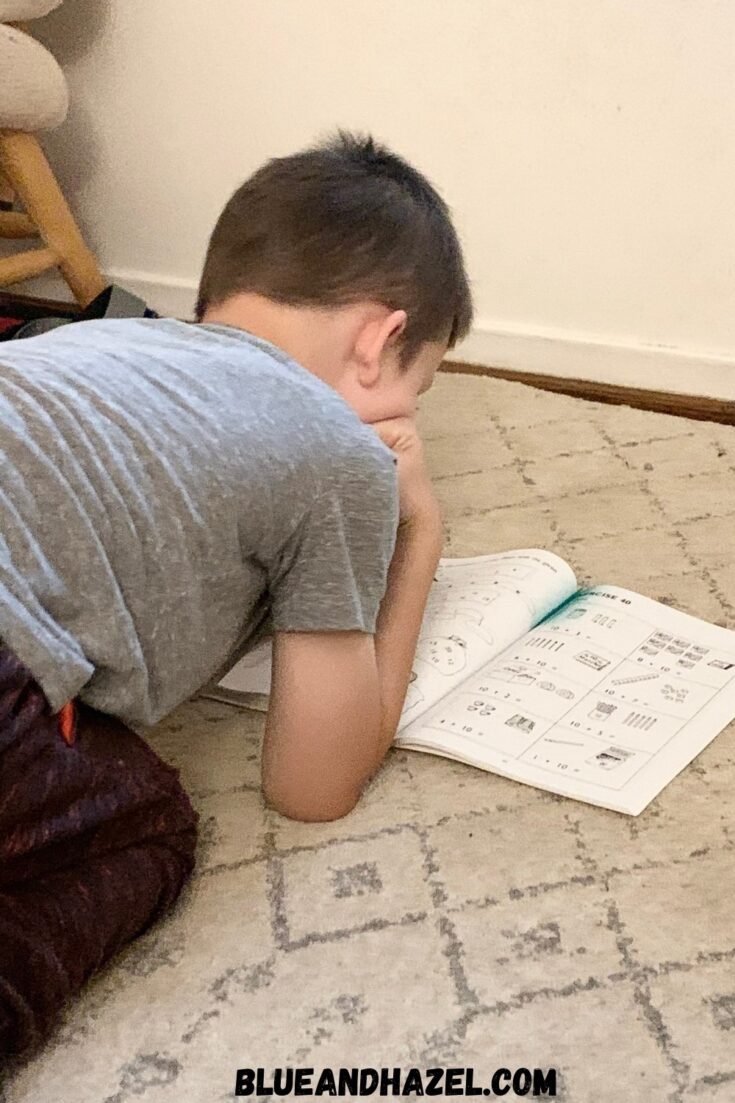 What I love about Singapore math so far
So if Singapore math is so much trickier for me as a mom to use, why am I trying it out for a year?
It's a top math program. Singapore math is well known for strong mental math and problem solving. It develops a strong number sense if their method makes sense to you!
Homeschoolers I know have encouraged me to try it! I am curious to see how I can manage the dynamic of eventually teaching 4 kids math though…that could be a lot of time?!
My son and I BOTH have noticeable better mental math and we are just finishing up 1A! Wow.
We are playing math games and learning how to group numbers to make addition and subtraction easier.
He's learning to visualize numbers in his head. And the mental math drills have sped up his ability to do math without feeling so slow and unsure, like he did when we switched.
So I just feel led to try it for a full year with him. I'm really curious to see if my daughter will do well with this as a 1st grader in the fall.
How has Singapore Level 1 been different than Math Lessons For A Living Education Level 2?
I started my son at beginner 1st grade level of Singapore Primary US Edition after finishing MLFALE level 2 early in the year. I noticed a few key things right away.
Singapore had WAY more practice problems per concept.
Like so many more. This might overwhelm a child or have to be broken up into more days.
Where we might squeeze in 6 addition problems a day with MLFALE, Singapore has double that, and then some memory work in the back.
This kinda fit my suspicion that he needed more practice, especially with mental math.
Singapore doesn't do as much spiral review
It expects you to go as slowly as you need to master certain topics. With MLFALE, we would learn something, say perimeter, and practice it on 3 rectangles. End of lesson. It would pop up again later on too.
With Singapore, more time is spent on a concept, more explanation, and more practice. You move on once you are sure it's sunk in a bit.
Singapore has you ask them a lot of math questions to lead them to the answer
The HIG is full of questions to ask them. It's not just, "Here's how you do it" like I learned in school. This is part of the awesomeness of getting them seeing the why behind the math.
Singapore works on mental math more
One of the things my son hadn't grasped at all with MLFALE level 2 was mental math. He was still counting 8+4 on his fingers and I didn't know how to help him other than just memorization. I'd followed the book.
Singapore has a lot of mental math practice (exercises are in the back of the Home Instructor's guide and it tells you which lessons to practice them). But memory work always follows visual work.
Which leads me to…
Singapore has a heavy emphasis on figuring out answers by grouping numbers by 5's and 10's
For my example of learning 8+4= , Singapore had him visually transfer blocks from 10 frames (so picking up 2 of the 4 blocks on a 10 frame and filling up the 10 frame that had 8). So mentally instead of 8+4 he was seeing 10+2.
Then all the sudden he didn't need the blocks, he saw it in his head. It was kind of magical to watch!
How do grade levels work and is Singapore advanced?
Singapore is considered an advanced program for grades 1-6, and is ordered by "levels", not grades.
Each level is split in 2 parts, A & B. Generally speaking, A is the 1st half of the year and B is the second.
It's common that parents will begin at a level below their child's grade. For example, a brand new 3rd grader just switching to Singapore math may go back to level 2B, or even 2A which is totally ok to do!
There's a placement test to take if you are not starting at the very beginning like we did.
Even though my son completed level 2 of Math Lessons For A Living Education for 1st grade, I started him on 1A (the very 1st Singapore book) so we could learn the new lingo and teaching style.
We breezed through easy stuff like patterns and counting to 10, and slowed down once it got harder. We'd never used the term "number bond" which is a critical term unique to Singapore style.
Are there video lessons available for teaching Singapore Math?
Yes! A friend reached out to tell me they use Singapore Math Live, an inexpensive monthly subscription to get videos that teach all levels of singapore math concepts.
There are videos for the child to watch when covering a new concept, and for the parent! I fully plan to try this out because I just need that extra help teaching to make this work.
You can also check out this video membership by one of the creators of the Singapore Math books, Jessica Kaminski. I believe it's $13/month (subject to change) and videos teach on topics that can span multiple days of practice. So you won't find a day 1 video, day 2 video, etc. But by topic.
A membership with Jessica gives you access to ALL 150+ videos she's made for grades 1-6.
How to improve mental math even without Singapore math
Just before starting Singapore math, I discovered a GEM of a program that I tell everyone to do! It's called Addition Facts That Stick by Kate Snow.
Like, run and buy it. It's a 6 week program and you can take a break from any math curriculum to use it. It helped us (yes me too) SO much! All you need is the workbook and a deck of cards.
It works. And the kids LOVED the games (many of which I now see are also used in Singapore math).
She's a big fan of the Singapore style actually, and her method of memorizing math facts seems to be the same as Singapore (grouping numbers in 5's and 10's).
See my full review on Addition Facts That Stick here.
Find a homeschool math program that works for your family
I think it's just good to remember that there are MANY good math programs out there, and if one isn't working for you or your child you have permission to switch!
If you are thinking about using Singapore Math or Math With Confidence, read my comparison.
I hope this review was helpful, and if so would you mind sharing it to Facebook or Pinterest?
More homeschool posts for you: