Last year in May, we took the kids to experience one of the most fascinating things I've ever done with them. We went to Shark Tooth Creek in Aliceville, AL with little knowledge of what we were actually signing up for. It's a spot about 300 miles from the coast where you can dig for real shark teeth, and there are SO many! You even get to take a few home.
A homeschool friend invited me, assuring me it was so awesome and worth the money. Boy was she right!
So what makes this trip magical for kids and adults? Read on!
I had a hard time finding much if anything about this place online before we left…and their website is…severely outdated and basic would put it nicely. So hopefully this will give you an idea of what it's like and what you get to do when you get there.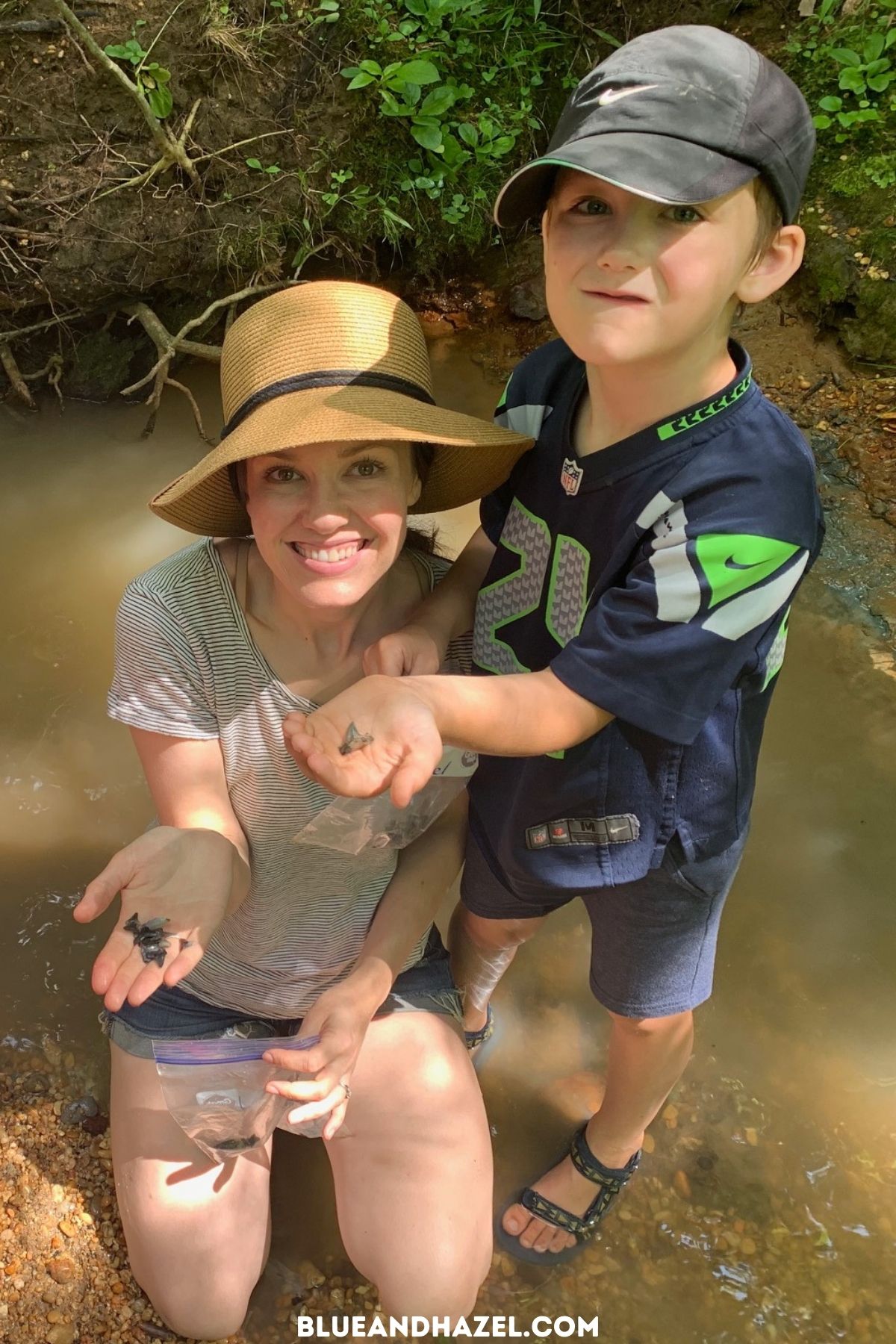 How much does the tour cost?
It costs $25/person.
At first it seemed hard to me to fork over $125 cash on a resident budget, but when we left I told my husband it was worth every penny for the memories! He agreed, even though he was a skeptic until we actually experienced it!
Once you've been, you know it's the real deal.
Why are there so many shark teeth in Shark Tooth Creek?
Mr. Ken, the tour guide and owner of the private property you'll be driving onto, shares about this.
There are two theories.
Many believe it was a result of The Great Flood in the bible and that the teeth are around 8,000 to 10,000 years old.
The Museum of Natural History states that it's believed that 70 million years ago much of Alabama used to be part of the Gulf of Mexico, and that Aliceville may have been a barrier island where shark teeth washed up and got buried over time.
Whatever you believe, the fact is there is a BOATLOAD of shark teeth in this one area, from 16 species! And with each rain, Mr. Ken said more of the soil washes down and more teeth are revealed.
You'll be joining a big group to dig for shark teeth
Once we found Mr. Ken's driveway, we drove up and parked next to some other family's cars. We didn't know them, but knew we would be joining with strangers.
Mr. Ken takes a tour group of around 30-40 people at a time, so be prepared to be with random other families!
I had been told to bring cash by my friend, so I was prepared with $25/person, even the 3 year old. We got there, and put on hats (this is the one I'm wearing in the photos) and lots of sunscreen while all the rest of the cars pulled in. It was HOT out…that much I remember.
We signed a waiver. Then the fun began!
Riding the Shark Tooth Creek Express
Soon, Mr. Ken rallied everyone over to the covered pavilion to tell us what to expect. He showed some examples of what to look for, made some funny jokes, and gave a little history on the spot.
Then we got to hop in the "Shark Tooth Creek Express" (yes, you'll ride on a fast road in a revamped cow trailer with benches…)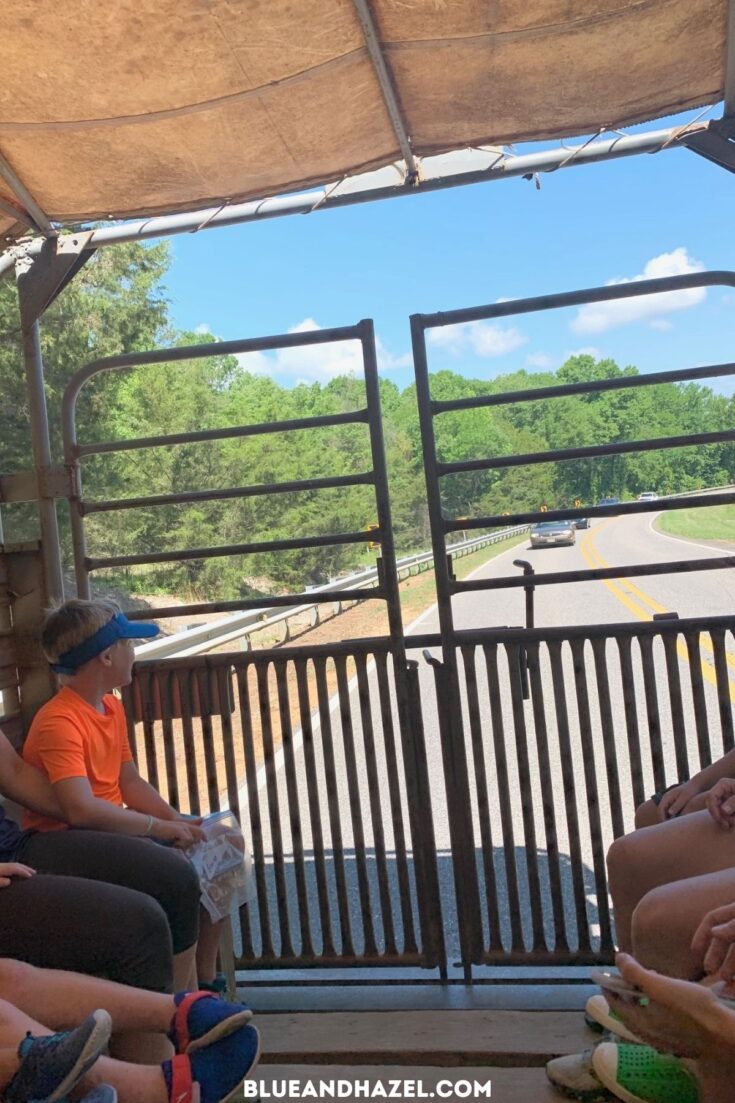 I thought we'd just be towed around the property to the creek, but we actually had to hop on a highway for about a quarter mile or so, and cross over to his property on the other side! My husband and I looked at each other like THIS IS CRAZY.
While most people opted in for that, some did choose to follow behind in their own vehicles. I'm sure that's safer…after all your car has seat belts…but let me tell you riding in that with so many people was just FUN! Totally part of the experience.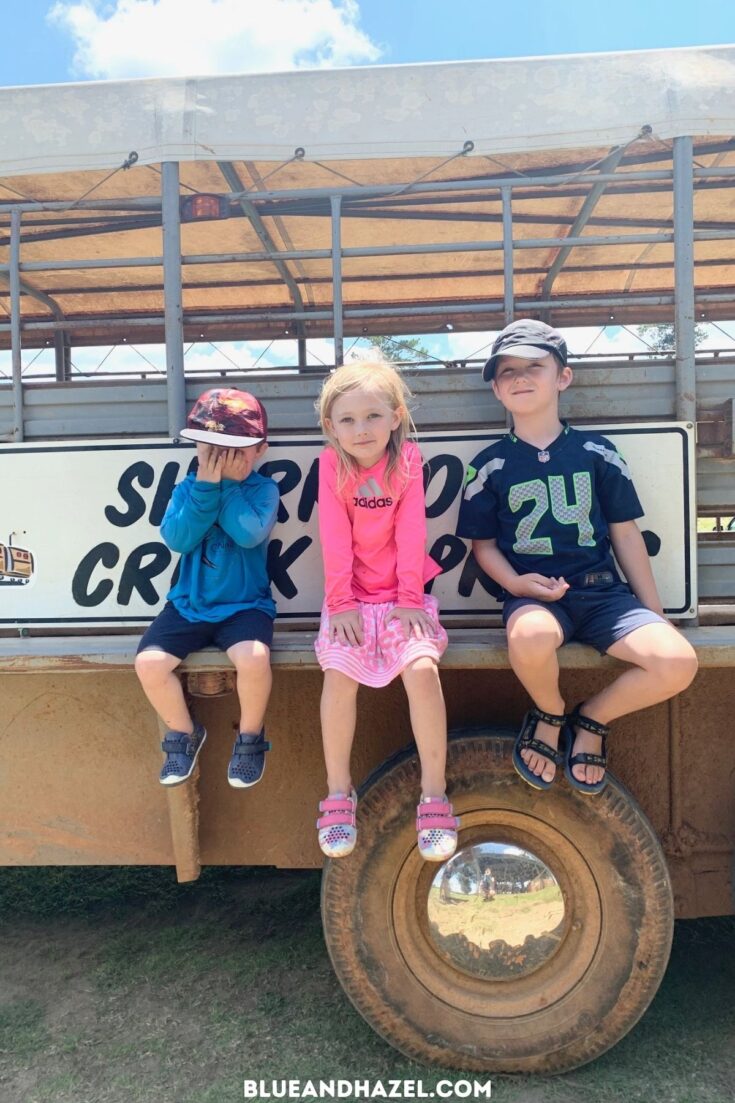 Digging for shark teeth
I'll never forget when we all got off and Mr. Ken (and his helper) led us down to the creek. I was eager to find a tooth, thinking I'd be searching a long time. To my surprise, it only took a few minutes or so to see one! It was amazing and like the ultimate treasure hunt.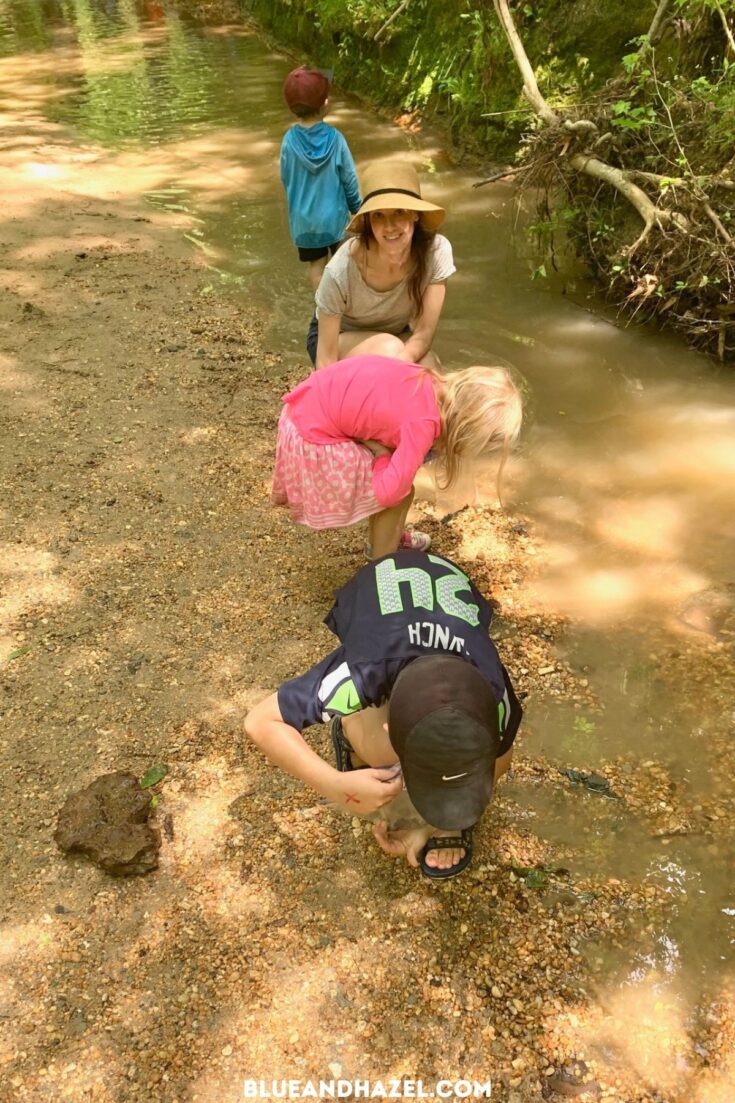 At first, all the rocks (and teeth) just blend together and it's hard to pick them out. But as the tour goes on, your eyes learn what to look for and they feel easier to spot…it's crazy!
My husband saw one sticking out of the side of the bank in the dirt and washed it out in the creek. It hadn't quite washed out of the bank yet but it was huge! I never found a big one like that.
You just never know where they will be or where the big ones might be. Most are tiny, but wow, some are BIG.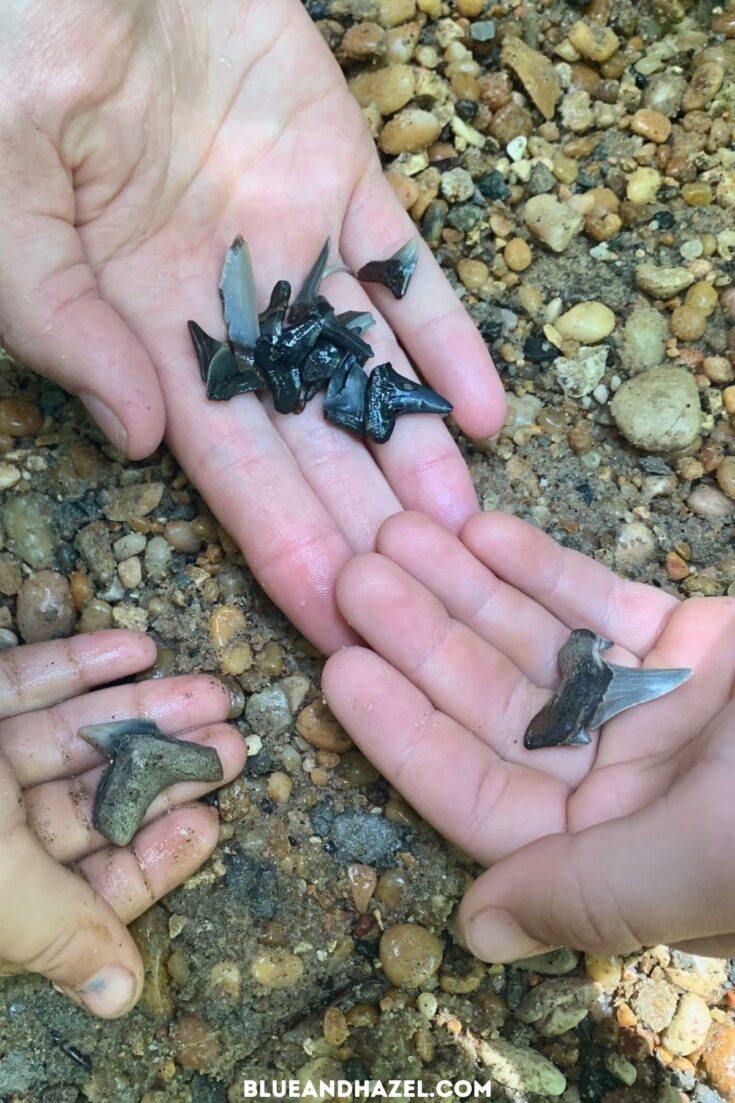 Mr. Ken helps the little kids find a big tooth
Mr. Ken does a pretty special thing for the little kids too. If they haven't found a nice big "keeper", he finds one, gets the kid to go look at the spot till they find it, and marks their hands with an X so he knows that kid's already got a souvenir from him.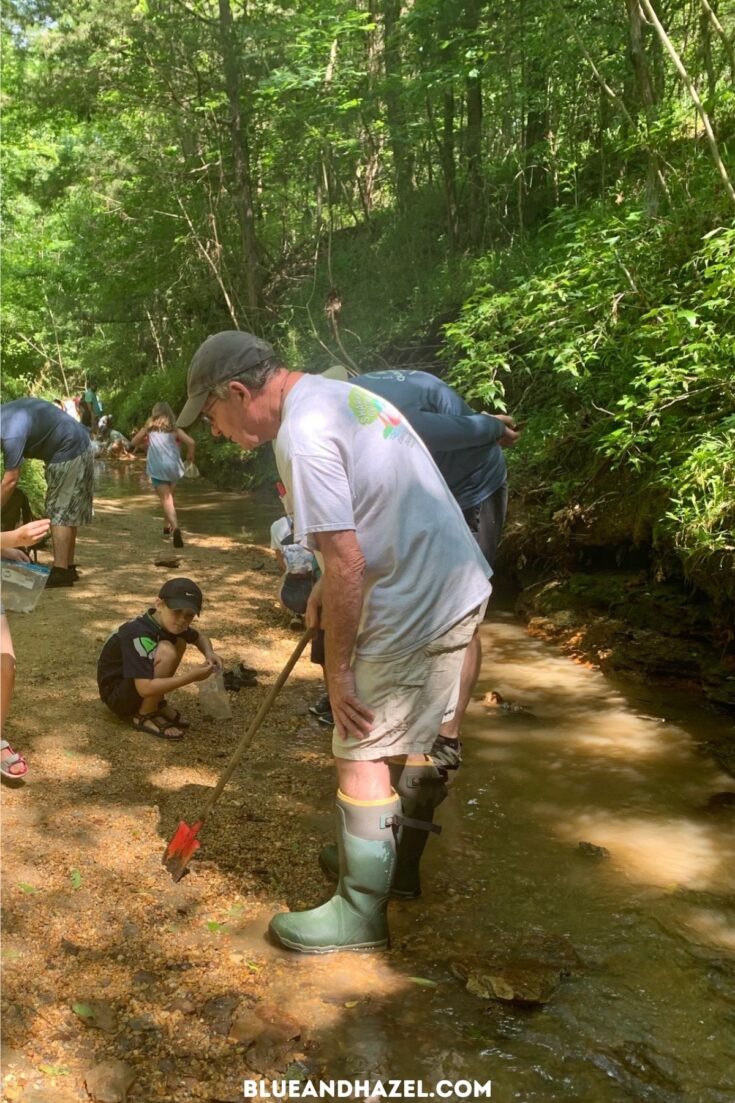 Yes, he's generous and sweet. And his eyes find them FAST because he's trained them what to look for. He said each rain more of the dirt gets washed out revealing new teeth.
The tour goes for about an hour or an hour and half, and the group gradually walks up the creek (half a mile maybe?) and then turns around.
We were at the property a lot longer though, since there's the before and after experiences, like eating a lunch you pack, the Shark Tooth Creek Express drive, and sorting the teeth and weighing them at the end.
It's Alabama…which means there are snakes around
At the time, I didn't know much about snakes, other than there are poisonous ones here. So the urgency and significance of the snake that was killed when we were there now makes sense to me.
About half way through, Mr. Ken's assistant ran past us back towards the truck to grab something, and while I didn't see the snake as we were in the back of the tour…Mr. Ken killed what I was told to be a VERY large cottonmouth a "few" feet long.
For those of you that don't know about these snakes…they are really venomous. They can live anywhere in Alabama, and you just have to beware and keep an eye out. But with so many kids and the risk they pose…
Mr. Ken took care of business with his shovel.
Sorting the shark teeth
After the creek, everyone rode back to the pavilion and Mr. Ken had the kids stand in line to weigh their bags. The top 2 got a prize…a free t-shirt I think?
We combed through our shark teeth and picked our top 10 to take home! We had 5 people so that was 50 teeth! There were about 5-10 really amazing ones, and lots of smaller ones.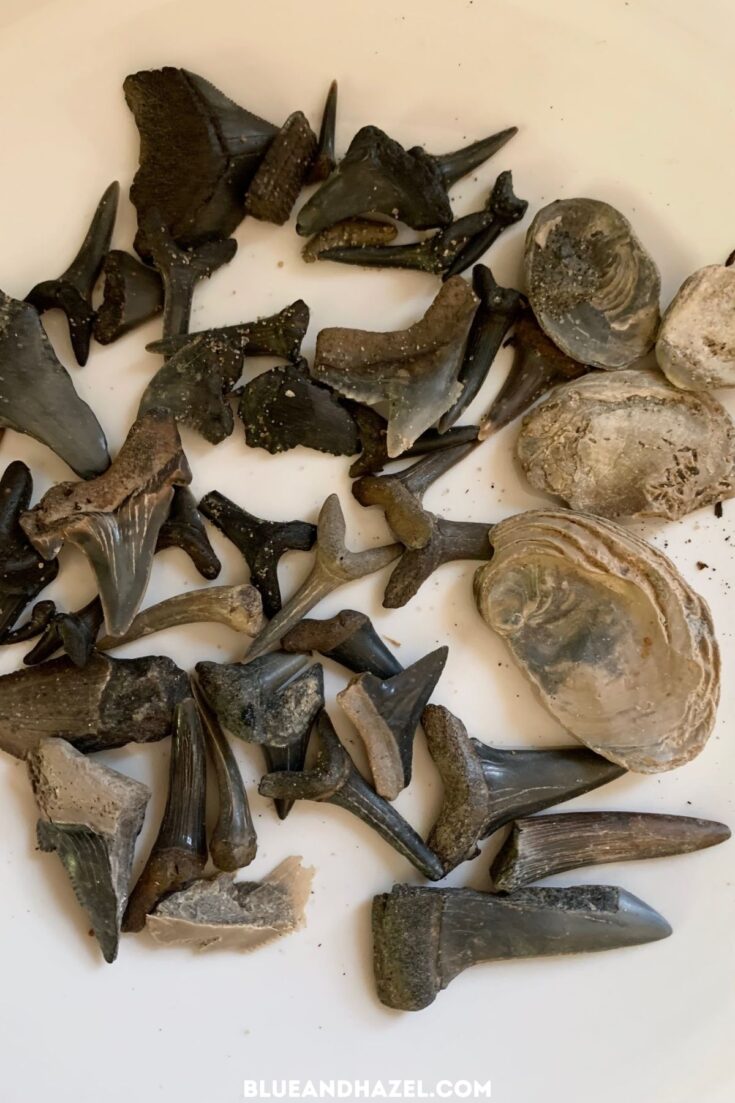 He collected all the hundreds of remaining unclaimed ones. Yes, I wanted to know what he did with them and he said he fills a bucket and eventually sprinkles them back into the creek for kids to find. That's cool because when you're out looking, the more there are to find the more fun it is.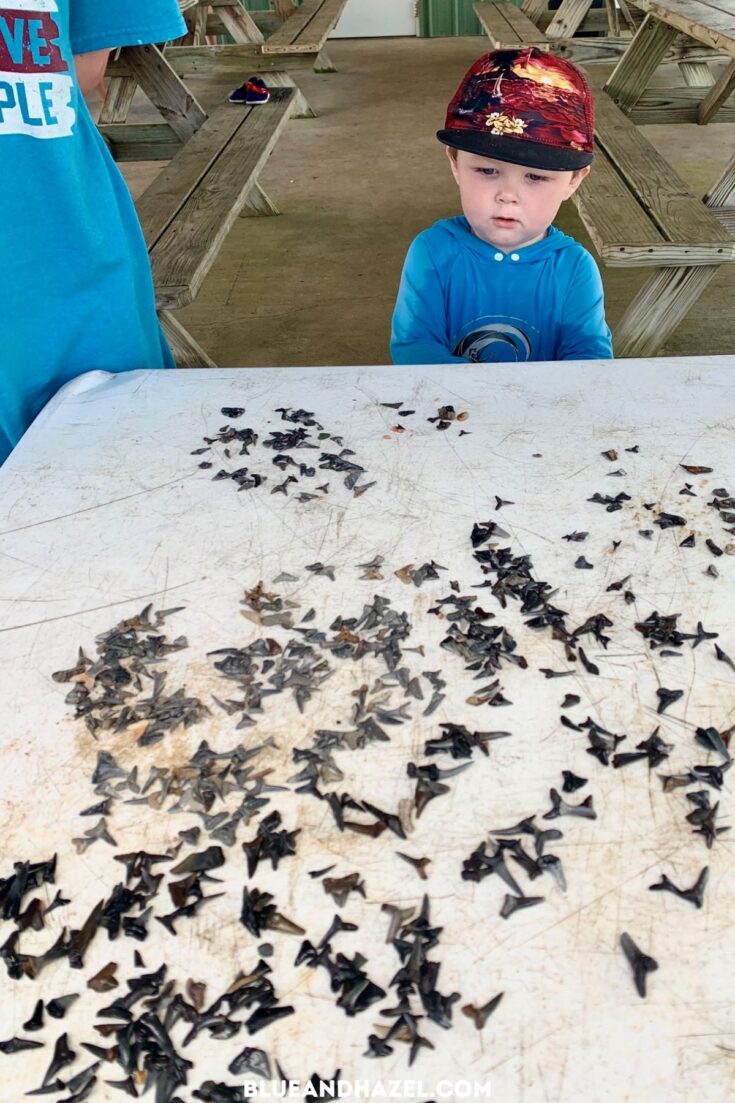 Other activities at Shark Tooth Creek
Mr. Ken offered to take people to do the zipline on his property. My kids desperately wanted to but we left because it was nap time, I was hot and tired, and so many people went to do it the wait would have been a while.
He really just makes it so fun for the kids! I'm not sure if that activity is available each time or not.
The website says there's also swimming and catfish catch and release fishing there. And even basic camping for $5 or something if you want to do that. There are bathrooms at the pavilion too.
How to get a shark teeth tour with Mr. Ken
If you are interested in going, you'll have to call and speak to Mr. Ken. My friend set up our tour but she said it's all arranged over the phone, and paid in cash.
So he will want to know exactly how many people are committed in your group, because otherwise he will be filling the spots with other families.
So you are responsible for making sure as best you can that people who say they will show up, will actually show up or he loses money.
Find his contact information on his website.
Other travel posts for families you may like:
What to bring to Shark Tooth Creek
Plastic sandwich bag or something to hold your teeth in while you search. I didn't bring any but my friend had extras.
A permanent marker to put your kid's names on the bags. Inevitably kids hand you their bag and don't want to confuse their hard earned shark teeth with a sibling come sorting time.
Cash. $25/person (check website or call for any changes).
A small backpack for water and whatever else you bring. You'll be bending over in a small creek so you won't want to be constantly juggling an over the shoulder purse.
Water shoes! You'll probably get your feet wet, just saying…it's a creek.
Hope this post was fun to read and makes it to your bucket list of fun things to do with kids (or without!) in Alabama!
Feel free to share this post with others who may want to visit. And come follow Blue and Hazel on Instagram for more homeschool and motherhood inspiration!