If you walked into my house prior to my first year homeschooling, you would have seen me reading loads of blog posts and reviews on kindergarten math curriculums. While we had a wonderful relaxed preschool experience at home, I felt responsible to make sure I did a bit more formal teaching for kindergarten, especially math. I wanted a complete program that would tell me what to do each day.
We ended up choosing The Good And The Beautiful Level K Math, and it's really helped me build confidence that I can homeschool.
My then 6 year old son looks liked it, and it's filled with hands on activities that feel like we are "playing math" most days. After starting our kindergarten homeschool schedule in August, we finished the 1st of 2 books by December doing 20 minutes/day about 3-4 days a week. (60 total lessons in the 1st book).
Read on to see what's inside the level k math, pros, cons, and reasons you may or may not want to use this math curriculum!
If you're brand new to homeschooling, check out how to start homeschooling for the total beginner!
Update Feb 2021: The Good And The Beautiful Is Discontinuing This Math Line
Before you read on, I should tell you that all math sets including the level k one being reviewed here, are on sale for 40% off till sold out. They are completely revamping a new math curriculum in response to feedback from so many homeschoolers.
A few complaints were that there were just too many moving pieces for each lesson, game instructions to follow, and lengthy stories. "Fluff" as they call it. That sums up how I felt about it, so I'm not surprised!
The new math program will be out summer of 2021 for $49 per child per year (instead of over $100 like before) and will include the new manipulative pieces needed. Their goal is to make lessons shorter, with fewer pieces to get out. And to hopefully make it easier on families with multiple kids that found it hard to spend so much time on math using their program.
Their website states their current-soon-to-be-old math cost the most to make of all their products and yielded the least profit. That along with user complaints led them to make a new program. The manipulative kit you see in this review will not be useful for the new program.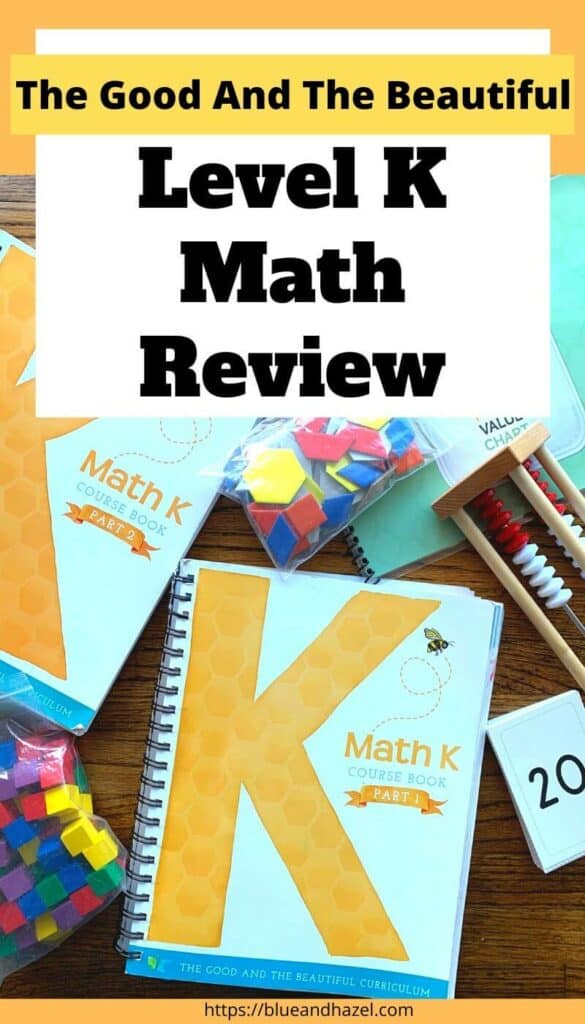 Does The Good And The Beautiful Math Align With Common Core?
No. This curriculum is not considered common core.
My second choice for kindergarten math
I almost chose Math U See since many homeschoolers love it, have used it K-12, and it's been around for ages. I liked that the program had a short video teacher each day. It uses a "mastery approach", meaning he would learn addition and subtraction ALL YEAR really well in kindergarten…but other topics may not get taught till later years.
From my understanding, it's not the best program for putting your kids back into public school should you choose, because the math principles taught for each grade are different than public school.
Basically, homeschoolers who use this all the way through learn everything they need to, but it will not be spread out the same as public school. So I opted out of that.
How much does TGATB kindergarten math curriculum cost?
$108.97 plus tax and US shipping. (My total was $117.40). As I mentioned above, this is now 40% off as it is being discontinued.
They decreased the activity box price by about $10 since I bought this. Unfortunately it no longer carries the abacus used in some lessons, and the quality of a few of the items like cardboard shapes have gotten worse. See what's changed on their site.
What is included in the math activity box?
Update Feb 2021: None of these will be used or applicable with their new math program coming out summer of 2021.
In addition to 2 kindergarten workbooks, part 1 & part 2 (no teacher's manual needed with this curriculum), you get:
laminated number tracing sheet
6 & 10 sided dice
10 frame cards + block shape cards
place value chart
colored math cubes
part-part-whole mat
daily calendar (you will need 1 for each kid in level k, but can order this separately)
shape, number, ten frame flashcards
cardboard manipulative pieces (bees, inchworms, garden plants, shapes)
Do you have to buy anything extra?
I chose to buy a white board and dry erase markers from the dollar store which I use daily when writing addition and subtraction problems. You could also just use white paper though.
This really is an all inclusive curriculum though, and so affordable compared to other options!
Pros of using The Good And The Beautiful level k math
As a brand new homeschool mom I was intimidated looking for a real "curriculum" for the first time ever, ya know?!
Many homeschool moms assured me that all the curriculums out there are pretty darn good but not all kids will respond to all curriculums well due to the way they learn best. Here's the pros:
1. It's on track with the school system.
I feel relieved knowing my kids are learning what other kids are for math. I know homeschool gives you the freedom to go ahead, fall behind, or do your own thing.
But when it comes down to it I want my kids to be equal to or ahead of the public schools with core subjects like math.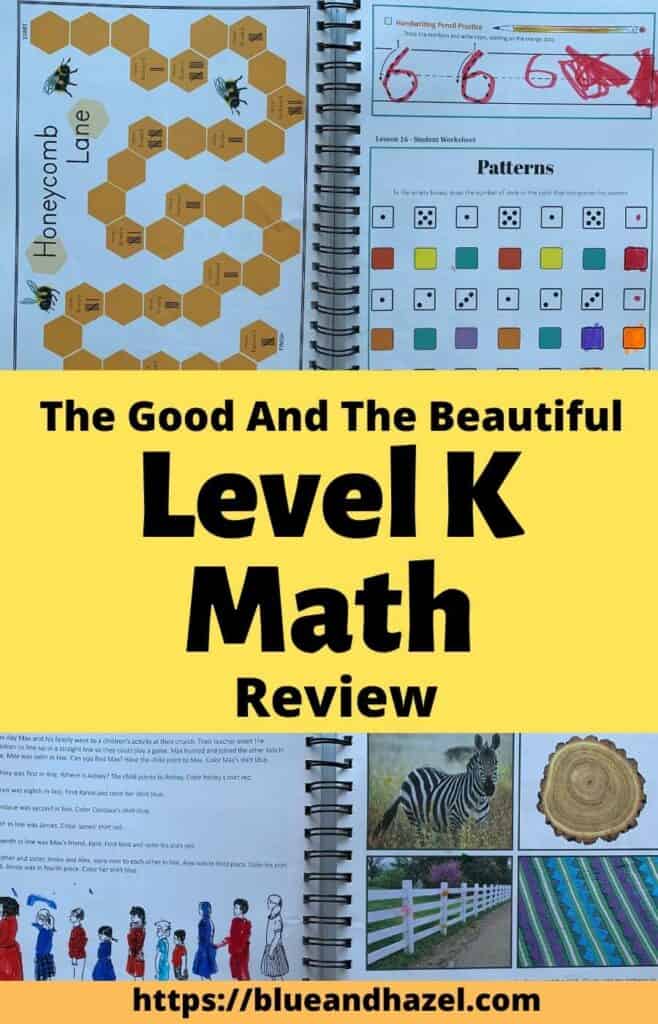 2. Full of hands on activities, games, and visuals
Some moms and kids love this, while others leave TGATB because there's TOO many moving parts and activities and games to learn each day.
You'll also see "living math" (story problems), colorful pages, and projects to cut out. For instance instead of just a page of subtraction problems, there may be a gum ball machine. They'll have to cross and how many gum balls that come out, and then write the answer to the equation.
I also like the use of natural materials. Like sticks collected outside to use for tally marks. It's all very hands on!
3. Kids learn to spell the numbers
I love that my kids now can spell 1-10 using these fun chants below! They practice one of these a day starting around the middle of the 1st book.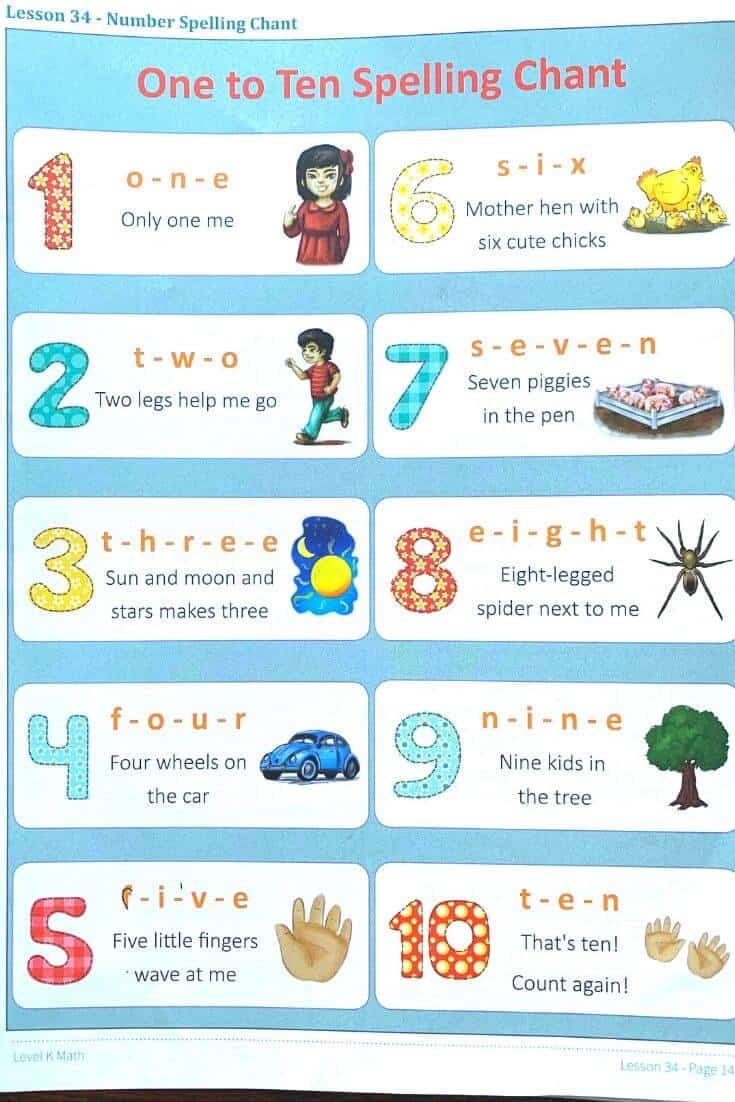 4. Numbers are taught several ways
The Good And The Beautiful practices addition and subtraction using numbers, number lines, tally marks, ten frames, and often kids must use more than in a lesson.
And just so you know, there is no "memorizing" addition or subtraction problems (as in no flashcards). Kids are learning math concepts in kindergarten, like what happens when you add 5 beads onto a necklace with 10 already there?
5. No teacher's manual
All directions and what to say are right in the book. This simplifies teaching for me. Some of the other math curriculums have 2 workbooks and 2 teacher's manuals for K year…which cost more money and means flipping back and forth.
I'm sure there will be a day coming soon where I'll need a teacher's manual for harder math, but I'm grateful TGATB does not for kindergarten.
Cons of The Good And The Beautiful Level K Math
There is busy work. With so many hands on activities and visuals, I've just had to use my best judgement when we need to skip something. Which happens a lot! While each lesson only has 1 workbook page of independent work, the rest is taught through games, visuals, and stories.
I worry if it will continue to be "enough" as levels go up if we continue to use this. It's not as advanced as other programs like Singapore Math. But, I could care less about that at kindergarten level. The Good And The Beautiful Q&A page states this exact quote:
"Though our math curriculum is extremely thorough and academically strong, it is not considered advanced (Math K is kindergarten level, Math 1 is first grade level, and so on)."
It's new. Which doesn't make it bad, but no one has yet graduated high school with this and gone on to become an engineer. So I feel like there is slight risk involved, possibly.
Speaking of new, it only goes up to level 3 (third grade math) as of 2020. There are plans to get to level 6.
There is prep involved. Yes, it's "grab and go" (as in you don't have to plan what to do). But, if you don't at least do a quick 5 minute read of "the lesson" and gather ALL. THE. PIECES. needed (and you'll use a lot daily) from the box. Your kindergartener will be long gone before you start.
It's tricky to quickly find everything in the box. They come with handy little bags for most things, but it's a good idea to use some rubber bands to separate shape cards, number cards, and ten frame cards. This will save a lot of time in the long run!
What does a day of kindergarten math look like?
Each day takes us about 20 minutes which includes a "daily dose" of routine things we do every day, and then a short lesson where I teach with hands on materials provided. After that my son does 1 worksheet daily, and there's always the option of a bonus activity.
We usually skip that because his attention span is gone. There's often coloring and cutting involved in them. Sometimes I'll let my 4.5 year old do them for fun which she loves!
What's in the "daily dose" that we start with every day
Clapping or hopping on one foot while counting to the number of the lesson (we are on lesson 57, so 57 hops gets out energy!)
Make a checkmark on the provided calendar for each math day.
Coloring in one more box on the place value chart. Love this for introducing place value visually…it's the first time my son saw that 10 ones make 10, and 10 tens make 100!
Update 2020: The place value chart is the only way that place value is introduced in level k. My son didn't grasp place value at all in 1st grade (which is fine, we just had to teach it to him later). It was kind of hammered in with the math curriculum we switched to.
Is it very religious?
If you want a curriculum without ANY religious content, this is not for you. Though I think it would be easy to leave out the religious mentions.
We are not LDS, though we are Christians. I have been keeping my eye on what types of religious references come up. To be honest, in the K level math part 1, there have been only a handful.
The Good And The Beautiful claims there is no LDS doctrine added and they do have editors from many denominations to assure there is no doctrine added that would conflict with any of the religions.
So far I've seen references to God, creation, things being a "blessing", etc. But those words are so ambiguous any religion could really use it.
I have however seen quotes by LDS leaders in the materials we have purchased from them. Just a few, and that may not bother you. It was a warning for me though that this curriculum is influenced by the LDS church due to it's founder Jenny Phillips being LDS.
While it doesn't conflict with my Christian beliefs thus far, I don't consider this to be a Christian curriculum at all. I know Muslim women who use this because it doesn't conflict with their religion too.
Like i said, it speaks of "God", "blessings", "Jesus", and "doing what is right", but doesn't teach doctrine. It is too watered down, and it's that way on purpose so no one takes offense.
How to determine your child's grade level for math using The Good And The Beautiful Math curriculum
If you are wanting to give this a try but don't know if your child is ready for level k or level 1, use this math placement assessment.
In order to begin level k your child needs to be able to know basic shapes and colors, recognize numbers 1-5, count 1-10, and use scissors.
It was way too easy for my son in the beginning who knew his numbers to 20 and could already count to 100, but we began with level k and I'm glad. He didn't know how to write numbers, add or subtract, and much more.
He flew through the first 10 lessons or so, but everything else was new to him after that. Plus, he really enjoyed the fun games and crafts in those lessons.
In order to be ready for level 1, your child will need to be able to count to 100, count by 2's to 20, count by 5 & 10's to 100, know right from left, name coins and their worth, write the time looking at a clock, complete patterns, and add and subtract numbers 1 to 10.
Will we continue to use TGATB math next year for 1st grade?
As surprising as it is with this colorful review, I decided not to use TGATB again for next year. I got pretty intimidated at the thought of having two kids doing two levels the next year with all the activities and games involved.
This may completely change with the new 2022 math line coming out!
I decided to go with another math curriculum called Math Lessons For A Living Education for my 1st grader and kindergartener the following year. Update: We
It is a Charlotte Mason inspired math curriculum with short lessons and less busy work. Not as fun in my opinion, but still pretty thorough. My full Masterbooks math review is here.
More kindergarten math curriculum resources written by other bloggers
More homeschooling posts you may like
Busy Toddler's homeschool preschool curriculum review
Our first week homeschooling kindergarten and preschool
How to homeschool multiple grade levels (1st and K)
Treasure hunt activity for teaching prepositions
Teaching preschoolers to write letters at home
Pros and cons of homeschooling: How to know if it's right for you
How to teach your child to read in 100 easy lessons