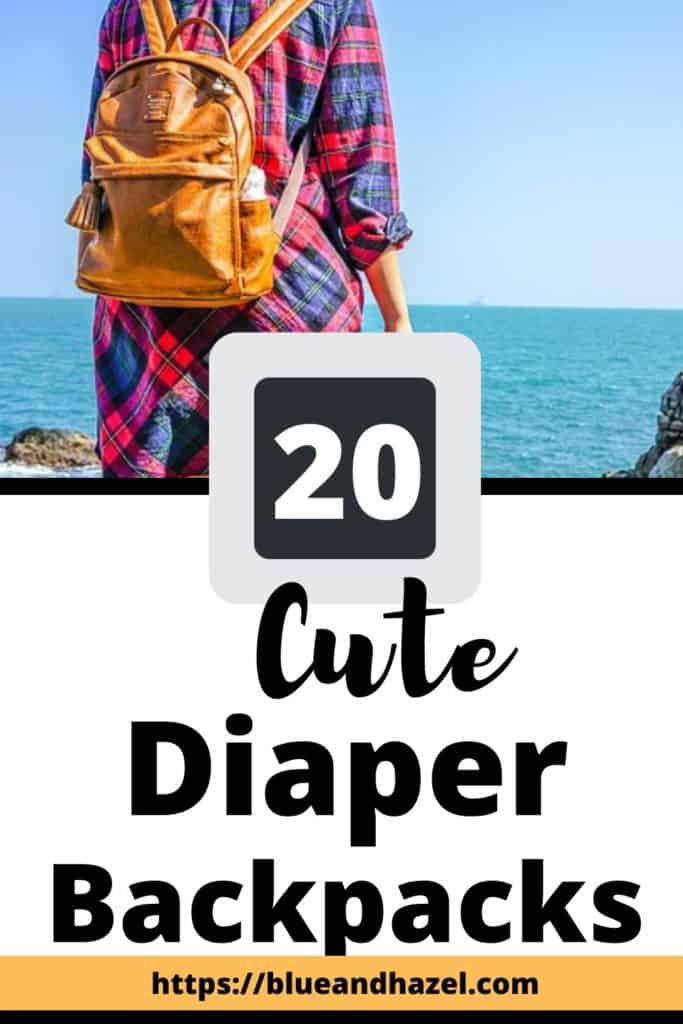 It wasn't until my 3rd baby that I realized there were some really cute diaper backpacks out there! I feel like they weren't as common when I had my first baby, but now most moms I know use them. I love that with a diaper backpack my hands are free. This was even more awesome when I had a newborn in one arm and toddler's hand in another. If you have a bag you love already but it's not a "diaper bag", see how I turned my purse into a diaper bag.
Of course, you can also turn any regular backpack and use it to carry diapers, wipes, and snacks. However all of these backpacks below have a few zippers and pockets specifically designed to help you pack all the baby supplies. I've sorted the cutest ones I could find by color, so you can find one that suits your style!
What to look for before buying a cute diaper backpack
This post contains affiliate links. We are a participant in the Amazon Services LLC Associates Program, an affiliate advertising program designed to provide a means for us to earn fees by linking to Amazon.com and affiliated sites.
Consider size.
One thing to think about before you put a cute diaper backpack into your shopping cart is to consider how large it will be on you. Personally, I need to carry a small bag or backpack.
I'm petite, but apart from that I'm also prone to stuffing in way more than I need making it impossible to find anything. Smaller bags fit my frame as well as force me to carry just the necessities like diapers, wipes, snack, water bottle, keys, etc.
Are you bottle feeding?
I would not dare put a bottle (even capped) into a diaper bag without a spot for bottles. Well, I have actually and it spilled out quite a lot. My diaper bag wreaked till I cleaned it.
Do you like lots of pockets in your diaper bag?
Most diaper backpacks come with some pockets, but if you like to have each thing secured, then go for a bag with more. I tend to like one big open pocket and use wet bags to keep diapers and wipes in. That way it's easy to just grab and hand to my husband if needed, and it's easy for me to spot.
Consider how it opens.
Most bags have zippers, some have magnets (easier to open with one hand if you're holding a baby), and others have buckles.
Magnets are nice but your bag is less secure if dumped upside down. Buckles are huge no no for me as it takes two hands and more time. Zippers are a happy medium to me. It's all about your preference!
How easy is it to clean the diaper backpack?
Faux leather is super easy to wipe down. Others may show spills or dirt a lot easier.
White cloth would be my enemy, since cloth is hardest to clean and white is quickest to show dirt. Just some thoughts. Ok, onto the fun stuff…cute diaper backpacks!!!
Brown & Black Faux Leather Diaper Backpacks
Grey Diaper Backpacks
Yellow Diaper Backpacks
Pink, Blue, & Green Diaper Backpacks
What do you like in a diaper bag?
From over the shoulder, to backpack, what do you look for in a cute diaper backpack? Do you like lots of pockets or prefer one big open space? I will say, inevitably my diaper backpacks get something spilled inside that make it hard to clean. It's been spilled milk before and squished bananas and melted chocolate.
I wish I was better at keeping them clean, but unless it's a real leather bag, I'm fine buying a new bag with each baby to switch things up and start fresh and clean. Check out this post to for ideas on what I carried in my old diaper backpack, and please share this post with another mama who needs a new diaper bag!
More baby posts you might like
How to take your own DIY pregnancy silhouette photo
What an epidural feels like before and after birth
How to fit 3 car narrow car seats across a small car in one row
Our 18 month old routine with 2 older kids at home
Binxy Baby shopping cart hammock review