Grocery shopping with a baby is no enjoyable task. Especially when you have 3 kids under 4. Thankfully now days there's grocery pickup and grocery delivery. But sometimes a mama just has to go into a store! We recently tried out the hip and trendy new Binxy Baby shopping cart hammock, which was a totally new way to take a baby grocery shopping hands free!
Let me tell you how what it's like and how it's different from baby wearing or simply putting a giant car seat right into the grocery cart like I'd always done. This hammock was sent to me free to review, but all opinions and experiences are my own.
Using a Binxy Baby shopping cart hammock
How do you take a baby to the grocery store?
With each baby, I've always kept the car seat in the shopping cart. (So, no room for many groceries)! I love not having to unbuckle a newborn. However, my 3rd baby is off the charts huge for his age, so the car seat is HEAVY!
When they get too heavy, (around 2 months for me) I couldn't carry it anymore without ripping my arm off, so I started baby wearing in the store.
That works just fine, except I find it more hot, harder to bag my items (shopping at Aldi), and overall just less easy to move.
Then, we found the Binxy Baby hammock.
What is a Binxy Baby shopping cart hammock?
It's basically a piece of fabric that securely straps onto a grocery cart and buckles in your baby. Your baby is laying on their back and looking up towards the ceiling.
One nice thing about using a Binxy Baby shopping cart hammock is that it fits most grocery carts (yes, even Costco's big red ones) and can hold up to 50 lbs! It's been tested and is safe for babies until they can sit up, usually around 6-8 months old.
Here is an explanation of how to use it.
How to attach the Binxy Baby shopping cart hammock to the cart
I was skeptical because there are just too many baby products out there. Was this more trouble than it's worth, considering it's around $50?
We headed to Aldis for a groceries and attached it by snapping it on the sides of the cart. I put my little guy in the hammock, my two year old in the front of the cart, and my 4 year old walked.
My first thought was that it may be tricky to secure the hammock to the cart one handed if I was holding a baby in one arm. However, after doing it alone, it was not hard to secure one-handed at all! So, good news, it's easy to attach, and the baby gets buckled in. Just snap it to both sides of the cart, and secure the velcro straps.
Related Post: 8 things I've stopped doing to be a less busy mom
How to take a baby shopping in the Binxy Baby hammock
The hammock is pretty easy to use. FYI a lot of people will stop and tell you, "That's nifty!" Especially people your parent's age, who never had anything like this. We got comments almost every trip.
The Binxy Baby Hammock is so unique because a car seat can sit in it, or just the baby. This frees your cart up to actually put groceries in, without having to lift out a sleeping newborn from their car seat.
In the past, my biggest problem with the car seat has been that it fills the WHOLE cart. Too bad I didn't try this product 5 months ago when it would have sat right in this hammock!
For reference, my son is 5 months and 20 lbs here. He is pretty long, so this hammock won't be used too much longer. It has elastic on each side to safely stretch onto different size carts. It stretches long enough to fit a Costco or Target grocery cart which is wide!
So while we can do a wide cart no problem, Lowe's and Dollar Store carts were a bit too narrow and his head was all scrunched. Wish I tried this when he was smaller!
Related Post: Our experience with the Lillebaby Ring Sling
What age can babies ride in a shopping cart hammock?
We stopped using a Binxy Baby around 6 months when he was starting to try and sit up.
I knew it was time to end when he grabbing the sides of the cart and try and pull himself to a sitting position I knew it wasn't a good idea anymore!
I switched back to baby wearing in the store for a few months until he could sit up in the front of the shopping cart buckled in.
Can twins use the Binxy Baby?
Yes! You can fit two of these side by side in a grocery cart.
Keep in mind it will take up 2/3 of the opening of your cart, so you'll have to fit groceries through the last opening. But hey, gotta do what you gotta do!
Here's a photo of the Binxy Baby with twins on their website.
What to do when baby gets fussy in the shopping cart hammock
This happened to me. One time we were shopping at Lowes and my baby just needed momma to pick him up…nap time had come.
I didn't have my Boba wrap and so just carried him around for the next 20 minutes or so till my arm wanted to fall off. This was fine because my husband was there to help with the kids and to get out his wallet, but it would have been really hard to do one handed I think.
To avoid this if you are alone, I'd pop a baby wrap in your reusable shopping bag so it stays clean. Or, wear it inside but don't put the baby in the wrap unless you need to.
What the baby thought of the hammock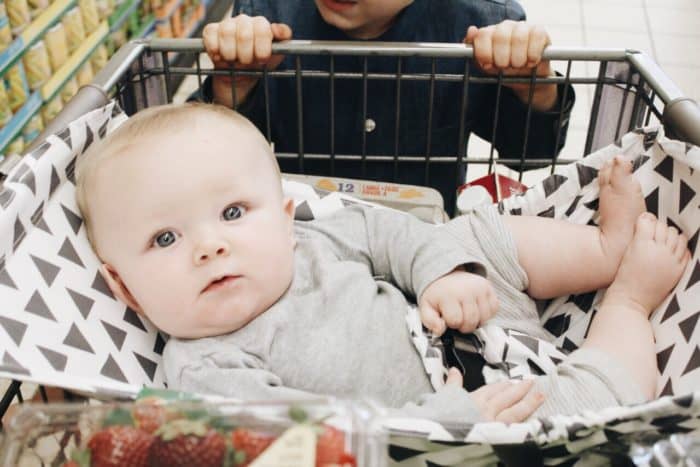 He just laid there happily the whole time, around 45 minutes looking around! I was kind of surprised actually. Not a peep!
I liked it because I didn't have 20 lbs to carry, and I could still fit almost the same amount of groceries in the cart. The kids also liked it because they could peek at him.
Where do the groceries go with the Binxy Baby?
The weirdest part of using this hammock was having to stuff groceries underneath the baby. I kind of tuck groceries under the hammock but that was not a big deal.
We actually fit a lot in there!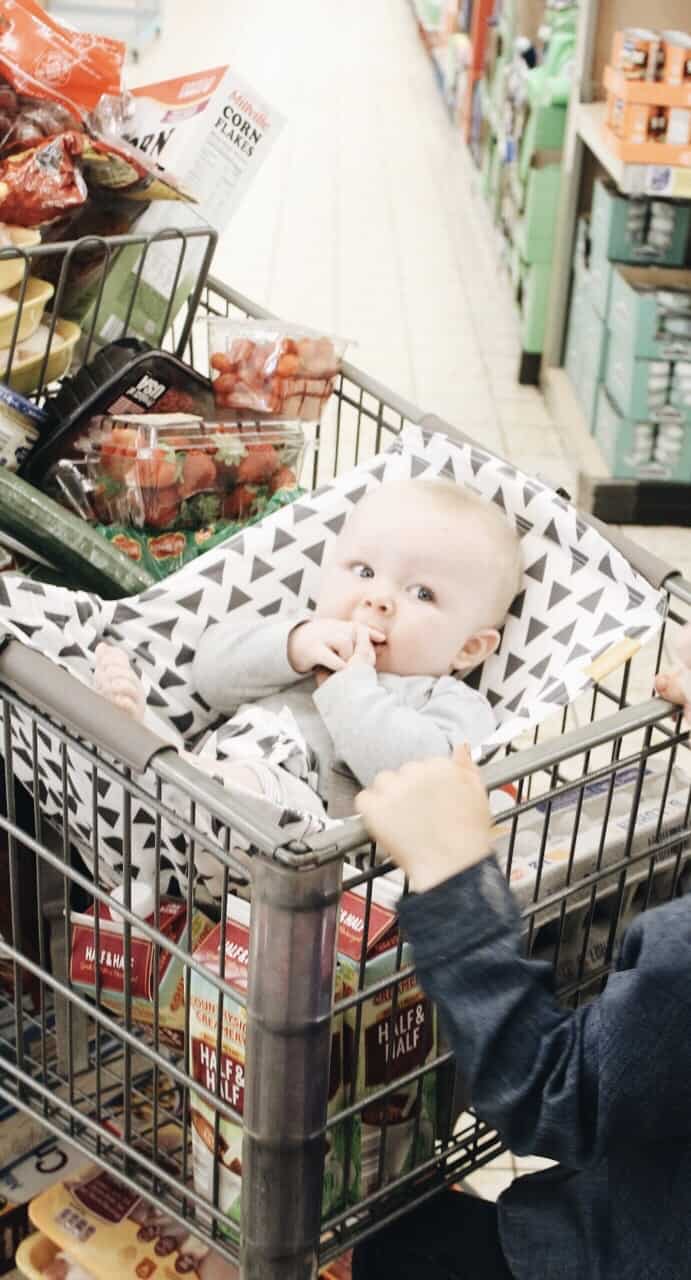 Is a shopping cart hammock worth the money?
I'm pretty frugal…after all we live on a resident's salary with 3 kids. I'd say I really liked my Binxy Baby but on a tiny budget I could do without it.
However, if you can search Mercari, or Facebook baby pages and get this used…do that! It's only usable for 6 months which means it's going to be in fabulous condition when someone is done with it!
Binxy Baby coupon code for you!
You can get 10% off your order at their website!
Or, Binxy Baby is now on Amazon.
Let me know if you try this and like it! Or hate it too, but I don't expect I'll see any of those comments because you will wish you tried this sooner. I would definitely rate this as a non-necessary item but a super helpful item that if you have the money to spend will make grocery shopping easier!
Also, you can follow Blue and Hazel on Instagram here!
More baby posts for you to enjoy:
How to use your purse as a diaper bag
20 cute diaper bag backpacks to carry everything
How we nap 3 kids to nap at the same time
Why we always use LifeFactory glass baby bottles for our kids
How to stop peeing your pants after kids (yes, you can!)
17 time saving tips for moms with toddlers
SaveSave
SaveSave
SaveSave