Every mom of a busy toddler knows that the to do list often has to go on the back burner. Feeding your toddler and keeping them alive and happy takes pretty much all your attention from 7am to 7pm. The good news is that I've rounded up some of my favorite practical time saving tips for moms to help you find time for what's most important to you! This will hopefully give you a few ways to lighten your load during the day.
Time saving tips for moms with toddlers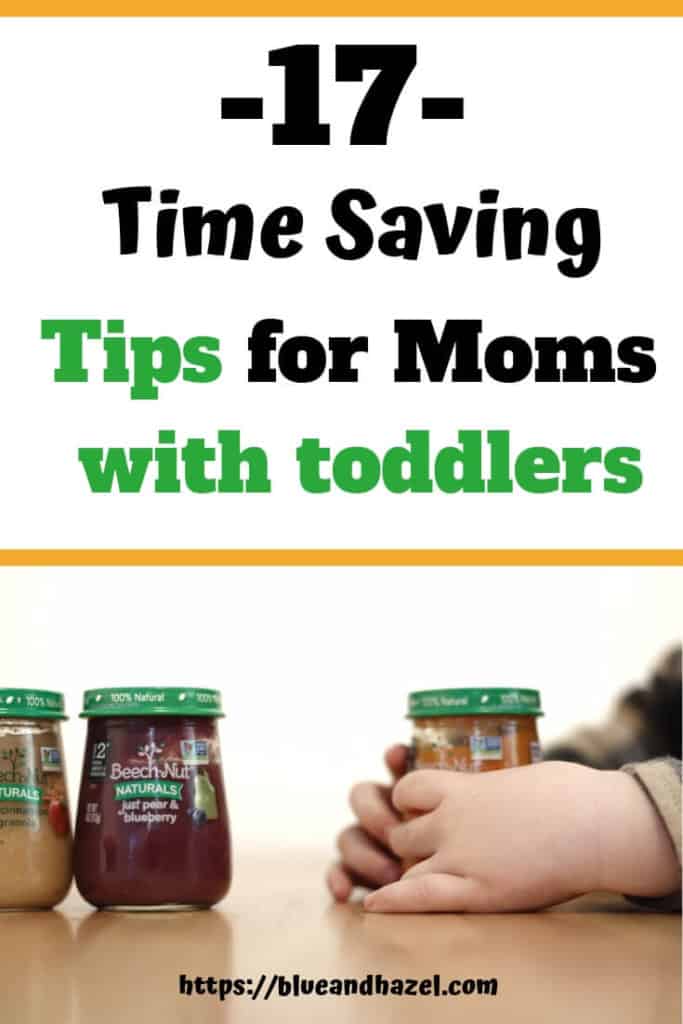 This post is sponsored by Beech-Nut® Naturals™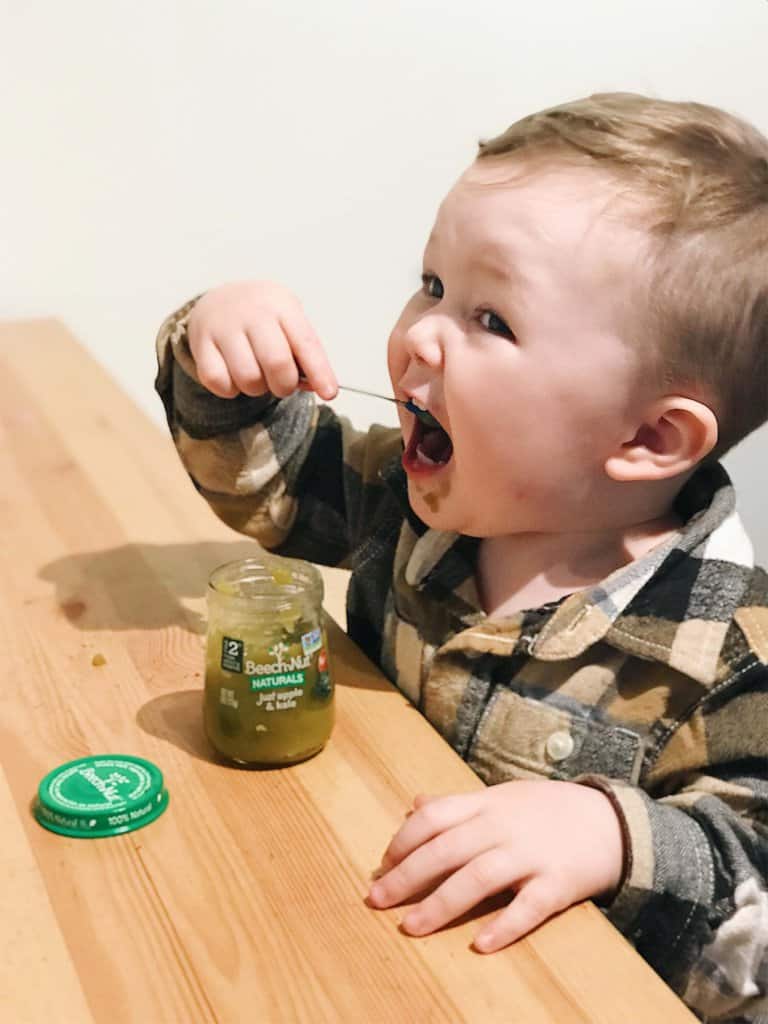 1. Buy some healthy pre-made snacks.
Buying healthy snacks can really help save so much time! And, you will feel better about what your kids are eating. We love these stage 2 baby food jars by Beech-Nut® Naturals™. They are made with real fruits and vegetables, just like you would use at home. It's real food for babies™, inspired by homemade. The flavor combinations are a total win, and my almost 2 year old loves them. (As does my 4 year old who takes her brother's food). I always try the foods I buy for my kids, and these were yummy! My only wish is that the fruit blends came in larger bulk jars so I could give them to all my kids. Because, if they'll eat kale mixed with applesauce, then I'm serving it.
Check out all of the Beech-Nut® foods here, where you can filter based on your baby's age and preferences.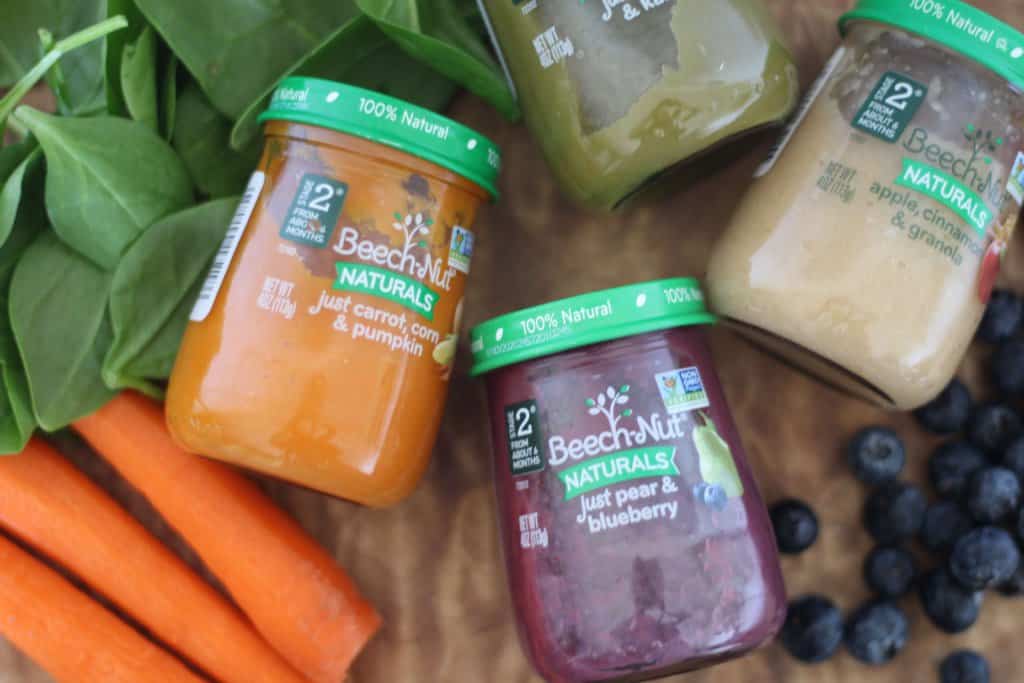 2. Have a spill-proof toddler cup filled and accessible.
One of the things toddlers say all the time is "I'm thirsty." Keeping a filled sippy cup or spill-proof water bottle within their reach makes one less request for you to fulfill. On that note, as soon as they are able to work a sink faucet and move a stool, keep a cup by the sink for them. To this day, my 4 and 5.5 year old know not to ask mom for water because I'll tell them to go fill up their cup in the bathroom.

3. Plan what's for dinner more than 15 minutes ahead of time.
I wish I was good at this and that it was more of a priority! But days when I don't have a dinner plan and 4:30 rolls around, I feel so unprepared and stretched for time. Not because it takes less time to make the meal, but because I can rarely whip a meal together in 15 minutes with no plan. A few quick side items you could keep around for desperate days are:
Minute rice (white or brown).
Pre-cooked rice packets where you just add a pinch of water and heat in a pan. I've gotten them from Costco and Aldis.
Hard boiled eggs (10 minutes) or soft boiled (6 minutes)
Frozen veggies or pre-chopped bags of fresh veggies
Beech-Nut® Naturals™ baby food when they are hungry before dinner. Who said you can't eat fruits and veggies first?
4. Place Instagram and Facebook apps on the 2nd page of your phone.
Everyone knows social media draws you in. It's entertainment, a quick escape, and even just a habit. Last month I moved the Instagram app to the second page of my phone since I didn't want to delete it (obviously, it's part of my business as a blogger)! The crazy thing was that I rarely ever clicked on it because my brain didn't see it every time I opened my phone. Did I mention I wasted a LOT less time and enjoyed my kids WAY more?! One month later, I brought it back to page 1 and instantly found myself clicking on it all the time. It was a habit, so I put it back on page 2. Try it!
5. Give yourself permission to use disposable diapers
Don't get me wrong, baby bottoms in cloth diapers are about as cute as they come. I used them with my first and almost cried when I sold them. However, as a mom that has had 3 in diapers at the same time, I give you permission to use disposables! It's ok to save time doing laundry, stuffing diapers, washing poop, and instead snuggle those babies with your extra minutes. If you are set on doing cloth, check out TidyTots!
6. Do as much online as possible rather than driving.
Driving can take a lot of time! You can use your time in other ways by utilizing a few services when possible, like:
Create a USPS account. I had no clue until I was 27 that I could create a USPS account online to buy stamps, have priority mail envelopes delivered for free, make a USPS packing label, and schedule package pick ups! Never wait in line at the post office again!
Order diapers and wipes online. Sometimes the best deals are online anyway, and it's less for you to carry in the store and to and from the car with toddlers.
Grocery pickup. Moms who use this just rave about it!
7. Keep certain items up high that will cause you frustration to constantly pick up.
All of our games, toys with a million pieces, and breakable things are kept up high to save me time picking up toys. Because to toddlers, the game is not playing with the toys in the bin but rather taking out the toys and spreading them around. Am I right?!
8. Skip pajamas when you need to.
It's totally fine to put your kids to bed in what they are going to wear the next day (or part of it) if it's comfortable. You can also let them go to bed in what they were wearing that day if it's not super dirty. While my kids do have pajamas, I don't see a huge difference in swapping out a soft long sleeve shirt for a soft long sleeve pajama shirt.
9. Shut your computer.
I'm speaking from personal experience as a blogger because I do a lot on my computer. But seriously shutting it around the kids can save so much time. It takes me 2 hours with kids talking and calling my name to do what would otherwise take me 30 minutes with peace and quiet.
10. Let your dinner pans soak if needed.
As awesome as it is to finish the dishes, it's no fun to stand over a pan and scrub it for 10 minutes. Let yourself soak it and walk away, because it will only take 1 minute after it soaks. I also find that some things are worth washing instantly (like our BlendTec) or else I have to come back and soak it and again come back to wash.
11. Make big batches of something you eat all the time.
It makes sense to double or triple a recipe you are already making. Pans, cutting boards and knives are already dirty. Spices already out. One of our time saving food hacks is to cook up about 5 lbs of chicken breasts at once and slice them up to toss in salads, sauces, or to snack on all week.
12. Workout at home.
My husband and I are sold on home workout videos. I think we realized that for us to be successful, we had to cut out the driving aspect of going to the gym. Now there are new challenges to figure out trying to workout with a toddler around, which is tough! But, for now, I'm happy that a workout only takes exactly 30 minutes. I don't have to add in drive time and loading up the kids.
13. Excuse yourself from some obligations.
Learn to say no. I bet you could find one thing to cut out that you feel is too much. And there will be more of you to put towards something else more beneficial.
14. Put your keys/cell/purse in the same spot.
Looking for your keys, phone, and purse is so frustrating. And it wastes time you didn't plan for when rushing out the door. We put up a shelf the kids can't reach with a little basket for phones and keys which solved the problem.
15. Create a 5-minute makeup routine.
This is totally doable if you let go of perfection, ha! I put on makeup everyday because it makes me feel and look way less tired. And I only spend 5 minutes on it. Find products that do what you need and use only a few. I use:
Tinted Moisturizer with SPF
Foundation if I want more coverage
Mineral powder
Mascara
Brow pencil
Lip gloss
16. Buy darker colored clothing.
This goes without saying but dark clothes hide dirt better. If my kids can get 2 days or more out of one pair of pants, then that's half the laundry for me. As cute as baby pink and baby blue are, they are very impractical with toddlers.
17. Stop what you are doing and snuggle your toddler.
I know this doesn't seem like it's saving any time at all. But I've found that often times when I'm trying to get a million things done and my toddler is chasing me around whining, he just needs snuggled. If I don't do it, then it's 10x harder to finish what I'm trying to do. But often when I do take 10 minutes to snuggle him, he runs off happy as can be and plays while I go back to unloading the dishwasher or chopping my onions.
What you are really doing when you are "saving time."
Since we all have 24 hours in a day, really what you have to ask yourself is to what your priorities are. It's ok to have seasons of motherhood look very different, without all the mom guilt for ways you are not holding up to your expectations. I always thought I'd make everything from scratch. Thanks to Beech-Nut® Naturals, I can skip making my own baby food and have more time for other things while still feeling good about what I feed my kids. What's one time saving tip you have? Leave a comment; I'd love to know!

Mom posts you may also love