Ok, so first off, I am not opposed to kids watching shows or having screen time. In fact, it has been a life saving tool for me as a mom. Especially in seasons of life when my goal is to just keep the house from burning down, like when we had 3 kids under 4. But recently, I just had to reduce screen time for our kids. My 4 and 5.5 year old became very entitled to their shows which left me feeling annoyed and ready to try something drastic. Maybe you are there now? They were asking whining for it ALL. THE. TIME.
I was inconsistent at best, and the whining was driving me nuts. So nuts in fact, that I tried something I thought I'd never do. We gave up T.V. for a week…which turned into a month because our kids were acting so much better! Here is why we tried it, what happened, and how we are seeking to bring back screen time with better limits.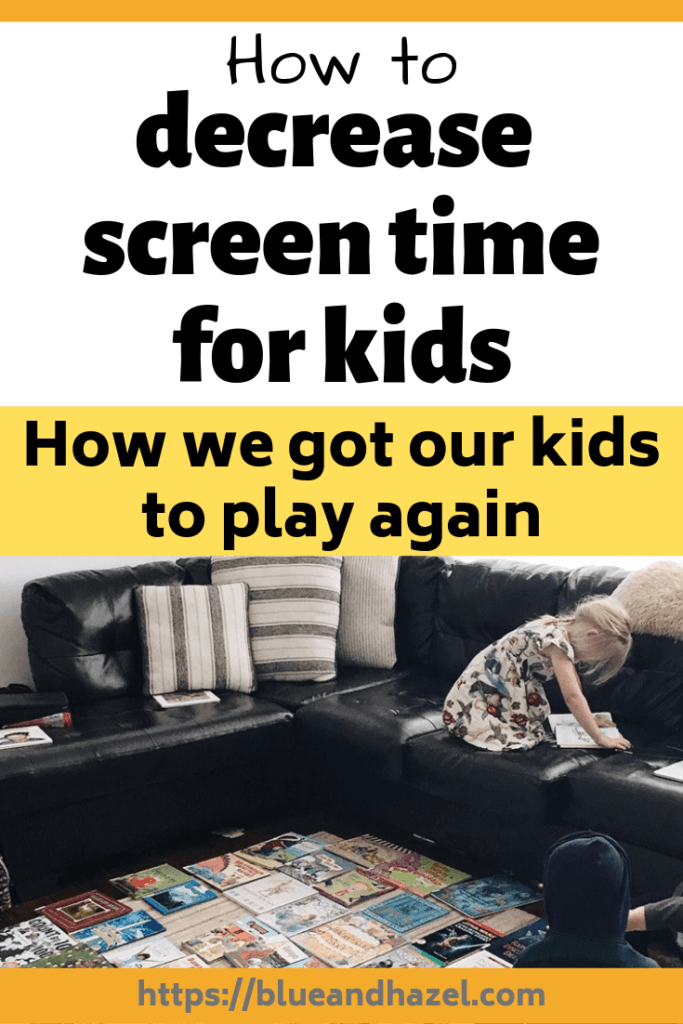 Why I'm not an anti T.V. mom
T.V. and screen time is not all bad, but I want it to be a privilege. My problem was that our kids were getting worse at self directed play, leaving me feeling as if T.V. was the only way to get them to leave me alone for a while. Some reasons I'm not an anti T.V. mom are:
My kids were learning loads of cool animal facts through all the seasons of Octonauts and Wild Kratts.
They would pretend to be the characters.
I love watching them experience movies I enjoyed as a kid.
Our kids have learned bible verses through songs in movies like Hide Em In Your Heart.
Plus, lets be honest, the T.V. was my surest way to get them quiet.
My kids were watching 1-2 hours of T.V. a day combined, and not at any regular time or routine. That's just 3 episodes of Zaboomafoo or Daniel Tiger! I knew I wanted to set some new screen time limits for my kids, but it was so dang easy to turn on a show when I needed a minute (lets be real, an hour) that I didn't want to have to follow through with something that would punish myself too.
Signs of screen addiction in kids
Your kids want to watch some form of entertainment all the time, and normal kids things like toys and playing outside don't seem as fun.
They get frustrated when it's done. Maybe it's a bad attitude or tears. Things that can help this are giving kids a heads up that it's almost over, letting them turn the T.V. off, or letting them know how many episodes they'll be aloud to watch before it starts.
Sneaking extra time playing iPad games.
If shows and games are a huge part of what they talk about and what they reenact, that's your clue they probably spend too much time watching T.V.
Parenting posts you may also like
How to stop a toddler from hitting
15 Chores for 5 year olds that are actually helpful
17 Time saving tips for moms with toddlers
Homeschooling Pros and Cons: How to know if it's right for you
One Nap Schedule: Our experience napping 3 kids in one room
Our 18 month old routine with 2 older kids at home
Tips for parenting a strong willed toddler and enjoying them
How I knew I had to reduce screen time for my kids
I do not owe my kids screen time, but they thought I did. Their entitlement was causing me so much frustration and it was my fault. These are the signs of T.V. addiction I was seeing in our kids:
My 5.5 year old was having a hard time using his imagination. He would lay around bored a lot, asking to watch shows constantly and not wanting to pick up books or go play alone. When he did play, he mostly wanted to reenact shows, and a lot of the things he would tell me about were about his shows. He has always been the T.V. sponge if allowed where as my 4 year old gets bored with T.V and goes off to play after a while. I was getting so sick of saying "Go play! No we are not watching a show." Poor guy. He just needed some consistency and I wasn't helping him at all.
Complaining went way up concerning shows too. They seemed to always want different ones and it became all about who got to pick. Then both would whine if it was one I'd pick that they both didn't want to watch. I was just done.
And then we added iPad games
Not that long ago, I added a new beast. Games on the iPad. My husband started this actually, and I just kind of went with it. This took the insanity to a new level for us. I loved computer games as a kid. And was completely addicted to some (anyone else here play THE SIMS way back when?!) So at first it was fun to see our kids learning to navigate iPad games.
I found it really nice that they were completely quiet when playing an iPad game. My 4 year old would lay in my bed with me and silently color unicorns the whole time on an app so I could still doze off a bit while the other two were still sleeping. That's not bad to me, she was at least creating something, but then I had to figure out what to do when my son found out she got to play and he didn't.
But soon, my "free time" from iPad games turned into:
Kids needing my help to play a game
Asking mom to find new games, which is NOT how I want to spend 10 of my 30 minute break.
Two kids, one iPad, whining over who went first.
Major pouting when it was time to be done, way worse than we ever encountered with shows, which wasn't really an issue for us any more.
Putting games on my phone so each could play at the same time. Bad bad bad idea. My phone is now off limits.
What we did to fix entitlement over screen time
I took away ALL shows, iPad games, movies, everything for one week. I knew I had to do something, and one week seemed like hitting the reset button.
At first it seemed impossible because I was punishing myself and eliminating the free time shows had allowed me. My mother in law coined the term "electronic babysitter" and that's exactly what it was for me. I'm at home full time and homeschooling so T.V. is my break time.
They knew we did it because they were whining, pouting, and having a hard time finding things to do when the T.V. was off, but it wasn't showcased like a punishment. I packaged it as though our family needed less screen time and more play time.
What it was like with no screen time for 1 week
Day 1 & 2: Horrible! I had to retrain my brain too. I couldn't reach for the remote if I wanted. My kids had to learn it was a privilege.
Day 1: I let them get really bored. The kids were moping and "suggesting" shows to watch, and I didn't think I'd make it all week. We went to the library to get books.
Day 2: Hard but not as bad, and they began to explore their options because that was better than laying on the floor wondering what to do. We substituted screen time with lots of extra reading out loud which helped a lot! It was something for their brains to do while they were in literal withdrawal mode.
When Peter got home at 6, I'd have to go be alone for 30 min to just get some space and quiet. He was super supportive and also stopped watching YouTube or opening up the computer around the kids.
How to get your child to learn to play independently…turn of the T.V.
The whole reason most parents let kids watch T.V. is to get a break. I expected I'd have none until T.V. returned. To my shock, I found another way to get a decent break… when kids learn to entertain themselves! Which happens when the T.V. is not an option. I highly recommend this post on getting kids to entertain themselves….it's awesome!
After 2 days of initial shock, boredom, and withdrawal from no screens, it got WAY better! The kids stopped asking for it. Here's what else happened:
1. Independent play went up.
They picked up books to look at the pictures, and often.
My oldest kids would just go off and find something to do! They went outside, drew a picture, played with a few old toys, and built with our magnetic tiles set.
I brought a small bin of Legos out. Magical. Lets just say I didn't hear from my 5.5 year old for two hours and that's not uncommon if he's alone with Legos now. Hard to clean up, yet worth 2 hours!
2. Whining went way down.
Shows became a non issue. No more whining over which one.
No more complaining about iPad time being too short or not wanting a certain game.
They were grateful when we added in a movie night once a week.
Other things started to look fun again, rather than second class next to what they'd rather be doing on the iPad.
3. I became a more present mom, and liked my kids better.
I read to them more. We got about 30 new books from the library for the week and that was my go to thing to do when they were totally bored. I would read 2-3 at a time.
I felt less guilty about putting them in front of a screen so much. Maybe I shouldn't have felt guilty, but I did.
I stopped trying to do "a little blogging here, a little email there" (and yes, my blog traffic and income will take a hit for that.) I've also found that because they play way better now, I can now get a *little* work done when they are playing nicely.
We played more games together (Trouble & Candy Land). Maybe once a day? These counting games are perfect for my 5.5 year old, but too many rules for my newly 4 year old so she had to just watch.
So how much screen time is too much for preschoolers?
According to this article, the American Academy of Pediatrics recommends limiting screen time to 1 hour a day for kids ages 2-5. Whoops, I was over that amount every single day. The AAP also recommends children 18 months and under should have no passive screen time at all!
For my 4 and 5 year old I'm less concerned about the number of minutes than I am with their attitudes and ability to entertain themselves without screen time. When entitlement and complaining kicks it's time to make some screen time changes! When no show is long enough and you can't get your kids to stop asking for shows and just play, that's also a good sign you might be letting them watch too much.
You may also love:15 Tips for safely taking toddlers to the pool by yourself
Being consistent with some T.V. is more sustainable than no T.V.
If you are like me, you don't want to throw out your T.V. or iPad altogether. We live in a screen age where kids are around technology! I don't want it to be considered a bad thing or a forbidden thing, rather something that requires boundaries.
You can help your kids out by being consistent so they know when it's coming. So far the only screen time we have let back in is a movie night, and let me tell you, everyone adores movie night with pizza here! I also let the kids do iPads at the library to their hearts content while I pick out books. Living large.
Our family's new screen time rules
My husband and I are in the process of figuring out a plan for our family. But to be honest, our kids' behavior and ability to entertain themselves is so much better that I don't want as much T.V. on as we had before.
After week 1 of no screens, we added in Friday night movie. Next my goal is to watch an hour of T.V. 2-3 days a week at the same routine time of day and see how it goes. Then when they ask, I can say, "It's not Tuesday afternoon yet" or something like that. And last, I'm doing no iPad games except at the library until our kids are a bit older.
Ideas for setting screen time limits
Friday night movie night (our favorite right now!)
Watch T.V. at a routine time each day so the kids know when it's show time, like before dinner or after naps.
Have certain days of the week that your kids can use screens, with a cap on how long. A lot of parents save these days for the weekends.
Try setting a timer so you are less tempted to let them go longer, and so they hear the beeping and know time is up.
Give your kids these screen time tickets at the beginning of each week to spend! I just love how this mama does this, and may try this! She gives a limited number of 15 and 30 minute tickets for each kid to spend on shows or games, and they can earn extra tickets by reading for 30 minutes. Or, they can turn their unused tickets in for money at the end of the week!
Two month update: Life since decreased screen time
So I've been meaning to update you on how this has been going. To my surprise, we haven't added much back in yet because I just love the way my kids kind of stopped asking for shows incessantly. Here's what we do though:
Friday night movie night
We often let them both pick a movie at the library. This means that we have been watching 1 on Friday night, and 1 on Saturday morning. Usually one is a girly princess one, and the other is a ninja/lego/superhero type one haha.
We started two movies mostly because we caved into the whining over one kid not wanting to watch what the other picked. And it went from there. I thought about just making them wait to pick every other week and then was like "who cares" if we watch two movies.
We watch an occasional show
With summer here we have not been consistent about when, but it's still pretty rare as I'd rather they just play. Once our schedule gets a bit more regular in the fall, I think I'll do an hour during a routine time 2-3 times a week so they know when to expect it.
This takes will power from me because I don't love routine naturally.
Still no iPad games
With the exception of a beach vacation we just took where screen time limits went out the window, we are not bringing back iPad games till they are older. I just don't want to deal with it right now.
I let them soak up their 30 minutes at the library when I go to pick out books once a week, and that's it for now.
Behavior update
We still have sibling squabbles. I still tell them they are not allowed to tattle on each other. We are still working on thinking of others. But overall…my kids are much better at finding things to do and I'd say they are each other's best friends.
They are less whiney.
We have more time in the day for other things which I love. They don't argue or pout when a show ends. And that's a huge win for our house!
Why I want my kids to have some screen time
There are shows I want my kids to watch because they learn so dang much! My husband wants us to get started watching Wish Bone as that's how he learned storylines of the classics growing up. I like Wild Kratts because my kids are now animal fact spewing machines.
Plus, I want my 2 year old to enjoy some of those shows my others loved like "Thomas the Train". He gets so excited to see a choo-choo as he calls it.
Also, I'm going to be better about trying to sit down and enjoy a show with my kids now and then. Even if I'm just on my phone sitting with them, fine. Some kids will consider it quality time just watching a show with you, so there's totally value in that.
Ideas to help entertain toddlers instead of T.V.
Maybe you don't need to be as drastic as I was at all. But until your kids can learn to play alone or with each other for a solid 30 minutes or more, you may want to help them out with a few things to do. Some ideas are:
Set up some stations around the house, which is just a bin of something to explore. Things like a drawer with coloring books/markers in the kitchen, a bin of trucks in one room, a bin of Duplos, and for sure a book box.
Go to the Dollar Store and look for: Maze books, dot stickers, glue sticks, and some other little craft items that you can take out for your kids to do.
We bought baby gates to make a "no toddler zone" when the older two want to build and for when I workout. Or use them to keep a new walking baby in the kitchen while you cook.
Bring a chair to the sink with a bowl full of water, a very small trickle, and a few measuring cups to scoop and pour.
Check out these 24 Indoor Activities for Toddlers
You can do it!
I am now 100% a fan of trying a screen free week if your home needs to hit the reset button. But really, there is no need to feel that a screen free home is superior, because it's not. I just found something drastic was helpful for us at first!
Do you have any tips on taking a break from electronics or raising kids in an electronic day and age? If so, please leave a comment!