We have survived 4 months of ice and snow with little kids inside! As a stay at home mom with a 2 and 3.5-year old, we have had to figure out some indoor activities for toddlers to help me (and them) not go crazy! We live in a two bedroom apartment so you can picture space is limited. I've made a list for you of some inside activities for toddlers that have kept us busy this winter.
Also, I am not a mom with a ton of toys, or very crafty. So a lot of these ideas should be reproducible and fairly inexpensive. And when desperate, there's always T.V. No judgement here.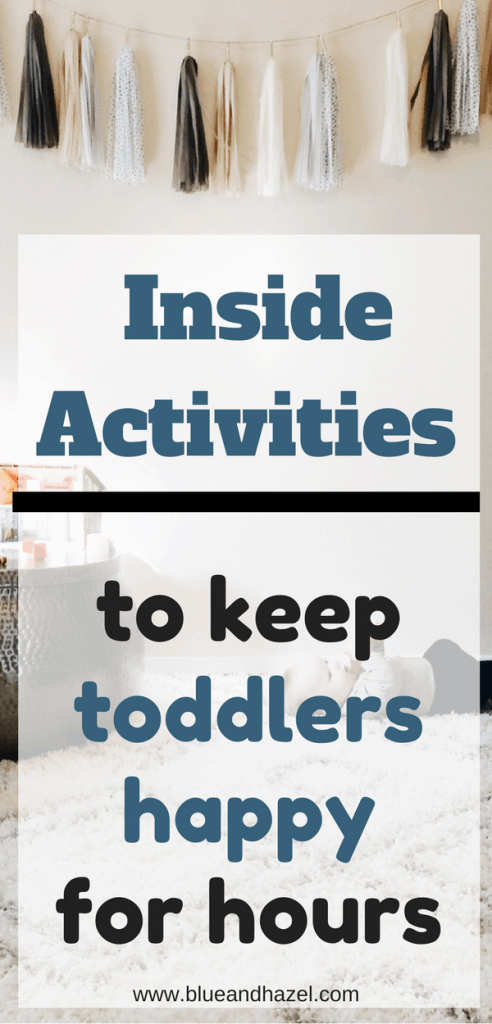 This post contains affiliate links. We are a participant in the Amazon Services LLC Associates Program, an affiliate advertising program designed to provide a means for us to earn fees by linking to Amazon.com and affiliated sites.
More Parenting Posts You May Like
How to stop a toddler from hitting
How to reduce screen time and get your kids to play again
15 Tips for parenting a strong willed toddler and enjoying them
Busy Toddler's Playing Preschool review: 190 days of activities
Indoor activities for toddlers
This is THE BEST indoor activity for toddlers and older kids! We installed ours when my oldest was 2. My husband inserted hanging rings from the ceiling in our hallway, and they have gotten used DAILY for the last 4 years!
My kids twist and spin and swing their hearts out. They also do summersaults on the rings and just hang.
Here is how we installed indoor gymnastics rings in our house! It's easy, and will be the most used item in your home.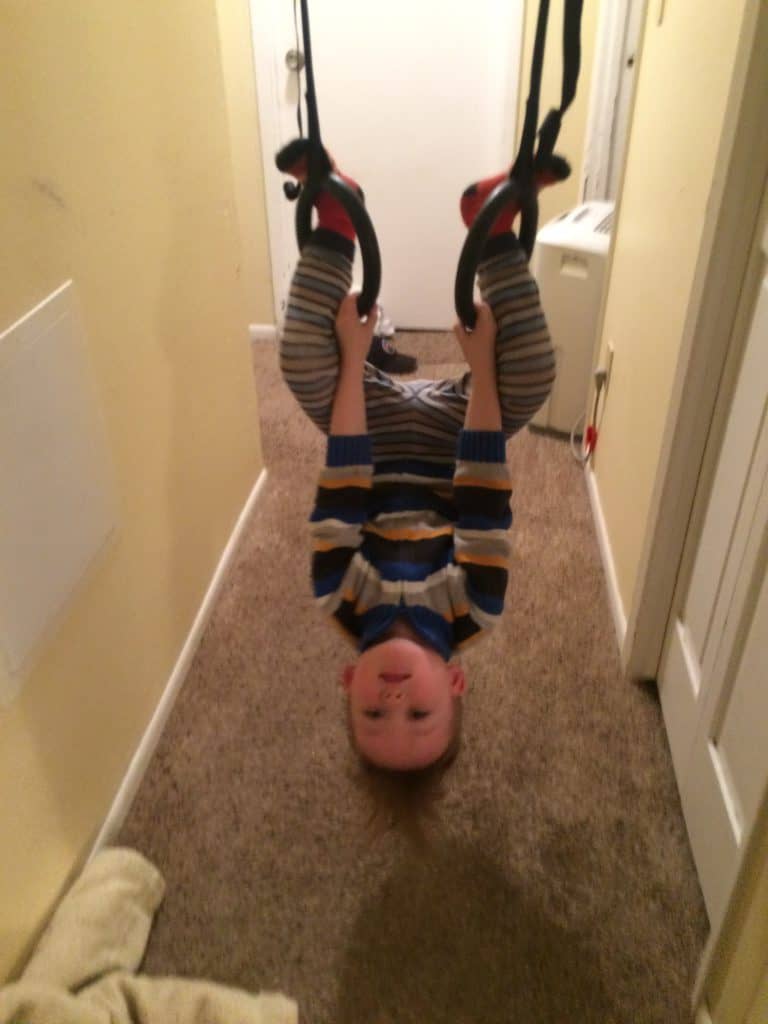 Make an obstacle course
This is a favorite, and once I set it up, they just climb up and down on things, trying not to touch the floor.
We get all the chairs and pillows in our house, (including fold-out chairs), and line them up from the couch to the kitchen or hallway. Sometimes I'll put a couch cushion or pillow between the chairs or stool so that my 3.5 year old has to get tired by going up and down a lot. My son calls it "sweaty time". Things to use:
Chairs
Couch cushions
Pillows
Books
2×4 long piece of wood to balance on
Some of you are cringing right now! Me too, if I'm cleaning up lots of Play Doh. But I make them keep it in the kitchen and that really helps. They want me to pretend to eat what they make and give them ideas of what to make next. Also, they play better if I have things for them to poke at it with such as:
Candles
Cookie cutters
Jar lids
Things to bury inside like small toys
Mostly they make "birthday cakes" and stick candles in them. I have learned how to make my own play dough which lasts for a couple weeks and is very easy! Overall it's a huge hit, but get a broom handy and don't expect to just lay it out and walk away 😉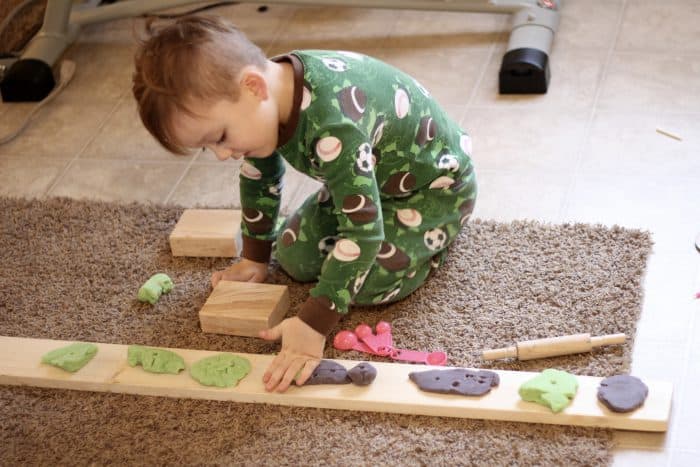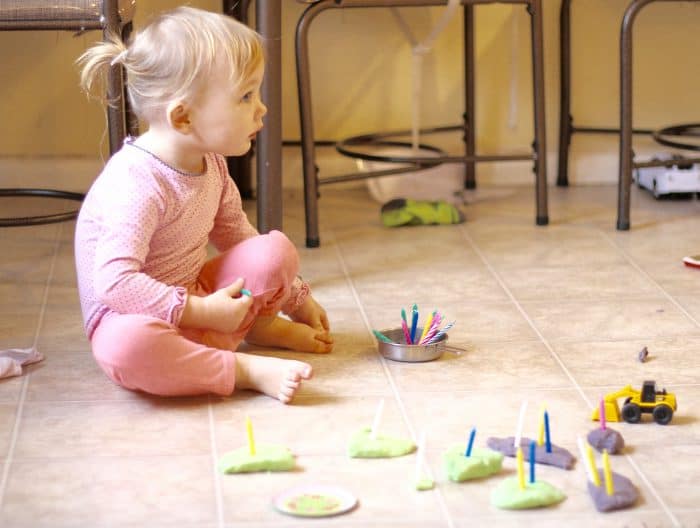 Run away from the vacuum
I've found when I do chores they play better than when I'm sitting down, go figure. They run and hide. Somehow it's a game?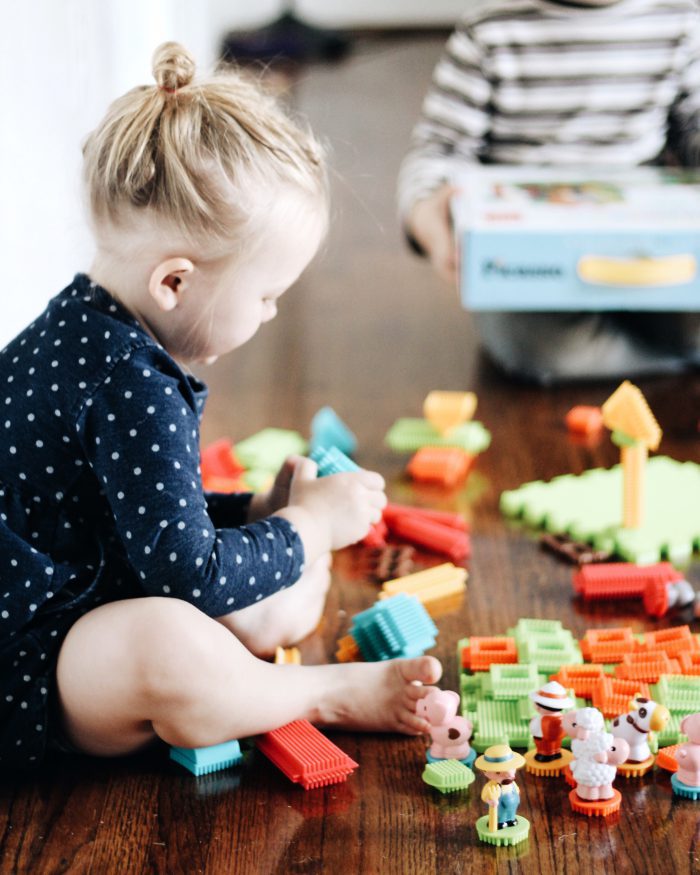 These are perfect for little kids because of how easily they stick together. My daughter especially loves to just stack them. We also make a game of sorting the different colors and shapes it comes with. This was given to us free to test from Picasso Tiles.
Scooping Beans at the Table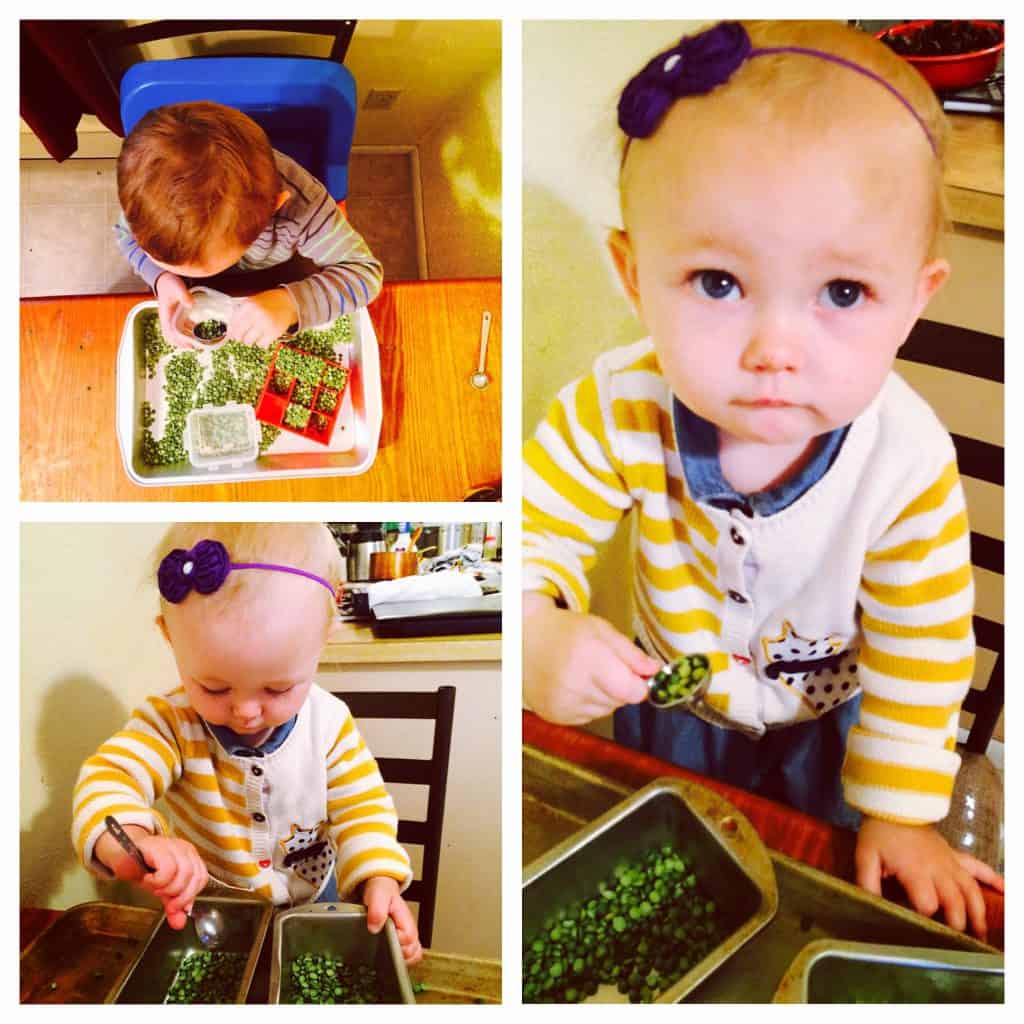 Also messy and plan on sweeping up, but cheap, and usually lasts 15-30 minutes. I lay a bunch inside of a cookie pan or 9×13 pan and have a few things they can use to play on the table.
Their favorites include a spoon, a cup to fill up, and little diggers to scoop the beans. I can tell when they are getting bored when more and more start going onto the floor.
You can also just use rice! If you want to make it extra fun, here's how to dye rice! This took about 25 minutes start to finish and my toddler loved it.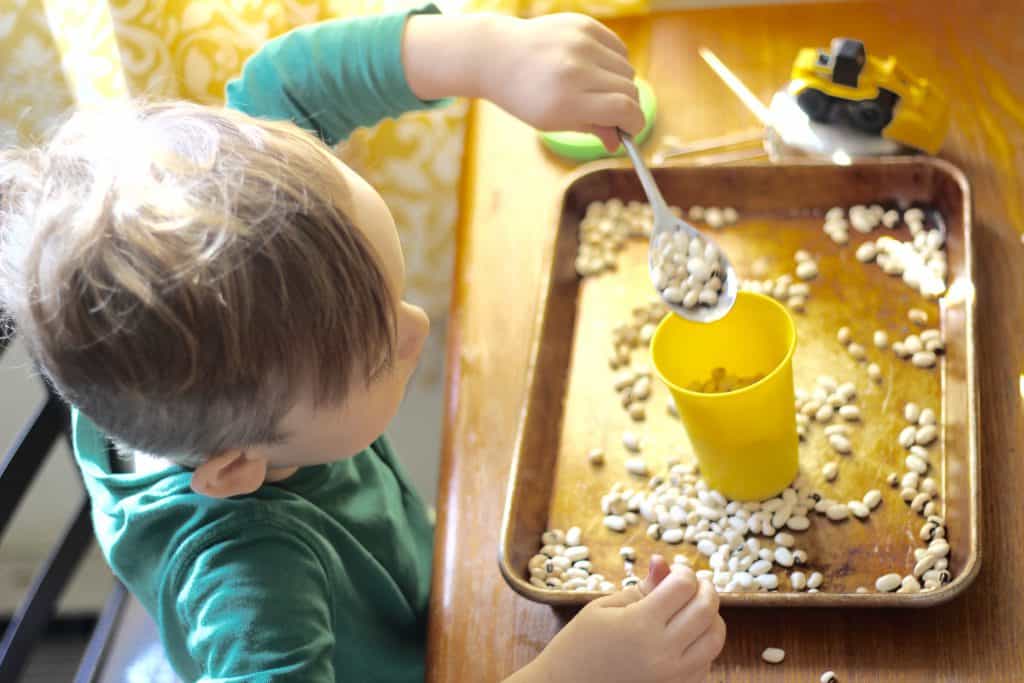 Related Post: Dinosaur activities for preschoolers you can find on Amazon
Baking with mom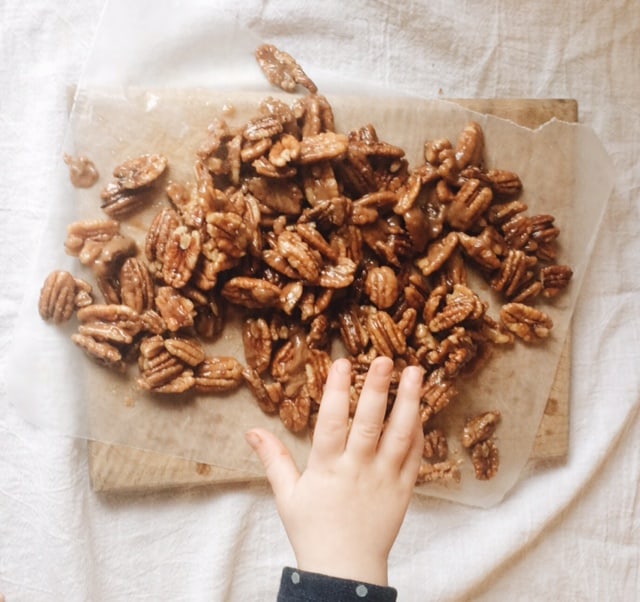 Their all-time favorite! You can get this yummy candied pecan recipe here. Who wants a play kitchen when you can make real food??! Haha.
When I bake with them, I have to get into the mindset that it is for fun, an activity, not just a hustled thing to whip up. They want to "help". Which means lots of flour spills, extra spoons and surfaces to clean, and making them take turns scooping.
"Fixing" things around the house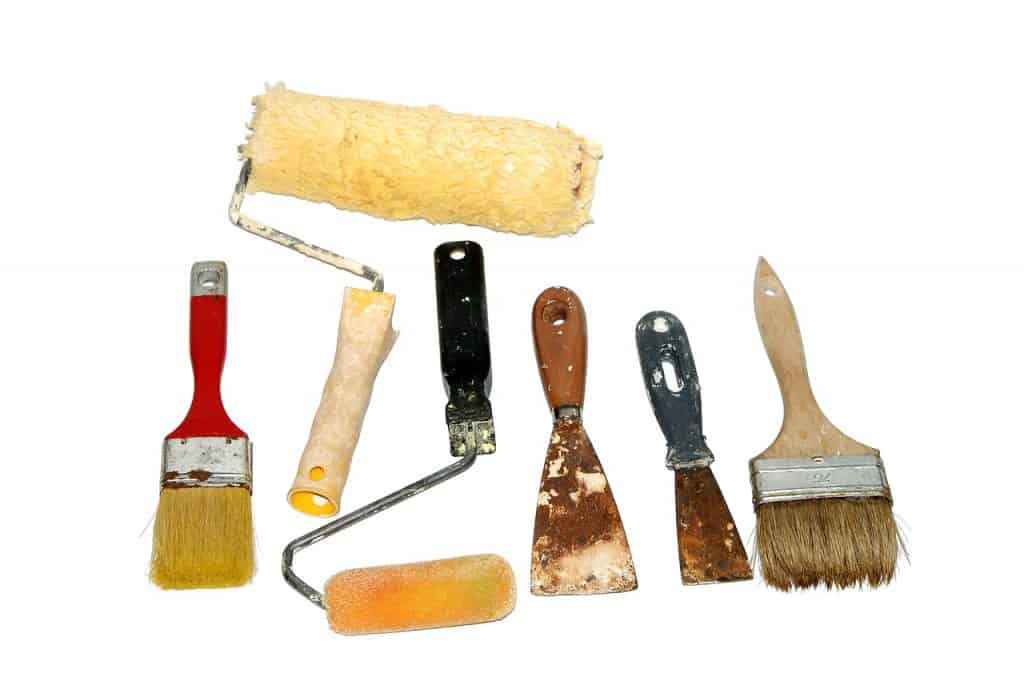 We got rid of our big toolset when downsizing toys, but kept some tools. Like the plastic hammer, drill with batteries, saw, hardhat and that's about it! We also have real paintbrushes for playing.
I tell them things that need fixing (for pretend) like the closet door or the kitchen chairs and they love to get to work. Sometimes they are not into it, but other times this goes on for 30 min to an hour, without my full attention needed!
You may also enjoy: How to teach preschool at home: Getting started
Jump onto couch cushions
This is hard for me being 9 months pregnant, but getting out ALL the blankets, couch pillows, and sometimes the crib mattress is a HUGE hit! We let our kids jump on couches and beds to get out energy, so that might give you a heart attack if it's not your style 😉
Run around in a circle to music
I put the toy box in the middle of a cleared out living room and turn on Pandora kids station. They chase around, running, a great 15-minute activity! We especially love the soundtrack or DVD version of Hide Em In Your Heart by Steve Green which teaches them bible verses through music.
Quiet time
Honestly, I'm pretty bad at knowing how to do "quiet time" but love the idea. Recently I just put out a pile of books in the living room, as well as paper and some pens, along with their soft fuzzy blankets and said they had to play quietly.
This was hard to initiate and I had to kept telling them I was not going to read the books, but they could look at pictures and imagine. That was when I just needed a break from talking to toddlers, for 10 min. They ended up getting the hang of it and I think it was nice!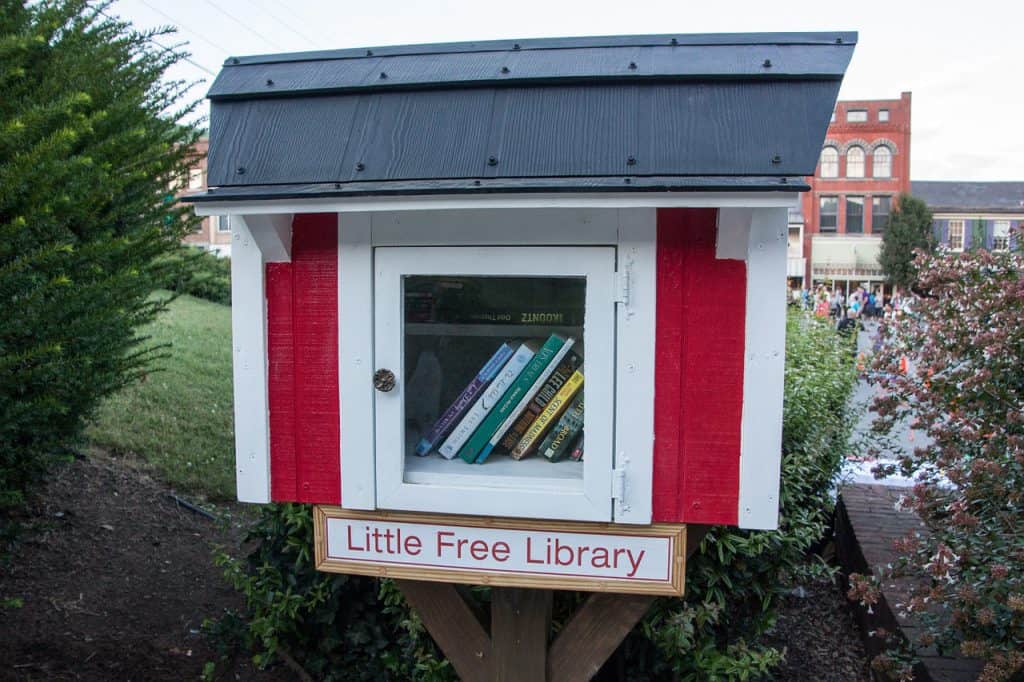 Painting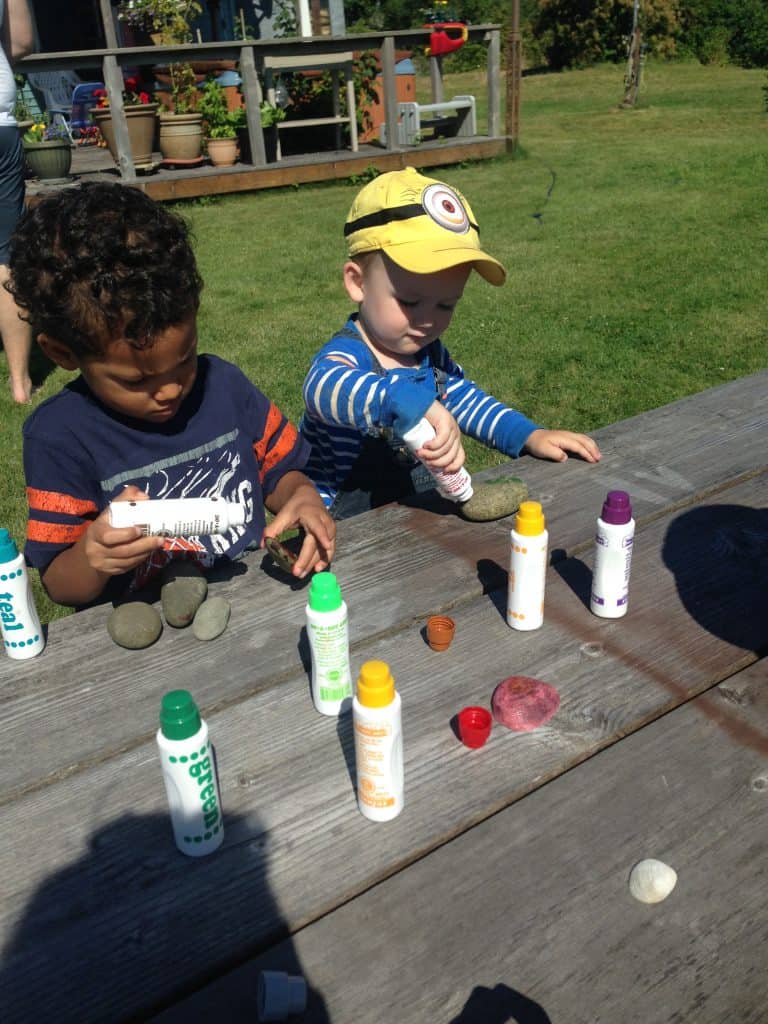 For not being an artsy mom, this is a stretch for me. If I recommend one thing, its these Do A Dot paints. So much less messy with little sponge tips and they don't spill (but do get on fingers)! It's easy to paint old cereal boxes or rocks with them too.
We have also tried watercolors but with a 1.5 year old that just usually stresses me out with the spills. (My 3.5-year-old can do it now). We sometimes paint the inside of cardboard cereal boxes or coloring books.
Related Post: Easy crafts for toddlers for the non crafty mom
Coloring
They usually break crayons, and markers do end up on their fingers… I know a lot of moms who have toddlers that sit and color quietly alone…for hours…but I'm still waiting for this to happen. My kids are just too rambuncious and not super into it. Worth a shot every now an then though 😉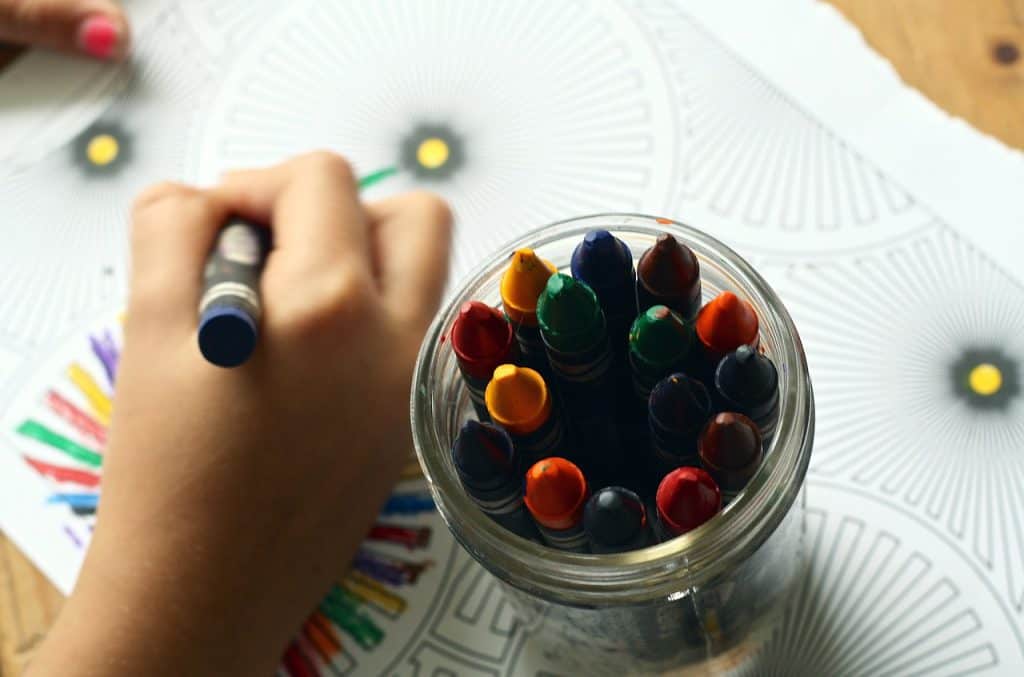 Playing in the sink
I make sure all the breakables or dangerous things are away from reach and put a few bottles and lids in there. Then I add a few empty cups and some scrubbers and my 2 year old is happy for a long time! If you don't want to waste a ton of water just put a pot full in the sink.
Read out loud
I'm too lazy to drive 15 min to the library each way and right now its hard for me to get out with 2 and soon 3, so we have some books here and I read a little every day. The more I do this, the more they look at pictures on their own quietly at random, and when days go by without reading, they stop doing that!
Related Post: How to avoid sibling jealousy with a new baby
Bath time with toddlers
Here are 20 bath toys for toddlers to make bath time more fun!
Doing this as a day activity gives us something to do inside, and helps me from feeling so overwhelmed at bedtime. It has lasted for 10 minutes when they hated baths, to this weeks all-time crazy over 2 hours of play and my 3.5 year old begging me to let him keep playing! They love adding bath paints, teapots, and these cool water color tablets.
Dress up
Mostly Bob the Builder vests around our house… Thrift stores after Halloween are perfect for grabbing awesome dress up stuff for CHEAP! We love this Melissa and Doug builder dress up set!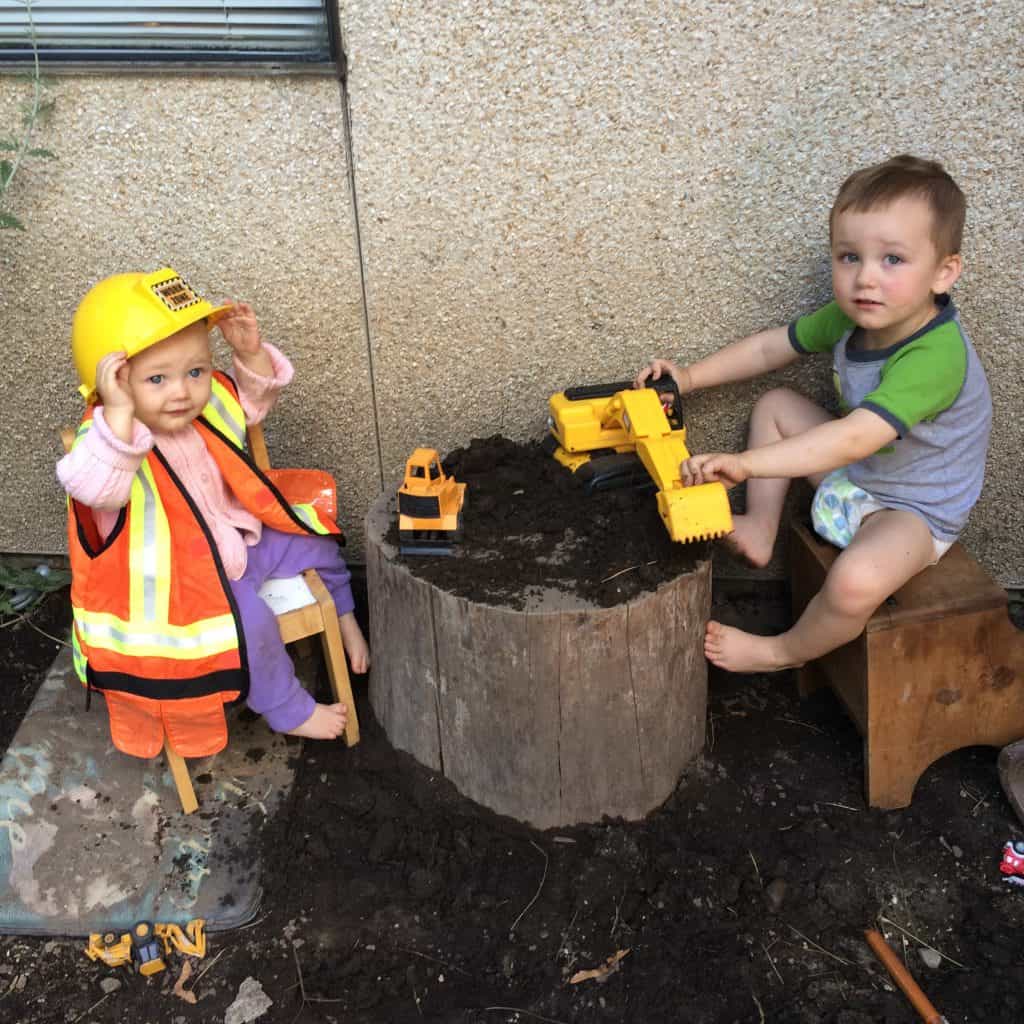 Trains
This set on Amazon is a perfect small wooden train starter set and interchangeable with all the major train tracks. We add engines from Ebay too.
This is a 15-30 minute activity for us.
Sometimes my kids grab stuff from each other or scream about toys (which is so frustrating), so trains are a bit frustrating at this point unless one is sleeping. Once my middle child got old enough that she would break tracks and steal trains on purpose, I had to be more attentive with teaching how to share rather than "just trade her any toy".
Update: my oldest kids are 2.5 and 4 now and all that teaching has really paid off. They can play nicely, share, and take turns with the occasional fighting and whining. Now trains are a real joy!
Also, since trains have lots of little parts, we keep them in a clear tub and put them away at the end of the day to keep my sanity.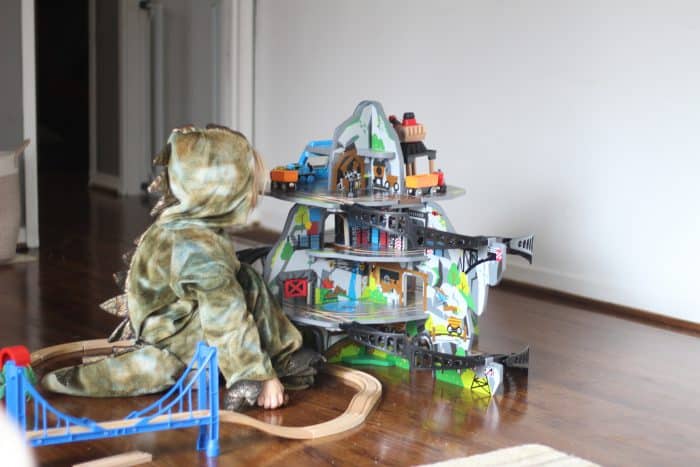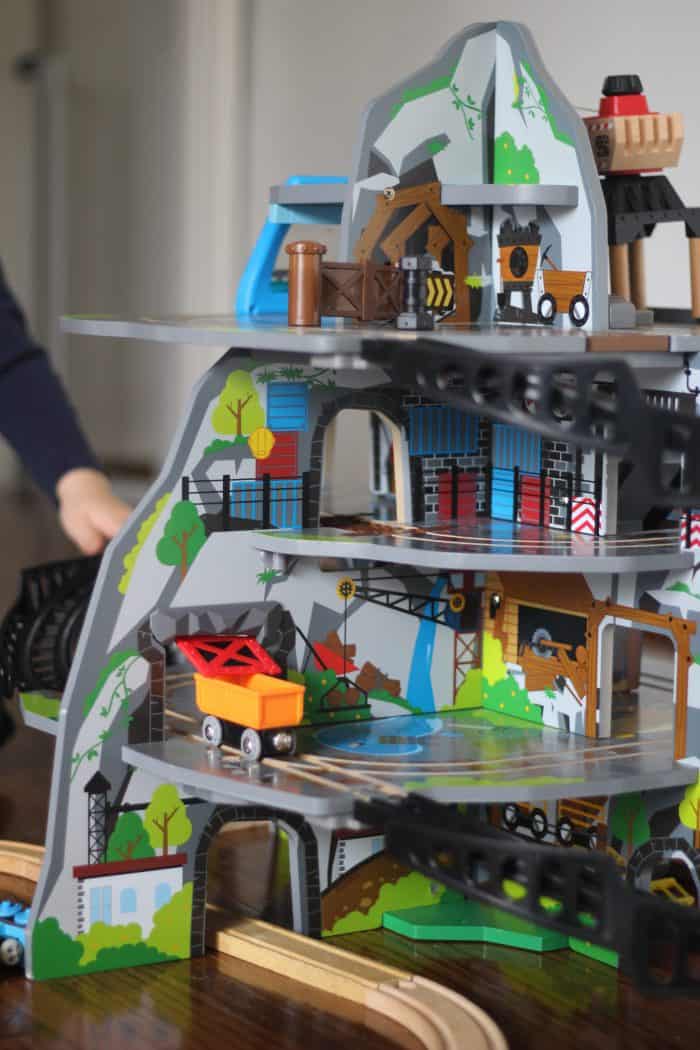 Related Post: Preschool treasure hunt to help teach prepositions
Tea Party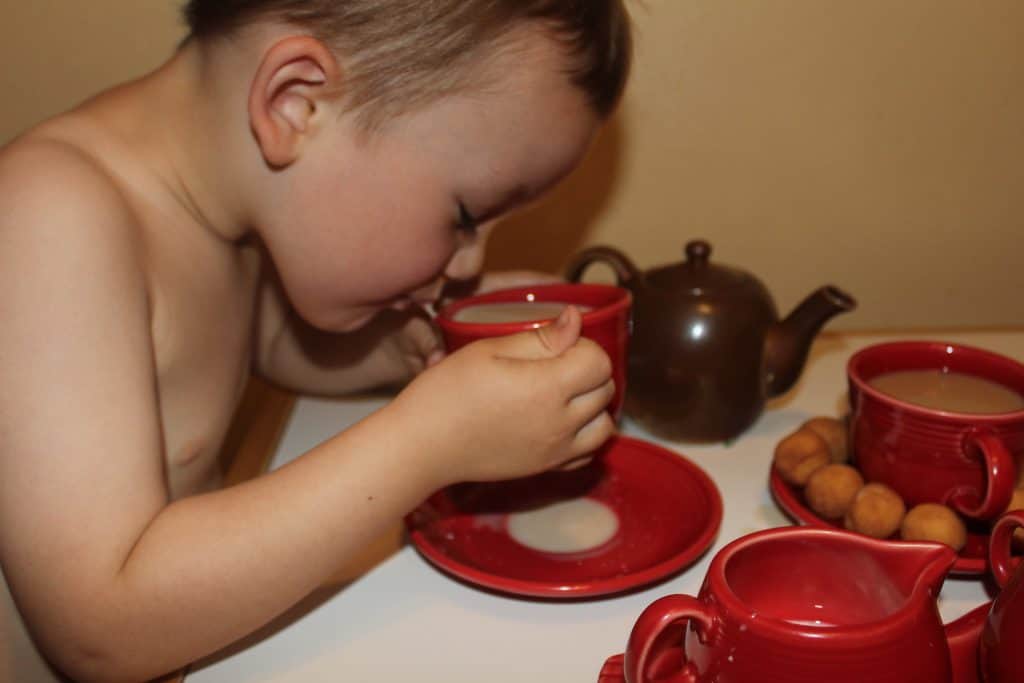 This is a huge hit! We usually grab some treats or crackers, and on a good day we will make some cookies. But really, this is magical to them!
I baught little white Espresso cups with saucers on Amazon that hold 3 oz…and they are the PERFECT size tea cups for little hands. You can see them below.

Pots and pans pretend play
I put my smallest pot and pan out with some spatulas and they get busy making pretend food on the floor. Maybe 10-15 minutes? I've found that real household items always trump the toys for some reason.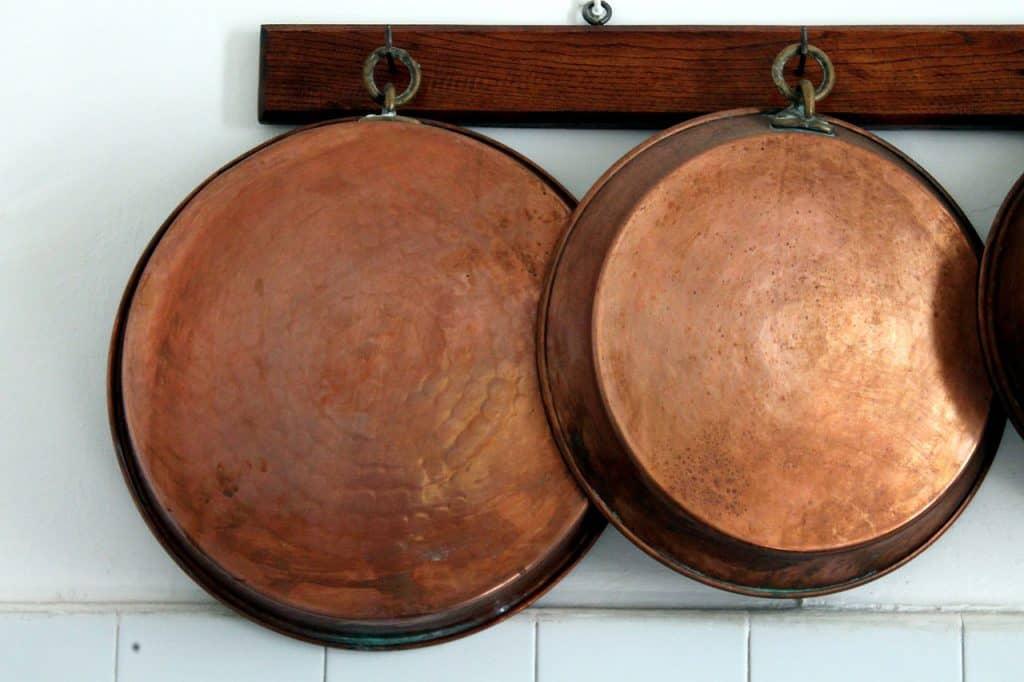 Invite a friend over
Always their favorite and good for me too 🙂 They play we visit! Instant entertainment. And we all need a mom friend. And to not be afraid to invite someone over.
These have been amazing for the toddler age! We use them in the car, inside, and at church. I just fill up the water brush it comes with and they "paint" the page. Color comes through and when it dries the color goes away and it can be used again.
The books have 4 large pages and are a little larger, but the ABC cards are WAY nicer because for the same price you get 26 smaller water wow cards. It took my kids a lot longer to color all 26 smaller cards with water than it did the 4 larger paged books.
Give them a scenario to act out
I tell them scenarios to play like: there is a fire to put out…go swing through the jungle…go fix this or that with your saw, go play nap time (my favorite trick and they bring their blankets out and pretend sleep quietly for maybe 10 min!), go dig a foundation, ect.
Repurpose cardboard boxes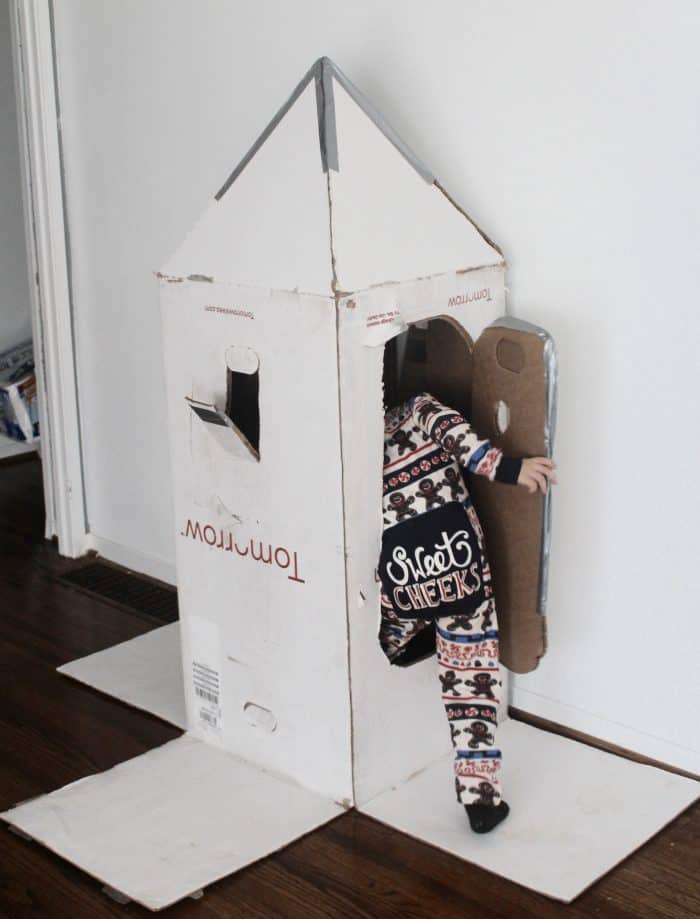 When I get an order shipped online, the box gets repurposed for a few hours. If its big, we may cut a door or holes in it to make a spaceship, mailbox, house, whatever. If they fit inside it can be a car, a boat, whatever you suggest 😉 We also pull out the markers sometimes for coloring the inside.
Playing Preschool by Busy Toddler for toddlers ages 3 and older.
Updated Aug 2019: I bought and LOVE a 190 day curriculum called Playing Preschool by Busy Toddler. The worksheet free curriculum is perfect starting around age 3, and I love it because it gives me something to do each day! Because half the battle is just coming up with ideas. She is the QUEEN of toddler activities! You can follow Susie on Instagram.
If you want to know more about how we are using it with my 4 year old, (along with a tag along 2.5 year old), see my full unsponsored review of Playing Preschool here.
Why every mom needs easy indoor activities for toddlers…
Overall, summertime makes winter seem like cake. When they are outside, they are happiest and play for hours…and I get a break. Indoors requires so much more activity swapping, and to be honest, we watch shows more when inside all the time.
If you are even reading this, you are a great mama and want to play with your kids, so I hope you find a few ideas here and check back for more! What do you like to do at home with your toddler? Let me know in the comments!
More toddler posts you may like
One nap schedule: Our experience getting 3 kids to nap at the same time
15 Tips for parenting a strong willed toddler and enjoying them
17 Time saving tips for moms with toddlers
What you need to know about taking toddlers to the pool by yourself safely
Best Christmas gifts for a 3 year old girl
Routine for an 18 month old with older siblings at home
SaveSaveSaveSaveSaveSaveSaveSave