Finding the best bath toys for toddlers and older kids can make bath time last so much longer. Bath time at our house can last anywhere from 20 minutes to a record-breaking 2 hours of fun! My oldest two just play and play, and their imaginations kind of take off with toys, splashing, and colored water.  I'd say we kind of use the tub as an activity rather than just a place to get clean. I remember being a kid in the tub and just playing as long as my mom would let me. It was relaxing and fun! My hope is that you will find one or two things on this list that will extend bath time for your little ones and let them be creative without breaking the bank.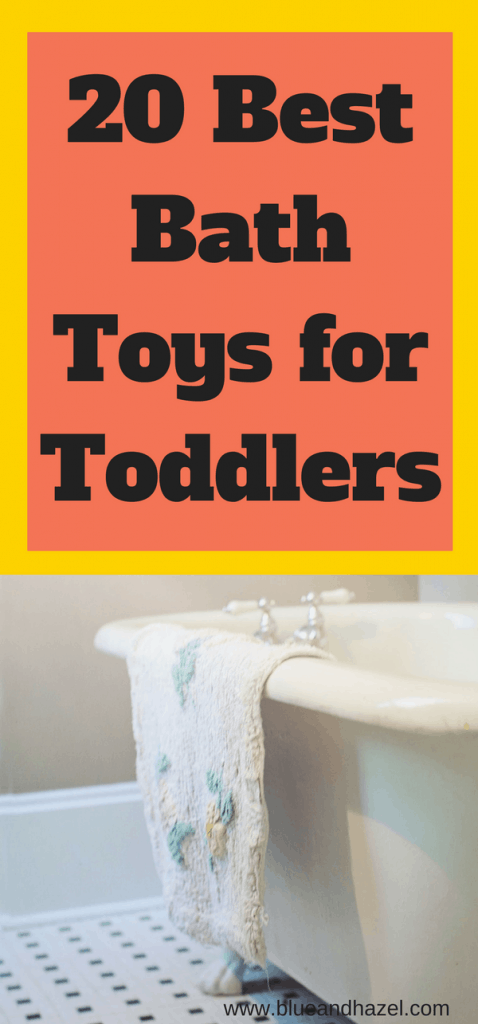 Best Bath Toys for Toddlers
We use and love these ones. I like these way better than the Crayola larger tablets you can find because they are smaller tablets. This comes with 300 and I'd say we throw 5 or 6 in the tub each time because they are small. The Crayola ones are huge and so you can only put in one or two. In our experience with both the kids would rather throw in more and watch them fizzle, plus it allows for slighter changes in the water color by adding "just one more" as my kids say 😉

We get this from my mom all the time and squirt a few colors onto the wall.  It's technically soap I guess but we don't scrub them with this at all.  They can smear it around and make a painting on the wall and I can wash it off with a rag at the end. But be warned, don't leave this on your shower wall! I get lazy and don't scrub it off sometimes and it gets way too hard to "rehyrate" and scrub off. Not worth it then! But the kids love it and one bottle lasts a LOT of baths, like 5-10 I'd say.
Boats are the biggest hit here because they float. This just looks awesome to me.
We have had a light up toy in the tub before and it was the obsession of the time. This one lights up when it touches water and turns off out of the water!

Because when it comes to bath time, duckies are kind of iconic. Classic bath toy!

What a cool idea here and Parents' Magazine Best Toys of the Year. Kids fill these up with different levels of water to make different tones. It comes will instructions for figuring out how to play songs too! Recommended for age 3+.

These can be combined or used separately and stick to the bath tub. Kids just pour water through them and each pipe has a unique shape and function. Age 12 months and older.

A pretend play shave kit with foaming body soap, play razor, unbreakable mirror, coam, and brush.

Floats on the water and I can't imagine a toy my son would play with more in and out of the water. Airplanes, helecopters, and all things flying are where it's at for him at the moment. This is BPA free as well.
We have had these for our kids and they are really great for so many reasons. First off, they are practically indestructable and we have found them and washed them after being left outside for months. Secondly, they are bath time cups for pouring. Thirdly, they are great for babies and toddlers to learn stacking and sizing! It's a simple toy with so many features.

Please tell me you got to play with these as a kid?! They are amazing. Just hand out a few and the kids put them underwater. The casing dissolves and a tiny dino grows. They are very small so not safe for babies though. This pack has dinos, animals, bugs, farm animals, and safari animals.

While I have not tried this particular product from California Baby, I have used their other shampoos and body washes for our babies and kids. I trust this brand because I consider it high quality and has never bothered my kid's sensitive skin. This is frangrance free, paraben free, sulfate free, and contains organic and naturally derived ingredients.

We don't have this, but I have a friend that does. It keeps water out of their eyes as you rinse! The yellow part is squishy and sits on your toddler's head as you pour over their hair to rinse out shampoo and conditioner. I guess it works really well and acts as a bath toy too.
We have a plastic teapot that is one of our staple bath toys, as well as a hit in our outdoor water table, and when playing in the sink. It's such a water toy around here I had to add a plastic tea set to this list.

My husband got these on Amazon for the kids, and they are adorable! My three year old and 1 year old wear them after bath and to bed over their jammies. These are incredibly soft, have a snap button at the neck to help them stay on, and pockets too. And we couldn't beat the price at 2 under $20!

This toy fills up with water and rains when you hold it up. There's a hold on the top that kids can put their finger over to "stop the rain".

For all those times your kid actually wants to just play in the water without toys flying around. My kids make a habit of throwing wet toys out of the tub in moments like that, so looks like I need something like this too.

Some sink and some float.
I would love to learn how to make these but wow are bath bombs cool for kids! These ones also float.

Here's to a long bath time! What are your kid's favorite things to do in the tub? Let me know in the comments and I'll be sure to respond. I'd love it if you would share this post with your friends if you thought it was a cool list!