I never imagined that I would be "homeschooling" preschoolers.  It's hilarious how much it intimidated me, a mom with a bachelors degree, to even think of how to teach preschool at home! I had no idea what preschool was really. One day it hit me that although my kids were learning through play (which I swear is most of what they do at preschool anyway), that they weren't learning some things like letters and sounds.   Sending both our kids to preschool is too expensive at this point.  Plus, we are a one car family.  So after a short unnecessary panic, I started reading about how to do preschool.  The more I read, the more I realized that I can't really mess up preschool!  So I'll teach you exactly what we do and what you need to know!
This post contains affiliate links.
What do kids learn if you send them to preschool?
Parents send their kids age 2-5 or so to preschool.  You are probably already doing half this list without trying to "do preschool".  Yay!
Identify numbers 1-10
Counting 1-20
Shapes & Colors
Say and identify the ABC's
Identify sounds that letters make
How to sit and listen
Taking Turns with Toys
Following directions
How to hold a pencil and use scissors
Learn to use glue and paper
How to draw pictures and shapes
Hands-on play
How to teach preschool at home
Get some supplies
I think it's helpful to order a few crafts and tools online to have around.  You cant really go wrong if you find something that helps you show them numbers, shapes, letters, and colors. I keep a cupboard that has supplies in it. Like crayons, markers, Play Doh, craft items, paints.
Here are a few ideas to get you started. We have the Big Preschool ABC book pictured below and it's awesome! There are 300 pages inside, with tons of tracing!  My 4 year old boy is learning to trace straight lines, curved lines, and later in the book, there are pages practicing tracing letters, shapes, numbers and more. The Melissa and Doug trio below that has activities for using scissors, tape, and chalk which can help add to some activities to do at home.
Age and ability
As a side note, my almost 3 year old girl does not really "do preschool" yet. She plays with her 4.5 year old brother and entertains my 11 month old. And chats with my ALL day. Her language skills have been incredible since she was 2. She listens to stories, and loves sensory activities but her attention span is just too short and she has little interest in formal learning yet.
I hope you don't feel anxiety over what to teach them at what ages, just keep trying to introduce things and it will be obvious when they are interested! I've seen a huge difference in what my boy and girl have been capable of at parallel ages. For me, it's more like, try stuff out and see if they can do it. If not, try again later!
Start a routine each day
I have a 10 month old, and a 3 and 4.5-year-old at home.  I'm not a very scheduled person so the hardest part of "doing preschool" is actually blocking out some time for learning every day.  And I mean, very little time, like 30 minutes or two 15 minute blocks! And at this age, it doesn't even have to be every day.  If you spend 30 minutes just three days a week intentionally learning things, your preschooler is going to learn a lot!
Most preschool-aged kids only go 2-3 days a week, unless their parents are paying a lot more.  And much of the day is spent playing and using their imaginations, not just "doing school". Their attention spans are just too small for hours of school.
Most people I've learned from recommend doing "school" as part of a routine.  Not necessarily at a set time.  Her after breakfast we start a learning activity. More so the kids (and myself) know what's coming next.
We do 1-2 short blocks of more formal teaching each day.  I say blocks of time because my almost-3-year-old's attention span is a lot shorter than my 4-year-old. So a block of time for her is around 10 minutes and a block of time for my 4-year-old is 10-20 min.
Our very easy preschool routine
Short lesson (10-15 minutes)
Hands on activity (as long as they want)
Play (pretty much most of the day)
I read to them (a few books a day, on a good day)
Our new routine has been to eat breakfast, the kids play while mom finishes her coffee, and then I do a reading lesson out of this reading book with my 4-year-old while my almost 3-year-old plays and my baby is still sleeping.  This takes us about 10 minutes. Check out this post to see how you can use that reading book to teach your preschooler to read! And by the way, this is just a bonus because your child will not be learning to read at preschool if you send them so no pressure!
After that he gets to watch a show.  And if I can be honest I think he LOVES his reading lesson because of the reward of a show.  I don't care if it motivates him to read! We are in lesson 20 and he can already read sentences like "An ant sat on a seed".
After the show, I'll crack out some kind of hands-on thing and play some kids music.  Seek out Pinterest if you need ideas, but we do Play Doh, bake something, build a fort, color, whatever.
If you already read to your kids, let them color, sing the ABC's and point out shapes on things like cereal boxes, then you are already doing some preschool.  Basically every day I just ask myself did they learn something new? Do an activity? Play nicely? Get exercise? Then hurray!
Our favorite school room tool
Something that gets used every day for preschool, as well as just play, is our art easel.  We use this one, provided to us free from Hape Toys and it has been a key tool I use for both play and preschool. It has a whiteboard, paper roll, empty paint pots, and a blackboard.  You will need to buy your own markers and paint and chalk and brushes, and an extra paper roll as the one that comes with it has barely any paper. If you are on the fence like I was about getting one, I can say it is honestly a favorite and never collects dust like most of their toys.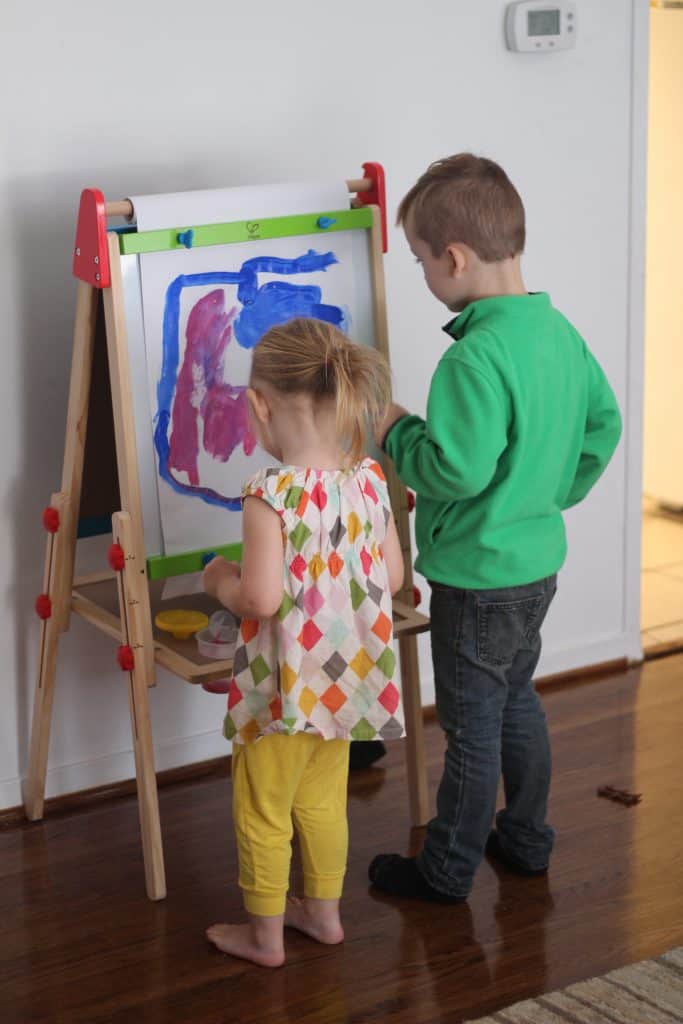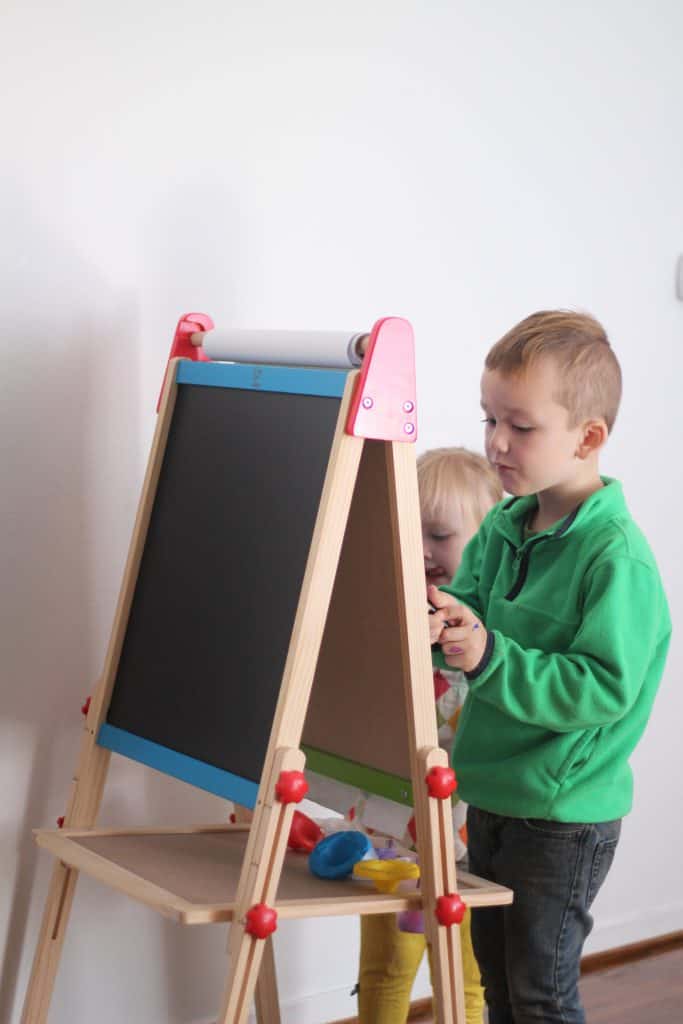 Examples of how I teach preschool at home
How I teach numbers & counting
For number recognition, I just draw numbers out on paper or their art easel.
For learning to count out loud we just do it every day!  I don't worry if they get it wrong and say 5, 6, 9, 10…enough repetition and they will get it right! We go all the way up to 20.
I ask them how many of something there is, like cereal bowls on the table.  Or buttons on a shirt.  Or bananas in the bundle.  Then I help them count while I touch each one.  We also have books that have numbers in them and those help with recognizing the number as well as counting.
How I teach letters
We sing the ABC song every night while brushing teeth.  It's about as long as I need them to keep their mouth open, so they know that song! As for letter recognition, we love these dry erase flashcards. They have letters on one side and pictures that begin with that letter on the other
side. 
I know some people who do a new letter each week and theme their preschool day around that letter.  We do it a little differently. My 4-year-old is learning to read (totally not a requirement for preschool just so you know), and the book we use does not teach letters in order from A-Z.  So, we learn the lowercase letters as he learns the sounds in his book, usually one new letter every few days.  And my almost 3-year-old is not yet learning letters, although she is capable I think.  She just likes to color in the letter 🙂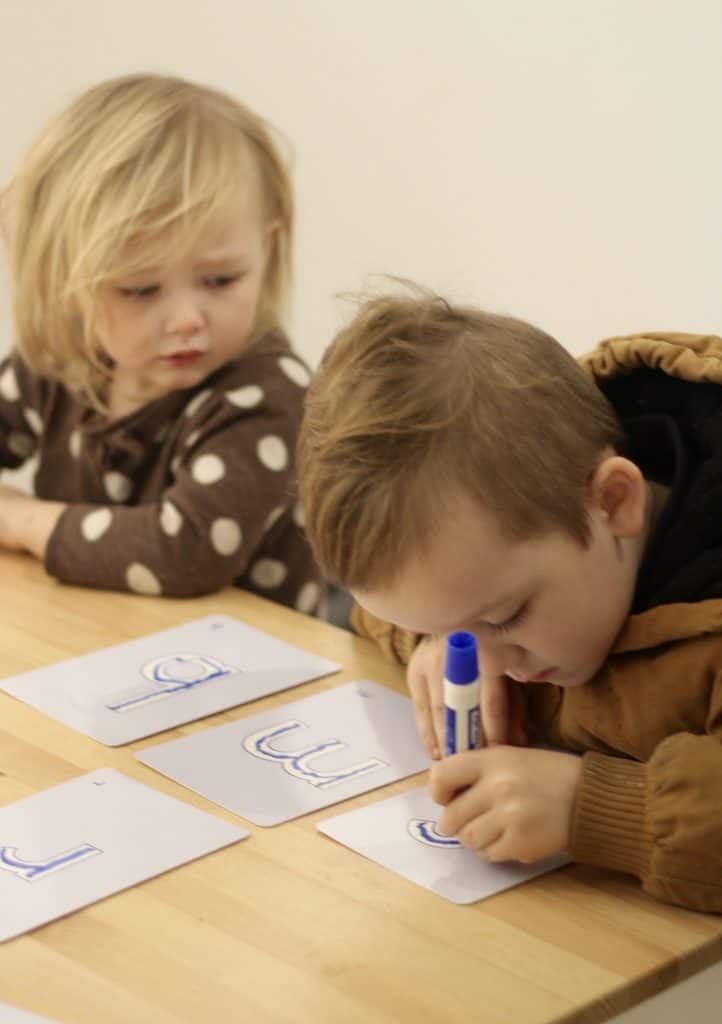 Another great tool for teaching letters and associating them with objects are these fun water wow cards from Melissa and Doug. Our kids loved and used them waaaay before ever "doing" preschool because they are really entertaining. You "paint" with the water stick and the photo underneath appears. Plus they are reusable! I can't recommend them enough, even if you are far away from teaching the alphabet. This is an especially great tool to take to doctor appointments, in the car, or on an airplane.

How I teach sounds
We teach sounds using the reading book How to Teach Your Child to Read in 100 Easy Lessons.  It is a lifesaver and teaches me exactly what to do.  Honestly, I hadn't taught sounds to my son till we started the book.  I'm just 20 lessons in and Nigel can say SO many sounds, and can sound out so many words!  Just today on our way into church, he stopped to look at the "sounds" he saw on a car that spelled out "J-E-E-P".  We point out sounds he has learned in the book all throughout the day, like on books, cereal boxes, and packages.
How I teach colors and shapes
I will draw shapes on their art easel or on printer paper and ask what shape it is.  This is probably one of the easiest things to teach and learn, and most baby books start with shapes and colors.   And I've found that books with shapes and colors will go a long way in teaching preschool at home. Lots of my friend's kids know their shapes and colors early from learning shows or apps.
How I teach hands-on play
I feel like one of the best parts of preschool is just making learning fun and letting them discover through play.  Lots of preschool moms enjoy matching a hands-on activity that matches the letter they are working on, or the color, shape, etc. I don't really plan enough yet to do that, (you crafty moms are amazing to me!) so instead I just kind of rotate through sensory activities they love.
This includes Play Doh, digging outside, stacking blocks, making indoor obstacle courses, sorting toys we have by color or shape, sidewalk chalk, cooking with mom, and crafts if I can get to the dollar store once in a while. Call it preschool if you want.  I think a lot of it is just a day in the life of a stay at home mom, for real!
The hardest part
What I like least about teaching preschool is coming up with activities. My brain just doesn't do that! If you are like me in that way then tap into other mom's creative juices on Pinterest and find 10 things you could easily do if you had the supplies.   Then get the supplies.  I promise you this will make preschool more fun for you and them!
The other hardest part is just starting. With the arrival of our third baby I felt pretty frazzled and stretched for time. How in the world was I going to add something like preschool? All my mom friends were sending their kids to preschool 2-3 days a week and getting a break, which quickly made me feel sorry for myself that I don't get one (embarrassing to admit, I know, but honest!).  Once I got over my pity party and made a plan, which you now have from this post, it got easier!
After doing this for a few months now, I see it takes a lot less time than I thought, and it is actually pretty cool to see them learn stuff.
You can't go wrong if you are trying
So even if you think you couldn't possibly teach preschool at home, you totally can! You really can't mess it up.  And if you do a little a day, your kid will be way farther ahead than most when it comes to starting Kindergarten.  Or, maybe you will love it so much you keep homeschooling! Leave me a comment with what you would love to see more of on the blog when it comes to raising preschoolers at home. Nap time? Dirty house? Activities? Juggling sanity? I'd love to know.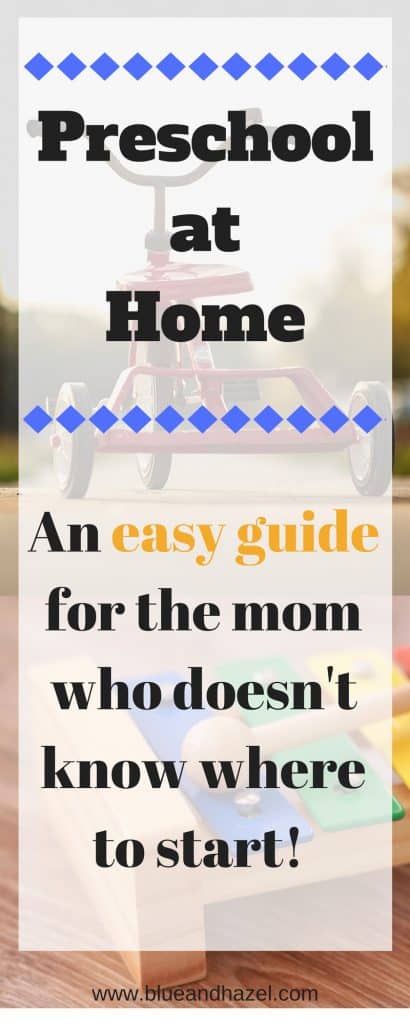 SaveSave
SaveSave
SaveSave
SaveSave
SaveSave
SaveSave
SaveSave
SaveSave
SaveSave