If you are anything like most first time homeschool moms, you may be wondering how much time it takes to homeschool your preschooler each day. For some reason, the pressure can feel unrealistically high when you are just starting! You don't have a sense of normal yet, and the sense of "messing it up" feels very real. Not to mention you may feel the urge to plan too much to calm those friends and family members who doubt your decision in the first place.
Let me assure you that you can accomplish so much in a tiny amount of time each day. I am a believer that preschoolers are learning all day mostly through play and conversation, yet it's still comforting to have a general idea of how much time is realistic to spend on doing the "extras" we call preschool.
Ultimately it will be a combination of how hands on you want to be, what preschool resources you use, other family circumstances you have going on, and if you officially count snack time, hand washing, and potty breaks as part of your preschool. Just kidding, but that does take up a huge amount of time! And yes, preschools count that time if you pay for someone to do preschool.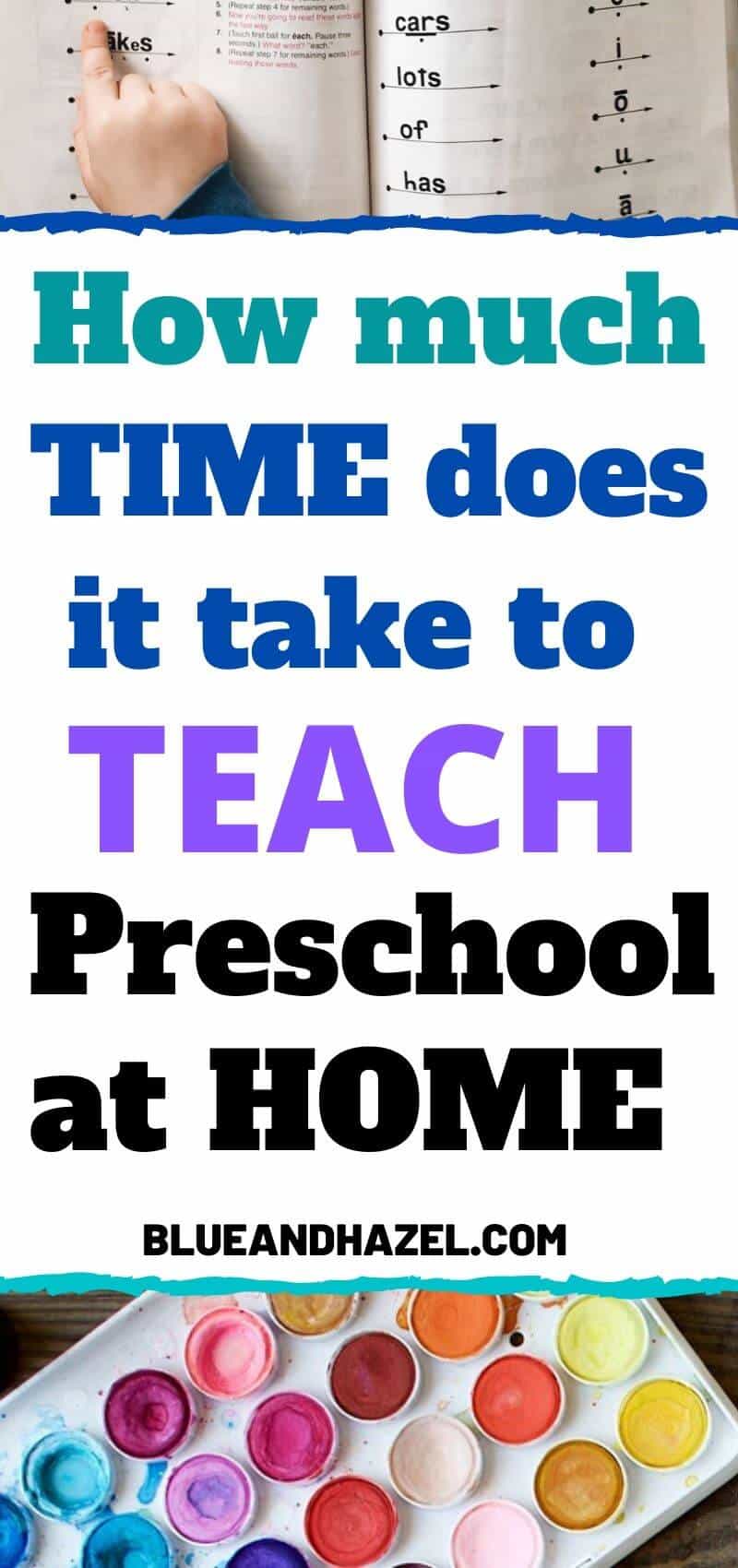 What age do kids start preschool at home
Generally preschool at home will begin anytime from age 3 or 4, and continue through age 5 or 6 until kindergarten begins. A 3 year old, a 4 year old, and a 5 year old will have such different attention spans and interests that even if you taught all 3 ages at once, they would likely soak up different information and that's ok.
I have a 3 and 5 year old at home right now. My newly turned 3 year old could technically be "homeschooled" for preschool, however I don't call it that. His job is play right now.
Yes, he loves legos, magnetic tiles, can sort things, and has a preschool book to scribble all over (younger siblings will need that to pretend do school!) But we don't begin anything formal until my kids express interest around age 4. You can read my entire post on what we do for homeschooling preschool here.
What I'd go back and tell myself as a first time preschool mom
If I could go back a few years and tell myself something, I'd reassure myself that preschool is in session all day. And that it will look nothing like a formal preschool class and that's ok.
That reading out loud and setting up open ended play for my kids "counts" as school.
That watching animal shows like Zaboomafoo and Wild Kratts not only equals sanity for mom but can take 100% credit as school some days. (And is a tribute to my kids vast animal fact knowledge to this day.)
That teaching your kids to respect mommy, help clean up after themselves, and be kind to siblings is more important than just about anything else they could learn at this age. Some call it "character training".
And that the necessary things kids need for kindergarten (like learning letter names, sounds, and tracing) can be easily learned in 30 minutes a day a few times per week. Without a formal curriculum if need be.
Your preschool goals should include more than just school
I don't think I knew what I hoped to accomplish with preschool a few years back. I had 3 kids under age 4 and was just surviving. It was a good day if we could just get outside on a walk and make some food. It was an awesome day if both kids napped at the same time.
Thank goodness that didn't really matter all that much. We were still reading books, playing dress up, learning to obey mom, and learning not to take each others toys all day. You're never wasting time by focusing on their character and habits and relationship with you in the preschool years. So consider that in your big picture preschool goals.
Other preschool goals besides character training
Yes, striving for a good relationship with your kids should be number 1 on your list. A yelling angry mom can't really teach anything well anyways. I know I've tried, and it doesn't work.
Reading out loud to them daily and as often as you can is also extremely important! Many veteran homeschool moms have told me if they could go back they'd worry less about busy work and just read out loud to their kids more. It's going to help them to pick up books on their own, and eventually to read and write well. It's also teaching them grammar.
Get outside into nature. It is so sad to me how little time kids get to spend outside now! And once they turn 6 and head to all day kindergarten, it's even harder to get outside to play. You don't have to be a nature expert to enjoy nature with your kids. Simply go to your backyard, or head to a park near you and explore. This is real science for them. They are learning by observing. We aim for an hour a day. Some days it's more, and other days less.
How much time should a homeschool preschool lesson take
At our house, we spend about 30-45 minutes per day and then play, read, and play more. We cover letter sounds, letter names, tracing, sorting, and some preschool math (but never all of those in a day, usually 1 or 2).
And to clarify, I'm not counting the unplanned extra activities that happen in the day. Like magnetic tile creations, puzzles, making lego cars, reading out loud, or coloring. Coloring is HUGELY helpful for handwriting I've found, since my oldest dislikes coloring and has much sloppier handwriting.
I know other moms who spend closer to 1-2 hours a day and plan more activities than I do. That's great if you and your child enjoy it! A lot depends on what you hope to provide your kids for their preschool experience. It's up to you!
Is 30-45 minutes really enough time to do preschool?
Here's how we taught my oldest preschool without a curriculum. While I used to doubt if it was enough, I'm confident it is because my oldest knew what he needed to know entering kindergarten, and now spends 1-2 hours a day reading for fun. My mind is blown.
With my second child (now age 5), we spend about the same amount of time. 20 minutes of that is teaching her how to read, since she is ready and asking. She's an early and eager learner for sure. Reading is not a preschool requirement.
I've found that she has picked up so much because she has learned by watching her older brother. One day she went and wrote out 1 through 10 in chalk, and I had not formally taught her that yet. She just watched and copied what she saw her brother doing.
Why you might like the Playing Preschool Program by Busy Toddler
We also switched over with my middle child to try out a preschool program by Busy Toddler. I love it and always recommend it to other moms. This is the perfect curriculum for the mom wanting to be told what activities to do each day, and shouldn't take longer than 40 minutes. Here's my full review of Playing Preschool with my 4 year old.
It's 100% hands on (no worksheets), so if your kids love feeling like they have "school work", you could also get them the Big Preschool Workbook on Amazon.
What is child led learning?
I am a huge fan of child led learning. If your not sure what that looks like in preschool, imagine your child is really interested in bugs. So run with it. Get some books on bugs. Learn the names of a few in your yard and teach them to your child. Do a bug craft if you like. You get the idea.
I have a bare minimum of things I intend to teach my child (on a very flexible timeline), and then beyond that I try to just follow their interests.
What are your homeschool preschool questions?
Do you have any questions on preschool at home? Leave me a comment at the bottom of the page if so. Also, be sure to grab my free preschool schedule printable below. It will give you a baseline idea of how much time to spend together learning and how to structure your day!