We love dinosaur activities for preschoolers! Right now my 4-year-old boy pretends he is a T-Rex most the time, and my 2-year-old walks around in her dinosaur costume sometimes all day. If you have kids who pretend to hatch out of blankets like mine, then high five because you've come to a gold mine of dinosaur activities for preschoolers!
My goal is to lengthen the time my kids are really excited about something by getting activities that will keep their imaginations going.  We have had so many precious phases like Bob the Builder at age 2, and Thomas the Train at age 3, and now Dinos at age 4.
This post contains affiliate links
Dinosaur activities for preschoolers
Costumes
Want to know my number one recommendation for dinosaur activities for preschoolers? Dress up.
We have this exact costume and it's been a hit for both my kids now for years! It comes in a ton of sizes from baby to older kids so if you have a few kids that want to match it's perfect.  Plus it's velvety soft and comes with puffy dino slippers.  My little girl is the real thing in it, and it's the cutest.
If you want to opt in for a more affordable option, check out this DIY dinosaur hat post from lalymom.com! All you need is a kid sized ball cap, glue gun, and some black and white felt.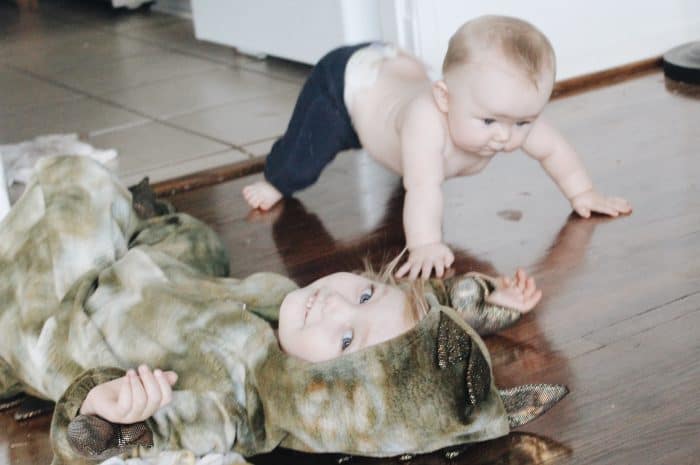 Other cute costumes on Amazon:
Related Post: Indoor activities for toddlers
Our favorite dinosaur book to read outloud
This was Peter's favorite dinosaur book growing up and the pictures are incredible.  This is the first in a series of 3 about an imaginary world where people and dinosaurs live together in harmony. And it's a large book that could take months of reading a few pages at a time. Each page is filled with a short snippet of story, and then amazing illustrations with detail that even you will be amazed. I know I am!
Other dino books with insanely good ratings:
Related Post: How to teach your child to read using one easy book
Dinosaur Toys
We were gifted a hatching dino egg for Christmas from Aunty Gina and Uncle Paul and wow it was so exciting for them! It has a hard shell and you soak it in water for about a full day, and it cracks and out pops a little dinosaur to play with.  The downside was waiting for the egg to hatch.  It's a delayed gratification type of toy.

Melissa & Doug Dinosaurs 4-in-1 Wooden Jigsaw Puzzles in a Storage Box (48 pcs)
This comes with 15 dino cards to match up.  Awesome for about 2 years and older.

Tovolo easily removable dino popsicle molds
These reusable molds make 4 dino pops! I can only imagine how excited kids would be to eat a triceratops.
Related Post: How to teach preschool at home; A practical guide
2 lbs of play sand with 6 dinos 6 molds and a tray
I want this! If you have never played with kinetic sand, it's the best. It's like a little slice of happy for your fingers. Somehow the sand sticks together and doesnt dry out.  It's easy to shape into molds and play with.
Animal Planet's Big Tub of Dinos 40+ Piece Set
We have this set and love it. I was lucky enough to find it at Goodwill and the tub is especially nice for putting everything away. It comes with a ton of plastic dinosaures, trees, a few volcanos, and play rocks.  My kids set up a "dino village" and we crack them out sometimes with Play Doh for extra fun play.
For Play Doh & sugar cookies. I have a cheap o set of these that Play Doh makes made out of plastic that are not that great.  These look much more durable.
Dinosaur Activity Books
Melissa and Doug color blast with no mess marker
We have had these and I'm a HUGE fan. 24 pages of coloring, fits in a purse, and the marker has no color. Color only shows up on the page when the marker touches it..soooo nice if you don't want to worry about marker getting on skin and walls. My 2 year old can kind of scribble lines on this, and my 4 year old can start to color in the lines. This is a sure fire dinosaur activity preschoolers will leave you alone to work on! Sometimes 10 minutes of quiet is SO nice.
We have also kept extra of these in a present box.  That way when we get invited to a party or need a quick gift, it's a sure hit for boys or girls.  And just under $5.

Melissa and Doug Scratch and Draw Dino paper set of 4
If you can't tell, we are big fans of Melissa and Doug because they have so many creative hands on activities. This has 4 holographic pieces with dino stencils to get this awesome effect.  I put this one down beause it has dinosaur stencils in it, but if you want the same cool paper for WAY cheaper, check out these ones. You can get 130 sheets for $8 (with no dino stencil though) instead of just 4 sheets for $5 like this one from Melissa and Doug. Personally, I'd get both to have the dino stencils and the huge pack of cheap black paper.

Dino Coloring Book with 30 pages
Save
Save
My kid's favorite Dinosaur Show:
Dinosaur Train! It's a show my kids have loved for months that's free on Amazon Prime. If you're not already a member, try it free here for 30 days and cancel at any time.
Related Post: Preschool Treasure Hunt Activity that helps teach prepositions
I will keep adding to this list as I find things that my kids would love having to do with Dinos.  Do you have any dinosaur activities preschoolers would love that I'm missing? I'd love to know! Leave a comment and I'll see if I can add it here.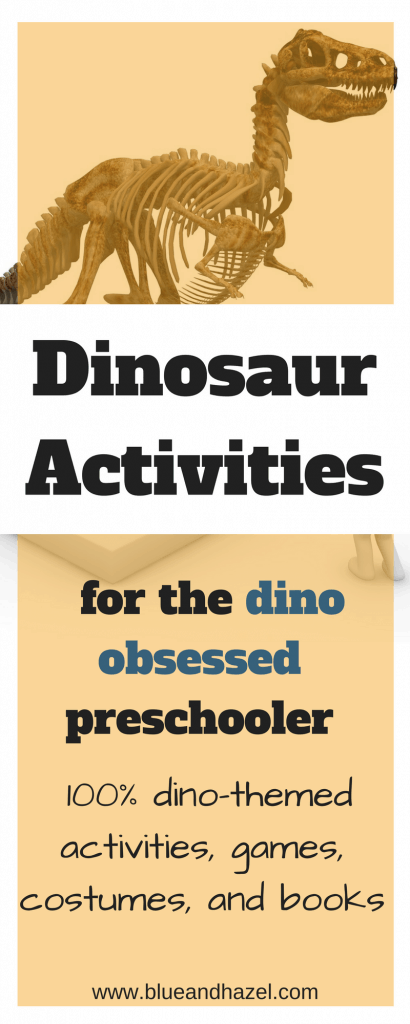 SaveSave
SaveSave
SaveSave