Learning how to do Christmas on a budget (and I mean a VERY small budget) is really stressful. I'm a stay at home mom living on one income. We went the route of living on medical school loans so I could be at home with the babies, and while we are paid in residency, it's not a lot when you're a family of 5.
We can't spend much money at Christmas. It would be easy to spend $500 on gifts for our kids plus siblings and parents on both sides. But we can't. There have been years that I've wished everyone would just stop doing gifts altogether or trade $5 gifts…or at least do a drawing so everyone could just buy 1 gift.
If you feel stressed buying for Christmas because your budget is tiny, then keep reading. I'll share ways we have learned to have a frugal Christmas and enjoy it MORE. This can be the Christmas season you enjoy rather the one that you dread!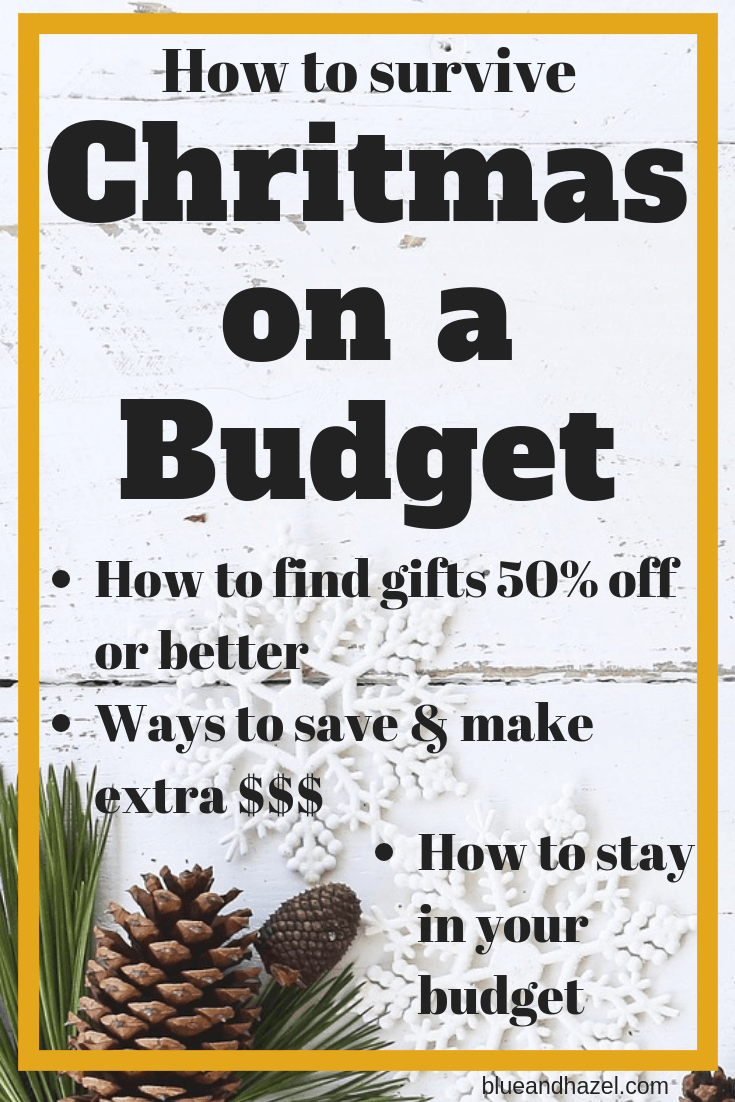 6 ways to do Christmas on a budget
This post contains affiliate links. We are a participant in the Amazon Services LLC Associates Program, an affiliate advertising program designed to provide a means for us to earn fees by linking to Amazon.com and affiliated sites.
To really stick to your budget for Christmas, you have a few options:
Get everyone something small, even if it's less than they'll probably spend on you (My recommendation).
Don't do any gifts and let everyone else know beforehand so it's less awkward later. (I don't want this as I want to experience the joy of giving and teach my kids that too).
Divide what you can spend between the people you have to buy for to see what you can spend on average per person.
Find super cheap gifts on sale or used (I'll explain where we find stuff).
Plead with your extended family to do a gift drawing.
Make something for everyone (a DIY gift, like candles or an ornament).
How your Christmas budget can get really big really fast if you're not careful
Until last year when we moved away, my husband and I alternated which family we spent Christmas with, and a few times we managed seeing both.
His family typically exchanges smaller gifts (say $10) while my family typically exchanges larger gifts (say $50 range), and everyone gets everyone a gift for everyone.
This adds a minimum of 20 adults to shop for, or make gifts for….and includes zero gifts for nieces and nephews.
If we got everyone on both sides one small thing around $10, we would spend over $200 minimum, and that doesn't include any gifts for each other or friends.
Spending money you don't have
Giving Christmas gifts is stressful to me because I feel stressed when we are spending money we don't have. If you're set on doing gifts, then aim for SMALL, thoughtful gifts.
This was the case in medical school when literally everything was bought with loan money…from food to rent to Christmas gifts. And our medical school loans came with 6% compound interest…yuck.
I also found it really hard to buy new things for people when I wouldn't even treat myself to a coffee or new shirt. All my clothes were thrifted, hand me downs, or bought online used at Thred Up.
All my kid's clothes were thrifted or hand me downs, and I flipped baby items on Craigslist to pay for used toys.
As we shifted from medical school to residency where we were paid, and as my blog picked up enough to give us some wiggle room…I found it much more joyful to buy people gifts.
I just really didn't like spending money we didn't have.
How to form a frugal Christmas budget
When it comes to spending money on presents, I'm first forced to deal with a few key issues every Christmas.
The embarrassed feeling I get when I can't give a gift back that is similar in value to everyone.
What to gift people that's small, unique, or special?
If you'll exchange gifts with your spouse and if so, what's the limit?
What to do when there are lots of people to buy for?
How do I create a Christmas around traditions rather than presents?
How do I plan better so that I can spend some extra money on presents?
What homemade gifts could I possibly make?
How to present it well? This is HUGE. Anything small can be wrapped well and garnished with extras (chocolate being our fav).
Usually, I have an amount that I'm comfortable spending total. And that has to get divided between everyone.
So either each person gets a smaller gift in general, or I buy for less people.
What's a reasonable amount to spend on Christmas gifts?
While Dave Ramsay said the average family spent $800 last year on Christmas stuff and the average American family makes around $50,000, this is a completely personal question and NOT a good guide in my opinion.
According to this I could feel justified in spending a little less than $800 and if I did that I would keel over in a panic attack.
I'm more comfortable with a couple hundred and we have A LOT of people to buy for. I'd much rather spend less and save for a used car since my husband's is on it's last leg.
Check out Money Saving Mom's post to see over 160 answers from other families responding to "What is a realistic Christmas budget?"
Things you don't need to have a magical Christmas
It's hard to not buy into the commercial aspect of Christmas. It's everywhere. And you feel the pressure of it on your pocket book. Here's a few things you should consider skipping if it's too much money.
A real tree.
But you don't need a real Christmas tree with gorgeous decorations to have a Merry Christmas if it costs too much.
So far we've managed: No tree one year when our first was still a baby. Then we borrowed a tree from someone who had two. Then we found one in a rental attic, and another year used one gifted to us from a neighbor who moved. None of them have been beautiful or taller than me. But it's ok!
Fancy stockings.
I wanted fancy stockings made of burlap. On Etsy, I was looking at about $25/stocking for these and needed 5 at the time. I couldn't justify it. So I decided to learn how to make my own Christmas stockings.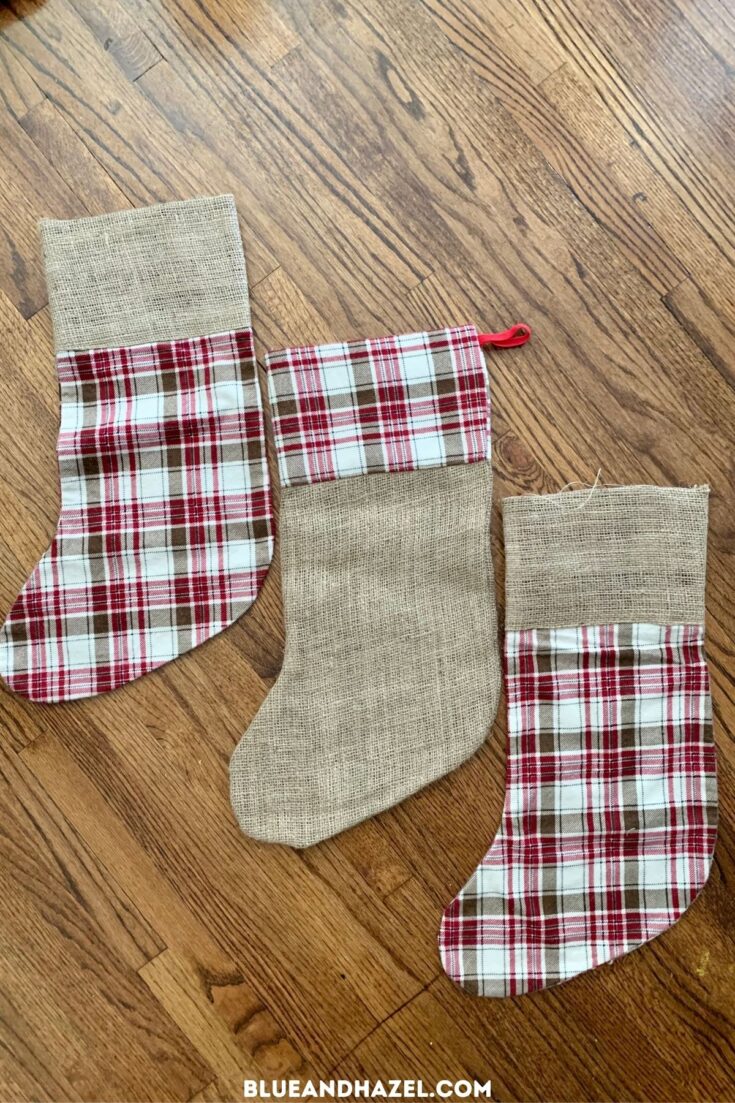 Or, you could buy them at the dollar store…and still have a jolly Christmas!
Garland.
Someday when I have a home of our own and extra cash, I want to own Christmas garland to hang from a fireplace or above my cabinets. But I can't seem to buy them when I need the money to go towards gifts.
Fancy Advent calendars
There are so many cool ones out there, like the ones filled with Legos. But even the cheap chocolate ones add up when you have 3 kids. You could do a paper chain advent calendar, or something else to count down the days till Christmas and to talk about the story of Jesus' birth.
I made this burlap advent calendar one year for about $20, and reused it several years. I saved candy from Halloween and put 3 pieces in each mini bag. One for each kid each day of Advent.
Why Christmas on a budget is good for kids
I don't know about you, but if I buy my kids something expensive then I seem to expect them to LOVE IT, play with it for months, and take good care of it. Does that ever happen?
Not really.
I'll get disappointed if they don't seem to care about it, and even resent them for it. This is STUFF we're talking about. Yuck.
It's totally ok to just give your kids a few gifts.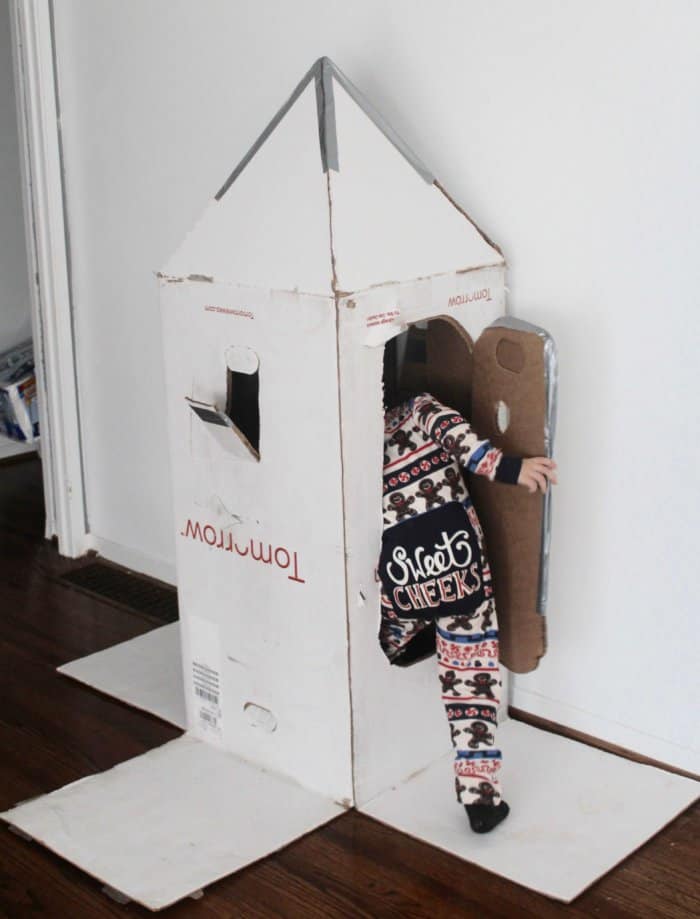 Their friends may get 10, including a remote control car and brand new play house. But hear me out. You don't owe your kids that. Especially if it means spending money you don't have.
I LOVE to give my kids special things, but too much really can spoil them. Kids get spoiled easily.
They get tired of things. And Christmas can quickly turn into how many gifts they have. Even if I find great deals, or could buy 30 used toys for cheap, I won't. And it's hard, because I want to get them everything!
Even if I have huge budget someday after our medical school debt is paid, I don't want my kids to feel like they deserve getting whatever they want.
I'm defiantly guilty of spoiling my kids at times by thinking only of their instant happiness rather than long term character. Workin' on it ;-)!
Start a few Christmas traditions that are FREE or cheap
This should be fairly easy with little kids, and it can take the focus off of opening presents. (Since opening a few gifts doesn't take much of the day at all)!
Some budget ideas might be:
Play a new board game (thank you thrift stores).
Start the morning with tea and cinnamon rolls
Start some recipes you'll make each year. Like pumpkin spice coffee creamer.
Go on a drive to see lights at dusk.
Go on a hike on Christmas day.
Make cocoa and watch a movie together.
Pop some popcorn and make a popcorn necklace to eat.
Do a craft.
Make graham cracker gingerbread houses.
Surprise a neighbor with a gift.
Invite someone without family over for dinner.
Make a picture out of different beans and glue.
Dry oranges and grapefruit for a garland.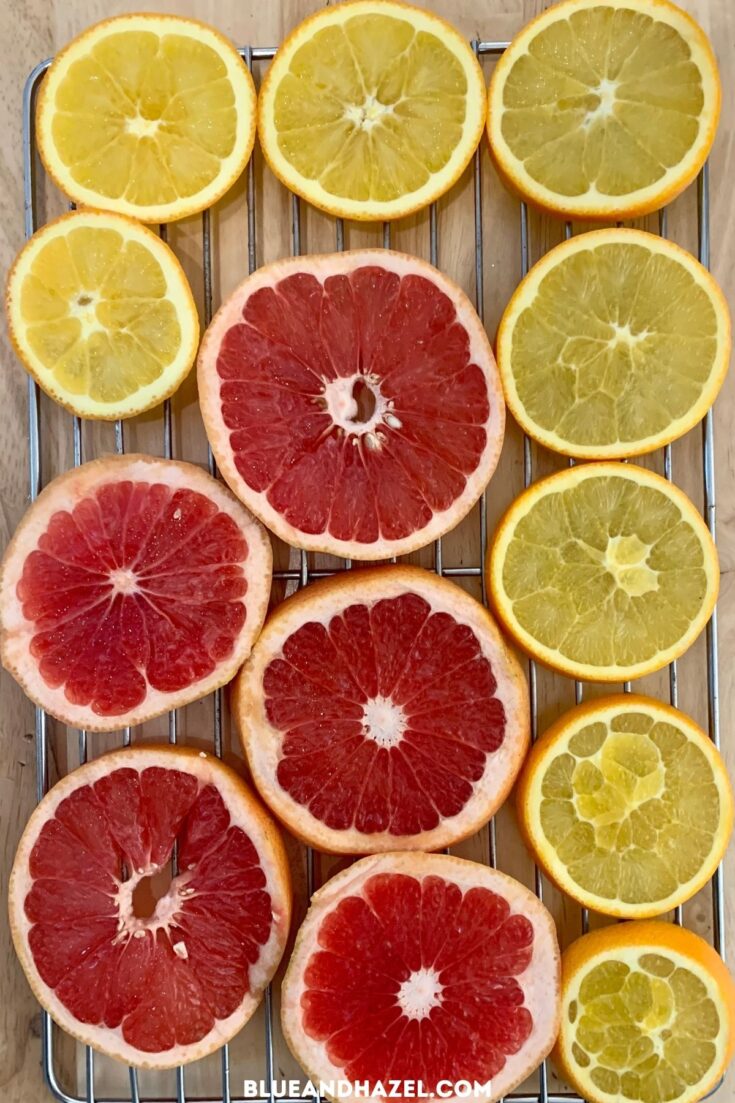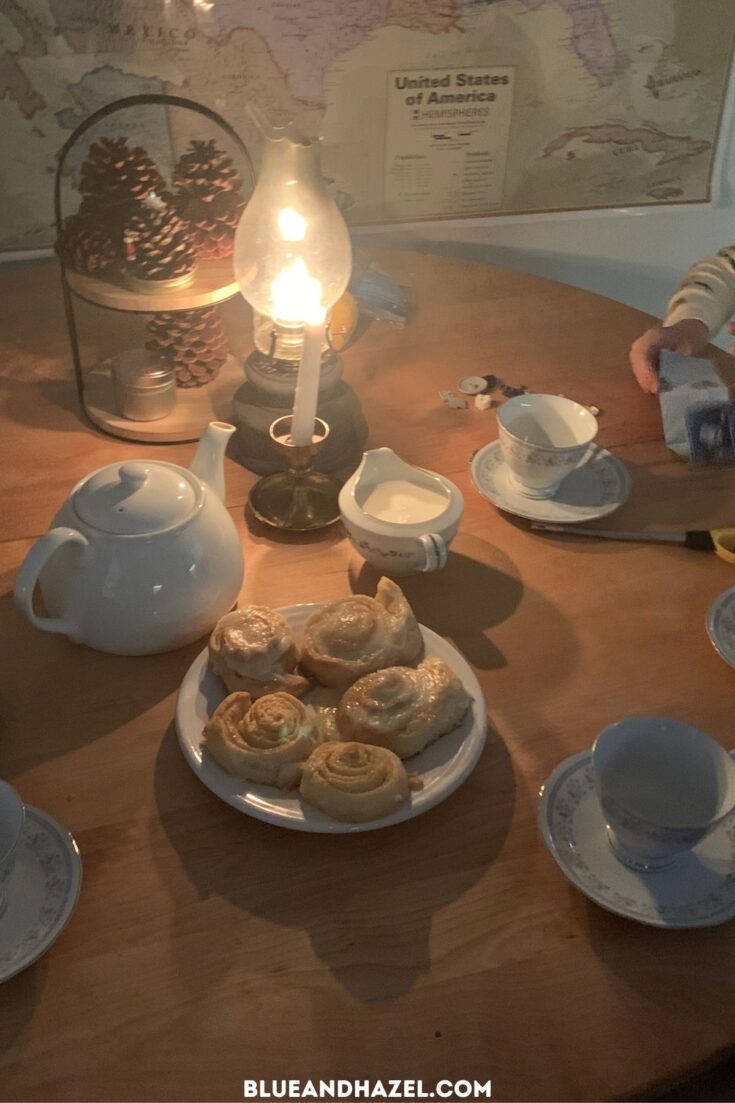 How to handle giving small gifts to someone who always gives expensive ones
This is SO hard for me. Like I want to secretly beg them not to buy me anything. Here's what I do:
I thank them, appreciate it, send them pictures when I use it. But I gift them something I can afford which often costs MUCH less money.
And I wrap it as stinking cute as possible with inexpensive add ons like chocolate.
It kind of sucks to open a really nice Nordstrom sweater and give a sugar scrub in return. Like, I'm embarrassed.
But that's me being real. Raw. Not stingy and rude. I just can't spend that much with so many people to shop for. And I hope they know, but that's not in my control.
I have to be true to my budget and my situation. I can't spend WAY more on just that person because they spend more on gifts than me.
If you do this once, then you kind of set a precedent for the next year too. I've found people actually spend less on me after a couple years of me doing homemade gifts…and I LIKE that.
What to get your spouse for Christmas on a budget
Since Christmas is way more about our kids now, we actually just don't get gifts for each other. There I said it.
We did when we were first married, but it's an easy way to save $50-$100 on a somewhat obligatory gift exchange.
I did still make my husband a little list of thing's I'd love to wake up to in my stocking. Things like favorite drinks, gum, and a new set of earrings or something. He forgot my stocking our first year doing Christmas just our family and I about died inside. Now he kind of goes all out in my Christmas stocking which I think is very sweet.
Wives…and husbands…help your spouse by telling them what is important to you 😉 Set them up for success!
I'd actually rather him give me some time to myself as a gift. Husbands if you are reading this, that's the BEST gift you can give a tired mom.
Christmas Shopping Tips On A Budget
1. Stop here and sign up for Rakuten!
Rakuten is a gem I found a few years ago back when it was Ebates, and all you have to do is sign up and install the button.
Then shop like you normally would and click the "Activate Rakuten" button that will pop up in the corner of your screen to earn cash back (anywhere from 1%-25% usually, and insane deals around the holidays and Black Friday).
Get $10 cash back after you use it for the first time. Feel free to read how I've been paid over $500 cash back in my post: How Rakuten works to save you money
2. Here's where to get NEW Christmas gifts half off or better
My favorite site I check before buying anything is called Vipon. This is Amazon's discount site where everything is 50% off or better.
Basically sellers can offer discount codes here hoping that you will become a repeat customer or tell others, but there is absolutely no obligation.
It's the perfect place to save money on NEW gifts in every category. They always have an impressive selection of toys, kitchen gadgets, electronics, and random stuff. Snagshout is another site we use a lot, and it works just like Vipon.
Where to find nice USED toys and gifts
The hard part about finding used things is that you usually can't find "the item" someone has on their wish list. This isn't a big deal with little kids, but for older kids it may be worth doing one nice present and hunting for a good deal. We get used gifts from:
Thrift Stores
Ebay
Mercari (my personal favorite for kid's toys and clothes)
Garage Sales
Facebook Buy Nothing Pages. Search your city or neighborhood with the terms "buy nothing". It's a common thing in many cities!
What Christmas gifts to thrift
I know some people are repulsed at thrift stores and gifting used things (for family), but I challenge you to ask why. There are certain people I wouldn't buy used gifts for, but many I know that wouldn't mind depending on the item and it's condition.
Ya 75% of thrifted stuff is junky, but there are gems there that you could gift that look nice IF cleaned and packaged correctly. Ideas:
Unique pottery coffee mugs
Real tea sets (would be an awesome kid gift)
Toys
Cool art
Quality shirts (we've found a few Patagonia items at Goodwill)
Old or classic books
New craft supplies (I see this all the time)
Board games (check for missing parts)
Journals
Dress up sets for kids
Cool plant pots (just add the plant)
Buy a few Christmas wrapping supplies and you can do wonders with the presentation.
Also, used toys for young kids just makes sense. We just found this bow and arrow for my son for $1.25 at Goodwill, and he is happy as ever but we could not have justified buying it new on our budget.
I also got a huge lot of used Calico Critters on Ebay for my 6 year old for WAY cheaper.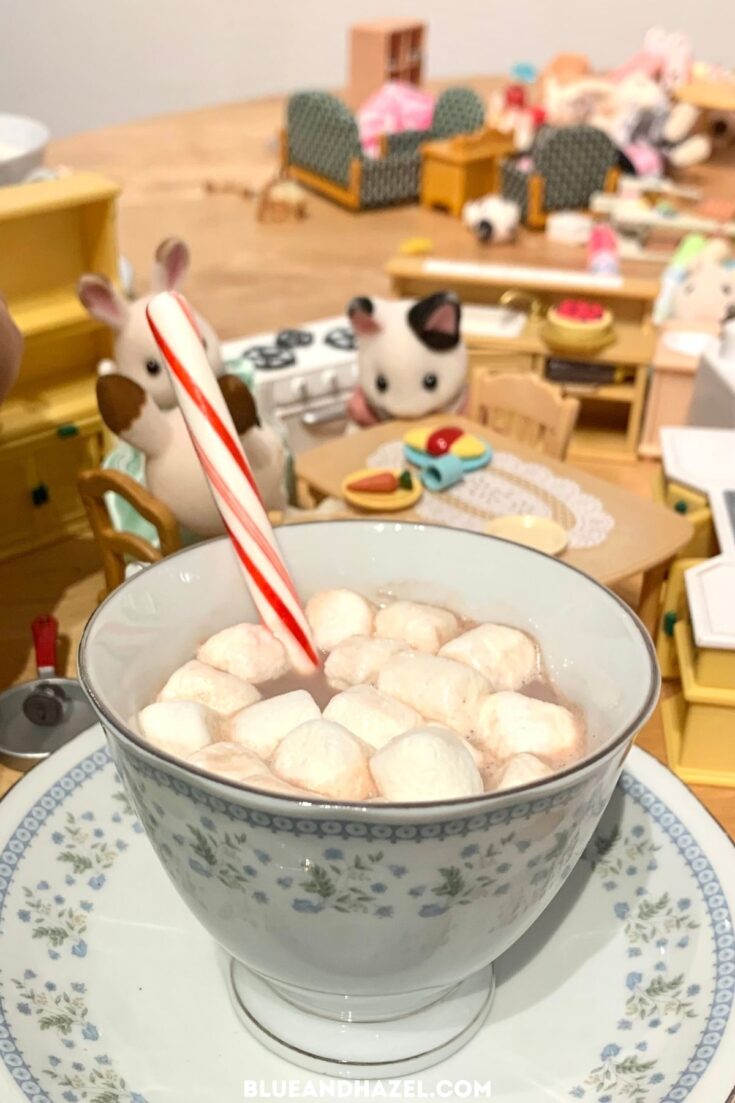 Remember my budget is not yours, so don't feel bad if you can afford more and want to spend more on gifts than I do!
Keep a hidden Christmas present bin all year
My mother in law does this (she has 12 kids so it's just smart)! You can alleviate the stress of spending so much all in December by finding deals year round.
She even snags bags of clearance M&M's from whatever holiday passes for the next holiday…for example Thanksgiving colored half price candy used for Christmas stockings.
A system like this with a few kid items has come in handy for us when someone invites us to a birthday party too. Then you can quickly grab something from the bin.
Shop the week after Christmas for clearance…if you can store gifts for a year
Not my idea of restful, and I simply don't have space to store gifts…but o my goodness everything is like 75-90% off!
A few years ago I was 100% unprepared for Christmas and hadn't gotten any gifts for my side of the family at all…and we were on our way there. I'm stressed just remembering this.
We left my husband's family December 26th to go to mine, and stopped to get gifts at World Market on the way.
I left thinking, why don't we start celebrating this holiday a few days later than everyone and save a ton of money?
Probably never going to do that though. But I knew a family that did! I bet they enjoyed the lack of stress not going over their budget for gifts!
Trade services if you can
I have my own Mary Kay business that is mostly for personal use, and one year I traded one of my customers for her homemade sugar scrubs. We traded and I used them as gifts that year! We both saved money that way.
If you have a service or product to sell, ask around on some of your Facebook groups or at church or work to see if anyone sells something and would be interested in trading!
Homemade Christmas gifts we have made when we were broke
On the years we have been unable to buy everyone presents, we have gotten on Pinterest and figured out what the heck we could possibly make. Ya, this kind of sucks because it takes WAY more time. And some people won't appreciate the thought as much as others.
But, I will say, it's also super special.
We have given:
Homemade candles ( A surprisingly HUGE hit). I bought used pillar candles at a thrift stores and melted them together in a junky pot. Then I bought a pillar candle mold, a roll of candle wicks, and candle mold sealers to keep the wet wax from falling through the hole. That way I didn't need to find and clean 15 glass containers! You can also skip used candles and just buy bulk wax nibs. Leave a comment below if you'd like a post on how to make candles and I'll write one!
Homemade fudge in cute boxes (A total drag because my whole family was on a diet that year, apparently) and I'm pretty sure no one was excited to get that, although everyone did say thank you. O well.
Homemade infinity scarves. This was my intro to sewing project and I think I made like 6? Everyone was really sweet buuuut, I don't think they looked THAT great. That's what we call a good try, haha.
Handmade cutting boards. Anything crafted from wood is AMAZING! My dad let us use his shop and scrap wood he had. Everyone loved these. I still use mine years later and this is how we clean them when they get stinky.
Sugar scrub: Just takes sugar, oil, soap, and essential oil for scent. Much of this is in the packaging. You could wrap one jar and easily add an inexpensive loofa, white hand towel set, or chocolate.
How to save extra money during the year for a Christmas fund
Do a no spend month to save money for Christmas
If you are terrible at budgeting but want a quick way to save an extra $100+ a month for Christmas, try doing a no spend month! We do this when we need to save money and always end up saving at least $200-$300.
Basically we just buy gas and groceries for a month plus bills. No eating out, no trips, no clothes, no babysitters. Here's how we did a no spend month.
Sell some of your kid's toys…or any of your stuff.
Did you know people are looking a couple months before Christmas for gifts, and for sure the whole month of December?
List any toys you could get rid of and use the extra cash for gifts. Local Facebook groups are great for this or Facebook Marketplace.
When I thought we'd be moving…I got serious about selling on Facebook. I sold toys, tons of my clothes and shoes, kid's clothing, extra strollers we hadn't gotten rid of, and made close to $800. It takes TIME to list and sell, which sucks. But…if you have more time than money…someone may pay you to get rid of your stuff.
Here's how I found things to flip on Craigslist to make some extra cash.
Make an extra $100-$200 for Christmas gifts through Website Usability Testing
I'm hugely thankful that I found website usability testing. Through a company called User Testing, I gave my opinion on sites for Nordstrom, Target, Best Buy, and tons of others.
It was easy, I could do it on my own time when the kids were in bed, and it paid $10 for 20 minutes of my time (paid exactly 7 days after I did the work, via PayPal).
They want to know how customers might think, what might make them click away, and they are willing to pay for it. One 20 minute test a day would be $300 extra in your pocket every month! Here's my full post on how to make money doing website usability testing.
Can you host Christmas dinner on a budget?
You can be generous on Christmas without going broke!
I grew up pretty spoiled with a Prime Rib Roast for dinner…expensive wines, cheese platters, smoked salmon appetizers and such…but we can't afford that right now. And we've hosted Christmas dinner here for the last 5 years or so. We've hosted families, and also single people in residency who don't have family around.
There are two really important things to consider if you're hosting on a tight dollar limit.
Hospitality is not the same thing as entertaining.
You can host Christmas dinner on a budget.
Hospitality is how you make people feel at your table. Do they feel welcome? Is there food and drink to share? Or are you overspending and feeling resentful? People may not remember what you fed them. They WILL remember how they felt at your home.
Here's what we've generally done when we are hosting Christmas dinner but can't spend lots of money.
Skip the alcohol. People can bring it, and if they ask what to bring you can let them know they can help out with drinks and dessert.
Non alcoholic bubbly: Apple cider, or some kind of bubbly makes a fancy feel and is much cheaper than alcohol.
Get a ham or turkey. These feed a crowd, are standard "holiday dinners" and taste great. Prime ribs are a treat, and you don't need to spend $50-$100 on a Christmas meat this year.
Sides are cheap. Make lots of different ones so it feels fancy. We like a spicy corn casserole, green bean casserole, boxed stuffing (easy), fruit salad, and dessert. If there's a crowd, a cheese and olive tray is fancy and special.
How do you do Christmas on a small budget?
Now it's your turn to share any tips with me. How do you budget for your family? I feel like Christmas should be a wonderful time with your family and if gifts are completely detracting from that, then it's a good sign you need to cut back.
Hope you'll share your best tips and use a few of mine for restful debt free Christmas!
Related Post:
Nature gifts for kids who love being outside
Best Christmas Gifts for 5 year old boys
Best Gifts For 3 Year Old Girls
Holiday Gift Guide For Preschoolers 2017