Do you love spending time with your kids outdoors and want to see more of it? If you need an excuse to buy your kids more outdoorsy gear, while stoking their curiosity for nature, check out my big list of nature gifts for kids who love outdoor adventures!
Some of these we own, while others are on my wish list. I'm hoping to use the holidays and birthdays as a way to mix in gifts they want with gifts I want them to have.
If being outdoors with your kids is new to you and you'd like to learn more together, check out how we loosely do nature study as a family.
You can also look over this huge list of FREE nature study resources for all 50 states.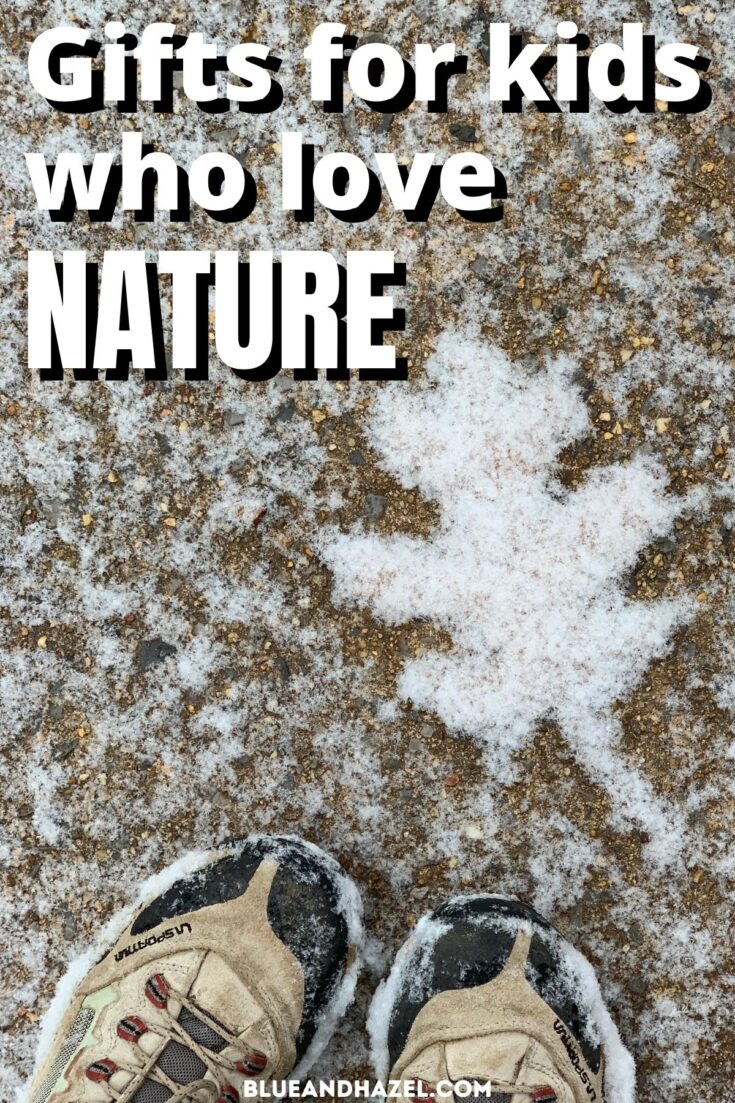 Gifts for kids to use on the trail
Life Straw: I got this for my son when we was 7 and it was a hit! We took it to a lake and he was able to carry it around his neck and try it out at the lake's edge.
It made me nervous, but when used properly (like don't let the mouth part touch the yucky water)…it really filters out all the bad stuff that can make you sick.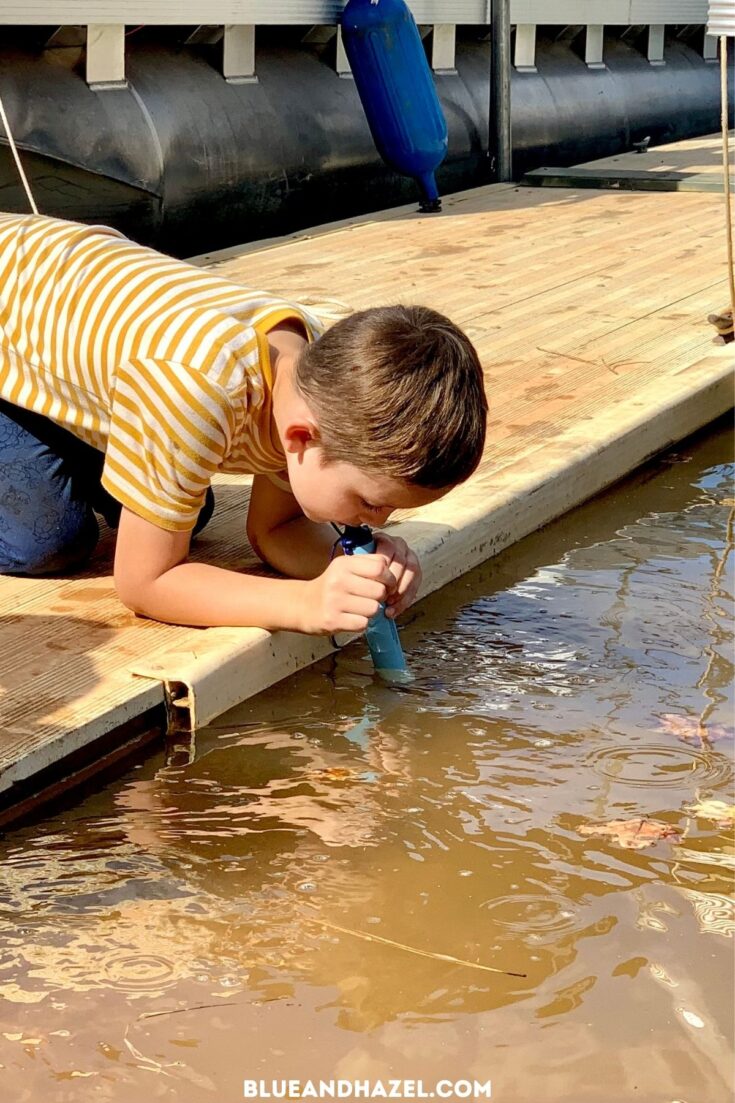 Compass: Small and comes with a lanyard to attach it to your backpack or pant pocket. This is what I'll be getting my 2nd grader this year so we can practice using a compass in the woods.
Binoculars We have this in 3 different colors, one for each kid. I will say my 4 year old can't really use these yet. He doesn't know how to adjust the knob to focus it. But it's perfect for my 6 and 8 year old trying to see birds from trees across the street!
Kid's Backpack: I got 3 of these in 3 colors for our cross country flight with the kids. It's as lightweight as they come, and super easy to clean!
It was one of the least expensive options with great reviews on zipper strength/not breaking over time. I have to say we've over stuffed ours to the max a lot for trips and these zippers get my thumbs up.
It's straps easily adjust for our 3, 5, and 7 year old, can carry a small water bottle on the sides. There are two main pockets. It's big enough to carry a nature journal.
Ours below are WAY too stuffed as they each carried a small blanket…but on the trails these are small, light, easy to clean, and hold a snack/some treasures.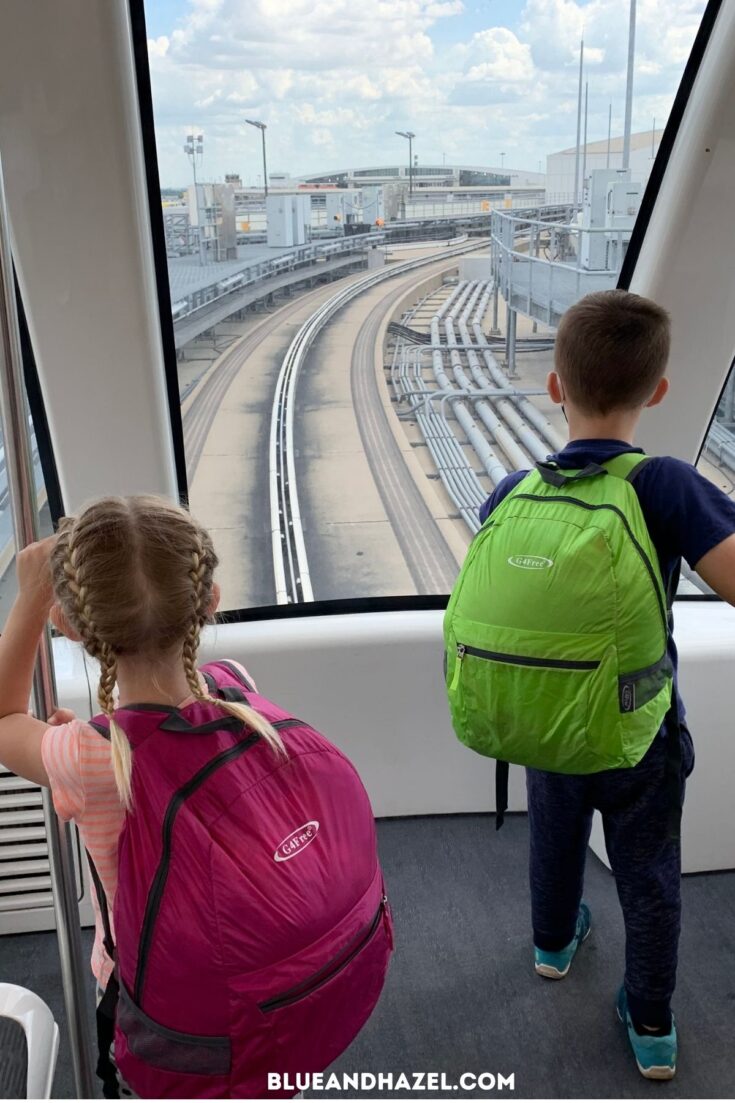 Rain Suits: I don't own any but know several families that just keep these in the mud room and their kids can slip into them and stay totally dry if it's wet or drizzly outside.
Hand warmers We enjoy leaving some of these in the car so during the winter! Makes it easy to warm hands outdoors. This is a pack of 10, but you can also get a larger case.
Wool Socks: These printed animal socks are about half wool, and since it's a 6 pack with 6 diff designs you could split these up as stocking stuffers for your whole crew of kids. There's dinosaur, unicorn, farm animal, snowflake…and lots more prints.
Knot Tying Waterproof Cards : I got my kids these. They're small, and can be used anywhere! Keep them in the car or take them with you outside to practice knots. Comes with 23 waterproof cards and a carabiner plus some rope to practice.
Nature handicraft gift making ideas
Bees honeycomb candle kit for kids: This kit comes with 10 colorful sheets of beeswax (8 inches tall x 16inches for rolling) plus the wax. This would be a fun activity to do during the winter or as you study bees with your kids!
This is a recommended activity for bee week in our nature curriculum Exploring Nature With Children.
Honey Sticks:This pack comes with 50 honey sticks, in 5 flavors (cinnamon, orange, lemon, ginger, and classic clover honey). An edible gift, you could use these for tea time, studying bees, or as stocking stuffers. A few of these with a bundle of herbal teas would make a great small gift!
Swiss Army Knife Whittling Book:If your older child has safely learned to handle a pocket knife…and has moved beyond ivory soap to wood, this book is filled with 43 beginner hand made wooden creatures and small wooden projects.
The Organic Artist For Kids: This book helps you make your own art supplies found in nature. Things like making pens and wild ink, crafting your own paintbrushes, rock painting ideas, and making simple stencils and rubbings from nature. Each project has a difficulty rating so you'll know which age of kids will need your help or not.
254 Piece needle felt kit for beginners: This would be for your older kids and need supervision with some of the tools, but it has a bunch of small color wool bits, lots of tools, and a case to keep it all together.
Yarn for finger knitting: If you have any yarn at home, you can learn to finger knit with your kids. This isn't exactly a "nature" project, but it can be done anywhere and with natural materials. Here's how to do an easy 1 loop finger knit.
Exploring Nature At Home
Rock Tumbler: A highlight for me as a kid, this was part magical. This one by National Geographic is a 3lb capacity. Smaller ones are available too.
DIY Organic Herb Growing Kit: Comes with everything you need for growing 5 organic herbs! Basil, cilantro, thyme, parsley, and sage. Your kids will have fun making this, and you'll be able to show them how you use it cooking. Win win!
Magnifying Glass: This 2 pack made with real glass is what we have. It's SO much better than the cheap big ones made of plastic. Side note…we taught my son to make fires with this using energy from the son. It's his favorite!
Colorful fire powder: This would make a GREAT gift to your little pyro. My husband got these packets to put in our outdoor fire bowl one night and it was SO fun! Flames went blue and green and purple.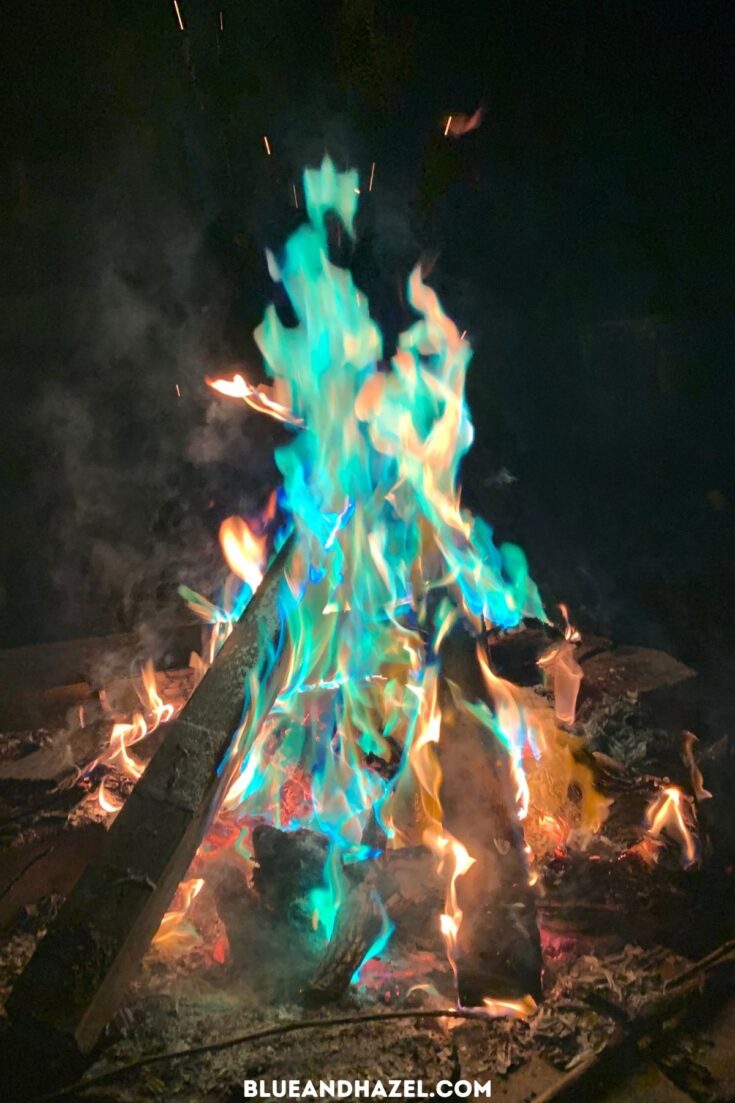 The only downside was we went through most of the packets in one night. You'll need to use like 4-5 packs to get a big bunch of color that lasts longer than a few minutes.
I want to say my husband used the whole case of 12 packets and it provided around 30 minutes of color. If you choose to do one packet, it will still be magical but will only last a few minutes.
Butterfly kit plus voucher for caterpillar cup:We did this one year and it was one of the highlights of our nature study. We watched the caterpillars grow noticably every day, and waited and watched while they created a chrysallis and hatched into a butterfly!
Note when you release…we had a bird swoop down and gobble on of ours…so be prepared for your kids to really learn about the food chain here! Here's one our butterflies we released.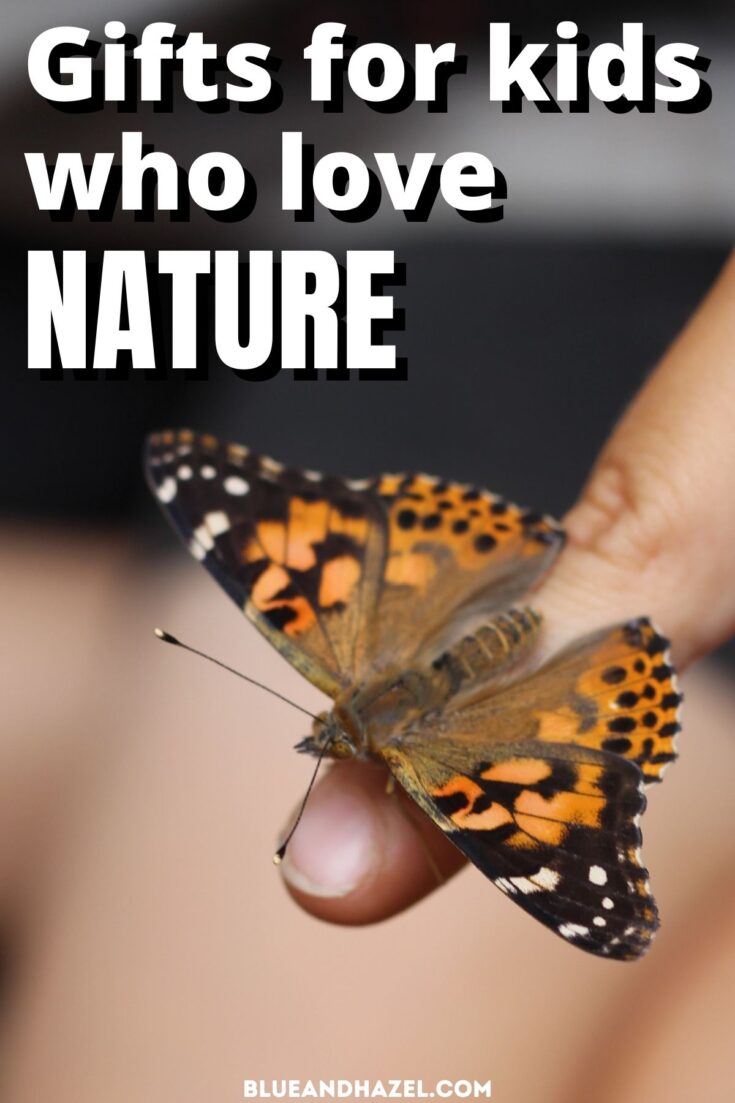 Display shelf for nature finds: This might be a "not very exciting gift" to open. But if each of your kiddos can have one of these or be in charge of arranging their nature finds on it…they'll have a mission to keep an eye out for cool stuff on your nature walks.
You can swap things out seasonally or as you find new things. I'm in desperate need of something like this as we have a wall shelf full of cool seeds, dried bugs, and pretty rocks but no way to showcase them yet. I keep hoping to find a second hand one but no luck so far.
Sticker by number nature books: My 6 and 8 year old love these…even my non crafty boy did a couple just for fun. They especially liked doing the ocean themed sheets.
Nature subscription gifts
Lily and Thistle Nature's Art Club: Gift one month of one year of watercolor classes to do at your own pace. Nature's Art Club focuses on just nature, but her other courses actually have a ton of nature in them too.
I love these and it's what we use in our home to learn watercolors. We're able to print out the picture, trace over it with watercolor paper on a window, and then do the step by step colors…pressing the spacebar for pause often ;-).
Try this free backyard bird tutorial to see of glimpse of Hanna's teaching style! I'm having my kids go through it and am loving the keepsakes and time spent together doing this.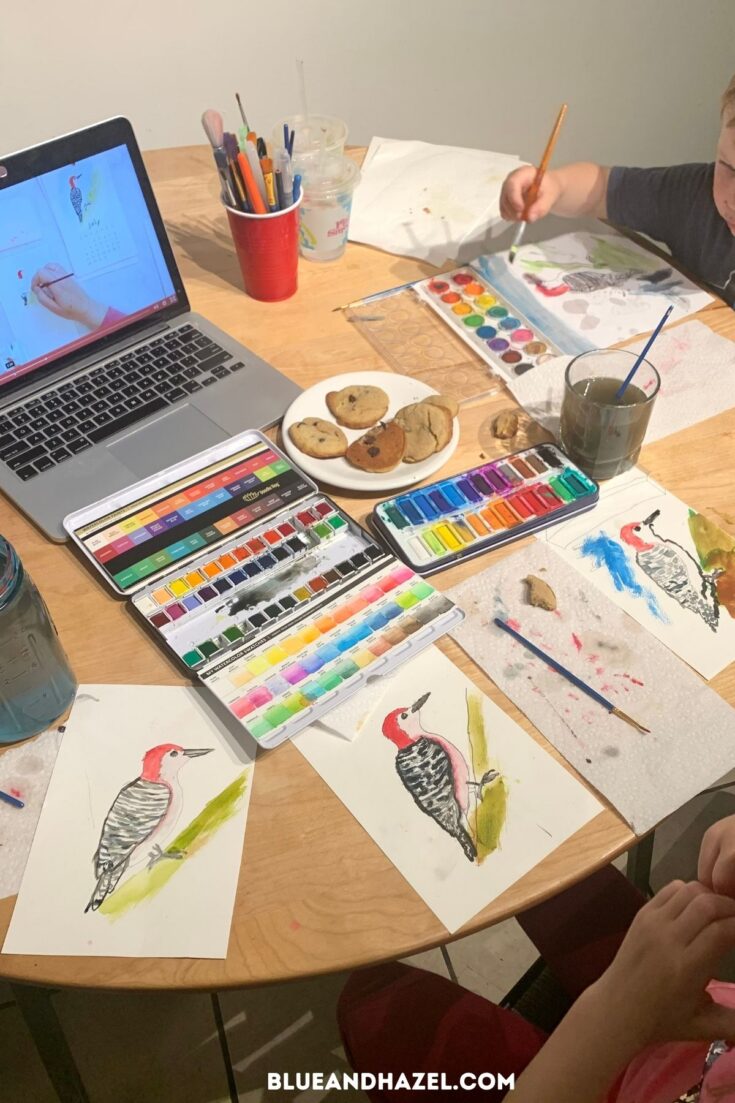 Watercolors and Watercolor Paper: We use this set of 36 watercolors and it's has vibrant high quality color with lots of shades, which means less mixing for you. I love that it has a sheet for putting a sample of each color (in order) so you can see the true color once on white paper.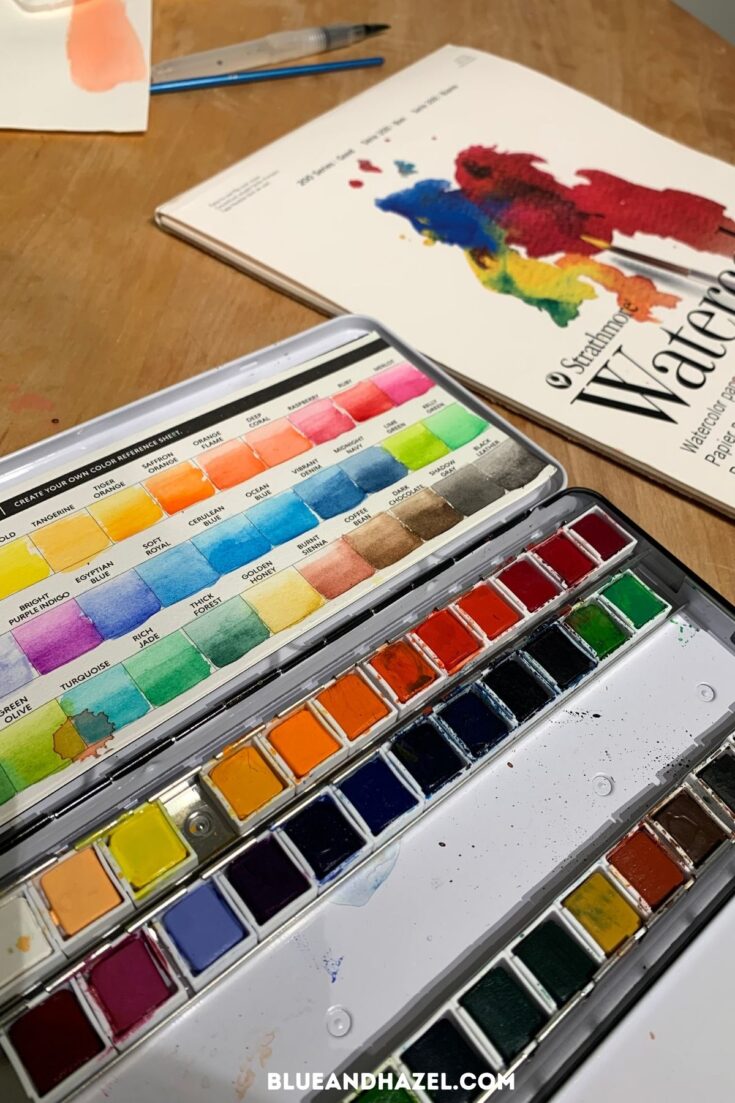 Here's a smaller travel sized one (great for starting with nature colors…lots of greens/browns/yellow/orange/blues.
Wild Explorers Club membership: $16/month and includes a print magazine in the mail, field guide and sticker book for each animal level, weekly adventure assignment and video, a patch when you begin and new embroidered patch after you complete each level. Only ships to US and Canada.
Gifts for kids learning how to fish and for kids who love water
Children's beginner fishing set with pole, tackle box, and hooks.
Power Bait: Great stocking stuffer or to compliment your tackle box and fishing hooks!
My Awesome Guide To Freshwater Fishing: This is what I'm hoping to gift my son as he wants to learn how to fish and my husband and I are not fishermen. I recently met an incredible fisherman who told me he learned how to fish as a kid by initially reading books on fishing. So I'm inspired that we can learn together and then enjoy going to try it out together!
A kid's kayak with oar: This is on my wish list once we can get to water more often. I had a friend in our Wild and Free nature group bring one just like this several times to a group swimming area. I like it because it's sturdy and can't pop!
It was THE ACTIVITY every time, (for all 3 hours) we were together. There were usually 3 kids on top, with someone swimming alongside pushing it or hanging on for a free ride.
Camping gifts for kids
Fire starter tool: My 7 year old got one of these for Christmas from an aunty and I told my husband that it's probably the coolest gift he's gotten to date. He couldn't put it down and was able to start our fire pit fires. I'd only get one of these when your child is old enough to be very responsible around fire though. We had to set some rules for when and where it could be used.
Hammock: My friend brought this once to the creek and just hung out on it while the kids played by the sandy edge. It folds up small and comes with the carabiners needed to use it. Kids would love it too I'm sure!
Knot tying kit for kids: This has 6 waterproof cards (23 knots) and comes with practice rope. Comes with a carabiner to attach to a backpack or just to hold the cards together.
Games that teach you more about nature
Bug bingo: This has been a hit at our house, especially with the younger 4 and 6 year old. It's so cute seeing the get excited about matching the pictures and calling out the names with me. They can play this on their own too just by matching the pictures. I prefer the bird bingo, and there's an ocean bingo and dinosaur bingo too.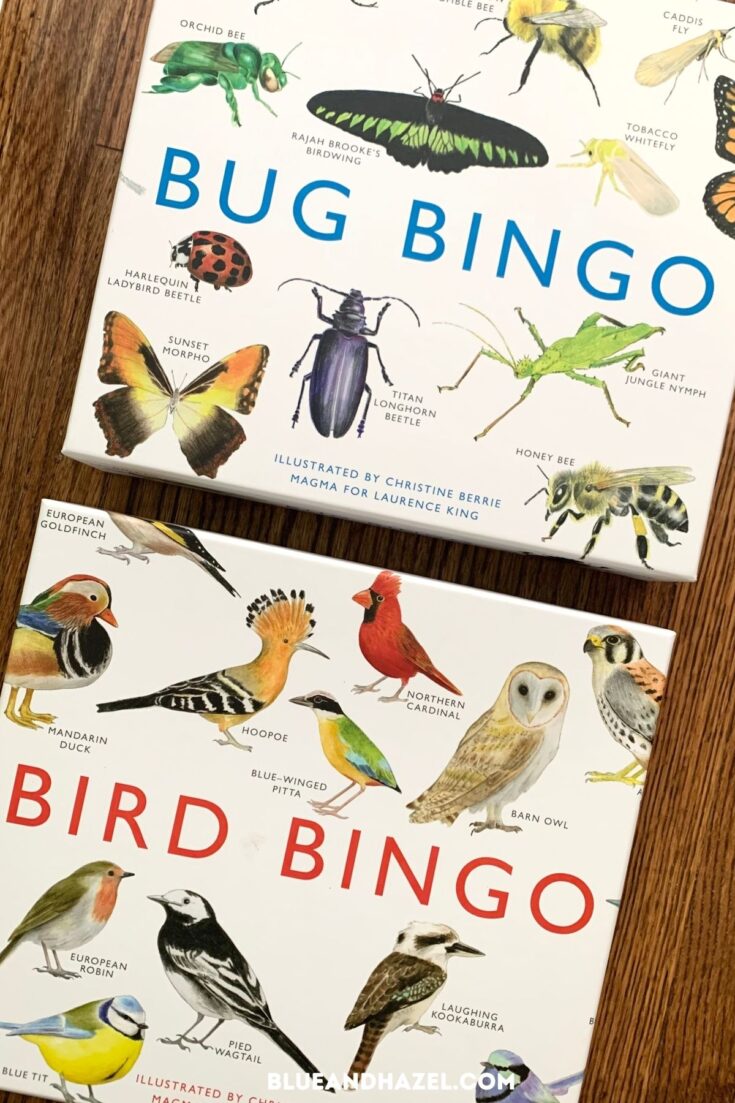 National Parks Game: This one is popular amongst homeschool gameschoolers. We were gifted this by grandparents and can't wait to try it out. I think it helps you learn little facts about each park and where they are located.
Gemstone Puzzle: We got ours from Target and my 6.5 and 8 year old could do it. I don't think they would have 100% on their own if I didn't enjoy sitting down with them too. But after a while they began to sit down on their own and find a few here and there without me!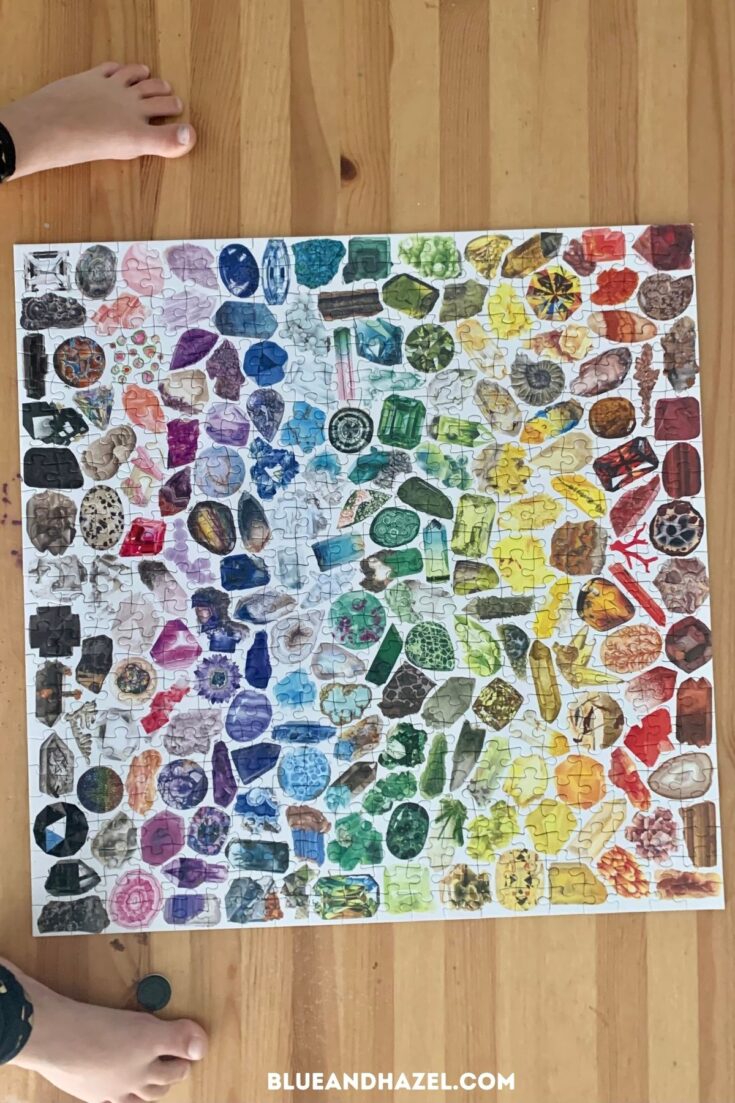 Books and field guides for kids to learn more about nature
My Book Of Rocks And Minerals: Someone recommended this book to me and it has awesome reviews! My 6 and 8 year old have begun to collect pretty rocks they find which seems the perfect time to start identifying some.
Rocks and Minerals in Washington and Oregon: This is just one example. But you can find a local field guide for every state, so that your kids can begin to learn about the rocks they actually find at parks and in your yard!
Bear Grylls Survival Books (or dvd sets): My son read all of these from the library when he was 7, and I plan to own them someday when we have room for a library! They are so good. He learned so many things. Each book has a challenge (like surviving the desert, blizzard, sea, jungle, mountain, river, etc.)
We also love the DVD's with Bear Grylls…anything really. Search for his DVD's at your library.
Kid's practical guide to wilderness survival: These skills will be a fun way to connect with your kids in nature and teach them valuable skills!
More nature posts for you to enjoy
Mega List of FREE nature curriculum for all 50 states
Digging for shark teeth at Shark Tooth Creek
Our homeschool nature study curriculum for elementary
More gift guides
Useful gifts for homeschool moms