Did you know that pretty much all 50 US states have programs that provide free nature based learning activities online? All of these state based conservation programs want to connect kids and adults with nature, and many of them have some kind of free nature study curriculum or nature based activity you can download online!
When we started our nature study curriculum 3 years ago, I began to see the benefits of learning what's in my area alongside my kids. But I had no idea how many free local resources are available too!
You have to do a little digging and know what to google to find it though. I've tried to do the hard work for you by creating a master list of free nature curriculum resources for all 50 states. I hope this helps you enjoy nature study at home, utilize your state parks, and find some local treasures!
If you find this article helpful, please share to Pinterest or Facebook as a bookmark resource for your nature study!
How to find more free nature based learning activities
Before we get going, I want to teach you what words to search for if you wan't to do more digging. You'll likely find additional free nature curriculum for your state!
Just google your state + one of these:
state park + your state
fish and wildlife + your state
fish and game + your state
national park service (nps) + your state
department of agriculture + your state
forest service + your state
Audubon + your state
Department of Conservation Teacher Resources + your state
environmental education + your state
From there, you'll want to look for tabs on their website such as education, learning resources, teaching resources, for kids, etc.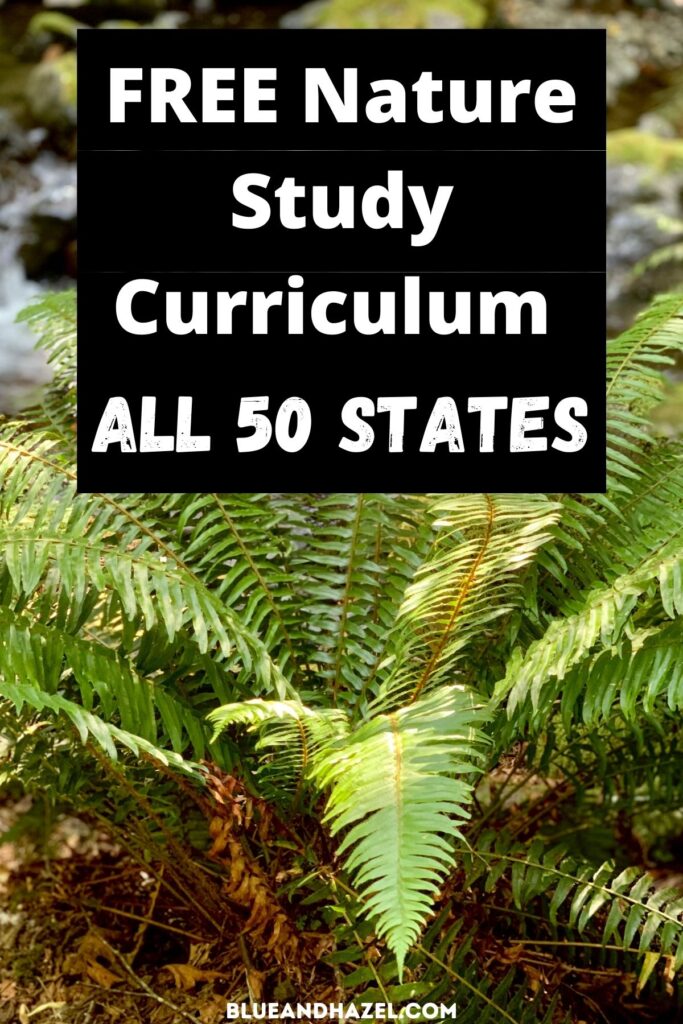 This is by no means an exhaustive list, as I haven't found it all. Before we get to the list of free nature curriculum by STATE, I'll show you some free nature resources that are applicable to everyone!
National Park Service
This is a HUGE website and I'll show you how you can easily find free park specific curriculum materials if you
Go to the main page of the NPS website.
Find your state.
Find a national park or national monument listed in your state. Click that one.
On the black menu bar, hover over "Learn about the park"
Hover over "Parks as Classrooms" and click on "Curriculum Materials"
Not every park or monument in your state will have curriculum to download here, but most do! If it doesn't, go back and try another park in your state and follow the above.
This is also where you'll get access to the Jr. Ranger program.
Jr. Ranger Programs across the U.S (find your region and it's programs)
The Jr. Ranger Program is for ages 5-13 to help them get excited about our national parks. They've made ways to earn badges at over 300 national parks after kids complete the workbooks. You pick up the booklets up at the park ranger station for free. You can also download them online.
They used to let you print the booklets at home, complete them, and send them in. They'd send it back with a badge.
Sadly, they are no longer processing booklets that you print online and sending back badges via mail since the pandemic. But you can still get the booklets and badges if you visit the parks.
Check out their awesome curriculum like this Jr. Cave Scientist Program to enjoy at home! (There are a lot more to choose from.)
This post explains in detail how the Jr. Ranger program works.
National Wildlife Federation Lesson Plans (over 1,000 topics and lessons free to print)
The National Wildlife Federation educational tools page is FULL of nature study resources! But not state specific. It has over 1,000 topics and lessons are free to print. You can find so much here.
US Fish and Wildlife Services: For Educators
The educational resources and curriculum here are amazing. Click through to see a topic you want materials for, and download what you like!
How to find local trails, parks, and wild areas
Discover the Forest: Wow what a cool website I wish I'd found sooner! Enter your zipcode and see the huge list of trails, parks, and natural areas to visit near you. I was so surprised to see all the ones pop up near me, around 40 all within 2 hours drive.
Only In Your State: A website where you find your state and click through to things to do specific to your area. It's filled with blog posts to help you explore, experience, and get to know your state in person. I clicked on mine and found a few treasures I'd like to add to our bucket list!
Find all the homeschool field trips to visit state by state: This huge site called The Homeschool Mom lets you select your state. From there scroll to see places in your state you can go see, with more info on each one. From state parks to historical sites, to museums, zoos, science centers, and more.
FREE park pass program for 4th graders (& their families) through August 31, 2022
Every kid outdoors is a US government program offering FREE year long park passes to 4th graders (plus their families) & 4th grade teachers (and homeschoolers) Good through August 31, 2022.
More free but less known nature study resources
Gardening for kid lessons plans: Here's a huge site all about kids gardening, with lesson plans! You can sort based on grade, location, and more.
10 free unit studies from Our Journey Westward: Animal signs, birds, clouds, creeks, erosion, fungi, ponds, rain, trees, & wildflowers. Includes interesting facts, nature walk activities, book suggestions, plus ideas for older and younger children. Very Charlotte Mason friendly.
Our Wonderful World Nature Study: 32 weeks free! So much here!
Forest Service: Teacher Resources (including PDF lessons on wildflowers, bees, bats, birds, and more)
Forest Service Color The Outdoors coloring pages
Bugs in our backyard coloring pages (25 page pdf)
Basic Fishing Handbook (36 page pdf with photos created by Alabama and Kentucky fish and wildlife)
Ok, ready to find your state?
Alabama
Alabama Wildlife: Outdoor Classroom Activities and Education Programs
Educational Bird Program: Birmingham Area
(40 birds and their pictures)
Alaska
Alaska Wildlife Federation: For Educators
Alaska Department of Fish and Game: For Educators
Jr. Ranger Activity Packs for Alaska
Arizona
Arizona Association for Environmental Education: Teacher resources for pre-k, k-12, and adult.
Focus Wild Arizona: Department of Fish and Wildlife's lesson plans you can download for free!
Arizona Game and Fish: Education themed resources
Arkansas
Free Passport Keepsake to Arkansas State Parks to document your visits.
California
Department of Conservation Educational Resources (grades k-2,3-5, 6-8, 9-12)
California Native Plant Society Free Nature Journaling Curriculum (download)
California Department of Fish and Wildlife: Learning
Colorado
Colorado Parks and Wildlife Kid's Activities
Colorado Parks and Wildlife Teacher Resources
Colorado Forest Service: Print outs for educators
Connecticut
Department of Energy and Environmental Protection Resources and Curriculum
Delaware
Delaware State Parks Blog: Programs
Delaware State Park coloring pages
Not free but worth mentioning: Delaware Nature Classes and Field Trips
Florida
Florida Fish and Wildlife Nature For Educators includes free curriculum, games, and activities for:
Archery
Jr. Hunter Safety
Manatee
Florida Black Bear
Sea Turtle
Aligator
Lionfish
Gopher Turtle
Georgia
Georgia Department of Natural Resources: Wildlife Teaching Resources
Georgia Project Wild Teacher Resource: Intro to Georgia's natural history
Georgia Forestry Commission: Student Resources
Georgia Forestry Commission: Educator Resources
Georgia Conservation: Soil and Water Conservation Lesson Plans
Guide to the Salt Marshes and Tidal Creeks (112 page pdf)
Teacher's Guide to Georgia Sandhills (136 pg pdf)
Hawaii
Division of Aquatic Resources : Education
Department of Land and Natural Resources: Teacher Resources
Division of Forestry and Wildlife: crafts, activities, and coloring pages
Idaho
Wildlife Express: A monthly newsletter made for elementary kids with matching activities. All past issues available to download too!
Parks and Rec Teacher Resources
Idaho Fish and Game Education Page
Illinois
Illinois Department of Natural Resources (kids and education page)
Available field trips by region
Indiana
Family nature clubs in Indiana
DNR kids page + local animals and plants info
Native Plant Workbook (free pdf)
Indiana Recycling Coalition (tons of resources, videos, games, and downloads)
Nature Learning Activities by Keep Indianapolis Beautiful Inc.
Iowa
Iowa Department of Natural Resources (Classroom Resources). Lots of activity pdf pages at the bottom of the page.
Kansas
Department of Wildlife and Parks Educational Resources
On TRACKS: Printable Activity Packs…they are from 1990's to 2014 but free to download and full of info and activities for kids!
Nature's Notebook for Kansas: 327 page pdf download! It's a compilation of the Education section of the Kansas
Wildlife and Parks magazine "Nature's Notebook" started back in 1986. This would be an incredible resource for your nature study if you live in Kansas!
Kentucky
Kentucky Department of Fish and Wildlife Distance Learning Resources
Kentucky Department of Fish and Wildlife: Educators and Parents page including:
Kentucky Snakes (36 page pdf)
(22 page pdf with coloring pages)
Louisiana
Louisiana Wildlife and Fisheries Outdoor Education At Home
Louisiana Aquatic Education: Teacher Resources
Coastal Wetlands educational links
Coastal Wetlands curriculum links
Louisiana Environmental Education: teacher resources
Environmental Protection Agency: Wetlands Education for students and teachers
Maine
Department of Agriculture, Conservation, and Forestry Educational Resources
Maryland
Department of Natural Resources Maryland: Educators
Maryland Agricultural Resources Council Curriculum Guides
Massachusetts
Mass Autobahn Teaching Units for Early Education
Pocket guide to MA animal tracks pdf
Michigan
Michigan Department of Natural Resources: Wildlife classroom curriculum and free activities for k-12
Big list of Activities and Fact Sheets for Michigan through Project Wild
Natural and Historical Resources for home
Nature At School: LIVE 30 minute virtual lessons on tons of topics. You must register for your class of interest.
Michigan Project Learning Tree: an environmental education program for teachers and home educators grade pre-k through 12. You can attend a workshop to get materials and guides.
Minnesota
Minnesota Department of Natural Resources Wildlife Education
Jane Goodall Environmental Sciences Academy
Mississippi
Mississippi National Parks Services: Teacher Guides
United States Department of Agriculture for kids: Lessons, free downloads, coloring pages,
Mississippi Forestry Kid's Connection
Missouri
Missouri Department of Conservation Teacher's Portal: Create a free account to download materials.
Montana
Montana Autobahn Educational Resources
USDA Montana (tons and tons of pdf files for nature study for elementary aged kids)
Indian Education Lessons Montana Fish, Wildlife, and Parks: Each lesson focuses on
one of Montana's state parks and the tribe who historically (or presently) use
that area and its resources.
Nebraska
Nebraska Game & Parks Project Wild Curriculum Guides
Outdoor Nebraska: Nature lesson plans and activities
Wildlife Education Trunk: Available at several places around the state and free to check out for 2 weeks. Trunks include hands on educational materials for homeschoolers or classrooms with things like field guides, activities, skulls, feathers, etc. See a full description of what's in each trunk! (mammals, birds, lifecycle, prairie, and more)
Free Trails Tales Magazine: Receive a year's worth (4 issues) of complimentary magazines with activities and pictures…designed for 4th graders. School teacher's can get 1 for each of their students in the classroom, and it looks like homeschoolers can too if you call the number.
Nevada
Friends of Nevada Wilderness Kid's corner
Nevada Department of Wildlife Kid's page: Download an A-Z wildlife coloring book with info on each animal.
Nevada State Parks activity downloads for kids: (Arts and crafts, word games, scavenger hunt, nature observation guides, and more) Plus Free discovery pass for all 5th graders and their families to Nevada state parks!
New Hampshire
New Hampshire Fish and Game free curriculum kits
New Hampshire guide to Invasive Species
New Jersey
New Jersey Department of Environmental Protection : SEEDS (tons and tons of activities and free downloads on this site!)
New Mexico
Lower Rio Grande Bosque Curriculum Guides & Activities (tons of free downloads here)
Bitter Water, Bottomless Lakes Curriculum Guides & Activities
NM Museum of Natural History Education Page
New Mexico Game and Fish Educational Resources and Kid's Activities
New Mexico Wildlife Guides, Coloring Books, and free trunks to borrow
New York
New York Department of Environmental Conservation: Educational Lesson Plans
North Carolina
North Carolina Forestry Association Educational Materials
North Carolina State Parks Educator Resources
Nature at Home videos: Discover your state parks through videos at home with park rangers
Schedule a field trip to your state park
Big list of TRACK trails: Fun hikes for kids
North Dakota
Habitats of North Dakota for (for k-12 educators)
Ohio
Ohio Department of Natural Resources
Ohio "Rocks" educational program ( Ohio's geology)
Wildlife Educational Resources pdfs
Oklahoma
Oklahoma Outdoor Ranger Packet
Environmental Resource Guide: (a 53 page guide of all the programs in Oklahoma, what's available to the public and teachers, plus contact emails and links)
Oregon
Pennsylvania
Pennsylvania Conservation Opportunities
Rhode Island
HUGE list of wildlife resources in RI (pdf downloads)
60 page RI wildflower coloring book pdf
Audobahn of RI home activities and pdfs
South Carolina
Downloadable field guide to the Southern Piedmont
South Carolina Department of Natural Resources: Educator Resources
South Dakota
National Park Service: Badlands Curriculum Materials
South Dakota's Conservation District Activities for kids
Tennessee
Tennessee Wildlife Resources Activity Book (28 pages)
Tennessee Backyard Bingo Printable
Tennessee Streamside Bingo Printable
Tennessee Dept of Wildlife & Conservation Activity Book (40 pages)
Texas
Texas Parks and Wildlife Educational Resources
Texas Parks and Wildlife Activities and Lessons
Texas Land Conservancy:Connecting kids and nature
Utah
Division of Wildlife Resources: Activities
Natural History Museum of Utah: Teaching Resources
Vermont
Vermont Institute of Natural Sciences: Educator Resources
Department of Environmental Conservation: Geology Resources
Lake Champion Educational Materials
A sap to syrup manual: (114 pg pdf)
Maple Syrup Curriculum for several age ranges
Virginia
Virginia DWR Resources for teachers
Virginia State Parks: Your Backyard Classrooms
Washington
WA Homeschool Educational Resources (activities, printable activity books, and full lessons on birding, bees, backyard, oceans, invasive species, baby wildlife, and more.)
NAME (Northwest Aquatic and Marine Educators) teaching resources
Department of natural resources for kids activity page
Junior Ranger activities & youth programs
West Virginia
West Virginia DNR Classroom Resources
Wisconsin
Department of Natural Resources Education and Learning: Nature programs, downloadable free nature discovery kits.
Wisconsin Explorer Program: Free booklets to print for ages 3-5, 6-8, and 9+. Fill out the form and collect all 9 patches (1 per year).
University of Wisconsin k-12 Energy Education Program: Tons of free unit studies to download and print based on age.
LEAF University of Wisconsin k-12 Forestry Education Program
LEAF University of Wisconsin urban forestry k-12 lesson guide
Environmental Education in Wisconsin Teacher Resources
Wyoming
Wyoming Game and Fish Educational Resources
Wyoming 4H Natural Resource Education (click through to the topic you're interested in to see free pdf downloads.)
Wyoming Department of Education Native American educational resources