If you're new here, I'm Liz! I was first introduced to Exploring Nature With Children when my oldest was in Kindergarten through a nature co-op. We've used it several years since and It's changed our homeschool experience. I want to show you how easy nature study can be with no prior experience needed!
All you need is the willingness to learn, and a commitment to leave your house once in a while and look at the ground beneath you.
Ok, shall we?
You don't have to be a nature expert or enthusiast to benefit from being outdoors
When I began homeschooling, I knew practically nothing of nature (or should I say nothing practical 😉 ). It wasn't part of how I grew up, and at the time I had little interest in the outdoor world around me.
After all, there's a lot to know and nature can be intimidating and even dangerous!
As I was researching and learning about homeschool styles… the term "Charlotte Mason" came up and so did the importance of nature study and spending time outdoors. That's a big part of the Charlotte Mason homeschool world. She also encourages starting a Calendar Of Firsts for nature study.
But how could I teach my kids about nature when I knew so little?
Curriculum helps, yes. But the main ingredient is experiencing it. Feeling the moss as you pull it off a log. Seeing the leaf cutter ants working. Matching the bird calls to the correct type of bird.
Just read through some posts on this amazing blog called 1000 Hours Outside. It motivated me to give my kids a childhood similar to this.
I would say giving my kids MORE play time and MORE time outside is one of the main reasons I decided to homeschool when i was considering the pros and cons.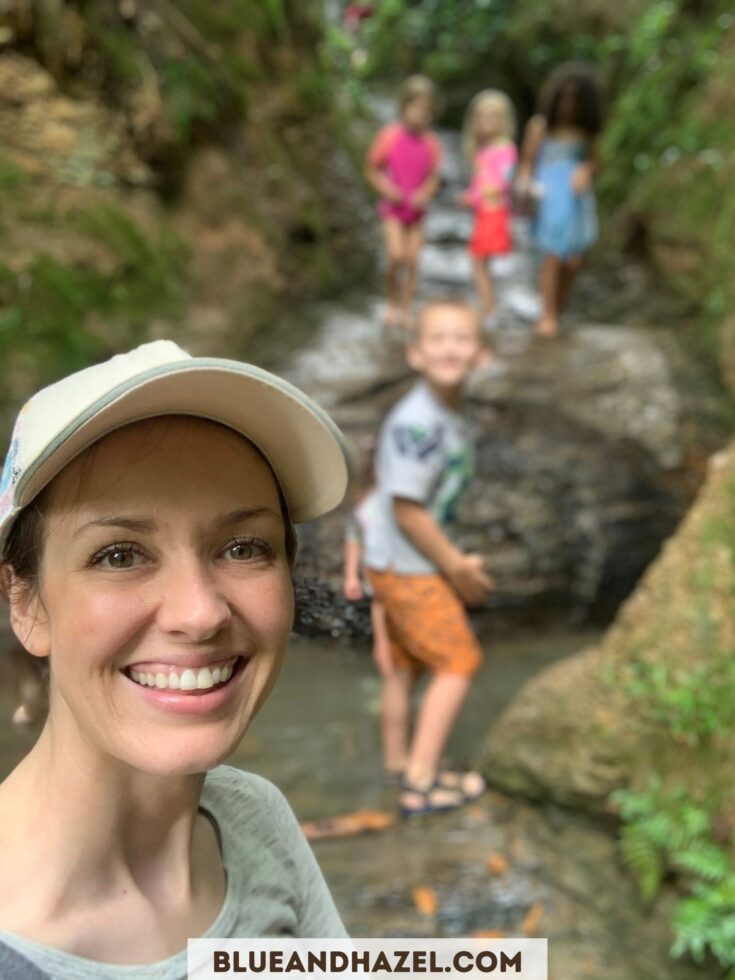 Our co-op introduced me to Exploring Nature With Children curriculum
Someone from church invited me to be part of a co-op that was starting…a nature co-op! It was an answered prayer for us to find homeschoolers…We didn't have any homeschool friends and my biggest fear was that my kids would be lonely as my oldest began to homeschool kindergarten.
I had to buy Exploring Nature With Children nature curriculum to follow the weekly topics.
I bought it, had it printed and bound at Office Depot…and it stayed shut until our co-op began.
Over the year I saw how the moms gave a 5-10 minute explanation of the topic, often paraphrasing the book's explanation.
I saw how the nature craft in our co-op used natural materials and got the kids excited to collect things in season. Things like a leaf crown, making a beehive from air dry clay, or that craft we all did as kids making pinecone bird feeders.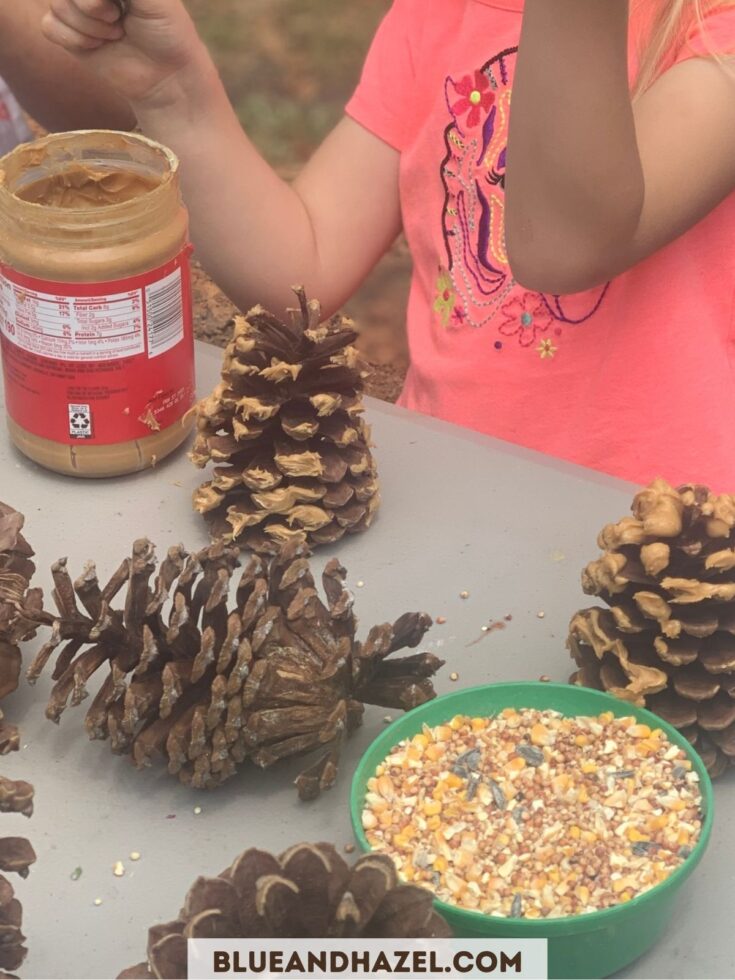 I didn't do much else with it at home that first year. I was too overwhelmed being new to all things homeschooling. But even just reading the weekly info and making the effort to get outside more was a HUGE start for me!
I now just make nature study part of our "extras" (stuff we don't do daily) and put it on a loop schedule for about once a week.
What is Exploring Nature With Children by Lynn Seddon?
This is a Charlotte Mason approach to nature study. Exploring Nature With Children curriculum is a 242 page PDF file that you print and bind. It holds your hand through nature and seasonal topics each week. There are 48 weeks.
Each month has 4 topics. You might have to adjust your topics based on what's in your area, but that's no big deal.
The purpose is to get you and your kids to experience nature, to gather nature items from time to time, and to notice seasonal differences of things like ponds and trees in your area.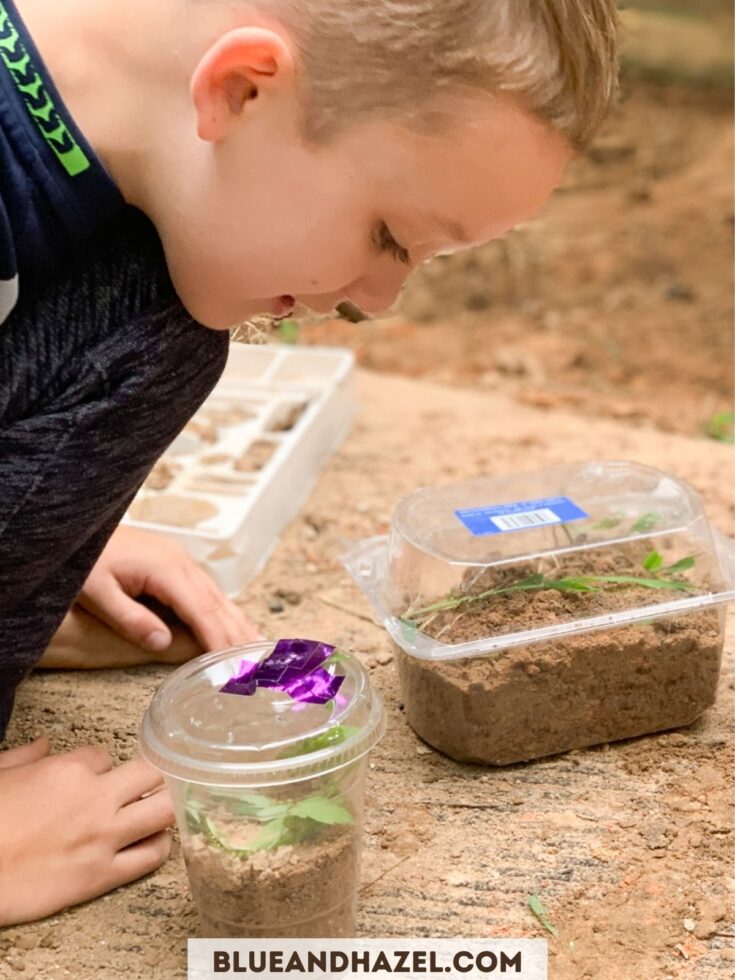 Topics you'll explore:
September
Seeds
Minibeast
Harvest Moon
The Autumnal Equinox
October
Autumn Leaves
Autumn Pond Study
Pumpkins
Autumn Tree Study
November
December
Christmas Plants
Birds
Winder Solstice
12 days of Christmas
January
Winter Sky
Moon
Winter Tree Study
Pond Study
February
Candlemas
Earthworms
Evergreens
A Field Trip
March
Nesting Birds
Spring Pond Study
Vernal Equinox
Garden Snails
April
Spring Tree Study
Plant Life Cycle
Wild Flowers
Grasses
May
Caterpillars
Caterpillars
Black Garden Ants
Butterflies
June
A museum visit
Honeybees
Blossoms
Summer Solstice
July
Summer Tree Study
Weather
Moths
Field Trip
August
Night Time Sky
Senses Walk
Summer Pond Study
An example of part of Seed Study week: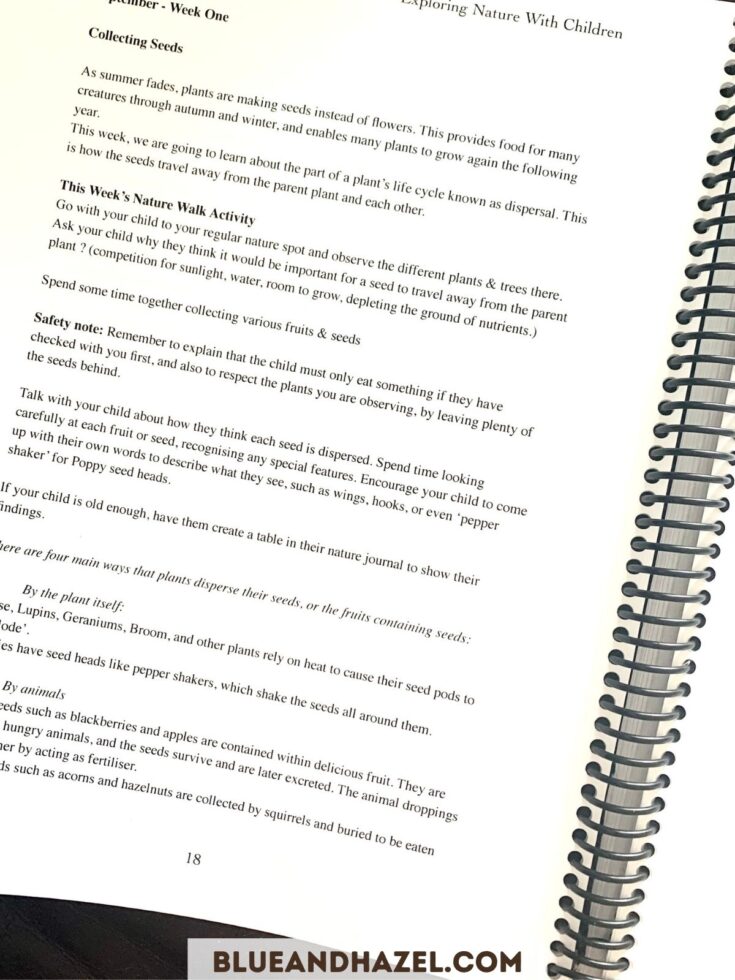 What age is it best for?
It's made for all ages from preschool to adult, and the curriculum really holds your hand! It's my hunch that this is more loved by parents with kids in elementary and below. At least that's who you'll see using it most.
For younger kids, there's no need to memorize all the facts. It's mostly for exposure and to spark curiosity. And when my kids asked questions I didn't know…I'd say, "Lets look it up"!
Is ENWC open and go?
Technically, it's open and go, because the information and poem is all there in the book. But I think it's not really if you want more than the bare bones of the curriculum.
To do the most basic nature study using this curriculum:
Read the information to your kids.
Find a day that week to head outside and observe!
You choose if it's your backyard for earthworm week. Or a short hike looking for mushrooms or moss or butterflies. Or a nearby pond that you can visit each season to see it's changes.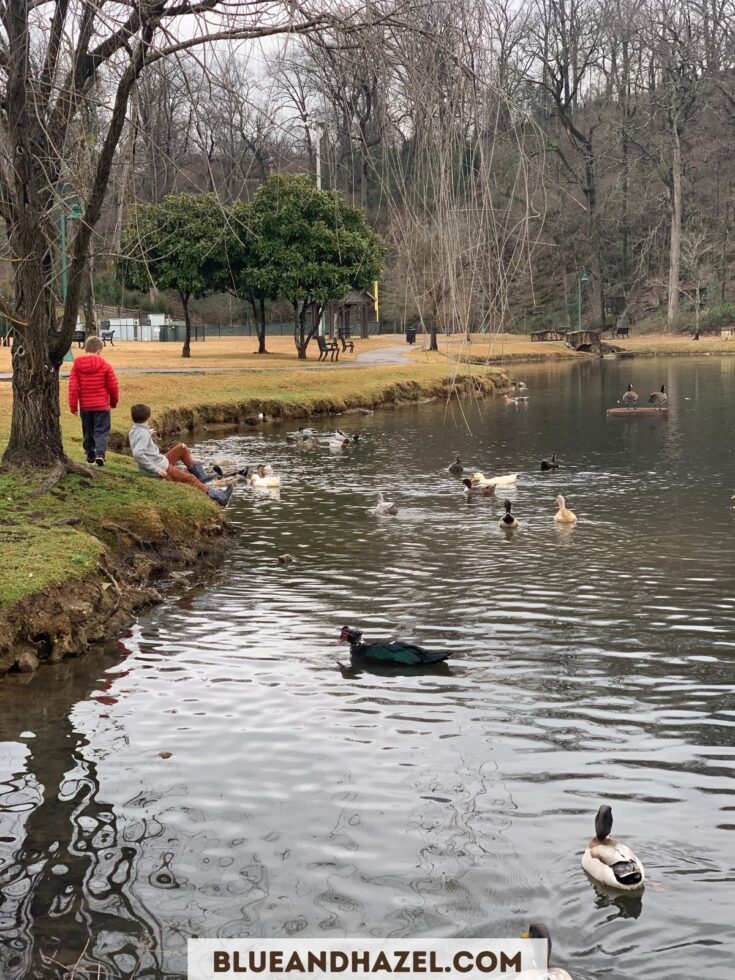 To do more than the basics, here's what else is included:
A poem to enjoy on the nature topic (included)
A painting to look up online (very Charlotte Mason…I printed all the art pieces onto cardstock)
Book recommendations from the library (though you can just read Lynn's info on the topic…it's a self contained course so all other books are just for enjoyment)
Extension ideas for older kids
Nature journaling (still failing in this department over here, but Lynn says this is an important part of nature study)
Nature observations to look for when you're outdoors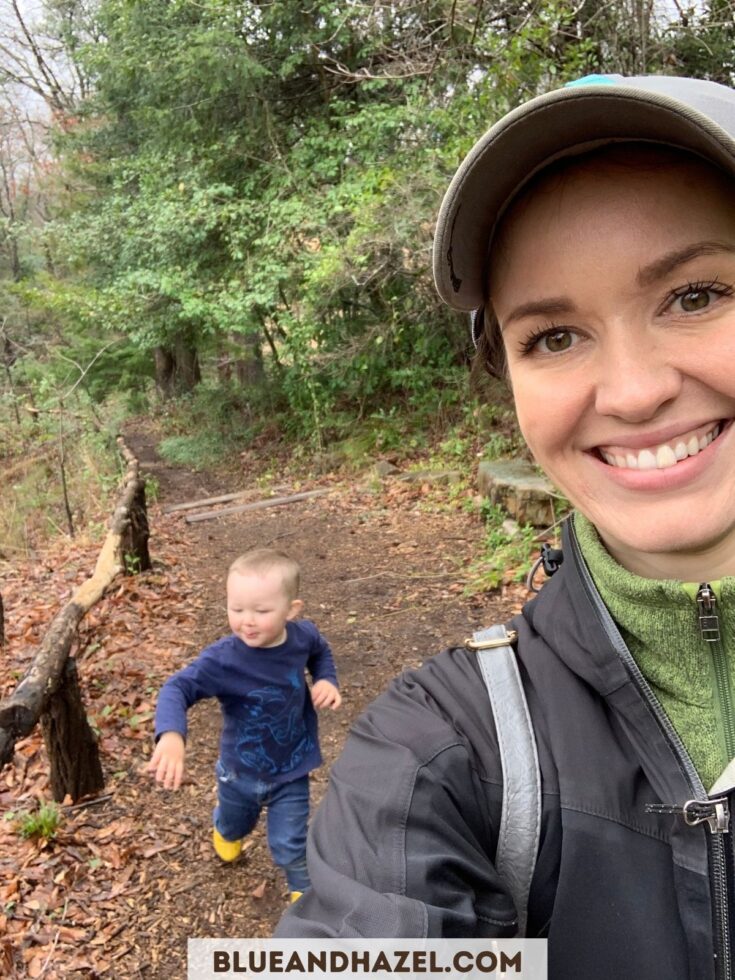 You don't need a formal nature study to learn about nature…but here's what you do need
Some of our best learning moments haven't come from this curriculum at all. But rather from being outside, and taking notice of what's in front of us!
Then, good old google. Or the Seek App, which helps you to identify plants, bugs, and more! You can take a photo out hiking, and upload it to the app. It does it's best to classify it, and keeps track of all your finds!
If you are interested in learning more about free nature study resources local to you, here's a huge list of FREE nature resources for all 50 states.
I'm making it our goal to get outside every day even just a little bit. And a weekly goal to drive somewhere we can be out in nature. Sometimes it's a trail, a pond, or a creek.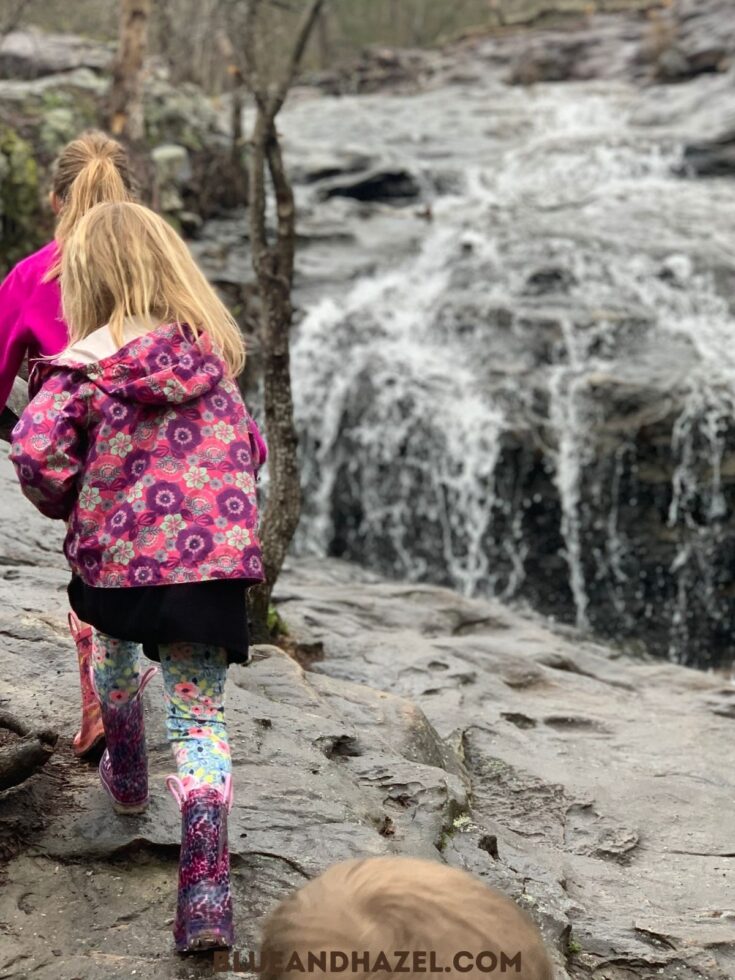 How to incorporate the weekly art piece
First thing, join the Exploring Nature With Children Facebook page, full of what parents are doing each week (real ideas, not the curated Instagram nature table shots, lol)!
Someone posted a file (later taken down for copyright violation I think) of all the art prints for each week. I printed each out on this white cardstock (like 50 pics or so). I keep it in a folder and take out the piece that goes along with the week.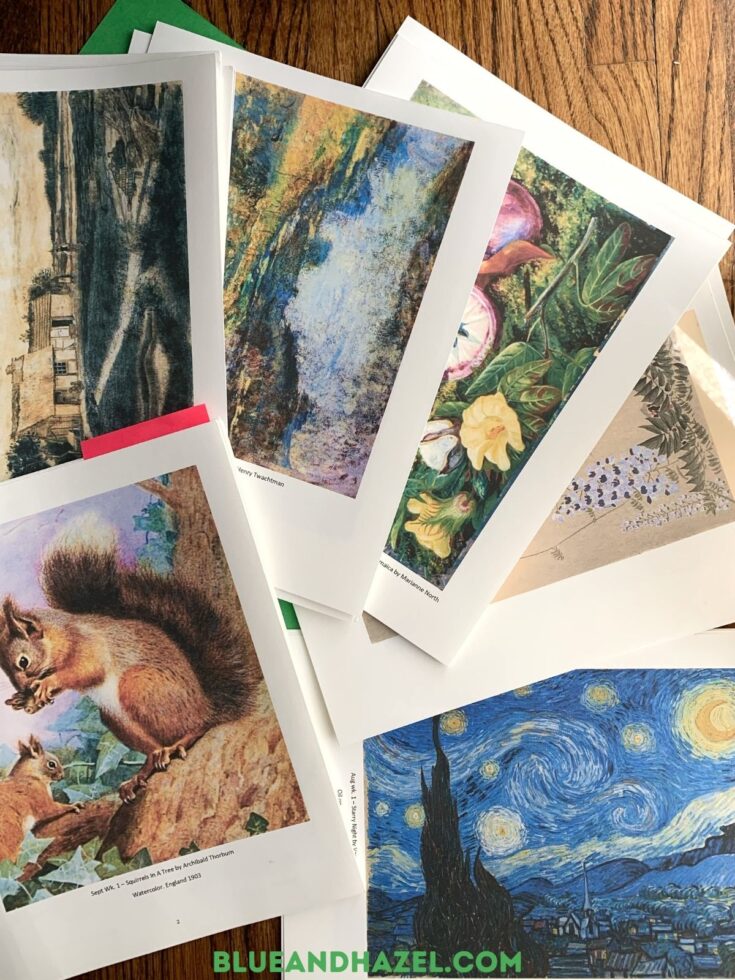 We just look at it, point out what's cool, what they see, what the picture is titled and who painted it. And move on. It's an easy thing to skip if you need to.
It's not a perfect system, but it works for me. I prefer not to laminate that many things so the cardstock makes it more sturdy with all that ink.
If you're worried about using that much ink in your homeschool…you haven't met the EcoTank printer 3760. I printed off SO much stuff last year including these full page colored prints, a Gather Round space unit, and much more without even tapping half the ink.
Things we've witnessed just by being outside:
A bird swooping in to eat a butterfly
A caterpillar forming it's chrysalis
Incredibly cool but poisonous caterpillars
Leaf cutter ants carrying leaves in a line
Beautiful mushrooms and fungi growing from trees
A giant slimy toad tadpole
A hawk hunting in our yard
Clams filtering out sand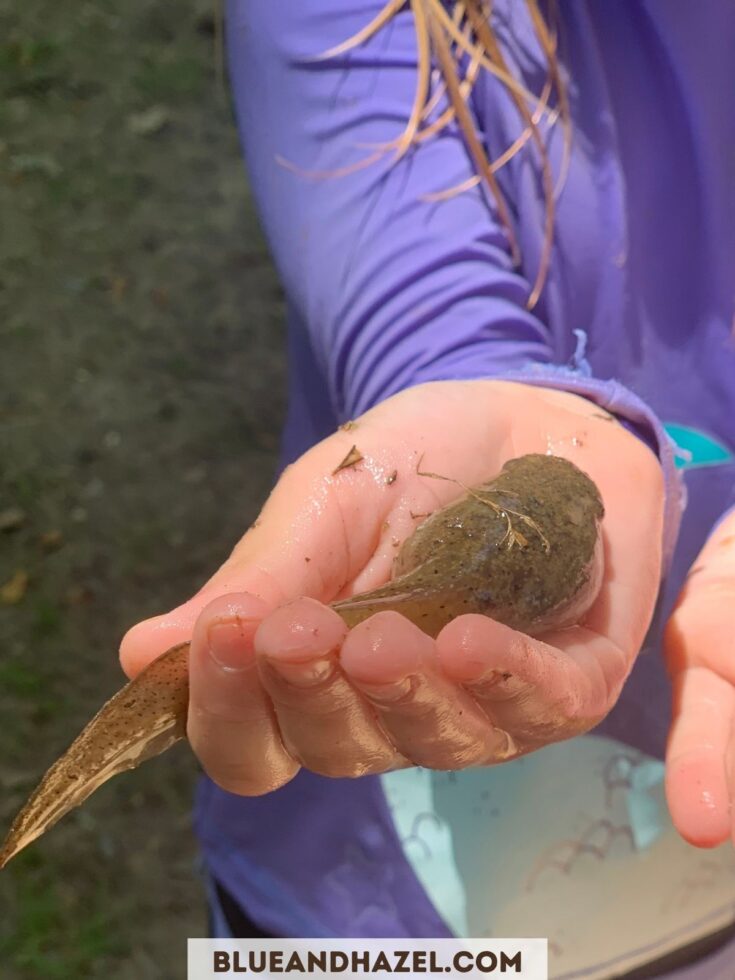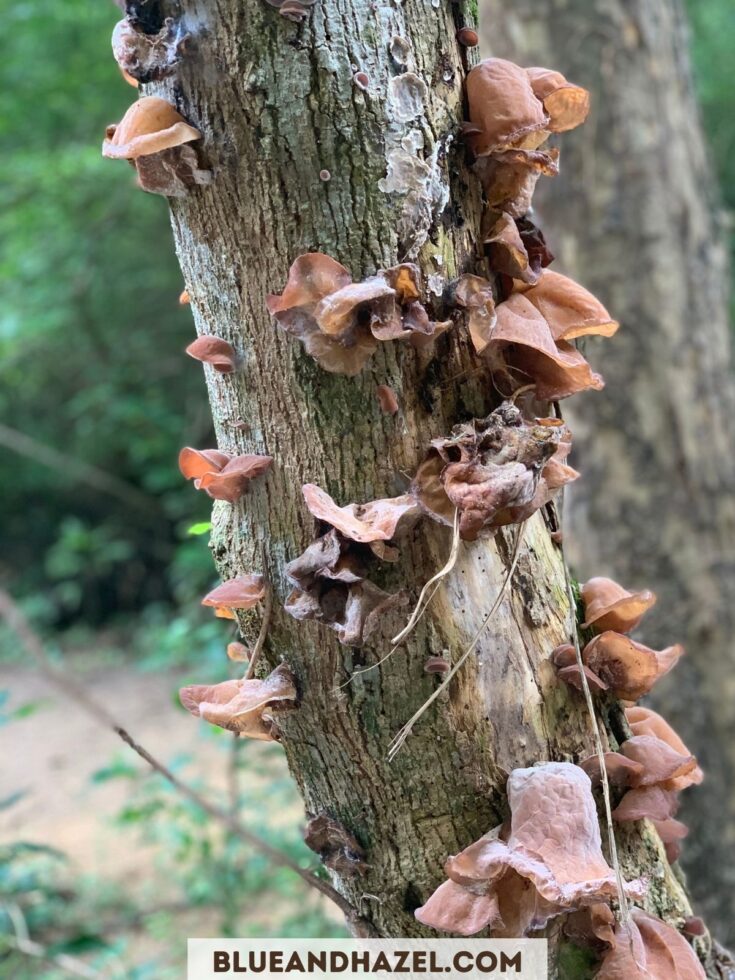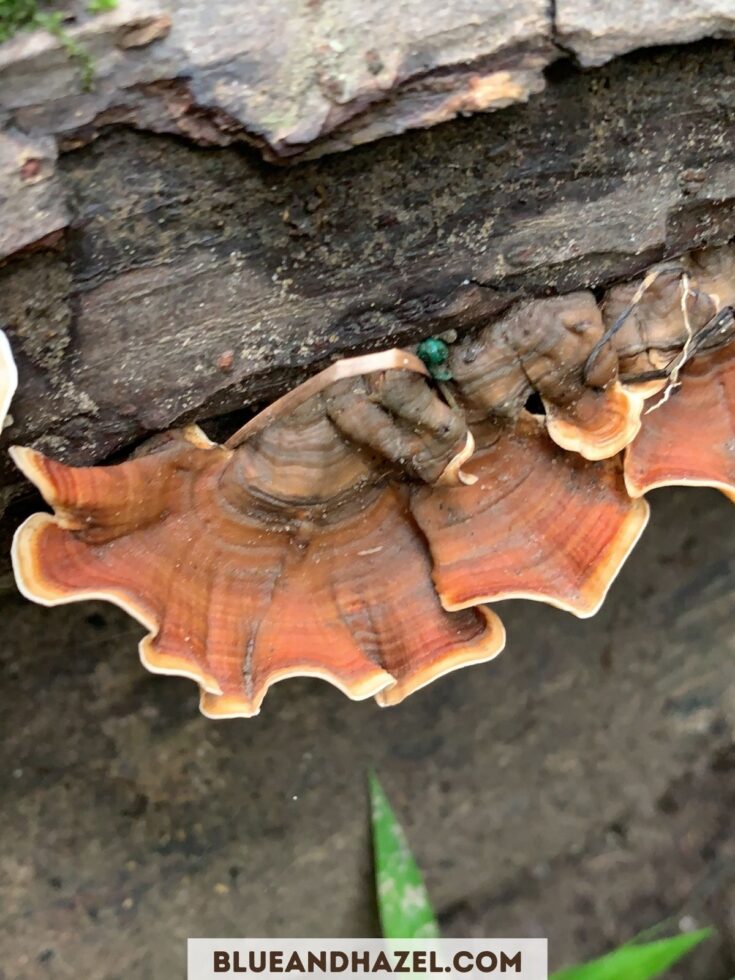 How to get started with nature study when you feel clueless and out of place
Step 1. Get a nature study curriculum and print it. Consider Lynn your nature mentor. You can start any time of year, on any week you find interesting or relevant.
Step 2. Download the Seek app.
Step 3. Start the routine of going into your backyard and finding something to learn more about. This is part of what she calls "Becoming an expert of your own backyard".
Step 4. Snap pictures of leaves or plants you want to know the names of. You can later upload them to the Seek app, or record info about it in a nature journal (facts like name, where you found it, time of year).
Taking close ups has helped me to notice things, and has also saved my bacon later when I'm trying to look up if it was poisonous…like a photo of a caterpillar.
Step 5. Checkout books on a nature topic your kids like and read it to them. For instance, we've got fireflies in our yard right now so I got a couple kids books on them. We learned that they are beetles. And that different species have different patterns of flashes they send out hoping a female will flash back!
Step 6. Begin a Calendar Of Firsts notebook as a family. This was encouraged by Charlotte Mason to get children to notice the firsts of the year in nature like the first frost, first frog, first tulip. Over the years you'll have your own reference book to predict when you can expect to see things!
Step 7. Evaluate what gear might make your outdoor time better together. Slowly add them as you can afford it. We didn't have it all at first, and still don't. But I've found that books, magnifying glasses, binoculars, and close toed shoes have helped us a lot.
When you can, browse this list of nature gifts for kids who love to be outdoors! You'll get plenty of ideas of gifts that will inspire your kids to appreciate nature more.
Lynn recommends owning the Handbook Of Nature too, which I don't yet.
My favorite nature study items we've used
Another neat thing we are just starting is watercolor practice. I'm NO artist…so this is way out of my comfort zone.
I like Hannah's course "Watercolor School" where there's plenty of step by step practice if you want it painting different flowers and leaves and seasonal nature items.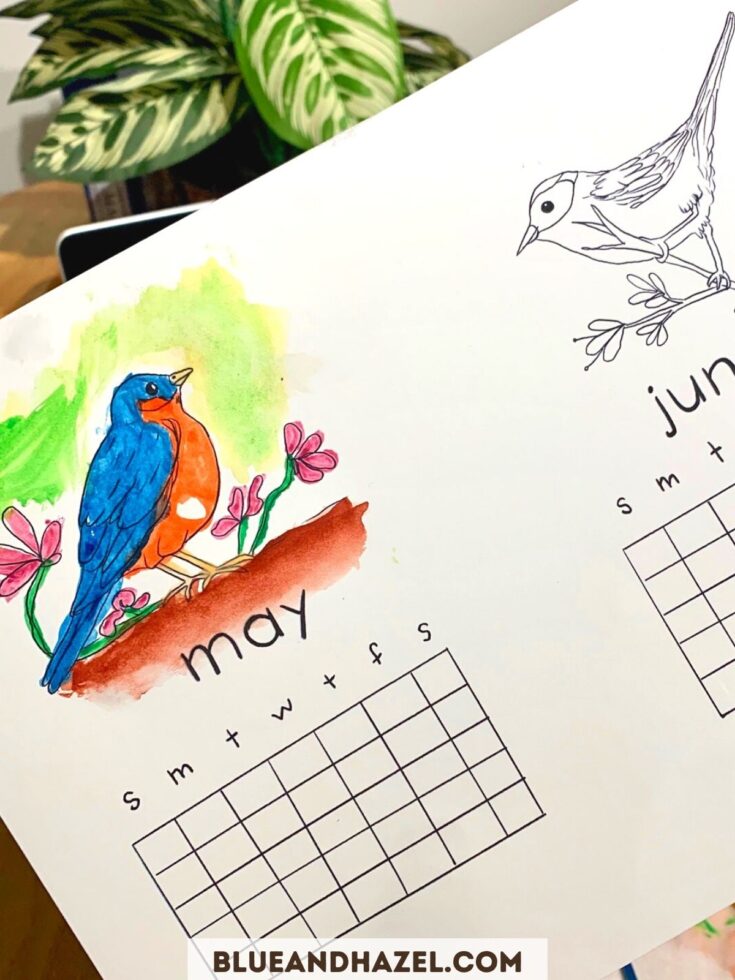 Games and shows focused on nature
They also have ocean, cat, and dog bingo too!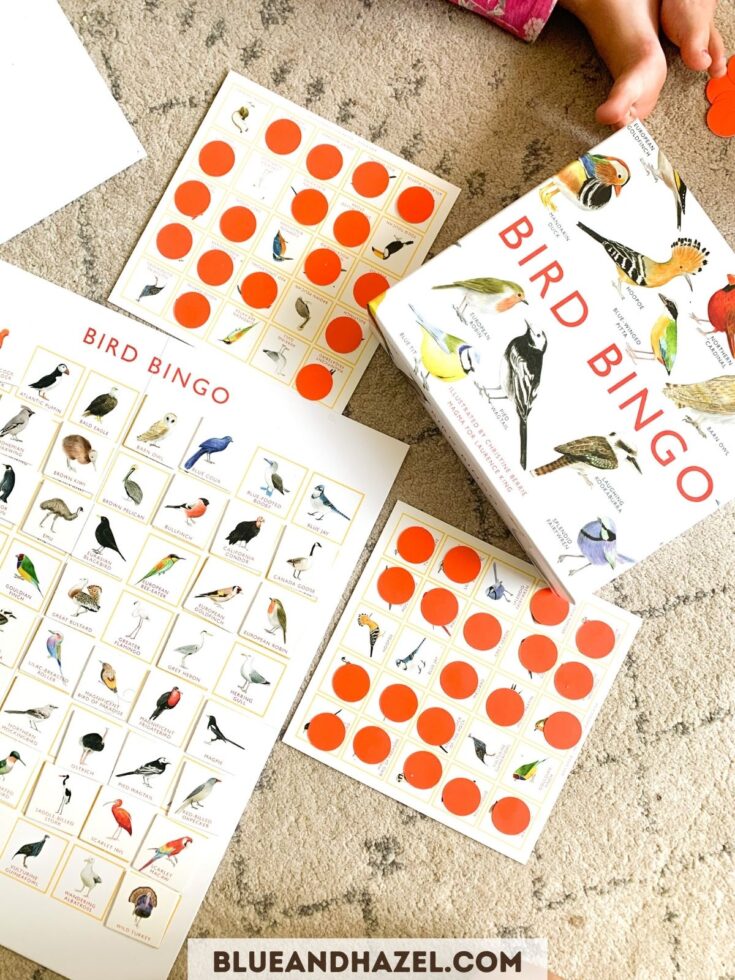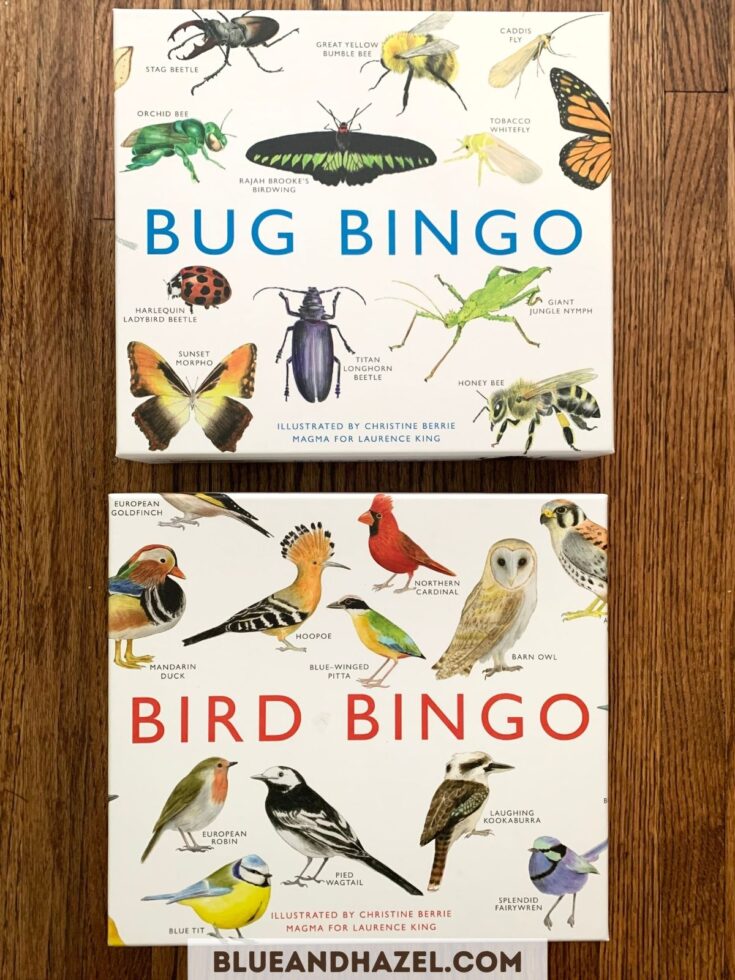 Books to inspire you to get outside with your kids
How Exploring Nature With Children has changed our homeschool
For starters, it's something we CAN do but don't have to. Which takes off any pressure.
Also, I find joy in it now!
Satisfaction that I can identify more trees and flowers in our neighborhood. Confidence being able to better understand how the natural world around me works.
Here's why nature study will always be a part of our life now:
It gives kids practical, useful knowledge for the rest of their lives
I didn't grow up learning about the natural world around me, or poisonous plants, or how trees make their own food, or why leaves turn color every fall.
Knowledge of nature helps keep you and your kids safer when you're in it. It
I want my kids to grow up knowing more than I did about nature, but they won't unless I lead the way and let them experience it with me.
Thankfully I don't need to know anything extraordinary…I just need to learn with my kids and get us outside together.
My observational skills are WAY better
After doing a few months of our nature curriculum, I noticed myself pointing out observations to the kids outside so they could be aware.
I'm often found calling the kids over to show them something now. "Check out the blue on that wasp!" Or "These two oak trees in our yard have different leaf shapes and the acorns look different too."
Once they knew I was impressed with observations…they began to pour it on.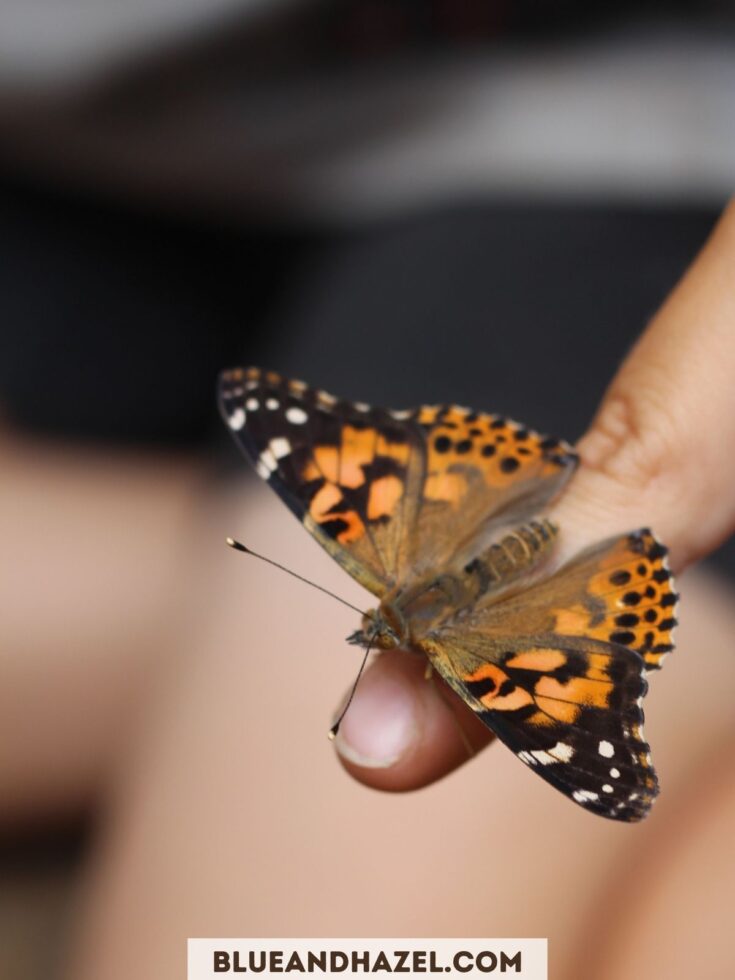 Collecting bits of nature to look gives the kids something to find
O how the nature items began to pour onto my counter! From dead cicada bugs to wildflowers to acorns and pinecones. I'm in desperate need for an attractive way to showcase these!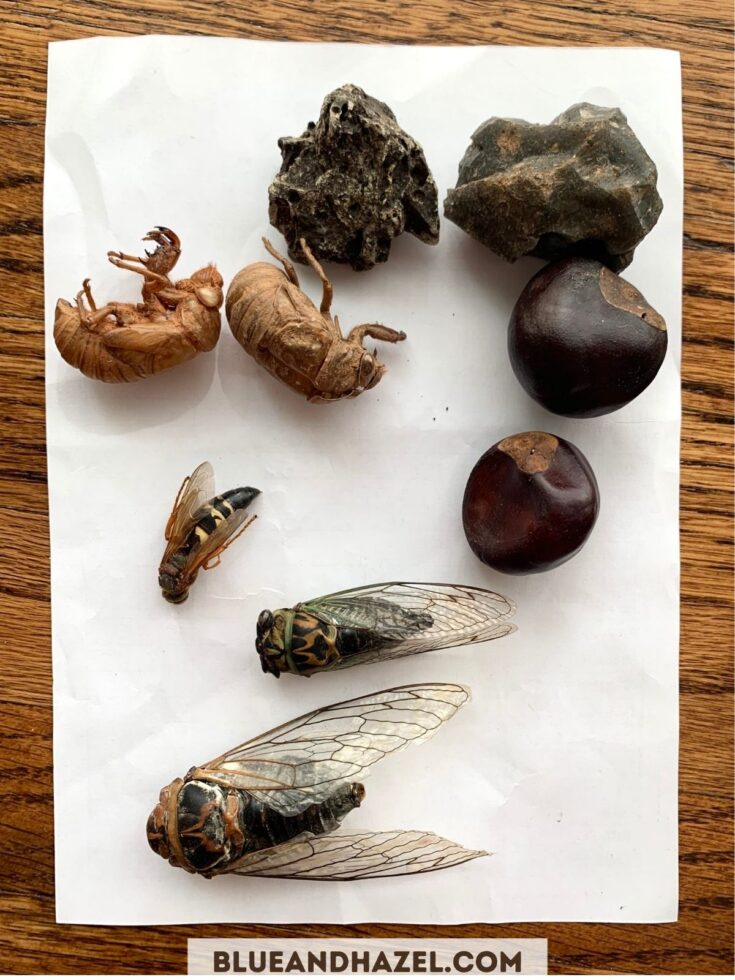 It increased my sense of awe towards things I'd never noticed before
Another cool thing that changed is I began to find wonder in things I didn't know before!
Like how a tree safely stores buds all winter that will be next year's leaves. (Ya, I didn't know that till i started either)! We cut open a bud to see all the TINY layers of leaves rolled up. It was amazing in it's own small way.
Or how you can find unique seeds from every plant. I loved taking the kids to our local park last fall and going tree to tree trying to discover what it's seeds looked like. It was my favorite week, and we brought back a great collection.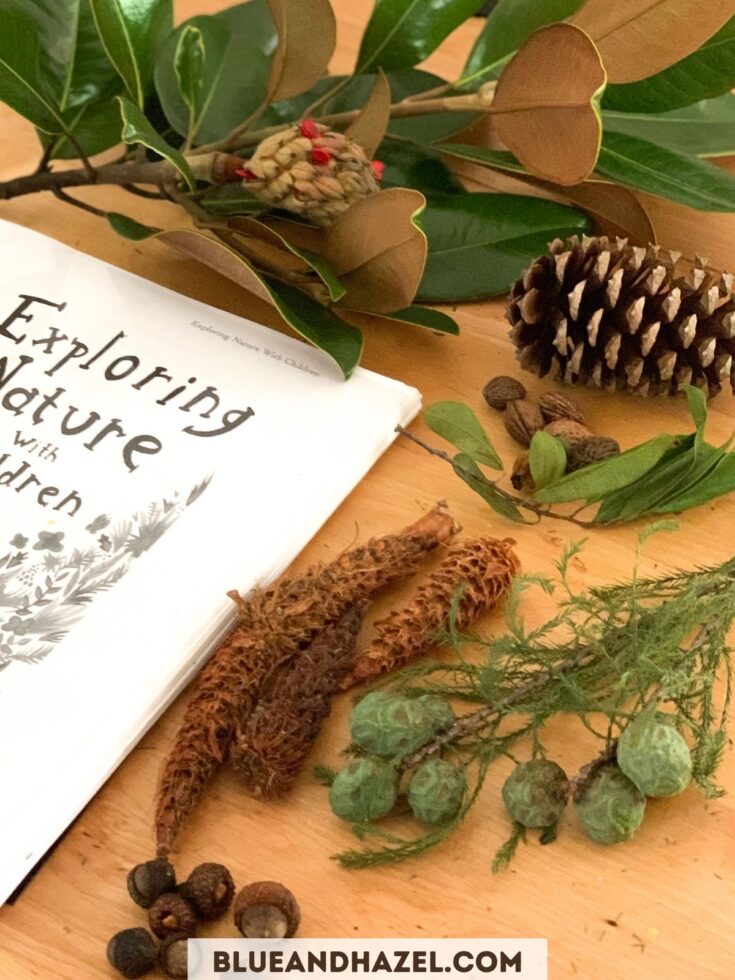 Nature study has made me more amazed by God
How cool He has allowed me to enjoy HIS creation. And to understand it more.
Nature finds and shenanigans
We learned how to raise tadpoles into frogs at home!
Made a fairy garden.
Found a moth nest in an apple tree. Had to burn it, as it's a moth that destroys my parent's apple trees when left alone.
We sprouted an avocado seed.
We visited Shark Tooth Creek and got to collect REAL shark teeth!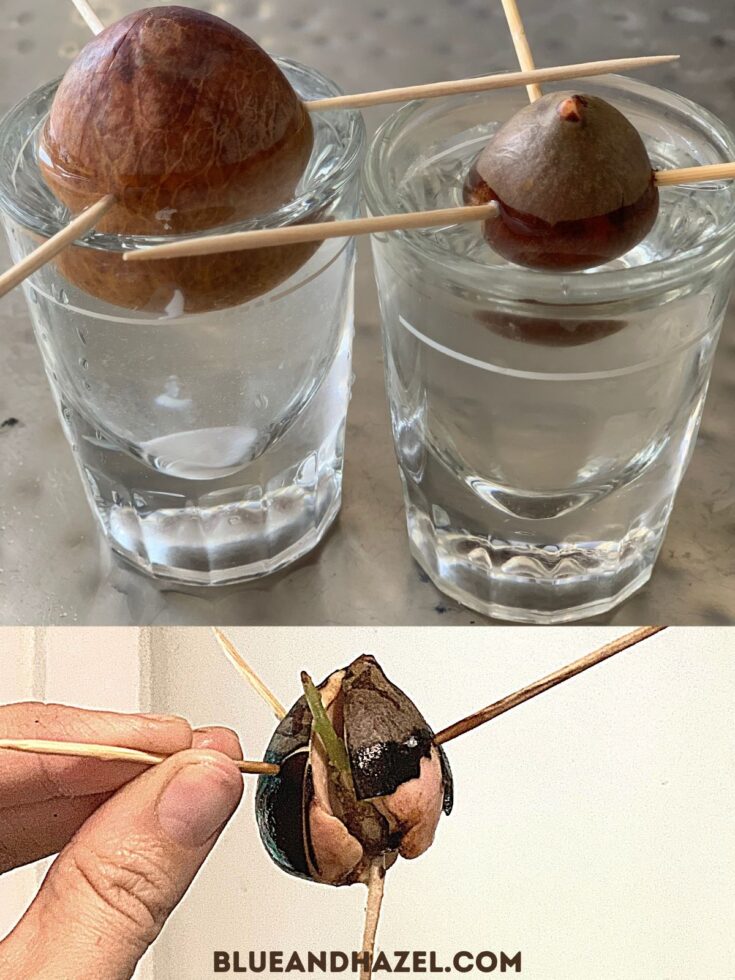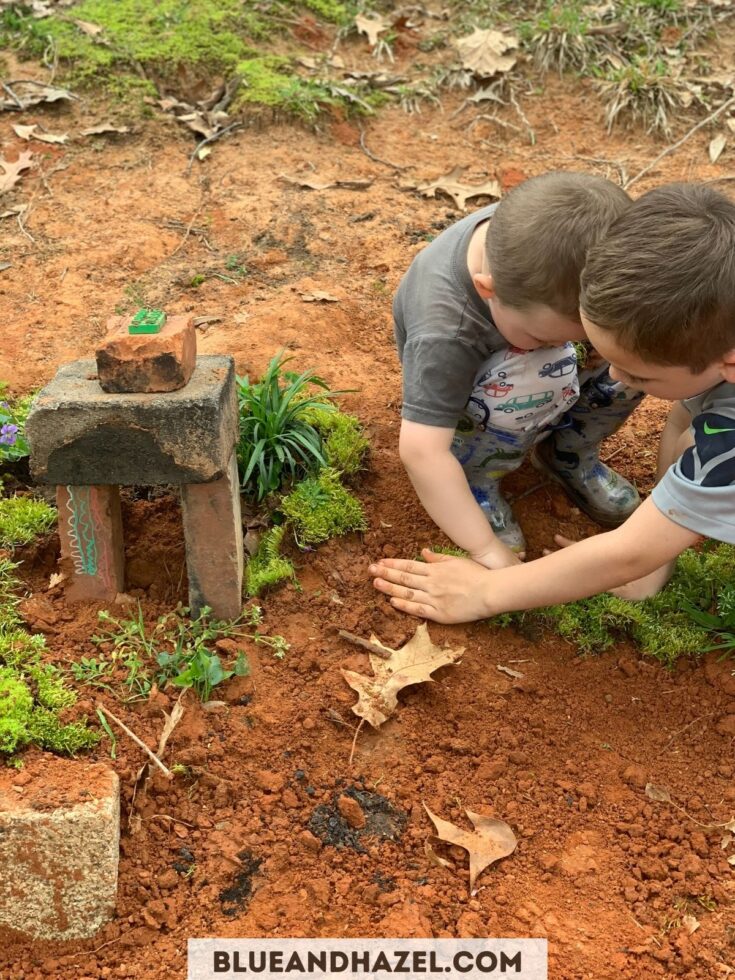 How we store nature printables
Once I started following some Instagram accounts that also use this curriculum, I found some great supplemental prints to buy and use!
This is made possible guilt free because I have a color printer that prints amazing pics with CHEAP ink (the Epson EcoTank). See my full review here on our printer.
Nature print outs are NOT necessary for this curriculum, but I like the visuals. During bee week, for instance, we found a bee game and hang up some photos of bees as we learned about them.
Or while studying butterflies we found a unit with gorgeous photos to SEE a few common types.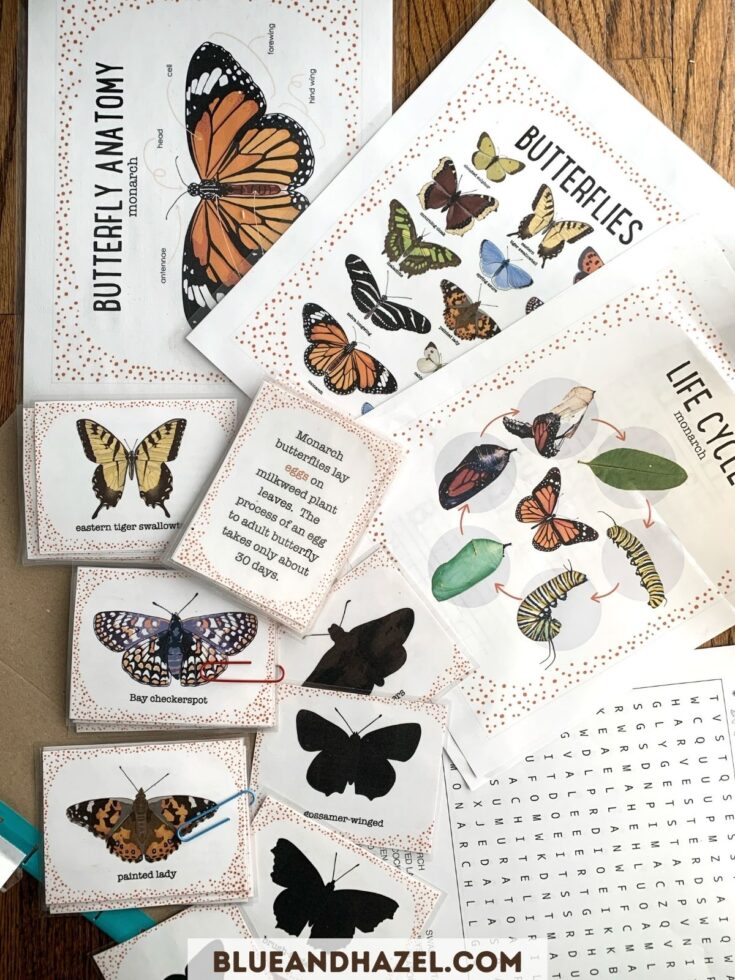 Some of my favorite nature shops on Etsy:
But I knew paper clutter would be a disaster as I started printing so I created a filing system with nature topics we had print outs for, (or wanted to find print outs for)!
Even though it took a little bit of time at first to find and print what I liked, (ok, a lot!) i won't have to relocate computer files and reprint each year.
There are some things I'd have to reprint to use again, like crossword puzzles or coloring pages. But each year new inspiration rises up and sometimes we don't want to do the same things!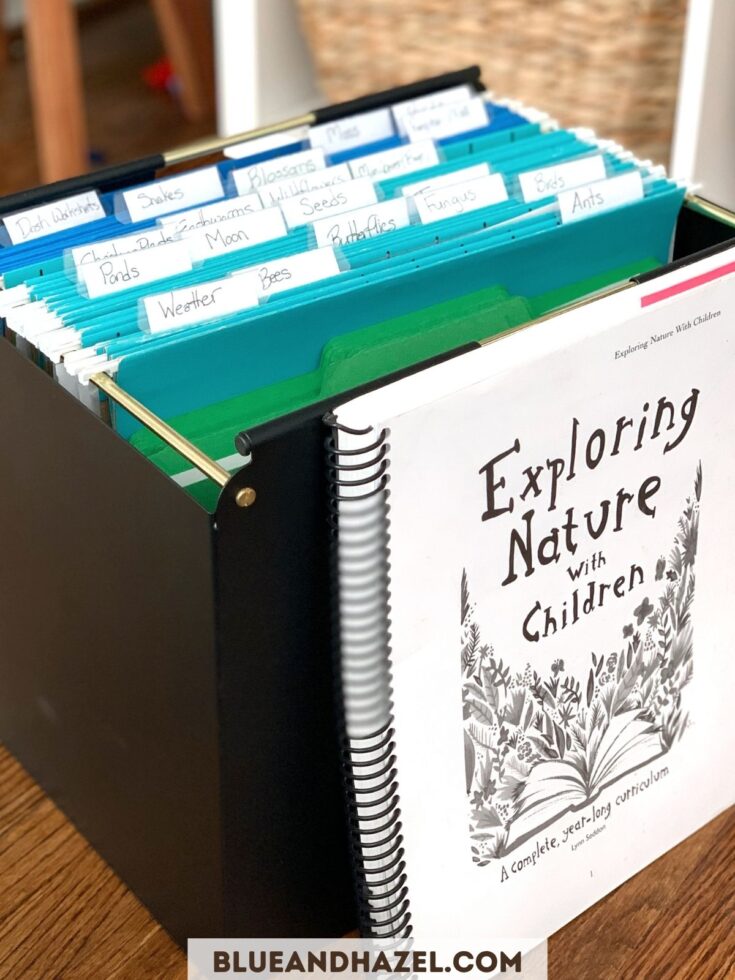 Take advantage of your national parks
I recently learned there is a called Junior Ranger Passport across all our national parks for kids ages 4-12 or so. You buy a Junior Ranger book, complete the activities, and earn a stamp to put in your "passport"! There are over 300 different ones to collect!
My kids would love this, and I'm hoping to check this out. Here's 5 ways to take advantage of your national parks.
More homeschool posts for you
Playing Preschool curriculum review by Busy Toddler
How to homeschool preschool without a curriculum
How to start homeschooling for the total beginner
2021-2022 curriculum picks for 2nd grade, 1st grade, and preschool
2020-2021 curriculum picks for 1st grade and kindergarten