As a new homeschool mom myself, I will show you some of the best gifts for homeschool moms! In general, homeschooling moms tend to be very resourceful, and don't often splurge on themselves. So here is your chance, especially with Christmas upon us again, to spoil the woman who is doing it ALL. I've divided the post into two sections: one for useful gifts for the homeschool classroom and useful gifts for pampering a homeschooling mama. ENJOY!
This post contains affiliate links. We are a participant in the Amazon Services LLC Associates Program, an affiliate advertising program designed to provide a means for us to earn fees by linking to Amazon.com and affiliated sites.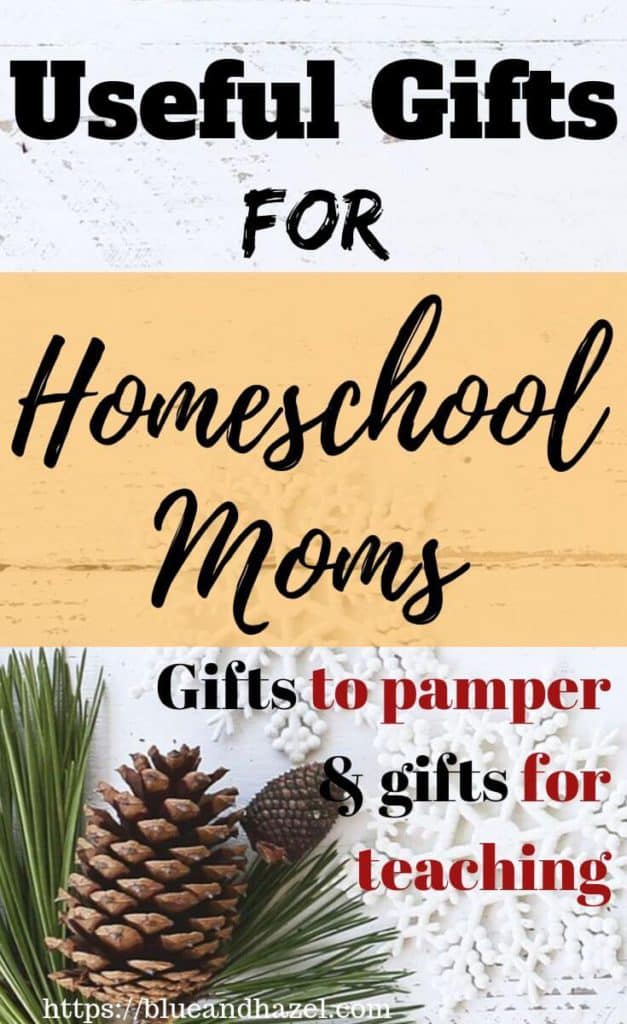 Best gifts for homeschool moms that are useful for teaching
Rolling Metal Storage Cart
This metal rolling cart is so helpful and practical for homeschooling! I like that this cart has 4 shelves instead of 3 like many do. It's perfect to store arts and crafts, books, and can easily be rolled into a closet or another room for storing. You cannot go wrong with this gift, and it comes in red, teal, grey, black, navy, and beige!
World Globe
Every homeschool family should have a great world map and map of their country around! We have a flat map, but I would love to get this world globe to show the kids a realistic view of the world. I love that it does not have any cords. There are some cool globes you can find that light up and even show constellations, but this is a beautiful and sturdy classic globe without cords or batteries needed to be useful.
Magnetic Calendar
This fridge calendar comes with dry erase markers, and can be used for meal planning or to quickly glance at family activities for the month! It sticks to the fridge and can be used every month for years to come.
Insulated Family Size Lunch Box
As a homeschool mom, I'm constantly packing family lunches for outings. This insulated lunch bag is one of the most practical gifts! And, it's stylish and can keep food cold for 6 hours. I quickly learned that an insulate lunch bag means the difference between cold fruit and warm soggy fruit, or cold yogurt instead of room temperature. Even if what she has now "works", a new large lunch tote is a very thoughtful, practical gift to compliment the homeschool lifestyle.
Blank journals for nature journaling, art doodling, or for the kids
I bought these journals for my kids and I to use as a nature journal. There are 100 blank pages of water-color-thickness blank paper in each book. The front can be personalized with art, stickers, or whatever you like! Such a great value for the homeschool mom trying to start a nature journal!
Watercolor paints
Pretty much every homeschool mama I know has a watercolor set, but doesn't get that extra set they want because they're being frugal and can do with just 1. Maybe they'd use it for themselves, or just like another set so the kids can have more to go around. This gift is a perfect use it up type gift and will be 100% welcomed! It would be perfect when paired with the blank journals above.
Pretty organizers
If there's a mom out there with no more closets to conquer and organize, I'll be in shock. Get her a stack of 4 pretty baskets, perfect for organizing art supplies, bathroom closets, or the pantry. Excuse me while I go plan my dream pantry filled with these.
Subscription to Books on Tape
Listening to books on tape may already be her thing, but if it's not, this gift of Audible would be a precious gift! She can let the kids listen to stories giving her brain a break, or enjoy some books while she's folding laundry. One month is $15, 2 months $30, each for each month they get an audiobook and 2 Audible originals.
Awesome Homeschool Mom T-Shirts
Best gifts to pamper homeschooling moms…things she would love but won't buy for herself
Yeti insulated coffee mug
Ever since I started pouring my morning cup into an insulated mug, mornings just got dreamier! A homeschool mom can take a few drinks, help a kid with their lesson, and come back to a cup of coffee STILL warm. Choose from 14 colors, and this 20 oz mug fits in a standard cup holder.
Professional dry shampoo
My hair stylist used this on my hair, and it is the BEST dry shampoo I have ever tried! It instantly absorbs oil with a translucent spray and a lovely scent (not overpowering like my Batiste). This allows a busy mom to have beautiful clean looking hair for days without washing it. For all hair types and colors.
Robot Vacuum
This RoboVac Slim was voted best robotic vacuum in 2018 by Digital Trends, and can clean any hard surface or medium pile carpet and is as quiet as the sound of a microwave! It crawls around cleaning floors while she is homeschooling!
Tea Bag Sampler
Since you can't drink coffee all day, this tea sampler pack is a perfect gift for the mom who loves tea! This is also a practical gift for moms who don't necessarily want more "stuff" but would appreciate a gift that can be used up.
Sherpa Fleece Sweatshirt
Who wouldn't want a warm, soft and fuzzy pullover?! This is the perfect loungewear to keep a mom cute and warm all day, and can be easily paired with jeans or the infamous yoga pant!
Real Indoor Fiddle Leaf Fig
This live Fiddle Leaf Fig will be shipped carefully to your door, somewhere between 28 & 36 inches high. It comes in a pot, although you may want to pick a more beautiful pot. It loves indirect light and temps from 55-85 degrees. It's one of the most striking indoor plants you can find!
Buy her the BEST homeschool mom gift ever: Time & Convenience
There are SO many things I'd appreciate as a homeschooling mom. First off, give the gift of Amazon Prime. When I need homeschool supplies, clothes, sippy cups, or cleaning supplies…it comes from Amazon. It saves SO much time and avoids dragging kids to many stores.
Other time saving gifts moms would love include a one time deep clean house cleaner (roughly $200), a meal subscription box (my personal favorite for quality is Blue Apron), or replace that one appliance that drives her nuts. Ya, that's right, start saving now!
What would you gift a homeschool mom?
Homeschool moms like things any other mom would like, only they also really appreciate school room items, and school supplies, and experience gifts like memberships!
Many homeschool moms I talk to REALLY appreciate when a grandparent contributes a zoo membership, or a science center membership. Personally, Id love for someone to gift me a membership to a trampoline park so my kids can go "Buck Wild" as they call it in the South 😉 I'd love to hear any other ideas that you have! Leave me a comment below if you have suggestions!
More gift ideas for kids
20 Best Bath Toys for Toddlers
Best gifts for 5 year old boys
Best gifts for 3 year old girls
Holiday Gift Guide for Preschoolers
Christmas on a budget: How to make it special for kids
Homeschool posts you may love
How to homeschool preschool: Getting started
Playing Preschool by Busy Toddler Review
Homeschooling pros and cons: How to know if it's right for you
Our first week homeschooling a kindergartener and preschooler
Follow Blue and Hazel on Instagram