I'm going to show you how to buy authentic Hydro Flask products for up to 50% off. It's not a secret, or hidden information. I have quite a few Hydro Flask products now, from the water bottles to coffee mugs/tumblers to cooler bag thanks to finding them on sale.
Leave it to me to get borderline obsessive over a product or brand I really love, and somehow Hydro Flask is one of them. They have earned my respect having lost millions of dollars in order to rid their insulated bottles of a leaded sealing dot. Older Hydro Flasks pre 2015 do have lead sealing dots.
While some knock off Hydro Flasks will keep your water cold just as long, I'd rather support a company that cares about not using lead in products we drink out of. They are one of the ONLY water bottle brands I know to have taken this step.
K, ready to find yourself a cheap-er Hydro Flask?!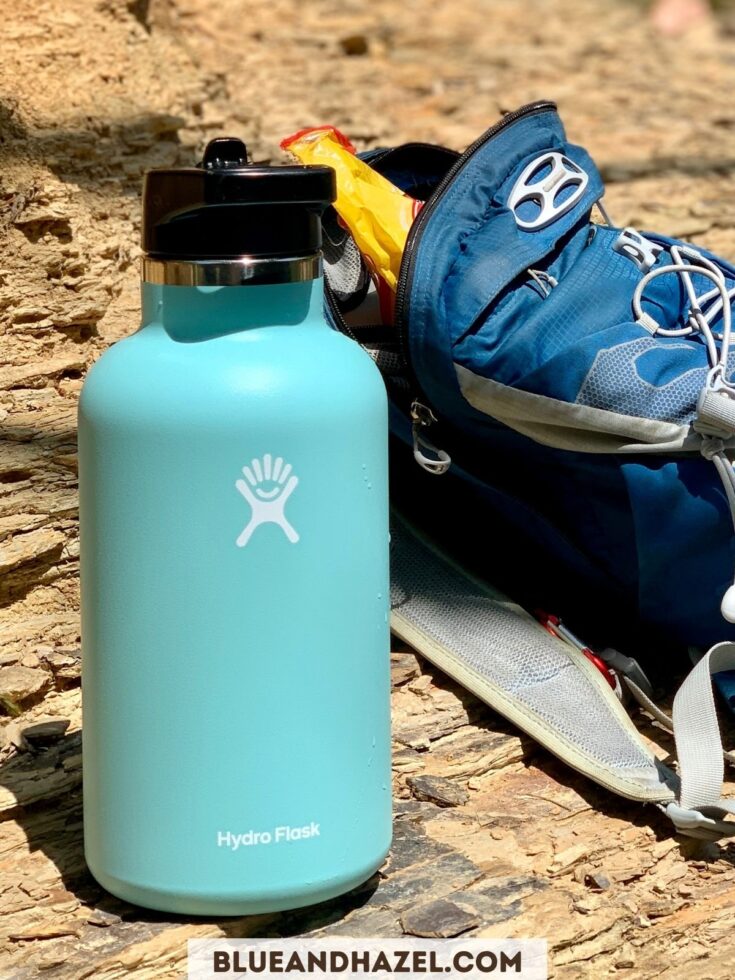 How to find the best Hydro Flask deals
Before getting into specific steps I've taken to buy our Hydro Flask water bottles, coolers, and tumblers deeply discounted, keep a few things in mind:
If you like shopping local, stop by an outdoor shop first to see what's on their discount rack. I stopped in to buy a hat and noticed all their Hydro Flasks in the color "pineapple" were 40% off!
Check online often if you don't like what you see. I rotate looking through Back Country, Field and Stream, Hydro Flask's website, and Dick's Sporting Goods. The stores flex daily, weekly, and seasonally with inventory going out.
The best storewide deals (even on sale items like Hydro Flask) often happen around a holiday. Thankfully, there's always a holiday around the corner…
Buy the minimum amount to get free shipping. Cause ya know, gotta spend an extra $25 to get that free $7 shipping ( I know I know, I can't help it)!
Ok, now for the specifics!
1. Shop at stores that sell the real deal Hydro Flask brand
Some websites I like to check for Hydro Flask sales are:
I would NOT shop for Hydro Flask on Ebay. It's where you're guaranteed to find fakes. And there are some convincing ones out there!
2. Search Hydro Flask, then filter for "sale"
Once you get to a site from above, type Hydro Flask into their search bar. Then, set the store's filter to only show you sale items!
Variety is random so check back from time to time, if not daily if you don't like what you see. If they have a new launch, or new colors out, or new lid anything, that's the perfect time to go looking for the old.
This is how I got our Hydro Flask cooler. I found the color that was being discontinued, browsed the stores I know that sell Hydro Flask, and found a few selling that cooler from $50-$70 off.
I also combined that sale with a few other discounts I'll mention below.
3. Be flexible to get discontinued colors
If you are flexible with the colors and sizes, or just want to try something new you wouldn't pay full price for… this is a great way to get cheap Hydro Flasks!
Even on Hydro Flask's own site under their sale tab, I often see several sizes of their water bottles!
I was looking for a cooler bag, which are PRICEY. But we go out several times a week in the southern heat and it was time to invest in one. I found this one below, normally $175 for $95, because the color is going out.
Plus, I got cash back using Rakuten on top of that.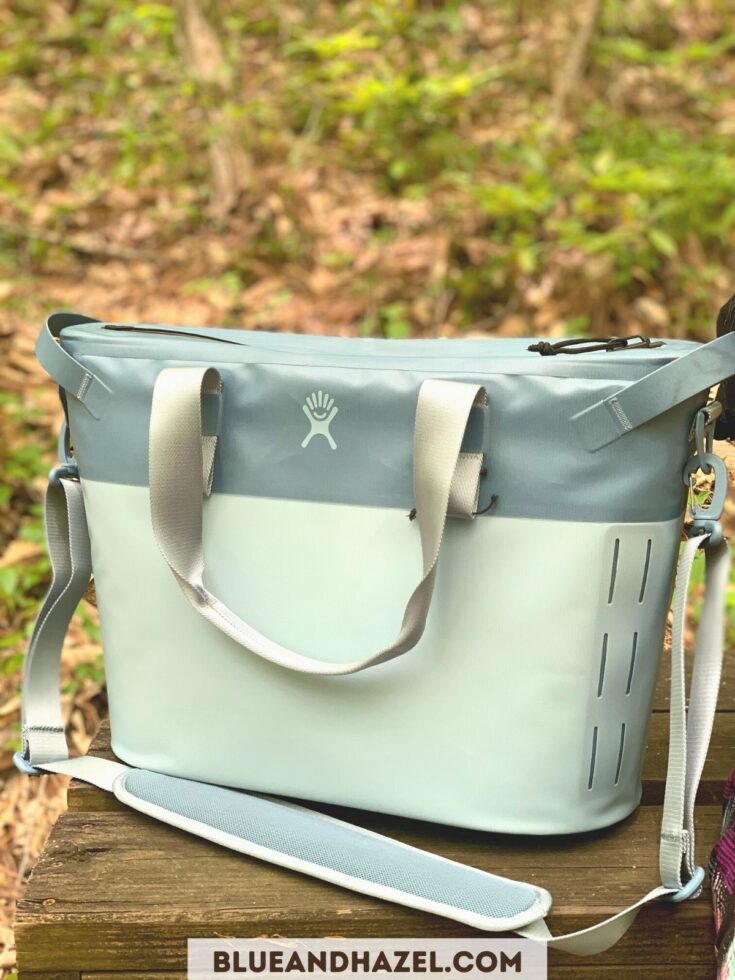 4. Combine savings using Rakuten cash back
One of my favorite EASY ways to add savings online is to use Rakuten cash back. It used to be called Ebates years ago.
Thousands of name brand stores (including stores that sell Hydro Flasks) give you a percentage back if you first click the Rakuten "cash back" button you can install on your computer. You can read more how I use Rakuten here.
Last time I ordered Hydro Flasks, it was during a "give big week" apparently, and stores like Hydro Flask, Dicks Sporting Goods, and Big Bass Pro were giving 15% cash back.
That's on top of any other sales you find. I ordered $121 and recieved $17.81 back via PayPal.
5. Try a coupon code
This last step is worth a check, but not all stores offer coupon codes or promo codes.
I couldn't find anything for Field and Stream when i got my cooler bag on clearance, but found a $15 off code at Dicks Sporting Goods later when I got some sale water bottles.
I usually just google "store + promo code" and see what comes up. I'll try 3 or 4 before giving up.
Here's how I got my super discounted Hydro Flask water bottles, tumblers, and cooler
My last Hydro Flask haul, I purchased a 16 oz and 22 oz insulated tumbler for coffee, and a 40 oz wide mouth water bottle, all around 50% off. How?
Went to Dick's Sporting Goods–> filtered Hydro Flask–>sale. Each cup/bottle was $15 off or more. (Not colors I would have chosen but whatevs.)
Got 15% cash back from Rakuten, which will be about $20 back on my purchase, delivered via PayPaul.
Googled to find a coupon code (that worked) for $15 off at Dicks Sporting Goods for purchases over $75.
Was eligible for free shipping.
How to tell if you are buying a fake Hydro Flask
If you're shopping from a reputable seller then you don't need to worry about fakes.
However, there are a few ways to guard yourself from overpaying for a fake if you find an old one or are risky enough to shop on Ebay. This video is a helpful starting point.
Here's some warning signs:
If it's on Ebay. So many fakes on Ebay.
If it's a current color that's waaaay to cheap. Hydro Flask won't allow certified retailers to drop below what's called MAP or minimum advertised price (25% off during their promotional periods only). Certified resellers can offer a better sale on discontinued items and items no longer sold at the designated Hydro Flask website! That's what this post is teaching you to do.
If the font on the bottle looks different.
If the sticker that comes on the bottle is missing a labeled color. Or even more obvious, I've seen the wrong color listed on the sticker of a fake.
Specific wording on the bottom of the bottle.
If it's a color that was never made, which happens a lot with fake ombre colors.
If you find an older color and don't know if Hydro Flask ever actually made that color, you can check this very comprehensive list of discontinued Hydro Flask colors and designs.
Share this post if you learned how to find cheap Hydro Flasks!
Thanks for reading and I hope you'll share this with a friend so they can scoop up a good deal on a water bottle or other gear!
You may also like reading: