If you haven't gotten a headache trying to figure out which version of Singapore math to try…then tell me your superpower! While I'm glad we switched my 1st grader to Singapore math last year, sorting through all the versions and additional books was a nightmare!
Since Primary 2022 is newer, not a lot of people have experience using that AND another version. I'll show you some of the differences between Singapore Primary 2022 vs Primary US Edition, and which one I prefer..
I'll cover some differences in the home instructor's guide (HIG), what online teaching is available with each, the basic books you'll need to buy for each version, and things I miss from the US version. (No, we are not going back. I really like Primary 2022).
Also, no matter which math curriculum you use, check out these math games that use addition and subtraction. We use a lot of these, and some of them are so fun my kids don't even think they are doing math.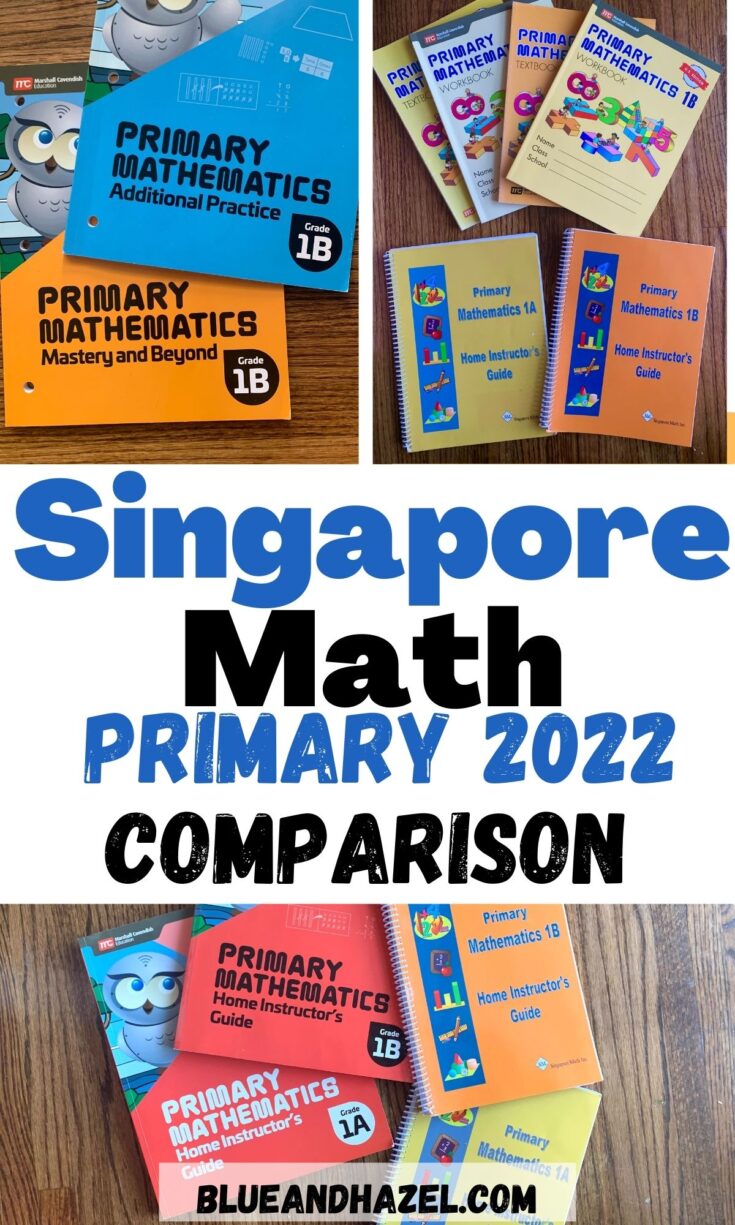 Switching over to Singapore Math mid 1st grade
We used Singapore Primary US version (1A) for the second half of my son's first grade. I almost gave up, but so glad I didn't.
I'd been using Math Lessons For A Living Education level 2 for the 1st half of his 2nd grade year. He learned a ton but I was worried about some gaps in his ability to figure out addition and subtraction facts, and there's minimal help on how to teach it there.
Then I switched to the new Singapore Primary 2022, starting at 1B, as soon as it became available at the start of 2nd grade.
Why did I switch to Primary 2022? Mainly, because it promised 2 books for a daily lesson (student book + home instructor's guide), instead of 3 (student book + home instructor's guide + textbook). Maybe that sounds dumb, but I could not keep up with all the bouncing around.
I have no plans to switch back to the old Primary because this one is working well! To see other curriculum reviews, visit my Homeschool Resource Page. If you're brand new to homeschooling, see How to start homeschooling for the total beginner (curriculum, legal, socialization, and more) and Pros and Cons of homeschooling.
Why is there a new version of Primary Singapore math?
Primary US edition was the first, original version available made by the Singapore Ministry of Education along with Marshall Cavandish in 1998. It was referred to as "Singapore math" or "Primary math".
It reflects the way they did math in Singapore, but was written for use in the US by using US currency, units of measurement, and spelling.
Homeschoolers were the first to use this, and different versions of Singapore Math have been adopted into some school districts in the US.
US Primary 2022 was made to reflect the NEW updated way kids in Singapore learn math now. We'll talk about what's changed in a minute.
Not to mention the layout is COMPLETELY different! Some like this, other's don't.
What's different about Primary 2022?
Overall, the look is SO different. There are new sections in each chapter too. See pic below.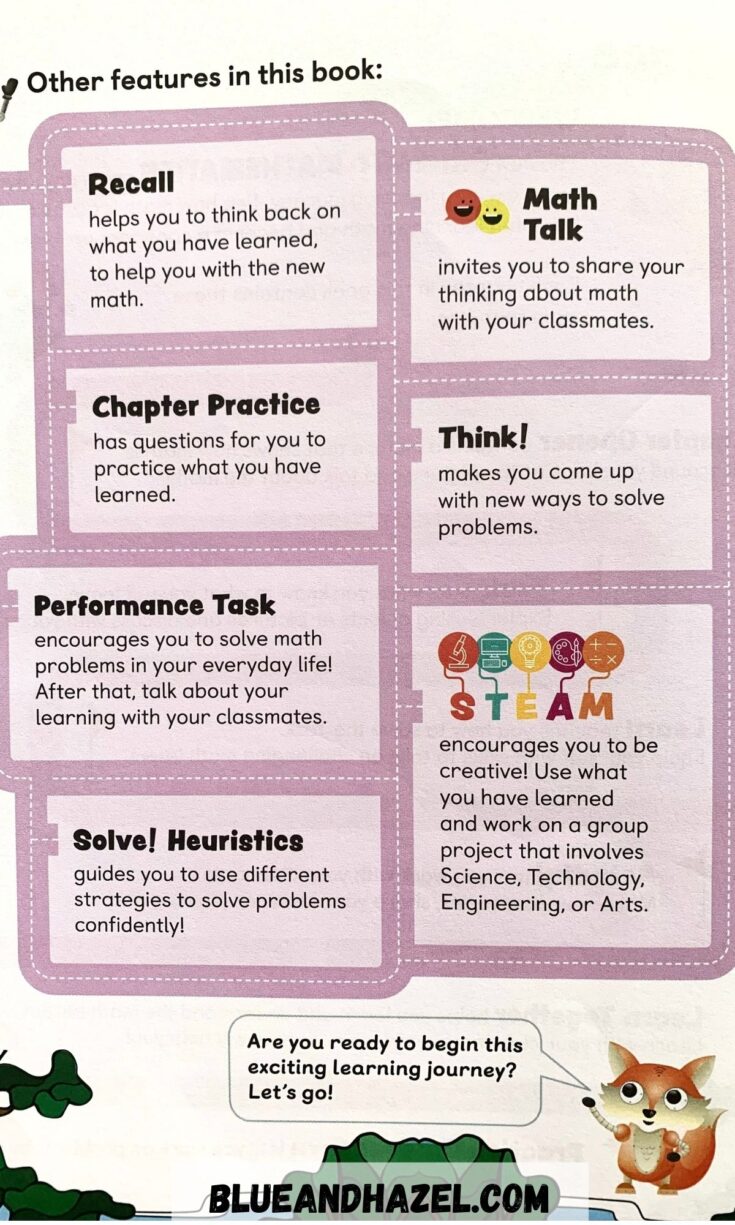 In Primary 2022 you'll see:
student workbooks full of color instead of black and white like US edition
different scope and sequence of topics within a level
postponing topics to later levels (like multiplication now begins in level 2 instead of level 1)
fewer practice problems (there are still LOTS of resources for more problems if you need them)
new sections (ie: STEM, Think, Activity, and Heuristics, which are strategies used to solve complex word problems)
optional supplemental workbooks called Mastery and Beyond (a spiral review of material learned in that chapter), and Additional Practice (more practice problems for each lesson)
they've eliminated the textbook by combining it with the student workbook. So instead of pulling out 3 books every math lesson (HIG, textbook, and student workbook), you'll only grab 2 (HIG and student workbook).
digital resources available for printing ( I haven't used these yet.)
New 2022 student book has pages that tear out! The old one didn't, so I couldn't tear out 1 week of pages at a time to put in my weekly homeschool binder or tear out a year's worth of math pages to organize in our yearly crate system.
There's also updated teacher's guides (made for classrooms) and home instructor's guides (made for homeschoolers). More on that later.
What are all the versions of Singapore math?
When you ask another homeschooler what math they are using and they say "Singapore math", it could be:
Primary US edition
Primary 2022
Primary standards
Primary common core
Dimensions
Math in Focus
So, that's confusing, right? The main ones used by homeschoolers are Primary US edition, Primary 2022, and dimensions (which is actually produced by a US company, through a different publisher. Very confusing, I know)
How does the scope and sequence differ between all the versions?
This is what it says on singaporemath.com:
"They all share a similar approach, and except for Primary Mathematics 2022, they follow a similar sequence of topics year-by-year. You can easily switch from one program to another for the next year, with the exception of going from Primary Mathematics 2022 to any of the other programs, and from Grade 5 of Primary Mathematics U.S. Edition to Grade 6 of Primary Mathematics Standards Edition. It's easier to make the change at earlier grade levels."
Two main differences in the scope and sequence of Primary 2022 vs Primary US edition:
Multiplication gets pushed back to level 2 for Primary 2022 instead of introduced in level 1 like in other versions of Primary and dimensions.
Topics are rearranged within each level
What this means is that you CAN'T seamlessly switch from another version of Singapore to Primary 2022. You'll need to take a placement test.
. Click here to compare the scope and sequence for each grade of all of the above versions.
Which level should you start at if you are switching versions of Singapore math?
Because all the versions have a different scope and sequence, it's really important to take a placement test.
If you find your kid has learned everything except one or two areas, like money and time for example, you could teach that on your own and level up. Or, level down and fly through some chapters as review.
Core components of Singapore Primary US edition
In the original Primary US edition, there were 3 core books for a semester. So 6 for the year would be the recommended "minimum". This was the home instructor's guide (HIG), textbook (reusable), and workbook (consumable).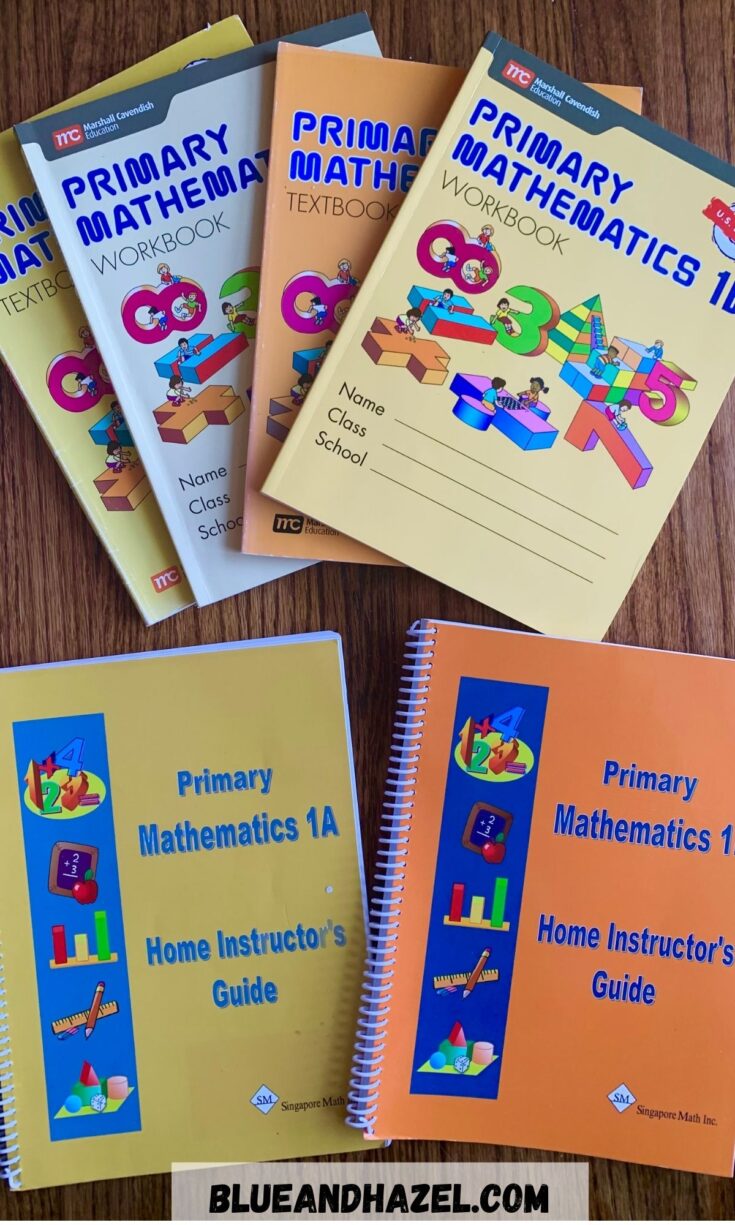 All 3 would be opened daily and so your spread would look something like this (level 1A below):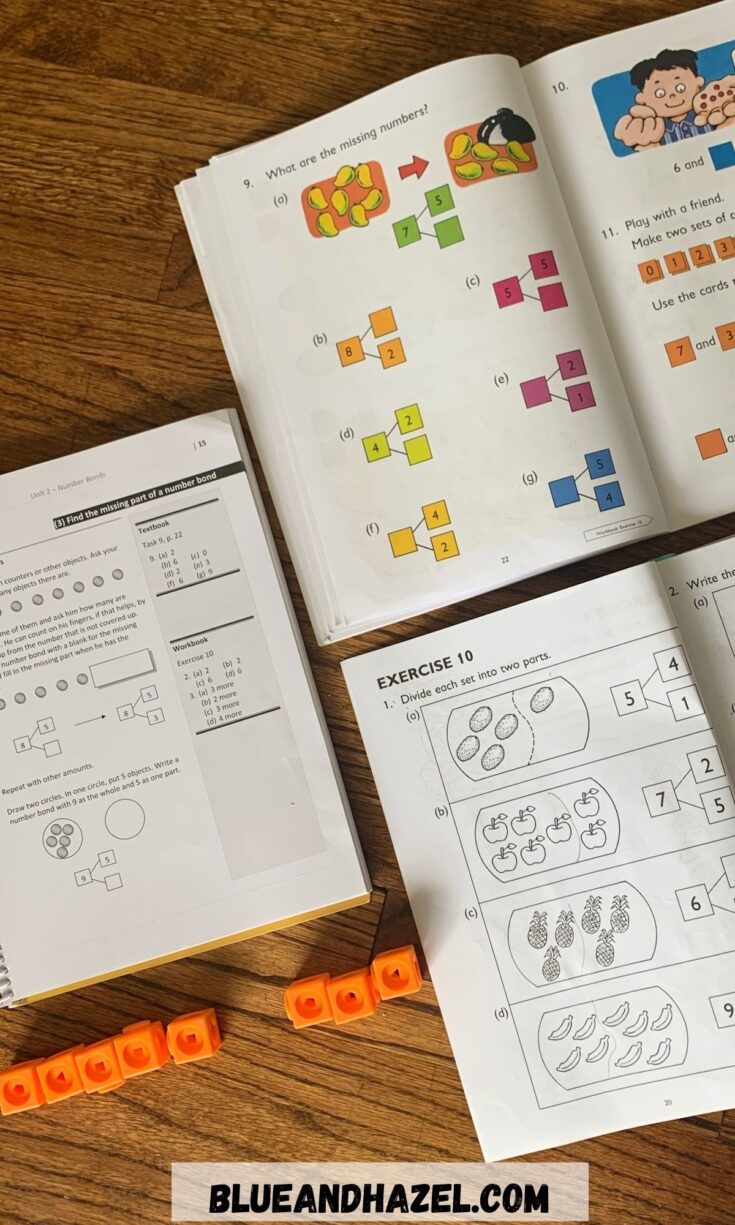 I'm sure some families do it with less. But if you're unfamiliar with Singapore Math and a 1st timer like I was…you want to know what in the heck to buy at a minimum to do it well!
Optional supplemental books for Primary US version
Then you had optional supplemental workbooks you could buy for Primary US edition. including:
This always confused me because 1) How in the world would there be attention span for more when lessons already take longer than most math programs and 2) When do you squeeze them in without getting terribly behind schedule.
Here's a peak at the FULL set of student books you could get for 1 year, and what they cost. And on top of that you'd need a HIG for A & B (so 2 a year). If you got them ALL plus the required HIG, it would be 10 books a year!!!.
I'm sure no one uses ALL these, but this is very confusing to any new Singapore Math user. Especially to me, who came over after using Math Lessons For A Living Education where we had JUST 1 BOOK for the whole year. And no teacher's guide.
Core components of Singapore Primary 2022
For the core of the program, the company recommends using (at a minimum):
Home Instructor's Guide (RED, daily)
Student book (GREEN, daily)
Mastery and Beyond (ORANGE, occasional spiral review within a chapter)
For additional practice in an area your child needs more help with, there's:
Additional Practice (BLUE, whenever your child needs more practice on concepts taught in a lesson).
Digital resources called "reteach" included in a 1 year access pass with purchase of any home instructor's guide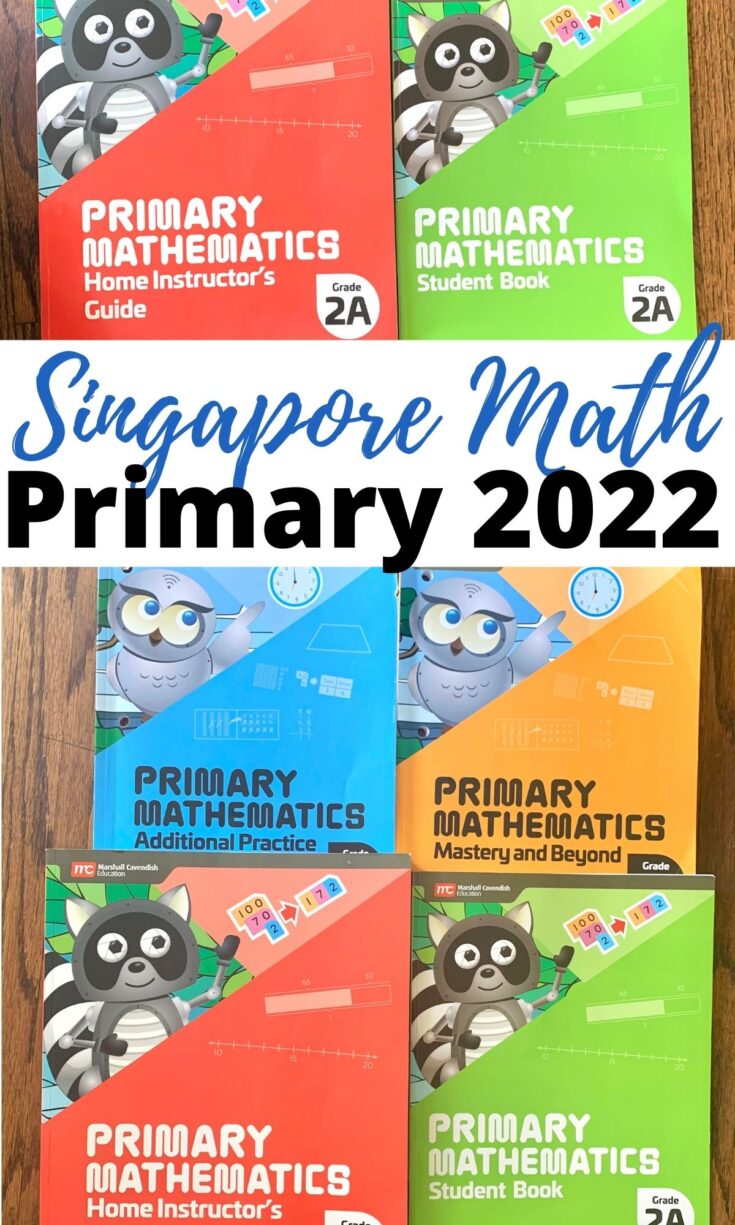 Home Instructor's Guides + Student Books
If you go with Primary 2022, you'll want to buy the 2 home instructor's guides and 2 student workbooks per year at a minimum. (That's the red and green ones). Since a level is divided into A and B for a year, that's at least 4 books each year.
Mastery and Beyond Workbook
One other CORE component (says the creators of Singapore math) is the additional book called Mastery and Beyond. It's orange for all levels. There's an A and B version for each level (1 per semester).
This will be review within each chapter, but not review of previous chapters.
I got this book for 1B, but didn't get it for 2A. I think it would be good to use again, but couldn't figure out how to fit it in as we were doing the bare minimum after having a new baby. Even though this is considered a "core book" and review tool, some homeschoolers don't use it at all.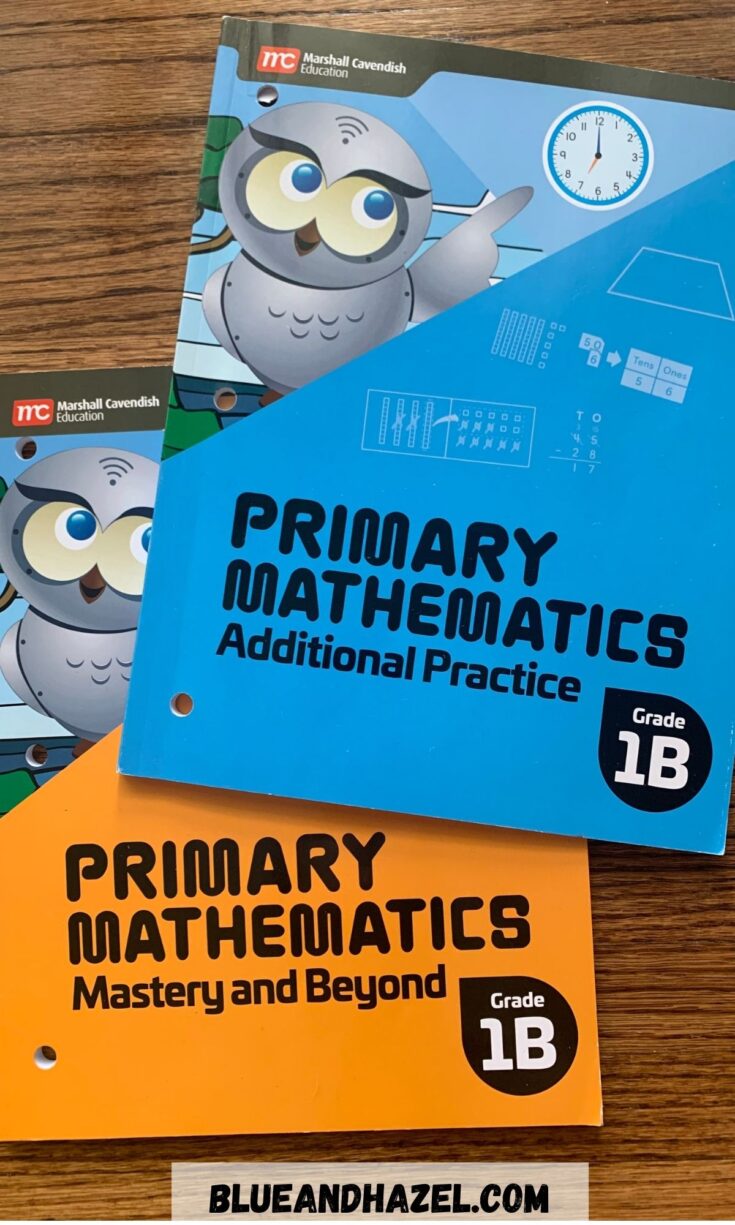 Additional Practice Workbook
The 2nd optional Primary 2022 book is called Additional Practice. This is "on level" extra worksheets of the exact type of problems related to your student book. It'll be blue for all levels.
So if you're doing double digit subtraction in level 2 and feel your child needs more days to grasp this, then this would be the book for you. I think it's hard to know if you'll use it or not, because it's 100% based on if YOUR child needs more practice in an area.
I don't use this anymore or buy this as we progress because it was too much extra on most days and felt wasteful to buy for the few times I did use it.
The one time I really leaned on this, was when we had our 4th baby and I took a 2 month school break from teaching. It was super handy to have the Additional Practice worksheets I could hand my 2nd grader each day and he could do them on his own, since they were topics we'd already covered.
I bought my Primary 2022 from Rainbow Resources. Once you know your level, you can pick out books.
Digital resources mentioned in the Home Instructor's Guide
We have not used any digital resources mentioned in the HIG. It's TOO much for me. Too much logging in, hopping around…downloading….printing…no thank you. However, many people in the Singapore Math Facebook group love the digital resources.
Also, the digital resources are included with your HIG purchase and ONLY good for 1 year. They email you a code. This is all still new and they'll hopefully smooth out how to access this if you have more than 1 kid and don't need to buy another HIG.
Here's what's available with Primary 2022:
Reteach: More help that corresponds to a particular lesson in a chapter.
Extention: Exercises to develop problem solving skills and challenges. Correlates to a lesson in section of a chapter.
Assessments: digital chapter tests, mid and of year assessments,
What I miss about Primary US edition:
I really miss that the visual resources used in a lesson (like 10 frames, 100 chart, shapes, place value mat, etc) are not full size in the back of Primary 2022. I read from one of the author's that they were trying to save us money by not adding so many extra pages to the back of the HIG.
Well…it's WAY less convenient! And in the back of the HIG there are now mini pictures of the online downloads of these visuals, saying "available for download online" with ZERO explanation how to access them.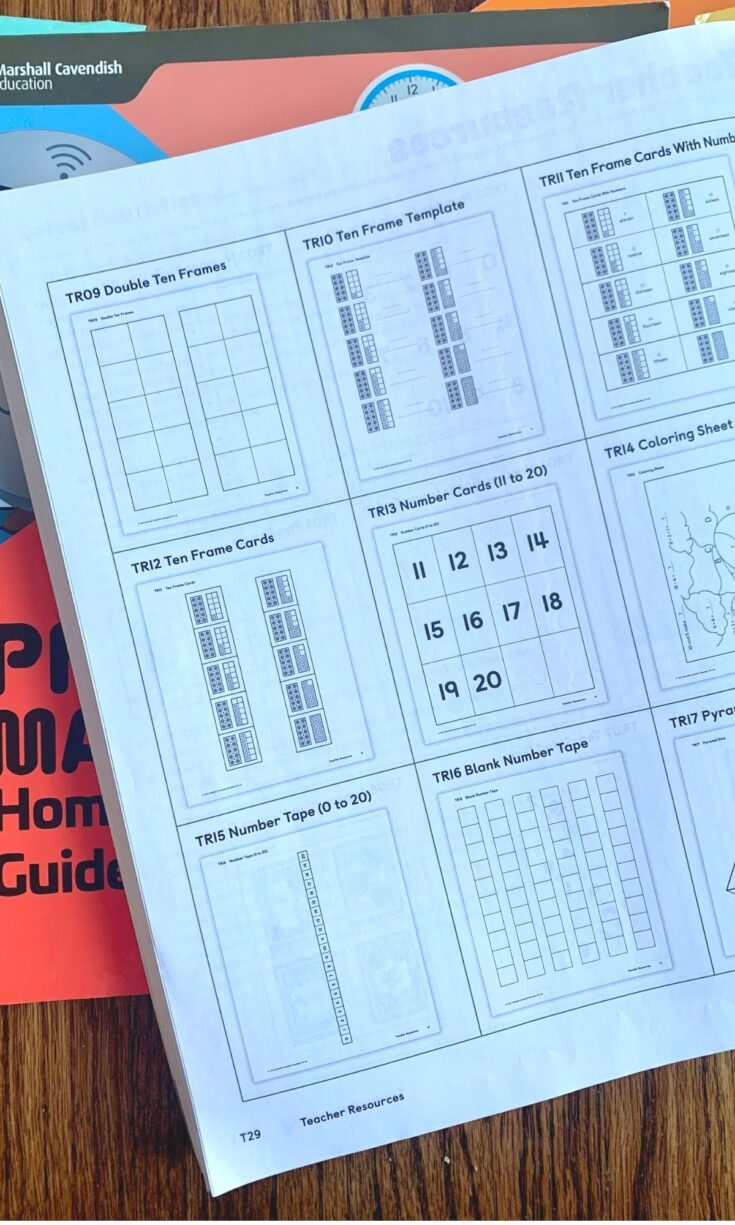 This is a MEGA downgrade to parents, in my opinion. I can no longer go make a quick scan/copy of anything.
I also miss the mental math exercises in the US edition. These were done every few days (as listed in the HIG). It was 20 or so problems.
You could do them orally which is how I did it, or copy and let your child write in the answers. I'm not sure if these were in each level or just level 1 basic math facts.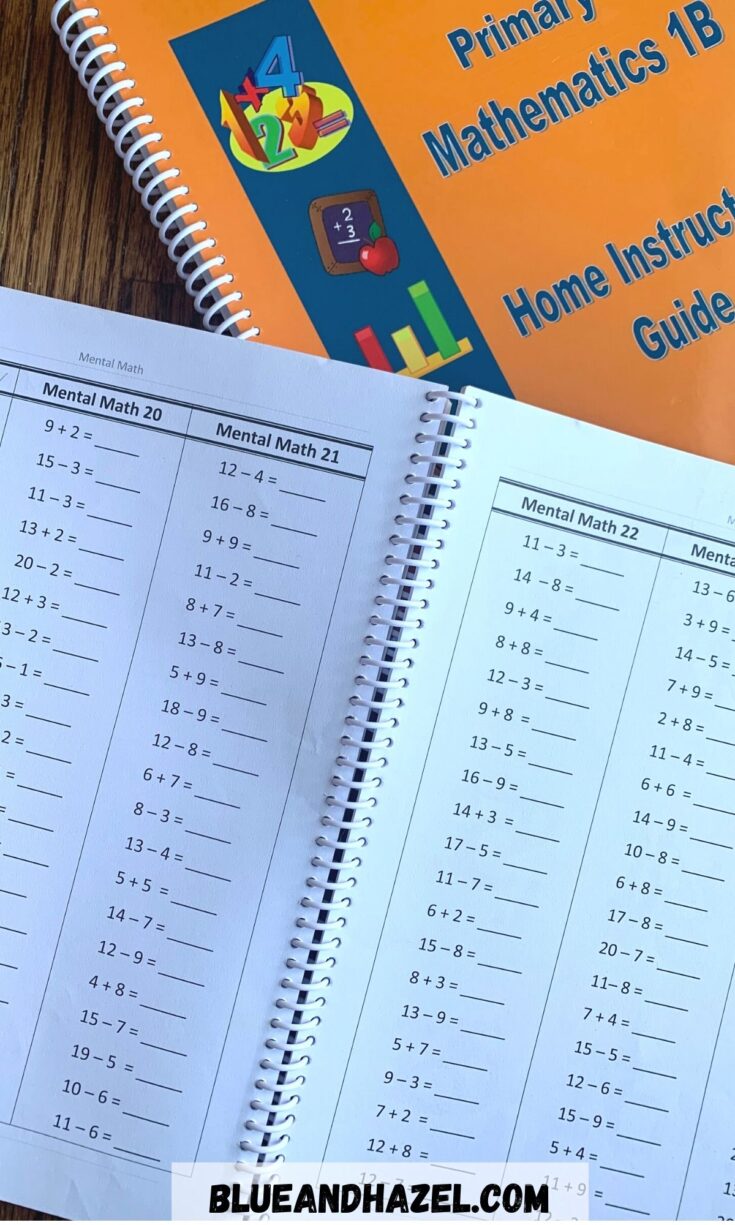 How does the old Primary US edition home instructor's guide compare to Primary 2022?
My personal take? Both are WORDY. Whew! I made a video below you can watch for some differences I noticed right away. Big differences:
Primary 2022 HIG is WAY bigger and not the same size as the student book. Awkward size now.
Primary 2022 is missing the mental math checklists in the back.
Primary 2022 doesn't have full size visuals you can scan/copy to use in the back…you now have to login somewhere with an emailed code to access digital files and print. (I just made some of my own. Things like 10 frames, 100 chart, place value mat, etc).
Primary 2022 has easier to follow headings in the HIG that match the sections in the student book which make teaching easier!
Primary 2022 has an easy DAILY schedule! I made a video showing you how it's now super easy to figure out how much to do each day. The old one also had a weekly schedule, but it wasn't clear what to do each day.
Less visuals in the new Primary 2022 within a lesson.
More explanations of WHY things are taught, what your child should learn from each problem presented, etc.
Both HIG have these things in common:
Black and white
Answers on the sides of the day's lesson
Questions to ask when teaching
Games and activities
Can you skip buying the HIG for Singapore math?
I buy the HIG because it's the only way I can learn how to teach the Singapore way. Meaning Concrete (hands on) –> Pictoral –> Abstract (numbers on a worksheet).
Without the HIG I wouldn't have known how to teach number bonds, or fact families, or games with cards and dice. I don't use it every lesson, and will use it less with future kiddos since I'll have more experience.
And I 100% wouldn't think to ask my kids mathy questions to test their understanding, which is pretty much 90% of the new Primary 2022 HIG.
Are there videos that teach the lessons for Primary US edition and Primary 2022?
Yes! And sort of.
When I was overwhelmed and new to Singapore math, I REALLY wished there was someone who could kind of teach the lessons for me. I know programs like Math U See do that, and it's appealing. Here are your options for that using Singapore math.
If you use Primary US edition:
Singapore Math Live is a paid video subscription with videos of each lesson.
This site was made by Brenda, a homeschool mom of 4 and high school math teacher, who decided to record these videos to help other homeschool families!
So you could literally sign in each day, watch the short video lesson with your child, and they do the workbook on their own.
Here's what's included for level 1 (there are 6 levels):
34 weekly videos for the parent
daily videos for student lessons
answers and explanations to the supplemental books Intensive practice and challenging word problems
If you use Primary 2022 edition:
At this time, there's no completed video subscription available to teach to the new Primary 2022 scope and sequence.
While I'm sure Singapore Math Live videos could still be helpful for teaching concepts in the new Primary 2022, the scope and sequence is different. So it would be confusing which videos to watch.
There is however another option if you want video help! Jessica Kaminski, one of the authors of the new Primary 2022, has an extensive video library for teaching Singapore math!
She's made videos for some of the new sections in Primary 2022. Specifically the "Heuristics" problems and "Think" problems you'll see in each chapter.
I wouldn't buy her membership just for those, but her video library membership is topical, extensive, and therefor useful for ANY version of Singapore math you use.
The down side? There's not a video for individual lessons. You'd have to watch the topic. That makes these good for ANY Singapore version though.
Which version do I use?
Personally, I like the new Primary 2022 better. It's easier for me to follow with 2 books per lesson instead of 3. It feels way more open and go for me than Primary US version, because it's so easy to know how much to cover in 1 day.
I can easily match the sections in the student book and HIG to follow what to say in each section. (Sections are labeled "Learn", "Learn together", "Activity", "Heuristics", "Think", "Chapter Practice", "Performance Task" and "Practice on your own" sections in my son's book and my HIG.)
In the pic below you can see how the headings match in the HIG and the student book pages I've ripped out.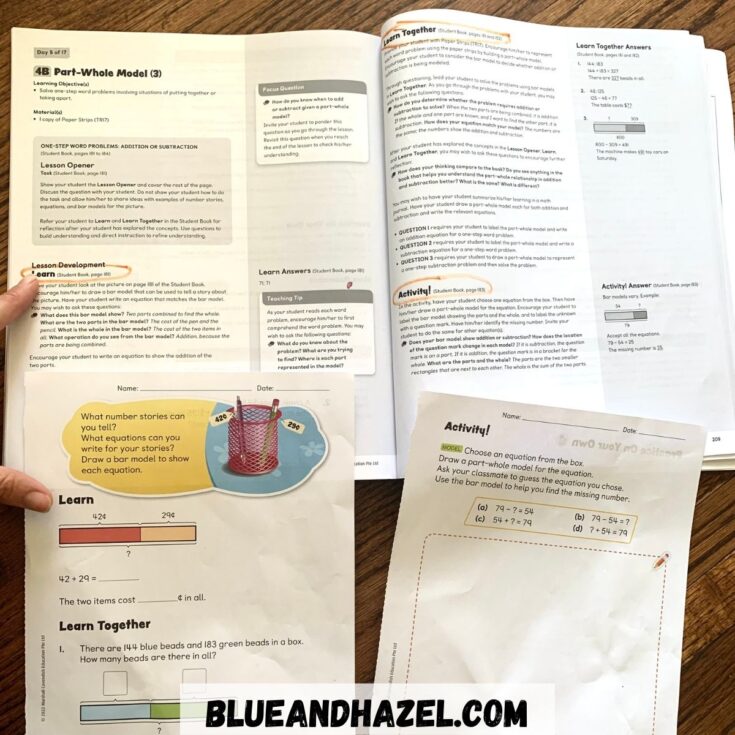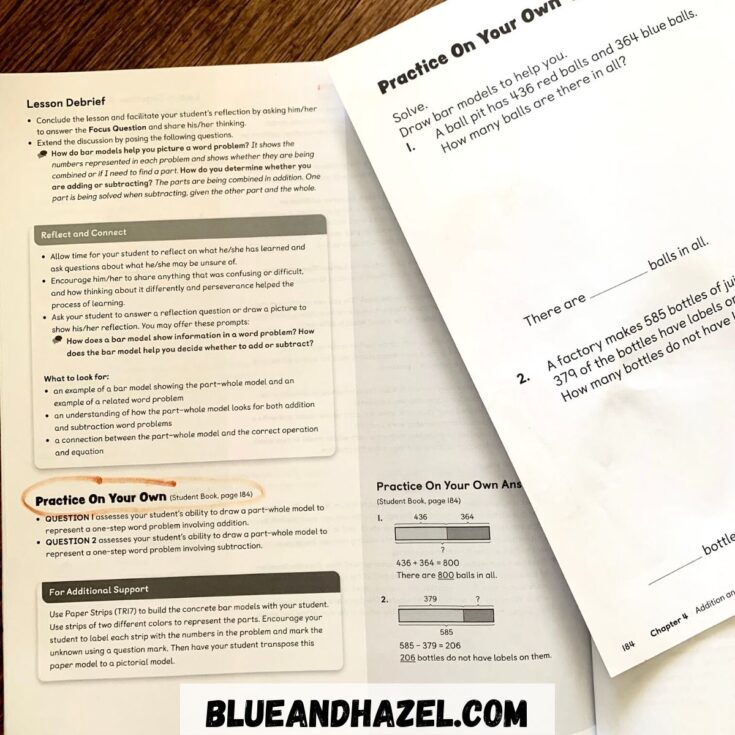 Which version of Singapore Math you use comes down to preference
Sometimes you like what you know! It's hard to get used to a new layout. Some parents want TONS of practice problems. Others swear less is more.
Some parents do all the hands on recommendations, other's don't do any.
I see parents using extra digital resources, where's I don't use them. What I mean to say is there's a mixed bag out there of what families are doing when they say they use "Singapore math". The daily work, the results, and the child are all variables!
Remember, both versions are still solid. Your child will probably have a great number sense using either! Spend LESS time worrying about which edition of Singapore is best, and more time being attentive to how your child responds to whatever you pick.
Then adjust.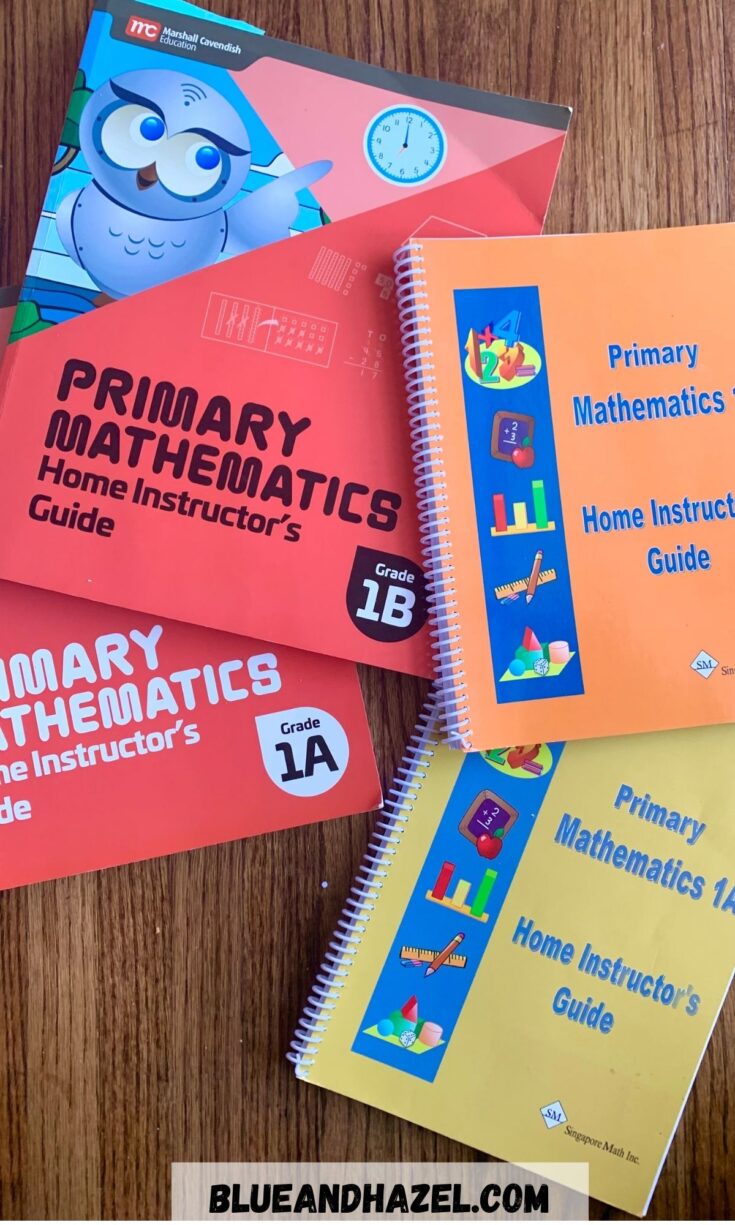 You know your child's math sense best!
When my child isn't grasping the material…I can tell. They guess. They get wrong answers. That's the time when it would be good to find a whiteboard and do more problems. Or use one of Singapore's additional workbooks or digital resources.
If you try Singapore and want something a little bit lighter, try out Math With Confidence by Kate Snow. Here's how we are using MWC with my 1st grader.
It is VERY similar to Singapore actually! Meaning hands on, then pictures, then workbook. And also the presentation of number bonds, and emphasis on mental math. It's scripted, loaded with games, and easy to use. And CHEAP for a year. The meat of this program is in the Home Instructor's Guide, not the workbook.