This year we decided to try using a homeschool crate system to organize our entire year of curriculum. The draw for me to try this was that it's beautifully organized, easy to track which week of the school year we are in, and everything is ready to go for the whole year. This crate system took me about a day to put together, and cost around $65.
It's not a perfect system, but it's pretty darn awesome so far! I'll show you exactly how to set up your own crate system step by step. You can also be sure I'll share what I love about it and also it's failing points. I'm giving this a full year to see if it fits our family, and I'll be sure to let you know here.
I am by no means the first person to come up with this, and in fact the person who first inspired me to to this was Kristy Clover. She's used this for years with many children and she says it's the best thing they did to keep track of it all and pace themselves.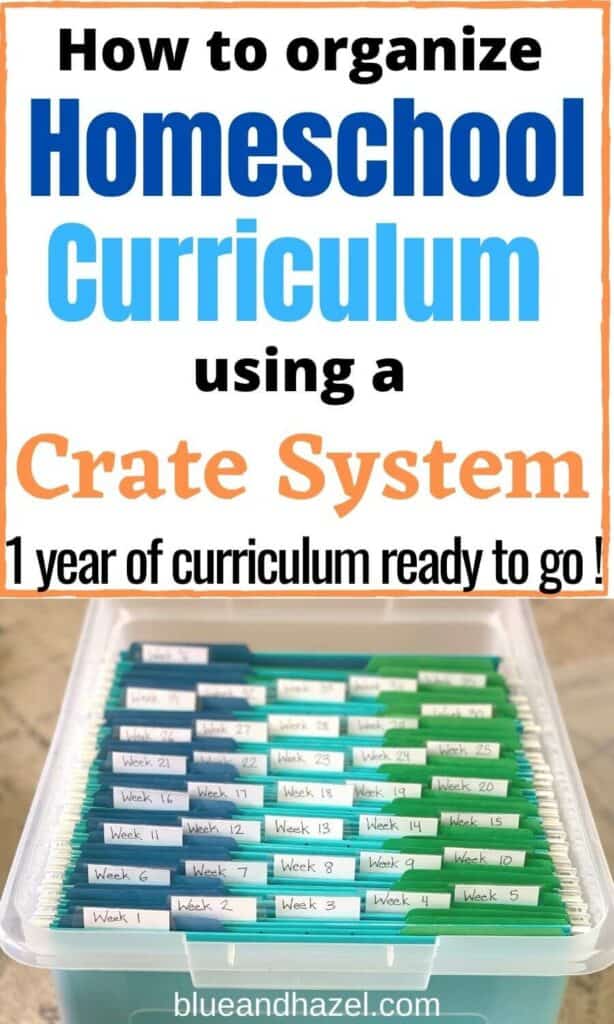 This post contains affiliate links. We are a participant in the Amazon Services LLC Associates Program, an affiliate advertising program designed to provide a means for us to earn fees by linking to Amazon.com and affiliated sites.
Supplies you'll need to set up a crate
To make this crate you will need:
a hanging file box (I use these)
36 Hanging file folders (for 36 of them you'll need 2 sets, because 1 set comes with 25 which is not a whole school year)
Folders, called 1/3 cut tab so you can have up to 3 kids using one crate. One color for each child, and you'll use 36 folders.
Why you want to buy the box of 100 folders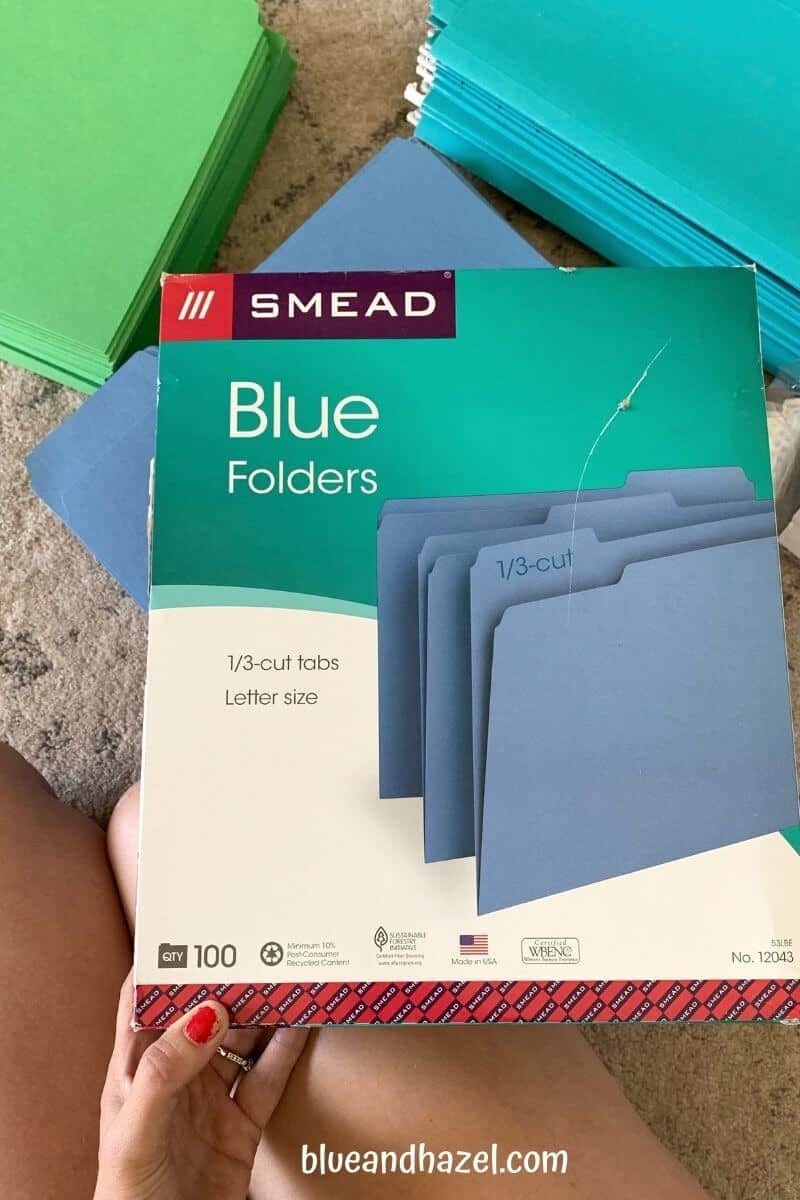 This confused me at first but once they arrived it made perfect sense. You want the pack of 100 because you'll have 33 files in the box that go on the same side. (33 will have tabs down the middle, and 33 will have tabs on the other side that can be flipped to be the last 3 you need and lined up with the others).
If you buy the 36 pack (which seems perfect but it's not!), then your tabs won't line up because 12 of them will be down the middle.
Why 36 weeks and 36 folders?
In our state, we are required to have 180 days of learning. Be sure to check your own state laws, but 180 days is pretty common.
180 days divided into 5 day weeks is 36 weeks. So you'll need 36 hanging file folders and 36 colored folders that go in the hanging file folder.
We typically do 4 day school weeks because the 5th day is our nature group. But, I still place 5 days worth of material in each week and we seem to get through it just fine.
How to set up your homeschool curriculum crate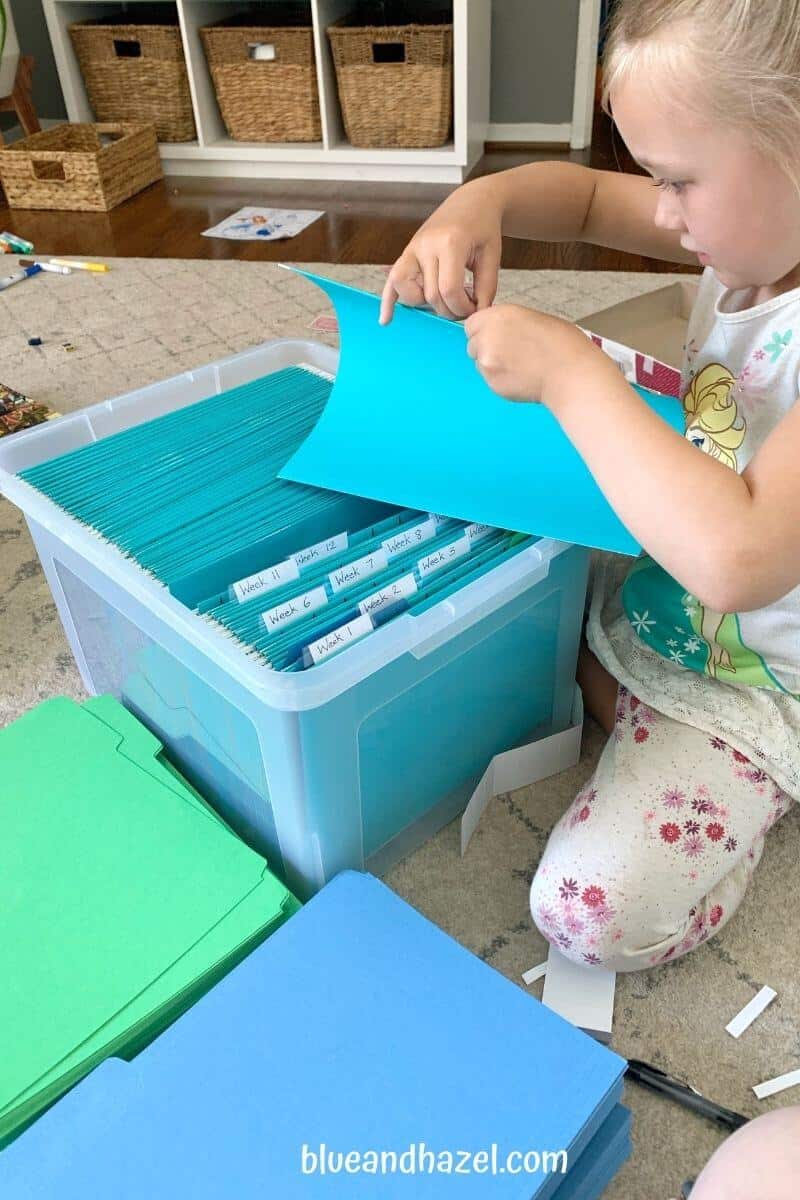 This is fairly straight forward but it's going to take a bit of time to label the tabs and stuff. Check out my video below to see how this will look once you get all your supplies.
Place all your hanging file folders into the box.
Label the white tabs week 1, week 2, etc all the way through week 36.
Place the plastic tabs in the folders with week 1 at the front, week 2 next, and so on. I like mine staggered.
Place 1 colored folder inside of 1 hanging file folder. Make sure you are using the tabs that line up on the same side. Repeat if you have 2 or 3 kids sharing a box.
Optional: add in a few extra folders. I'll explain below.
Divide up your curriculum into weeks and place it in the folders. If your curriculum is divided into weeks, this should be easy! Check the table of contents to see.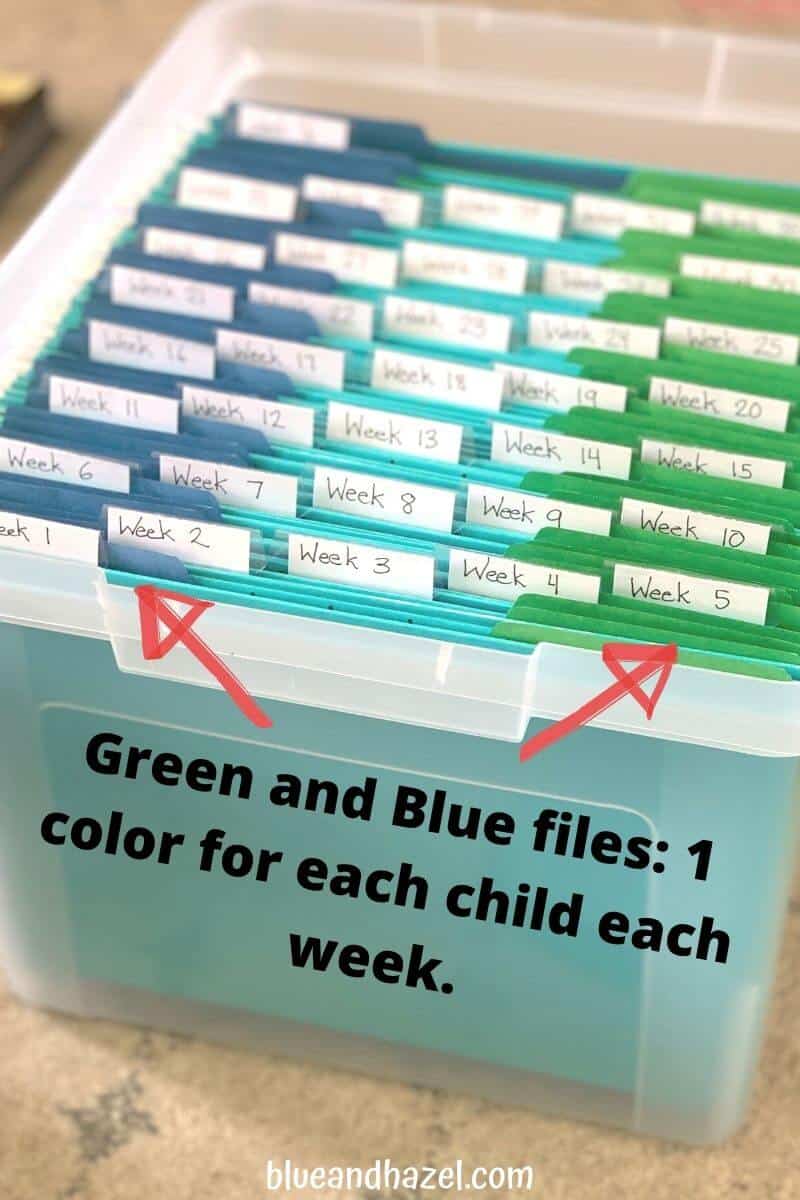 Not all curriculum will include 36 weeks. You can decide to space it out, or fill those weeks other fun things like a unit study!
Remember your daily workload will be determined in part by the curriculum you choose and your child's natural pace of learning.
I just placed our curriculum week by week till I ran out, and the back weeks that are unfilled will be review, games, or maybe we will begin the next level up.
A few extra folders to add to the crate
An important documents file
I put an important documents file in the back. You can keep all official homeschool documents there.
Right now, I only have a letter of intent to homeschool from our cover school to the local school district, and my certified mail slip proving I sent the letter to the school. I also keep my HSLDA membership card.
That's it for now, but eventually we will have grades and transcripts and such.
A file with their name and grade on it
Put a file for each kid in the back that says their name and grade. This is where you will eventually add work samples you want to keep for records. Things like handwriting samples throughout the year, math sheets from the beginning, middle, and end of the year, quizzes, or anything you decide really.
All the papers not in that file will eventually get tossed. Then next year, you can replace that file with a new one saying their name and new grade.
Also, if your curriculum has a table of contents or week by week plan for the year in the front (most do), tear that out and eventually put it in your kid's records for that year.
Optional: A file with their name plus "Art"
I don't have this yet, but I'm adding it ASAP. It will be the perfect spot to store only my favorite art pieces I want to remember as the years go by. Alternatively, you could add the art to their name and grade file, but art may be worth it's own folder.
What to do with all the completed school work
Each week, I take a week's worth of worksheets out of the crate and put them in each of my kid's homeschool binder. It's separated by subject, and I put finished daily work in a folder in their binder labeled "done". You can see our 1st grade and kindergarten curriculum choices here.
But, after my first week when it was time to empty the finished work, I wasn't sure what to do with the loose papers.
Normally, we would just leave all our math work in the math book. And at the end of the year we would pull a few sample pages for record keeping and toss the rest.
But with this crate system, there's no binding to hold it together all year. So I've been putting finished work back into the crate to store it. So we take papers out for the week, do the work, and put them back into the folders finished. The finished week goes to the back of the crate.
At the end of the year, I'll have to empty their folders and see what papers I want to keep as samples. The rest will get tossed.
Alternatively, I've seen people toss the papers weekly as they finish and save a few samples here and there. It's your call!
How to use this homeschool crate system if you are not starting the year on week 1?
This was us! We started the crate system around week 4 I think. So I just put weeks 1, 2, and 3 in the back of the crate empty. Then I tore out week 4 material and put that in the front. We still had 36 weeks in the crate, we just started filling it with the week we were on.
Also very important, it DOES NOT have to be week 4 of your curriculum. It just has to be your 4th week of your "official" school year you are tracking. (Using 4 as an example because that's what week we started using the crate system) Your pace doesn't have to be determined by your curriculum. If it's taking you longer to get through, that's fine.
How this crate has been working for our family 12 weeks in
Overall, I'm pretty happy with how everything is so easy to grab for each kid. On Sunday night, I grab each kids' work from their folder, and put it into our weekly binder. That's all the planning I do besides reserve library books.
The hardest part of this whole thing was just taking apart my orderly workbooks! It's kind of a leap of faith! And scary too. But once I spent a couple hours ripping two kids math books plus 1 kid's language arts book, there was no going back!
Normally, we would have just put our math book on the table, done the next day's lesson (since ours are ordered by day), and then done the same for language arts, then handwriting etc. Opening books wasn't hard or bad, so if it's working for you DON'T feel pressure to change. There's no perfect system.
Problems I've had with our crate so far
Overall, this system has been easy to use once it's set up. I *think* I'll keep using it in the future, but I'm going to wait and see.
I'm still trying to assess if this system is better for us than just tearing out one week of each curriculum book to put in our homeschool binder system as we go. I LOVE having the work pulled out of the book. But not sure it HAS to be done ahead of time like this.
Here's my issues.
Working ahead can get throw off your folders
I've had the problem where we are pulling extra lessons from future weeks and so I'm thumbing through the folders trying to find which week has work in it. Mainly for my kindergartener who's flying through the level 1 Masterbooks math because she grasps it and lessons are very short.
And since we'll finish math early we will need to find extra work toward the end of the year. Or play math games. We will see.
I'm not sure how to fix this. It wasn't an issue before the crate system because we weren't pacing the year with folders. My guess is on our next break, I may bump up the work in all her folders to match the week we are on so I'm not searching in week 20 when we are on week 12. But that seems time consuming!
We haven't had weeks where we didn't finish the 5 lessons (we use Masterbooks for math and language arts and they have short lessons). If you did find yourself not finishing, you could aim to finish it the next week, or have a file for unfinished work and somehow get to that eventually. Or not, you're the parent!
You can't flip back through a workbook to look at old lessons
This is kind of a non issue to me. But if a friend asks to look at our curriculum, it's not really possible!
What if you like to change things up mid year?
I'm 100% ok leaving a curriculum mid year if it's not working for us. We haven't done that yet, but if I did I'd have to take every week of that subject out of the crate and fill it with a new curriculum.
It's also a tad inflexible if you last minute decide to do a random unit study instead of your crate. For example, I've purchased the space unit from Gather Round to try at some point this year, which should take us 4-6 weeks. It's not just science, it's everything BUT math for both kids. Since it doesn't come with math, we will continue with the math in our crate.
However, we will pause our Masterbooks language arts so I'm not sure how I'll rearrange the 4-6 weeks that in our crate. My guess is we will just press pause, and I'll put those unfinished weeks farther back in the crate to start up after the unit study.
For tons of ideas and solutions to common homeschool issues using the crate, check out this post.
What are the orange dot stickers for?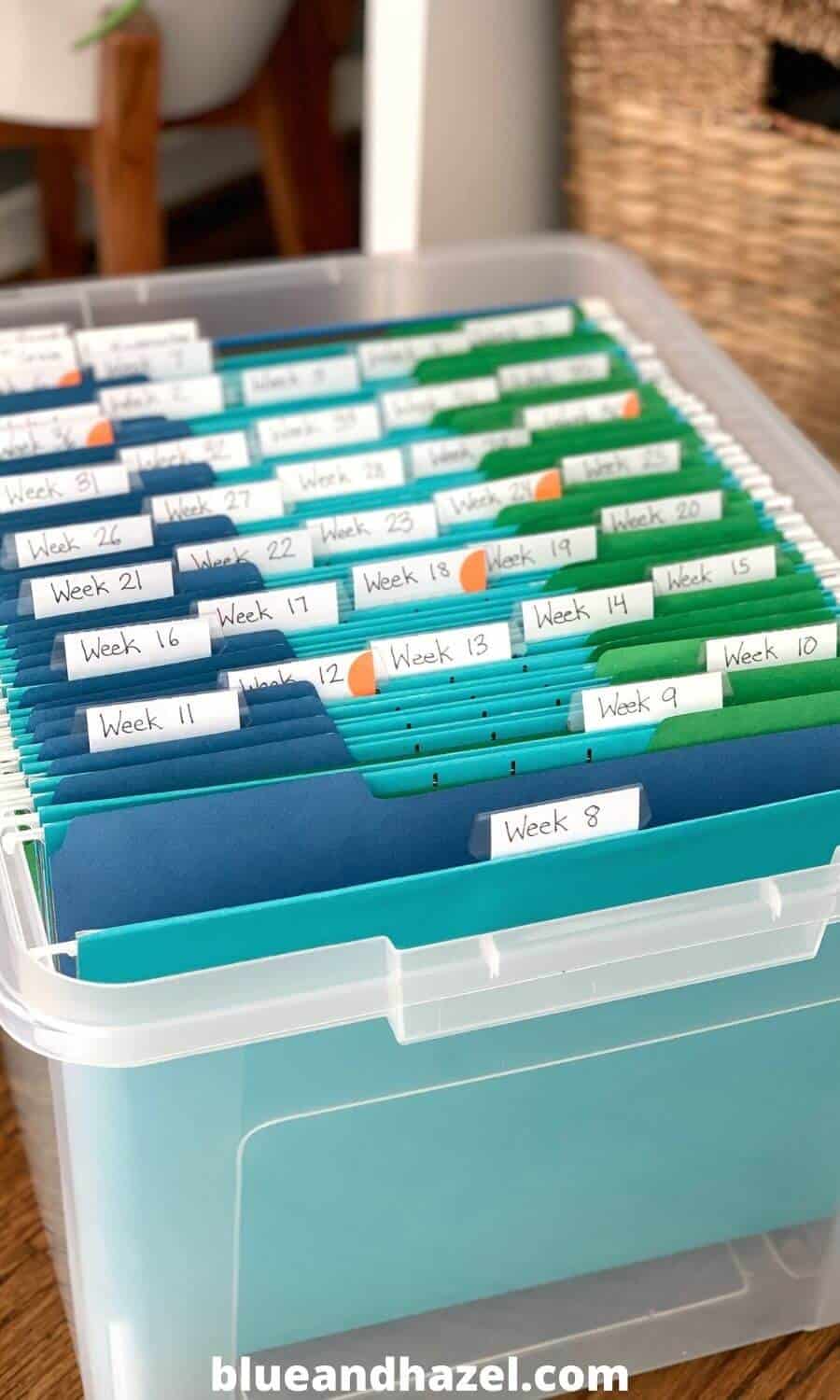 We are trying out year round schooling, "sabbath style". That simply means 6 weeks on 1 week off. So every time we get to a week with a sticker, we pause for a week before moving on to the next week!
That's 6 weeks off during the year, plus 36 weeks of school required for us, which equals 42 weeks. That still leaves an extra 10 weeks in the year for any other vacation time we want to officially not do school. Which if you homeschool, then you know some sort of learning is always happening even on vacation time. But you get the idea 😉
So far, we've had one break and was awesome. Really helps with burnout and allows me time to assess changes for the next 6 weeks.
What to do if your curriculum doesn't tear out
I would love to know which curriculums tear out nicely, so if you have any insights please drop a comment!
The two I've used before are Masterbooks (tears out easily with perforated edges) and The Good And The Beautiful (which is spiral bound and does not tear out well).
If you have curriculum that you can't tear out, you can take it to a store like UPS, Office Max, Kinkos, or Office Depot, and they'll cut the bindings off leaving you with nice straight edges for your crate system. They should do it for you either free or for under a couple bucks.
Do what works for your family
I think the most important thing, even if you try this, is that you tweak your homeschool to work for you. Each year, reassess and see what's working and what's frustrating. Hopefully this has inspired you to try this if what you have isn't working! I'd love to know what you are currently doing in the comments!
A few more posts for you to enjoy: