Maybe you've heard of Rakuten? It used to be Ebates when I started using it! Here is the scoop on how Rakuten works to save you hundreds of dollars every year just buy clicking a button when you shop online! How much you earn depends on how much you already shop online and if the stores you shop at participate. I earned almost $300 cash back shopping online as I normally would my first year, without purchasing anything extra.
This post contains affiliate links.
How does Rakuten work and is it a scam?
It's 100$ legit. Not a scam at all and I tell all my family and friends to sign up too.
You sign up, install a "cash back" button that will appear on your screen to remind you to click at each site, and you will earn anywhere from 1-25% cash back at one of the thousands of stores that participate.
Rakuten works as a middleman getting a cut for "referring" you to your shopping destination. They pass on a percentage of that cut to you, and pay you via PayPal or check. It's just a bonus way to get a few bucks back for each purchase (which could be hundreds of dollars) depending on how much online shopping you do.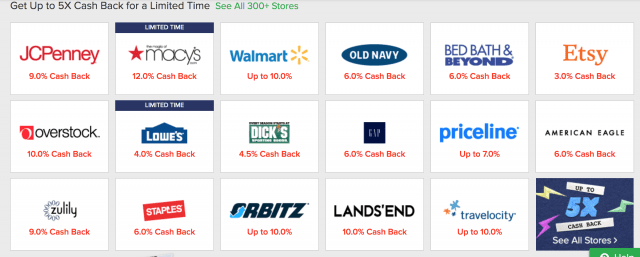 Does Rakuten cost any money?
No, it's free!
Rakuten makes money from online retailers for "referring" you to shop, and then they pass part of that money back to you!
It is very similar to how you might receive cash back if you have a Costco card, or any kind of a credit card. And, just for signing up here, you will get $10 cash back after you make a $25 purchase. By using my affiliate link, I will also receive a bonus from Rakuten as a thank you for referring you. So thank you if you end up loving it like I do!
Related Post: One family one income 5 people: How I can stay at home
Is Rakuten convenient and easy to use?
Yes! Literally one click of a button before each purchase.
But you must buy as you normally would in the same browser that you click the "activate cash back". Because after you click the button, Rakuten assigns a tracking code to the store. So if you were to close that browser and start a new one later, you would need to click the button again or you would not earn cash back.
Do I have to sign in to Rakuten every time?
Nope! They make it super easy on us.
When I was figuring out how to use it, it was easy for me and I'm NOT tech saavy!
Once you sign up they'll give you instructions to install the Rakuten button on your computer. You will not need to sign in really ever. Simply click the "Activate Cash Back" button and bingo, it will notify you right away how much you have earned after the purchase.
You will be able to see if it's "activated" because the little R (used to be an E for "Ebates" before the name changed) will change to have a green checkmark next to it. See mine below, just prior to clicking "activate". FYI, The message below stating I just earned cash back was from a previous purchase.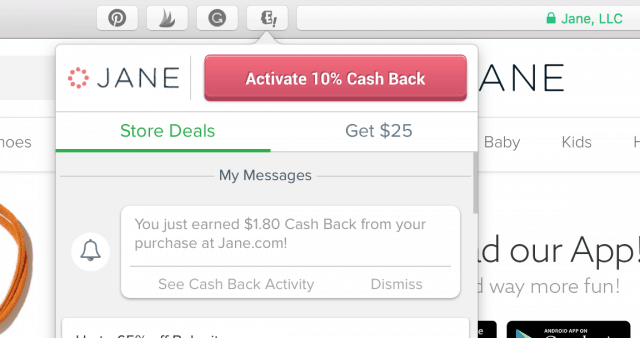 How do I know what percent I'll be earning before I purchase?
The button tells you what percent cash back that store offers as well as any coupons you can automatically apply. You can opt in to receive emails when your selected favorite stores do double cash back. Sometimes, like this week, there were 300 stores doing 5X cash back!
Any cash back is on top of store sales too. So if I'm shopping at JC Penney and use a 30% off coupon, I will still get Rakuten cash back on top of that.
Related Post: How to make $10 in 20 minutes doing website usability testing
How to sign up for Rakuten?
Install the Rakuten button in Chrome or whatever browser you are on. This allows a very small popup in the corner of your screen to remind you to click "Activate Cash Back" at any retailer you are using that they accept.
When you shop, before purchasing, click that "Activate Cash Back" button and you are set!
They will send you money via PayPal or a check in the mail.
Related Post: How to do a no spend month and get your spending under control
Does Rakuten really pay or is it a scam?
It's not a scam, it pays!
My first check cashed was $1.53 from one online purchase, and my largest check was $87.89. That is too awesome considering it's FREE money and I would have purchased those things anyway!
The only added step was clicking the button in the top corner of my computer to "Activate Cash Back" before purchasing. It's free, it's not a scam, and they do pay!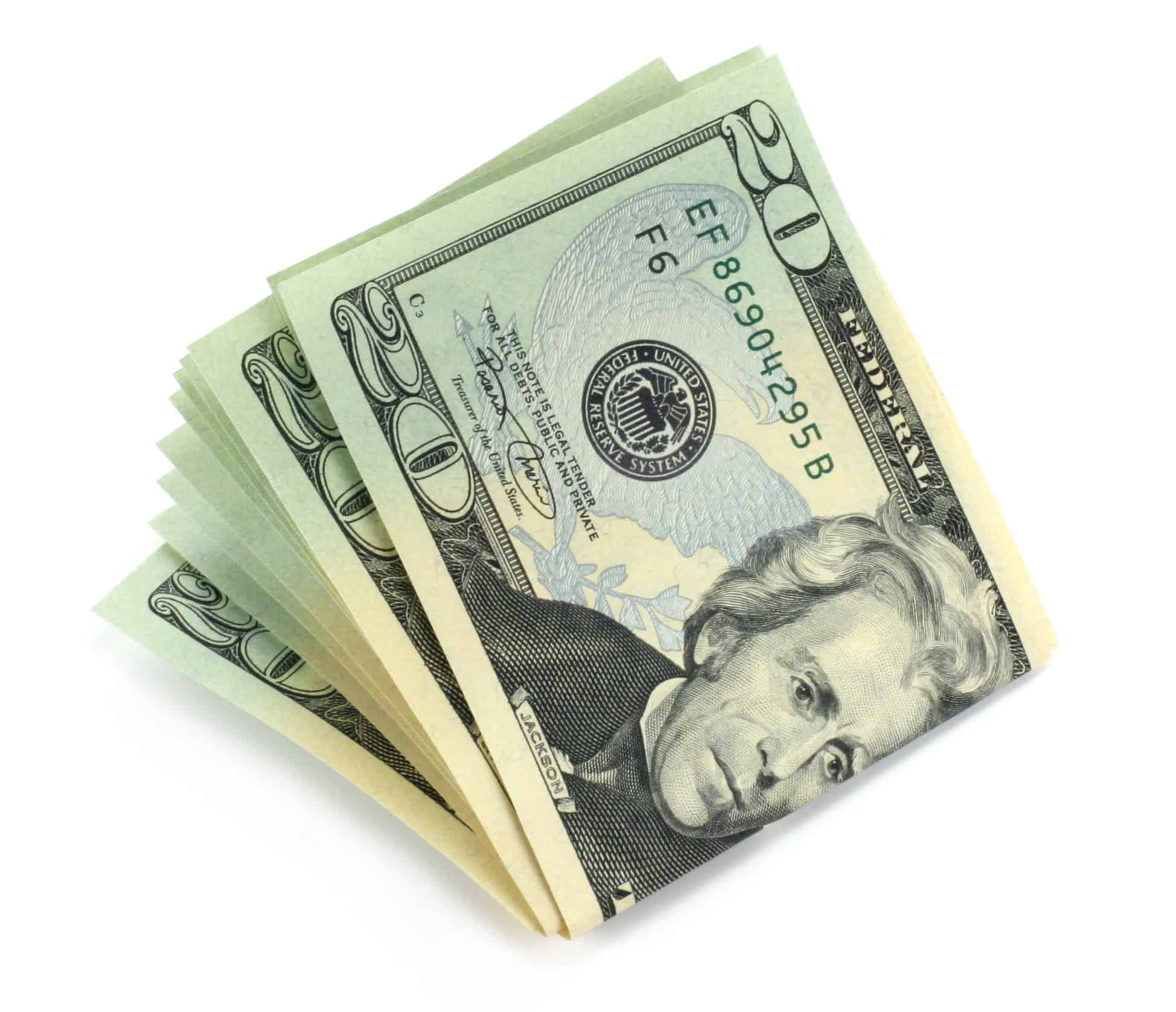 Does Rakuten include any online store?
They boast over 2,500 stores, ranging anywhere from 1% cash back to 40% cash back, and you can see a list of eligible stores here.
This week I got an email saying it was "flash cash back week", with 300 stores offering up to 5X cash back. I'll leave the cash back amounts next to some of the stores below reflecting this offer, which is not unusual at all. They are often doing "big" cash back weeks. Any holiday is similar, too.
Nordstrom Rack (1%)
Lululemon (4.5)
Amazon (up to 5%, select categories only)
World Market (12%)
JCPenney (9%)
Jane.com (10%)
Etsy (3%)
Groupon (6%)
Walmart (up to 10%)
Old Navy (6%)
Travelocity
Priceline (up to 7%)
Best Buy
Carters (7.5%)
Melissa & Doug (20%)
Lillebaby (4%)
Bobbi Brown cosmetics (12%)
Why you need Rakuten installed for the holidays
In my opinion, it's still worth joining for the holidays, or for travel. My largest cash back purchases have been at Snapfish (always 10-20% cash back), JCPenny (usually between 6-15% cash back), Blendtec, Priceline, and Groupon.
Rakuten also gives crazy amounts of double cash back during the holidays and especially around black Friday. You can also "favorite" the stores that you typically shop at the most and get alerts when those stores have big bonus cash back days.
On the flip side, if you cannot spend much at all during the holidays, read Christmas on a budget: How to make it special with less.
Does Rakuten offer cash back on Amazon purchases?
I'm a little sad about this one, because I buy everything on Amazon these days. Not every category will get cash back here. In fact, not many. On any normal day cash back is 0% for Amazon.
On weeks where they boast double cash back or like this week in July (up to 5X cash back) there are only a few categories. Here's a screen shot of what's available and what's not.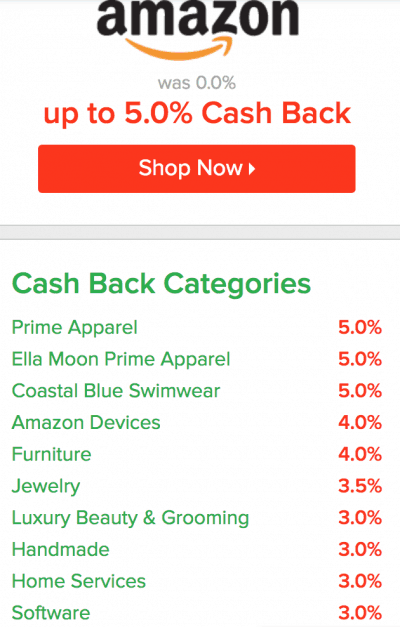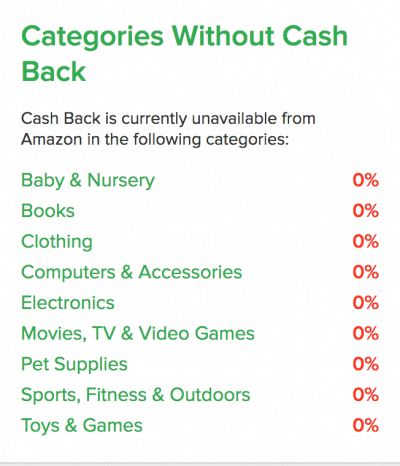 The downsides
There are a few, though not really considering it's essentially a discount for you.
I think the saddest part is that Amazon only offers cash back on certain categories.
Another down side is when I finish a purchase and realize I forgot to press the button to "activate" a tracking code. Because I cannot retroactively get cash back if I didn't have a tracking code.
How to request cash back if it's missing
On that same note, you CAN retroactively get cash back if you DID activate it and were not paid. This has happened to me at times and I don't know why. Occasionally there is a glitch and it doesn't get added to your account.
Simply google "where's my cash back Rakuten". You will see a page pop up to their site where you can go enter some info from your order confirmation. Then, it will allow you to request the cash back. Sometimes they add it instantly and other times it takes a day or so.
Hypothetically that should never happen but I've noticed many times they have forgotten to grant it. Maybe a glitch? But I always get it if I request it.
What are you waiting for?!
Go Sign up Here, it's free and takes about 2 minutes to set up!
SaveSave
SaveSave
SaveSave