We are 1 week away from 40 weeks with baby number 4, and I'm sharing what's in my hospital bag this time around! Most things on my hospital bag checklist can be done a long time ahead, as well as a what to throw in "on your way out the door" list.
The thing I've noticed with my first 3 kids (here's what it was like to have 3 kids under 4) is that the hospital has most of what baby needs, except for clothing and softer swaddles.
So mostly what I'm bringing are comfort items for myself and my husband, plus a few softer swaddles for baby and a few outfits too.
Pregnancy and postpartum resources to try
I also want to share a couple of pregnancy gems I wish I'd discovered with my first 3 kids that have been SO valuable with this 4th pregnancy.
First, I found an online couples prenatal course by a labor and delivery nurse of 20 years that was practical, concise, and a great refresher course! (Even for me who's had 3 babies).
Second, read my review on the Mutu mamas program that helped me to stop peeing my pants after baby number 3. It works!
I used the Mutu program postpartum for a year as well as this pregnancy (till about 20 weeks) with baby number 4. I credit the fact that I'm not wearing a maxi pad at 39 weeks to this incredible program!
My Hospital Bag Checklist For Baby Number 4
Mini toiletries and makeup for that postpartum shower
That first shower is glorious. And I remember the hospital I delivered at just had a liquid soap dispenser in the shower and that was it! So…bring some travel size bottles that will make you feel at home.
I also had a small bag for my hubs with his deodorant, and a few things he likes. But for the most part, he can use what I bring too.
Shampoo
Conditioner
Lotion
Deodorant
Face wash
Toothpaste and toothbrush
Comb & extra hair tie
Razor and shave foam.
Makeup if that's your thing (it's mine so I gotta throw it in)
Chapstick
This deserves it's own heading to me! I didn't bring this for my firstborn and wanted it SO badly!
Many ladies agree that your lips get horribly chapped during labor, and I don't know why. Just pop one in your purse at the least so you will for sure have it!
His and hers robe
They keep hospital rooms too cool for me, and being cold is no fun! I have loved having a long fuzzy robe that kind of doubles as a blanket.
It's also the easiest thing to nurse in and covers you up without having to wear pants.
Postpartum clothes
Maternity leggings
I have a pair of extremely soft and comfy black maternity leggings that I put in my hospital bag this time. One pair is all I'll bring.
Several pairs of undies
If the hospital has disposable undies (I'm delivering at a new one this time) then I'll live in those.
However, just in case I'm bringing a handful of ones that fit but are not nice. Cause…ya bleed like crazy and wear mommy diapers the whole time at the hospital.
A maternity top that fit around 6 months
I packed a maternity shirt, as well as a nursing top. That should be plenty.
Your belly feels SO much smaller after baby comes out, but it still only fits maternity clothes for a while!
Nursing Bra
To be honest, most the time at the hospital I found myself liking to be in just a camisole and a soft robe. But I'll have the nursing bra that I wear in to the hospital, which is this one from target.
I wish I would have discovered my Target nursing bra 3 babies ago! I ordered it in 2 sizes, and each bra is under $20! So adjustable, so comfy, so cheap!
I also really liked my old Cake Maternity bra (see my review here) but it's closer to $50 and not any better than Target's Auden bra.
Two pillow and two blankets (for you and your support person)
You've given birth…you're exhausted…and you are away from home trying to sleep. The thing I've always been happiest to have (and my hubs) is our own pillow and blanket.
Especially when spending two full nights in the hospital after birth.
Some people swear by bringing in a blow up twin mattress for your support person, but we've never done that.
Phone charger & camera
We bought a Cannon Rebel T3i when we first started our family (it's old but I'll be bringing it in for baby #4)!
My most cherished pictures are ones from the hospital where my husband took photos as they handed me the baby. Candid expression. Makeup sweat off. Tears of joy present.
iPhone cameras are are SO stinking nice now though that you could feel good just bringing that too.
With that being said…have TWO iPhone chargers packed because you and your hubs will likely be draining that battery!
Fuzzy small swaddle blanket
The hospital will let you use a swaddle blanket (the kind with footprints on it), which is all I wrapped my first baby in. But I was always worried he was cold.
For all the rest I used a fuzzy swaddle sized blanket, which is just a mini version of my own fuzzy blanket and SO warm. I used that the whole hospital stay for my 2nd, 3rd, and will bring a new one for my 4th.
It's so soft and warm that it's easy to take off and do skin to skin anytime.
2-3 baby outfits
You never really know if you'll be there for 2 days, or if things don't go well possibly longer. I'm bringing a couple of newborn outfits that I'm hoping to get photos in. Plus a couple long sleeve onesies with hand coverings (for the sharp nails) in case we get some blow outs.
I'm so excited to use these soft as butter bamboo and spandex outfits from Quinn St that we were gifted! Gorgeous.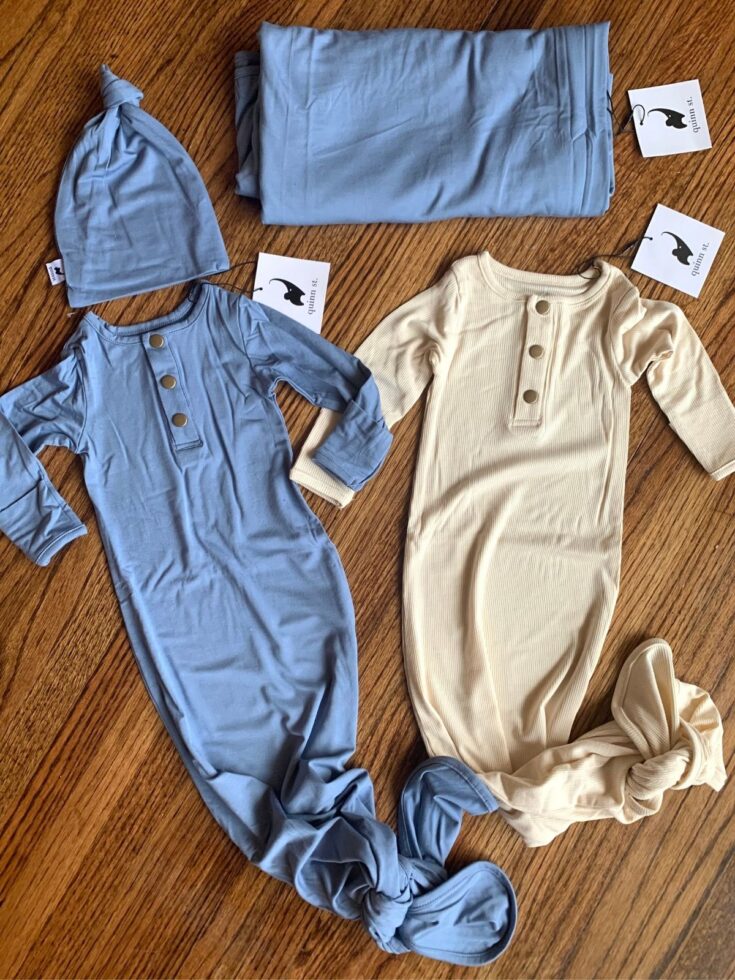 Snacks
I will be packing snacks! And gum. This is what most people say their partner appreciates a ton as well!
They literally only give you juice during labor, AHH! It's awful.
I know why… technically for the dangers of eating and then being under general anesthesia if you need emergency c-section. But o my goodness no food for possibly 24 of the hardest hours of your life?!?!?
Gotta pack some snacks for two.
On that note order WAY over the amount of food you think you need for each meal. I made that mistake of ordering like 2 pancakes and didn't know how hungry I'd still be. Think like 5 pancakes, 5 sausages, 2 juices, etc. You'll be thankful, and your partner will probably eat what you don't.
What I'm NOT packing for labor and delivery and postpartum this time:
This time I'm not bringing a nursing cover. We can't have guests due to hospital changes anyway..
I'll leave home the nipple cream, literally because I'm lucky enough to have not needed any yet for my babies. I do have a mini vaseline in my bag if needed but that's it and also doubles as extra chapstick if I need.
Diapers and wipes. I'll keep a wet bag in the car with these just in case, but hospitals always provide these for your babies while you stay. So use what they give you!
Last minute things to bring to the hospital:
So, to take away anxiety over forgetting something you can't go back home to grab, make a "last minute list" and stick it on the fridge, because some of the above things you can't really pack in advance! On mine, I have:
Cell chargers
Makeup you don't have packed yet
2 pillows, 2 blankets
2 robes
I'd love to hear about other things that you have loved not listed here, or taken and not used!
It's never TOO early to just put a bag together, but I'd do it at least 37 weeks or sooner. Then, its out of your mind if baby comes early. Take a look if you like at my list of our favorite clothes to have at home for a newborn as well!
You may also love: Does and epidural hurt? What to expect before and after birth.