I am the worst person at just committing to buying quality things, because we are on a tight budget and what I have usually "works" fine. This was the case with all my nursing bras up till now. I've purchased ones here and there for $5- $10 and they always stretched out and didn't support me very well.
After my husband asked me 4 times if I could please just go and buy myself a nice one, I saw it was just time to get rid of mine! So I set out to try the Cake Maternity Rock Candy nursing bra and have been really happy with it!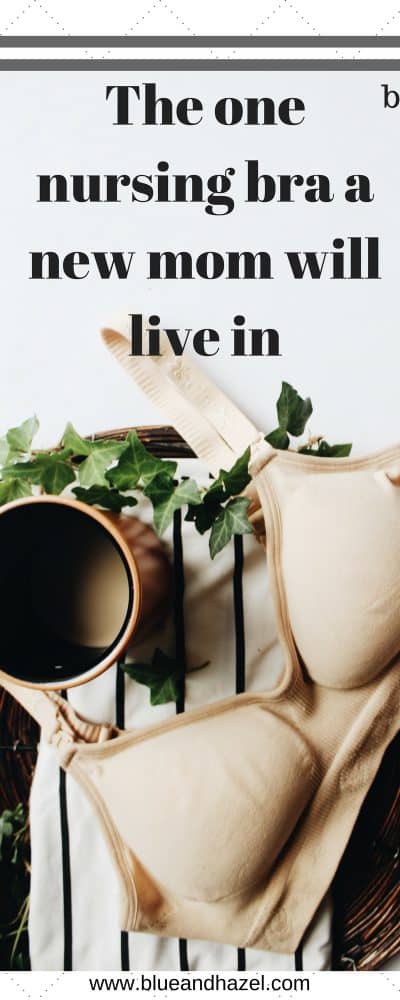 This bra was given to me for free to review. All experiences are my own and I actually bought one too. This post contains affiliate links.
Cake Maternity Rock Candy Nursing Bra
This really is a basic nursing bra every new mom would love. When I tried it, I was looking for a nursing bra that had convertible straps, was nude color, comfy, had thick enough padding to catch milk drips. This bra is all of those things.
Unboxing my Cake Maternity Rock Candy Bra:
It was similar in style to generic cheap-o nursing bras out of the box, but nicer when I wore it. Nothing fancy looking though. After trying it on it looked smoother and felt higher quality than my $5-$10 bras.
Metal hook and eye closures instead of cheap-o plastic like most other nursing bras. (My previous brand x bra had most of the plastic closures break off…twice)
6 size settings instead of the standard 3, meaning this bra would REALLY grow with you during and after pregnancy.
Larger, rounded removable padding. All my other bras have had tiny round or triangular padding, that shifts all over the place. This Rock Candy bra had noticeably thicker, more rounded shape right off the bat. It is made that way to expand with your shape! My only issue is that when I've just nursed and am kind of smaller, the pads seem a tad big for the bra, like they didn't quite fit right.
Criss cross back. The straps are convertible, to go with racerback tops or regular. Soooo for me that means two bra styles for the price of one. Cha-Ching!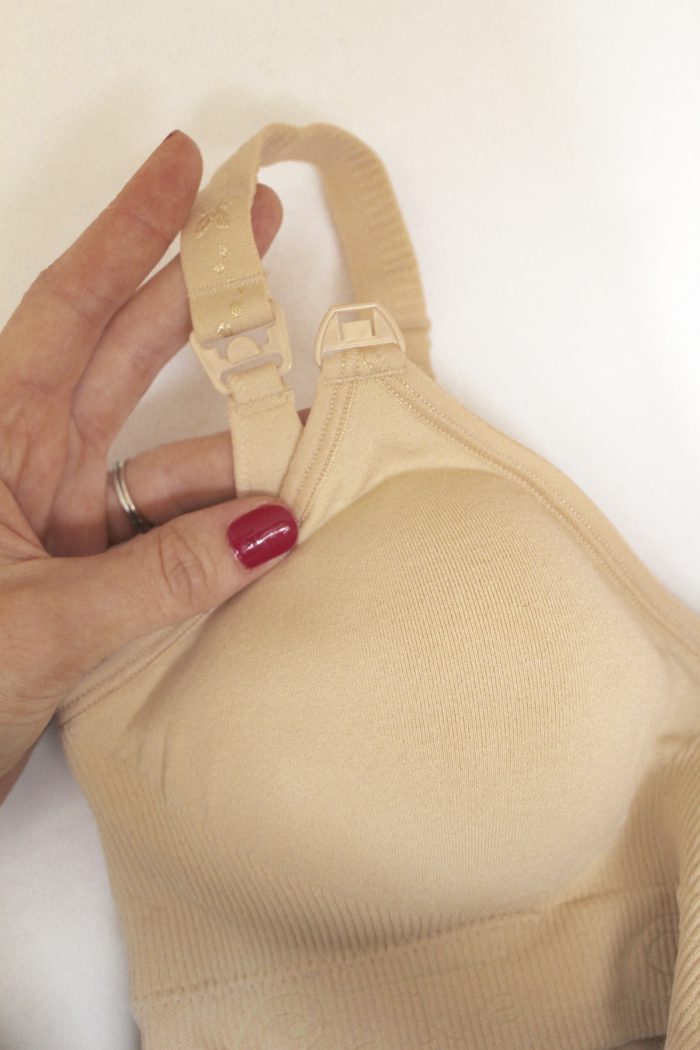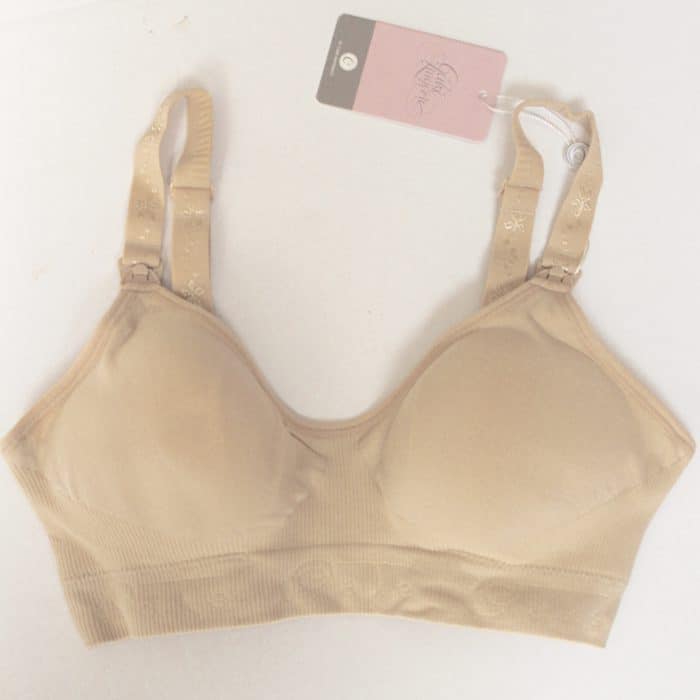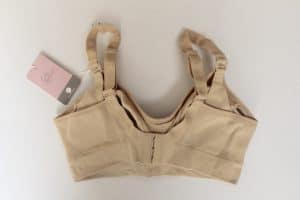 You may love: Our experience with the Lillebaby Ring Sling and Toddler Carrier
What colors are available?
I chose nude because I could wear it with a white shirt, but it actually comes in a few colors!
Washing Instructions:
The Rock Candy nursing bra (and pretty much any bra) says to hand wash.
I pretty much never hand wash anything, because 1)I'm lazy and 2) I have three kids and tons of laundry already without having to hand wash something.
While hand washing will extend the life of the bra and keep it's padding in better shape, I honestly opt for a slightly shorter lifespan of the bra and meet in the middle by putting my bras into a mesh bag for delicate items.
This mesh bag can also be used for things like lace underwear and knit sweaters that you don't want snagging in the washing machine.
Totally separate idea: We use mesh bags to separate items in a suitcase when traveling. That way, it's easy to keep socks in one, bathing suits in one, etc and easily find them!
You may also love: 8 things I stopped doing to be less busy as a mom
Thoughts after wearing it:
My Cake Maternity Rock Candy nursing bra felt very supportive around my ribs. I wear a 32D and their size small fits that really well, but not on the loosest setting for me. I had to go to the 3rd tightest closure to smooth out the look of the cups that were a bit bunchy on the loosest setting. It fit great then and the cup padding smoothed out!
It has 6 sizes so as the bra stretches I can still tighten the back.
Straps are a tad grippy, so they won't slip off shoulders.
This is not a bra that I would categorize as a sexy bra. Nope.
I don't like wearing this to bed. Any bra that is supportive enough in the day for me just feels too tight at night.
You may also love: My favorite journal to help you record your favorite mom memories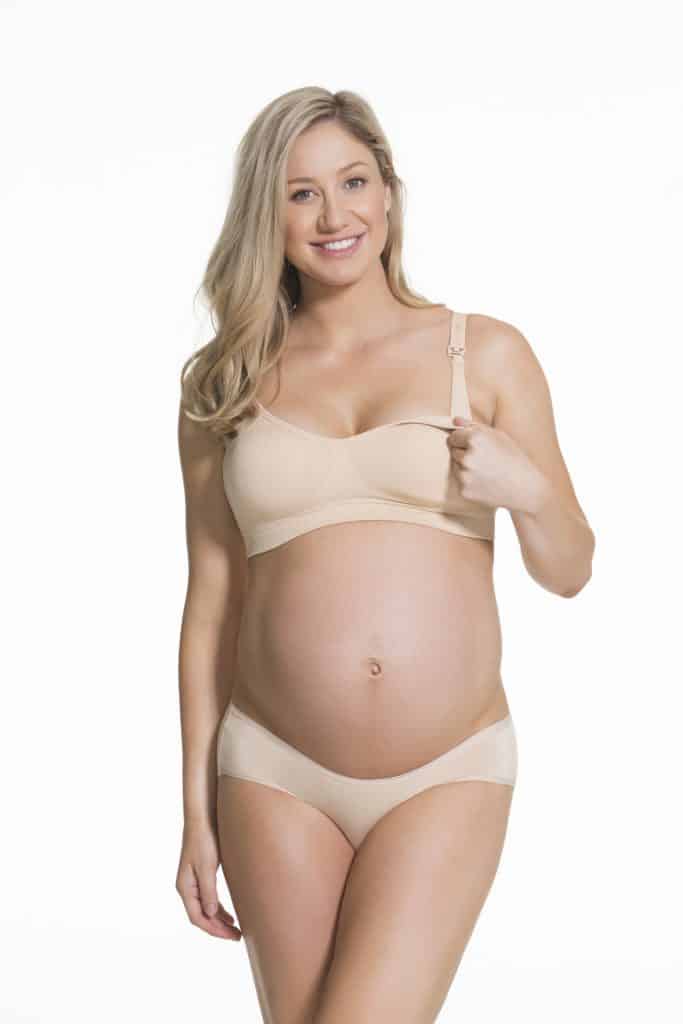 Does this bra catch milk?
Yes! I don't have a huge oversupply of milk so not sure how this would be for those of you who drip a ton though. The padding is thicker and covers more of the breast than what I'm used to. I like that!
I've had nursing bras that have little tiny circles for pads and can look funny under shirts…these pads from the Cake Maternity Rock Candy nursing bra are not like that.
You may also love: Binxy Baby Shopping Cart Hammock Review
Getting the correct size
Here is the link to their bra sizing guide, and all you need is a measuring tape.
This particular bra comes in S, M, or L. I'd use the measuring table below get your updated size. I'm a 32D and the S is great, so long as I tighten the band a bit to smooth out the tiny gap in the cups by my armpit. Once you know your size, they have a chart to tell you if you are S, M, or L.
Getting rid of the nasty bras
NO ONE loves to feel saggy after having a baby, right?? I'm not crazy?


If you have been debating about getting just one good bra, I will say I liked this Cake Maternity Rock Candy nursing bra enough to spend my own money to get a second.
I've read time and time again that Cake Maternity bras last longer without stretching out or breaking, so I hope to see that's true and will update this in a few months with how it's going!
You may also love: Minimalist checklist for traveling with a baby
Update: How it held up after 8 months
I've had my Cake Maternity Rock Candy nursing bra for 8 months now and think that's about the lifespan of the bra when worn as a primary nursing bra. It could have more life in it if the padding inside held up better, or had replaceable pads.
The Good
It still fits tightly around my chest, and has not stretched out! This is the only nursing bra I've tried that I can say that about. I'm very happy with the lifespan of this bra and probably after 8 months of solid wear and washes it's just time for another.
The Bad
On the down side, the removable padding has gotten clumpy over time. This is in part that the padding actually has had the smooth layer come off of both sides of the pad, leaving just the thin foam pad so it is hard to lay smooth and flat in the bra now.
More baby posts
How my 4 epidurals all felt different
Whats in my hospital bag for baby number 4
Pulling curls online prenatal class review
Cute diaper bags that don't break the bank
How to use your purse as a diaper bag
SaveSave
SaveSave
SaveSave
SaveSave
SaveSave
SaveSave