Beware, this is about to get personal! I don't exactly consider myself "postpartum" anymore…my youngest is nearly 3. Even still, my bladder control got so much worse after my last pregnancy. I couldn't sneeze, run, or go to a trampoline park without leaking. Like many moms, I thought panty liners were my long term solution. I just wanted to figure out how to stop peeing my pants after kids.
If you can't hold in your pee, aka mommy bladder, you've got to try this program before giving up! You can strengthen your pelvic floor with exercises made for postpartum women and get the confidence back you used to have.
I want you to know that this is incredibly common, that peeing when you run or sneeze is a sign of a weak pelvic floor, and that there's a program out there that can help you regain bladder control. It's working for me, and it can help you too.
I also want you to know that this is not sponsored, and that I paid my own money for this.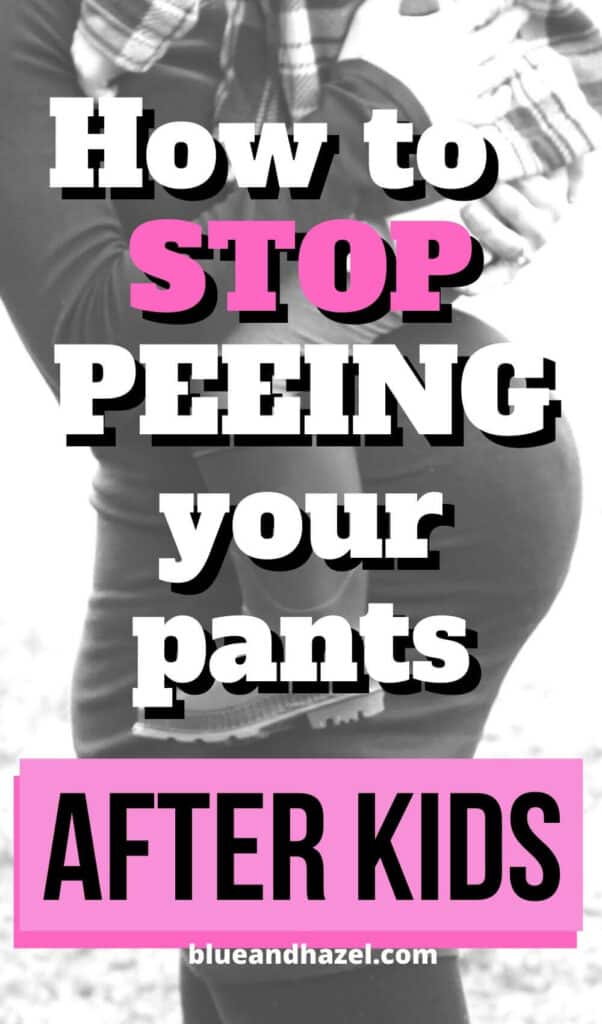 This post contains affiliate links. We are a participant in the Amazon Services LLC Associates Program, an affiliate advertising program designed to provide a means for us to earn fees by linking to Amazon.com and affiliated sites.
How I heard about the Mutu System
A friend recommended I try the Mutu System, a 12 week program to strengthen your pelvic floor. I'd never heard of it, but it worked to help her gain back bladder control after 6 kids just half way through the program. It is also well known and reviewed for helping with diastasic recti and rectal prolapse, helping many moms avoid surgery.
I was planning on waiting the full 12 weeks to write this post, but since I was able to sneeze without peeing or crossing my legs for the first time in years at the end of week 3, I decided to write this earlier.
I'll continue to update the post through week 12. If you struggle with a leaky mommy bladder, and are at least 6 weeks postpartum, you can try this too, at your own pace!
More baby posts you may like
Our first month home with 3 kids under 4
8 Things I've stopped doing to be less busy as a mom
What it's like having babies 18 months apart
Does an epidural hurt? What it's like before, during, and after birth
What is the Mutu System for moms?
The Mutu System is a gentle 12 week video program for moms full of exercises to strengthen your pelvic floor.
Mutu uses evidence based techniques that have helped over 60,000 moms overcome embarrassing symptoms without surgery or settling for a lifetime supply of pantyliners.
Here's what to expect:
an 11 minute daily "core" (not physically hard by any stretch if your tummy is healed after birth, but its daily).
a daily short walk if you can
an "intensive" 20-25 minute workout recommended about 3 x per week that changes throughout the program
Exercises are designed to help with postpartum symptoms like leaky bladder, diastasis recti, and prolapse.
It's all low impact, so you won't be jumping all over the place. In fact, you don't even need a sports bra 😉 You will find lots of squats, lunges, and gentle yet intentional exercises to strengthen your core and pelvic floor muscles.
Mutu is a holistic program with nutrition, posture, and sleep advice if you want it
It's a holistic program, so in addition to the exercise videos you'll find advice on nutrition, posture, taking short daily walks, and more.
I'm sure there are YouTube exercises that I could have done daily to help with mommy bladder, but I knew Mutu would walk me through what to do daily. More importantly, it worked for someone I knew who was probably going to need surgery if this didn't work.
How soon after birth can this help get my body back after baby?
As soon as your doctor gives you the okay to start exercising, (usually 6 weeks), then you can begin the Mutu System. It's also ok to use while pregnant. This is a program that you can go at your own pace. It's slow. But effective.
There's an entire post on helping you identify if your abs are separated, and how to strengthen them slowly.
Mutu is the perfect workout safe for postpartum moms, but still beneficial to moms like me starting 3 years after birthing my last child.
You do not want to start just any type of workout postpartum. Even if it's not Mutu, use one that is made with the problems of postpartum women in mind.
What if I'm not in shape at all?
This program is ideal for someone not in shape, who is postpartum, or both.
If you are already running or using a program like Beach Body, then this may seem way too easy, and you likely won't be able to do Mutu PLUS another workout program due to time constraints.
I've done home video workouts on and off since my last birth, but did not begin the Mutu System in shape. I hadn't been doing anything prior besides occasional walks with my kids.
What the first 3 weeks of the Mutu System did for my pelvic floor
The first two weeks almost seemed like a joke…although they are so important so trust the process and don't skip! No elevated heart rate and just an 11 minute daily video working on the pelvic floor.
The 25 minute "intensive" doesn't start till week 3.
My husband (who totally supported me buying and trying this) would poke fun at me for "doing my workout" which looked too easy to be called a workout. Literally me laying on my back squeezing a ball between my knees. Real hard, ha!
But I decided I'd trust the process. It was only 11 minutes, and the hardest part was starting a new habit and remembering to do it every day.
By week 3, you add a 25 minute workout called "intensive core" at least 3 times per week, if possible. This is in addition to the 11 minute pelvic floor work.
It made me sweat and my legs were sore! No upper arms, so I'm going to have to workout those another way if I don't want sticks for arms.
My goal was not to change my physical appearance with this program, but to stop peeing my pants on accident.
I was able to stop my pee midstream for the first time in years
Week 3 is where the magic happened for me.
I kept thinking "maybe" it was working…but probably not. Except for the first time in ages, I sneezed three times during week three without crossing my legs…and no pee. Even still I thought… maybe I just had an empty bladder.
Just ask my husband how excited I was after I came out shouting "I just stopped my pee midstream for the first time!!" It's been years.
He loves me guys, and acts truly happy for me when he's probably busting up laughing inside. But something is working, and I am so motivated to keep going.
How to engage your pelvic floor muscles
I think I did the whole first week wrong, because for the life of me I couldn't figure out what it was supposed to feel like when she says "engage your pelvic floor" or "lift your pelvic floor"! You're supposed to do this on every exhale.
To save you a whole ton of frustration…that means work the muscle like your "trying to stop your pee midstream".
K, your welcome.
Update on the Mutu System after 9 weeks
K guys, I've kept it up. Gone slower than I "should have", but here's my thoughts on this program after 9 of 12 weeks.
It works. Try it.
I have better bladder control now than I have for the past 6 years (since pre children). I can cough, sneeze, and run without leaking.
When I stopped doing Mutu, my bladder control got worse again
When you can't do anything else, do the 11 minute "core" pelvic floor work. It's what's keeping my pee in, and somewhere right around 6 weeks I got lazy and stopped for a little over a week. I noticed in that short time that my bladder control got worse. Sad, but true!
That motivated me to get back on the train where I left off. And within a week of doing core every day it was noticeably better again. Two weeks after that even stronger.
I've decided that the 11 minute core will be a daily thing for me for the rest of my life if it means better bladder control. Small price to pay, and I have lifetime access with my purchase!
Why I probably won't continue with the 25 minute workouts after the program ends.
I'm planning to finish up the 12 weeks of the "intensive" 25 minute workout and move on to Beach Body workouts. I really need more upper arm muscle and a bit more cardio, which is not the focus of these videos.
I will say that lower body and core ARE the focus, and my butt and legs are way more toned and strong looking than before Mutu! My once pancake bottom is now a bit rounder 😉
If we have another baby, I'll 100% do the entire Mutu program again.
I'm mostly just bored with the 25 minute Mutu workouts. This isn't a fault of the program…I've always switched up workout videos every couple months to keep it fresh.
They add new intensive workouts, and by week 8 you get 3 variations! But they are gentle and work mainly lower body/core. I started holding onto light weights during parts to make it a little bit harder.
I'm just wanting something that works my whole body a little bit more (especially arms and chest). I've started doing some additional push ups and pull ups to compensate. Something I'd never do the first year postpartum.
How much time will this take?
The first two weeks, the Mutu system will take you 11 minutes per day, plus a short walk if you can. And they recommend NOT moving on to "the 3rd week module" (week 3) until you have done the pelvic floor video at least 6 out of 7 days of the week.
So if you're only able to do 4 days the first week, that's fine! Just take it slower, and stay on module 1 another few days before clicking to the second week called "module 2". It's not a race at all.
By week 3 you're doing the pelvic floor 11 minute workout daily PLUS another 25 minute video 3 times a week.
It's hard to do this as a mom, but this kind of gentle exercise will help your mental health too. I feel so much happier about life when I do this.
Take daily walks when you can
Throughout the program I didn't get to the walks more than a few times a week. Definitely not daily. If you're afraid to start because you can't do all the walks…start anyway.
The videos were still extremely helpful, and I made progress on my pelvic floor.
But the Mutu system stresses a daily walk as more important than their video if you have to choose one over the other. It's kind of a "life habit" your adding, so to speak.
They way I see it, walks are a lifestyle thing we moms need in our lives, especially to get out with young kids. But it's a habit that doesn't happen overnight. So be gracious with yourself and just get out when you can.
How much does the Mutu System Cost?
The program is $147 for lifetime access.
I know, I wasn't expecting that price either…but I decided that if Mutu worked, it would be a purchase that would help me do ordinary things like sneezing and jumping (without peeing) after babies. Did I say life changing?!
If it didn't work, I'd have to keep buying panty liners and eat a few more bowls of ramen instead of steak. Just kidding, because they offer a 90 day 100% refund if you are unhappy with the results.
With that said, don't buy it full price! I got mine for 15% off bringing it down to $125. When you get to the home page, and scroll as if you're about to exit, simply follow the pop up prompts for 15% off.
Do you have to buy extra workout gear?
There are a few things I had to buy to do the exercises. Mutu has a $45 kit with a small ball and resistance bands and they offer a huge discount (only once and when you're checking out) that comes with everything.
I opted not to buy that because I already owned these resistance bands, and thought I could find a ball for cheaper than buying the whole kit. ( My ball is from the dollar store)…
I think it's a tad smaller than the ball in their kit by an inch or so. Buuuut….it's doing the job and this pelvic floor is getting WAY stronger with it so there.
You can try 3 Mutu teaser videos for free
If you'r not quiet ready to spend the money on yourself, but want to see Mutu System in action, get these 3 free Mutu videos sent to your inbox. You'll get:
6 minute pelvic floor workout
step by step video on testing for diastasis recti
10 minute high intensity workout to get you sweating and work your legs
Before and after photos
Do you want to see some Mutu mamas? Check out this page full of before and after shots of women who have completed the Mutu System. It's pretty amazing and will help you tone up your mom bod.
I did not do a before and after shot for a few reasons.
I'm still working through this program, about 3/4 done.
I have a very slender body type already, and am 3 years "postpartum".
I am not doing Mutu for a slamming body, although my legs and butt are notably more toned. Arms, not so much.
I'm 100% in this for better bladder control. And so far, I'm thrilled it's working! It's just a bonus to me that my legs and abs are much stronger too.
Do you suffer from postpartum incontinence/ peeing your pants after kids?
Tell me a little bit about what you have tried or ask me any questions about this program so far. I'm just so thrilled to have found something that's working to give my body back the bladder control I once had, and had to share that with you!
Follow Blue and Hazel on Instagram