I'm a fan of gifts that spark creativity, are useful, or can be built or played with in multiple ways. But the best Christmas gifts for 5 year old boys are ones that they'll use over and over, and you are the best judge of that! I think you'll find something on this list that will be a huge hit this year.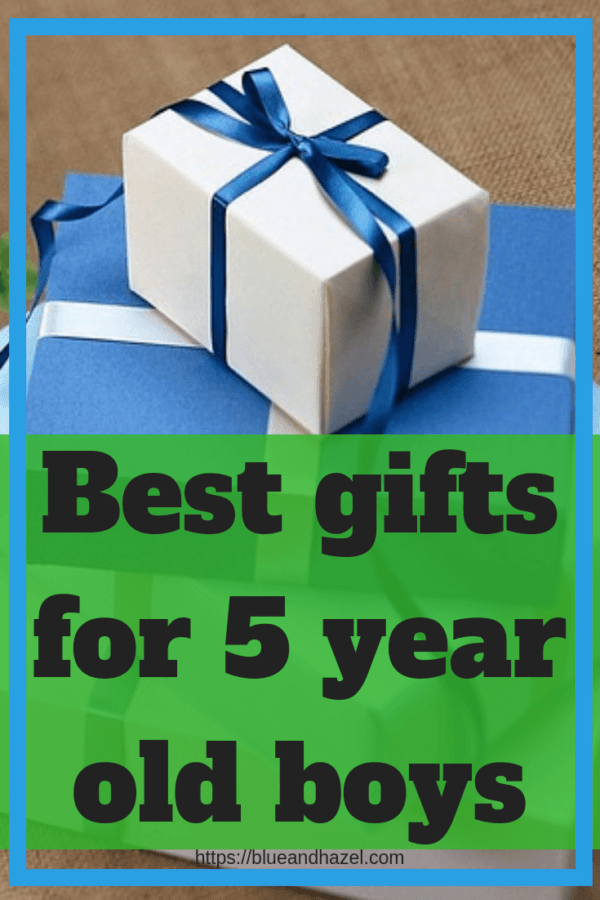 Best Christmas Gifts For 5 Year Old Boys
If you are struggling with what to get your kids, or just don't have the budget this year for much, you can always follow our basic gifting strategy. We like to give:
2-3 special toys per kid
Something to wear that I would have had to buy anyways
A book (usually used)
Stocking full of dollar store items like activity books, candies, balloons, snacks, and cheap toys. You can easily fill a great stocking for $10-$15/kid at the dollar store! Target also has awesome cheap bins.
Schwinn Boys' 12-inch grit bike: Orange
We got this orange Schwinn bike for my son when he was around age 4.5. This is STELLAR!
He can brake with the pedals, ding the bell, and the back handle comes off easily by hand. Although we chose not to use the trike wheels, they come with it too.
(PS, if they already use a balance bike, you will likely be better off skipping the trike wheels. When I let my son try them out, his balance actually got way worse and as soon as we took them off he was zooming again).
Kidzlane Tool Set
The last tool set we had was so loved, that I think it's time for a new one. This Kidzlane Tool Set has a battery operated drill (the highlight of this set, says my kids). If you have two kids that don't share well yet, then the drill will be what each kid wants to play with.
Transformers
A car that turns into a robot?! These transformers are pretty cool when you are 5. My son loves to play transform, he just presses a pretend watch and transforms into who knows what. This gift for his age would be well received, and I've seen many kids his age carrying them around. Even I remember my brother's transformer as a kid being pretty cool!

Snapships Build To Battle
If you ask me what has been one of the most impressive, unique toys for ALL the little boys that have visited our house, not to mention a favorite of my boys ages 5-9…it's Snapships.
The more sets you have, the cooler the pieces you have to rebuild your own creations. There are two teams that "battle". The lighter Snapships and the red Snapships. We probably own 10 sets and these are still, 2 years later, used almost daily here by my 2 boys.
I stumbled on these at a local toy store. My son picked them out with a birthday gift card he'd received. Basically each set has directions to built a ship, but the pieces are the golden part because my kids just rearrange them to create their own ships.
These frequently have a set that goes half price or so. SNAG them when they do because these things are amazing. I also buy extras on sale for boy birthdays we go to.
T-Ball Set
This one from Little Tykes says it's good for kids up to age 6, which I'm assuming is based a lot on height. My son is really into swinging his big plastic bat when I play with him, but this would be a way he could practice swinging alone or with his sister too. Comes with 5 balls and height is adjustable.
Gemstone Kit
My son would go bananas over real gems in this Mega Gemstone Mine Dig Kit…plus having to dig them out! Anything by National Geographic for kids is pretty 5 star, and although this is recommended for ages 6+, there are tons of reviews of 4-5 year olds digging out the gems and loving it. Comes with everything including 15 gems, a brush, digging chisel, and magnifying glass.
My first Pogo Pal by Flybar
This was gifted to us by Flybar.
If you haven't heard of Flybar's Pogo Pals, run and get one because this will equal hours of fun, balance, exercise, and you can choose from 5 cute characters that are all different colors! Our's is named Patterson Panda and he even comes with a little story and personality traits.
I was drawn to the Pogo Pals because they encourage coordination and exercise, kids can use them indoors or outdoors, and very young kid can start using this around age 3 even!
This has a foam base and foam handle bars, and a bungee spring instead of a stick. And just so you know, it can hold up to 250lbs! Kids also LOVE the squeaker, so don't be surprised when your house is filled with some giggles AND squeaks. Use code FlybarHol15 for 15% off on Amazon!
Games!
These were gifted to us by Goliath Games. These are great for a 5 year old!
Shark bite: Players take turns fishing and wait for the shark to jump up and "bite". No batteries needed!
Doggie Doo: If your son thinks poop is as funny as mine and you don't mind fueling that fire to hear some HUGE laughs, then this if perfect. Kids feed the doggy pellets and squeeze the pump until he poops in out!
Picasso Tiles 180 piece magnetic tile set
We have this 180 piece set, and I it possibly my most used toy for ages 2-6 in our home. Wow. I'm so glad I got the large set, because my son can make huge structures with it that have gotten more amazing with time. Or, it's enough tiles for 2 siblings to share and make smaller structures.
A fort building kit
For an open ended gift that can be built over and over again, this is an awesome fort building kit! (Nearly 4K positive reviews on Amazon!). Comes with 120 pieces. The rods fit into the balls for super easy set up.
Light up bow and arrow
The reason I had to add this is because my son just found it at Goodwill and has been OBSESSED with it since then (going on one week strong). The arrows light up with LED lights but you can turn them off too. They have hooks that go into those little loops, and it can shoot FAR.
For the Robin Hood in your house, this is definite win.
Hip Boy Shoes from pediped
Ok it's no secret I love this brand! They have sent us several pairs from baby to big kid sizes and I've purchased some on my own as well. I know I'm going to get a quality shoe, plus they are either velcro or zipper shoes that kids can put on by themselves. They have shoes from colorful sneakers to classy boots to water sandals. See their full selection on the pediped website.
Stocking stuffer gifts for 5 year old boys
I like to individually wrap things in their stockings (to make it last longer!) with things like:
Small activities from the dollar store
Treats/Snack bags
Dinosaur or Truck Colorblast by Melissa and Doug
Capri-sun/juice boxes
Halo Oranges
Beef Jerky
Socks
Metal cars or airplanes
I'd love to know what's on your 5 year old's wish list? Leave a comment with one thing you hope to do to make Christmas special this year! I love finding new ways to make it special for the kids.
You may also love:
Holiday Gift Guide for Preschoolers: 2017
Best Gifts for 3 Year Old Girls
Follow Blue and Hazel on Instagram!