As soon as I began homeschooling kindergarten, I knew it was time to order a cost efficient color printer for our homeschool. We had an amazing black and white laser printer by Brother, but I couldn't print curriculum in color. Lame! So I began to search…insert overwhelm due to SO many options. Maybe that's how you found my post?!
As I'm sure you've done, I considered how much I wanted spend on a printer to add to our homeschool supplies…and in my mind I thought $100 would be doable. But then…THE COST OF INK…yikes. I read post after post…and searched in my homeschool Facebook groups for "best color printer" for homeschooling.
I decided on the Epson EcoTank, and can't wait to tell you why I think it's the best at home printer for homeschool families who print a lot. Plus, I'll lay out the features I actually use all the time, and how often I order ink (heads up…I haven't yet).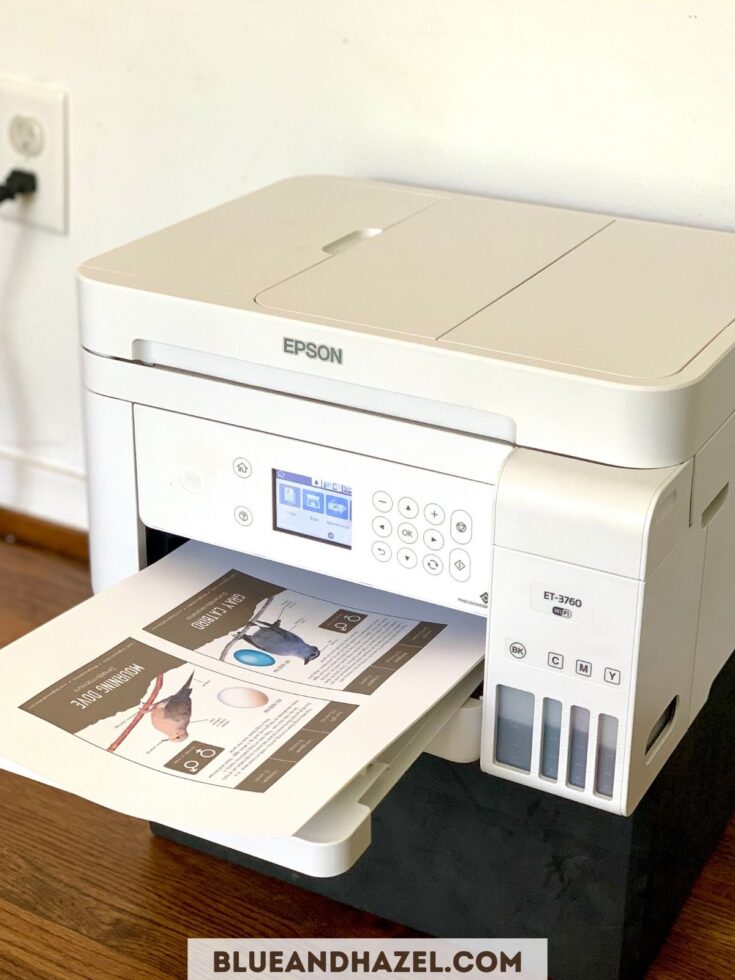 The 1st decision you have to make is if you want to spend more on the printer OR the ink
Why would you spend more money on a color printer upfront? Mainly for quality of printing and cost of color ink per page.
When I found my Epson printer…my 1st hesitation was that I'd personally never heard of this brand before…so it seemed like a gamble or odd choice. (After I bought it and showed it on my Instagram stories, so many random homeschool families texted me they had it too and were happy with it).
Here's the day I got my color printer for our homeschool (and set up it 100% on my own while my husband was at work…I'm proud of that so bear with me 😉 )! It took me about an hour because I'm the "read the manual" type and not good with electronics.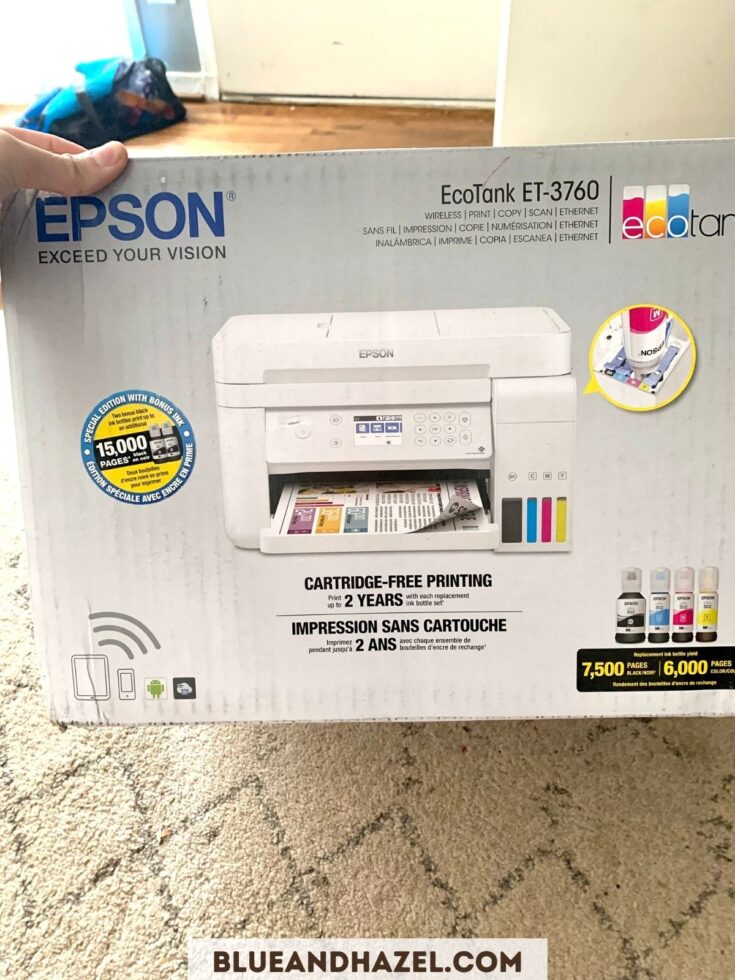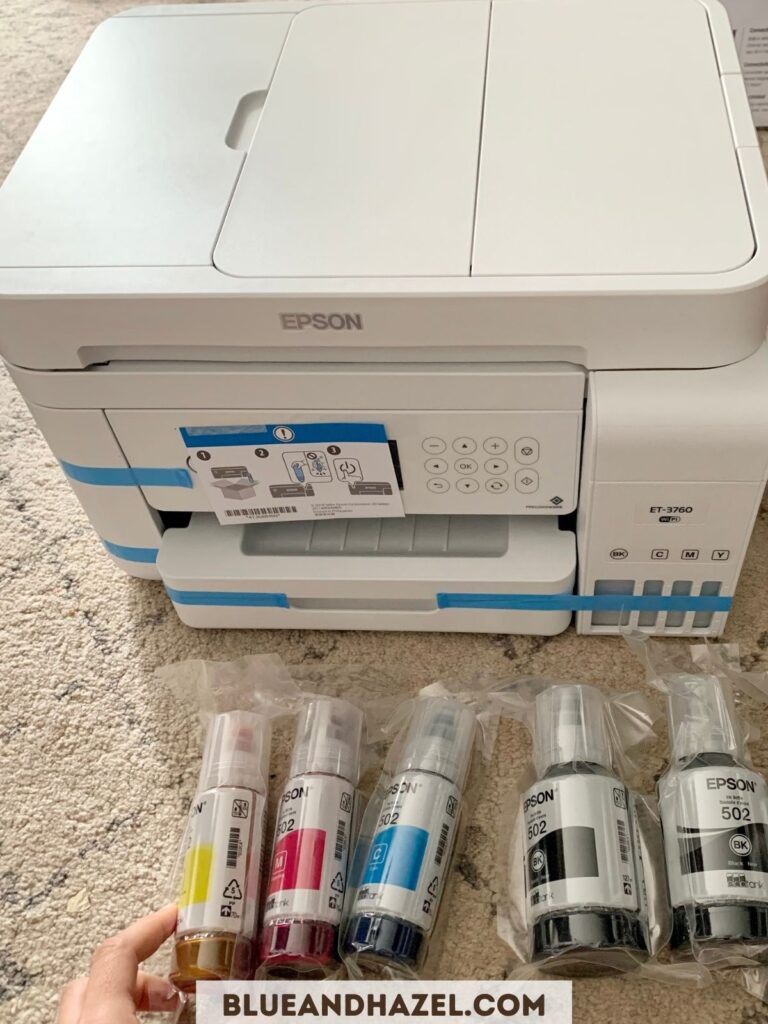 My second hesitation was the price was more than I wanted to spend.
I was drawn to the cheap $100 printers until figuring out I'd be spending a LOT on ink cartridges, especially if I was printing in color. The Epson 3760 promised up to 90% savings on ink with the initial bottles.
So I knew if I'd be printing a lot with a cheap printer…I'd quickly spend as much or more than the Epson due to in costs.
Why The Epson EcoTank 3760 is the best color printer for homeschooling out there
Ok ok, I haven't tried them all. But really, it's the best! With the Epson EcoTank, you pay more upfront for the printer plus ink pair. I'm talking close to $400. But you will 100% save money in the long run from NOT buying ink.
You just won't need ink for a long time…at least 2 years or more they estimate. And Epson ink refills are cheap.
So this printer will save you money if you are printing a lot, especially in color, and plan to use it in your home or homeschool for over a couple of years.
Let me lay out all the reasons you'll be glad you bought this, and why I tell all my homeschool friends it's awesome.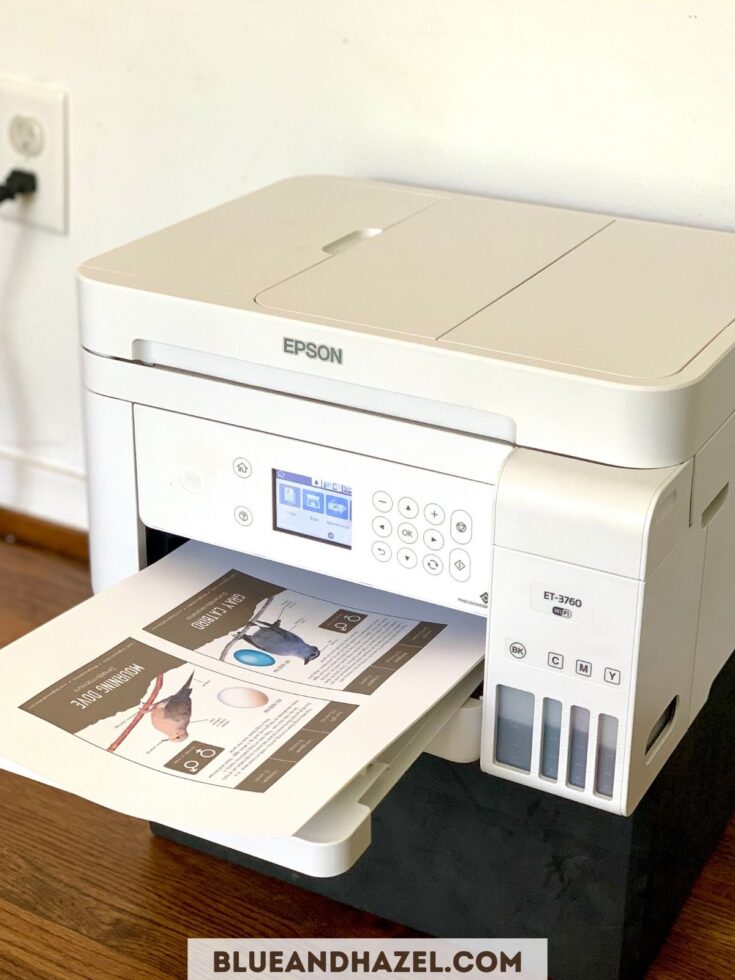 1. The ink lasts forever
Epson claims you can save up to 90% on ink…costing as little as 1 cent per color print vs 20 cents when using ink cartridges. The ink sets print around 7,500 black and white pages and around 6,000 color pages before you'll need a refill.
So on average, they say you won't buy ink for 2 years. The printer comes with the ink when you purchase too so keep that in mind when you are price comparing other printers that don't come with ink AND have ink that has to constantly be replaced.
I have had ours for a year and a half and my ink is still over half full! I've printed off over 1500 pages with color, and you can see how full my ink is still below.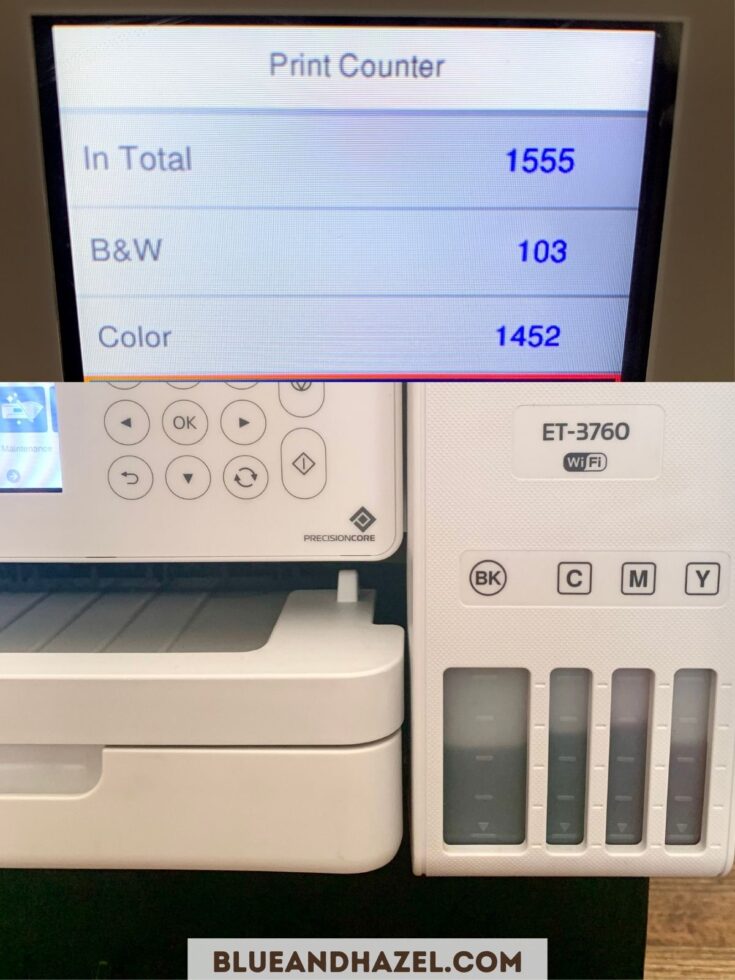 Things I've printed this year:
3 Gather Round curriculum units full of color (way cheaper to print than to buy theirs)
50 full color 8×11.5 artist prints for our nature study
Nature study print outs in full color
Lots of printable paper dolls and their clothing
100's of pages for our Brave Writer packs, including color
100's of colorful preschool resources I've found on Etsy
Our watercolor alphabet cards
SO MUCH MORE!
2. I can print from my phone
I was able to easily follow the directions to set this up…and I'm kind of tech illiterate. This is amazing when I'm nursing on the couch and my daughter asks if she can print a picture of a unicorn.
Or when you look up a recipe on Pinterest from your phone and want to print without having to go find it again on your computer.
3. It copies and scans
It's easy to scan or make copies with this printer, and you'll easily see that as an option on the screen display. As homeschoolers, we are constantly making an extra copy of a random pages because we have more than 1 kid using the same pages.
This saves me from buying 2 books oftentimes.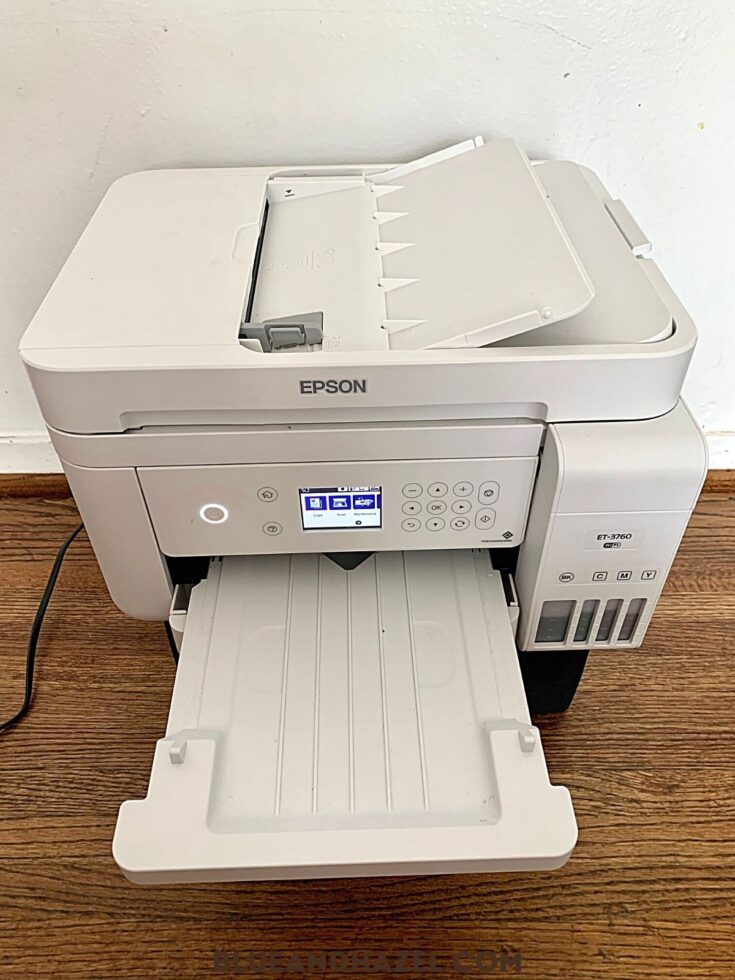 I love this printer! The only down side I can think of is that the piece that holds the papers after they print (see above pic) is fragile.
I've had to make a rule no kids are allowed to play with this because if they put much weight on it I think it would snap. You could still print if this breaks, but I wish it was more sturdy.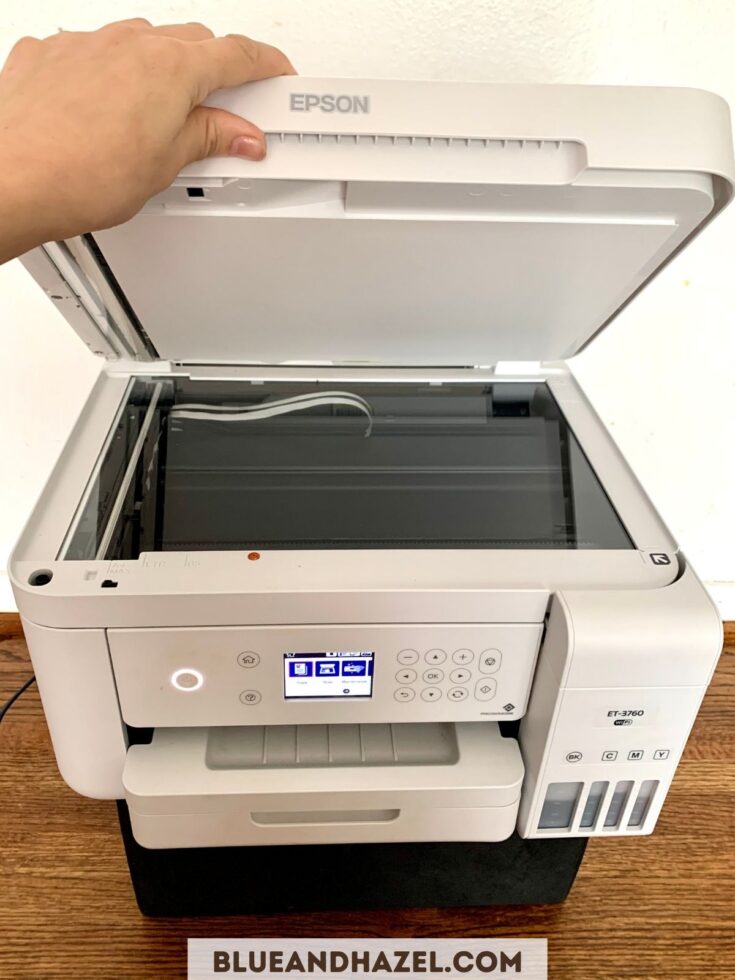 4. It prints double sided
You'll have to learn how to check the right boxes on your computer but the Epson EcoTank 3760 does print double sided!
I'm embarrassed to admit that I couldn't figure it out at first on my computer, so I printed the odds then flipped them over and printed the even pages.
No need to go through that hassle!
Figure out from the start how to find the double sided button on your computer screen and let the printer do the work for you!
5. It was easy for me to pour the ink into my Ecotank, and mess free
At first I was nervous that I'd mess up and pour ink all over this new printer or on myself. It comes with these bottles and you can see the liquid sloshing around.
Good news, they've made it easy for us and even when I tipped mine upside down with the lid off, it didn't spill a bit.
The ink spout on the lid has to attach to the tank to pour out, and one bottle perfectly fills an empty color.
I'm so glad I found this color printer for homeschooling!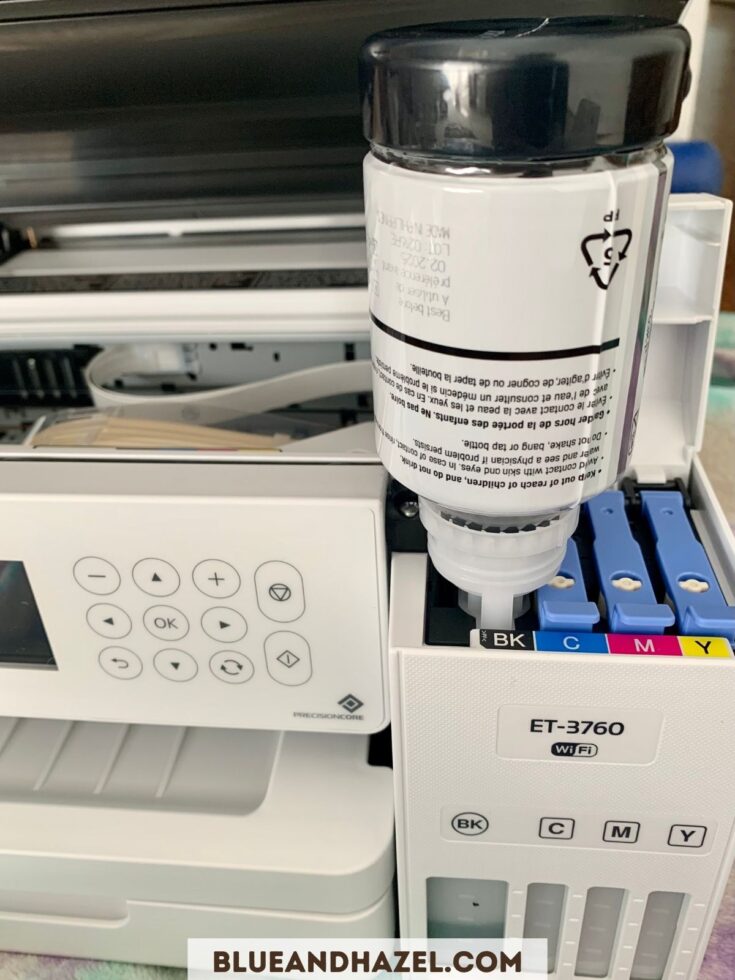 6. It holds 150 pieces of paper (so 300 double sided prints)
I've never printed a stack that large at one time…but you could! This printer doesn't hold as many prints as my old black and white Brother laser printer…but it holds a decent amount.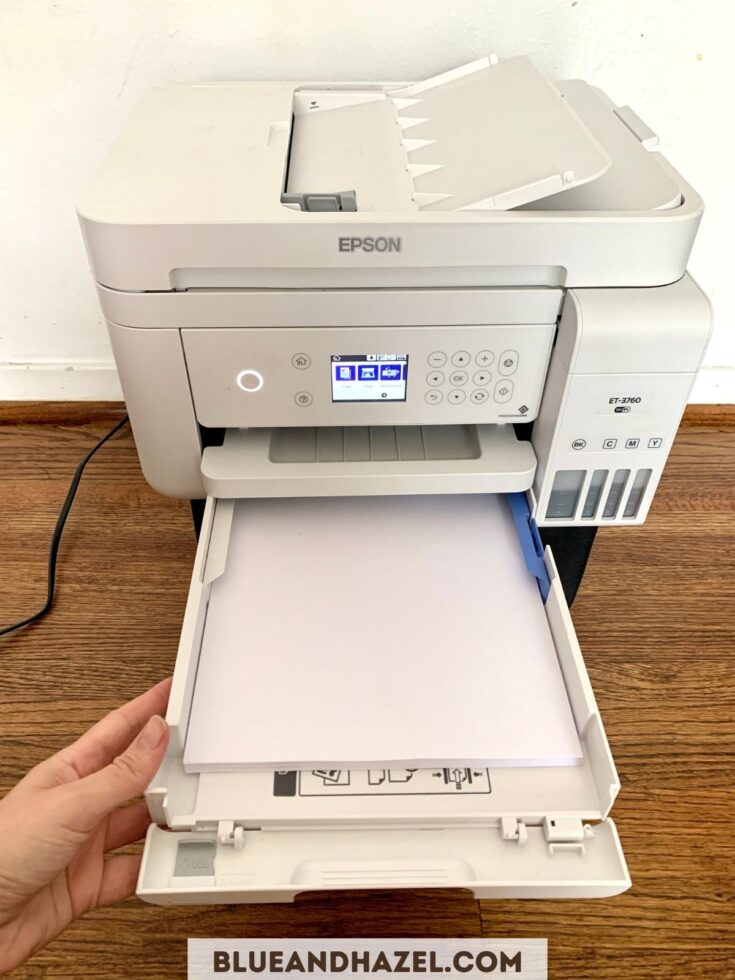 7. You'll be able to buy PDF versions of your homeschool curriculum and save money by printing
Some homeschool parents opt for the cheaper PDF versions of curriculum, especially if they have multiple kids.
It's often cheaper to print at home or print and bind at Office Depot than to buy the book. If you want to freedom to bind curriculum you print at home, I have the ProClick and like how small it is and easy to use.
Here's something I printed out with my Ecotank, and bound with the Proclick. We've also printed curriculum and placed it in 3 ring binders.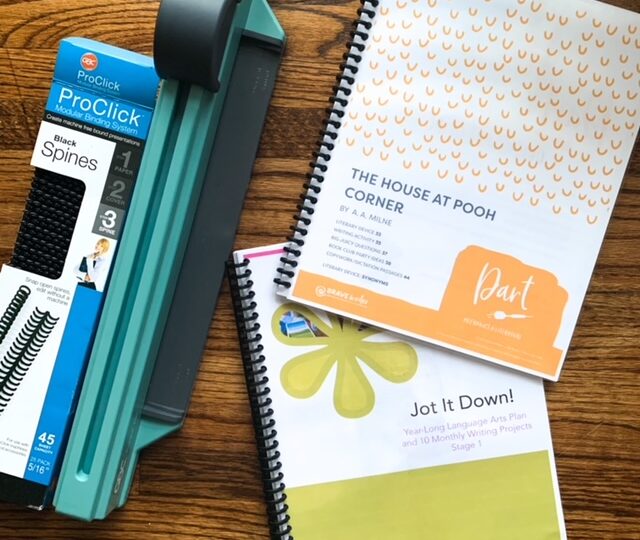 Printing curriculum is NOT cheaper if you have to buy the PDF file AND use a whole ink cartridge from an HP or Cannon ink printer.
I love knowing that since my Epson is paid for… I can print print print in color and I'm not going to run to buy new ink. I'm more or less just figuring in the cost per page at that point.
Is the newer 4760 better than the 3760?
No. Save your money.
If I had to buy another one right now, I'd buy the Epson Ecotank ET-3760 over the 4760 and save $100.
All the features are the SAME except the newer one offers FAX. Which I don't ever use, and have an app on my phone available if we ever need to do that.
What's the difference between the Ecotank ET-3760 vs the cheaper ET-2760?
I think you would probably like the 2760 too, since it's even cheaper (but older). However, there's a few main differences. I have never personally used the 2760.
Print quality is reported to be a little worse.
A tad bit slower printing
Smaller display screen
Shorter. 7.3″ height for the 2760 vs 9.1″ for the 3760
No sheetfed scanner on top. The 3760 has this, the 2760 has to be manually scanned.
Holds less paper. The 3760 holds 150 pieces of paper in the tray vs 100 for the 2760
No ethernet for the 2760, but the 3760 does.
Those are the main differences. Both would probably work well, but I like the functionality of mine a lot, especially the photo quality.
The runner up homeschool color printer…and why it's not as good of a deal as the Epson EcoTank
I think the EcoTank has gained some popularity amongst homeschooling families because it's cost effective and seemingly never runs out of ink. However, the other color printer I almost bought was an HP compatible with the "HP Instant Ink" program.
It's a subscription ink program some homeschoolers love because you never shop for ink…it auto ships to you.
Once you enroll in the Instant Ink program (there's a monthly fee based on usage), HP is notified when your ink runs low and they ship more when you get low.
Your plan's fee is based on how many monthly pages you think you'll use that month.
Why I didn't choose the HP Instant Ink program
Initially I thought…perfect, sign me up! But there are so many CONS in my opinion. Here are a few:
Con 1: If you don't print consistently, it's a hassle. You pay for however many pages you think you need that month, and can sign in and switch to upgrade or downgrade your plan to avoid big overage fees.
Personally, I print so sporadically which is not ideal for this program. Sometimes not at all, and other times 100's of pages if I snag a new curriculum or buy something for a unit study.
Con 2: Ink can take up to 10 days to get to you after it sees you are low. What if you need to print and your ink isn't there?!
Con 3: Rollover prints get capped. You can rollover unused prints…but only up to double the amount based on your plan plus the number in your plan. So if you're paying 4.99 per month for up to 100 pages, then you can roll over a max of 300 pages to use later.
But say the next month you don't print much either…you can't rollover more than that, so you'd have to sign in…downgrade…did I mention you'd have to remember to sign in??
I can barely remember to mail in my rent check some months let alone think about an ink subscription!
Con 4. Cancelling is supposedly tricky to do…of course.
Con 5. Overage fees.
Yuck.
Con 6. I would constantly be trying to not print too much to not go over. I need printer freedom! To print randomly at anytime however much I want without worry of going over my plan.
To let my daughter go through 10 coloring pages a day if she wanted without thinking about the money. Or to print that nature study guide today without "checking" how many prints I had left for the month.
Con 7. What counts as a "print" is not what you think.
One page of full color is a print. And so is one page accidentally printed with one tiny speck of black ink.
How accurate is the color on the Epson Ecotank ET-3760?
For what I need, (homeschool printing and random documents) it's great. I have never tried printing on Epson photo paper or anything, so I can't speak to printing photo quality prints on glossy paper.
Sometimes I think the colors can appear a tad…lighter than it seems on my computer…but other times exactly how the computer looks.
BUT…I also know that screen colors vary!
Computer screen accuracy can even be an issue if you're shopping online and buy a dress. It may arrive slightly different color than you expected not because the dress company got it wrong, but because the photo on your computer can skew colors too.
Here's an example of a print that matches the computer screen really well!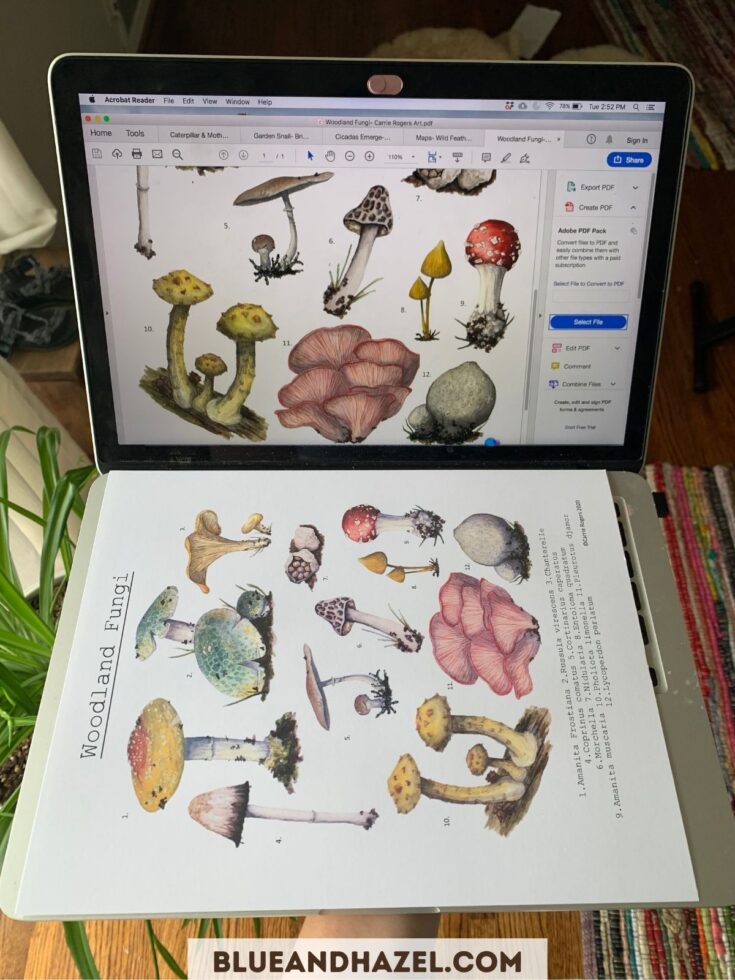 What to do if your Epson Ecotank starts having streaks on the paper
After using it for about a year, I noticed lines through some of the color. I'm not tech savvy so was wondering how complicated it might be to fix.
I googled how to fix lines on color prints for an Ecotank and found it was an easy fix!
On the main screen, I pressed over to "maintenance." Then, I had to press "clean ink head".
I reprinted a color page and the problem was gone. If I can troubleshoot on this printer, you definitely can!
It's hard to see here (in person it's obvious), but the upper picture of birds has lines through it. The lower photo is after letting the printer self clean it's ink heads.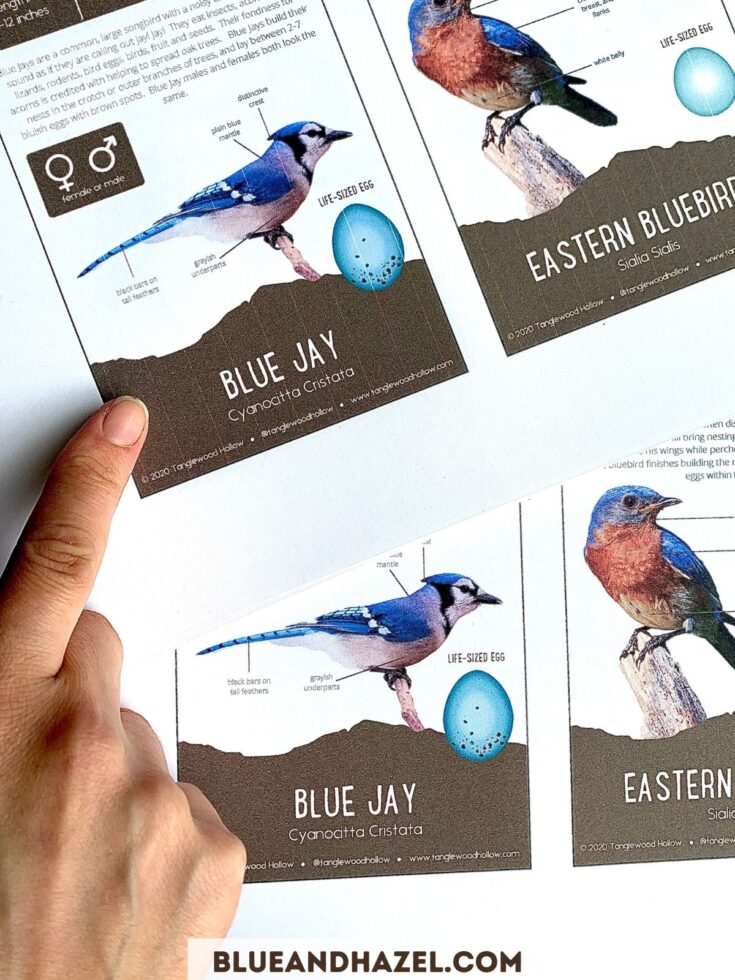 What's the best paper thickness for printing homeschool curriculum?
When you search paper, you'll see prices for 20lb paper most likely. That's going to be the thinnest, least expensive paper you can buy.
It's fine for everyday single sided printing, but NOT great for printing double sided because you can see through it.
I prefer using this 24lb printing paper because it's just a TAD thicker and I can print double sided without seeing through.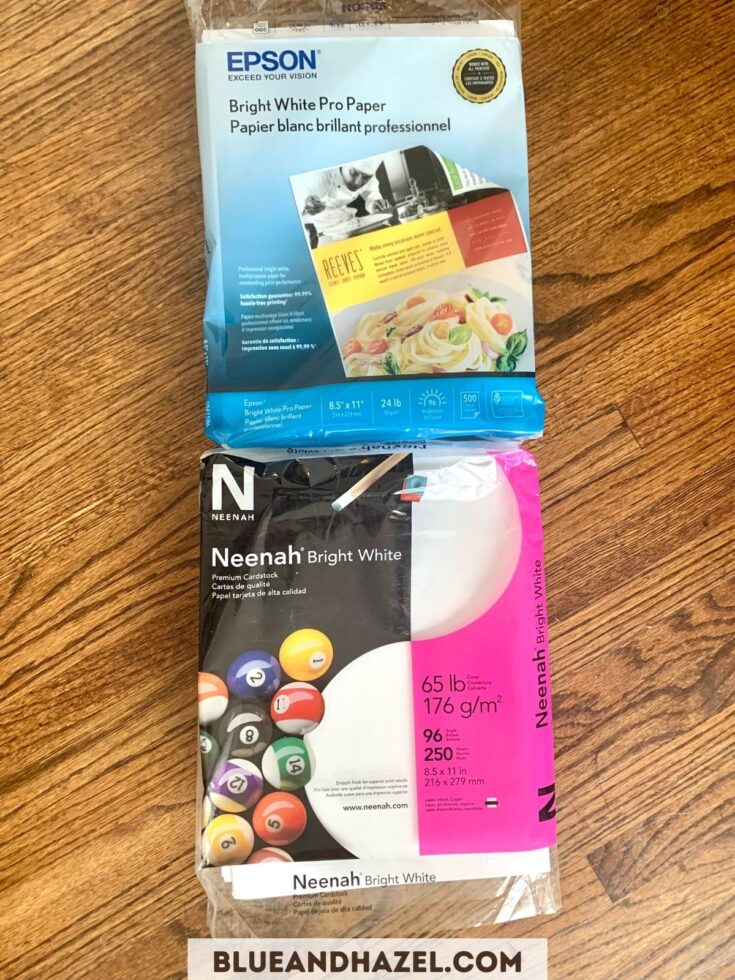 I had mine shipped from Target…Amazon Prime doesn't carry the brand I like using, which is the Epson bright white 24lb paper pack of 500.
Also, I can print coloring pages for my kids and their markers don't wrinkle the paper like they do with the thin 20 lb paper.
For homeschool nature study print outs with lots of color or things I want on very thick paper (like paper dolls), I use this bright white cardstock from Amazon.
I love having a pack on hand, and it keeps me from laminating as much which means I can recycle it down the road rather than trash it.
Paper jams are easy to fix
One thing that has happened a few times over the years is a paper jam. I'm not sure why, but it's been easy to fix. Each time the printer stops, it alerts me there's a paper jam.
I take the back off the printer by squeezing the two holes, pull out the scrunchy paper, and press "ok" on the screen when it's done.
It's easy, though I'm not sure what can cause a paper jam.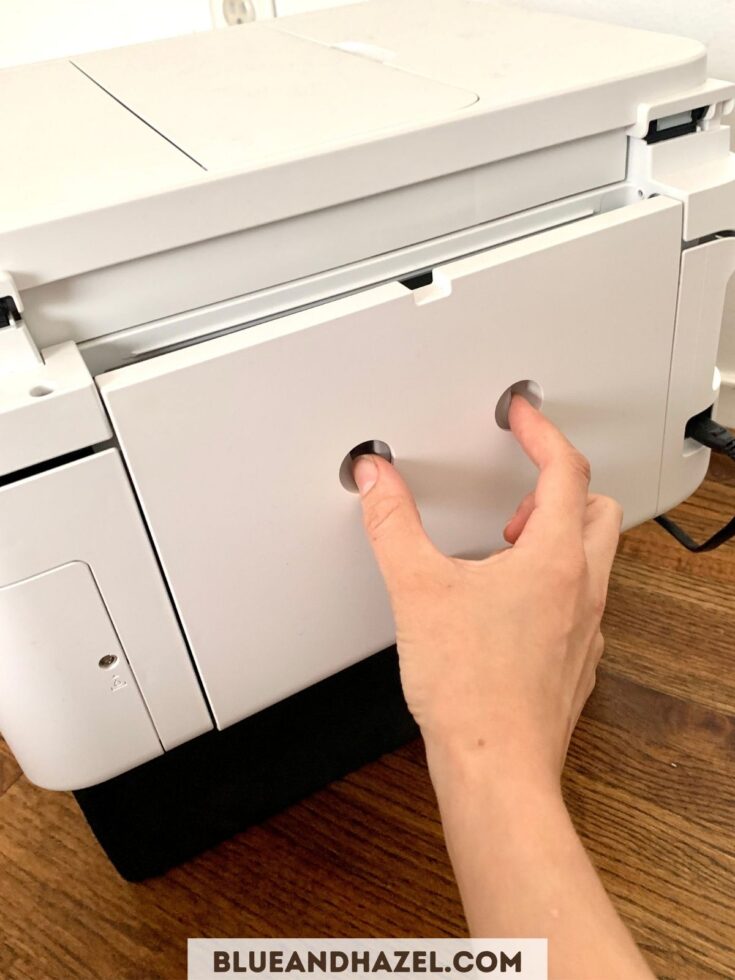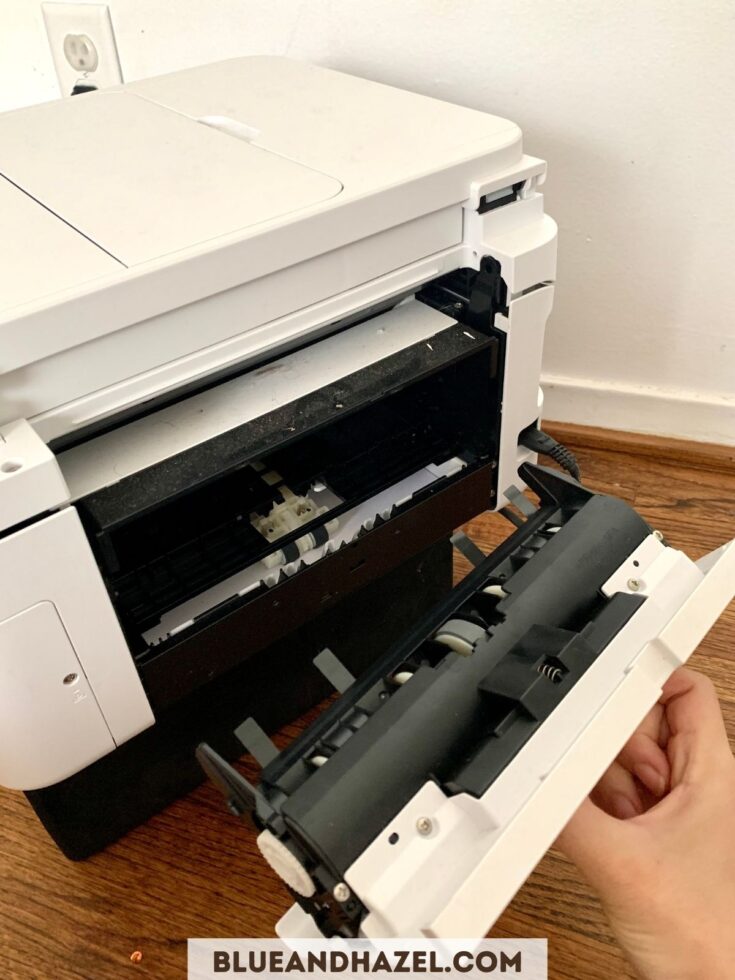 Like this review? Here's more homeschooling posts to enjoy
My new YouTube channel with homeschool videos
2021-2022 curriculum picks for preschool, 1st grade, and 2nd grade
2020-2021 curriculum picks for kindergarten and 1st grade
Busy Toddler's Playing Preschool review
How to start homeschooling for the total beginner: socialization, legal, curriculum, and more