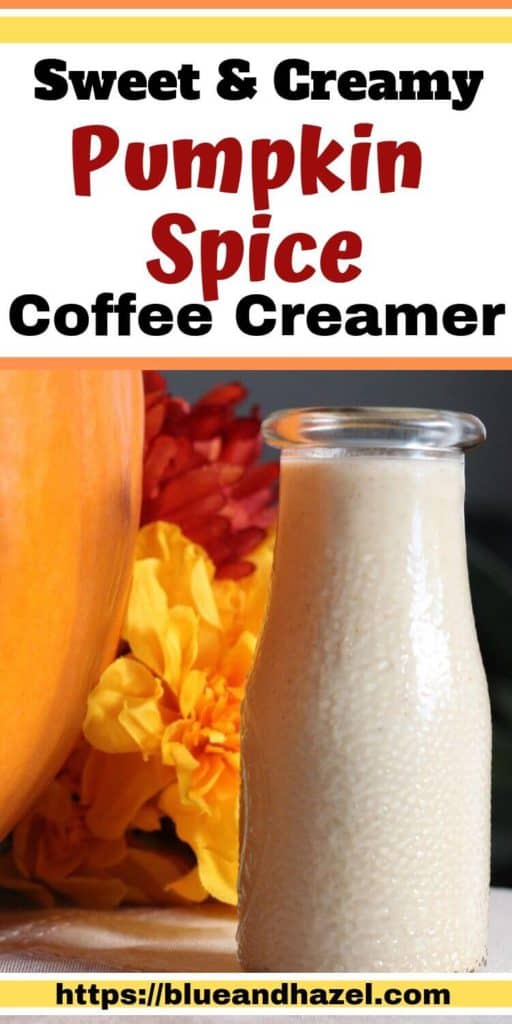 As I sit here typing this up, it's 85 degrees here in the South and I'm pretending it's October on the West Coast where the leaves are turning and the air is cold. I've just made the perfect cup of decaf coffee with homemade pumpkin spice coffee creamer, and o man it's delightful!
So no matter where you live, put these 4 ingredients on your shopping list and then sit down to a cup of fall coffee! Here's how to make homemade pumpkin spice coffee creamer on the stove at home. It's super easy! Ready?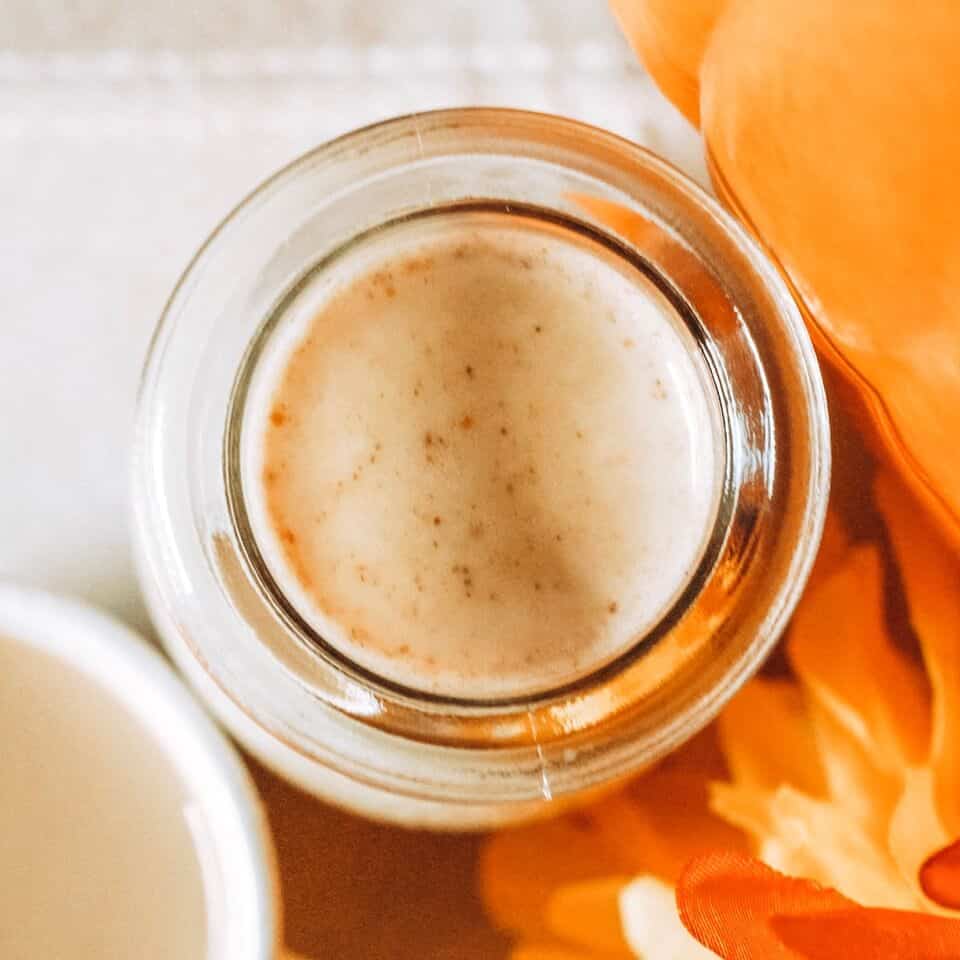 Can homemade coffee creamer taste as good as store bought?
It's been long on my to-do list to stop buying store bought creamers and make my own delicious flavors. But my real thought was, would they actually taste as good? I can confidently tell you that this recipe blew my expectations out of the water! It was sweet, creamy, with just the right hint of real pumpkin.
This post contains affiliate links. As an Amazon Associate I earn from qualifying purchases.
How much sugar is in this pumpkin spice recipe?
If you use 1/4 cup of creamer in your coffee (which is 4 tablespoons of creamer), then you are consuming about 13 grams of sugar, plus whatever is naturally in the pumpkin puree. The half and half adds a negligible 1 extra gram of naturally occurring sugar per 1/4 cup of this creamer too.
I compared the sugar in this recipe to my beloved hazelnut creamer from Aldi's. This recipe had MUCH less sugar, to my surprise!
There were 4 tablespoons of Aldi hazelnut creamer had 24 grams of sugar and this pumpkin spice recipe has about 14 grams for the same amount of creamer.
Homemade creamers help you cut back on processed ingredients and sugar
Maybe the word healthy and coffee creamer don't quite go together… because there's no getting around how much sugar is in all sweetened coffee creamers!
But, it's better than drinking a lot of who knows what, aka processed ingredients I cannot even pronounce. And, most store bought creamers don't even use real cream.
I drink 2 cups of coffee a day (okay, 1.5 by the time I've microwaved them twice and tossed out the last half of the second cup).
To cut back the amount of sugar, simply use part flavored creamer and part half and half or cream in your morning coffee. Or, since you're the chef of this pumpkin spice creamer, just double the amount of half and half in the recipe.
Easy ways to adjust the recipe to your taste
This pumpkin spice coffee creamer recipe is so easy to adjust! I recommend making a cup of coffee while this is on the stove to test it out.
If you prefer it sweeter, add some real maple syrup or sugar since the whole can of sweetened condensed milk is used up.
If you like it less sweet, try increasing the pumpkin puree and spices, and adding in an extra cup of half and half.
For a stronger pumpkin pie spice taste, add another shake of spice!
Many recipes use vanilla. However I loved the rich taste even without it. If you choose to try vanilla, be sure to add it in at the end and not while heating it up to keep the flavor. Try ½ tsp and add more to your liking.
How to store homemade coffee creamer
I didn't think very far ahead about storage, and ended up just storing mine in a stainless steel coffee mug with a lid. This worked fine, and was even easy to pour!
However, if you're going for the slightest bit of vintage or cute decor, then these 1 quart glass bottles are perfect for storing creamer and reusable.
Sweet and Creamy Homemade Pumpkin Spice Coffee Creamer Recipe
Get ready to enjoy a week's worth of pumpkin spice goodness! If you don't have pumpkin pie spice available or prefer to make your own, check out this pumpkin pie spice recipe.
I keep extra cans of pumpkin puree around in the fall, but if you prefer to make your own, here's how to make pumpkin puree from scratch.
Yield: 3.5 cups
Homemade Pumpkin Spice Coffee Creamer Recipe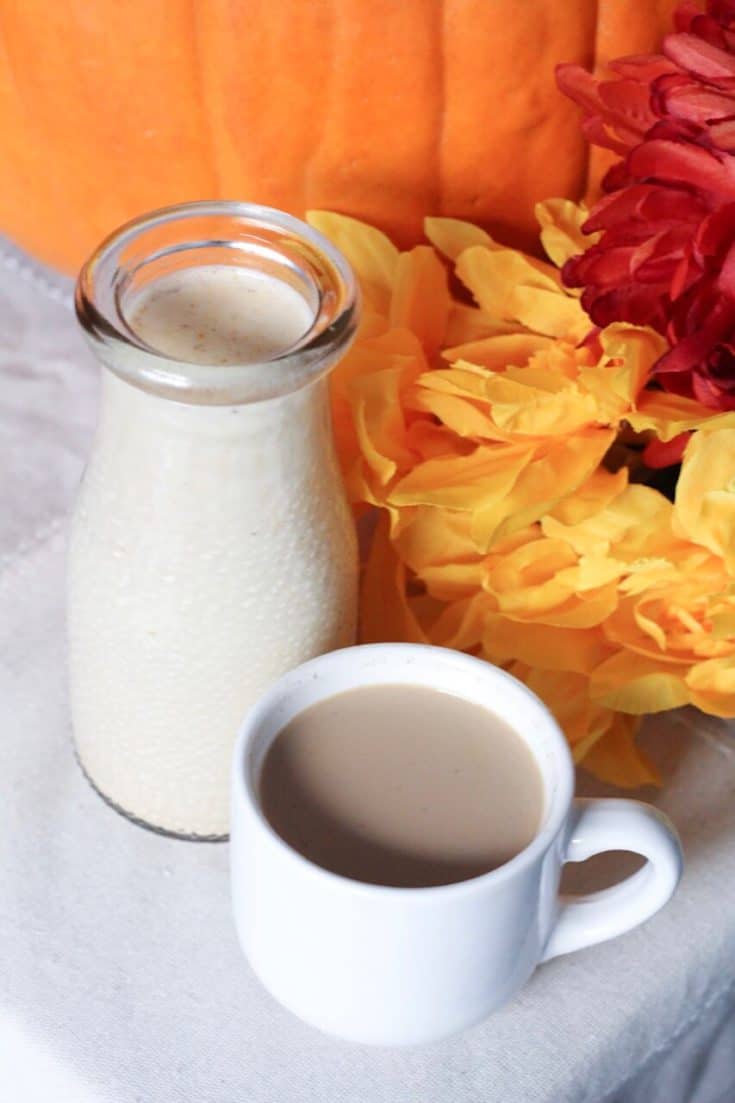 This sweet and creamy homemade pumpkin spice coffee creamer recipe will beat any store bought version you've tried! It's easy to customize and brings fall to your cup with just 4 easy ingredients.
Ingredients
2 cups half and half
1 can (14oz) sweetened condensed milk
1/2 cup pumpkin puree
1.5 teaspoons pumpkin pie spice
Instructions
Whisk all ingredients together on medium heat stirring frequently, just until ingredients mix together evenly. Do not boil.
Remove from heat and enjoy in your coffee right away! Let cool and transfer to a jar with a lid. Can be stored in the refrigerator for about 1 week.
Notes
Don't be afraid to taste as you go! Make a mini cup of coffee as you whisk the ingredients together and test out your creamer to see if it's how you like it.
Nutrition Information
Yield
14
Serving Size
1/4 cup
Amount Per Serving
Sugar

14g
Make it hot or cold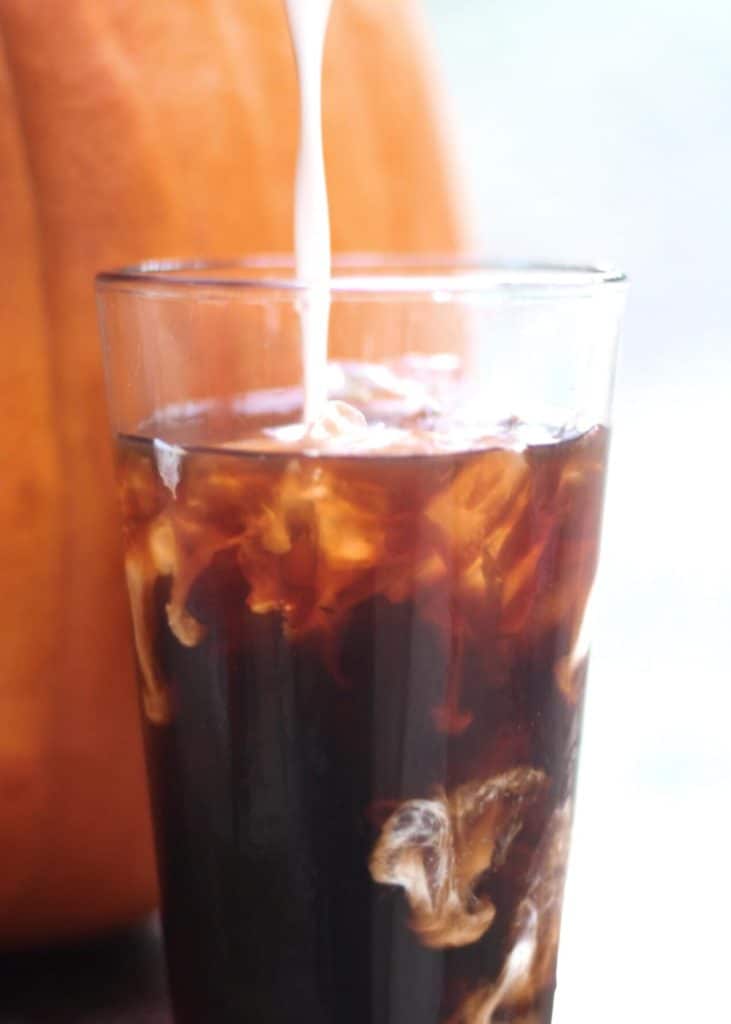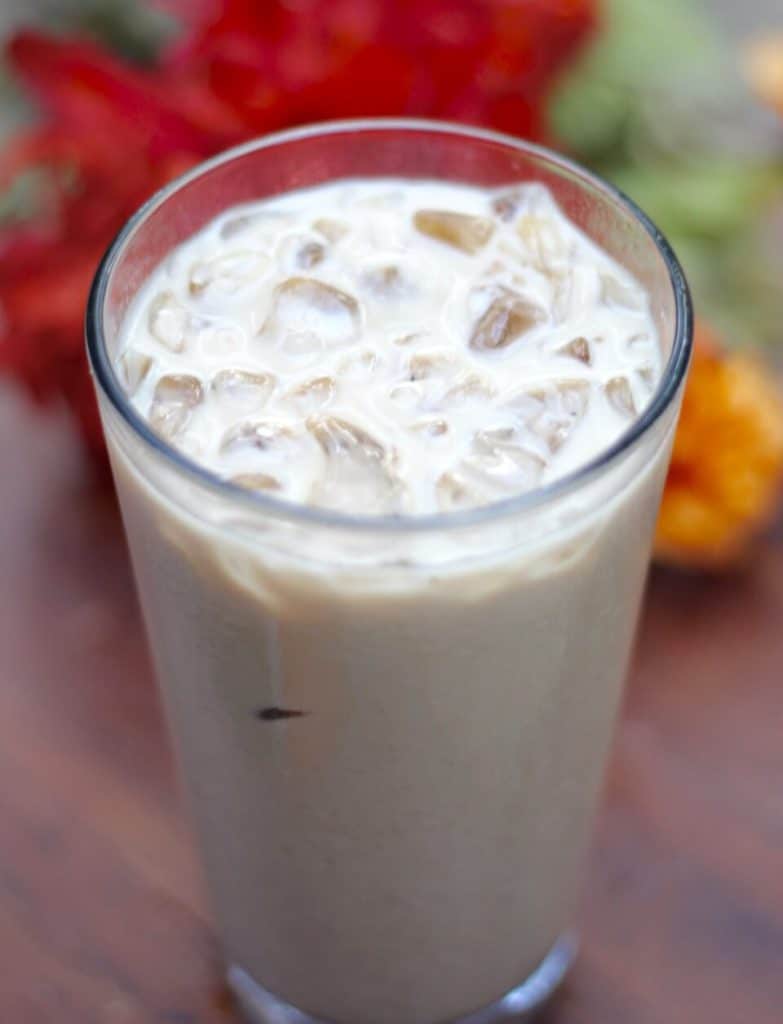 Posts you may also love
How to make homemade pho step by step
Easy Homemade Instant Pot Chicken Stock
Christmas on a budget with kids: How to enjoy it more with less
Easy DIY burlap bag advent calendar