If I had to pick one thing to have on hand for soup season to take very average cooking and make it fabulously flavorful, I'd pick chicken stock. Ok, on second thought, I'd probably pick butter and then chicken stock! It usually takes me 3 hours over the stove, but recently I tried making Instant Pot chicken stock and it's done in an hour.
I used a chicken carcass from a baked chicken with a tad bit of meat left on it. It was SO good! Get ready to make the most savory chicken stock with minimal work that you can enjoy now and freeze for later. If you are a total Instant Pot newbie, this is a great first thing to make!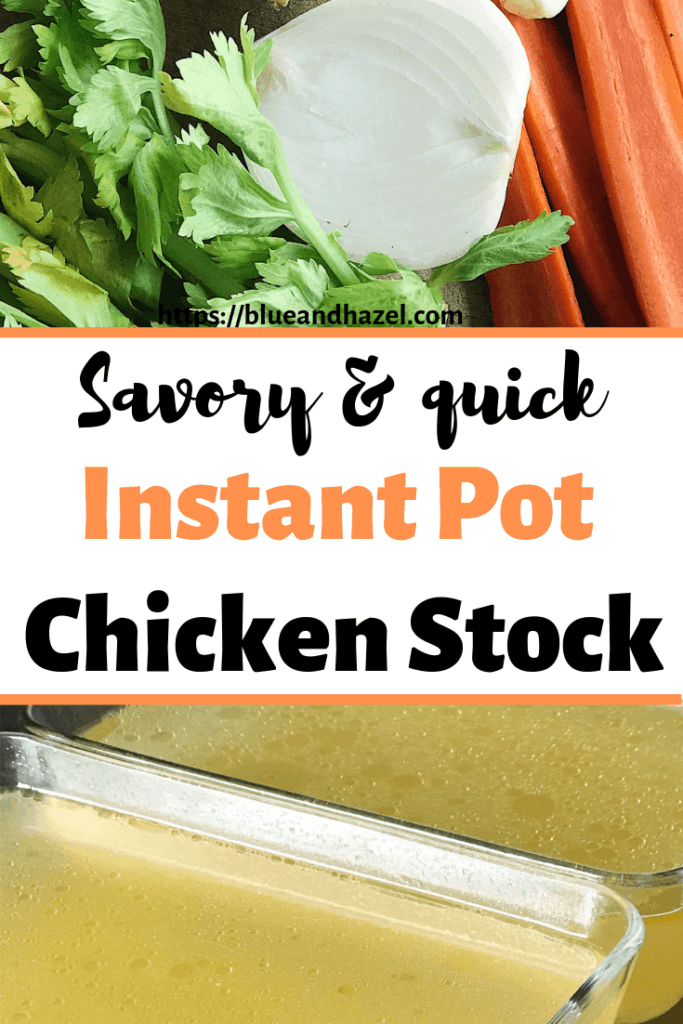 Ingredients for Instant Pot Chicken Stock
1 Chicken carcass
1 Onion, halved
2 Carrots
2 Celery sticks or 4-5 bushy heads of the celery leaves
1 Clove garlic
10-15 black peppercorns
Optional: 1 Bay Leaf, sprig of fresh thyme, fresh parsley
How to make Instant Pot chicken stock step by step
I grew up with homemade chicken stock. It's so tasty, and actually easy to make. However, when I don't have any on hand, I use my favorite chicken bouillon soup base. If you don't have this yet, get some! You'll never have to buy containers of soup broth again. But nothing is quite as good as homemade.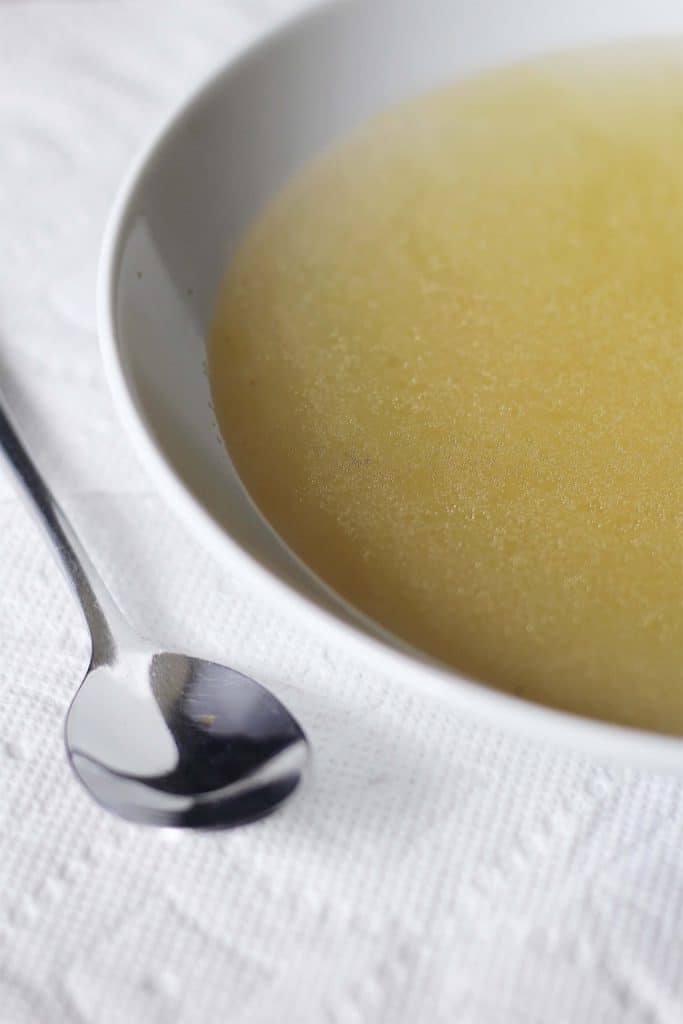 Time needed: 1 hour and 15 minutes.
Instructions for homemade Instant Pot Chicken Stock
Add chicken carcass to Instant Pot

Place your chicken carcass on the bottom of the Instant Pot. It will take up a huge portion of the pot. If you have some meat left on there, it will add to the flavor and will completely fall off after pressure cooking. I love to use this meat for a chicken noodle soup with the hot broth!

Add vegetables and spices

Remove any dirt from your vegetables and add them to the Instant Pot. I remove the outside of the onion, but you can actually leave it on if it's clean. It will add extra color to your broth too! For the celery, use two full stalks. Or, cut off about 4-5 of the leafy end parts. I like to do that because you get all the flavor without wasting the celery stalk! Give the whole garlic clove a smash with the side of a knife to release some flavor.
My mom always used bay leaf when making chicken stock so that's what I like, but you can experiment with other spices too like fresh thyme, parsley, and whole peppercorns.

Fill Instant Pot with water

Fill your Instant Pot up just below the max fill line. With a full pot of liquid, broth can spew out if you manually release the pressure at the end. I recommend letting it naturally release so this isn't an issue.

Tip, if you add boiling water from an electric kettle, it will save you around 15 minutes of time that the pot usually takes to warm the water.

Cook for 50 minutes on high pressure

Close the lid, set vent to pressure cook (not slow cook), and press the button called "manual". Then press the up arrows till you see the number 50. The pot will then say "on" as it heats up, you will hear steam coming out of the valve once it's ready to seal, and then you'll see the number 50 appear again as it cooks.


Strain chicken stock

Scoop spoonfuls of broth through a strainer so all the chunky stuff gets left behind. Your broth should have a beautiful golden color to it, with plenty of fat bubbles on top. Hello flavor! The fat will harden on top after you refrigerate it so feel free to scoop it off.

Salt to taste

Your broth will not taste that amazing yet, without any salt. I'm a salt-a-holic so this step is really important to me! I add about 1/2 teaspoon at a time until it's how I like it.

Or, leave unsalted and add salt later as you are cooking! This is a great option if you want to flavor your rice a bit more with broth instead of water, but don't want added salt.
How to store homemade chicken stock
Whenever I make this, I'll use some for dinner that night and freeze the rest in pyrex glass containers. I have never had good luck using glass canning jars and have broken MANY trying. So I stick to pyrex. You can keep it in the freezer for months, or in the fridge for a few days.
Another pro tip is to use your ice cube trays to freeze some chicken broth, or silicone muffin pans. Then, you'll have smaller portions to freeze in a bag if you need just a half cup of so at a time! If you use silicon, set it on a cookie sheet before pouring so it's easier to put into the freezer.
Use vegetable scraps for the chicken stock to save money and waste less
One way to get the same flavor in your stock without wasting vegetables is to use the peels, ends, and scraps! Save all carrot peels, celery end pieces and ends of your onions in the freezer as you use them. Or, what I do is:
Peel a bunch of carrots to eat for the week and use the peels/ends of about 10 carrots.
Use onion end scraps from 3-4 onions. Either save the whole onions in a bag for chopping later or chop so they're ready to use later in the week.
Instead of using 2 full celery ribs, just cut off the ends of 4-5 of the leafy ends. The leaves are usually attached to a few tiny ribs and this all gives it the celery flavor.
Experimenting with the cook time
With bones, generally the longer you cook it the more flavorful your stock is. And if you cook it long enough, the bones will gelatinize (which makes your broth get thick when it's in the refrigerator). I find 50 minutes is great for flavor, but you can do it longer and see what you like! Also, since I'm just using the carcass I don't have to worry about overcooking the meat. Read below to see how to cook this with a whole chicken.
Making broth in your Instant Pot using a whole chicken
If you want your whole chicken cooked and tender in 30 minutes just use a whole raw (thawed) chicken in the Instant Pot! I manually set the time by pressing "manual" and the up arrow till the numbers say 30. It takes about 15 minutes to get the pot up to pressure and about 15 minutes at the end to let it naturally release.
You will have a pot of broth that's tasty, but it will not be as deep of a flavor as if you had cooked the bones for 45 minutes. If you want both a tender whole chicken AND deeply flavorful chicken stock, then cook the whole chicken, remove the meat when cooled, and put the carcass back into the pot with all the veggies and spices still in there. Cook for an additional 30 minutes by pressing the manual setting and up arrow to 30. You may want to add some more water.
Since chicken sizes vary, the Instant Pot website recommends cooking for 8 minutes/pound of whole chicken. Check out Instant Pot cooking times here.
Ways to use chicken stock in everyday recipes
Substitute chicken stock for any grain like rice or quinoa.
Use in any soup.
Add cooked egg noodles to broth. Perfect for upset stomachs! Check out my post on using the BRAT diet food list after you or your kids get a stomach bug.
Mashed potatoes (using stock as your liquid instead of milk along with some butter).
Gravy. Heat 1Tbsp of butter in a pan. Add 1 Tbsp of flour and mix. Add 1 cup chicken stock and salt and pepper to taste!
Here are 25 recipes that use chicken stock!
Other posts you may enjoy