This authentic Thai Green Curry is an absolute treat to make at home, and very easy once you have the ingredients! This curry is one of the most requested meals I get asked to make when we host friends and family, and it tastes like you ordered it from a restaurant, for real!
Take a photo of the Thai Curry ingredients before going to the store to help you find them faster.
The only problem with loving Thai food and wanting to eat it ALL the time is that I have my American spices in the cupboard and fridge, and then my OTHER cupboard 🙂 Full of Asian food ingredients. If you don't have any common Thai ingredients yet, take a photo of the ingredients below so you can use it to help you find ingredients at the Asian food store or Asian food isle.
One last tip for making an Asian market shopping list, for those of us who grew up eating "American" food, whatever that is, is that you may not be familiar with different brands of say curry, fish sauce, or even all the eggplant choices available.
I take an iPhone pic of the computer screen when I'm looking up a recipe, or google it in the store, and if they don't have that exact brand/container then just get what they have, or ask someone nice in the store to help you.
How to make authentic Thai Green Curry
Ok, here is what I make at home after much Youtube video watching. My husband LOVES it, as do all our friends who love spice and curries!
This is a very traditional recipe, made with beef (choose your meat type just like at a restaurant between pork, beef, chicken, and seafood). When we are being nontraditional, I use whatever veggies we have like green beans, snap peas, ect, but that is no longer authentic green curry…but this curry sauce is amazing on anything.
You may also love: Vegetarian Pad Thai
Ingredients (makes about 3 servings):
1 can full fat coconut milk (reduced fat will not be the same!)
2 tbsp green curry paste(I use this one)
1 lb meat of your choice, sliced thinly
5-6 Thai Eggplant, quartered
1 red bell pepper, for color (or sweet chili pepper if you can handle MORE heat)
1.5 tbsp Palm Sugar(I use this one)
2 tbsp Fish Sauce
1/2 cup water
3 Sprigs Thai Basil (tastes different than common Basil used for pesto)
3-4 lime leafs (cannot substitute lime juice, totally different flavor!)
1 Lime for topping, if desired. (My FAV but Peter does not like it)
Prepared Jasmine or Brown Rice for Bowls.
Photos of each ingredient you need for Thai Green Curry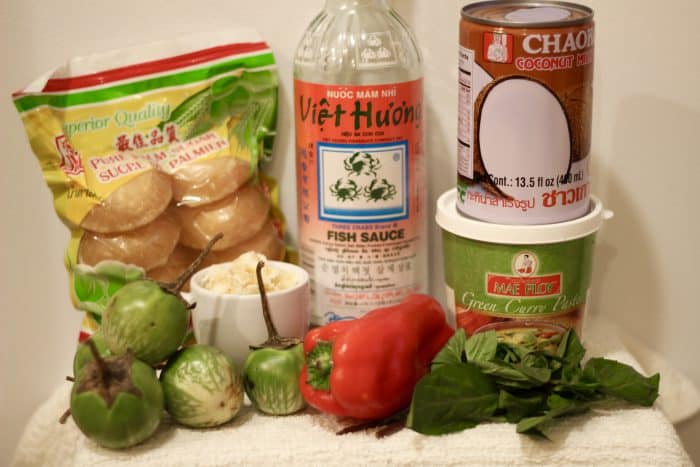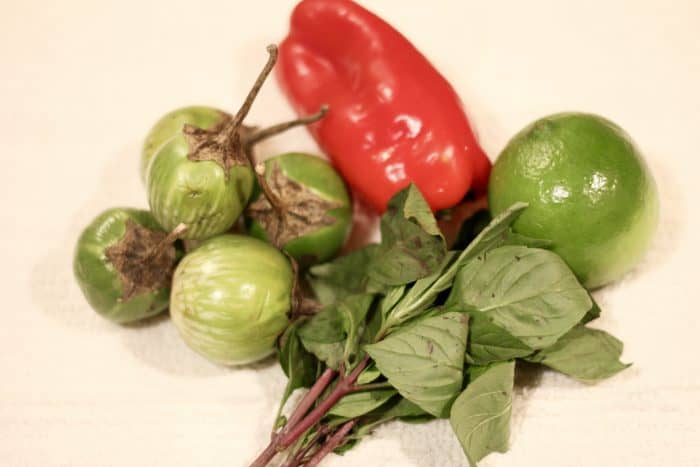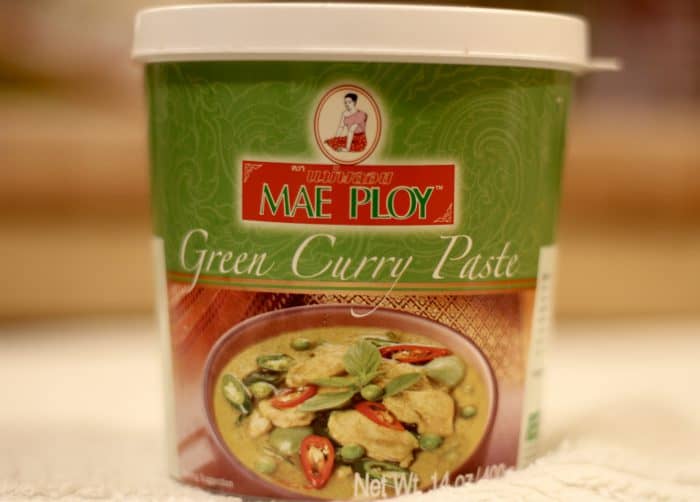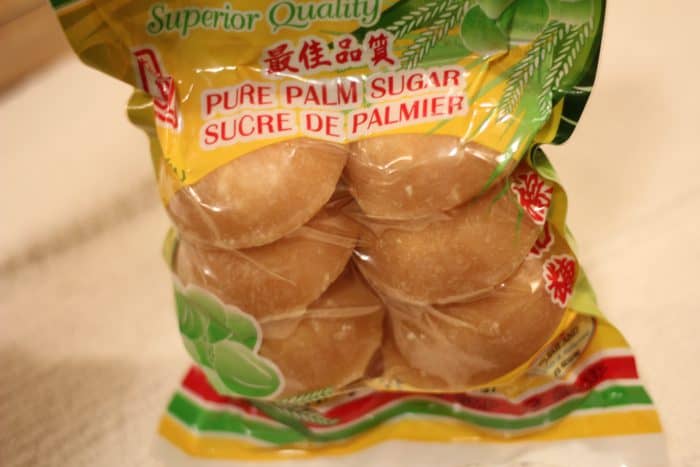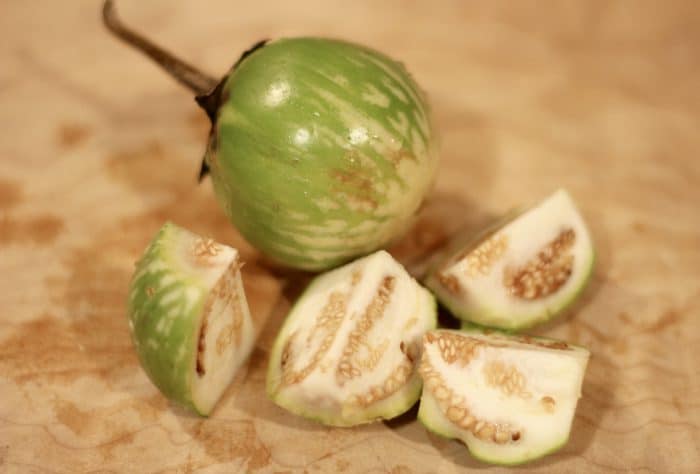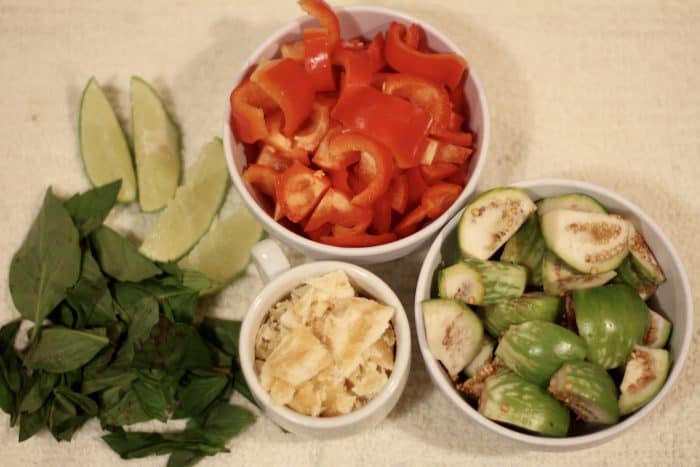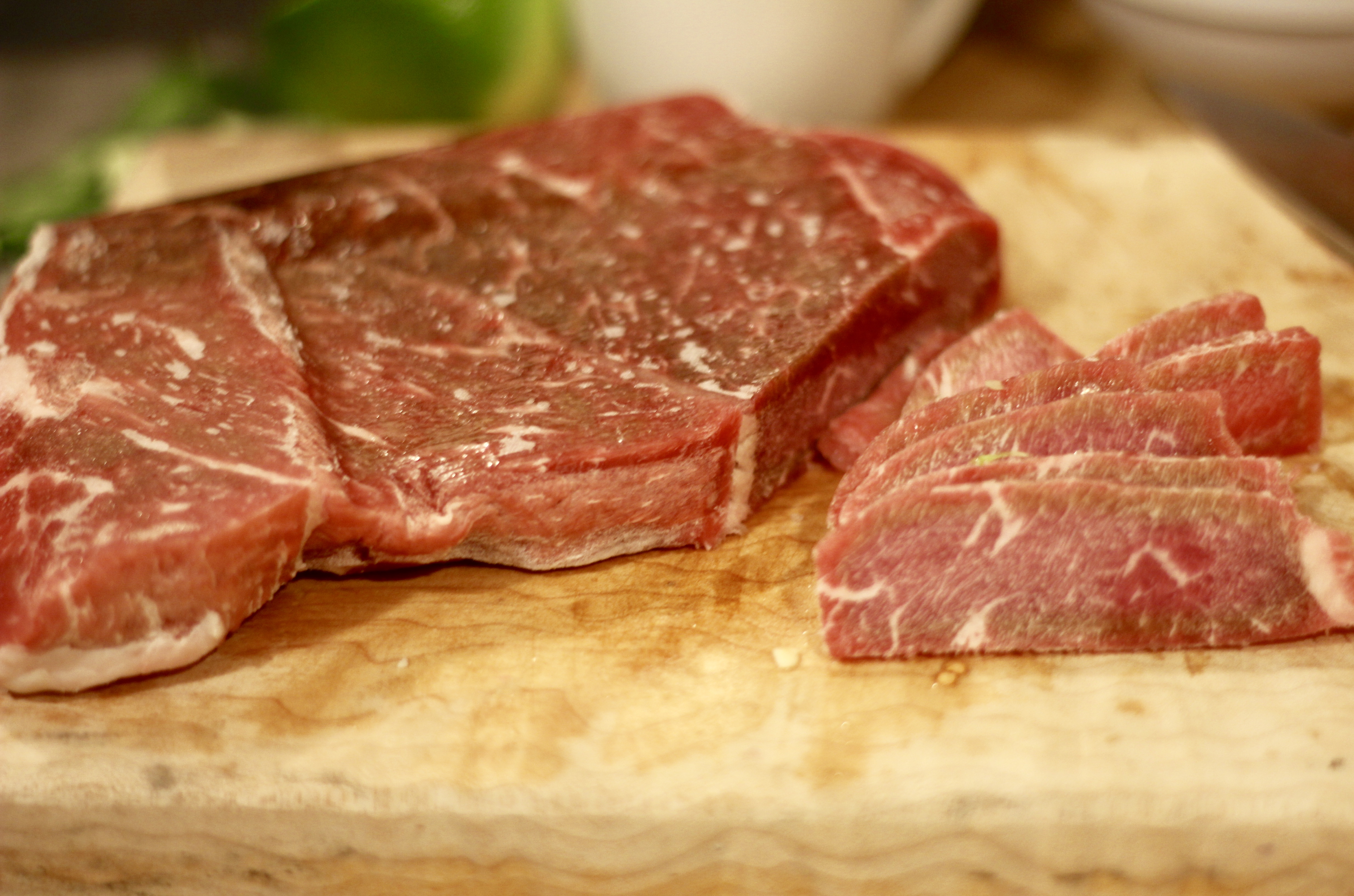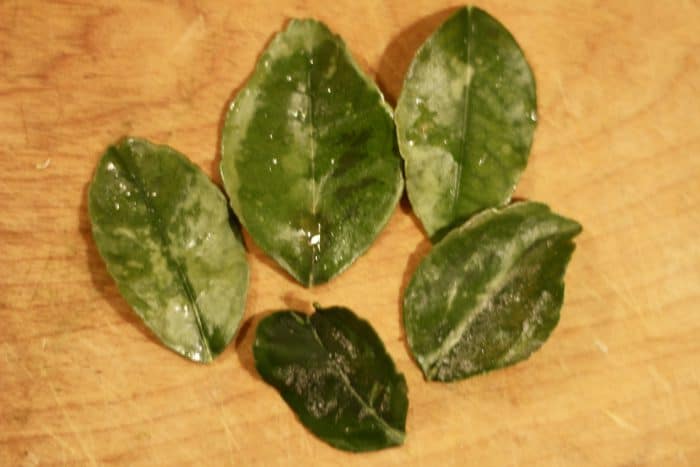 Step 1:
Place about half the solid fatty part from the coconut milk can into a pan on medium to medium-high heat. Let it start bubbling, then add curry paste. This brand is pretty spicy to me, so you can always add less at first and more at the end if you can handle heat.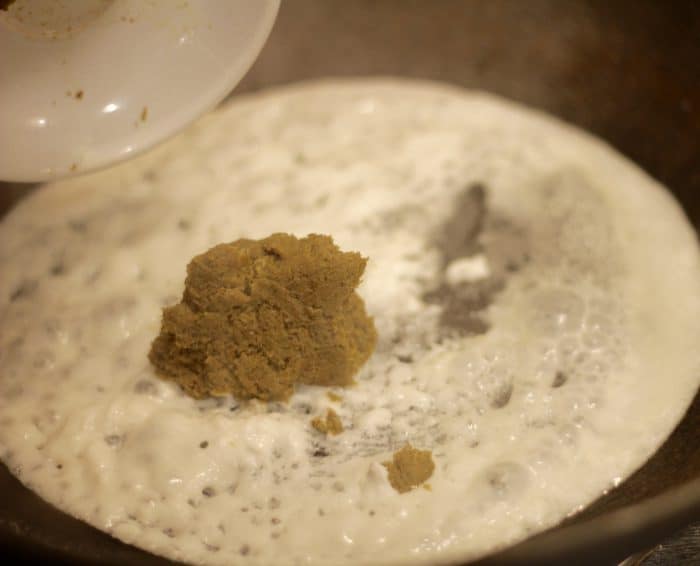 Step 2:
Stir in all of your curry paste, until green oil starts to pull out and it smells fragrant. Then add the rest of the coconut milk can.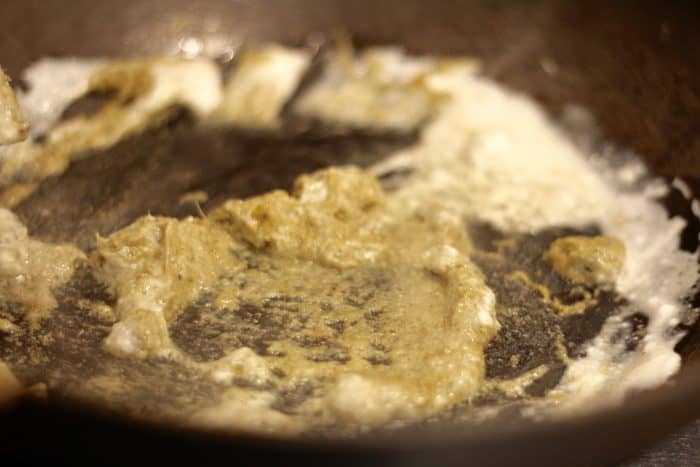 Step 3:
Add in your sliced meat, and cook until meat is partly cooked, a few minutes. It will finish cooking in the boiling curry sauce later.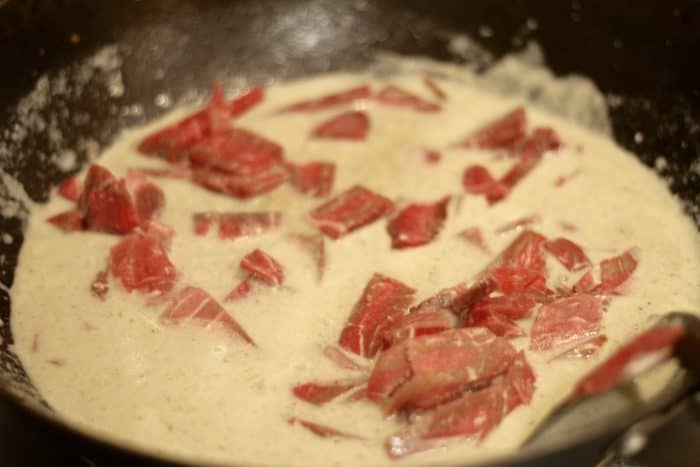 Step 4:
Add the water and eggplant, and let cook for about 10 minutes, or until eggplant feels soft. These are nasty and hard if not cooked all the way! One of my first try mistakes 🙂
Note: If your can of coconut milk is super thin you can add less water. (I have had the same brand of full fat coconut milk have anywhere from almost all solid coconut creme inside to about only half creme half coconut milk).
Step 5:
Add bell peppers & Kaffir Lime leaf. Cook till tender just a couple of minutes. Leave the leaves in.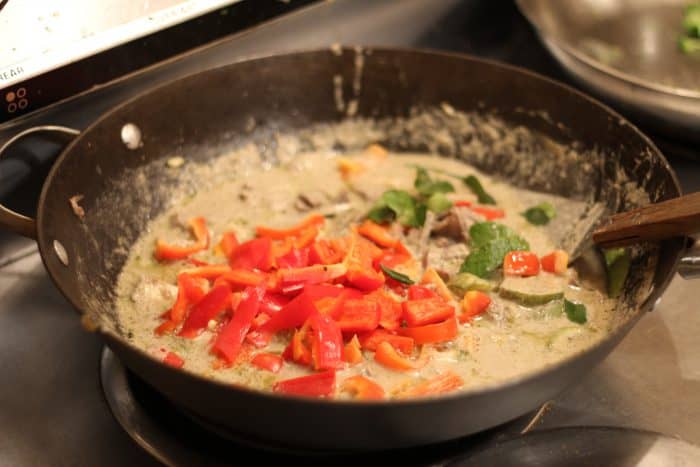 Step 6:
Add cut up palm sugar & fish sauce. This has less sugar than red curry and is supposed to taste less sweet than a red curry. If you absolutely can't find palm sugar, then you could substitute brown sugar. It has a slightly different taste but will bring in the sweetness you need.
Step 7:
Add Thai basil last, or put it on top in individual bowls. If you do it too early then the beautiful green color gets to be not so pretty. And wala…authentic thai green curry on your table!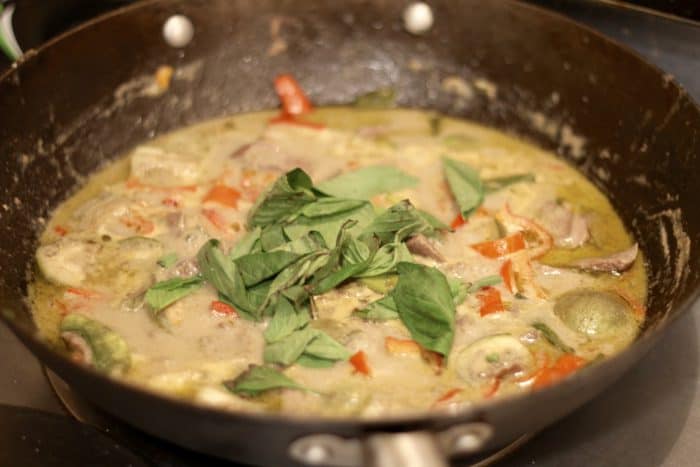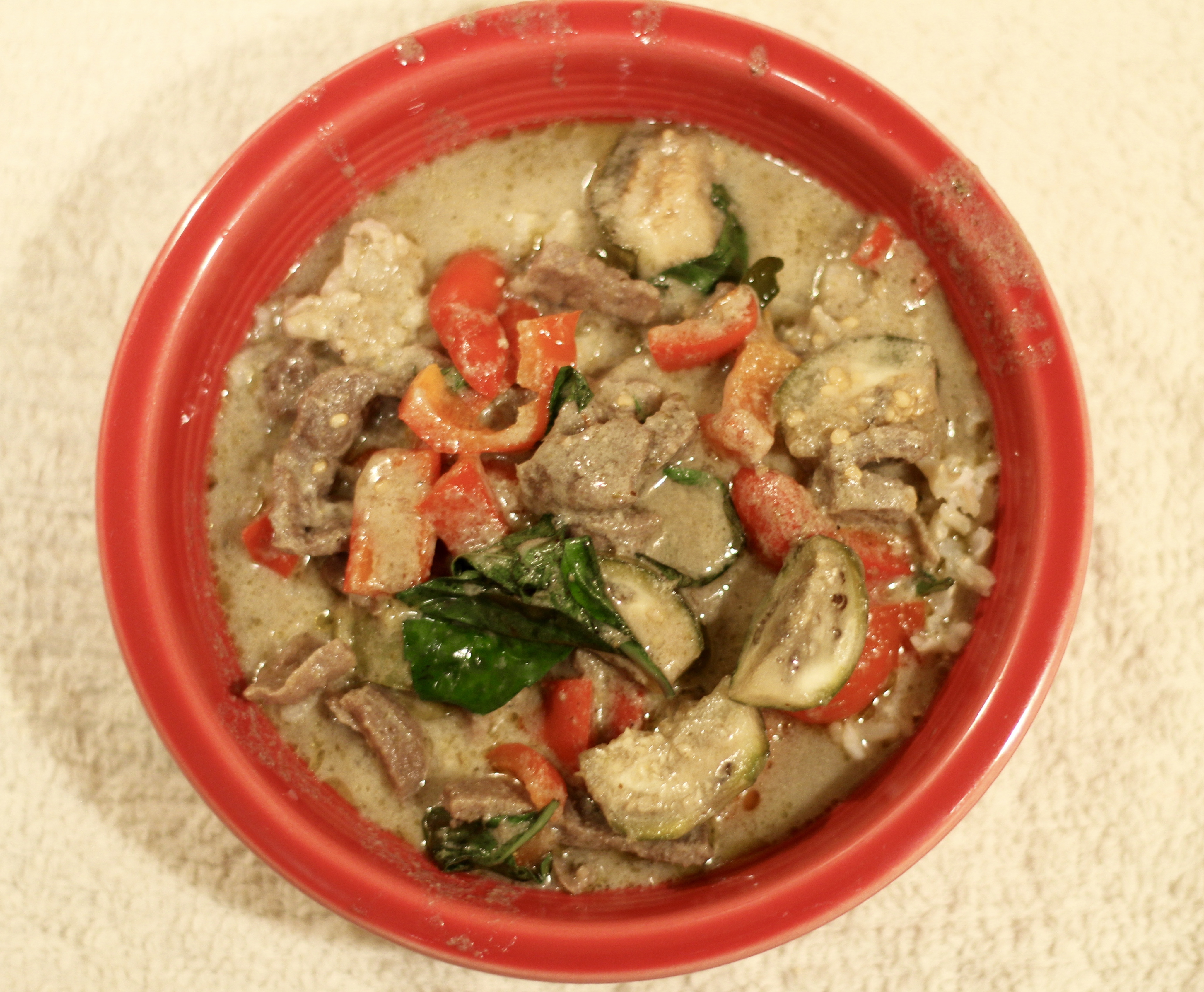 Hope you enjoy this, and now you are ready to make authentic Thai Green Curry at home! I would love to hear how it turns out in the comments, or if you make another amazing dish!
You may Love: Vegetarian Pad Thai Recipe! and How to make homemade beef Pho
Follow Blue and Hazel on Instagram!
SaveSave
SaveSave
SaveSave