On our anniversary a few years ago Peter and I went to a Thai restaurant. He ordered his favorite Pad Thai and I ordered red curry. Within 24 hours I was craving more but knew I'd have to make it since I can't sustain a daily $40 Thai food bill 😉 So, I obsessed a bit on youtube and practiced a lot to make this delicious vegetarian Pad Thai. You will soon know how to make it step by step! It's not hard but does have weird ingredients you may have to order online or get to an Asian Mart.
Tips to consider when making Vegetarian Pad Thai
This post contains affiliate links.
Pad Thai is slightly sweet, not spicy at all, and mostly a noodle dish cooked in a hot wok. It tastes best when cooked in small batches (two plates tops at a time).
The key is to have everything cut and ready so when it is cook time you just throw stuff in and it's done in about 5-10 minutes.
It's also very important not to make more than 2 portions at a time or there won't be enough room in the pan to brown all the noodles.
Traditionally this is made in a wok, although I've made it in a large pan just fine. I just figure there is a reason a wok is what restaurants use as well as street vendors so I prefer to use a wok 🙂

Ingredients for Pad Thai sauce (two people):
Combine these in a small pan and bring to a boil until all sugar is dissolved and remove from heat. I chop up the palm sugar so it dissolves easier. It has a soft crumbly texture when cut with a knife and a distinct flavor different from white or brown sugar. I think it tastes like roasted marshmallows smell… if that rings a bell 🙂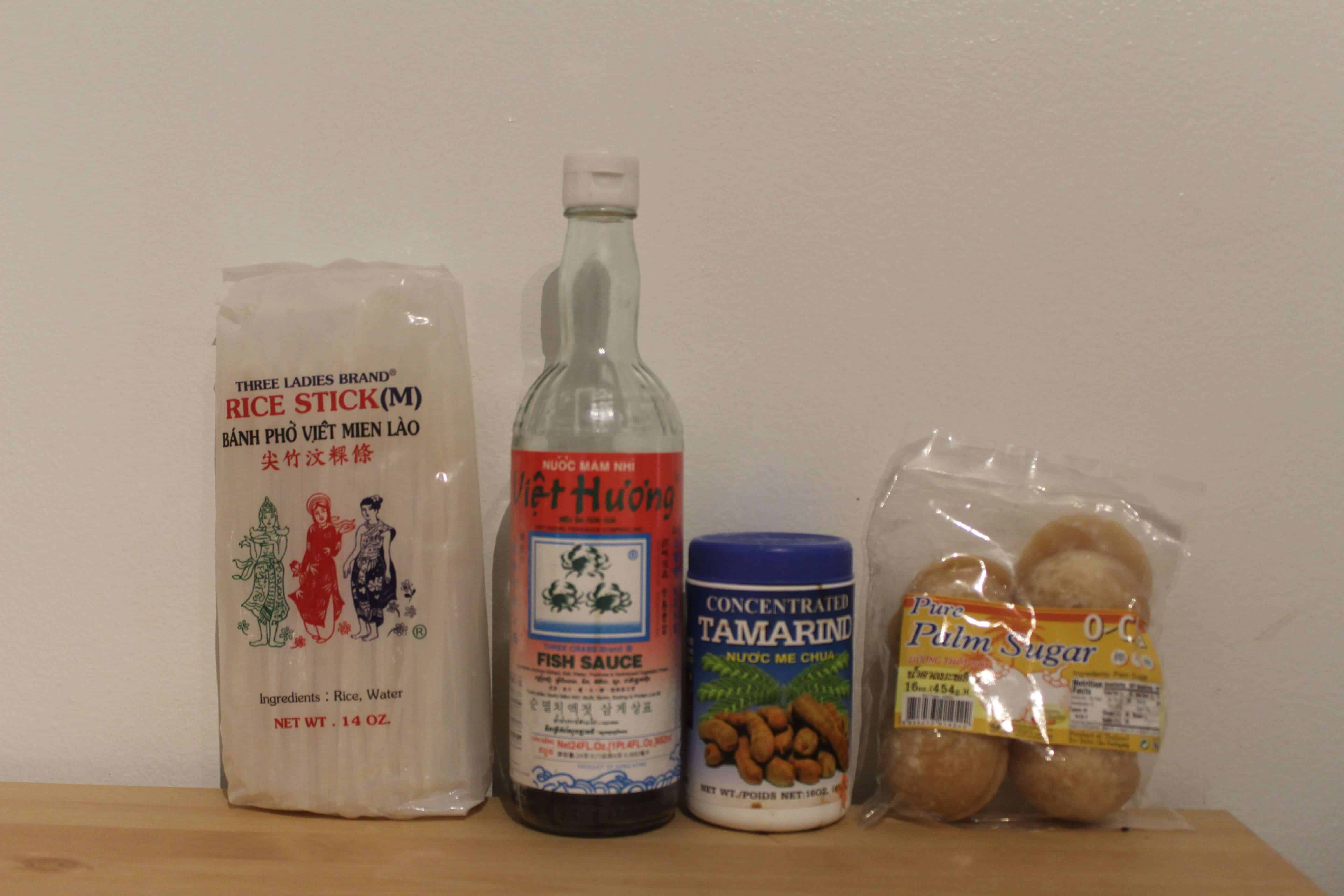 1/4 cup palm sugar, crushed
3 Tablespoons tamarind paste (Tamarind paste gives the noodles their color and adds the sour flavor needed for the dish)
Ingredients for noodle dish (enough for two people)
Half a package of dry rice noodles, partially cooked.
2 cloves garlic, crushed
2 eggs
3 green onions chopped
1 Carrot shredded (some recipes call for pickled radish, but the restaurant I ate at used carrot)
1 cup fresh bean sprouts
A lime, cut into wedges
1-2 Tablespoons unsalted peanuts, chopped
Related Post: How to make authentic Thai Green Curry!
How To Make Vegetarian Pad Thai
Prepare the noodles and sauce first.
Step 1
Get the noodles prepped by boiling them till they are partially cooked. (You don't want them fully cooked or they turn to mush in the hot wok. Bendable but still a tad uncooked.) Pour out the water and set aside.
Update: My new favorite way to get the noodles perfect is to put them in a pan with warm water and leave for an hour. They soak up just the right amount of water to be ready for use. If you are short on time then you can boil the water till they are al dente.
Step 2
Heat up the wok very hot, medium high or high, and add oil to cover the whole pan. If you choose to add meat or tofu, cook it now in the oil and remove from pan. Then add more oil. If not, just start by adding the eggs. Scramble.
Step 3
Scoot them to the side and add garlic and carrot for about one minute.
Step 4
Mix it all together and add partially cooked noodles on top.
Step 5
Add all of your sauce and a few tablespoons of water and stir in. You want the noodles to get a few crispy pieces from touching the bottom of the pan. If the noodles are not soft enough after absorbing all the liquid add more water.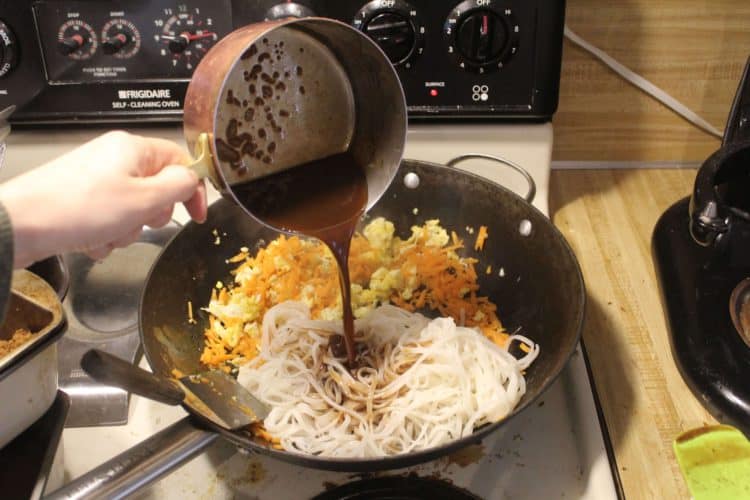 Step 6
Once they appear soft enough add in bean sprouts and green onion for about 30 seconds. Then serve with peanuts, lime wedge, and Sriracha!
You may also like: How to make the most amazing Pho at home.
Let me know in the comments if you have any other secrets to this dish or what other Asian recipes you would like to see here on the blog!
SaveSave
SaveSave
SaveSave
SaveSave
SaveSave
SaveSave
SaveSave
SaveSave
SaveSave
SaveSave
SaveSave
SaveSave
SaveSave