If you are looking for a quick and easy recipe for making candied pecans on the stovetop, this recipe is amazingly simple and done in less than 10 minutes! It's just 4 ingredients (pecans, butter, brown sugar, and cream) plus a sprinkle of salt at the end if you wish.
No oven toasting required, just a pan on the stove. These were so fast to make, and I recommend making a double batch if you want to have lots around for future snacking or salads.
I wanted to make a salad I knew my hubby would like…which means lots of goodies including something sweet like candied pecans.
It took an "ok" salad he would normally have gulped down dutifully, "to be healthy"…(we all do that with salad at times right?) and turned it into a gourmet starter!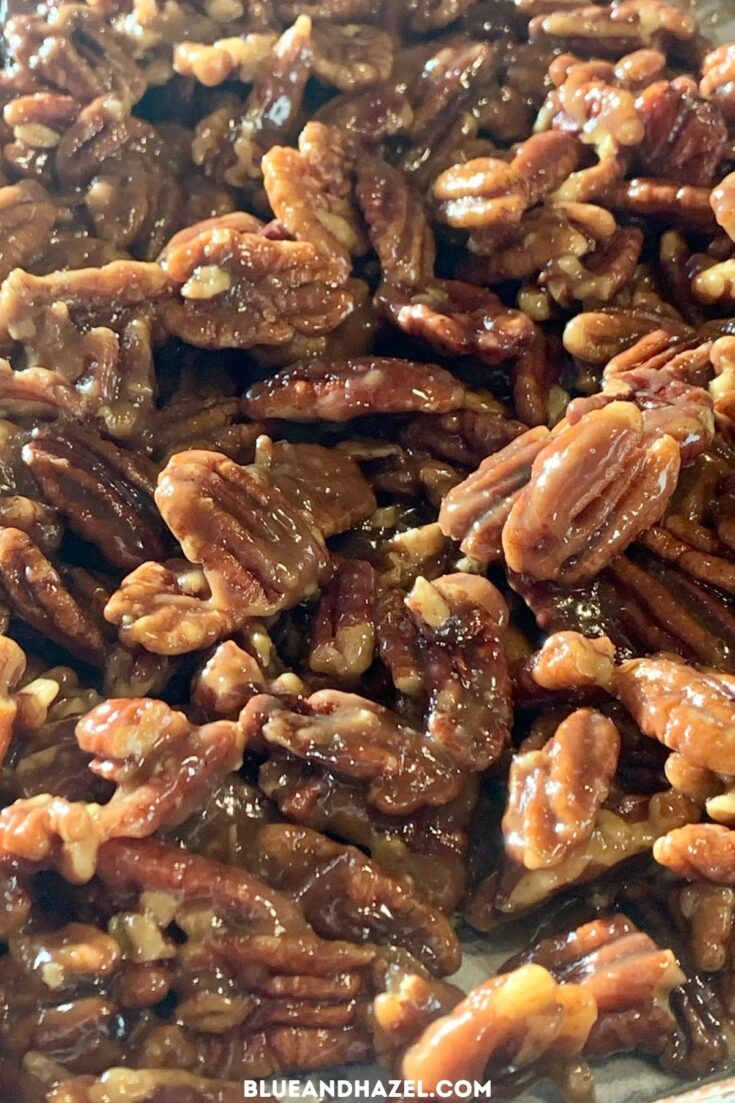 Variations to this candied pecan recipe
This is a wonderfully basic recipe, that is gluten free and egg free. It does have dairy though.
If you make this often, you may want to try adding a few things to change the flavor. Adding a sprinkle of cinnamon would give it that holiday flavor, or you could try a touch of vanilla at the end of cooking so the vanilla flavor doesn't cook out.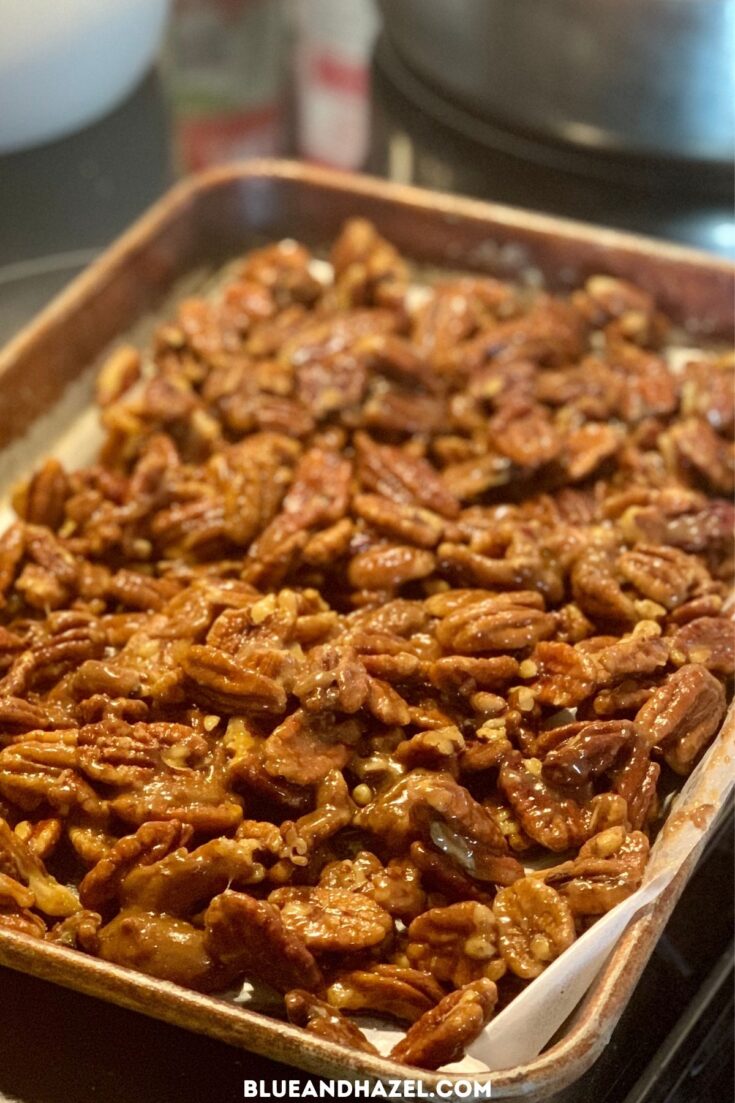 Quick and Easy Candied Pecans On The Stove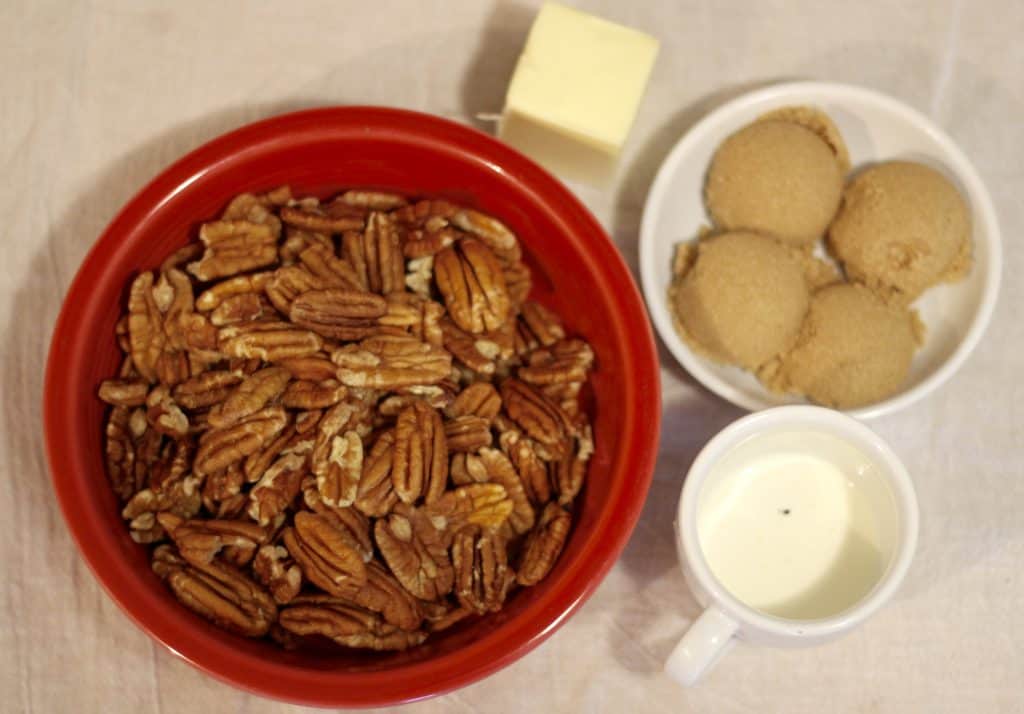 Directions:
Step 1:
In a pan, melt the butter (I use salted butter for better flavor) on med to med high heat and pour in pecans. Stir this around for about 1 minute to let the butter begin to brown and the nuts to let out some flavor and aroma.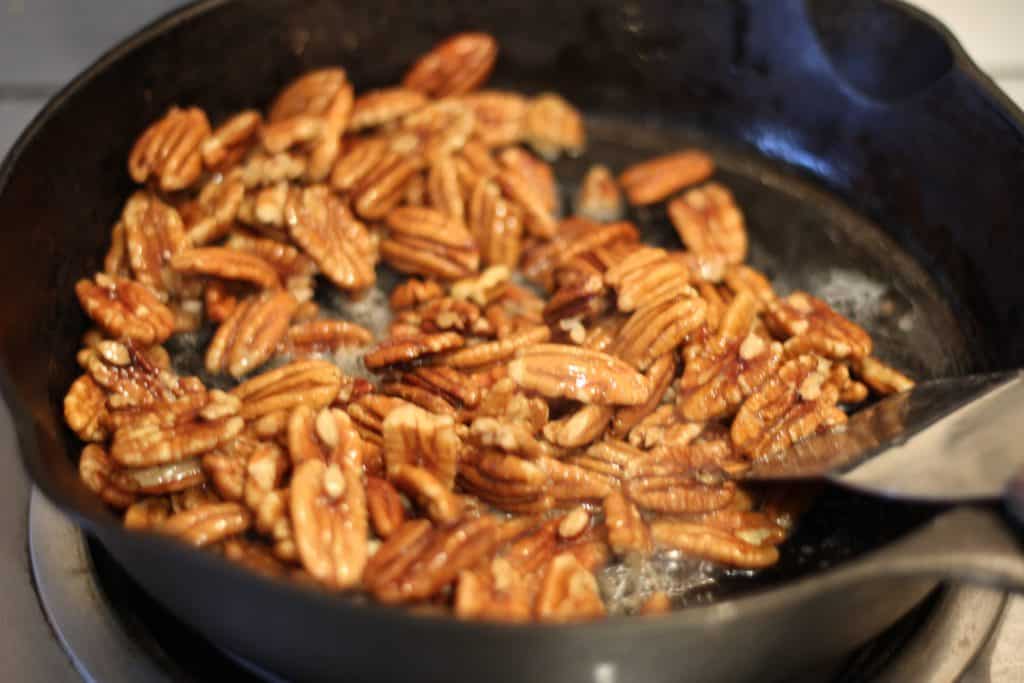 Step 2:
Add brown sugar and heavy whipping cream. Stir to mix over the pecans. Keep stirring/scraping the bottom to make sure all of the mixture gets hot from touching the bottom of the pan.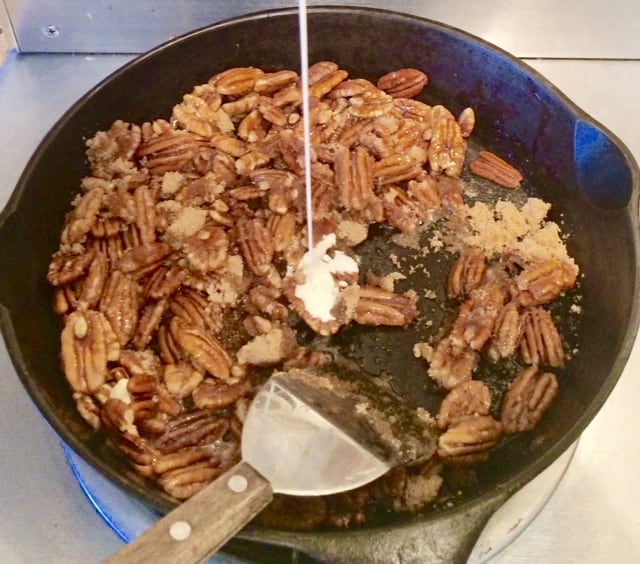 How to test out your candied pecan coating to see if it's done:
You have to cook it long enough and hot enough that it caramelizes. I've stopped at 3 minutes before and it left a very soft, squishy coated pecan.
Since it's hard to know exactly when to take it off the heat, you can test the coating by taking out a piece and dropping it into a cup of very cold water. If the mixture is still soft or gooey, cook the batch longer.
If it's burning, turn down the heat.
I find that 5 minutes is about perfect, and like to set a timer on the stove to watch.
If you don't cook them at least 5 minutes or if the heat is too low, they will taste amazing but be more sticky. You may want to go even longer to get that caramel popcorn type coating that is a tad crunchy.
Step 3:
Sprinkle with salt for the perfect taste combo, and then spread to some wax paper to cool.
And then EAT!! Warning…I would double this batch…these are seriously too good not to snack on. Sometimes I try hiding them, you know, out of sight out of mind… 😉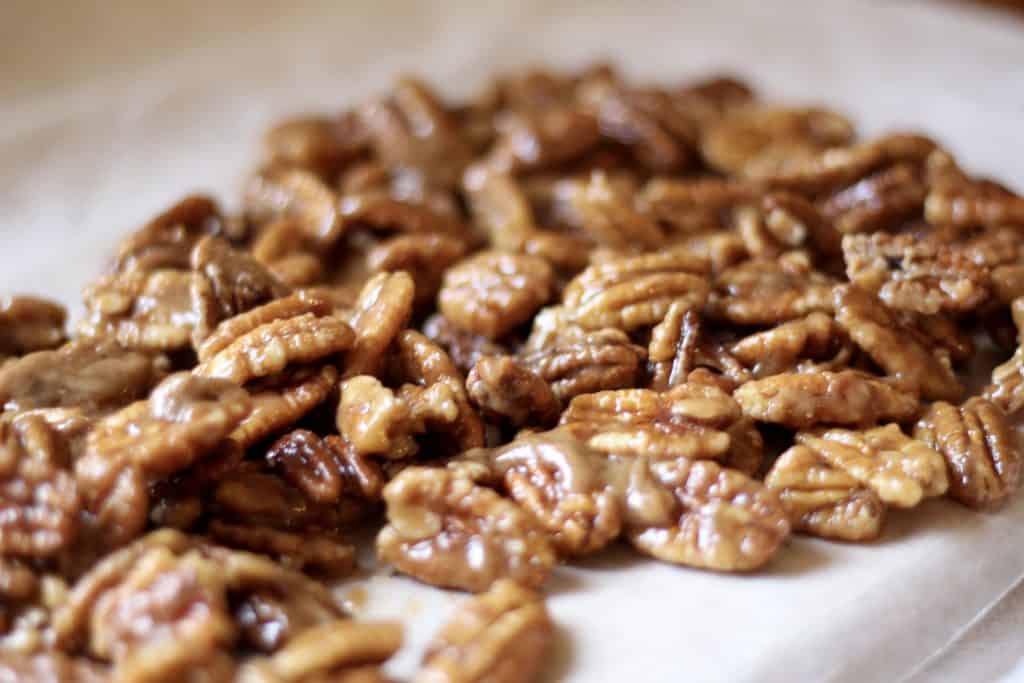 Yield: 2 cups
Quick and Easy Candied Pecans On The Stovetop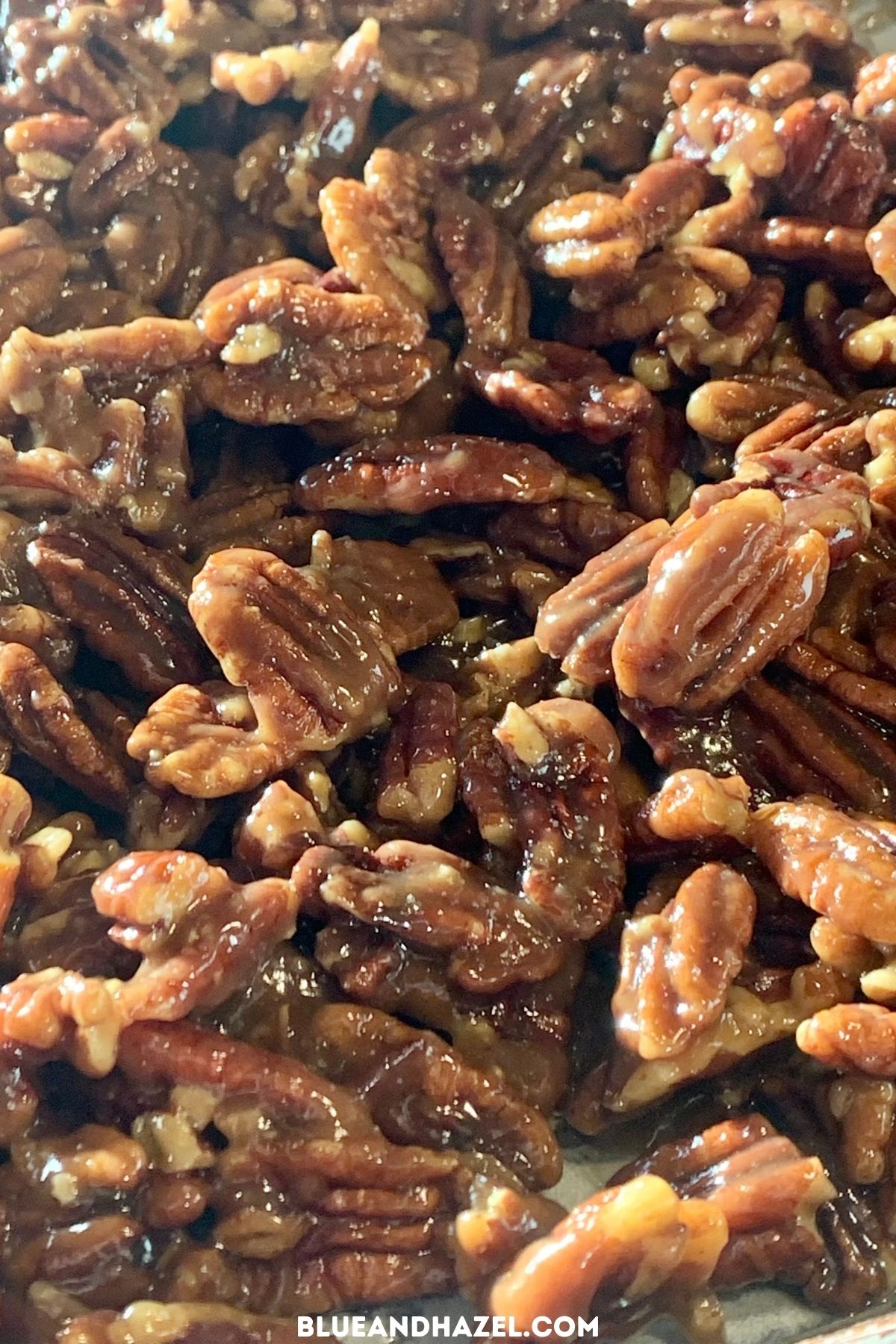 These sweet and savory candied pecans on the stove are a delicious addition to any salad or make a sweet snack.
This recipe uses just pecans, butter, brown sugar, and cream in a pan, and takes a few minutes to cool on parchment paper.
I love to sprinkle with salt at the end to balance out the sweetness. Adding salt at the end allows you to get the complimentary flavor without using as much.
As these cool the sugar hardens, but they are sticky when warm. Keep a close eye on these in the pan, using a spatula to turn often so that they do not burn.
Ingredients
2 cups pecan halves
1/4 cup brown sugar
1/4 cup salted butter
2 Tablespoons heavy whipping cream
optional pinch of salt at the end
Instructions
Melt butter on medium high heat in a shallow pan and stir for about 1 minute. This will brown the butter and bring out flavors in the nut.
Add pecans and coat in the melted butter.
Once coated, add brown sugar and cream, stirring to evenly mix ingredients over pecans.
Continually stir pecans and glaze for about 5 minutes while mixture bubbles. You want it to evenly cook hot enough so the sugar is able to caramelize. Watch for any signs of burning, and take off heat or lower heat if necessary.
Remove pan from heat, and spread out onto a sheet pan lined with parchment paper to keep mixture from sticking.
Optional: Sprinkle with a touch of salt (this really adds to the flavor!) Let cool.
Notes
You can test how sticky or hard the glaze will be by removing a pecan covered in glaze and dropping in cup of very cold water. If the caramel coating is too sticky, keep cooking.
If you prefer a softer nut or softer coating, feel free to cook for less time or on lower heat. To get a hard crunchier coating the mixture must get hot enough to caramelize.
If you need them to harden on the sheet faster, let them sit in the refrigerator for a few minutes.
I would love to know how these turned out and if you tweak anything let us know what you did and how that tasted. Pin this post for later and share with your buddy who loves a tasty candied pecan 🙂
More tasty treats to try
Grandma Anne's Thumbprint Cookies with Buttercream Frosting
Follow Blue and Hazel on Instagram!