If you are looking for a healthy homemade snack to hand out to your kids, look no more! These peanut butter power balls are packed with oats, creamy peanut butter, chia seeds, honey, and chocolate chips. (Yes, chocolate should be it's own food group. I agree!)
We had gotten into a bad rut at my house and I was letting the kids snack on processed junk all day. We had some stressful circumstances going on and I just didn't have the capacity to deal with correcting picky eaters at the time.
It got to the point where I had to stop buying any processed snacks so that I would force myself to make healthier options. Otherwise it was too easy to hand out Goldfish and Cheerios, ya know? These protein packed power balls are easy, nutrient dense, and a big win at my house.
So go ahead, try the recipe once and test it out on your kids! We make this at least once a week and this batch is gone in a day with 5 of us around.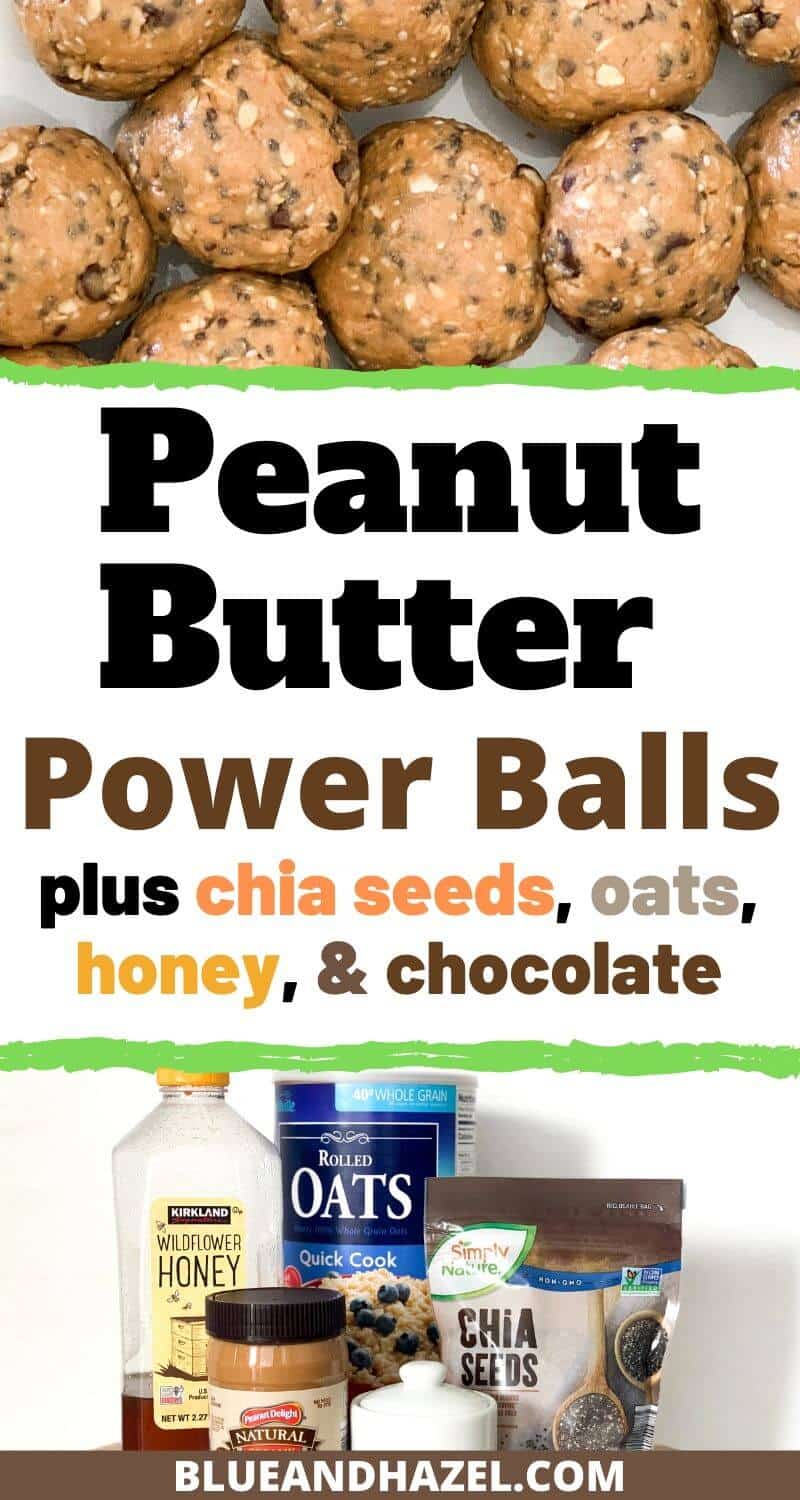 What ingredients are power balls made of?
Power balls are are generally a ball of healthier ingredients mixed together that do not need to be baked. Generally there's a nut butter, a honey or maple syrup, and an assortment of chunkier add ins based on the flavor and texture you want.
I've heard the term protein ball, power ball, energy bite, and these can also be pressed into bar form.
The great thing about peanut butter power balls, or any power ball, is that no cooking is needed! Here are a few ingredients you might see:
peanut butter
almond butter
dates
chocolate chips
honey
real maple syrup
coconut flakes
sunflower feeds
chia seeds
pumpkin seeds
oatmeal
ground flax seed
protein powders
dried egg whites
cocoa powder
cranberries/raisins
You can see the ideas and combinations are endless, so have fun with this.
How to make these healthy no bake energy balls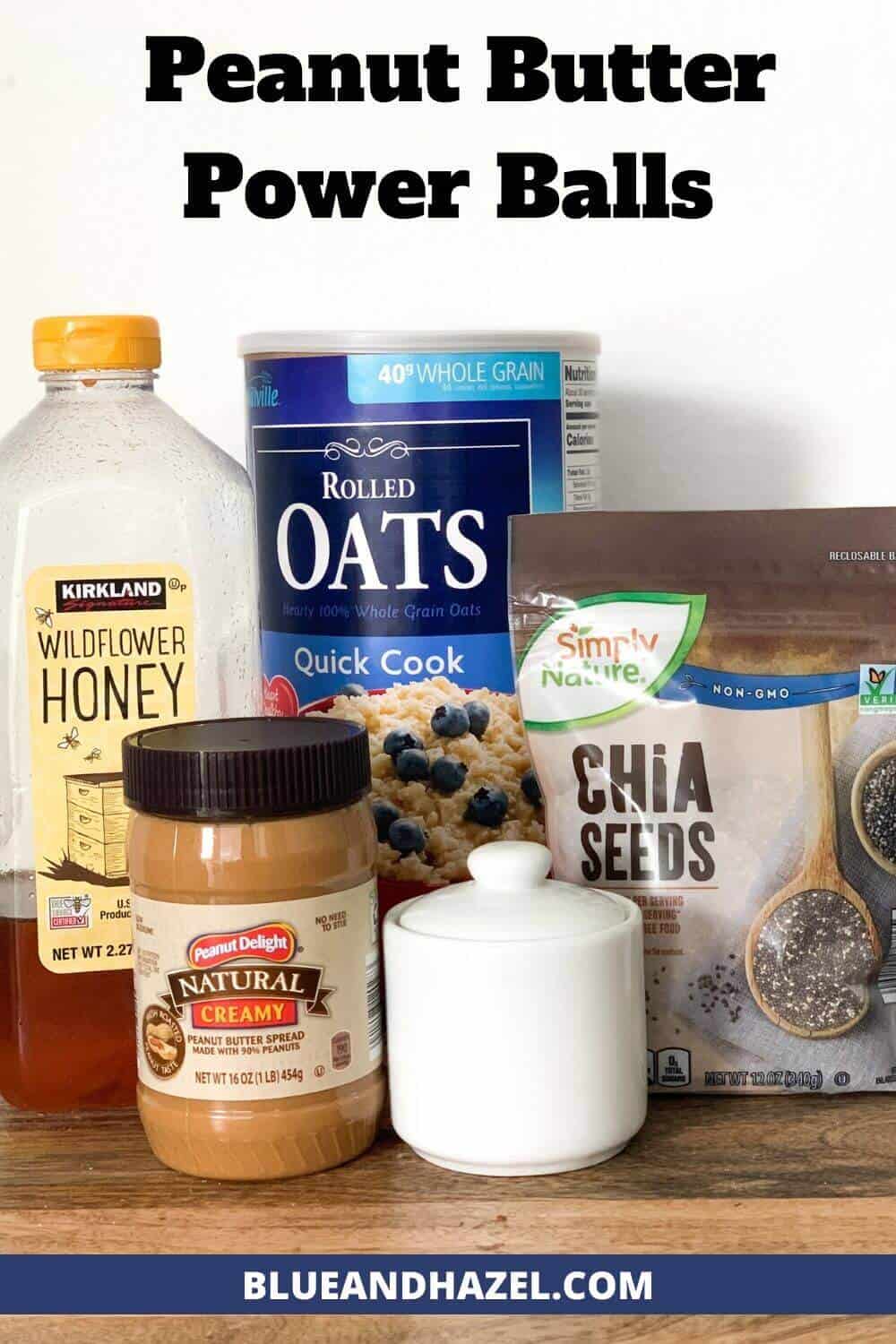 To make these power balls, all you really have to do is scoop everything into a bowl and mix until evenly blended throughout. I like the texture a lot. It sticks together without being "sticky". We also only use quick cooking oats because I like the smaller pieces so much better, and it doesn't change the nutrient value at all.
The honey is going to not only sweeten it, but hold it together better than nut butter alone. If you find your mixture too crumbly, simply add a tad more honey. If it's too sticky for you add a few more oats or chia seeds.
This recipe is flexible, but the perfect place to start if you are new to power balls (and want to make sure your kids will like them)!
By the end, your mixture should be clumpy but not sticky to touch. If it's at all sticky and ends up on your fingers, add more oats.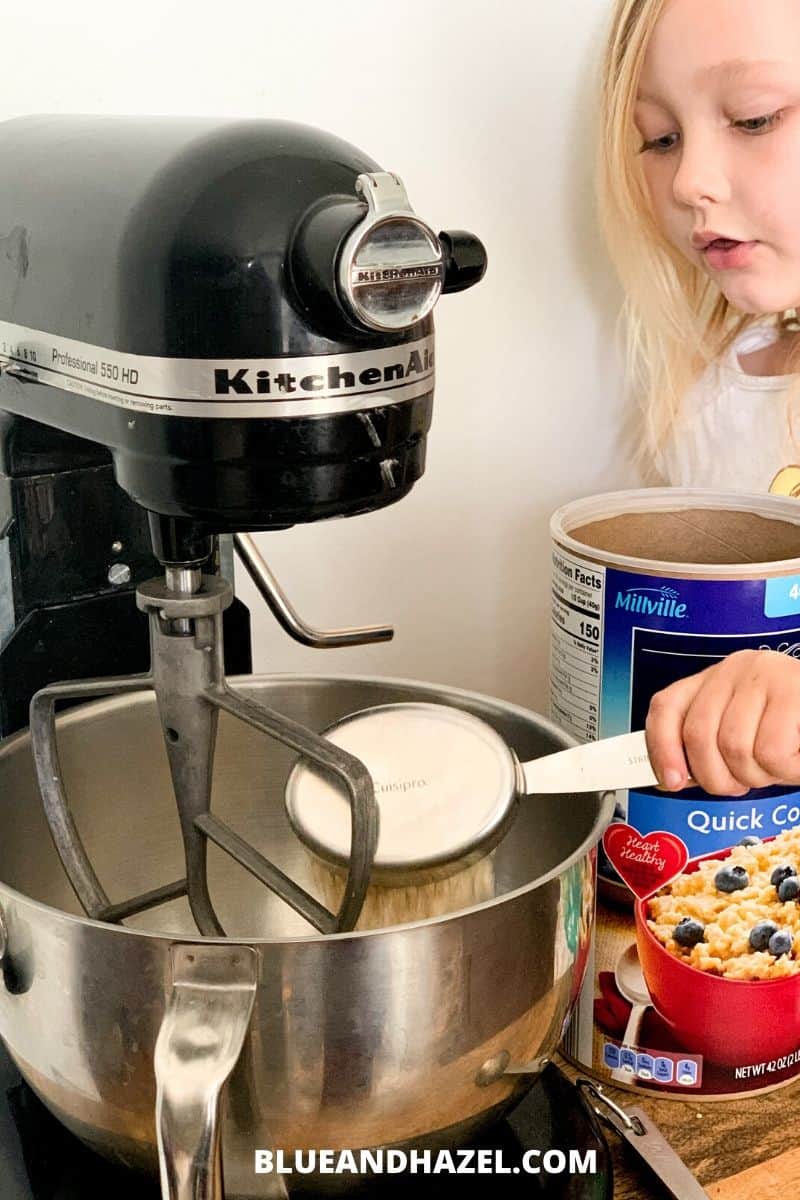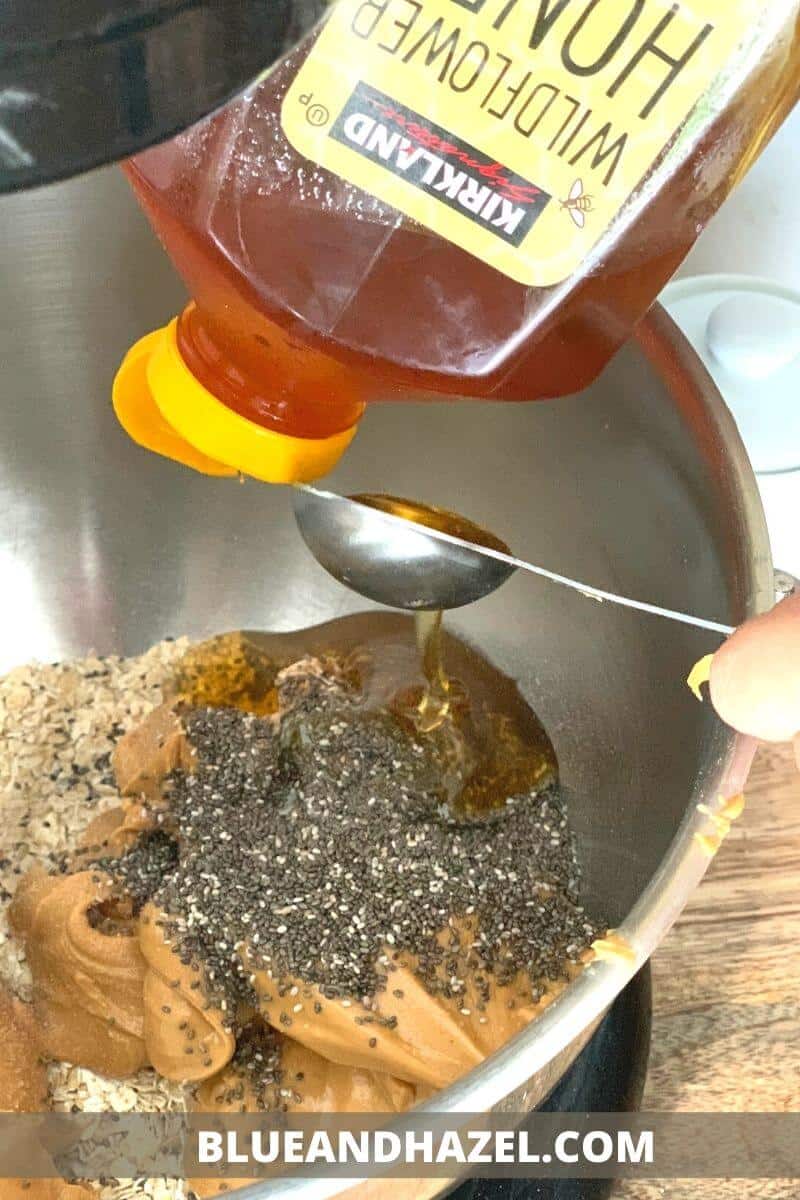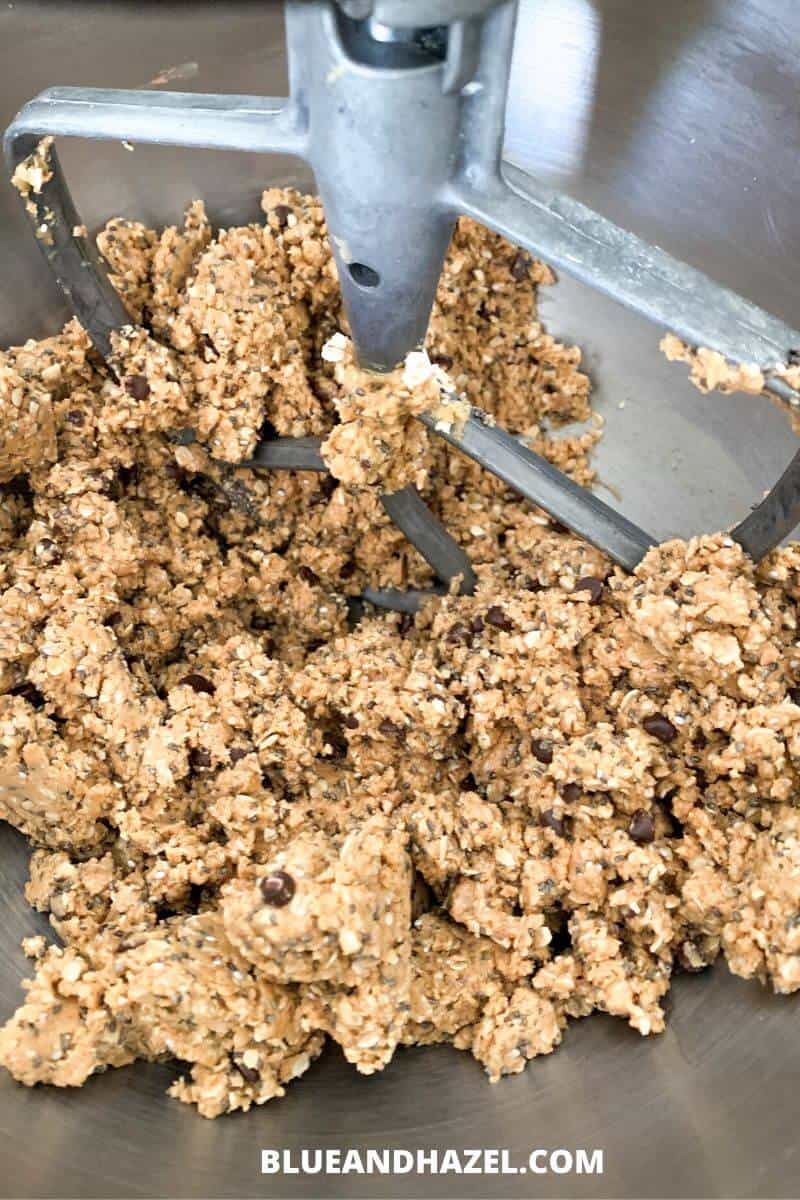 Yield: 35
Peanut Butter Power Balls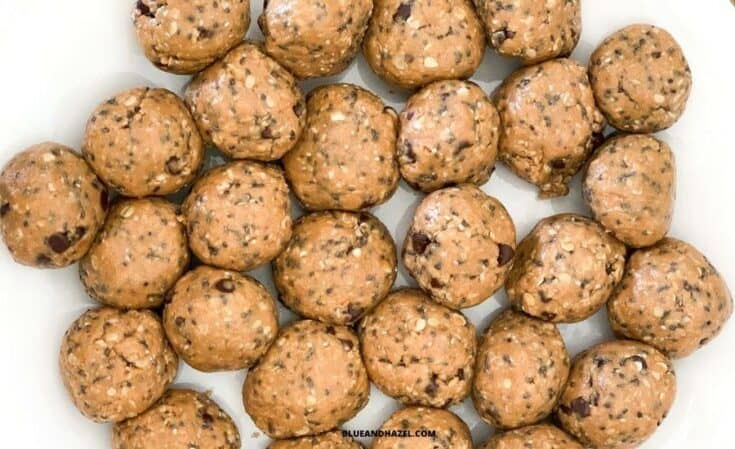 These peanut butter power balls are the perfect blend of sweet, salty, and savory. They make a perfect on the go snack, are filling, and are kid approved!
Ingredients
2 cups old fashioned cooking oats
1.5 cups creamy peanut butter
1/4 cup chia seeds
1/3 cup chocolate chips
5 T honey
Optional: 1/8 tsp salt
Instructions
1. Add all ingredients to a medium sized bowl and mix thoroughly. If adding salt, be sure to sprinkle evenly before mixing to avoid any salt clumping in areas.
2. Using a tablespoon, scoop out peanut butter balls and roll in hands to make a round ball. Place on a serving tray, or store in an airtight container in the refrigerator.
Notes
I tend to omit the salt if using peanut butter that contains salt. If using unsalted peanut butter, adding just a pinch to the recipe makes a big difference in flavor!
If you find your mixture feels at all sticky, just add a few more oats. Or, if it seems like the balls are falling apart, then try adding a tiny bit more honey or peanut butter until all the oats stay in a ball.
Nutrition Information
Yield
35
Serving Size
1 ball
Amount Per Serving
Calories

123
Total Fat

6g
Saturated Fat

1g
Trans Fat

0g
Unsaturated Fat

4g
Cholesterol

0mg
Sodium

61mg
Carbohydrates

9g
Fiber

1g
Sugar

5g
Protein

3g
Pin these power balls for later!
Be sure to pin these sweet and savory morsels so you can find them later! And if you make them, tag me over on Instagram so I can see your creations!!