It wasn't until I had 3 kids of my own that I attempted to make this low sugar strawberry freezer jam for the first time. I'm a personal fan of the fresh strawberry flavor and bright pink color. Plus it's SO easy to make! My dad always told me it was, but somehow I didn't believe him. It only took us about 15 minutes start to finish per batch.
Growing up, there was no such thing in my house as store bought jam. My mom grew tons of fresh raspberries and strawberries, and we made enough jam for the whole year! Even as a married functional adult, freezer jam was still the gift I'd beg my parents to bring when they came to visit! It's delightful on toast, and also the perfect boost to add to your fruit smoothie to sweeten it up.
Making sweet jam with less sugar
If you want a super sugary blend like many jams (I'm talking 1 part berries to 1 part sugar or more) this is not the recipe for you.
For some reference, Sure-Gel's strawberry freezer jam is going to have 2 cups crushed strawberry with 4 cups sugar. (This recipe has the same amount of crushed berry with 1/2 cup sugar).
This is for you if you find sweet berries or if you want to know most of what you are spreading on your toast is actually strawberry. It's not for you if you're expecting it to taste as if it has 4 cups of sugar in it. I love to eat both, but they are different!
This recipe tastes lightly sweet to me, as though I'm eating a bowl of fresh strawberries lightly coated with sugar. My husband even likes it, and he's a sweet tooth.
But it is less sweet than most other common recipes. It will taste the best if you can get your hands on sweet bright red strawberries. If you can't, I'd increase the sugar.
Look for smaller bright red strawberries
Often times the huge store bought strawberries are actually less sweet because the sugar disperses throughout the huge berry.
It's the smaller red ones that taste amazing. Like those fresh picked farm berries you get once a year.
Basically, if you bite into a sweet berry, it's going to make great jam with less sugar. The big strawberries that have less flavor and sweetness will not taste as great or will work better in a recipe with more sugar.
I'll show you how to make this low sugar strawberry freezer jam using just fresh strawberries, sugar, and Ball low sugar pectin.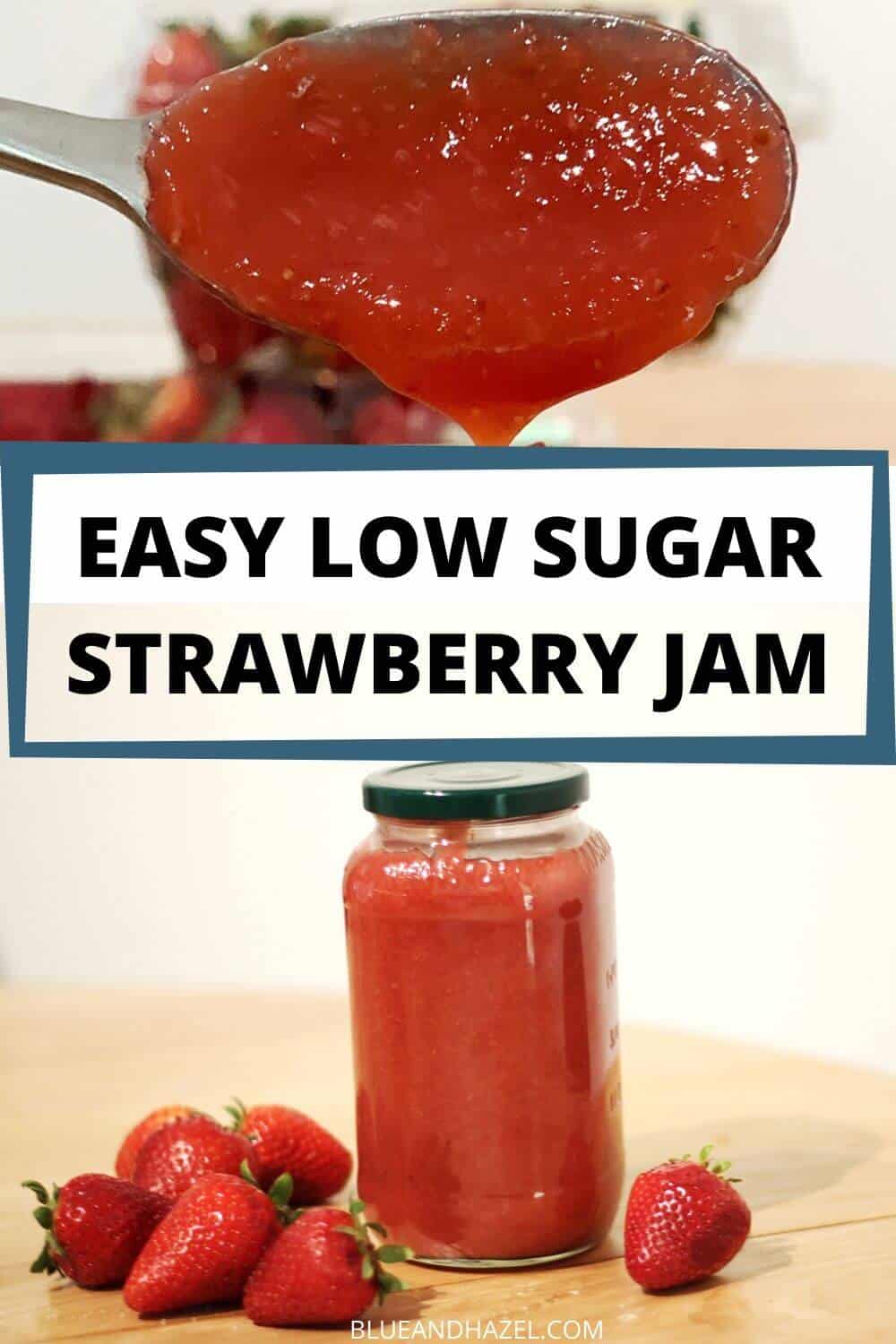 What you need to know about pectin
Pectin is a water soluble fiber that is naturally in strawberries and other fruits. It's what will thicken this jam.
However, strawberries have very little pectin naturally, which is why this recipe uses additional store bought pectin. If you don't mind using more sugar and can't find any pectin, you can make strawberry jam without additional pectin using just heat, berries, sugar, and an acid.
The difference is it will have a looser texture, will need some lemon juice to activate the naturally occurring pectin in the berries, need longer to cook, and will will need much more sugar to thicken.
How pectin works to thicken jams
To activate pectin, you'll need heat, sugar, and an acid. The Ball low sugar pectin I used contains citric acid, so there's no need to add any lemon juice in this recipe.
If you were to use a different recipe or a different brand/type of pectin, then you would need to follow those directions to get the spreadable texture you want.
This post goes into detail on working with high and low pectin fruit.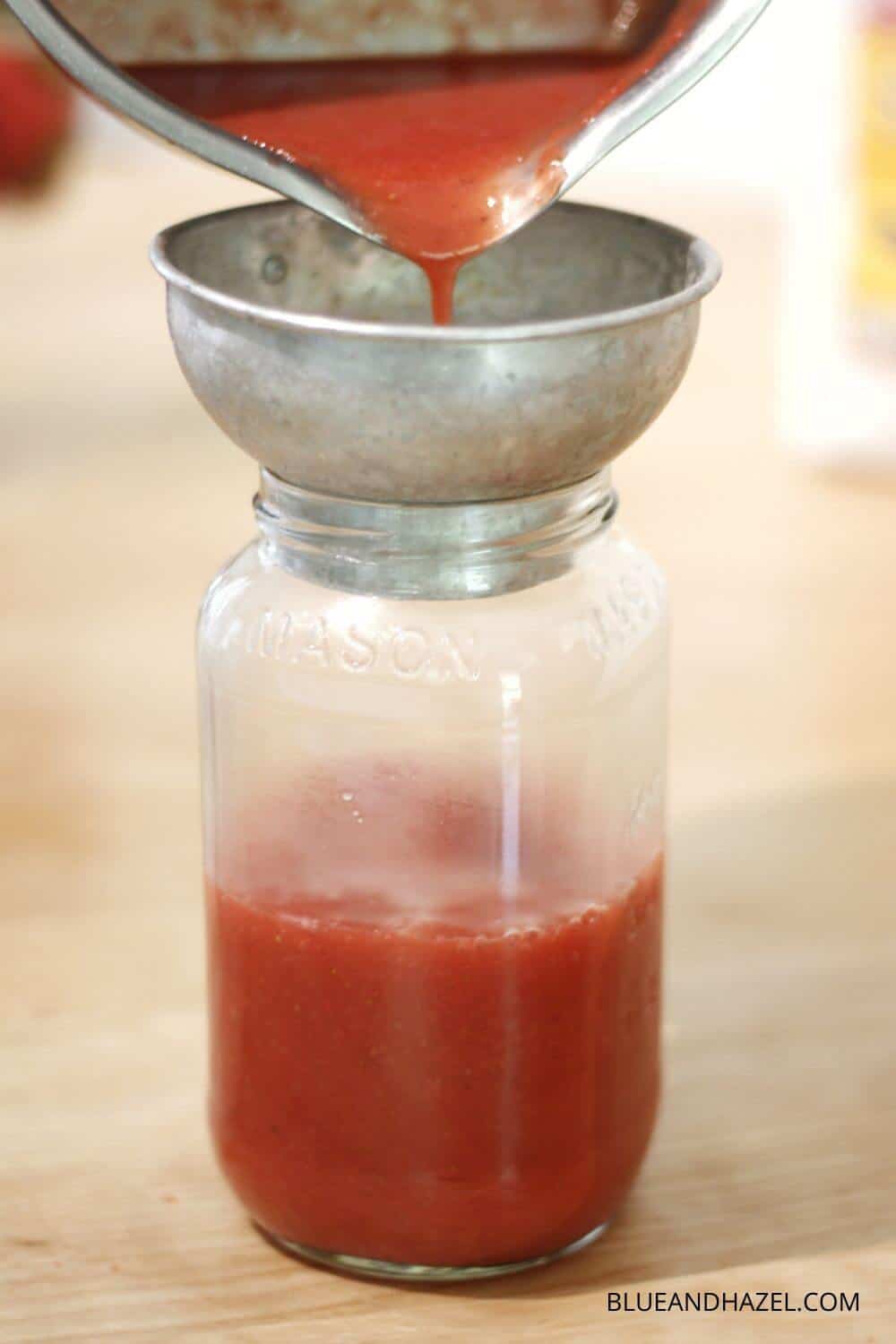 Can I triple the batch if I want to make more?
No. I really don't know why you can't, other than I made a triple batch of strawberry jam the first time and it didn't thicken properly.
(Shame on me too, because the label even said to keep batches small, never more than a double batch or that can happen…)
The good news is, if your berries are all washed and ready to go, the batches only take a few minutes to heat and mix.
Does it matter what type of pectin I use?
Yes. Each brand is a bit different.
For this recipe, you'll want to use Ball Low Sugar Pectin. I used 1/2 cup of sugar, and yet I found other popular recipes using as much as 4 cups of sugar for the same amount of berries (using a different type of pectin).
The low or no sugar Ball pectin I used is made to thicken with little or no sugar, where as other pectins need a lot more sugar/ or lemon juice.
How to store your freezer jam
Sugar makes it harder for bacteria to grow. And because this is low sugar strawberry freezer jam, you'll want to eat it up within about 2 weeks. I keep 1 jar out and freeze lots of smaller containers.
I've used these small plastic jam containers which work well, unless you prefer glass.
In that case, try these 10 oz glass jars which are the perfect size and come in a 12 pack. Since glass can break in the freezer when things expand, be sure not to fill the jars to the top.
Or, you could reuse larger jars you already have if you're a jam connoisseur or have a large family that can down a lot each week.
Not going to lie, I didn't have any jars yet when I made this. So I emptied out a jar of marinara sauce from my pantry, washed it up reallllly well so it didn't smell like tomato sauce, and put my jam in there.
Repurposing, right?!
How to measure your strawberries
I found that my 1 lb clamshell of strawberries made about 2 cups of blended berries (and about 2 1/3 cups after I blended with the 1/3 cup water in the recipe).
Most places online told me that 1 lbs of berries would equal about 3 3/4 cups whole berries, but even that was not accurate for me. My super large berries had a lot of air in between them so it looked more like 4-5 cups.
Keep in mind all berries are different sizes, and a measuring cup holds more berry when sliced rather than whole. Most recipes tell you the amount of crushed berries…and it's up to you to figure out how many strawberries you'll need to make that.
Check out this post on strawberry measurements and equivalents if you need help converting lbs to cups to pints to puree to whole berries of different sizes. Very helpful!
How to make low sugar strawberry jam
For this recipe, you'll need Ball low sugar pectin. I cannot promise how this will turn out if you use another type of pectin or different amount of sugar.
Give your strawberries a good rinse, and cut off the tops.
Blend 1 lb of berries (this is 1 clamshell's worth, or about 2 cups when smashed/blended) with 1/3 cup water and pulse, until it's however chunky you like your jam to be.
I do not like chunky jam, so we blended until it was pretty smooth. But you could even mash up with a potato masher and have chunkier jam if your prefer.
Pour into a pan, and whisk in 1.5 Tablespoons of Ball low sugar pectin before heating on the stove.
Heat up till boiling, whisking to keep from any burning.
Add 1/2 cup sugar to boiling strawberry mixture.
Set the timer for 1 minute after it reaches a boil, whisking constantly, and then remove from the heat.
Jam will be slightly thicker, yet still quite runny looking when hot. I didn't experience much foaming.
Pour into jars and let your jam cool in them. It will continue to thicken over the next 24 hours into a nice gel!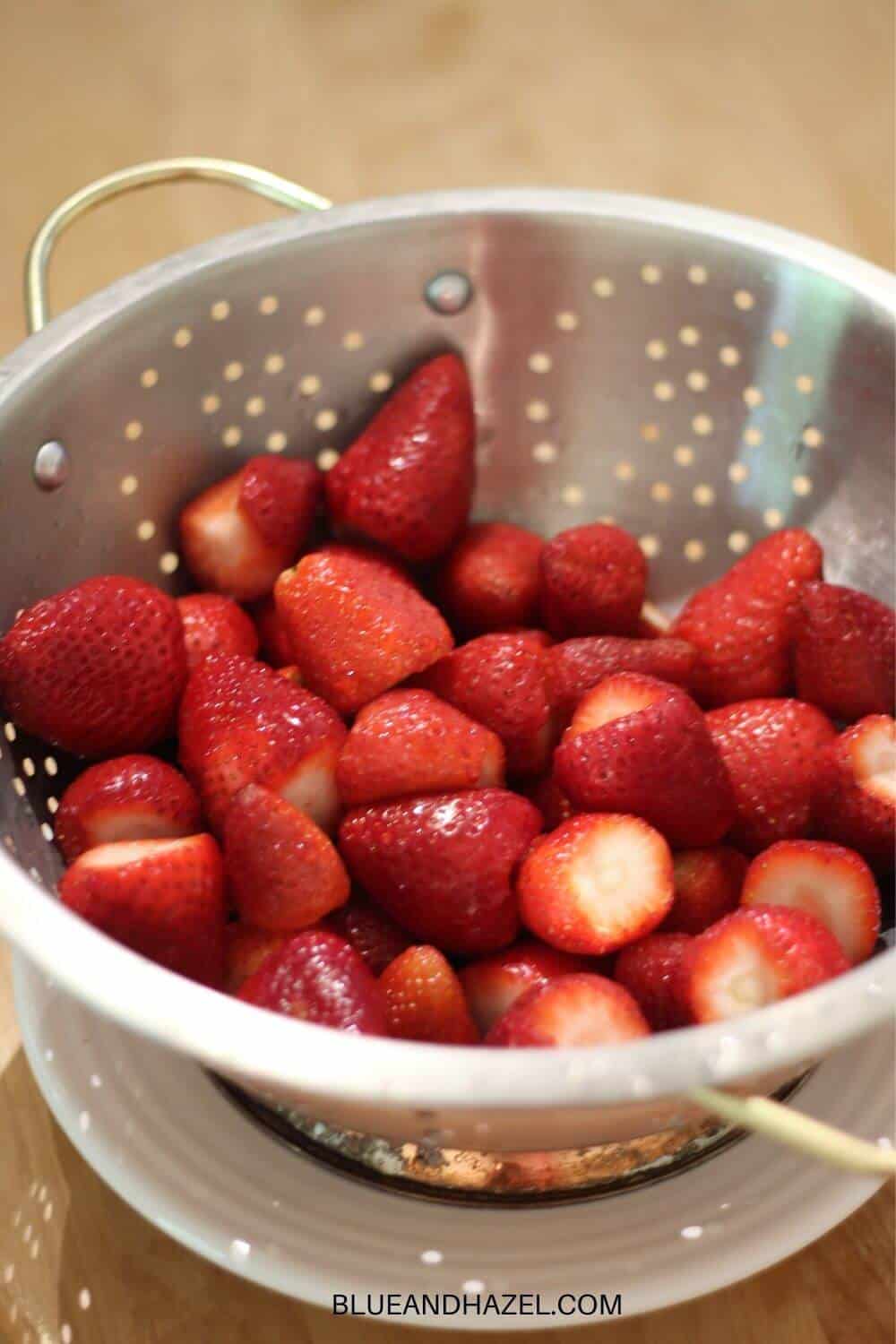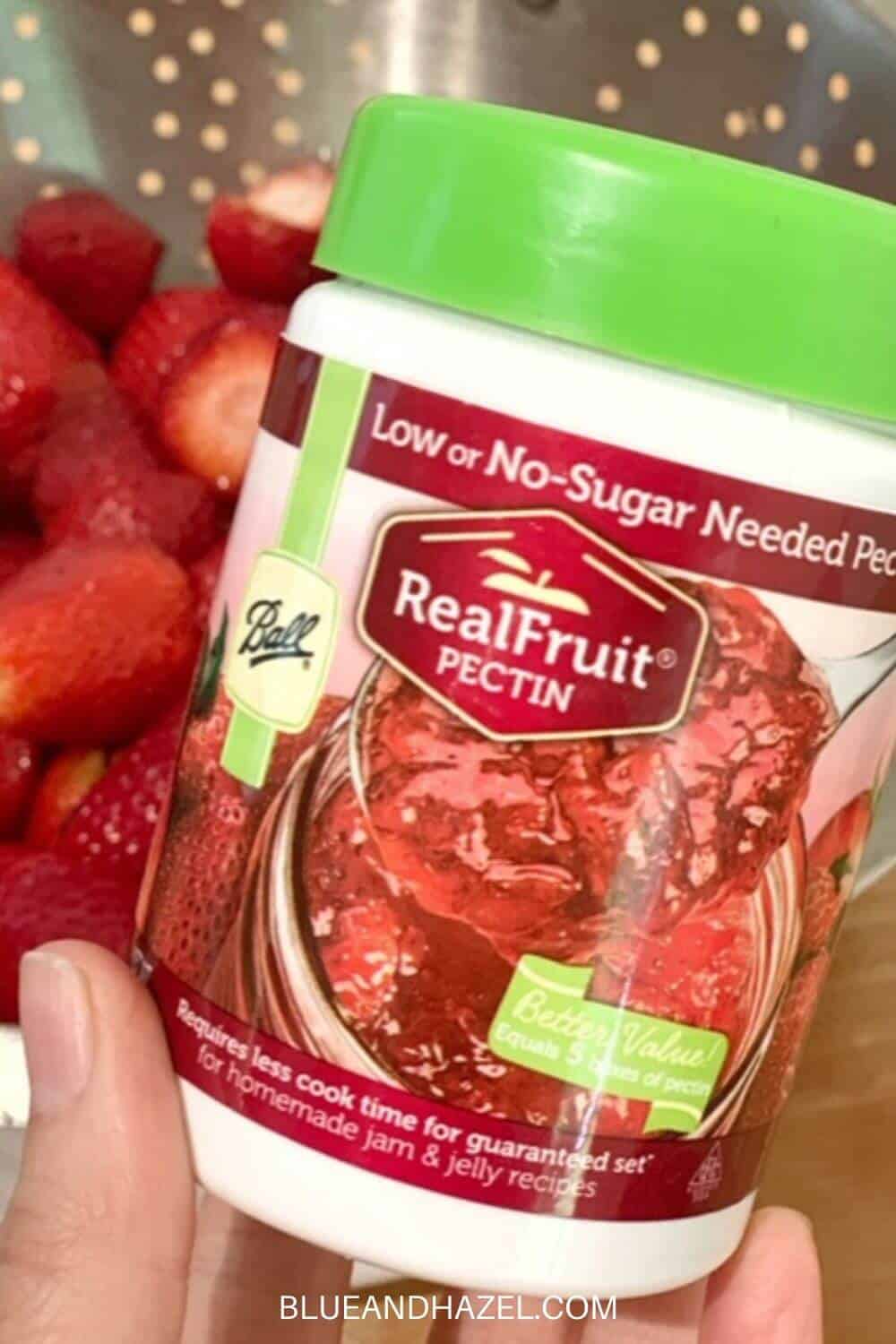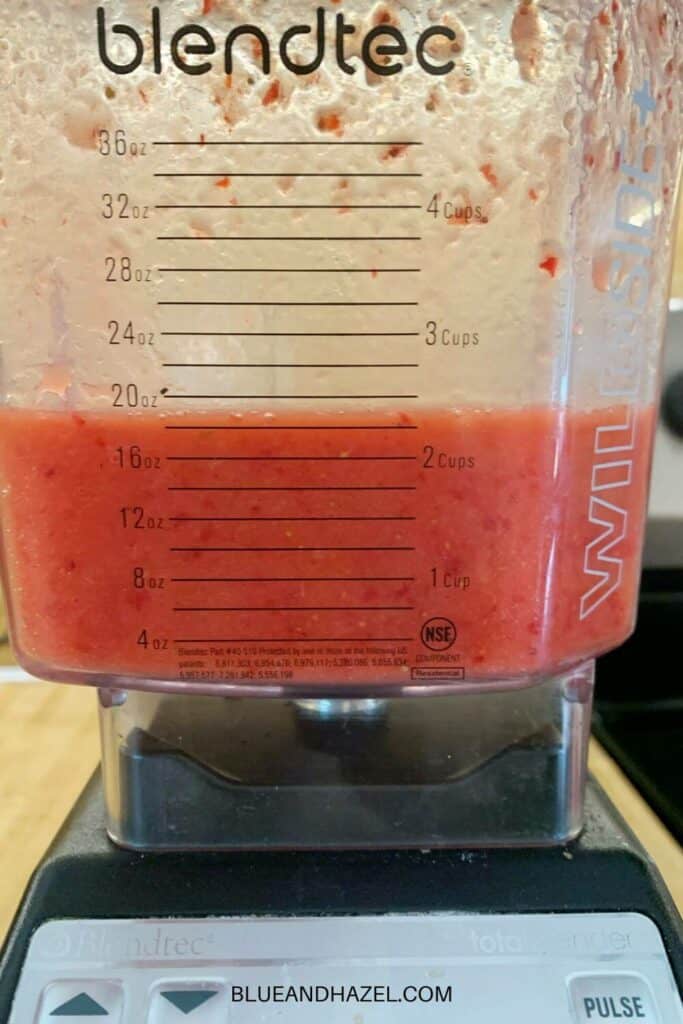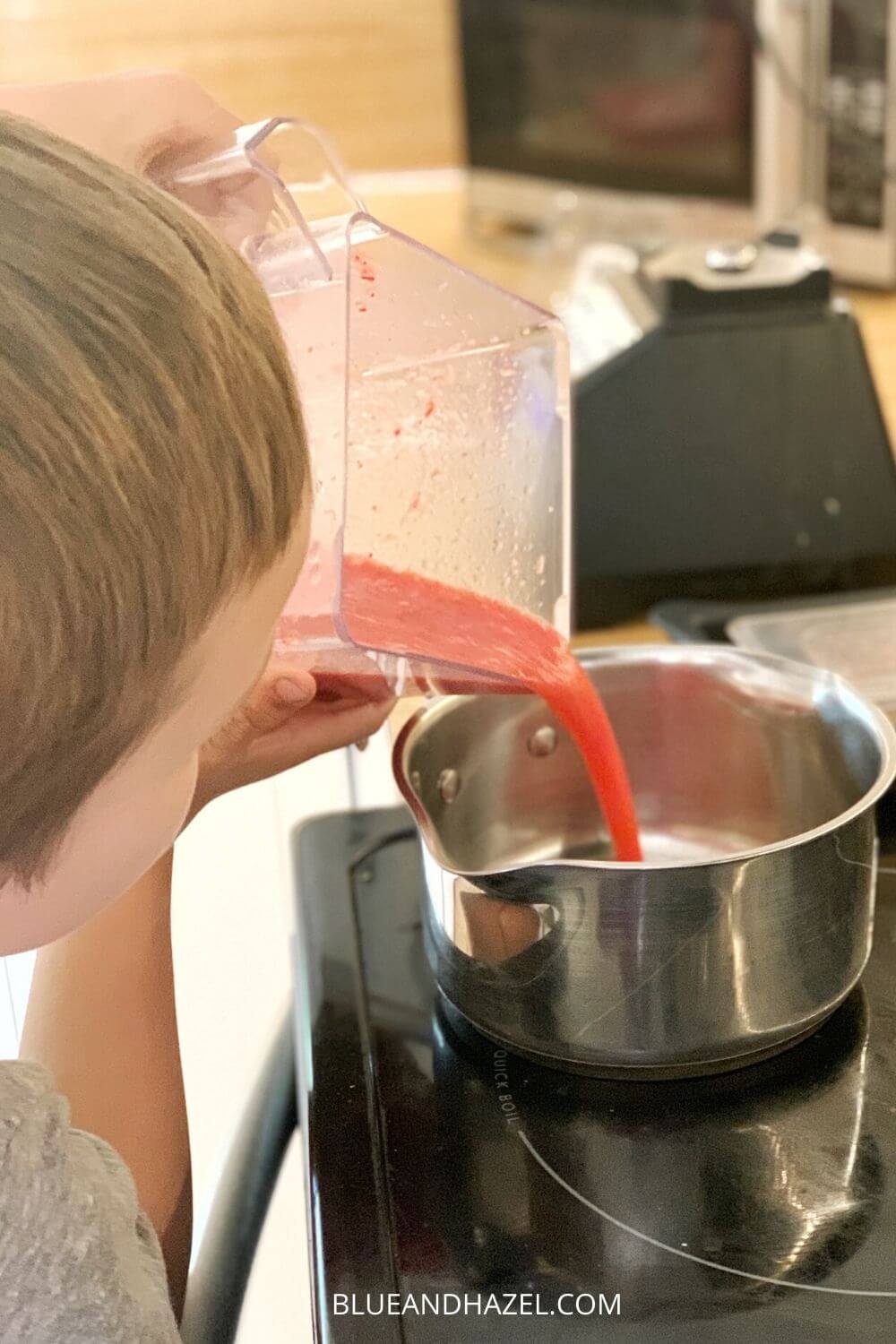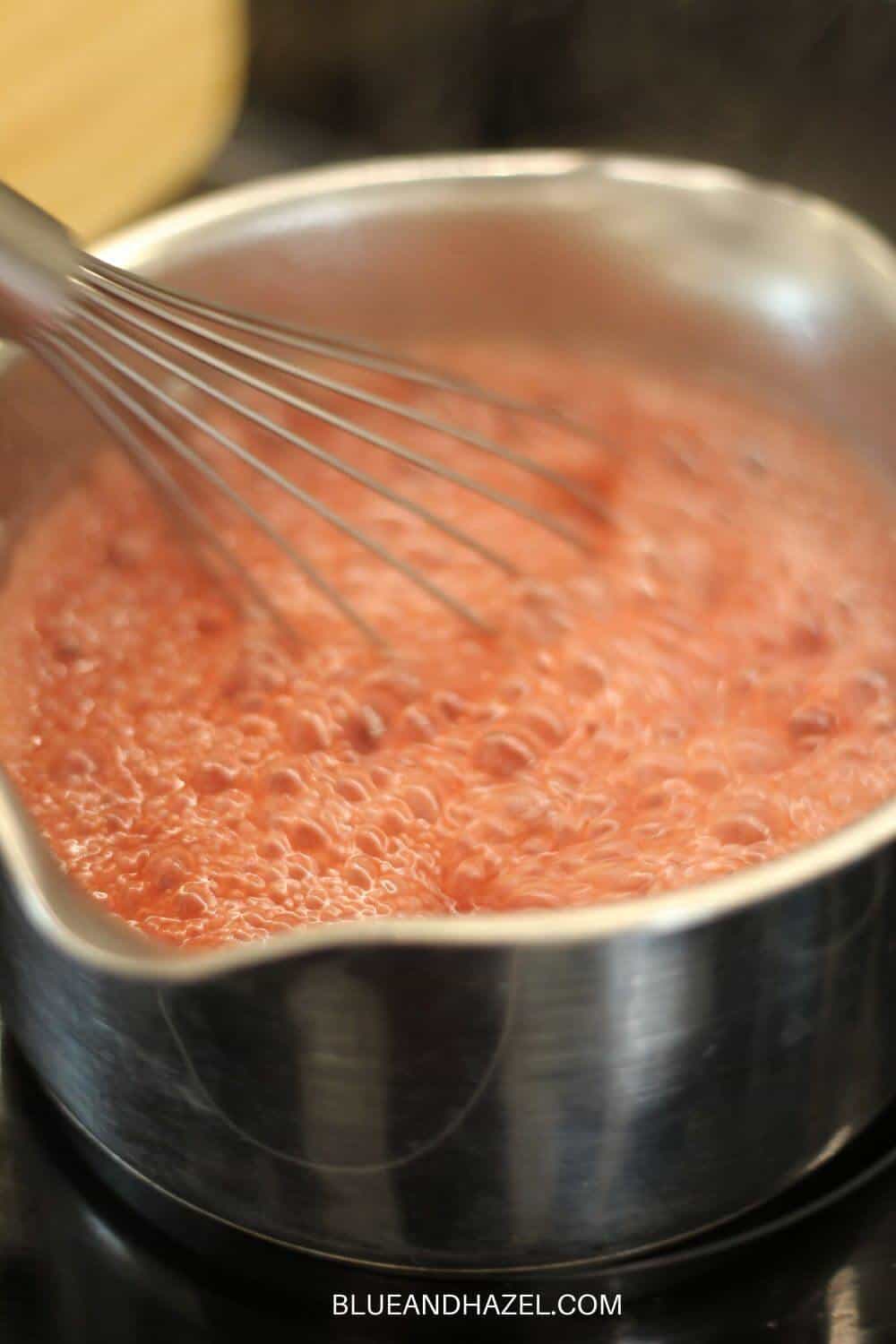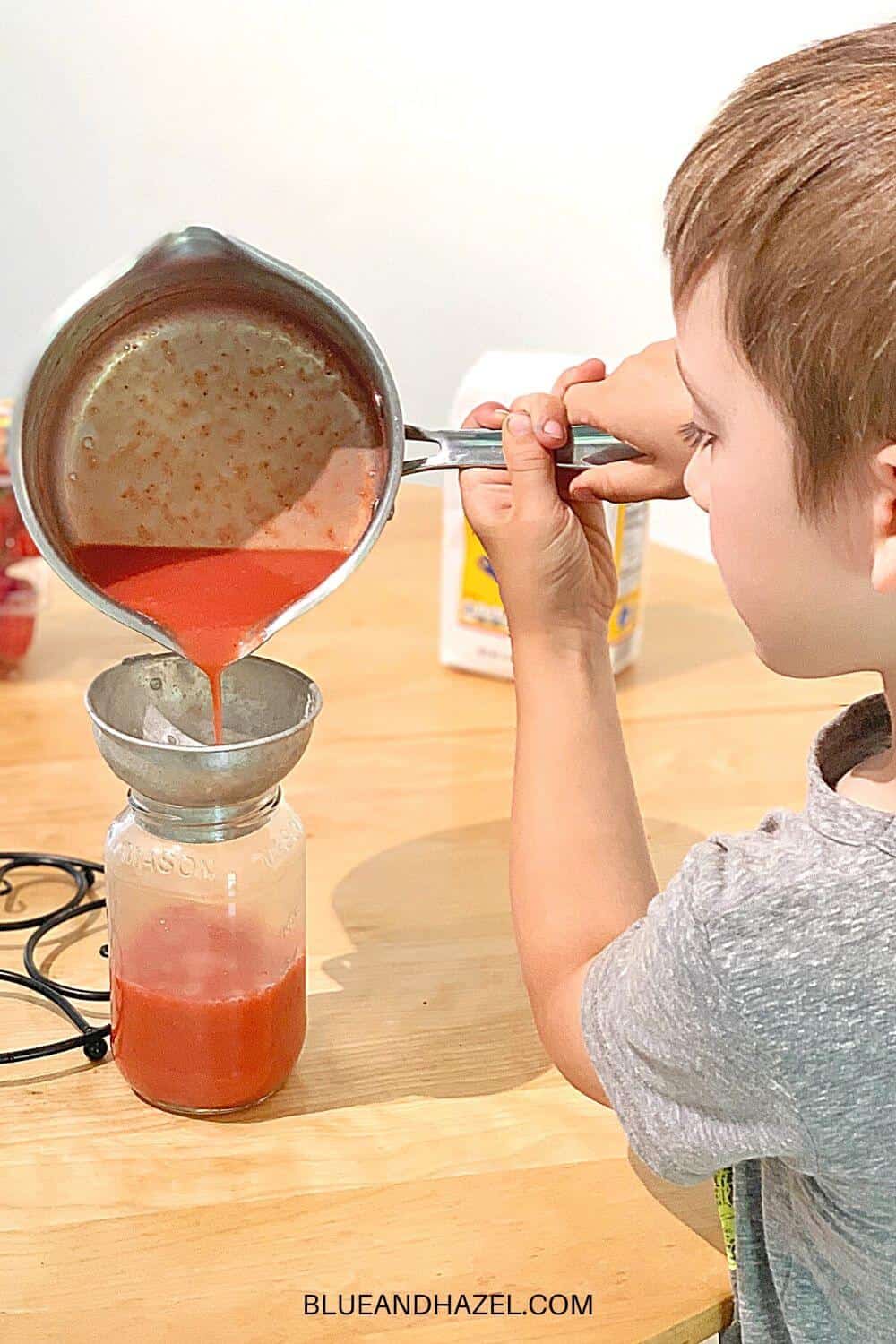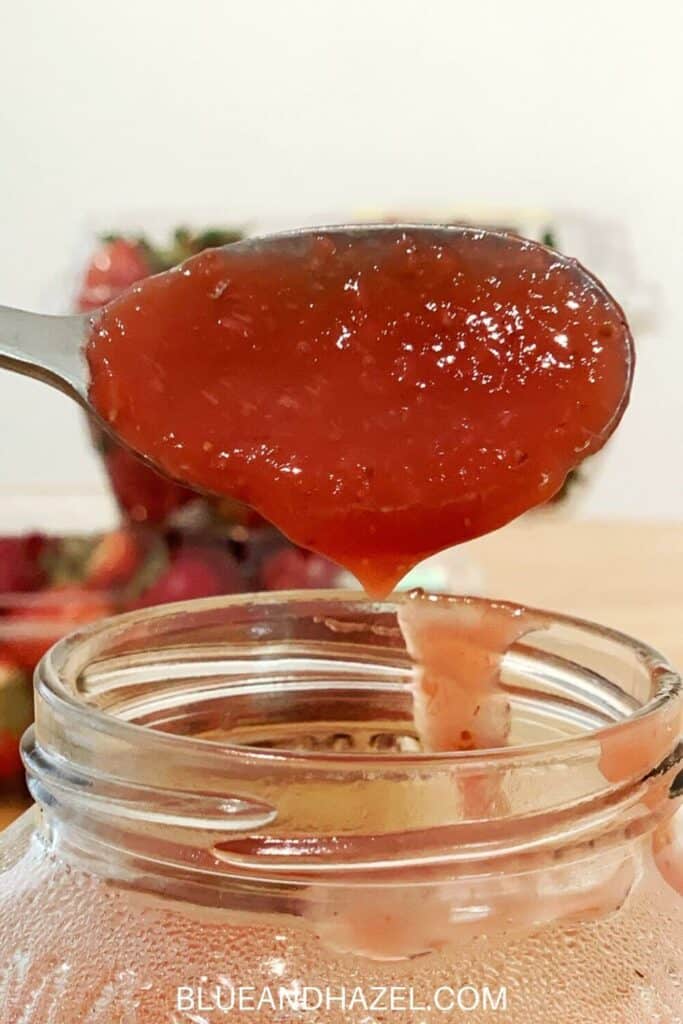 Low Sugar Strawberry Freezer Jam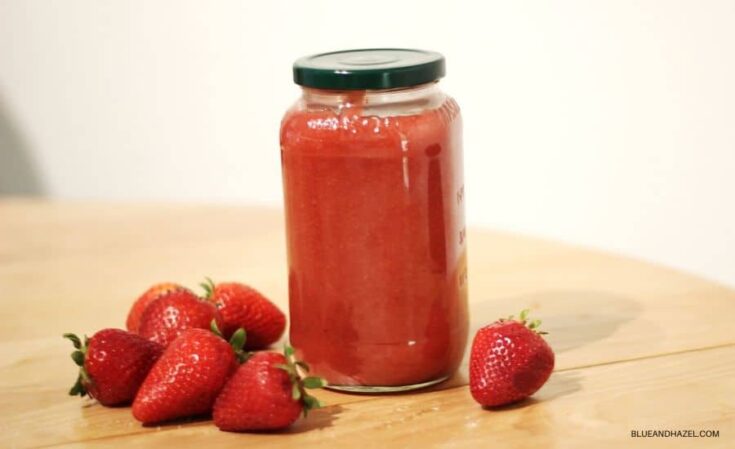 Additional Time
2 minutes
Ingredients
1 lb strawberries (1 clamshell) or about 3 cups of whole berries
1/3 cup water
1.5 Tablespoons Ball low sugar pectin
1/2 cup granulated sugar
Instructions
Rinse berries and remove green tops.
Add all berries to a blender with 1/3 cup water.
Pulse with the blender until you get the desired texture.
Pour berry mixture into a pan.
Add Pectin before heating, and whisk.
Set on stove and bring to a rolling boil.
Add 1/2 cup sugar, and set timer for 1 minute as soon as boil returns, whisking constantly.
Remove from heat.
Pour into jars and let cool.
More recipes to try