Everyone needs one meal that can be whipped together that everyone loves. Mine is a rice and bean bake, with chicken added on top. My aunty Carol thought this to my dad when he was in college. It was his survival meal that even a college bachelor could make! It's done baking in one hour. The house smells awesome. And everyone likes it. So here's How to make the tastiest rice and bean meal with one pan.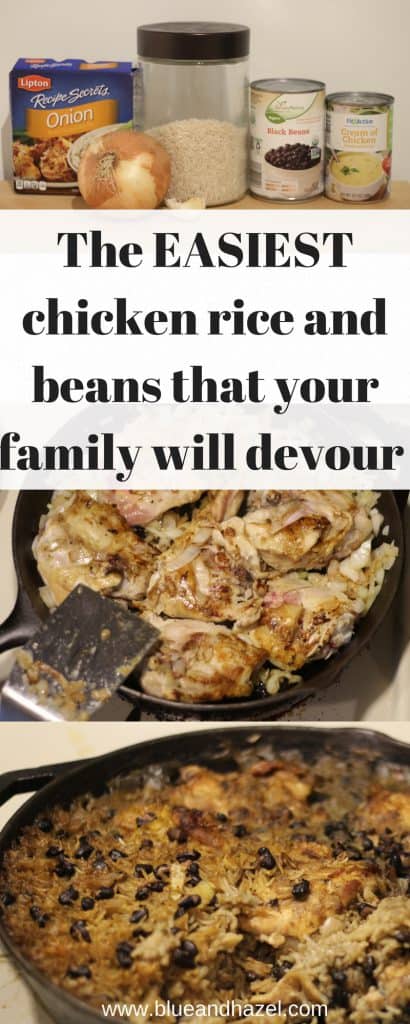 How to make one pan chicken beans and rice
This post contains affiliate links.
Note: My large 12 inch cast iron pan is one of the most used things in my kitchen. If you are busy and need an all purpose pan, this is perfect. We use it for casseroles, meat, stir fry, and you can be sure that you will get that extra pop of iron in your diet!
First set oven to 350 degrees.
Ingredients:
6 chicken thighs, or any meat you have on hand.
1 packet onion soup mix
1 can cream of chicken soup
1 cup dry rice (white or brown)
1 can of beans (I use black)
1 onion, chopped
2 cloves garlic, crushed
2 cups water
Pepper sprinkled on top
Directions
Heat oven to 350. Get out a cast iron pan. I recommend this one, as it's large enough and comes with a handle cover!
Put a Tablespoon or two of oil in the pan, and cook the onions and garlic until fragrant and soft. Then add the chicken and brown on both sides for about 5 minutes. I've skipped this step and just added everything without browning. It still tastes really good! It's just not AS good.
Turn off the burner, and add everything else. Stir in the cream of chicken can as best as possible, or it will kind of bake in chunks. Sprinkle with pepper and toss in the oven for 1 hour uncovered.
Note: It's easy to sub cream of mushroom or cream of anything if you want.
It's ready when…
The top is bubbling and slightly crispy brown!
This dish is amazing because the rice and beans taste SO good. It's the perfect mix of salty and savory. You could just do rice and beans with no meat, and instead add another can of beans for protein and it would taste really good. But it would not have the yummy fat dripping flavor.
If you don't have fresh onion and garlic then add 1 tablespoon of onion powder, and 1/2 teaspoon of garlic powder extra.
This meal would be perfect to bring to a new mom, or to someone after they've had surgery, as it's hearty and makes great leftovers.
ENJOY! Let me know if you make it for the first time!
Instructions with photos: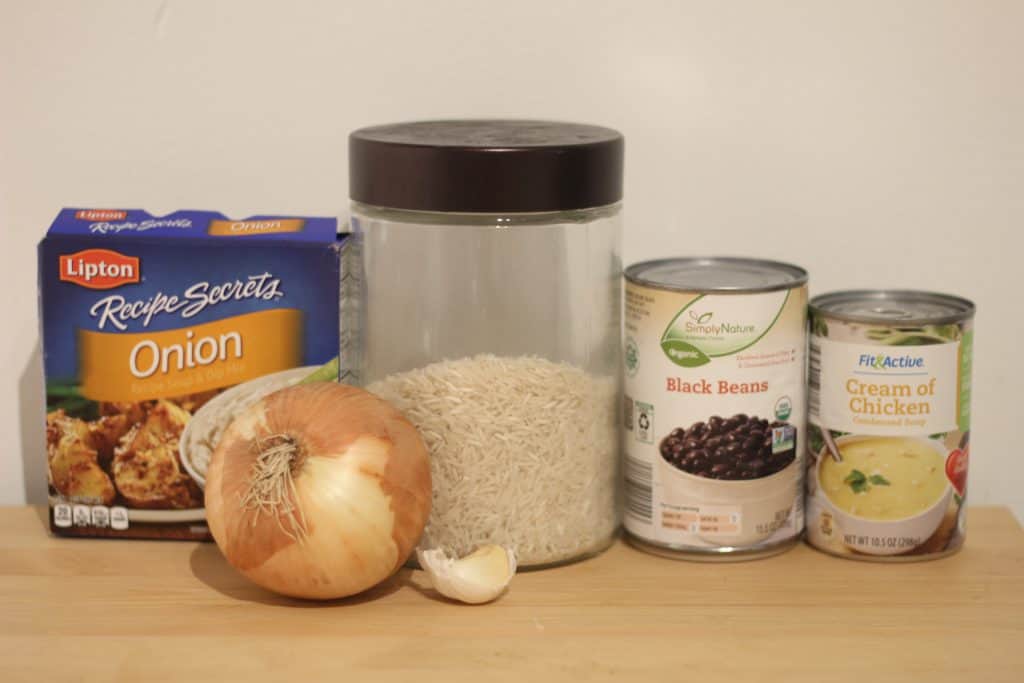 First put a dab of oil in the pan and sauté the onions and garlic till soft and fragrant.
Then I push the onions and garlic to the sides and add the meat to brown. Just cook on medium high for about 5 minutes and then flip for another 5 minutes.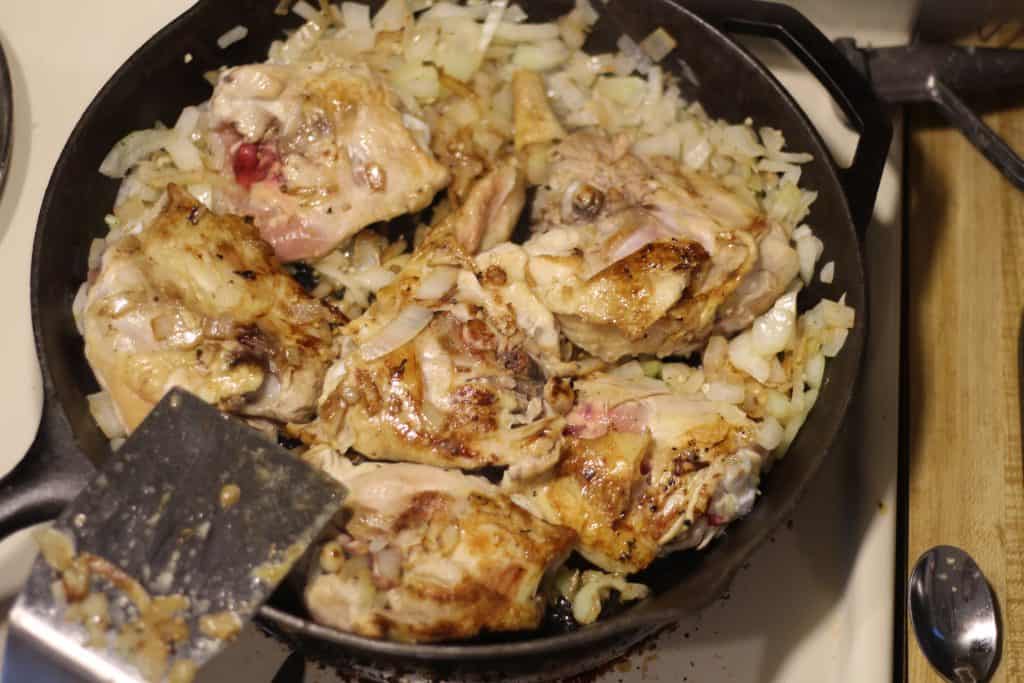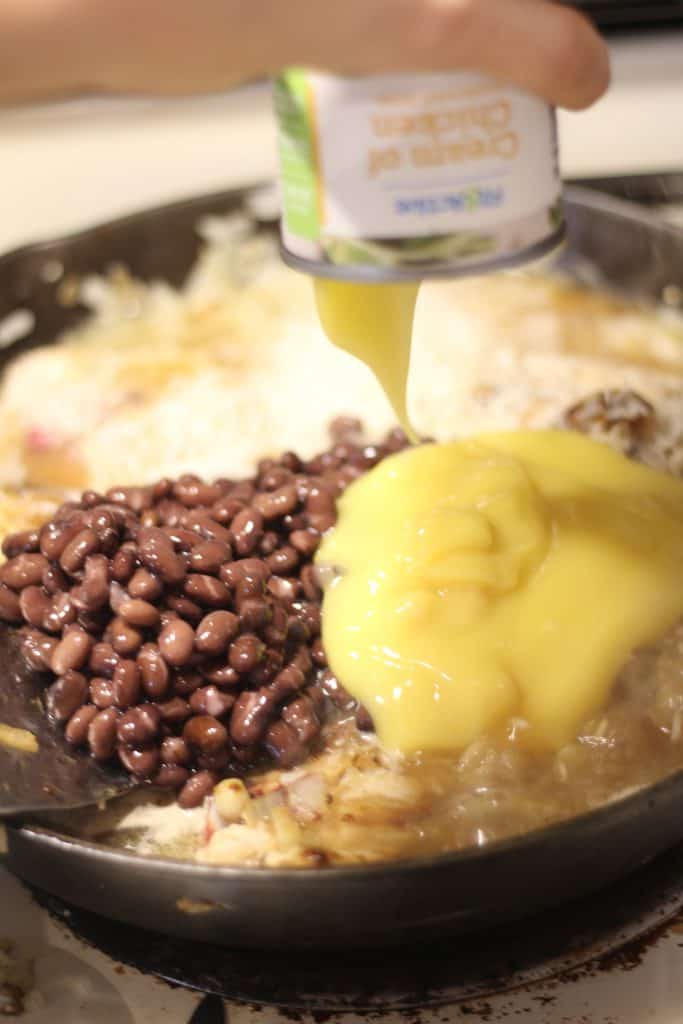 Also add in the onion soup mix. Stir evenly as this is the salty part.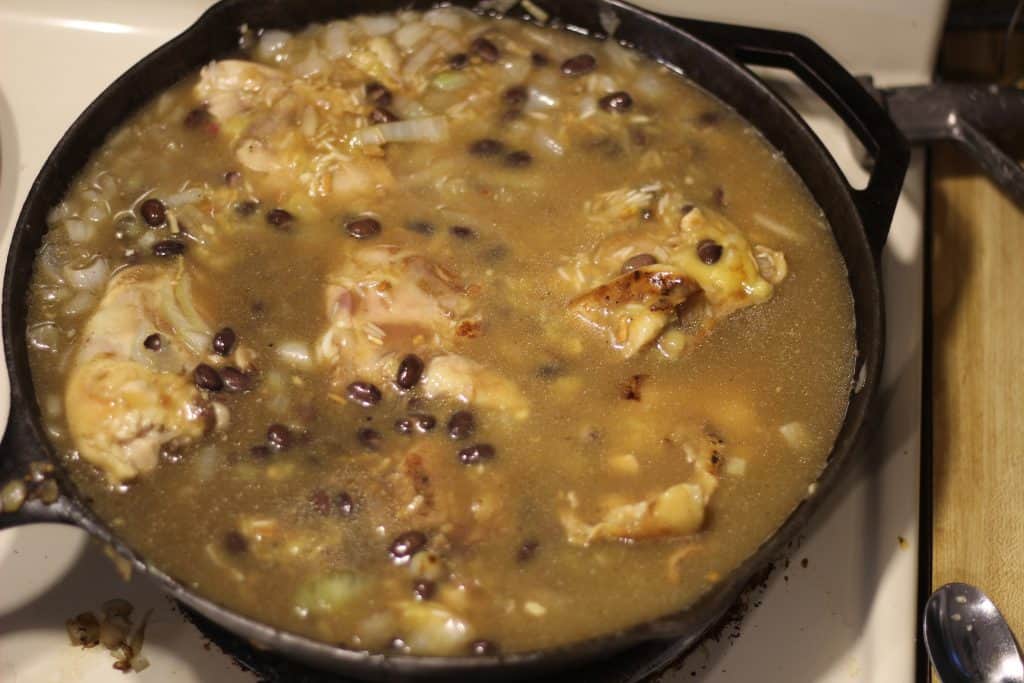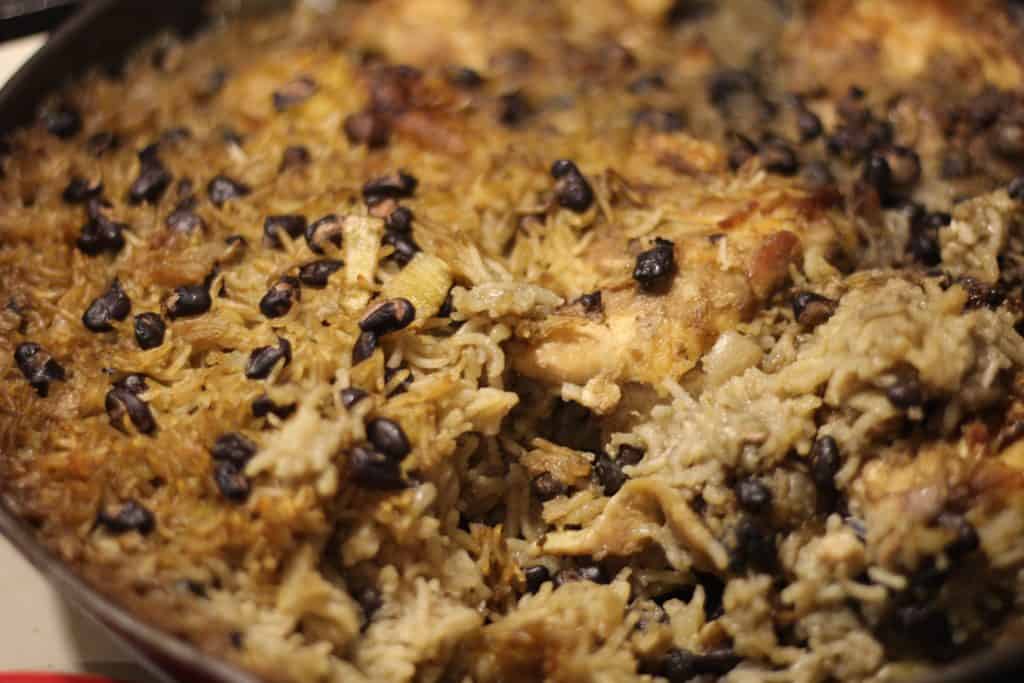 You may also love:
SaveSave
SaveSave
SaveSave
SaveSave
SaveSave
SaveSave