When it's that time of year to whip up pumpkin everything in the kitchen, you'll want to know to make pumpkin pie spice at home. It's SO easy, and you'll have a small jar in under a few minutes ready to go.
I use this spice blend in pumpkin spice coffee creamer and for pumpkin spice play dough.
My recipe yields about 6 Tablespoons, so if you need more or less, feel free to adjust the recipe. If you need just a tiny amount like 1 tsp and don't want to whip up a whole batch, scroll down to see how I recommend adjusting the recipe.
There's no need to buy pumpkin pie spice ever again, and if you live outside of the US, you may not even be able to buy it in a store!
Also, if you enjoy these tiny Ball jars, I'll show you right below the recipe where I got them as well as my spice labels.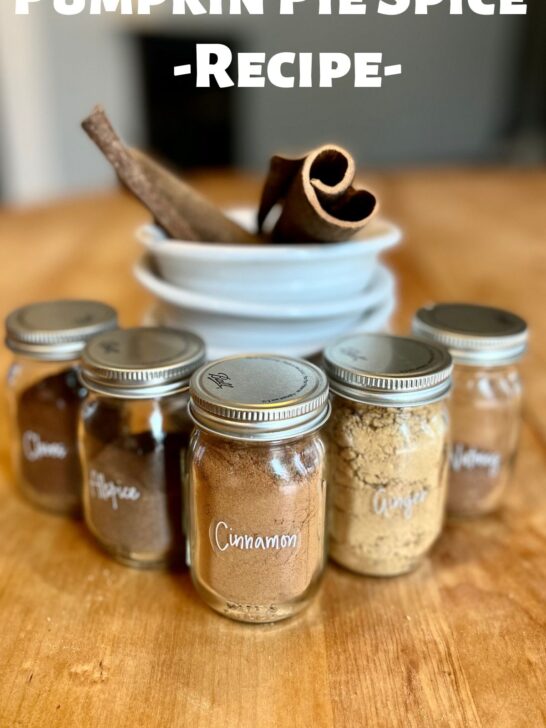 What is pumpkin pie spice made of?
I combed through nearly 15 different recipes, seeing what they had in common. Most, but not all recipes have some differing variation of the same 5 spices:
cinnamon
ginger
nutmeg
allspice
cloves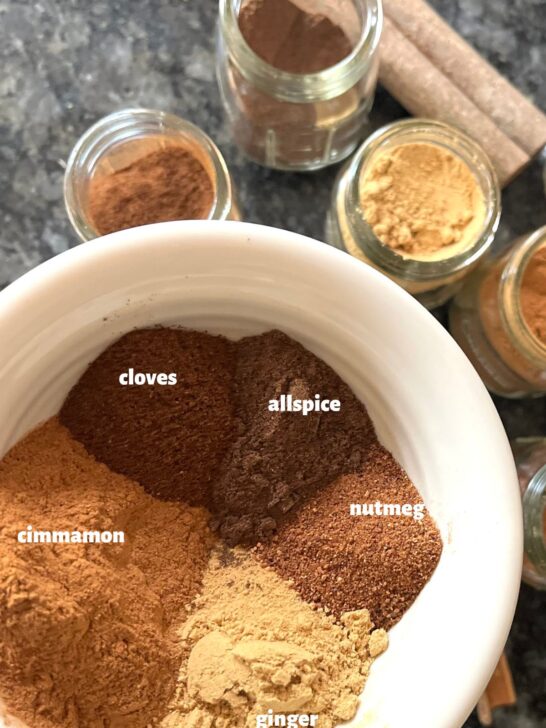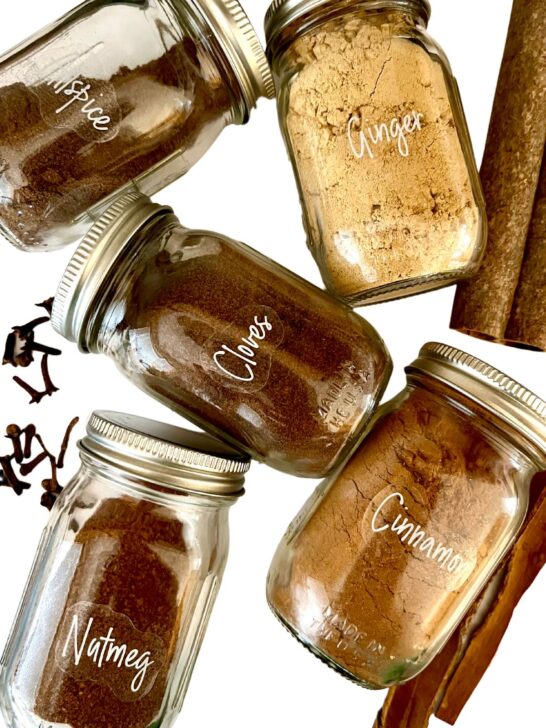 Typically, cinnamon is going to be the dominant spice by volume. The next two are ginger and nutmeg, and most recipes have even less allspice and clove.
The good news here is that pumpkin pie spice blend is forgiving! There are so many delicious variations that it's going to take a trained palette to notice the subtle differences and you can even create your family's own blend. 🙂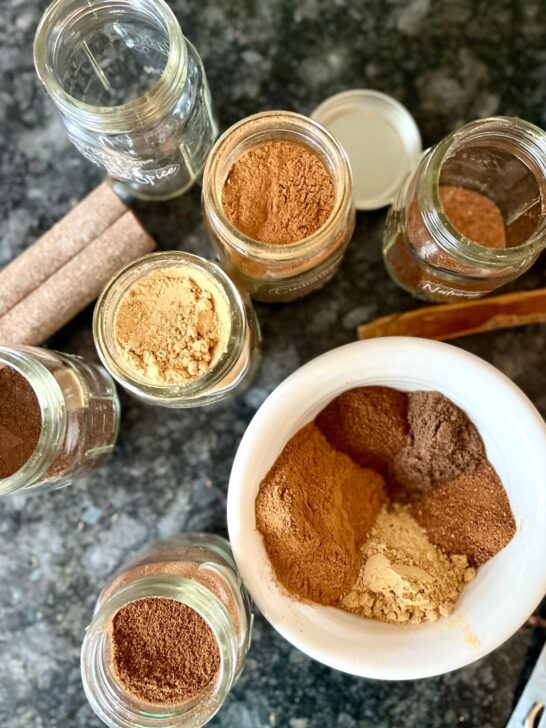 I also looked at the famous Libby pumpkin pie recipe to see what spices they include, because of course it's one of the classics. To my surprise, their pie recipe only includes 3 spices:
What if I don't have cloves, nutmeg, or allspice? Can I still make pumpkin pie spice?
Personally, I wouldn't make pumpkin pie spice without cinnamon or ginger…but if you are out of just one of 2 of the other spices I'd say go for it.
Just mix a little bit more of the lesser spices you do have. For example, if you don't have cloves, just leave it out and mix, or add a smidge more allspice. Of course it won't be the same, but it will be good!
This is very forgiving, especially if you don't have your preference of "pumpkin spice" nailed in your pallet yet!
Option 2 is to google "pumpkin pie spice without…" to see if a recipe comes up with the spices you do have.
How to make pumpkin pie spice
Measure all the spices in a small bowl and mix. That's it!
Store in a small spice jar or sealed container for…jury's out…spices are good for a lonnnng time.
Yield: 6 Tablespoons
Pumpkin Pie Spice Blend
This pumpkin pie spice blend is so delicious and can be substituted at a one to one ratio for any recipe calling for pumpkin pie spice. Just mix and it's ready to use!
Ingredients
3 Tablespoons ground cinnamon
3 teaspoons ground ginger
2 teaspoons ground nutmeg
2 teaspoons ground allspice
1.5 teaspoons ground clove
Instructions
Mix spices together in a small bowl. Store in an airtight container.
Notes
Pumpkin pie spice is very forgiving. If you find yourself without 1 or 2 ingredients between the allspice, clove, or nutmeg you could leave one out and add a little bit more of another. This will alter the overall flavor but should still be tasty. I would not make this without cinnamon and ginger though.
Nutrition Information
Yield
6
Serving Size
1 tablespoon
Amount Per Serving
Calories

16
Total Fat

0g
Saturated Fat

0g
Trans Fat

0g
Unsaturated Fat

0g
Cholesterol

0mg
Sodium

1mg
Carbohydrates

4g
Fiber

2g
Sugar

0g
Protein

0g
Where to find mini Ball spice jars & spice labels
I have been dreaming of redoing my spice drawer with these mini 4 oz Ball spice mason jars. This year i went for it…and I'm thrilled every time I open my spice drawer! These look exactly like the quart jars, but are mini and perfectly made for spices.
Here's how to make these spice jars if you want more details.
You won't want to use them for things like canning because there's no seal inside. They are best for just spices or storing small amounts of things in the fridge.
Also check Target for these because the price was better there than Amazon when I bought mine.
As for the labels, these are the spice labels I found on Amazon. I chose them because they come with BOTH white and black font, with a clear sticker so all you can see is the cursive label. Love, love, love these!
Easy paper funnel to pour your spices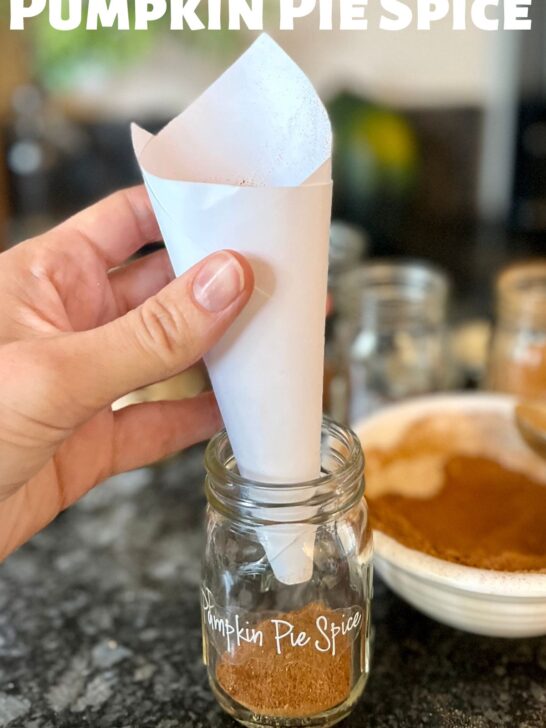 How much pumpkin pie spice blend should you use in a recipe?
If a recipe says for 1 tsp pumpkin pie spice, you just add 1 tsp of this homemade pumpkin pie spice here.
If you don't want to make up a whole batch (which will leave you with about 6 Tablespoons), then try to think of this recipe like this: It's about 1/2 parts cinnamon and 1/2 of everything else in small quantities.
So if you were to try and make ONLY 1 tsp of pumpkin pie spice, you could try:
1/2 tsp cinnamon
1/8 tsp ginger
1/8 tsp nutmeg
1/8 tsp allspice
1/8 tsp clove
These are approximates and do not add up to the same ratio as the recipe. It's just to be a guide!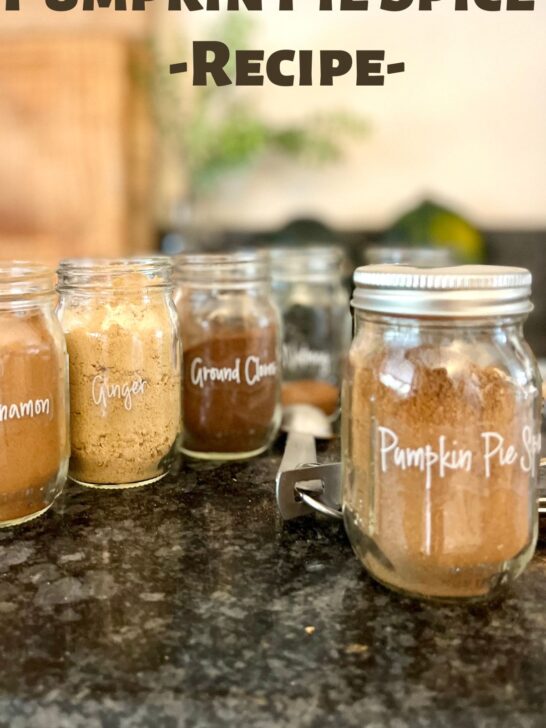 What are things you can make using pumpkin pie spice besides pie?
Here's 27 pumpkin spice recipes to make from Southern Living!
I also love this coffee creamer in the fall:
If you don't want to make a full batch of creamer, you can pour some black coffee, add your normal dose of heavy whipping cream, add 1 tsp of sugar, and 1/4 tsp of pumpkin pie spice. Stir and enjoy!
You can make it sweeter, but I like it with that ratio.
Save this post and follow on socials