I'll never forget walking into a friend's house in my 20's and seeing their farmhouse spice storage using quart jars. At least 20-30 colorful jars full of green, brown, and red spices decorated the kitchen wall on a large, wooden shelf. They had a lot of kids so quart jars made sense. While I love the vintage look of spices in quart jars, I needed something smaller. Much smaller!
This year I treated myself and redid my spice organization using 4 oz mini mason jars. I'm looking forward to being able to display these on a shelf in my kitchen someday when we own a house. But for now, they are neatly organized in a top drawer. If you feel as inspired to do this, keep reading for links to everything so you can recreate this exact set up.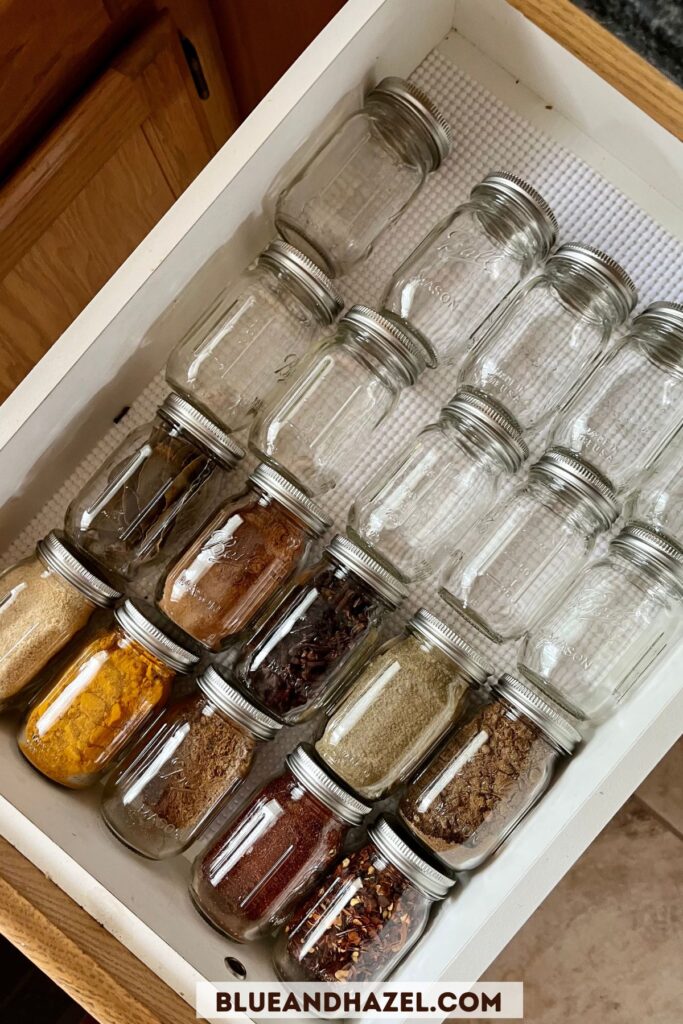 What I bought to organize and label my spices
How much did it cost?
I bought 24, 4oz Ball spice jars at Target online which were sold in packs of 4 for about $40.
Buying 6 packs of 4 (24 total), was cheaper than buying 24 from Ball on Amazon. Also on Amazon you don't seem to be able to (currently) buy anything less than 24 jars in the Ball brand. Yes, there are cheaper look alike brands, but I specifically wanted Ball mini jars.
If you get the pack of 24 on Amazon from Ball and find you need a few more spice jars, you can buy a 4 pack at Target anytime for about $6.50.
You may also enjoy reading:
The best spice labels for your money
I looked at soo many spice labels! Etsy had a ton, but they were nearly double the cost.
I found these spice labels on Amazon that had a readable font, were inexpensive, and came with 272 spice labels! So pretty much any spice I could ever own is on here and I saved the ones I didn't use just in case we add more later.
If you have any non traditional spices…this is the pack for you!
Half are white, half black, with the same spice stickers for each color.
I chose white because it seemed easier to read up against most of my darker spices.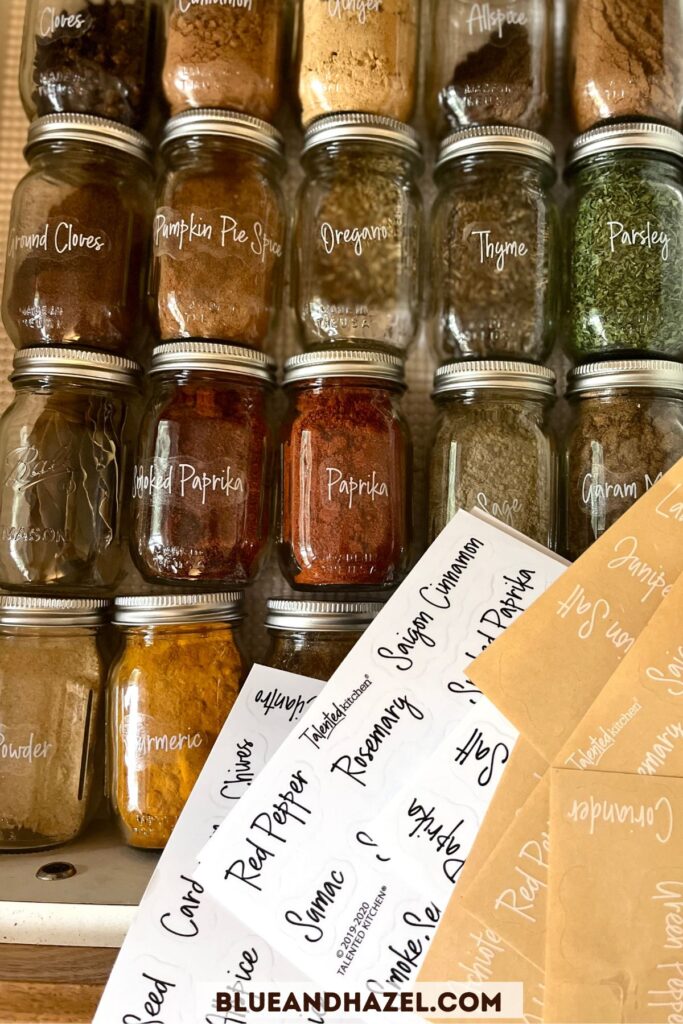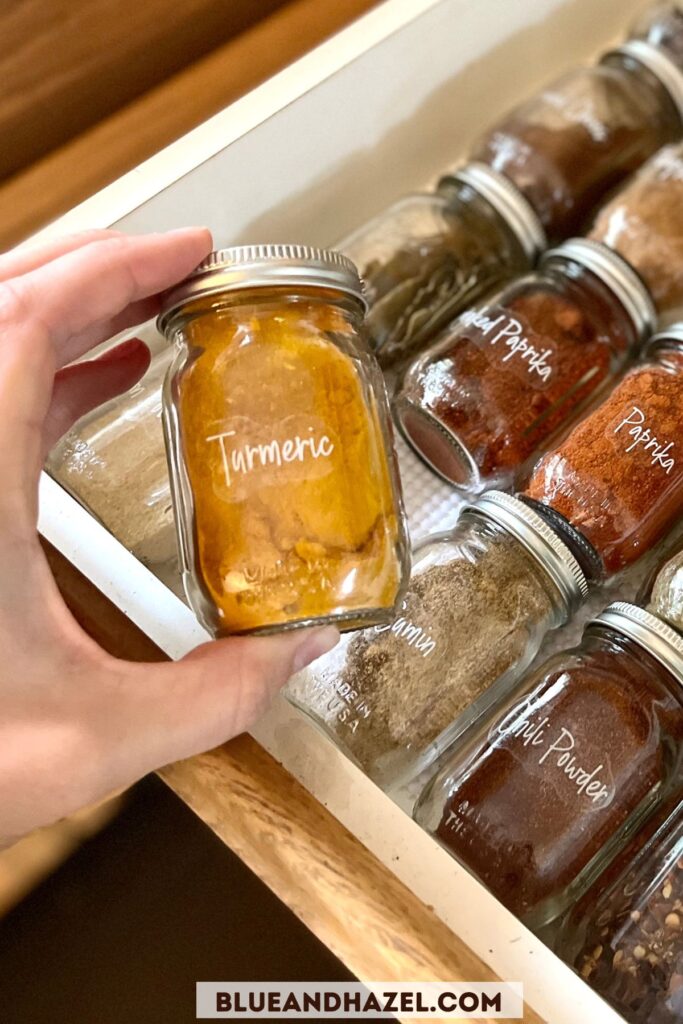 How to transfer all your spices to small jars without spilling
I chose to get 24 mini jars, which meant a lot of transferring spices. Sadly these don't come with a small spice funnel so I opted for the free one…a piece of paper rolled into a funnel. See below.
It's so easy to make, just tape the end so the funnel doesn't unroll. You can then just pour your old spices into the new jars.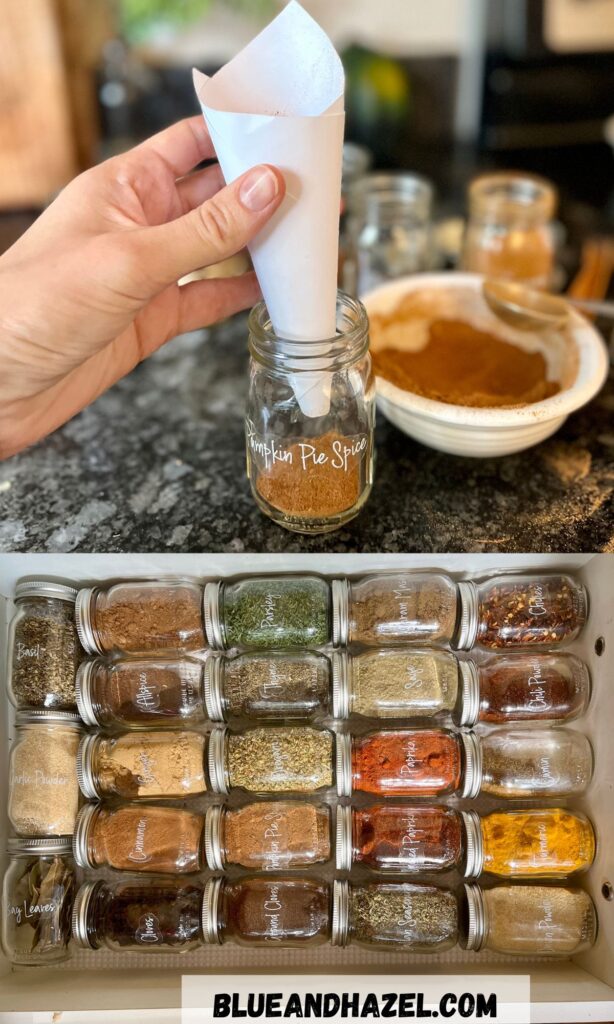 Are 4 oz jars too small?
A lot of spices actually come in 4 oz jars at the store, so these feel like they are the "right" size.
If I could display these on a wooden shelf in my kitchen, then yes I'd go for larger jars for beauty and also so I wouldn't have to refill my most commonly used ones as often (like onion powder, cumin, and chili powder).
What I love about their tiny size is that I can fit 23 jars in my kitchen drawer right by the stove, and it's easy to see them!
Are Ball 4 oz mini spice jars able to seal?
These jar lids don't seal like the larger Ball jar lids are able to do. That means you couldn't do any type of "canning" with them, although they're so small I can't imagine anyone trying!
Do they have a shaker lid?
No, unfortunately I haven't found a shaker for these. It's not been an issue for me since typically I need to put a teaspoon in. However for things like cinnamon on oatmeal…I do wish I had a shaker lid.
Tip if you don't have a shaker lid and are "eyeballing" how much spice you pour into a recipe: First pour some of the spice into the lid, then shake the lid over your pot. Because just imagine…accidentally shaking too hard and having half the jar in your soup!
Share this post and save for later
If you're still browsing ideas, pin this post for later! And if you are inspired the best way you can help out my blog is to share this on social media for others to find!
Tag me on Instagram or Facebook if you make these…I'd love to see your kitchen!