It's fall here, and we whipped up some delicious smelling pumpkin spice play dough! If you've never scented your play dough before…you're in for a treat. Today I adde in this recipe of pumpkin pie spice, along with the no cook non toxic play dough recipe below. You can use the play dough base recipe and add any scent…simply switch out your scent or food coloring.
It was so easy, no stove needed! I used flour, salt, cream of tartar, boiling water, oil, spice, and some natural food coloring. This soft play dough recipe makes enough for about 2-3 kids. It's about 2 softballs worth if you need a visual!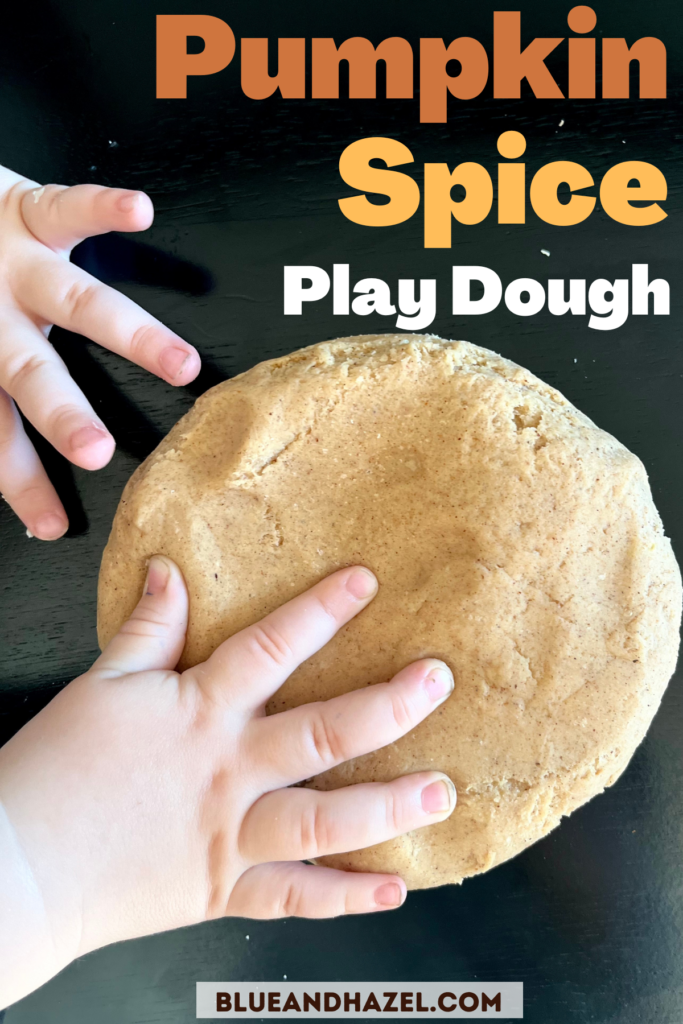 What's used to create a pumpkin spice color?
This pumpkin spice play dough recipe doesn't have a bright orange color like some. I was a little disappointed in the Watkins natural dyes I used. These are plant based with no artificial dyes:
It's hardly orange, even with a lot of red and yellow added. Most of the beautiful color in mine comes from the pumpkin pie spice! Feel free to swap out for a brighter orange dye if you desire.
Plant based food coloring, heat, and play dough
One important thing to note with plant based dyes is that they can be deactivated with heat!
I didn't know this until we tried using some to dye boiling hot rock candy for my son's science experiment…and no matter how much we used the mixture was clear. But when added to the cooled off mixture the color worked!
So if you use plant based food coloring for play dough…it'll be important NOT to add it in with the boiling water. You'll have to mix it in when it's cool enough to touch.
I used my hands and folded it in…you could also put in inside of a ziplock bag and smoosh it together in there.
How to make pumpkin spice play dough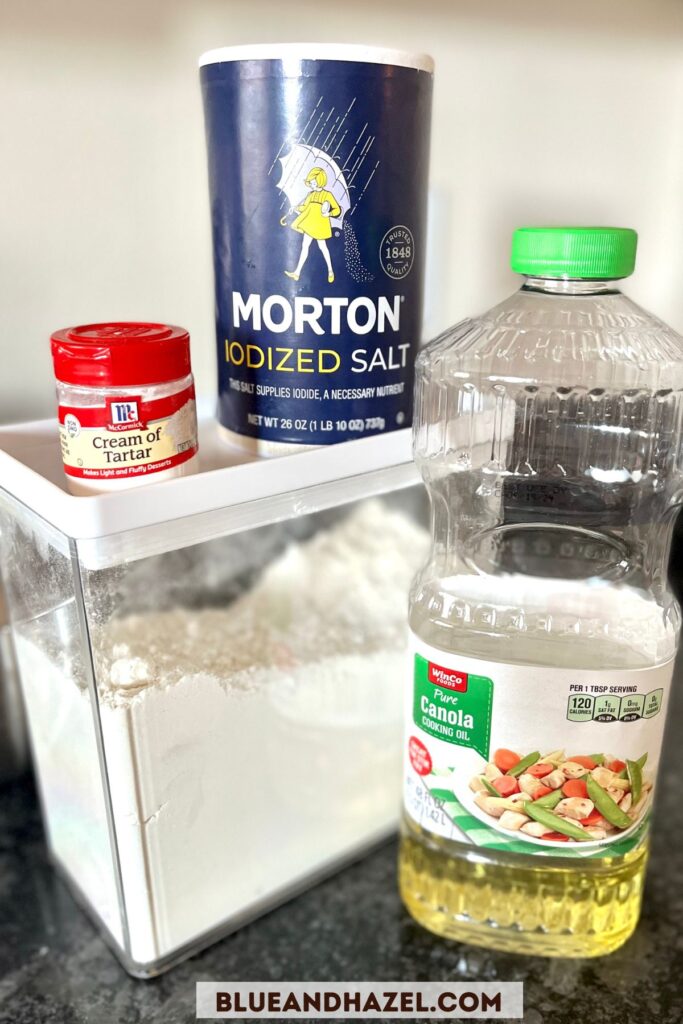 I've made homemade play dough from another recipe before and it was a sticky disappointment that molded within 2 weeks. So not all recipes are created equal.
This recipe is LOVELY! Smooth, easy, and fast! You don't need to put anything on the stove…but you will need to boil water.
First, you'll measure out all the dry ingredients into a bowl. That'll be flour, cream of tartar, and salt.
(I held off adding my pumpkin pie spice because I wanted to use half the dough for another color). But you could add it with the dry.
Next, make a well in the middle and add the oil and boiling water.
Mix with a spoon, till it starts to clump together and all the flour is mixed in. You'll think you need way more flour…but hold off! You probably don't.
You can always add a tablespoon at the end if absolutely necessary…but with these exact measurements I haven't needed to.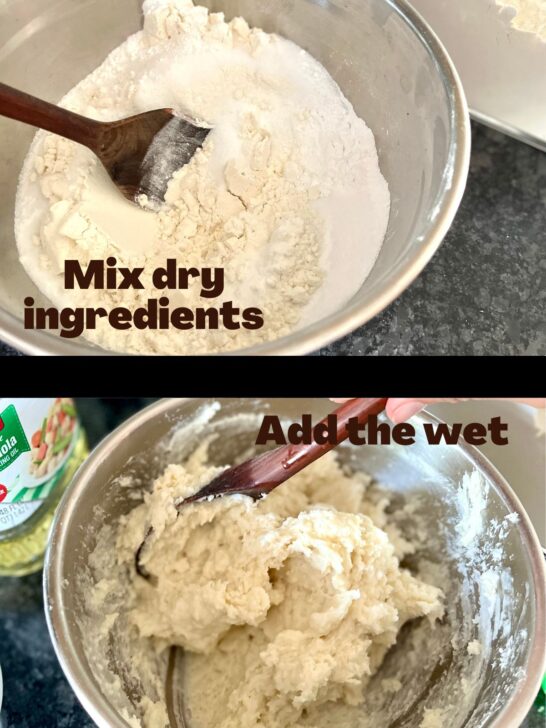 Once it's cool enough to touch, knead it together with your hands in the bowl for a minute or so to really mix all the ingredients that the spoon couldn't.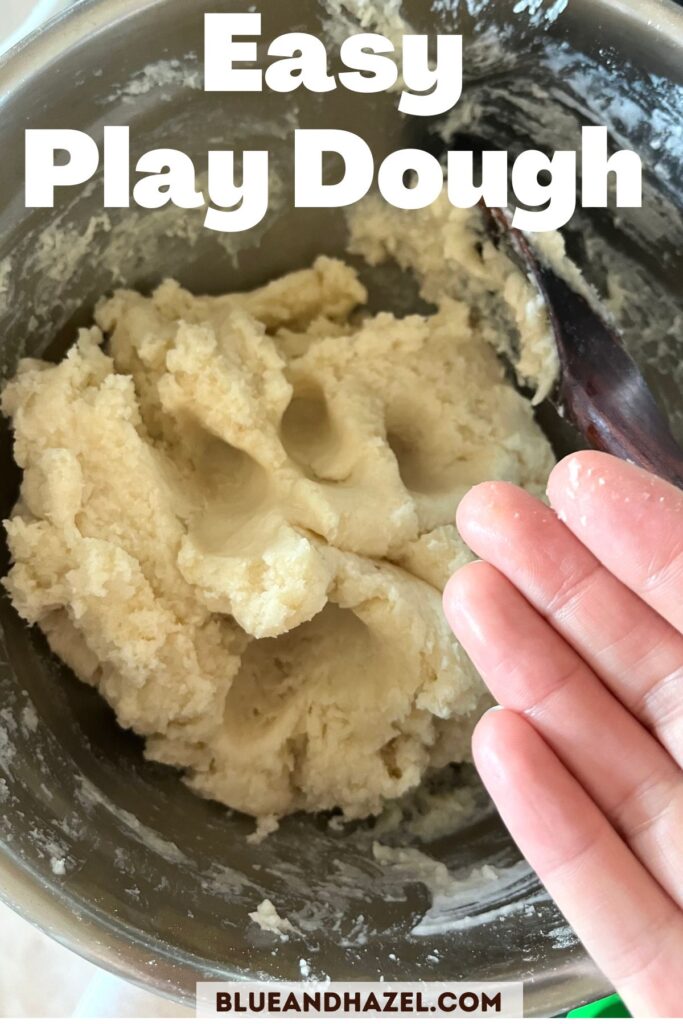 Then, scoop it out onto the counter and finish mixing with your hands. It shouldn't stick to them at this point, and should be cool enough to handle.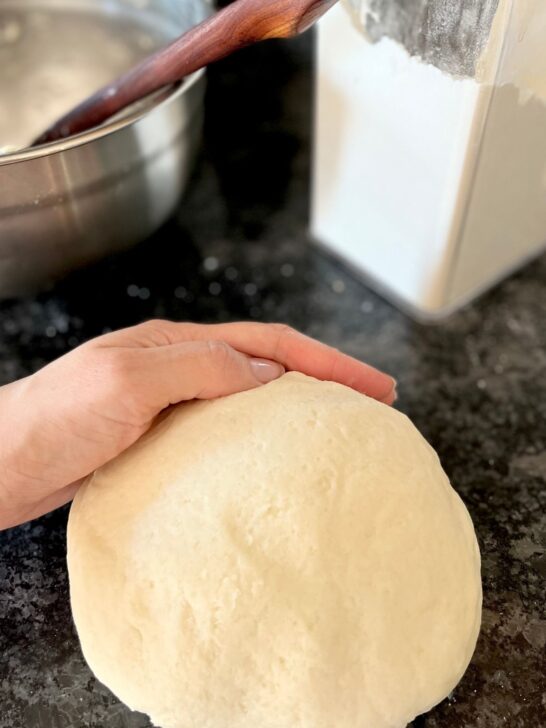 At this point I cut the dough in half to save some for another scent. This is when I folded in the pumpkin spice.
I used 2 teaspoons for 1/2 of the batch, so you'd want to add 4 teaspoons for the whole batch.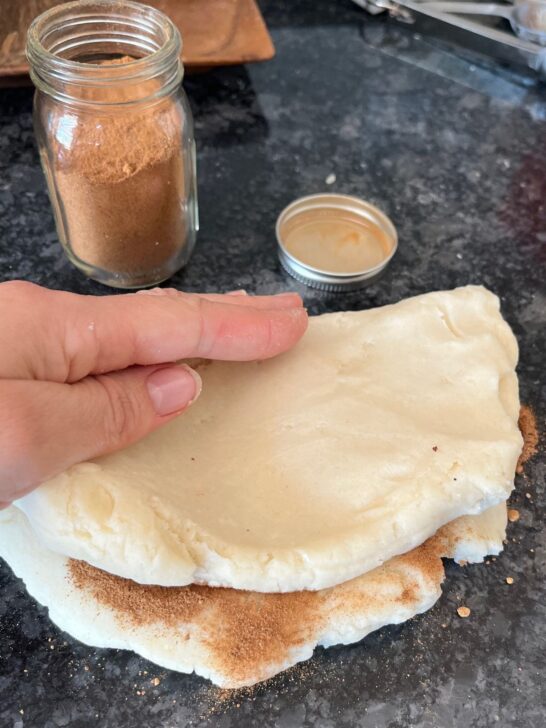 Below is a photo before adding any natural food coloring (the food coloring only provided a light toasty brown color…. not the bright orange I had anticipated).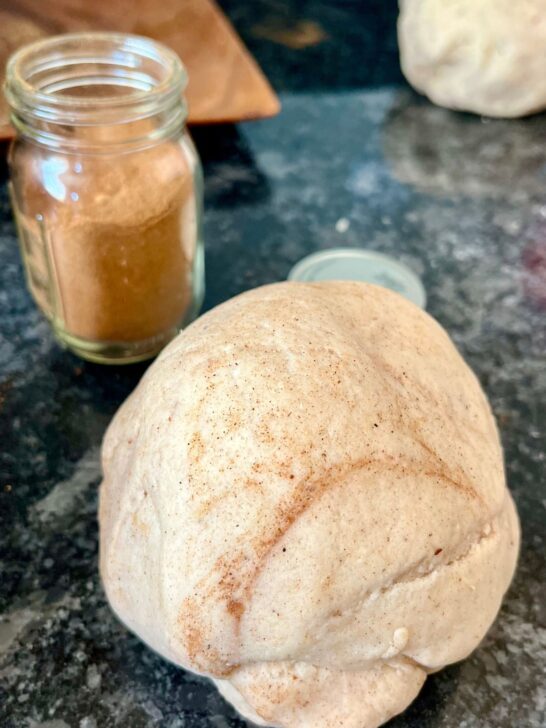 Here is what the final product looked like! Not orangy-pumpkin like I hoped…but certainly pumpkin spice colored. Get the recipe below!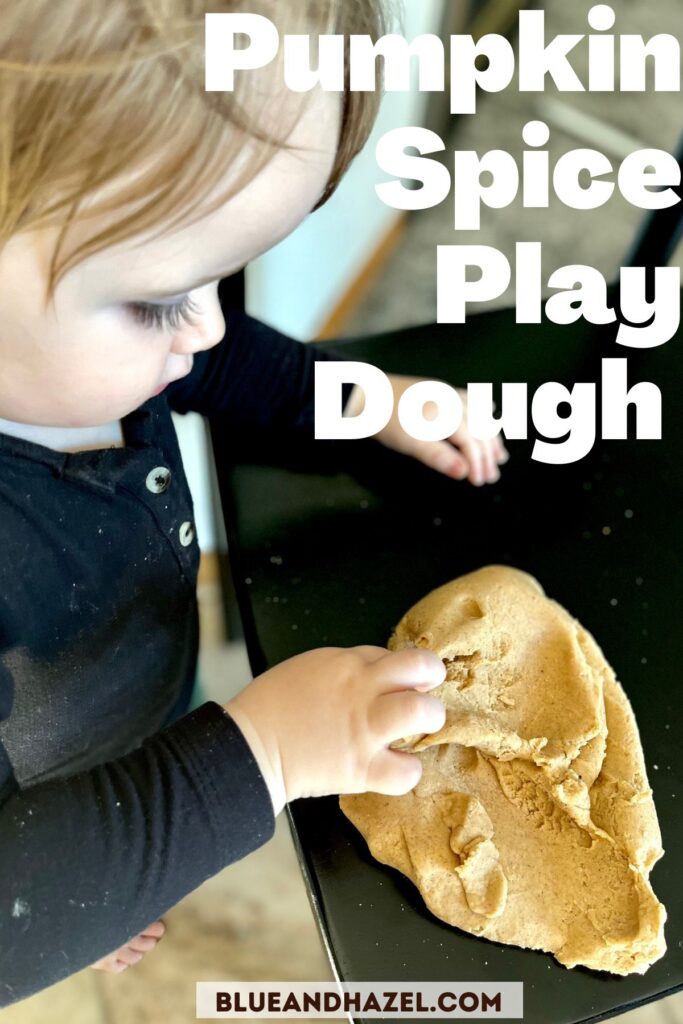 Yield: Enough for 2-3 kids
Pumpkin Spice Play Dough (No Cook)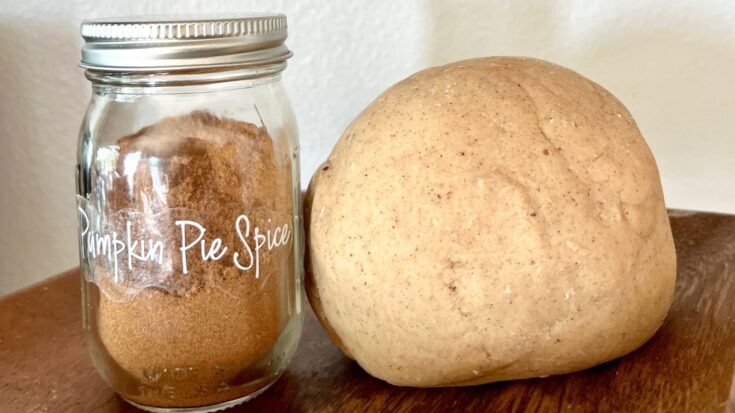 This pumpkin spice play dough is incredibly easy to make, will keep for months, and smells amazing! Most of the color comes from the pumpkin pie spice. No boiling on the stove, simply pour boiling water into a bowl and mix. You'll be tempted to add extra flour when mixing...but try to hold off! As it cools, it should be perfect to touch without any stick at all. It's smooth and easy to handle. If you cannot form a ball without sticking to your hands, add 1 Tablespoon of flour at a time until it feels right. If you are adding natural food coloring as I did, be sure to add it after it's cool enough to handle or the food coloring can deactivate with heat. If you prefer a bright orange color, use regular food dye and you can add that at any time.
Ingredients
2 cups all purpose flour
3/4 cup salt
5 teaspoons cream of tartar
2 cups boiling water
2 tablespoons canola oil (or any cooking oil)
4 teaspoons pumpkin pie spice
orange food coloring
Instructions
Add flour, salt, and cream of tartar to a large bowl. Mix together, and then create a little well in the middle to pour liquids into.
Add the oil and boiling water.
If you are not using plant based food coloring you are welcome to add the dye in at this point. If you are using plant based food coloring wait to add them till mixture is cool enough to touch or the dye can deactivate with heat.
Add the pumpkin pie spice at the end by folding it into the dough. This allows you to use half the dough for another color or scent. If you want all the dough to be pumpkin pie spice you can add the spice in with the dry ingredients.
What are some play dough accessories to use from around the house?
We don't own any play dough tools…but there's plenty you can round up to increase the time your kids will spend at the table.
A platter for their "food" creations
rolling pin
straws cut into small pieces for poking the dough
toothpicks
cookie sheets
pine needles & leaves to press in
Acorns, seeds, etc from your yard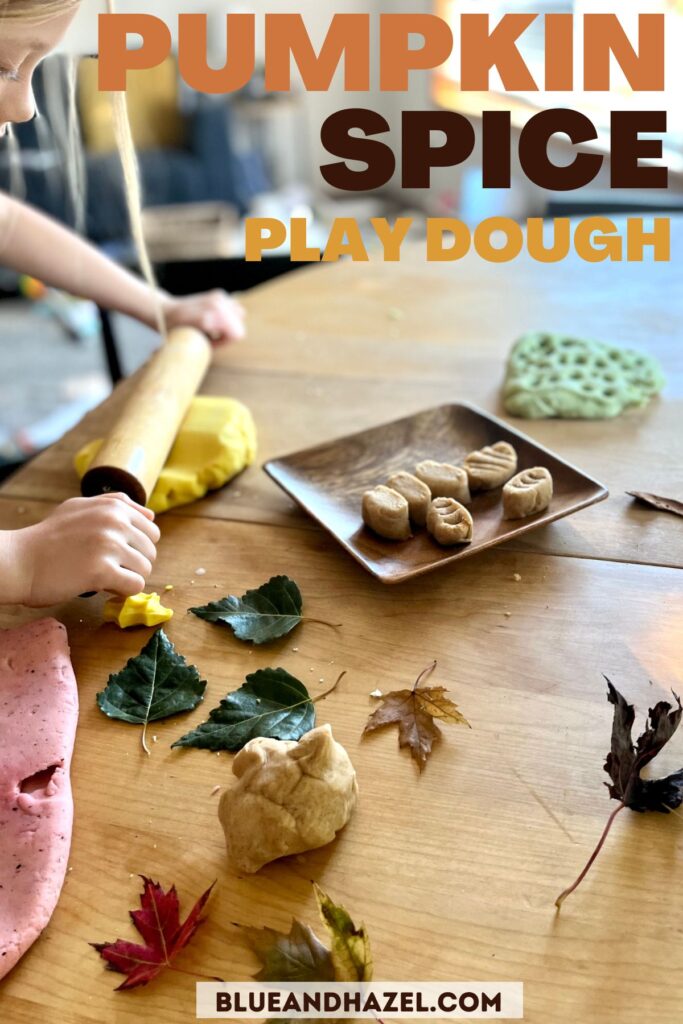 If you give this a try and like the recipe…please leave a rating or a comment! Also be sure to pin this recipe to find again. 🙂