Have you noticed the DockaTot Deluxe is all the rage these days on Instagram? I have long wondered what is so amazing about this baby item and why moms seem to want it. When DockATot offered to send me one to try, I was pretty stoked to share my own DockaTot Deluxe review with you!
I will say that it would have had a longer lifespan if I had this from day one. However, even at 5 months, there are ways this has come in handy!
The DockaTot Deluxe vs the Grand
This is a sponsored post and contains affiliate links. All opinions are my own.
If you didn't know, the DockATot comes in two sizes. I will be reviewing the smaller one called the Deluxe. It's made for babies 0-8 months and has a toy set attachment you can purchase separately.
The larger size is called the Grand and it is for babies 3-36 months.
The smaller DockaTot Deluxe is used as a place to set your baby down safely, a portable bed, and for co-sleeping. The thing that is unique about it is that it's tested for breathability, so if your baby turned their face into it they could still breath.
Each DockaTot is handmade in Europe, made from 100% cotton, and OEKO-TEX certified.
Related Post: Lillebaby Ring Sling and Toddler Carrier Review
DockaTot Deluxe Review: What I used it for with my 5 month old
I have never been a co-sleeper with any of our babies, so I cannot speak to its usefulness there.
Setting him down.
It's not designed to keep a baby from rolling, but he can't get that leg over yet with the tall sides. Desmond can almost roll over though so that's why I cannot use this anywhere unless it's on the ground.
Sometimes he loves to be on his back, but not as much as he used to and he is always trying to roll. So I'd say this is the most useful prior to the roll stage.
Playing.
One cool feature is the DockATot Deluxe now has a toy arch that can be bought separately. This takes the place of those other toy arch play mats, so you wouldn't need to buy both! The timing couldn't have been better as he just started reaching for everything.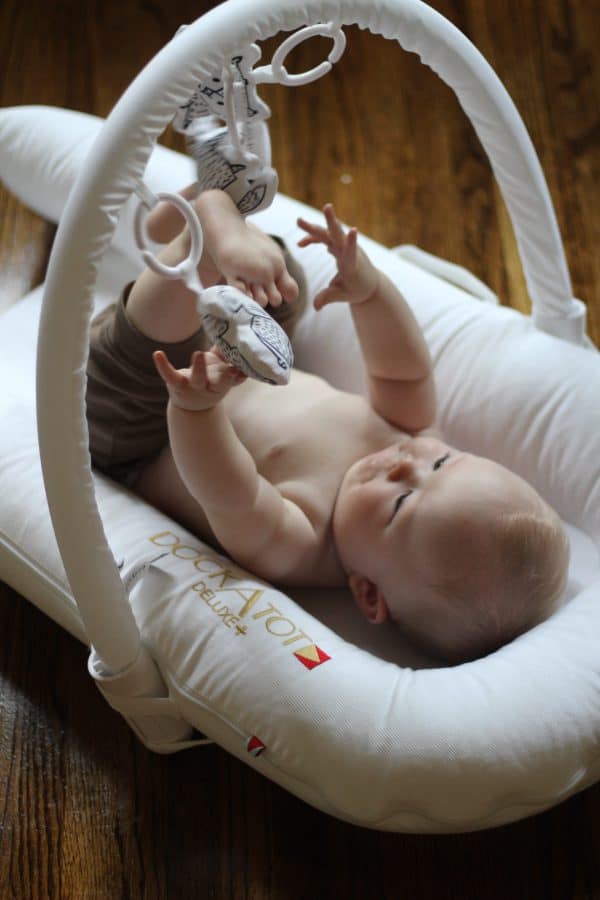 Tummy time.
He LOVES to be on his tummy, so I put his arms over the rounded top part and he just sits there happily for a long time! It props him up so he doesn't have to work so hard to see us and keep that giant noggin up.
We have not traveled since getting this, but I will be taking it as his bed. It's smaller than a pack N play and makes him feel tucked in when sleeping.
Related Post: 8 things I've stopped doing to be less busy as a mom
Good features of the DockaTot Deluxe
Washing the cover is easy! I can just unzip it, wash on cold, and lay flat to dry. (I don't use heat as the cover could shrink). Also, beware of toddlers who like to unzip everything…this will get unzipped.
Handles along the sides make it easy to carry. I take this upstairs and downstairs a lot. (But beware, toddlers are tempted to pull this around so I'm teaching mine not to pull for safety reasons).
This comes with a clear bag with a zipper and handle, so it would be easy to carry this to the car or airplane and keep it clean that way!
Bottom has a cushion so it's comfortable for baby even on hard wood floors.
It's the perfect portable bed for traveling with an infant and small in size.
The sides really nestle the baby in, with no fear of the baby not being able to breath if their face turns into it.
Related Post: Binxy Baby Shopping Cart Carrier Review
Bad features of the DockaTot Deluxe
I can't rock him to sleep in it like he is used to in his Fisher Price Rock'n'Play. I think he is just used to that motion so he doesn't fall asleep without a fuss if not rocked.
The toy arch needs improvement. I've noticed with a toddler around the hanging toys and hooks disappear a lot…so I kind of wish they were just sewn into the arch.
I also wish the toys hung down farther or had a pull type spring because he can't reach them well without pulling the whole arch down. However, my son LOVES holding the detached toy and making scrunchy sounds.
The arch is not washable and it is white…which means after a couple of months ours is now pretty dirty and I can't really get it new looking again.
Ok…my favorite colored DockATot is white…which means dirty sibling fingerprints all over it. If you have one baby and you are the only one to touch it, dismiss my warning! But with older kids, you will have to wash the cover often to keep it white.
Related Post: What it's like with 3 kids under 4: One month update
Update at 7 months:
He now falls asleep fine in it as we practiced putting him down after nursing and letting him cry for a couple minutes. Then he goes right to sleep. If he's not tired, I just get him up. I think he likes the 'cuddled in feeling' because he kind of rolls sideways as close to the edges as he can get.
He found his hands about one month ago (and toes), which seem to be great chew toys when nothing else is around.
Is the DockaTot worth the price?
I don't know your financial situation so I can't say that for sure. If you are able to splurge, then yes! If you are penny pinching but still want one of these, look for a used one.
Overall I'd say this would be a great item if you could have it from day 1. But it would not be worth the money if you got it at 5 months like I did. And if you are looking for a perfect co-sleeping bed, this would be great! I loved that it's a clean, safe place to set my precious new baby and really did help him to feel nestled in. It gave me the peace of mind that my baby was safe, and substituted putting him on a blanket or something. Hope this DockaTot Deluxe review helps you to make a better decision about what you would like to try with your baby!
Follow Blue and Hazel on Instagram
SaveSave
SaveSave
SaveSave
SaveSave
SaveSave