This year we have a first grader, second grader, and preschooler homeschooling (plus a newborn). I thought homeschooling multiple grade levels together would look more like all of us sitting at a table while I alternated helping each kid. It hasn't quite been that simple!
It's been a lot of trial and error over here! And letting go of what works for other people and embracing what works for us. Our way isn't the only way, but hopefully it gives you some idea of how you can split your time and energy when you have elementary aged kids learning different material!
Here's our school rhythm, what subjects we combine, and a few organizational tweaks that simplify school time.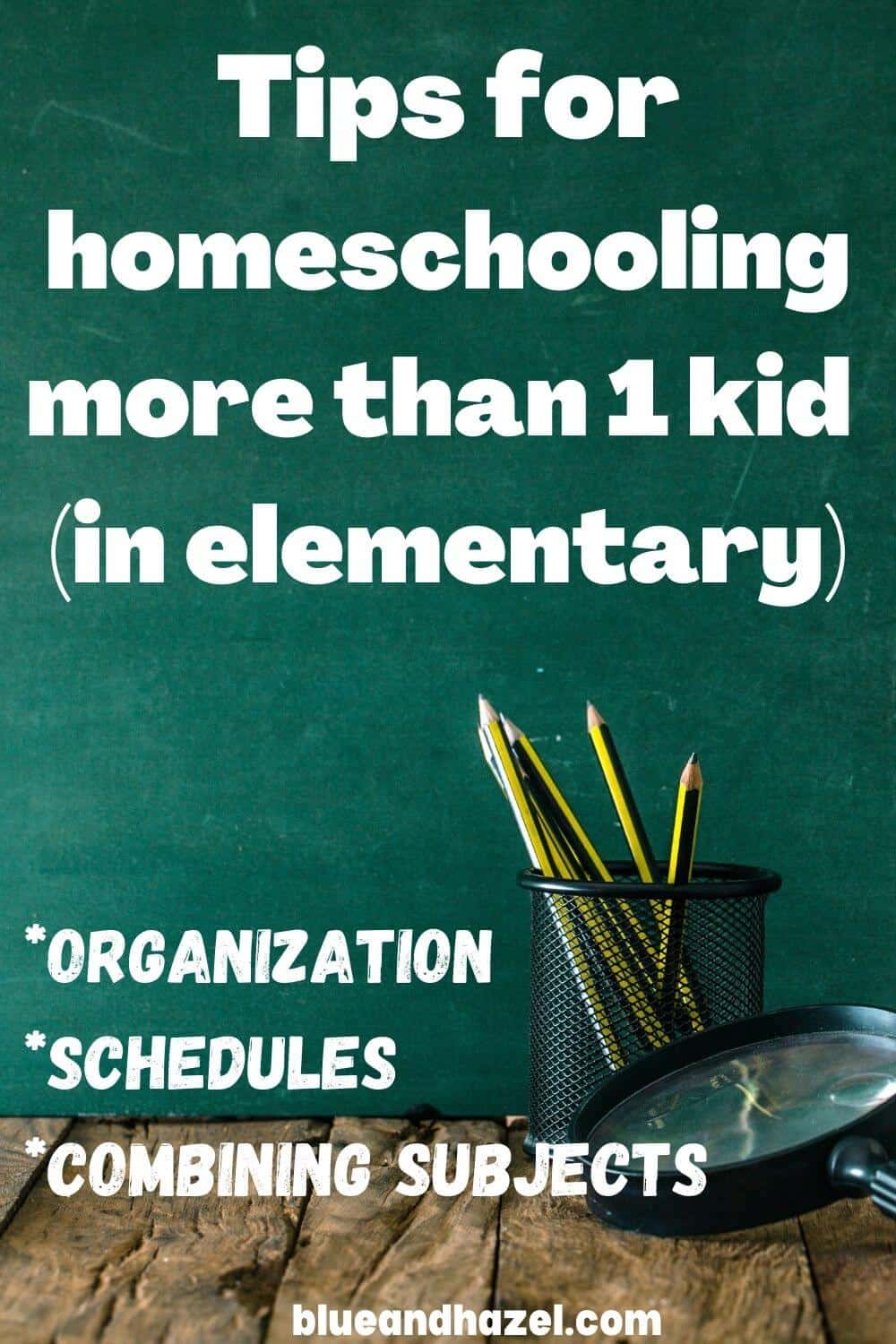 Going from teaching 1 child to 2
When I had just one child in kindergarten, things were so simple. It was easy to find time to also add a few learning activities for my then preschooler using this play based preschool curriculum.
You can see here how much time preschool takes in our home. Now that I'm homeschooling a 1st and 2nd grader, I haven't started preschool with our 3rd who is now 4 years old. His job right now is to play while mama figures out how to homeschool two older kids 😉
With multiple kids homeschooling this year, I switched curriculums and added a few group subjects in. You can check out our curriculum in these posts:
2020-2021 kindergarten & 1st grade curriculum picks
2021-2022 1st & 2nd grade curriculum picks
My oldest can read and follow directions on his own now, so if it's not new material I ask him to do as much on his own as he can to save me time!
Why homeschooling multiple grade levels benefits everyone
One of my favorite things about homeschooling more than one kid is that while I teach one kid (or family style for some things), the others are hearing and soaking new facts in.
Even if they don't mean to! It's a learning environment to some degree all day.
Say I'm quizzing math facts with my 1st grader from his math curriculum. Well my kindergartener might be listening in while she plays Calico Critters…and if so she IS absorbing something extra.
Or, when I'm working with my kindergartener on telling time to the hour, my 1st grader might be playing Legos looking to see if he knows the right answer.
It's like they get unofficial double doses of review just because they are in earshot.
1. Decide what subjects you want each homeschooler to cover
As always, check your state requirements first for this. My state doesn't require a record of hours or subjects covered, just 180 days.
Since my kids are still so young, we focus on language arts and math daily for school.
I rotate in 1-2 other combined subjects a day, often through games, reading out loud (history, poetry, or a good 'ol' book of whatever I choose), and YouTube.
2. Combine as many homeschool subjects as possible
I try to combine the kids for anything I can other than math! It saves me time and everyone can soak up something at their own level of understanding.
Combined subjects in our home:
science
history/geography
bible reading
art
nature study
language arts ( I didn't used to think this was possible until we discovered Brave Writer)
I use a loop schedule for things that I want to rotate regularly but not assign to a day.
I read out loud for our history and science. Even though I teach up to challenge the oldest, everyone has to be quiet enough to listen and therefor will soak up something while their hands are busy playing.
I ask the kids to narrate back to me what they remember at the end. Sometimes I'll ask a few questions to go deeper. It's a great way to test their comprehension without a written test.
Science and history and our nature study will get repeated in cycles many times over the years so I am not at all worried they "get it" all now.
How we combine language arts when they are on different levels
I used to think we would just have one on one workbook time for language arts x2 kids. We loved the simplicity of our Masterbooks Language Lessons For A Living Education, but I discovered a completely different way of doing language arts with Brave Writer that I'm LOVING.
The kids are doing great with it too. I'm able to teach them 1st and 2nd grade together saving me time. Here's a full rundown on how we use the Brave Writer program if you are curious.
Family style all inclusive (all subjects but math) homeschool curriculums
There are a few Charlotte Mason curriculums I know of where everyone works through the same subjects at different levels. All kids listen to the same read alouds, and rotate through history and science topics every few years as a family with age appropriate work provided.
If that interests you, check out Gather Round Homeschool curriculum (unit studies) and also A Gentle Feast curriculum. Both put your family on 4 year cycles and cover pretty much everything except a math program!
3. Teach one on one for math and learning to read
Until the kids are a bit more independent or have an online or in person teacher that's not me…I'll be teaching math one on one while the others are off playing. And also teaching them to read just takes one on one time too.
I tried having them both work on math at the same time for a few weeks. It was hard for me to concentrate, and the kids were waiting for me while I went back and forth teaching different levels. It didn't work.
So for now, I'm enjoying the ease that comes with one on one instruction, uninterrupted.
4. Change homeschool curriculum if you need
I personally need curriculum that isn't going to take 45 minutes for each subject for each kid because they each need me for most of it still.
That's one reason Masterbooks has worked so well for us (and a lot of families). Lessons are short but they retain the information. But if they are ever too short you can add something extra where you think your child could use more work.
If you find homeschooling multiple grade levels together leaves everyone tired and dragging their feet, don't be afraid to change curriculum mid year. Lots of people do!
You can always try stripping out unnecessary fillers. And stick to reading/writing/math in elementary, while adding in other topics once or twice a week.
5. Organize homeschool curriculum so all your kids know where to grab their own books
When homeschooling multiple grade levels together, a little organizational system will make your days way smoother! Once you have 2 or 3 or more kids with books, you'll be so glad to have a system the kids know how to use.
As long as what you have isn't frustrating you and your kids can help pull their books and put them away, it should do!
My system for organizing schoolwork:
We use a binder for each kid. I tear out one week's worth of work into a binder for my oldest two with this weekly binder system. Finished work goes in the back, and each week we add 1 week's worth of new worksheets and take out the old ones.
This only works for worksheets and educational printables I've laminated. So I have to make a note of which books I want to read out loud that day or any extra activities.
Update 2021-2022 school year: This year our curriculum is read aloud heavy and light on worksheets! As in, we only have worksheets for math right now. Copywork goes into a spiral notebook. So this has thrown off my binder system a bit because there's just not a lot to put in it. Still figuring this out!
Other ways to organize curriculum for multiple kids
Clear bins for each child's books and supplies
Magazine holders for each kid's school work
A bookshelf
This crate system (to organize each child's worksheets for a whole year)
6. Add games to your homeschool day (gameschooling) that the big kids can play
One of my favorite homeschool discoveries this year has been gameschooling! Basically we are beginning to intentionally add learning games into our homeschool day. If there's a subject you want more practice with, there is a game for it!
I'm also learning that homeschooling doesn't happen in our house from 10-12. Or just in the morning.
Ever since I began to record our homeschool activities after we do them, I've been seeing how much learning happens ALL DAY. Sure, we use curriculum for a few subjects in our home at this point. But it doesn't end there.
Playing games together improves our relationship, teaches them strategy, and how to be a good loser or a kind winner. We are "playing" math games and they want more! We are learning geography facts through games and they don't see it as school.
Win win!
7. Focus your initial energy on creating readers
Now that we have one strong reader and another almost reading, I've seen the HUGE benefit of having all sorts of books around the house for all ages. Our homeschool has been transformed by this.
I didn't love reading till 5th grade, when I was introduced to Harry Potter. Reading wasn't on my radar outside of the required 10 minutes a day that my parents had to check off for the teachers.
I want my kids to want to read! Here's how we've taught our 1st two kids to read.
Here's how we are using the Dash into Learning books we're using with my daughter after she finished her reading program.
What you really need to homeschool is a math curriculum and a library card
Once my oldest got better at reading and found books he liked, everything changed. He started learning things on his own!
He now sometimes reads a book a day on his own until he grows bored with what we have. I literally just pick a variety of topics and see what he's drawn to. Our own little unschooling experiment you could say.
He won't read everything, but if it's in comic form he will! That's when I discovered these science comics (over 18 of them!) and history comics. He now knows more about the immune system than I remember from college because he was interested in a comic book on plagues.
We do a library trip whenever we run out of books. I try to get a variety of books that will appeal to my 3, 5, and 7 year old. On average we go every 2 weeks and snag about 40-50 new books of all levels.
I can't wait to see what my middle child is drawn to because I'm sure the book interests will be very different!
For the littler kids, I look for books that:
Have lots of pictures
Are books with characters they like
Rhyming books
Both fun books and also fact books from the level 1 & 2 readers
For my chapter book reader:
Fiction (just for fun) to encourage the love of books and imagination
Books with silly poems like Where The SideWalk Ends
Quick reads with lots of pictures (still a favorite)
Adventure series like Bear Grylls Adventures
Books on famous people in history like the "Who was" books
How things work books (like electricity, volcanos, or how trees make their own food, etc).
Here's how we teach our kids to read.
8. Consider outsourcing some of the teaching
If a co-op interests you, that can be a way to take some teaching off your plate.
Many moms I know go to Classical Conversations once a week so that science, history, geography, and grammar are taken care of (even if they are not hard core Classical Conversations people). Plus, it's a full morning of social interaction for everyone in a classroom setting.
I know moms who really like having math on the computer to save them time…because it teaches the math for you. Teaching Textbooks (3rd-12th grade) and Math U See (K-12th grade) are two I'm familiar with and know people who use them.
Just know you have options and don't have to teach it all. Be sure to check out my big list of Homeschool Facebook groups where you can homeschool parents with similar aged kids and goals to bounce ideas off of.
9. Read a book out loud
A seasoned homeschool mama with high school graduates gave her advice on things she regretted and things she wished she did more of throughout the years. Guess what that was?
Less worrying about grades and daily checkboxes. More reading books out loud as a family. I've taken that to heart to decrease the pressure I feel some days.
We now almost always have a book I'm reading through…from my throne… aka the couch! There's no timer, no requirements or tests. We don't just read the "classics" either. It's to enjoy.
And sometimes it's an audiobook while we listen and draw or do whatever we do, quietly.
Since switching to Brave Writer for language arts which is literature based, we always have a good book to read together.
Booklists worth having for multiple ages:
Sarah McKinsey's Read Aloud Revival FREE lists
These are sorted by topic and age! She also has a premium membership available that I have heard is out of this world valuable! It's on my list of things to try this year. Includes interviews with authors and illustrators, book discussions, and lots more.
Beautiful Feet Books FREE History Book lists
This focuses on "living" history and geography books. We get the books at the library, so it's free. Books are by grade level groups, spanning K-12. Then they group book lists on events throughout history, as well as a character focused book list for each age group.
There's no printable list, but I just snap a pic of the titles I want to check out online at my library.
A Gentle Feast is a Charlotte Mason curriculum, but you can just buy all her book list recommendations for $5. I did this and it saves SO much time! Other people have spent hours and hours putting this together to make it easy for us…score. She has 4 cycles, so I just bought cycle 1 list.
10. Find a homeschool rhythm that works for you
Some of you have babies to feed and toddlers that interrupt. Others of you have both babies and big kids. Or, some of you are out of the toddler stage and are simply trying to manage teaching several elementary kids at once.
All of our days will look different and that's ok! You are finding a way to fit in what you have to do, while trying to feed your family and *maybe* clean your house sometimes.
Our homeschool rhythm in a nutshell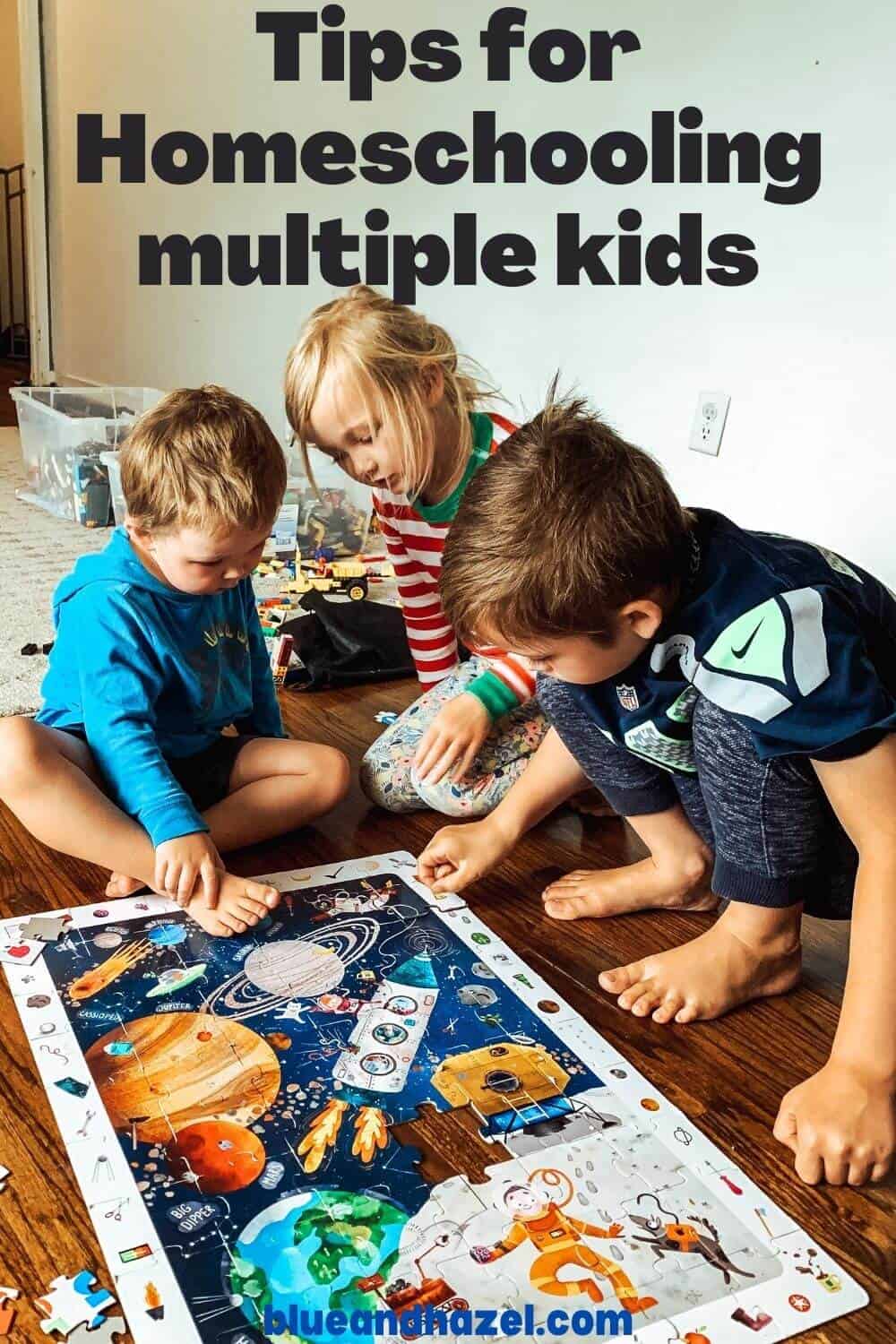 It really depends on the day…for me.
Some days I'll tell them we have to finish school before we can go anywhere or before we can watch a show.
Other times getting outside is so much more productive for our brains and bodies so we prioritize that first. And do school in the afternoon.
I know families who like to start school right after breakfast. Not this mama! I need to wake up with some coffee, let the kids play for an hour, get dressed, and then we can rock and roll.
Should you have all the kids do schoolwork at the same time?
Some families do well with everyone working on their school subjects at the same time. Others don't. I think some of it depends on your kids' ages and also your ability to concentrate while bouncing around.
I personally prefer to do math one on one, at separate times. And that used to be the case for language arts too until I discovered Brave Writer. And then do our combined "multi-age" subjects on the couch, since a lot of it involves me reading.
Interruptions happen 100% of the time, but we do our best.
Why having math and language arts at the table with all grade levels was hard for me
As a newbie homeschooler, I began "school time" with all 3 at the kitchen table. That's how I visualized homeschooling! But it didn't stay that way.
Only 1 could read. So I had to pick who to start out teaching, and have a plan for what the others could work on while they waited for me.
I started math with my 7 year old while giving my 5.5 year old some tracing or copywork she could do solo. She always finished before my oldest's math was done (which took around 20 minutes). This led to her being bored and chatty.
Once my 1st grader got to his math worksheet (which he could usually do solo) I'd start teaching the kindergarten math. My 1st grader would finish his worksheet (or need help with it) and be waiting for his language arts instruction for the day.
Once math was done I'd send my then kindergartener to play with the 3 year old. She had to wait to do her reading book until I was done helping my son do his language arts.
He'd then get assigned some copywork and I'd go sit on the couch with my kindergartener for her reading lesson (we use How To Teach Your Child To Read In 100 Easy Lessons).
It worked OK, but I'd get flustered every day. I now work with one kid at a time (for math and language arts) while the other kid plays with my 3 year old. This makes it so much easier to concentrate for me and I get less overwhelmed by interruption.
Homeschooling big kids with a toddler around
A huge concern I see with families is how to homeschool with a toddler that's wanting attention. I have one, and I know it's hard.
Tip #1: Assign a big kid to play with the toddler.
My best discovery yet has been to assign one of the kids to play with my 3 year old while I work with the other.
Tip #2: Get the toddler their own special "school book"
My 3 year old got his own "schoolbook" this year. I've purchased this preschool book for all 3 of my kids around age 3-5, which comes with lots of coloring and tracing, shapes and numbers.
I don't care if it's scribbled on right now, or whatever. It's for him to open to any page and feel included. He's 3 and he's learning a lot by playing and just listening to me teach his siblings!
Tip #3: Snacks
So unoriginal, I know! But a cup of dry cheerios in a baggie keeps him so happy.
Tip #4: Try doing some school while the toddler naps
I was getting frustrated that my toddler kept…well being a toddler while I was homeschooling! He'd be trying to sit on my lap and talk to me, or need wiped on the toilet, or just try to get my attention in general.
While I prefer to use nap time not talking to anyone, it is a great time to quickly do school without distraction.
How much time it takes us to homeschool each day
O, the big question! I wondered this more than ever when I was considering the pros and cons of homeschooling.
I've found that homeschooling multiple grade levels takes more time than having just one kid doing school. Surprising, I know, LOL!
I'd say in a typical day, our "bookwork" with 2 kids (for reading, writing, and math, and a looped subject like science) takes me around 2 hours.
Kindergarten: takes us about 45-60 minutes.
1st grade: 1 hour 15 minutes, sometimes more.
In addition to that I'll read out loud, play a game, and my oldest reads a lot on his own. We also are part of a nature co-op so that's one morning a week that's full.
Some will tell you that's not enough time. Others will say they do it faster. Here's how much time I think preschool should take.
Homeschool learning activities that aren't measured or required
We are a super unstructured homeschool family, so I am not including all the learning that happens when:
We play games
My oldest reads for 2 hours
My daughter colors and gets her crafty self on a roll
They build Lego creations
Baking
Reading out loud for fun
mornings at the park/playing outside
What to do when you have a bad homeschool day
This has happened to us plenty of times! Either I'm out of energy, don't have my stuff together (often the sign I need a homeschool break!), or the kids aren't responding well to what I have planned.
When this happens, we switch it up and do something we all enjoy that makes me feel like the day is a win and not totally "wasted"…although I don't like that term because no day is a waste. Usually it's some combo of:
Getting outdoors
Playing an educational game
Reading out loud
I hope this post has given you an honest idea of how we homeschool multiple grade levels together! I'd love to know if anything is working well for you or not in the comments!
And always, thanks for pinning this post so others can find my blog and so you can easily find this post again! Come subscribe to my new YouTube channel for homeschool videos too 🙂